I have to confess that I am not much of a baker. Bring on a barbecue any day but when it comes to baking I leave that up to my wife Tammilee. Thankfully she loves baking and creating new recipes for her site Tammilee Tips. One thing I can whip up is a killer easy dump cake recipe! These are my go-to recipes when I am put in charge of bringing a dessert to an event and Tammilee is not home to help me out.
I hope you enjoy these Easy Dump Cake Recipes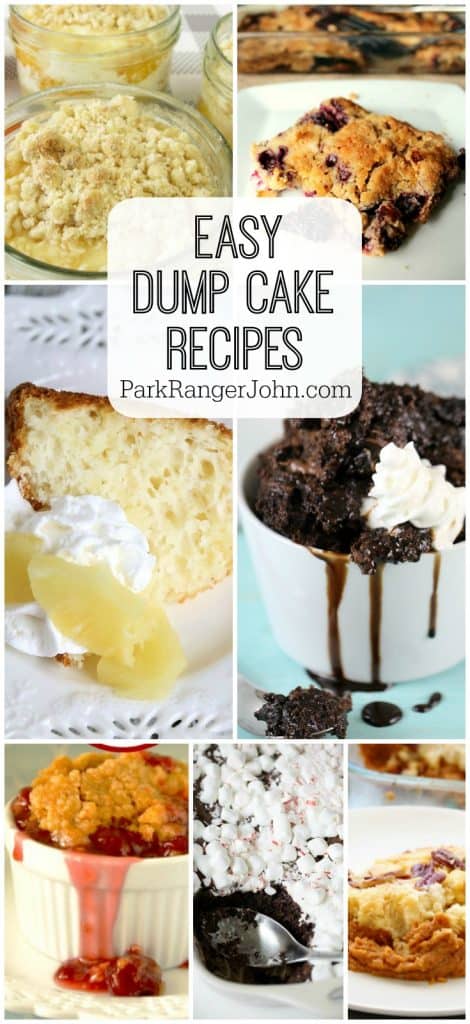 Dump Cake Recipes
I can't really talk about Dump Cake Recipes and not share my amazing wife's Tammilee's Recipes from her site Tammilee Tips first. I would definitely hear about it. LOL!
Chocolate Peppermint Dump Cake Recipe
Crock Pot Pumpkin Dump Cake Recipe
Crock Pot Chocolate Caramel Dump Cake
Crock Pot Apple Spice Dump Cake
Crock Pot Chocolate Cherry Dump Cake
Crockpot Lemon Blueberry Dump Cake
Lemon Cream Cheese Dump Cake - Sparkles to Sprinkles
Strawberry Ginger Beer Dump Cake - Sweet and Savory Food
Chocolate Slow Cooker Dump Cake - Cutefetti
Marshmallow Apple Pie Spice Dump Cake Recipe - Frugality Gal
Mini Pear Dump Cake - Totally the Bomb
Crushed Pineapple Dump Cake Recipe
Pumpkin Dump Cake - Love Bakes Good Cakes
Blackberry Crumble Dump Cake - BlackBerry Babe
Do you have a favorite dump cake recipe?
Check out these 29 epic chocolate lover brownies recipes!