This weekend we went out in the "wild" to see if we could safely social distance in a National Park. We had high hopes that the open spaces would be perfect for getting outside while still staying safe.
Our test park was Mount Rainier National Park in our home state of Washington.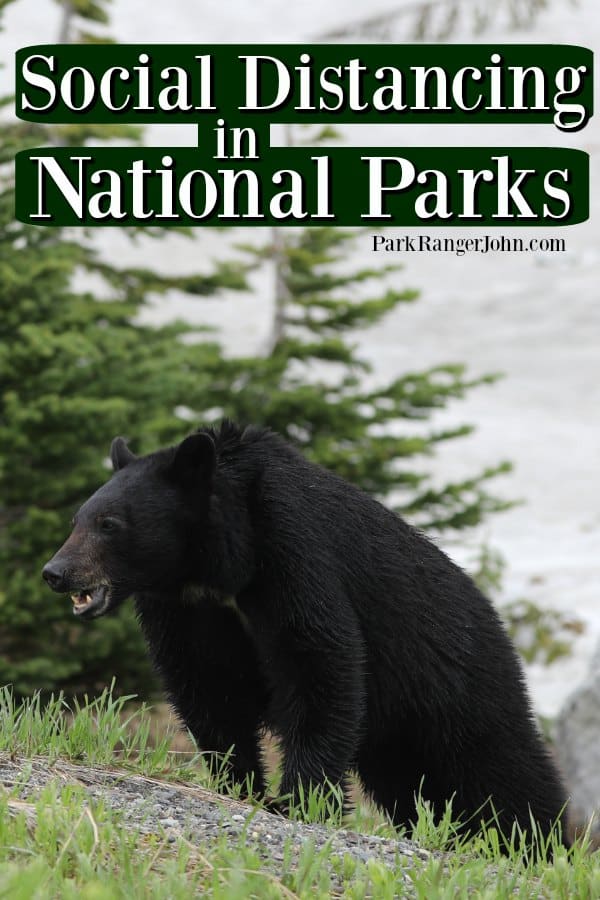 Social Distancing in National Parks
We chose this park because it is a park we can easily drive to.
We also picked it because the National Park Inn only re-opened a few days ago and only has 25 rooms.
The small size of the lodge, location in the park, and the fact they recently opened felt like a safe option.
To prepare for the road trip we decided on multiple safety procedures ahead of time.
Ordered groceries for all meals from grocery pick up.
Bought new pillows and pillowcases that will now only be used for road trips and sanitized after every use.
Bought a hot water tea kettle to be able to make coffee with Starbucks Via packets, chai tea, and Ramen noodles for a hot meal.
Brought Clorox wipes to wipe down surfaces in the hotel room including door handles, bathroom faucets, and toilet and lamp switches.
Brought multiple bottles of hand sanitizer plus face masks with us.
We did not go on trails when the parking lots were packed with cars.
Actively moved away from large groups of people.
We did everything we possibly could to stay safe and healthy while still having an amazing time in the park.
Honestly, we went into the trip with high hopes that other visitors would also be wearing masks, social distancing, and not crowding areas.
Sadly we estimate that over 90% of people that we encountered in the park and surrounding areas were not wearing a mask.
We decided to order take out pizza from a place we really like in Elbe. When we arrived the staff was not wearing masks nor were any of the other customers.
Thankfully all of the National Park Service employees we encountered were wearing masks.
The National Park Inn was amazing. The manager actually wiped down the keys with hand sanitizer before handing them to us.
All of the staff at the inn were wearing masks and they had plexiglass partitions up to protect the staff. We would definitely stay there again!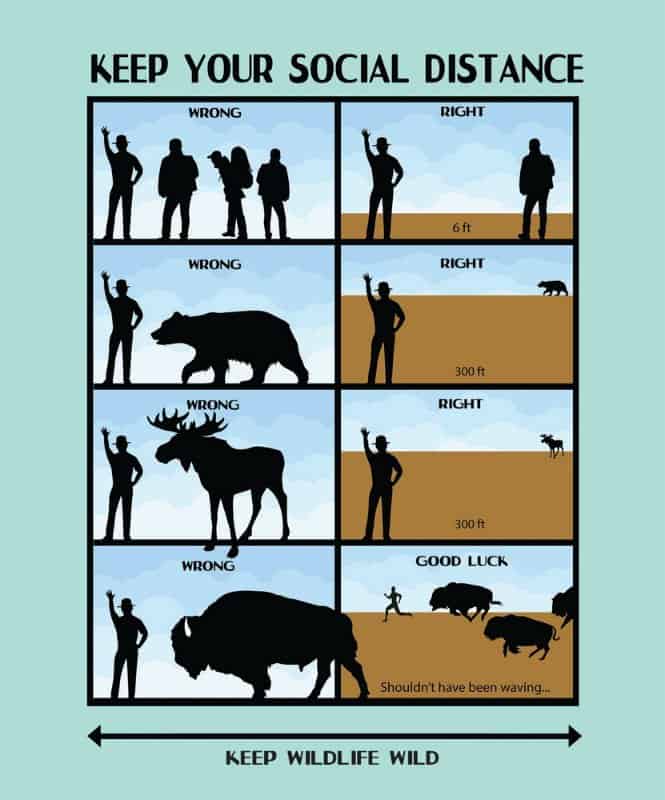 Social Distancing Travel Tips
Our biggest tip for staying safe in the parks is to be aware you may have to change plans based on crowds. Be prepared with masks, sanitizer, and supplies so you don't have to spend time in stores or crowded locations.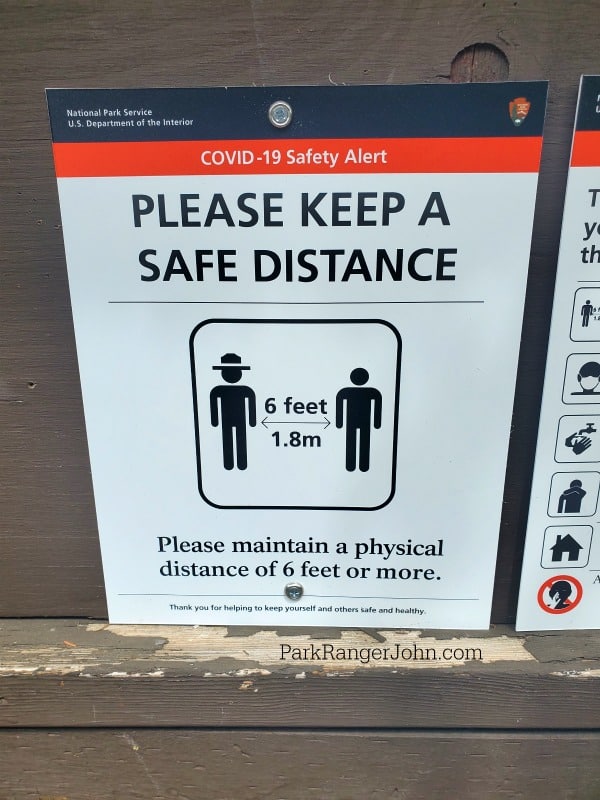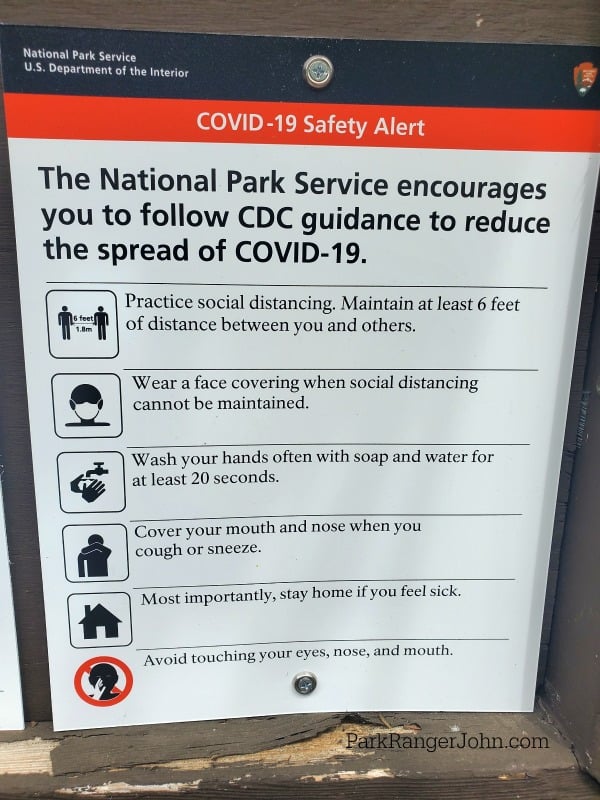 The NPS had signs up at trailheads, in campgrounds, and around the park asking people to stay 6 feet away from each other and practice safe social distancing.
There are more than 2/3 of National Park sites currently open for visitors. You may want to check and see if any of the least visited National Park Sites are near you. These sites receive less than 25,000 visitors in a year!
Head into the park early or stay late. The middle of the day is always packed with people.
If you are not sure if you are comfortable visiting a park in person right now don't forget you can do many National Park Junior Ranger programs at home or visit your favorite parks virtually.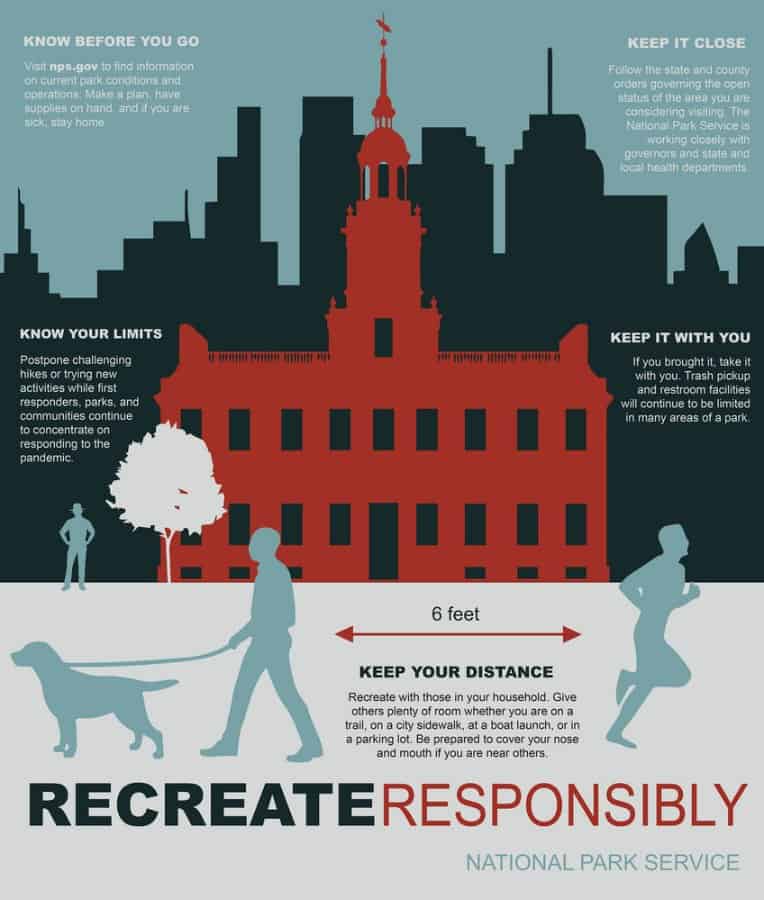 Be very careful! Many parks have limited staff and getting assistance may not be as easy as it normally is.
Check the park you are hoping to visit for current hours, restroom availability, and what portions of the park are opening.
Yosemite National Park requires reservations for Day-use reservation (valid for 7 consecutive days for unlimited re-entries). Day-use reservations are only available via recreation.gov, with 80% being available about one month in advance and 20% being available two days in advance. Be sure to make the reservation for your actual planned date of arrival. Your permit is then valid for seven days.
Rocky Mountain National Park is requiring a timed entry permit. A timed entry permit or camping reservation is required to enter ALL areas of Rocky Mountain National Park—including Trail Ridge Road (US Hwy 34)—in a private vehicle between the hours of 6 am and 5 pm. Reserve a timed entry permit at Recreation.gov.