Print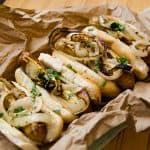 Grilled Italian Sausages with Seasoned Onions Recipe
Grilled Italian Sausages with Seasoned Onions Recipe
Preheat BBQ/Grill to 350

While preheating, cut the onion into thick slices. Place on a grilling tray (or use thick aluminum foil).

In a small bowl, combine the oil, salt and pepper, garlic powder and Italian seasoning

When the grill is ready, place the sausages on the grill and the onions on as well.

Baste the onions with the oil mixture on one side.

Continuously turn the sausages for even grilling

As the onions get soft, try to turn them to the other side in the slice shape. If not, it's ok that they fall apart, just keep them all near the center of the tray/foil so they don't fall into the elements.

When the sausages are done cooking and no pink is detectable in the center, remove from the heat or set to the cooler part of the grill.

Open 6 buns and place them on the grill for toasting

When the onions are cooked and the buns are toasted, remove everything from the grill.

To assemble, place one sausage on each bun, top with Dijon mustard if you wish, and pile the onions on! Enjoy!
Nutrition Facts
Grilled Italian Sausages with Seasoned Onions Recipe
Amount Per Serving
Calories 596
Calories from Fat 414
% Daily Value*
Fat 46g71%
Cholesterol 85mg28%
Sodium 1419mg62%
Potassium 364mg10%
Carbohydrates 24g8%
Protein 20g40%
Vitamin C 4.1mg5%
Calcium 103mg10%
Iron 2.9mg16%
* Percent Daily Values are based on a 2000 calorie diet.