Print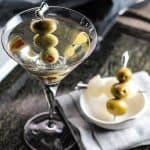 Classic Martini Recipe
How to make a Classic Martini Recipe with Vodka or Gin. Have your own James Bond moment! This classic cocktail recipe is easy to make and great for parties. ParkRangerJohn.com
Into a cocktail mixing glass add dry vermouth, Angostura orange bitters, and mix well.

Add gin and top with ice, and mix thoroughly with a long-handled bar spoon.

Then strain into a chilled martini glass.

Garnish with a lemon twist, olives or martini onions.
Nutrition Facts
Classic Martini Recipe
Amount Per Serving
Calories 179
* Percent Daily Values are based on a 2000 calorie diet.