Azalea Campground is a great forested campground located 3.5 miles (5.6 km) from the Kings Canyon National Park entrance on Hwy 180.
This Kings Canyon Campground has an easy walking trail to the Grant Grove Visitor Center and is centrally located in the park.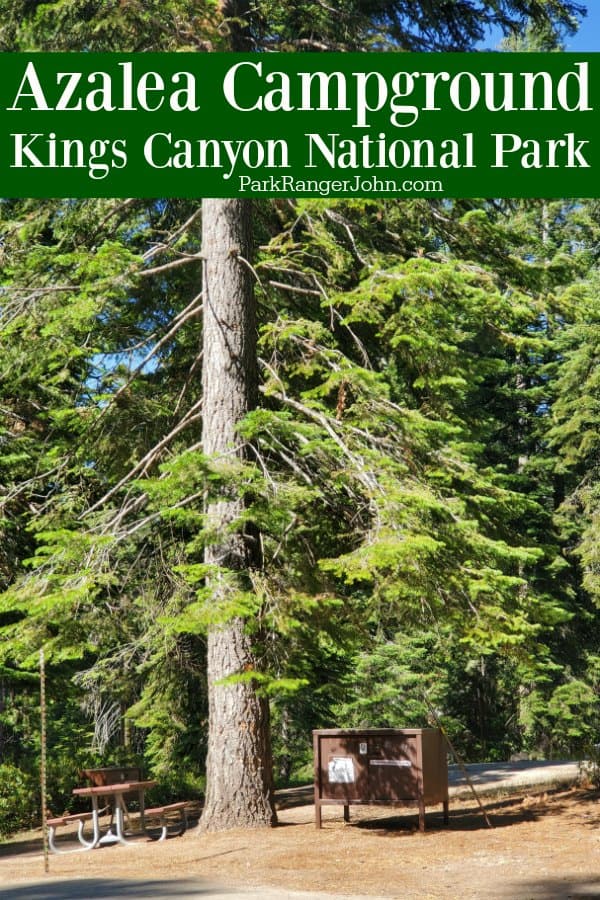 Azalea Campground
The entire campground is first come first serve with no reservations so you will want to be there early especially during the summer and on weekends.
Campsites are fairly well spread out and have great shade from all of the huge trees. There are trees down from winter storms that are blocking a couple of campsites but the park is working on a lot of clean up still.
There are seven campgrounds within Kings Canyon National Park. We break each of them down in our Kings Canyon Camping guide.
Season: Year-round
Number of Sites: 110 campsites
Location in the park: 3.5 miles (5.6 km) from the Kings Canyon National Park entrance on Hwy 180
Campsite Cost: $18 per night
Payments accepted: cash, check, or credit cards
Reservations: No, First come first serve year-round.
Latitude/Longitude: 36.7436° N, 118.9656° W
Elevation: 6,500 ft (1,980 m)
Accessible Sites: Site #30 is accessible for people in wheelchairs
Pets Allowed: Pets are permitted within the campground but must be leashed at all times. Learn more about pet regulations.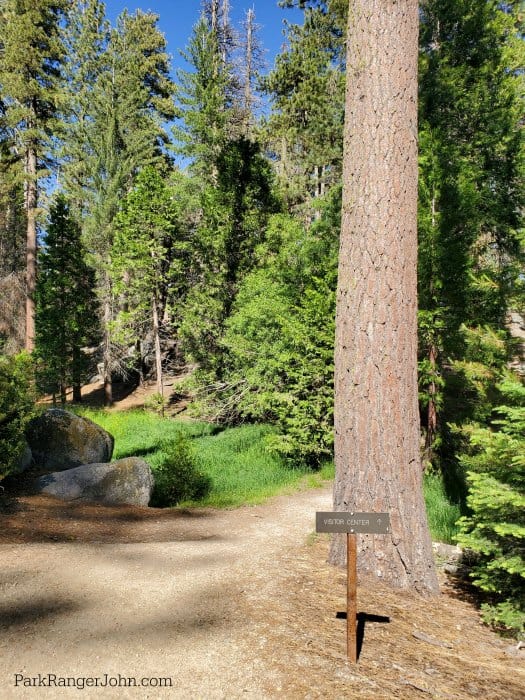 Campground Reservations
Are campground Reservations Available? No, first-come, first-served basis, year-round
Campground Amenities
Flush Toilets: Yes
Potable Water? Yes
Is wifi available? No
Is cellular Phone Service Available? No
Is camp host available on site? Yes
Is firewood available for purchase? Firewood can be purchased at the store in Grant Grove.
Amenities at each campsite:
Fire pit in the site? Yes
Picnic Table in the site? Yes
Bear Box in site/area? Yes, Each campsite has a large food storage locker (47"W x 33"D x 28"H)
RV Camping at Azalea Campground
RV Length: The length of RV or trailer that can be accommodated varies by site.
Dump Station: The nearest dump stations (summer only) are: Dorst Creek Campground in Sequoia National Park or Princess Campground (Hwy 180 at Hume Lake junction) in Sequoia National Forest.
Generators: Generators are allowed between 9 a.m. to 9 p.m
Hookups: No hookups
Important Dates for Campground
20 sites are open from early Nov - to mid-April
40-88 sites are open from mid-April - to early May
110 sites are open from mid-May - to early November
Campground Regulations
The maximum number of people in a campsite: A maximum of six people (including children) are allowed per campsite.
The number of cars per campsite: Two motorized vehicles per campsite. A valid campground car pass must be displayed.
Checkout time: 12 noon
Quiet Hours: Quiet hours are from 10 pm to 6 am
Maximum Stay: 14-day maximum stay limit.
Check out all of the options for Kings Canyon Camping including site photos and maps
Azalea Campground Map
Photos of Azalea Campground
Don't miss these other great posts to help you plan an epic trip to Kings Canyon National Park!
If you want to spend a night in the lodge check out the John Muir Lodge.
These are our favorite things to do in Kings Canyon National Park! So many amazing trails, big trees, and more!
We list all of our Kings Canyon Travel Tips to help you have the best trip. There are a few things you will definitely want to pack with you.