The San Francisco area is rich in American History. It is also blessed with multiple National Park Sites. Below a list of 12 different National Parks near San Francisco plus 3 National Parks within a four-hour drive! I am excited to share with you these San Francisco National Parks! You can spend anywhere from a quick few hour day trips to an entire week exploring these parks. From history to giant trees there is a park for everyone!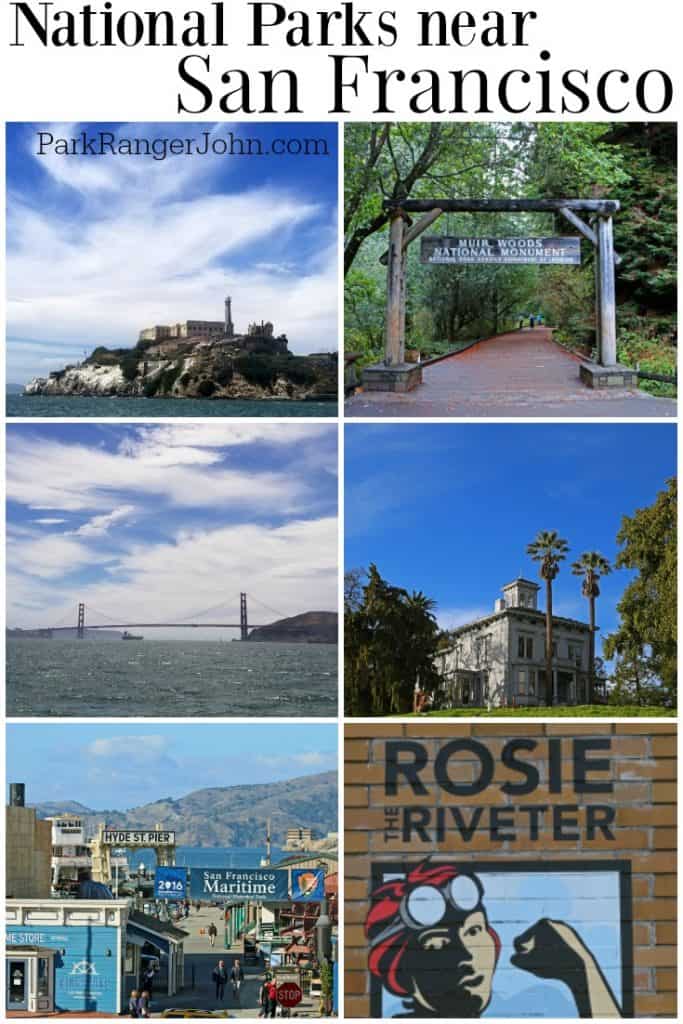 National Parks near San Francisco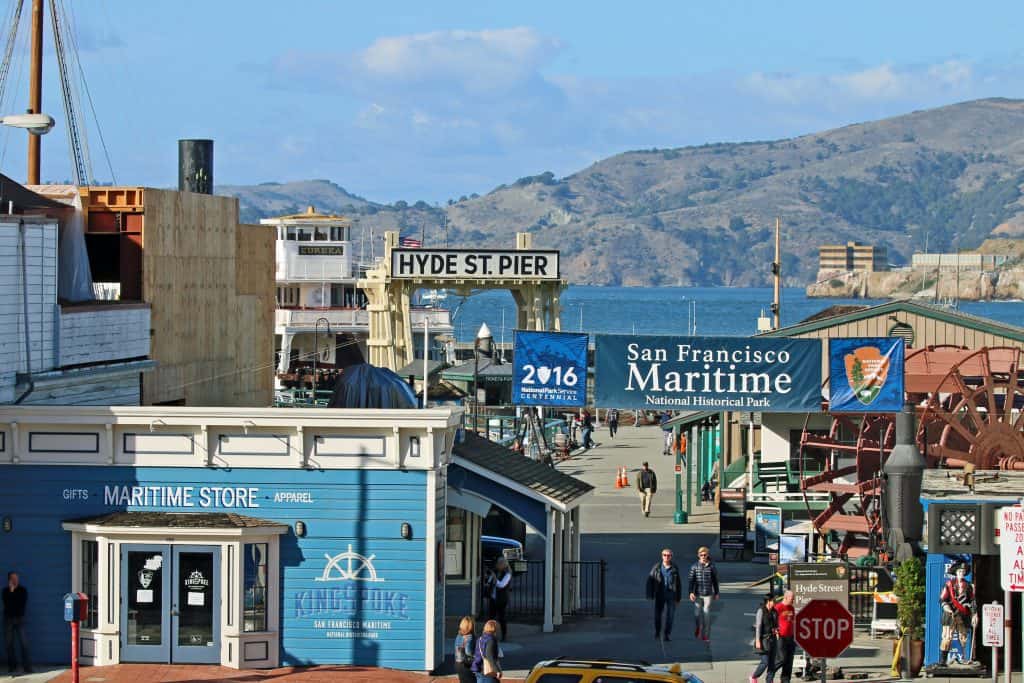 San Francisco Maritime National Historic Park is located in the Fisherman's Wharf Neighborhood and provides visitors the opportunity to experience the sights, smells, sounds and stories of the Pacific Coast Maritime History. You can step aboard several ships including the Hercules Tugboat or perhaps take in an interpretative program.

Golden Gate National Recreation Area
The Golden Gate National Recreation Area is more than just one AMAZING Bridge! Let's not discount this is one sexy bridge too! The Muir Beach overlook has incredible sweeping views of the Pacific. There is also a short walk out to the point and makes for a beautiful picnic location. You can take cell phone tours, touch the historic 16-inch gun at Battery Townsley, take a wildflower walk, watch the sky for migratory birds of prey and even search for red-legged frogs in ponds at Mori Point!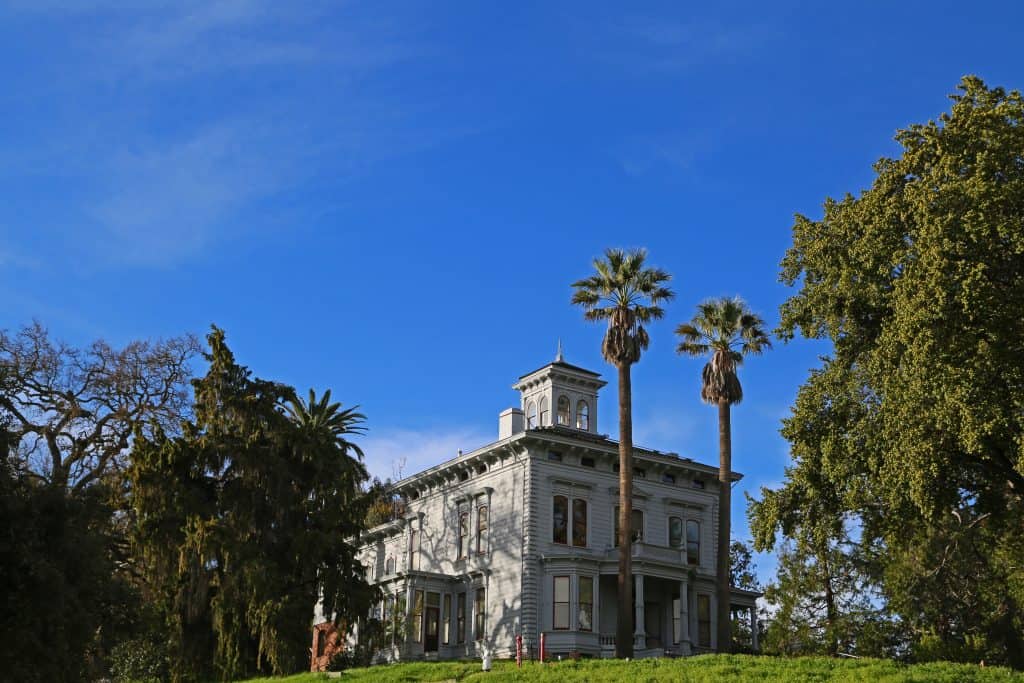 John Muir National Historic Site
John Muir National Historic Site is the location of John Muir's home. Muir was a famous Naturalist, often referred to as "John of the Mountains" and petitioned the U.S. Congress for the National Park Bill that was passed in 1890 establishing Yosemite National Park! Muir's writings also helped convince the U.S. Government to also protect Sequoia, Grand Canyon, and Mount Rainier National Parks! The park and grounds are open daily from 10 am- 5 pm. Make sure and give yourself enough time to visit both the house and the grounds.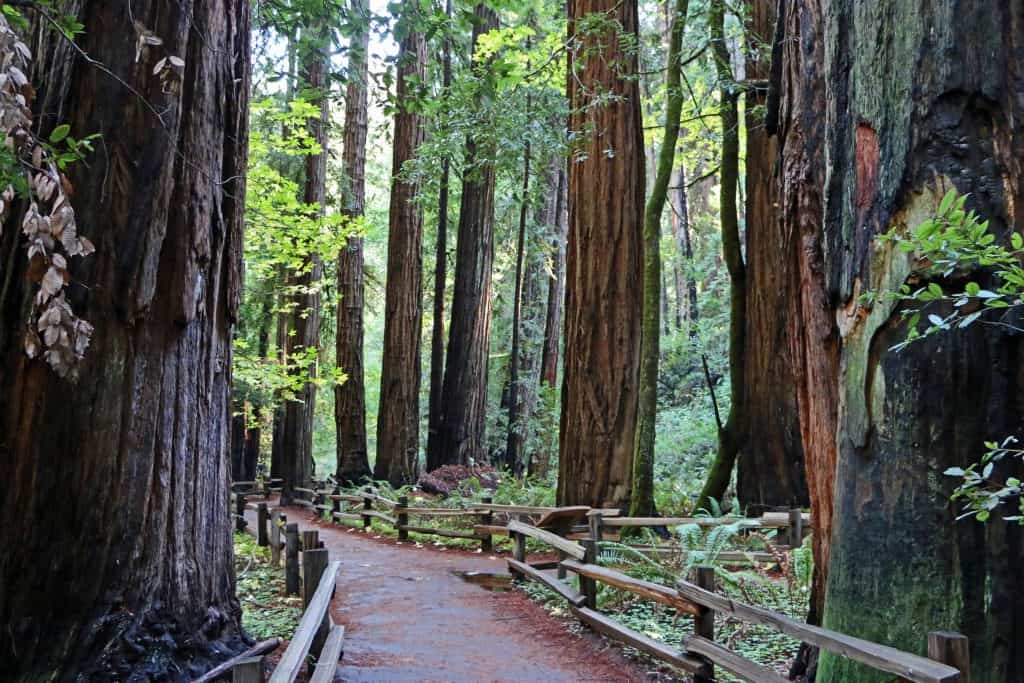 Muir Woods National Monument is located 12 miles north of the Golden Gate Bridge. If you are planning to visit Muir Woods, we highly suggest going early in the morning right before the park opens to get a parking spot. We have tried to visit a few times and each time the parking has been crazy. People were parking 2 miles down the road during our last visit to Muir Woods. Having said that, it is SO worth visiting! There is just something special walking along the Redwood Creek Trail. I found all the worries of the world washed away and found complete zen moment walking amongst the Redwoods. It is one of my truly special moments exploring America's National Parks!
There is a visitor center and a self-guided nature walk within the park. The park is open from 8 am to sunset year-round. There are six miles of trails within the Muir Woods park. The main, canyon floor trails are paved and mostly level.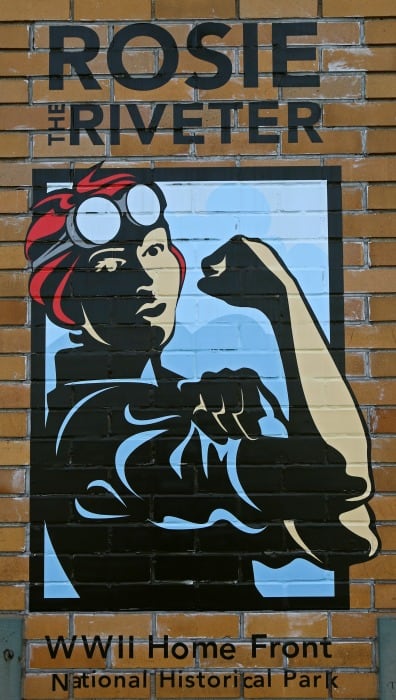 The Rosie the Riveter National Historic Park is a fantastic place to take the entire family. The exhibits are great for adults and kids. There is a short film talking about Rose the Riveter along with a lot of great informative displays.
Rosie the Riveter National Historic Park is located at 1414 Harbour Way South, Suite 3000, Richmond, Ca.
Eugene O'Neill National Historic Site
Eugene O'Neill National Historic Site is home to America's only Nobel Prize-winning playwright. O'Neill chose to live in California at the height of his writing career while he wrote The Iceman Cometh, Long Day's Journey Into Night and A Moon for the Misbegotten. Just remember the park is closed Mondays and Tuesdays. Please check out their website before visiting as the Tao House is available on selected tours only and reservations are required. There are also shuttles to the property.
Fort Point National Historic Site
Fort Point Historic Site defended the San Francisco Bay following California's Gold Rush through World War 2. This is a great place to take in the Golden Gate Bridge, attend a special program like a cannon loading demonstration or watch a movie Fort Point-Guardian of the Golden Gate. This is also a great time to visit the Presidio of San Francisco!
Presidio of San Francisco
The Presidio of San Francisco served as an Army post for three nations for 218 years! World and local events, from military campaigns to world's fairs, left their mark here. Today you can also find the Yoda Statue at Lucas Films and visit the Walt Disney Museum while visiting a National Park Site!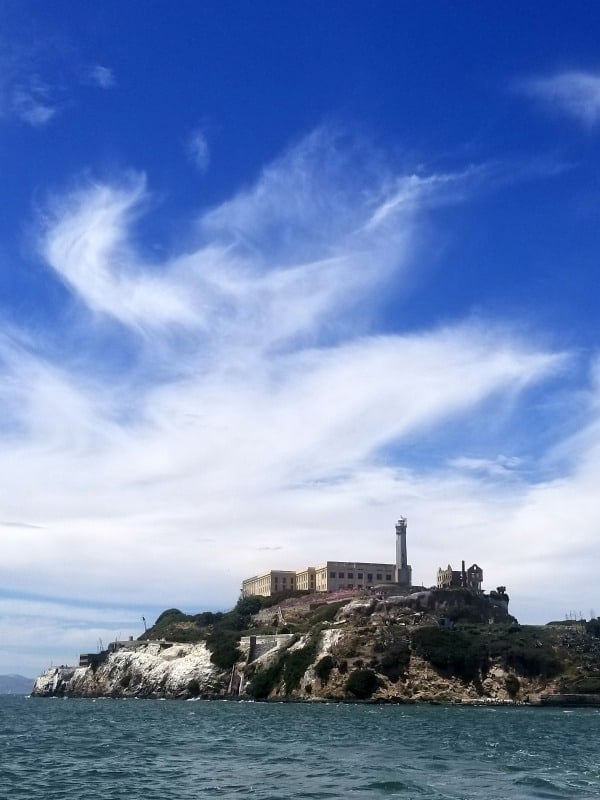 Alcatraz Island offers a close-up look at the site of the first lighthouse, and the first U.S. built a fort on the West Coast! This island is best known for is Federal Penitentiary that was said to be inescapable. Several men tried, a few even made it off the island, but they were all presumed dead from drowning. Some of Alcatraz's most famous inmates included Al Capone, George "Machine Gun" Kelly and Robert Stroud "The Birdman of Alcatraz."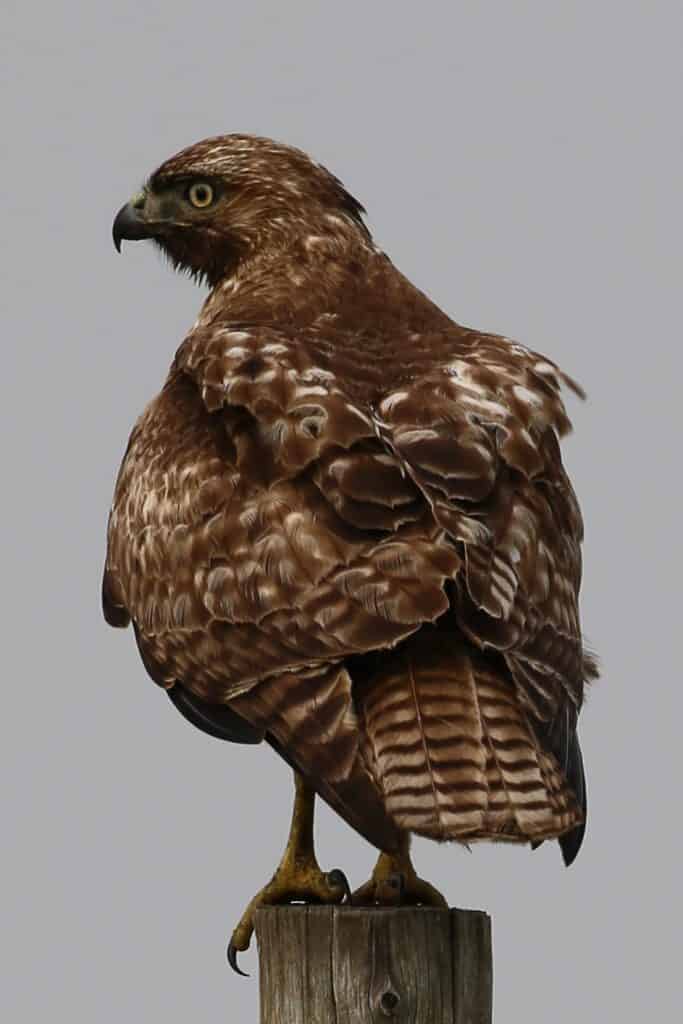 Point Reyes National Seashore
Point Reyes National Seashore is located just north of San Francisco. Bear Valley visitor center is very informative with great exhibits and the Earthquake trail (6/10 mile loop trail) that talks about the San Andreas Fault. A forty-five minute drive away is the Historic Lighthouse and visitor center. Fog and wind are common here, and you can take the stairs, all 308 steps to the lighthouse when the stairs are open. Keep your eyes out for hawks on the fence posts; they can be found all over the fields around Point Reyes.
Juan Bautista De Anza National Historic Trail
In 1775-1776, Juan Bautista De Anza led some 240 men, women and children on a 1200 mile epic journey to establish the first non-native settlement at San Francisco Bay.
This park is open by reservation only. You can call 925-228-8860 ext 6520 or visit the National Park Website to make reservations. The memorial is located on an active military base. Tours are only given by reservation made two weeks in advance. Make sure and visit the National Park website to learn about ID requirements for accessing the memorial.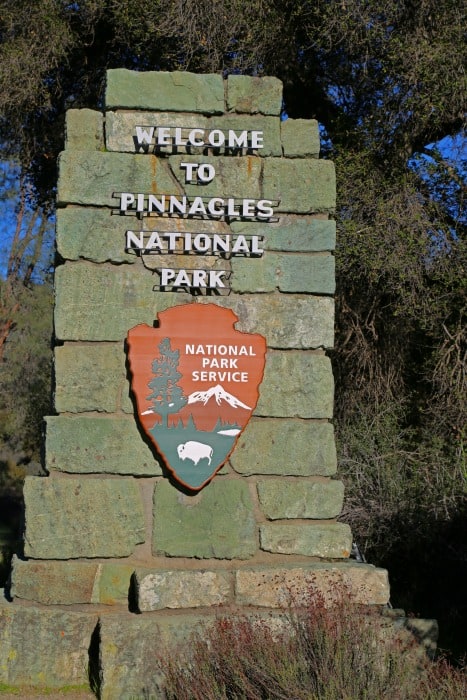 Pinnacles National Park is less than two hours from San Francisco! It is also a birders paradise! We came to Pinnacles in search of the California Condor. Just be prepared as both Old Pinnacles Trailhead and Bear Gulch Trailheads are rather small and fill up quickly. We arrived around 10 am and found ourselves parked down below exploring the Bench Trail. We were still excited as we saw numerous bird species including Acorn Woodpeckers, Turkey Vultures, and Western Scrub Jays. Even the drive into the park was stunning!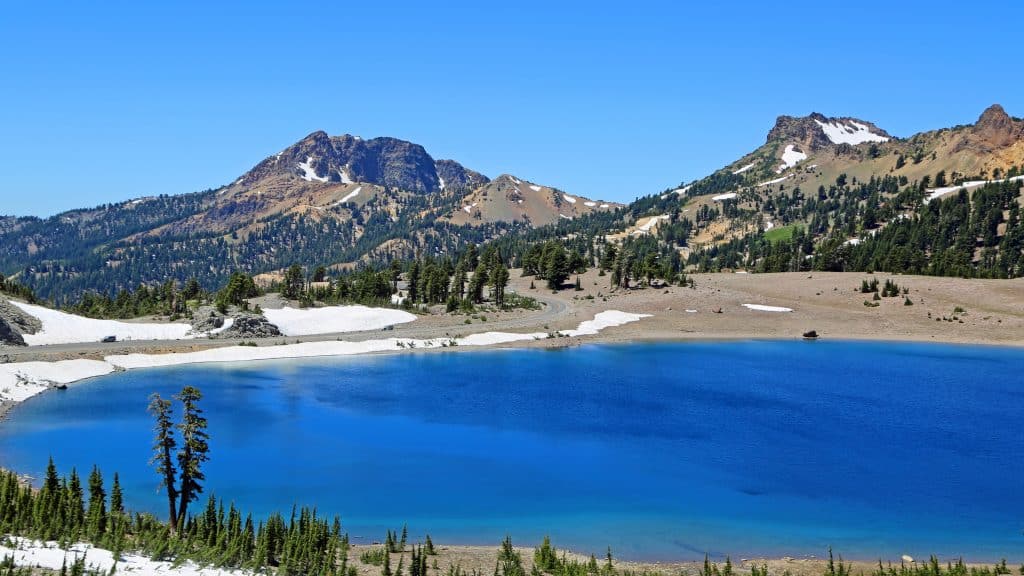 Lassen Volcanic National Park is just barely over four hours from San Francisco, and all I can say is WOW! This is an amazing park! The Lassen Volcanic National Park Highway is breathtaking and is one of the most scenic drives in the National Park system. It passes two incredible alpine lakes; Emerald Lake and Lake Helen that will surely blow your mind! For those wanting to go for a hike hit the Bumpass Hell Trail! Just check to see if it's open before arriving at the park as it can be closed due to snow and ice.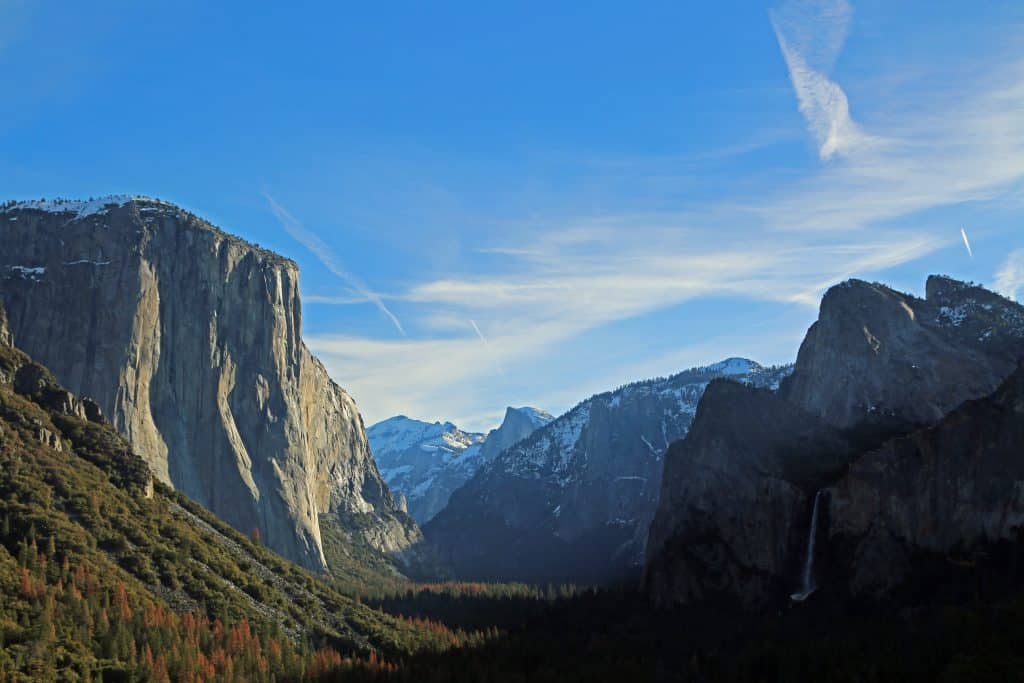 Yosemite National Park is a true American Icon! Names like El Capitan, Half Dome and Bridal Veil Falls are instantly recognizable to anyone ever hearing of this park. Yosemite Valley just feels like a place where the likes of Norman Rockwell sat for hours gaining inspiration for their work. It's easy to see why photographers fall in love with this place like Ansel Adams and why John Muir was so passionate about Yosemite that he petitioned the U.S. Congress which led to it becoming a National Park.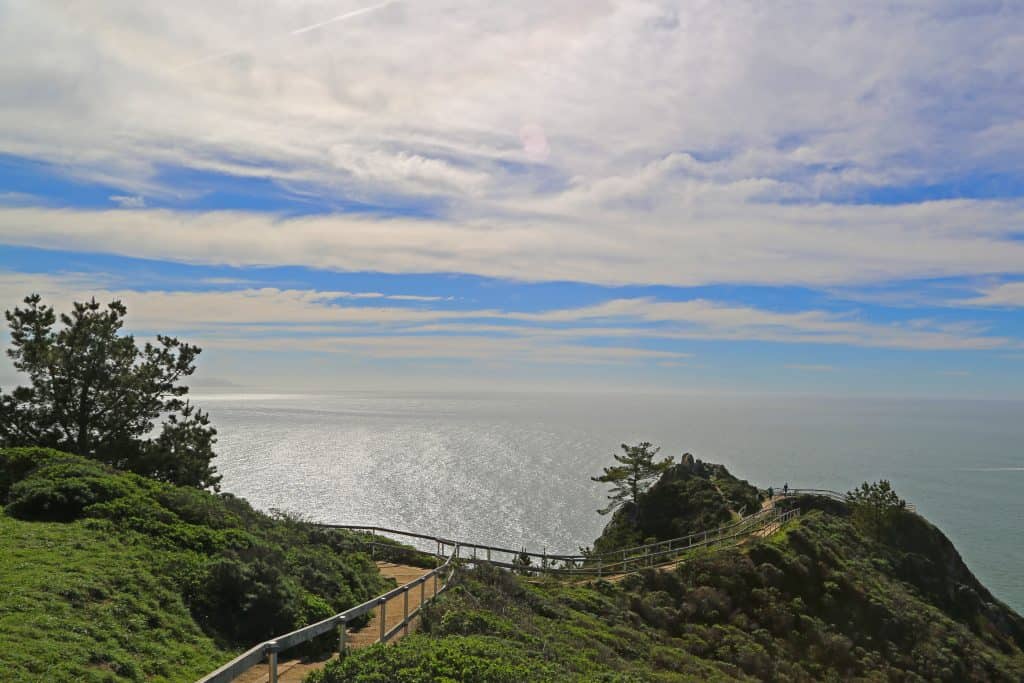 As you can tell, San Francisco is blessed with so many great National Parks sites! Just think of it as you now have 15 different excuses to plan a trip to the San Francisco Bay Area!