Complete Guide to Muir Woods National Monument near San Francisco, California including parking permits, things to do, hiking trails, history, and so much more.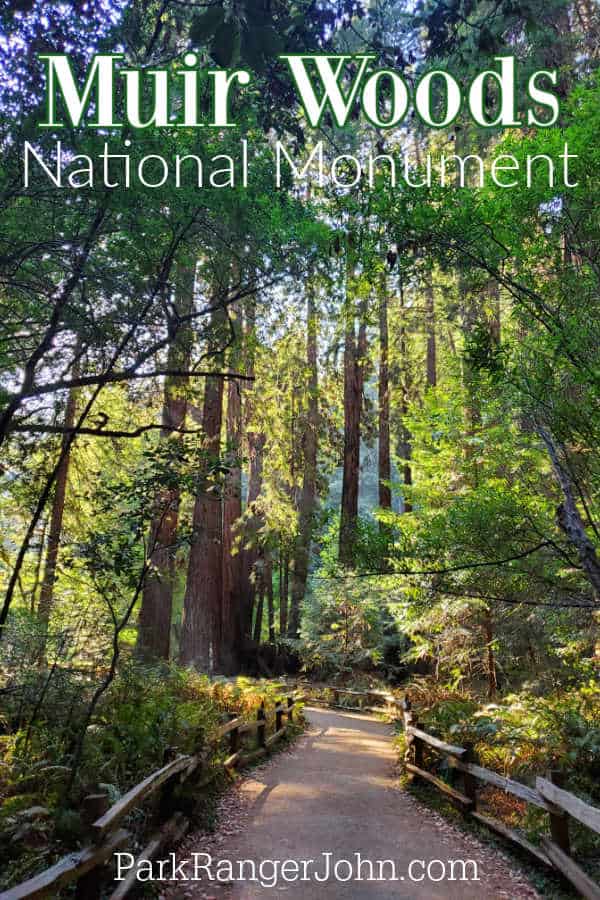 Muir Woods National Monument
Muir Woods NM offers visitors the chance to walk among old-growth coast redwoods just outside of San Francisco, California.
This park is crazy busy for a reason! When you walk past the entrance sign it feels like you are leaving the hustle and bustle of the city and entering a forest wonderland.
It is hard to describe the wonder and joy of walking the trails surrounded by epic trees and nature sounds.
About Muir Woods NM
Muir Woods NM protects old growth Coast Redwood trees just north of San Francisco.
This park is vital as a refuge for visitors to get out of the city and for scientists to understand more about humans interacting with this type of landscape.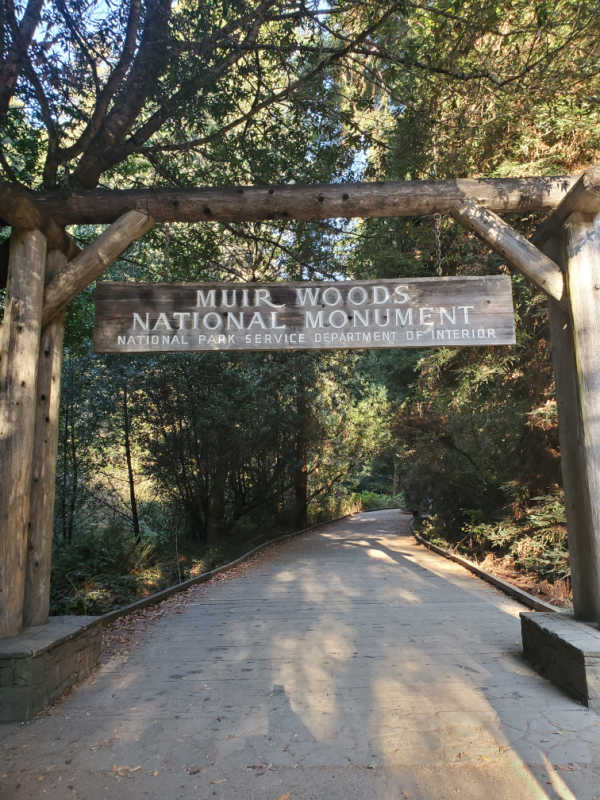 Is Muir Woods worth visiting?
The simple answer is yes but this park is so much more than a simple yes. Muir Woods to me is one of my personal favorite places on this planet!
Each time I go, I feel as if I am transported to somewhere else, a place that is calming, relaxing, and rejuvenates my soul. It's a place when the world seems to be too much, I somehow find my center again.
Something as simple as taking a stroll out to Bridge 4 and back, stopping along the way to sit on a bench and stare at the water under the bridge washes away all of life's troubles.
Like a kid, I stare in amazement at the massive Redwoods and gain my sense of wonder back. I wish that everyone can find a place that is as special to them as Muir Woods is to me.
History of Muir Woods
Muir Woods National Monument is part of California's Golden Gate National Recreation Area and is located 12 miles north of San Francisco. It is the first national monument that was created solely because of a donation from a private citizen.
One hundred and fifty million years ago, Redwood and Sequoia trees grew in the United States.
Today, the ancestors of these old-growth coast redwood trees are located only in a narrow line along the coast from central California to southern Oregon. The area was inhabited by the Coast Miwok tribe as far back as 6,000 BC and they lived in the area as recently as the 1800s.
In 1607 the first settlers at Jamestown began what is the history of logging in America, utilizing forests for their homes in the New World.
When the Gold Rush began in San Francisco in 1948, gold towns were booming and miners were flocking to the area to settle and mine for gold.
The forests of California were almost as good as the gold itself as miners were looking to build homes and gold towns were building businesses.
Expectedly, redwood trees nearby were depleted. Soon, the area that is now Muir Woods was explored and parts that were easily accessible were mined first. As demand increased there was an interest in a hidden, not easily accessible area called Redwood Canyon.
By the early 1900s, advancements in transportation and logging equipment made it easier to log those remote areas. As timber increased in value, the area was logged consistently and soon Redwood Canyon was the last untouched haven in the area.
Many hikers and nature lovers alike were saddened at the thought of this breathtaking area being logged. One group in particular, the Tamalpias Club, was a hiking group formed in 1880 for the purpose of hiking these woods.
Another person who took note at the time was an avid conservationist named William Kent. Kent was a rising politician who would soon become elected to the U.S. Congress and serve from 1911 to 1917.
In 1905, Kent and his wife Elizabeth bought 611 acres of the canyon in an effort to save the Redwoods.
In 1907, a water company planned to dam Redwood Creek which would inadvertently flood the nearly valley.
Kent opposed this plan and the water company threatened to sue citing eminent domain (the right of the government to take private land for public use, with compensation being given).
To get around this legal matter, Kent began pleading his case to President Theodore Roosevelt as to why this magnificent area should be preserved for centuries to come.
As Americans knew, Roosevelt was the leading supporter of National Parks and preserving natural areas.
Kent donated 298 acres of his land to the federal government and because of this private donation, Roosevelt was legally able to declare it a protected National Monument in 1908.
Kent cited to the government his desire to name the area "Muir Woods" to honor naturalist John Muir. John Muir was also known as "John of the Mountains" and "The Father of National Parks."
Muir was a Scottish-American naturalist, zoologist, botanist, and author. Muir shared his passion for nature through his writings and motivated many Americans to appreciate the beauty in nature as well.
His life's goal was to protect wild places – for the well-being and benefit of nature and people alike. Kent felt the name "Muir Woods" suited the area and the story behind its preservation perfectly.
Muir wrote to Kent after the establishment of Muir Woods.
"Seeing my name in the tender & deed of the Tamalpais Sequoias was a surprise of the pleasantest kind. This is the best tree-lover's monument that could possibly be found in all the forests of the world.

You have done me great honor, & I am proud of it... Saving these woods from the axe & saw, from money-changers and water-changers & giving them to our country & the world is in many ways the most notable service to God & man I've heard of since my forest wanderings began."
The average age of the redwoods present at Muir woods is somewhere between 600 and 800 years old.
The oldest tree in existence there is around 1,200 years old. These numbers are surprisingly still low for Redwoods as they can live to be up to 2,200 years old.
The average height of the redwoods in Muir Woods is 250 feet high. The land is one of the only old-growth redwood forests on the planet.
Muir Woods has needed updates and maintenance over the years due to the high volume of visitors each year – over 1 million.
But the redwoods themselves and the natural area surrounding them have been preserved for nature lovers to enjoy for years to come.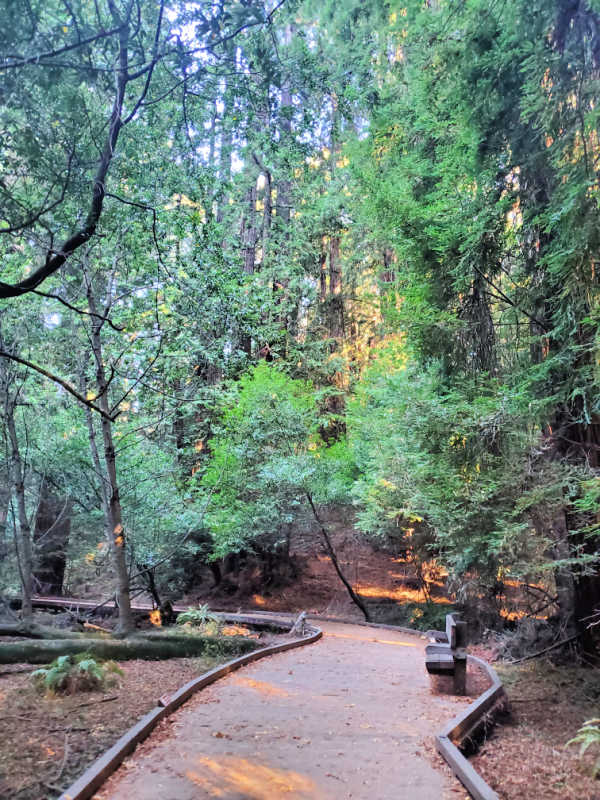 Muir Woods Reservations
The most important thing to know is you will need a parking and shuttle reservation to visit the park.
Reservations are REQUIRED for all vehicles and shuttle riders visiting the park.
Make sure to download your parking reservation or shuttle ticket before you head to the park. There is NO cell service or WiFi available at the park.
Reservations can be made through this website or by phone at 1-800-410-2419.
Standard reservations can be made up to 90 days in advance. All reservations are released at 9:00 am Pacific Time.
Accessible Parking Spaces require a reservation. There are 8 ADA spaces available in the main parking lot.
Muir Woods Parking Reservation Fees
$9.00 Standard Vehicle
$30.00 Medium Vehicle
$45.00 Large Vehicle
Muir Woods Shuttle Reservations
$3.50 per adult, kids under 15 ride for free.
The Muir Woods Shuttle only runs on the weekends and holidays starting June 19th.
The last shuttle of the day fills up quickly! Make sure you plan time to make it on a shuttle.
Accessibility - Each shuttle can accommodate 2 wheelchairs.
Bikes - Bikes are not allowed on or in the buses or in the park. There is bike parking at the Pohono Park & Ride Lot.
Oversized Vehicles - The park can handle vehicles over 17 feet in length. Reservations are open 90 days in advance.
Parking Sizes
Standard - 17 feet or shorter
Medium - 17 to 22 feet
Large - 22 feet to 35 feet
The parking lot can not manage vehicles over 35 feet in length. There is a 30-foot limit on Upper Muir Woods Rd and a 35-foot limit on Frank Valley Road.
Medium and Large vehicles have a set arrival and departure time.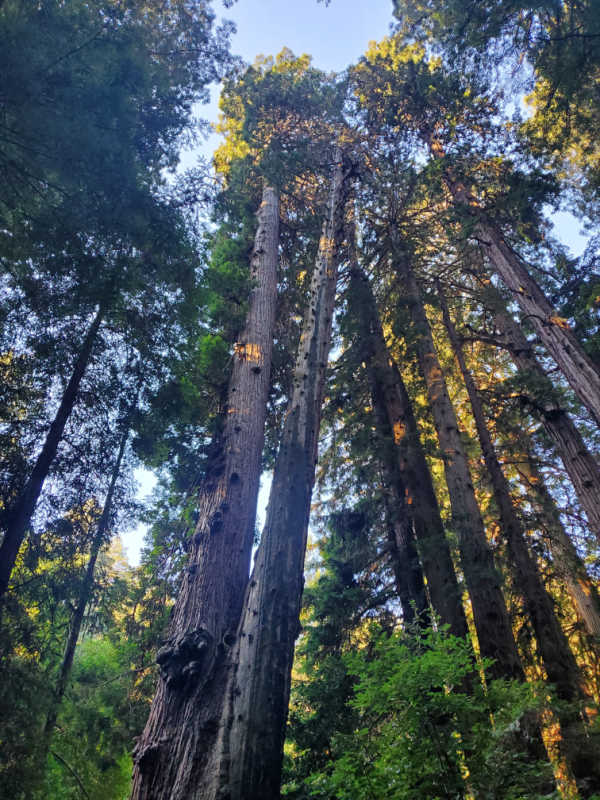 Things to know before your visit to Muir Woods NM
Entrance fee
$15 - Adults 16 years or older
Free - Kids under the age of 15
Planning a National Park vacation? America the Beautiful/National Park Pass covers entrance fees for an entire year to all US National Park Sites and over 2,000 Federal Recreation Fee Sites.
The park pass covers everyone in the car for per vehicle sites and for up to 4 adults for per-person sites.
Buy on REI.com and REI will donate 10% of pass proceeds to the National Forest Foundation, National Park Foundation and the U.S. Endowment for Forestry & Communities.
Annual Park Pass - $40
Valid for one year through the month of purchase. Admits one private, non-commercial vehicle or its pass holder.
Learn more about National Park Passes for parks that have an entrance fee.
Free Entrance Days -Find the five free entrance days the National Park Service offers annually.
Time Zone
PST - Pacific Standard Time
Pets
Pets are not permitted in Muir Woods.
Cell Service
There is no cell service within the park.
Park Hours
8 am to 6 pm
Wi-Fi
There is no Wi-Fi within the park.
Insect Repellent
Insect repellent is always a great idea when outdoors, especially if you are around any body of water.
We use Permethrin Spray on our clothes before our park trips.
Water Bottle
Make sure to bring your own water bottle and plenty of water with you. Plastic water bottles are not sold in the park.
Food/Restaurants
There is a café located near the entrance of the park managed by Muir Woods Trading Company.
Gas
There are no gas stations within the park.
Drones
Drones are not permitted to be flown in National Park Service Sites.
National Park Passport Stamps
National Park Passport stamps can be found in the visitor center.
Make sure to bring your National Park Passport Book with you or we like to pack these circle stickers so we don't have to bring our entire book with us.
Muir Woods is part of the 1991 Passport Stamp Set
Electric Vehicle Charging
EV Charging is available in the Muir Woods Parking lot. Make sure to make an Electric Vehicle Reservation
Accessibility
Muir Woods has designated ADA parking spaces that can be reserved before your visit.
They also offer assistive listening devices, ADA Restrooms, Braille Brochures and trail maps, Large print brochures, along with audio described brochures.
Segments of the trails are accessible.
The visitor center has adapted brochures and listening devices.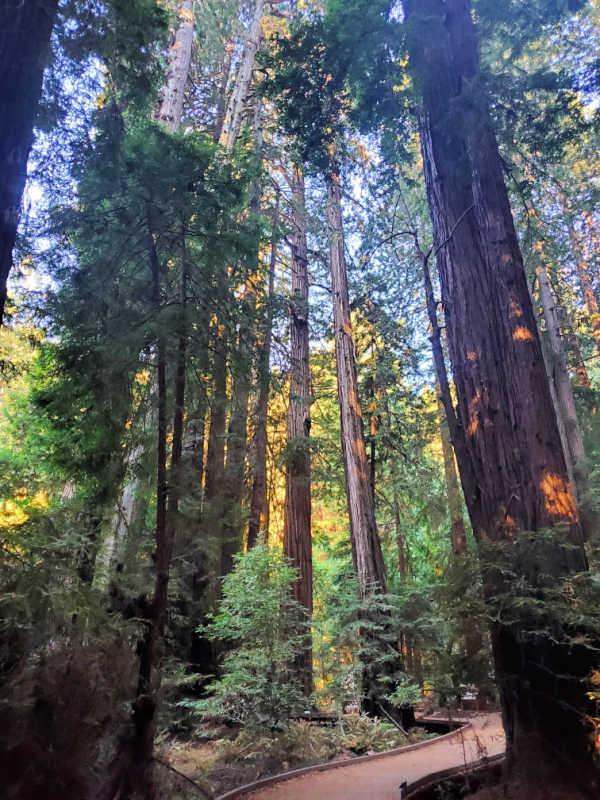 Details about Muir Woods NM
Size - 554 Acres
Check out how the park compares to other National Parks by Size.
Date Established
January 9, 1908, by President Theodore Roosevelt.
The park was the 7th US National Monument Established.
Visitation
In 2021, Muir Woods had 657,722 park visitors.
In 2020, Muir Woods had 324,232 park visitors.
In 2019, Muir Woods had 812,073 park visitors.
Learn more about the most visited and least visited National Parks in the US
Muir Woods NM Address
1 Muir Woods Rd
Mill Valley, CA 94941
Muir Woods Map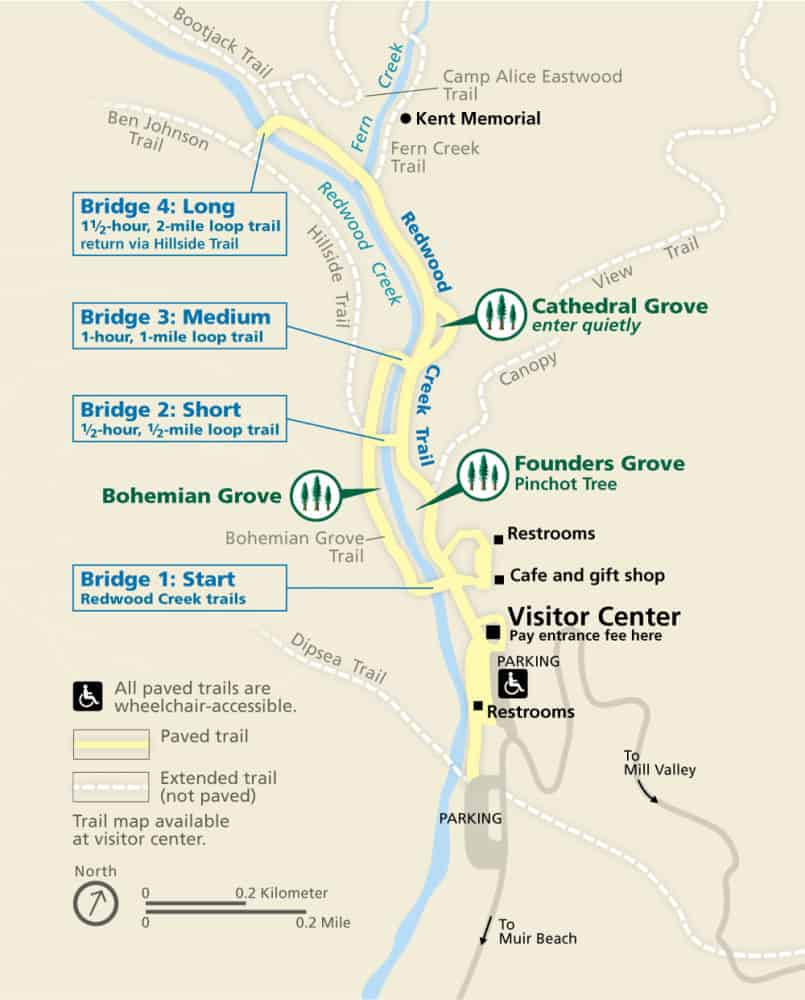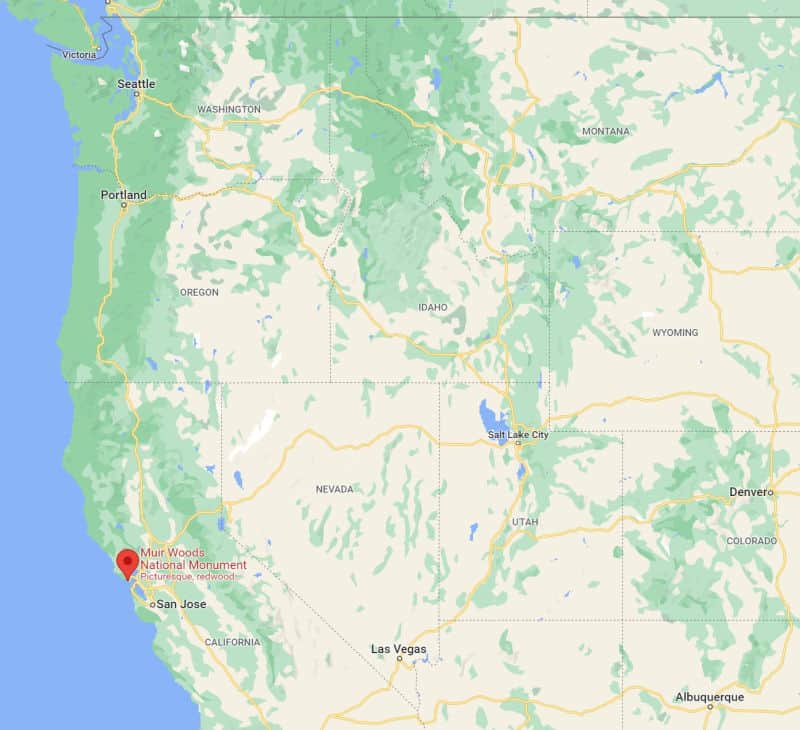 Where is Muir Woods?
Muir Woods NM is located outside of San Francisco, California.
Estimated distance from major cities nearby
San Francisco, CA - 16.8 miles
Oakland, CA - 31 miles
Sacramento, CA - 95 miles
Stockton, CA - 102 miles
Fresno, CA - 205 miles
Reno, NV - 226 miles
Los Angeles, CA - 402 miles
San Diego, CA - 520 miles
Estimated Distance from nearby National Park
Pinnacles National Park - 141 miles
Yosemite National Park - 185 miles
Sequoia National Park - 282 miles
Kings Canyon National Park - 260 miles
Lassen Volcanic National Park - 234 miles
Death Valley National Park - 475 miles
Where is the National Park Visitor Center?
The visitor and information center is right next to the main parking lot for Muir Woods.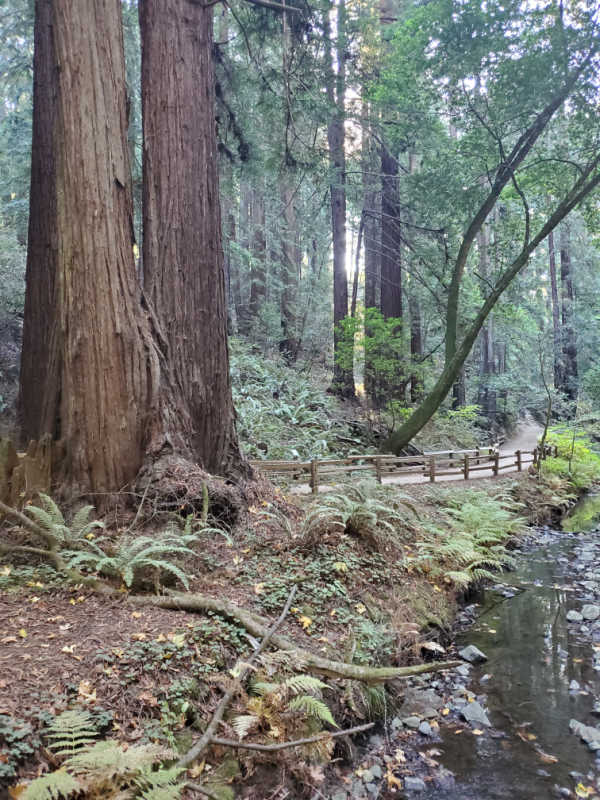 Getting to Muir Woods
Closest Airports
San Francisco International Airport (SFO)
Oakland International Airport (OAK)
International Airports
San Jose International Airport (SJC)
Sacramento International Airport (SMF)
Regional Airports
Sonoma County Airport (STS)
Stockton Metropolitan Airport (SCK)
Driving Directions
From San Francisco
Muir Woods is located 11 miles north of the Golden Gate Bridge.
Take Highway 101 North
Take the Mill Valley/Highway 1/ Stinson Beach Exit.
Follow the signs to Highway 1
Follow the signs to Muir Woods.
From the East Bay
Take the Highway 580/Richmond/San Rafael Bridge West
Take Highway 101 South
Take the Stinson Beach/Mill Valley Ext
Follow the signs to Highway 1
Follow the signs to Muir Woods
Vehicles over 35 feet long are prohibited. There are no RV parking facilities.
Ride Share
Uber cannot reliably pick you up due to the lack of cell phone service! If you are taking a taxi or shuttle service make sure and set a time for them to pick you up.
Guided Tours
If you don't want to worry about parking or driving to the park there are great guided tours and express vans that can bring you to Muir Woods.
From San Francisco - Muir Woods Guided Tour
Escape San Francisco for a little while on a guided tour of Muir Woods, with entry fees included. Admire the ancient sequoia trees, then take a panoramic bus tour of Sausalito.
From San Francisco - Muir Woods and Sausalito Tour
Take a guided tour of the Muir Woods NM, with entry tickets included, on a trip from San Francisco. Continue onto Sausalito and choose to either explore by bike or return by ferry.
From San Francisco - Muir Woods and Sausalito Group Tour
Join a guided group tour around San Francisco before enjoying free time at Muir Woods and in Sausalito.
From San Francisco - 6 hour city tour and Muir Woods
Explore San Francisco's most popular neighborhoods, with several photo stops. Travel across the Golden Gate Bridge for lunch in Sausalito, then spend over an hour in beautiful Muir Woods to enjoy the redwoods.
From San Francisco - Muir Woods, Sausalito and San Francisco Bay Cruise
Escape the bustle of San Francisco on a half­-day trip to Muir Woods & Sausalito. Journey across the Golden Gate Bridge to the Bay Area's most popular national monument, see the prettiest village in California and end the day with a 1-hour Bay Cruise.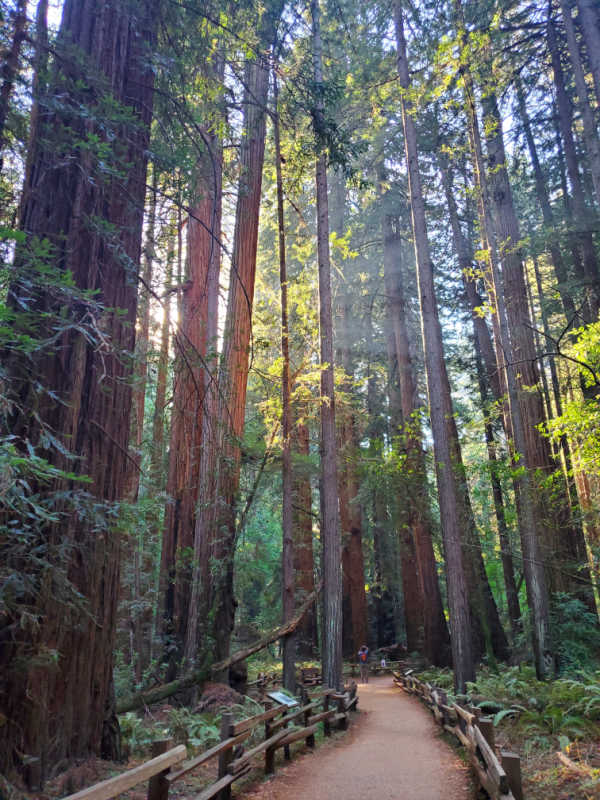 Best time to visit Muir Woods NM
The best time to visit Muir Woods is any day you can visit.
In the winter you may get some rain but it rarely falls below 36 degrees so it will be a bit cool but still gorgeous.
Weather and Seasons
The park has long comfortable summers along with wet cold winters.
The warmest months are from June 11 to October 21 when the average daily temperature is above 69 degrees.
The coolest weather is from December 3 to February 4th when the average daily temperature is below 58 degrees.
The wettest month is February with an average of 4.3 inches of rain but the wet season lasts from October 2nd to May 18th on average.
Snow would be an extremely rare event!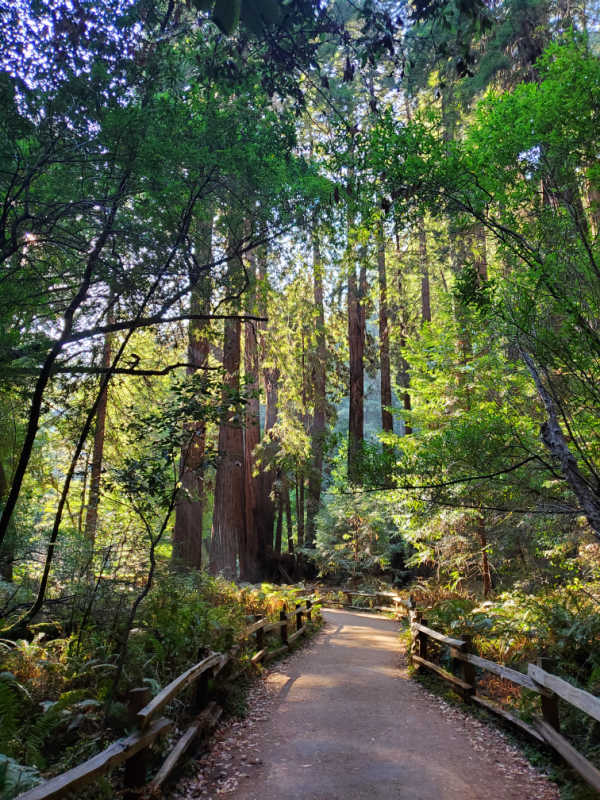 Best Things to do in Muir Woods NM
We suggest planning at minimum a few hours in the park. This is a park we rarely feel like leaving.
There are benches perfect for relaxing and soaking in the beauty of the Redwood forest
Wildlife viewing
10 species of bats have been observed in the park. River Otters can be seen in the morning playing in Redwood Creek.
The Junior Ranger program is a great way for all ages to learn more about the park.
The program can be picked up at the visitor center.
Ranger Programs
During the year the park offers 15-minute Tree Talks when staffing permits.
They also offer ranger-led tours at times.
Muir Beach
Muir Beach is located three miles west of Muir Woods on the Pacific Coast.
There is a 450-foot-long pedestrian bridge that connects the parking lot to the beach, the coastal trail, and Kaashi Way.
One thing to know is the northernmost end of the beach is a popular destination for clothing-optional sunbathers.
There are fire rings available at the beach on a first come first serve basis. Fires must be out 1 hour after sunset.
Muir Beach Overlook
Muir Beach Overlook provides epic views of the Pacific Coast and Point Reyes Peninsula.
The iconic staircase seen in many Instagram photos leads to a small overlook.
This is a great place for whale watching during winter migration.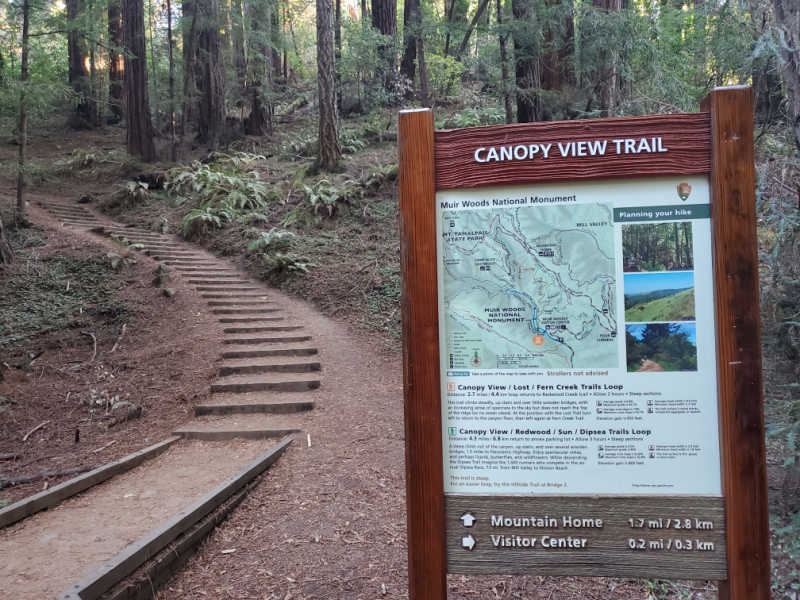 Muir Woods Hikes
Always carry the ten essentials for outdoor survival when exploring.
There are 6 miles of trails within Muir Woods NM.
The trails are divided into a 30-minute loop, 1-hour loop, and 90-minute loop along with longer hikes that extend into Mount Tamalpais State Park.
The trails in the park are either asphalt or boardwalks making them easy to enjoy.
Trails on the canyon walls are dirt and may have tree roots.
The following popular trails are calculated in distance from the Muir Woods Visitor Center unless noted otherwise.
Make sure to check current trail conditions before heading out into the park.
Main Trail - Bridge 2 and back
Distance - .5 miles
This easy trail offers epic views of the old-growth Redwood forest.
Main Trail - Bridge 3 and back
Distance - 1 mile
This trail allows you to walk farther among the Redwood forest.
Main Trail - Bridge 4 and back on Hillside Trail
Distance - 2 miles
Elevation Gain - 90 feet
This trail has a bit of elevation gain after passing the Cathedral Grove.
Canopy View to Lost Creek to Fern Creek Loop
Distance - 3 miles
Elevation Gain - 530 feet
This trail takes you uphill into the woods. Be prepared this trail does have elevation gain.
Fern Creek to Camp Alice Eastwood Loop
Distance - 3 miles
Elevation Gain - 340 feet
This 3-mile trail climbs uphill towards Camp Alice Eastwood where there is water, restrooms, and picnic tables.
Follow the Plevin Cut Trail which was part of an early 1900s rail line takes you back to the main trail.
Ben Johnson returning via Dipsea Loop
Distance - 4 miles
Elevation Gain - 925 feet
This hike has the best of both the redwoods and an epic view of San Francisco and the Pacific Ocean. One thing to know is there is a climb to get this view.
Canopy View to Redwood to Sun Trail to Dipsea Loop
Distance - 5 miles
Elevation Gain - 780 feet
This hike also includes a hike uphill.
Muir Woods to Muir Beach and return
Distance - 6 miles
Elevation Gain - 150 feet
This hike travels alongside Muir Woods Road before the trial begins. The park service does advise that this trail has poison oak and ticks.
Stinson Beach via Dipsea trail and return
Distance - 10 miles
Elevation Gain - 1240 feet
This all-day hike may be closed during Coho salmon spawning season.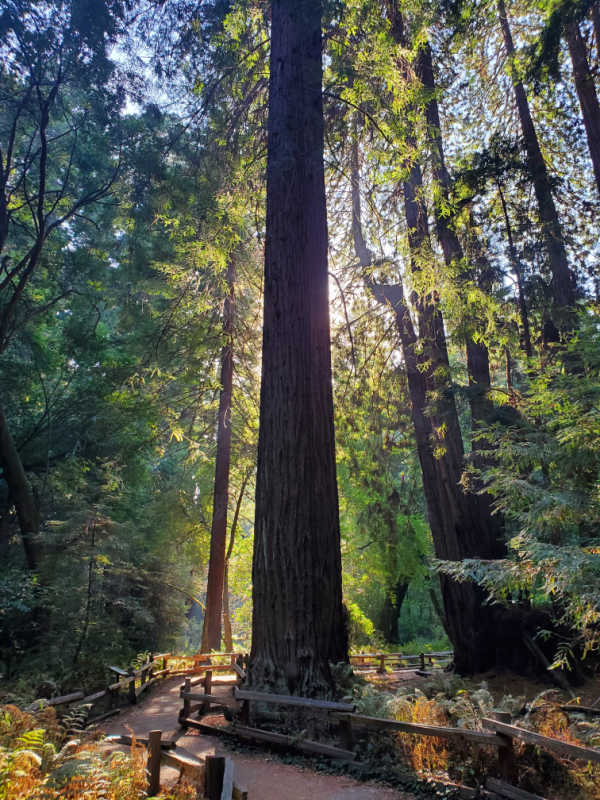 How to beat the crowds in Muir Woods?
The best way to beat the crowds is to book an early morning Muir Woods Parking reservation or shuttle reservation.
We arrived right when the park opened during our last visit and only ran into a few other visitors.
Where to stay when visiting National Park
There are no National Park Lodges within the park.
Cavallo Point - This National Park Lodge is part of Golden Gate NRA and is absolutely gorgeous! Check it out here.
Marin Suites Hotel - A terrace, a firepit, and a garden are just a few of the amenities provided at Marin Suites Hotel. For some rest and relaxation, visit the sauna or the hot tub. In addition to laundry facilities and an outdoor entertainment area, guests can connect to free in-room Wi-Fi.
Best Western Corte Madera Inn - A terrace, a garden, and dry cleaning/laundry services are just a few of the amenities provided at Best Western Corte Madera Inn. Adventurous travelers may like the basketball at this hotel. Treat yourself to a massage at the onsite spa. In addition to a fireplace in the lobby and a gym, guests can connect to free in-room Wi-Fi.
Courtyard San Francisco Larkspur Landing - Consider a stay at Courtyard San Francisco Larkspur Landing/Marin County and take advantage of a grocery/convenience store, a coffee shop/café, and a library. For some rest and relaxation, visit the hot tub. The onsite restaurant, The Bistro, features American cuisine. Free in-room Wi-Fi is available to all guests, along with dry cleaning/laundry services and a fireplace in the lobby.
Casa Madrona Hotel & Spa - You can look forward to a terrace, a firepit, and dry cleaning/laundry services at Casa Madrona Hotel & Spa. Treat yourself to spa services, such as a facial, a massage, or aromatherapy. The onsite restaurant, Poggio, features al fresco dining. In addition to a gym and conference space, guests can connect to free in-room Wi-Fi.
The Gables Inn - Sausalito - 3-star guesthouse near the bay
Four Points by Sheraton San Rafael - At Four Points by Sheraton San Rafael Marin County, you can look forward to a terrace, a firepit, and dry cleaning/laundry services. For some rest and relaxation, visit the hot tub. The onsite Californian cuisine restaurant, Hillside Tavern, features pool views and a poolside location. In addition to an outdoor entertainment area and a bar, guests can connect to free in-room Wi-Fi.
Click on the map below to see the current rates for vacation rentals and hotels near Muir Woods NM.


Camping
There is no camping within the National Monument.
For a fun adventure check out Escape Campervans. These campervans have built in beds, kitchen area with refrigerators, and more. You can have them fully set up with kitchen supplies, bedding, and other fun extras. They are painted with epic designs you can't miss!
Escape Campervans has offices in Vancouver, Seattle, Portland, San Francisco, Las Vegas, Los Angeles, Phoenix, Salt Lake City, Denver, Chicago, New York, and Orlando
Here are a few campgrounds we found within an hour or so from the park.
Casini Ranch Family Campground - Duncan Mills, CA
This campground offers Lodging, RV and Tent Sites, Waterfront, beach, canoeing/kayaking, and more.
Delta Marina Yacht Harbor - Rio Vista, CA
This campground offers RV Sites, a waterfront, boat launch, a playground, and more.
Yogi Bears JellyStone Park Tower Park - Lodi, CA
This campground offers lodging, RV and tent sites, beach, waterfront, waterpark, and more.
Santa Cruz Redwoods RV Resort - Felton, CA
This campground offers Lodging, RV and Tent sites, waterfront, fishing, and more.
Check out more campgrounds nearby on CampSpot.
Muir Woods Facts
Muir Woods National Monument is considered to be one of the most popular tourist attractions in the San Francisco Bay Area.
The tallest redwood in Muir Woods National Monument is 258 feet tall.
The majority of the trees located in Muir Woods National Monument are between 500 to 800 years old but the oldest tree in the protected forest is over 1200 years old.
50 bird species are found in the national monument.
Muir Woods is one of the most popular tourist attractions in the San Francisco Bay Area.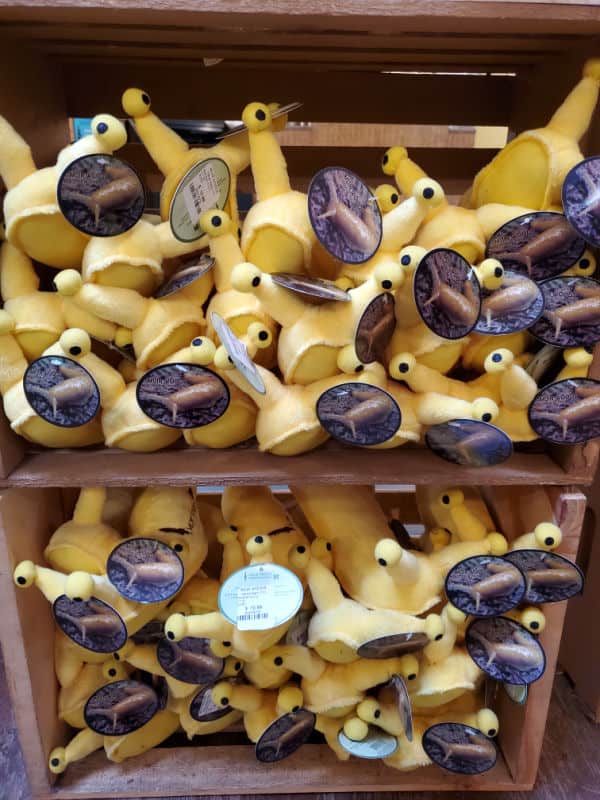 Travel Tips
Make sure and dress in layers! It can get quite cool and damp while walking the trails. The trees block a lot of the sun so it is cooler in the forest than in other parts of the city.
You can download the park brochure before your visit here. Guides are available in English, Russian, Chinese, Japanese, German, Spanish, French, and Italian.
Parks near Muir Woods NM
Rosie the Riveter National Historic Park
John Muir National Historic Site
Eugene O'Neil National Historic Site
Port Chicago Naval Magazine National Memorial
Fort Point National Historic Site
Point Reyes National Seashore
Check out all of the California National Parks along with neighboring Arizona National Parks, Oregon National Parks, and National Parks in Nevada
Check out the nearby California State Parks including Mount Tamalpais State Park, Samuel P. Taylor State Park, and China Camp State Park
National Park Service Website