Imagine, for a moment, that from time immemorial a magical camera has been taking pictures of Lassen Volcanic National Park. Imagine, too, that by pressing a button on the camera you are able to speed up the sequence of photos showing the distant past and watch as Lassen's explosive life unfolds.
In quick motion, a 10,000-foot volcano blows off its top, spewing a mushroom cloud of steam and ash high into the air; simultaneously, a wall of fiery lava gushes from deep within the mountain and plunges down its slopes, destroying everything in its path.
Within minutes the once green countryside lies entombed beneath a blanket of black lava rock. New volcanoes begin to erupt. Pure white snow soon masks the destruction. Then glaciers come down from the North, crushing the mountains that lie in their way, grinding the rock into soil.
Almost as fast as it came, the ice withdraws, leaving behind a new and ravaged landscape. But the ground quickly thaws, rivers flow, and forests spring to life.
You watch, fascinated, as parts of this drama are repeated, with variations, over the eons, new volcanoes erupt, new glaciers intrude, new life takes hold and greens the land. Suddenly, only seconds after an explosive eruption, the replay stops short. You have arrived at the present, and although nature's cycle of ruin and renewal is still in progress and will continue far into the future, it will do so only at an all but imperceptible pace.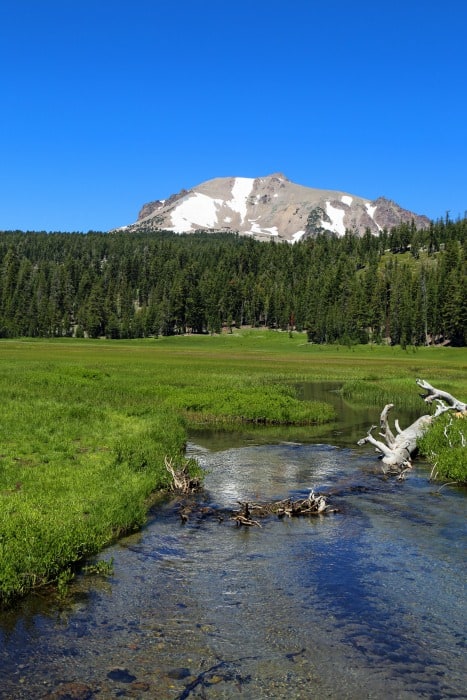 Lassen Park owes its turbulent history to its position astride the Ring of Fire, a chain of about 300 volcanoes that nearly encircles the Pacific Ocean. The volcanoes line the edges of the Pacific Plate, one of the many oddly shaped sections that make up the earth's crust.
As the Pacific Plate grinds against its neighboring plates, the friction produces intense heat deep inside the earth, melting stone into a liquid called magma that works its way up through fissures in the subterranean rock until it bursts forth as lava.
This bursting forth can happen in many ways, depending on the nature of the channel that the magma finds and of the place where it emerges. The remains of many of these volcanic variations are among the outstanding landscape features to be seen at Lassen Volcanic National Park.
Lassen Peak, 10,457 feet in elevation, is quiescent now; perhaps it is resting from its last mighty eruption, which continued from 1914 until 1917. Still, Lassen is only the latest volcanic mountain to reign here. Not long before the Ice Age, it emerged from the northernmost flank of an even more impressive volcano, Mount Tehama.
Much later, Tehama's summit collapsed, leaving a giant pit, or caldera, surrounded by a crown of jagged remains. These remnants, Brokeoff Mountain, Mount Conard, Pilot Pinnacle, Mount Diller, form a steepled circle south of Lassen, like a stony monument to Mount Tehama's past glory.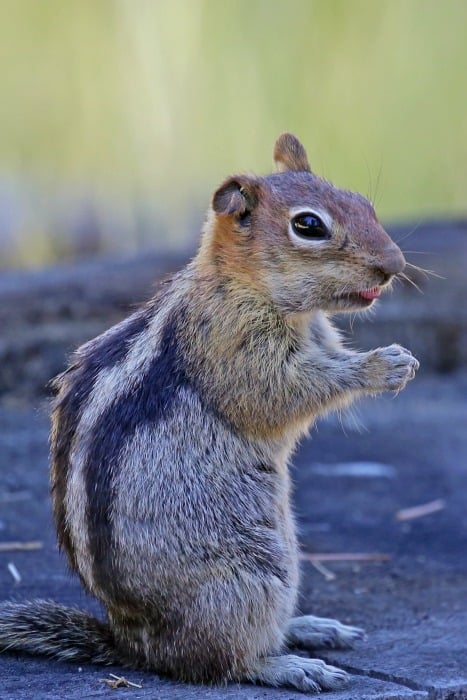 Just north of Lassen Peak lies Chaos Jumbles, 4½-square-mile rubble of shattered boulders and broken stones partly overgrown by a young evergreen forest. The jumbled mass or rock is the result of explosions that occurred about 300 years ago from Chaos Crags, six volcanic domes near Lassen's northern foot.
Like Lassen itself, they are known as plug-dome volcanoes. A long time ago, solidified magma stopped up their main vents. Pressure from inside the earth mounted until finally the mountains blew up, setting off a series of avalanches that came to rest as Chaos Jumbles.
A different process created Cinder Cone, an 800-foot-high pile of volcanic debris near the park's northeastern border. Since Cinder Cone's vent was not blocked, red-hot lava was able to erupt freely, sometimes sending pillars of fire hundreds of feet high.
During these eruptions, fragments of charred lava fell back around the vent, accumulating as the huge anthill-shaped cone we see today. Finer ash, rising thousands of feet high, was winnowed by the wind and fell in a blanket all around the base of the cone.
These barren deposits, later piled into dunes by winds and weathered by volcanic gases into earthen reds, yellows, and browns, have formed the Painted Dunes. During the last such eruption, some 200 to 250 years ago, rivers of molten lava also flowed from the vent. As it cooled, the lava formed low ridges and gave birth to two lakes: Butte Lake and Snag Lake. The bare branches of a drowned forest jut from the water of Snag Lake, the larger of the two.