Butte Lake Campground in Lassen Volcanic National Park is located off a dirt road near a gorgeous lake. This campground is near hiking trails, picnic tables, and great forested areas.

Butte Lake Campground
The Butte Lake campground in Lassen Volcanic features pretty shaded sites that are mostly flat. There are quite a few chipmunks in the campground so make sure you have plastic containers for your food and supplies.
The campground is surrounded by Ponderosa Pine trees which offer amazing shade but also drop a lot of pine cones.
Don't miss our full Lassen Volcanic National Park Camping Guide!
Season: 6/5 - 10/20
Number of Sites: 101 individual sites, 6 group sites
Location in the park: Northeast Corner of Lassen Volcanic National Park
Campsite cost:
Individual Sites: $22 ($15 when water is off)
Group sites: $62 ($35 when water is off)
Payments accepted: Cash or check
Reservations: Yes, Sites in loop B are reservable
Latitude/Longitude: 40.5646° N, 121.3030° W
Elevation: 6,100 feet
Accessible Sites: A6
Pets Allowed: Pets require a 6-ft. leash, may not be left unattended, and are not allowed on trails.
Check out all of the epic things to do in Lassen Volcanic National Park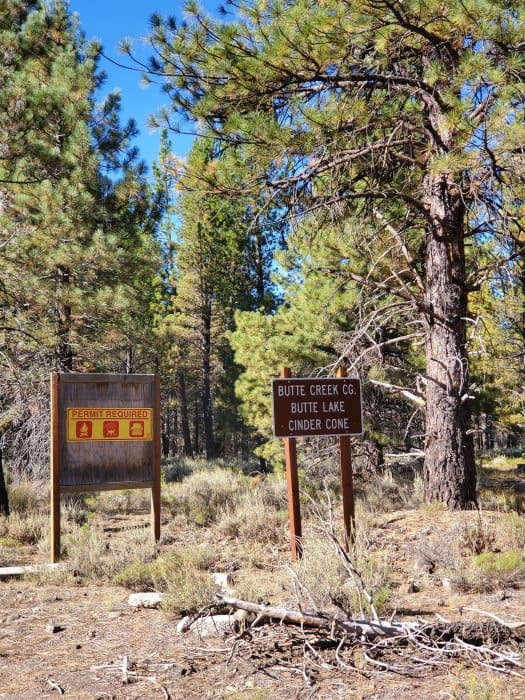 Butte Lake Campground Reservations
Are campground Reservations Available? Yes for B loop campground
Phone Number? 1-877-444-6777
Online?
How Far Ahead can you make a reservation? Reservations may be made a maximum of 6 months and a minimum of 4 days of your arrival date
First Come, First Served? Yes for A Loop
Butte Lake Campground Campground Amenities
Flush Toilets: Pit toilets
Payphone: No
Is wifi available? No
Is cellular Phone Service Available? No
Is camp host available on site? Yes
Is firewood available for purchase?
Amenities at each campsite:
Firepit in the site? Yes
Picnic Table in the site? Yes
Bear Box in site/area? Yes
Potable Water? Limited water, make sure to bring water jugs

RV Camping at Butte Lake Campground
There is no electricity/water/sewer site hook-ups at this campground.
Maximum RV Length: 35 feet A-Loop
45 feet B-Loop
Maximum Trailer Length: 35 feet A-Loop
45 feet B-Loop
Dump Station: No
Generators: Generators may be used only from 8 am to 10 am; 12 pm to 2 pm; and 5 pm to 7 pm.
Hookups: There are no electricity, water or sewer hookups

How to get to Butte Lake Campground
From Redding, California drive 63 miles east on State Highway 44 to Old Station. From the intersection of 44 and State Highway 89, continue east on 44 for 11 miles. Watch for the sign to Butte Lake Campground. Turn right and continue for six miles on a rough gravel road.
Butte Lake Campground Regulations
The maximum number of people in a campsite: 6
The number of cars per campsite: 2 licensed vehicles and 3 tents per camp pad
Checkout time: 12 noon
Quiet Hours: Quiet hours are from 10:00 p.m. to 6:00 a.m.
Maximum Stay: limited to 14 days
Butte Lake Campground Map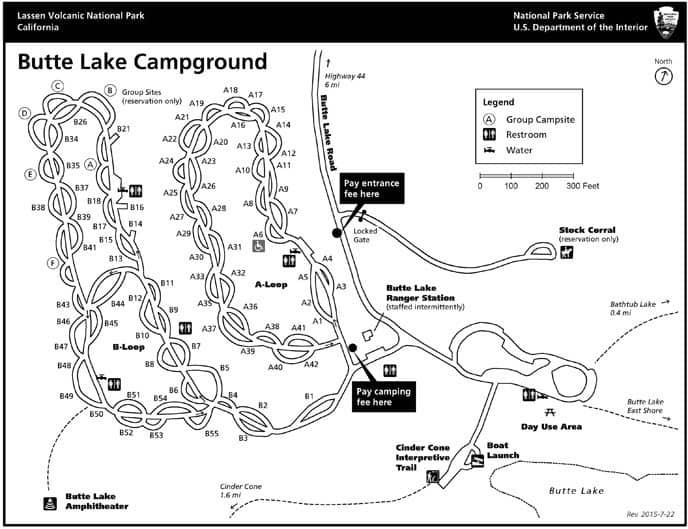 Butte Lake Campground Site Photos
Additional resources
National Parks in California - check out all of the National Park sites you can visit during your trip to California
National Park checklist - Checklist of all of the National Parks sites in the United States.