With 28 National parks in California, you can truly find something for everyone to see and enjoy. California National Parks include Channel Islands National Park, Death Valley National Park, Joshua Tree National Park, Lassen Volcanic National Park along with Sequoia and Kings Canyon National Park and Yosemite National Park.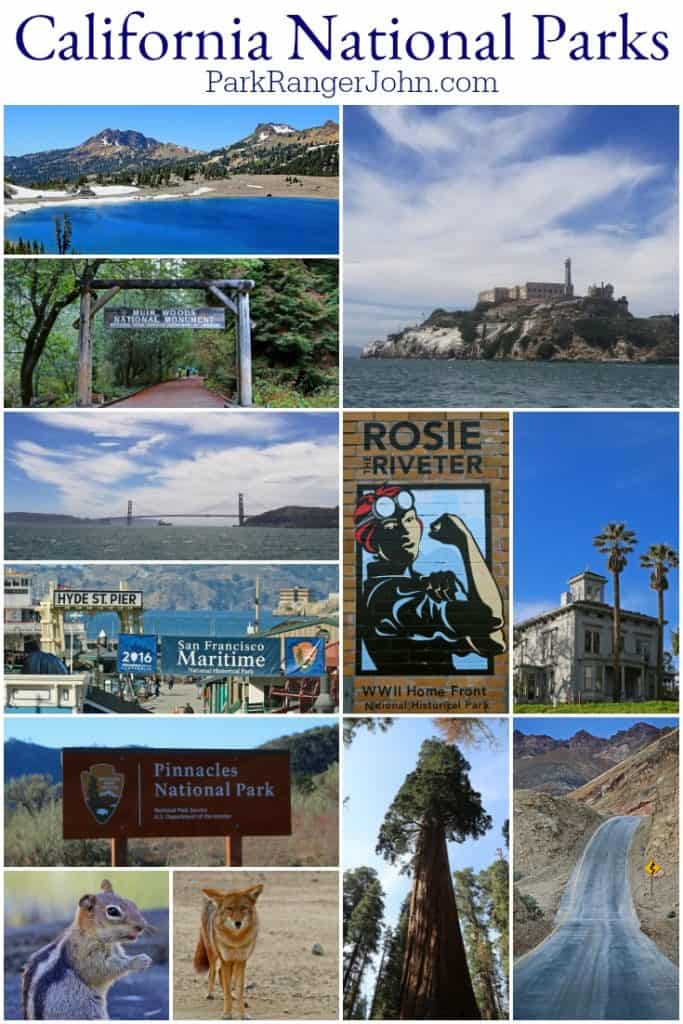 California National Parks
California also has multiple national monuments and national historic sites. Each of these national parks in California offers the opportunity to get outside and explore nature, historical sites and learn more about our park systems. We love traveling through California because it feels like every time you turn around there is another park to visit.
California has a great variety of National Parks. The windswept Channel Islands lie off the southern coast, offering adventures on land and sea. Forested parks include Sequoia & Kings Canyon and Redwood, where visitors can camp among some of the tallest and oldest trees in the world.
Desert Parks include Death Valley, the lowest place in America, and Joshua Tree. Golden Gate National Recreation Area is an urban park. Its holdings include popular Alcatraz Island, the Presidio, and historic Fort Point. Other historic Parks include Manzanar, Cabrillo, and Eugene O'Neil.
There are National Parks for every taste in California, but Yosemite, Mohave, and Mt. Lassen are particularly suited to long leisurely visits.
Lava Beds National Monument near the California-Oregon Border and Pinnacles National Park helps visitors explore the geology and rock formations of the state. Each has overnight camping facilities in the parks.
Historic Sites in the San Francisco area, visitors can visit a number of historic sites. Muir Woods details the history of John Muir and also the logging industry.
The Eugene O'Neil National Historic Site memorializes the playwright. Fort Point has cannon drills, fishing, and guided tours. Point Reyes National Seashore is a place to experience the ocean. It is often foggy and chilly here. Dress accordingly.
Cabrillo National Monument is located near San Diego on the Pacific Coast.
You don't want to miss the giant sequoias in Sequoia & Kings Canyon National Park in Northern California. Some of the largest trees in the world are close enough to touch them.
California is a state of diversity, and the parks in it symbolize that. No matter what a visitor wishes to see, California's national parks satisfy all of them.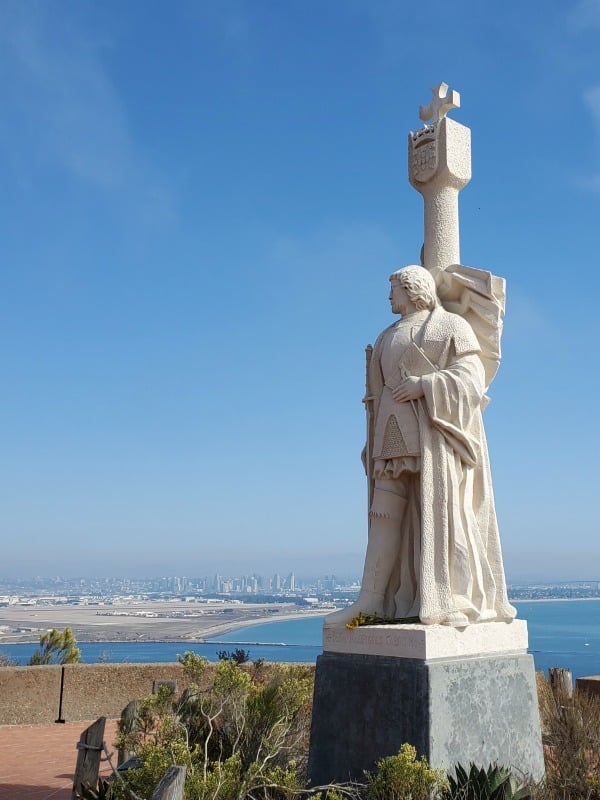 Cabrillo National Monument
Cabrillo NM is located in San Diego. The park is open year-round and offers the opportunity to tour a historic lighthouse, explore tide pools, look for whales and soak in the California sunshine.
Cabrillo commemorates when Conquistador Juan Rodriquez Cabrillo sailed into what is now San Diego Bay in September 1542. The park is located 422 feet above sea level offering epic views of San Diego Bay and the city skyline. Near the visitor center guests can visit the state of Conquistador Cabrillo which was a gift from the government of Portugal.
The park offers amazing views of the Pacific Ocean with whale watching from late December through early March. There is also a 2-mile Bayside Trail that winds along endangered Coastal Mediterranean habitat with coastal sage scrub.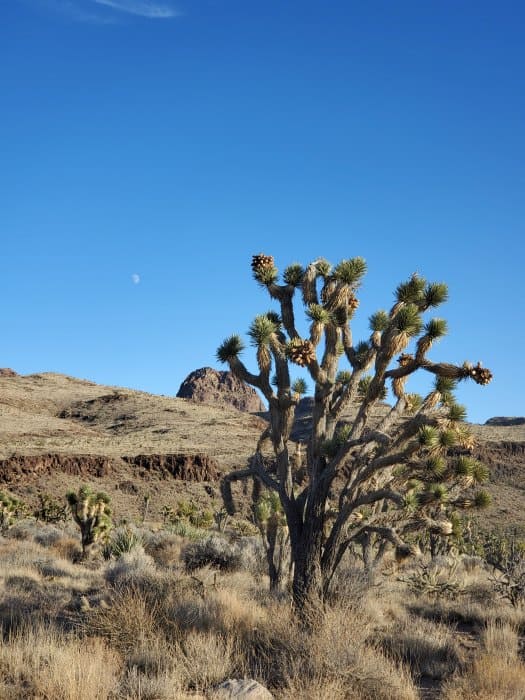 Castle Mountains National Monument
Castle Mountain NM is one of the newest National Park sites in California. The park borders the Mojave National Preserve and is currently undeveloped except for a dirt road that travels through the park.
Visitors should check for park conditions before heading out to visit. There is no visitor center or services within the park.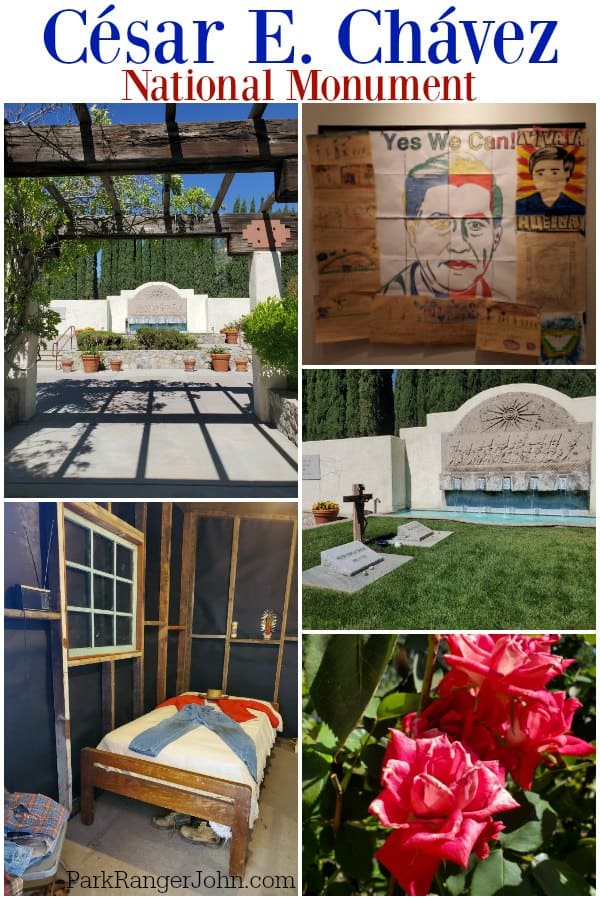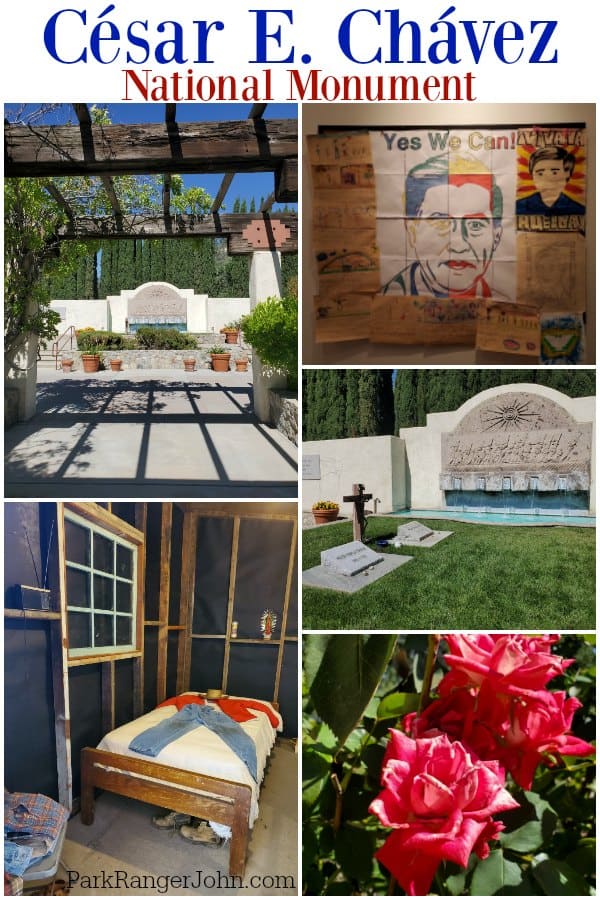 Cesar Chavez NM is located 125 miles north of Los Angeles in Southern California. The park is open year-round offering the opportunity to tour the visitor center, memorial garden and Cavez's preserved office.
Cesar Chavez became a leading figure in the fight for safer working conditions for agricultural workers in the early 1960s. He helped to create the formation of a labor union that would eventually become the United Farm Workers of America. The National Monument was established in 2012 in Keene, California.
Visitors can wander through the visitor center which has amazing exhibits including Cesar Chavez's preserved office. You can hear his granddaughter talk about her grandfather and the work that he did. There is a memorial garden next to the visitor center.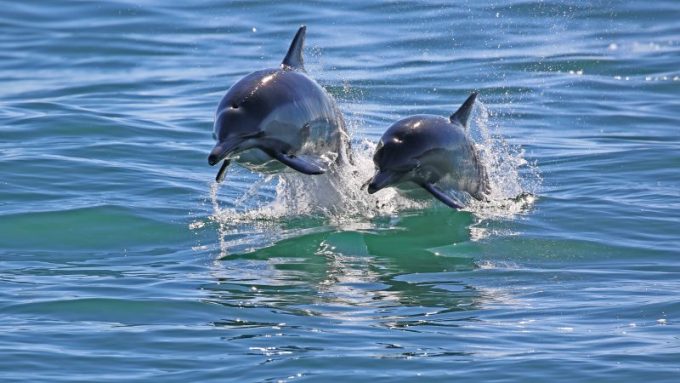 Channel Islands NP is located off the coast of Southern California. The park is open year-round but weather can make an impact on the boat tours. There is a visitor center in Ventura that offers the opportunity to learn more about the Channel Islands.
The visitor center is next to the beach and offers the chance to see the marine ecosystem the park is known for. They have great interpretive displays and a cute store.
To reach the islands visitors need to book a tour with Island Packers boat tours. They offer multiple tours and can help you plan your trip.
Death Valley NP is located in Eastern California approximately 120 miles west of Las Vegas, Nevada. The park is open year-round but the weather is better for visiting from fall through spring. Summers can be brutally HOT!
Death Valley is one of the most famous destinations in the world. The park offers the opportunity to experience some of the hottest weather in the world. In July 1913 the park registered a temperature of 134 degrees at Furnace Creek. You can get an amazing photo with the temperature gage by the visitor center.
Bad Water basin is 282 feet below sea level which makes it the lowest place in North America. Visitors will want to be prepared with water, snacks, and gas when they visit the park.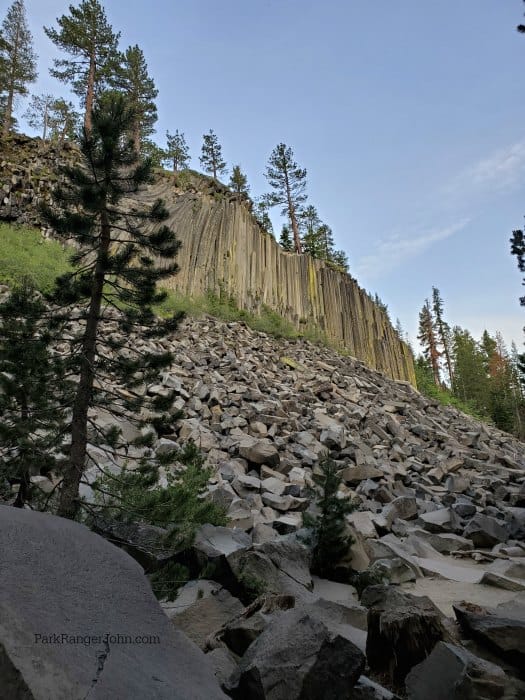 Devils Postpile NM is located in Eastern California approximately 130 miles south of Reno, Nevada. The park is open from summer to early fall. Visitors can enjoy hiking trails, interpretive panels and wildlife watching.
To reach Devils Postpile visitors will need to take a short walk to the basaltic lava outcropping. Make sure you are prepared with bug spray!
Around 80,000 to 100,000 years ago, basaltic lava erupted and flowed into a valley until it was blocked by a natural dam. This created a lava lake that was up to 400 feet deep. As the lava cooled it formed into a pattern. Over time as glaciers moved down into what is today's Red Meadow Valley, they exposed the striking columns that are now up to 60 feet high.
Visitors need to be prepared to take a shuttle from Mammoth Mountain Ski Resort to the park. The only exceptions are for disabled visitors, campers when the campground is open and visitors that visit after shuttle hours.
Eugene O'Neill National Historic Site
Eugene O'Neill NHS is located in Northern California near Oakland. The park is open year-round but visitors need to have a reservation for the park tours.
The park celebrates one of the most celebrated American playwrights. Eugene O'Neill won four Pulitzer Prizes and the 1936 Nobel Prize in Literature. O'Neill lived in the Tao House for seven years during which he wrote multiple plays. The park offers guided tours of the house.
Reservations need to be made ahead of time for the guided tours. Visitors need to meet a shuttle bus in Danville which transports them to the property.
Fort Point National Historic Site
Fort Point NHS is located in San Francisco and is open year-round. The park offers tours of a historic fort and epic views of the Golden Gate Bridge. The fort was built between 1853 and 1861 as part of the US Army defense system to protect San Francisco Bay.
It was designed and built during the height of the gold rush. It was the only fortification of its size and type built on the West Coast. The fort was prepared for a possible Confederate attack during the Civil War. An attack never occurred. The fort's guns were never fired.
When the Golden Gate Bridge was being constructed there was talk about demolishing Fort Point. The chief engineer of the project recognized the architectural value of Fort Point and made a plan to save it.
Visitors can enjoy the park film, demonstrations of cannon loading, and a self-guided tour.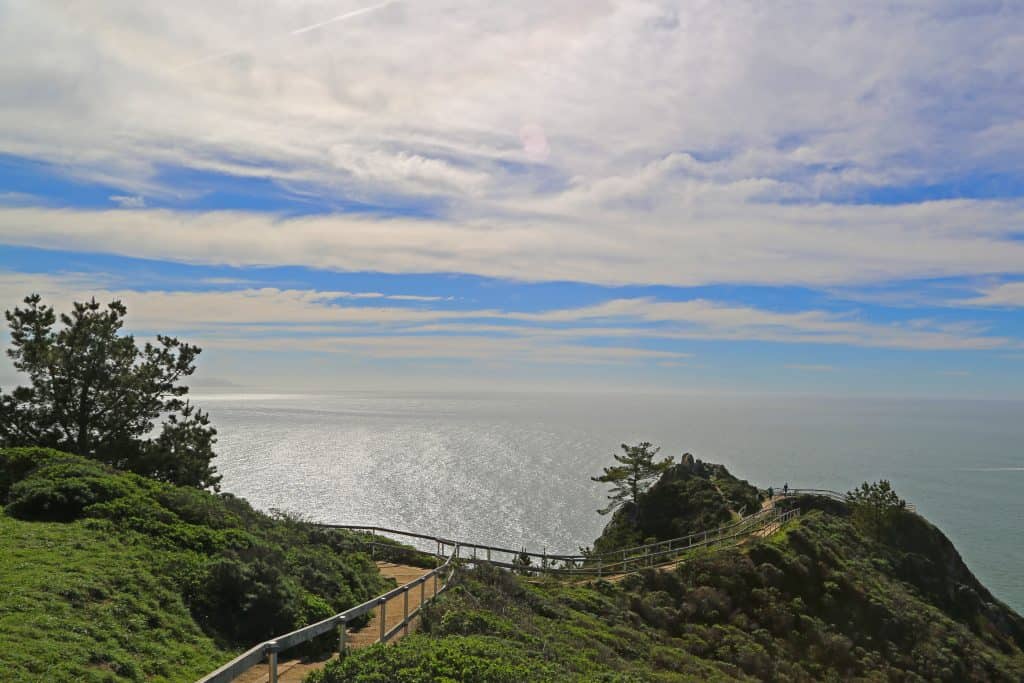 Golden Gate National Recreation Area
Golden Gate Recreation Area is in the heart of San Francisco. It has overnight facilities at Marin Headlands. Many activities occur daily including visits to an aquarium where visitors may view all sorts of fish. They have beautiful gardens that visitors may walk through. People can take tours to Alcatraz from this point.
Surrounding the San Francisco Bay and including such wonders as the Golden Gate Bridge and Alcatraz Island, the Golden Gate National Recreation Area (GGNRA) is one of the world's largest urban national parks. In addition to the world-famous bridge and Al Capone's former digs, the GGNRA includes miles of unspoiled beaches and hiking trails, military forts from the days of the Spanish conquistadors, a Nike Missile Site, and hundreds of acres of coastal wetlands on a formerly abandoned airfield. You could spend several unforgettable days viewing the many attractions within this attraction.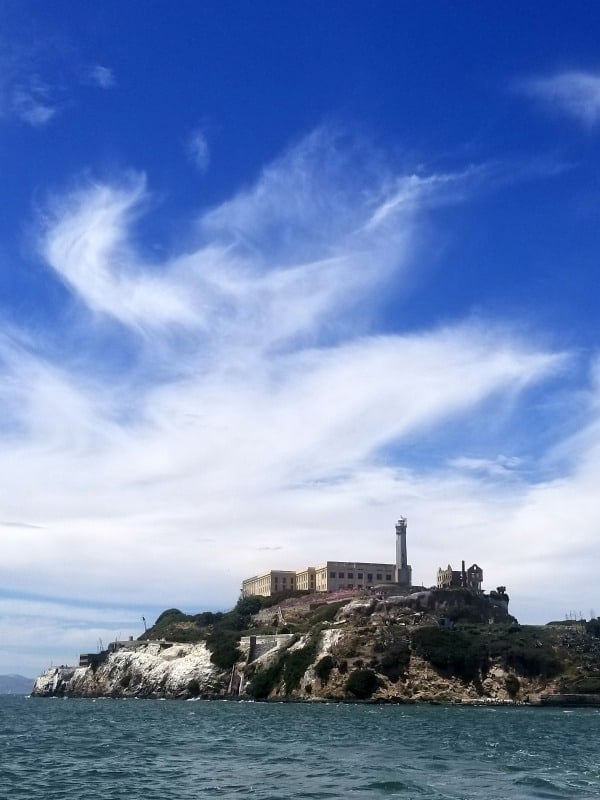 Alcatraz is part of Golden Gate NRA. The park site is located in the middle of San Francisco Bay. Visitors will need to purchase a tour reservation ahead of time. Reservations can fill months in advance.
The island was one the site of a maximum-security prison that houses inmates including Al Capone, Machine Gun Kelly, the Birdman of Alcatraz and more.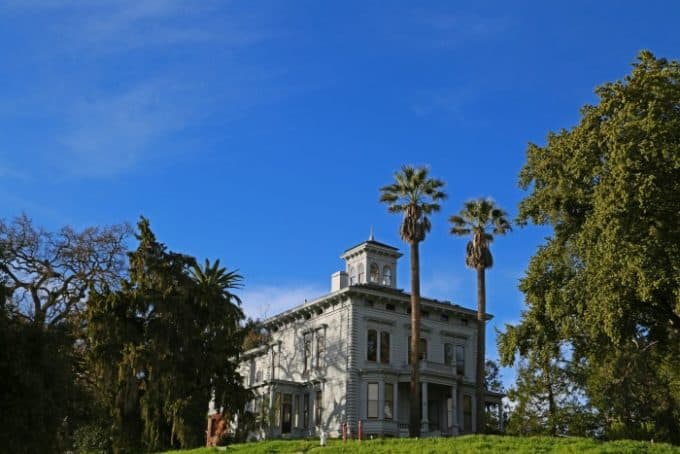 John Muir NHS is located in Northern California approximately 20 miles from Oakland. The park is open year-round and offers a tour of John Muir's home and guided nature walks.
John Muir was vital in the creation of Yosemite NP, Grand Canyon, Sequoia and Kings Canyon, and Mount Rainier National Park. He is often called the father of the National Park Service along with helping to found the Sierra Club.
This national historical park preserves the house that John Muir lived in for the last 24 years of his life. The park offers self-guided or ranger-led tours of the 14-room Victorian-style house. The house even has the witing desk that Muir would use. The park also has exhibits about the Juan Bautista de Anza National Historical Trail.
Joshua Tree NP is located in southern California approximately 40 miles from Palm Springs. The park is open year-round but summers can be very hot. The park offers hiking, camping, backpacking, and rock climbing.
The park encompasses two arid ecosystems the Colorado low desert and the Mojave high desert. There are three main entrances to the park that all lead to the main road that passes through the park. There are a ton of things to see within the park including the Cholla Cactus Garden, Oasis of Mara, Jumbo Rock, Skelton Rock and more.
Visitors need to be prepared with water and snacks. There are no food services within the park.
Kings Canyon NP is located in Central California. The park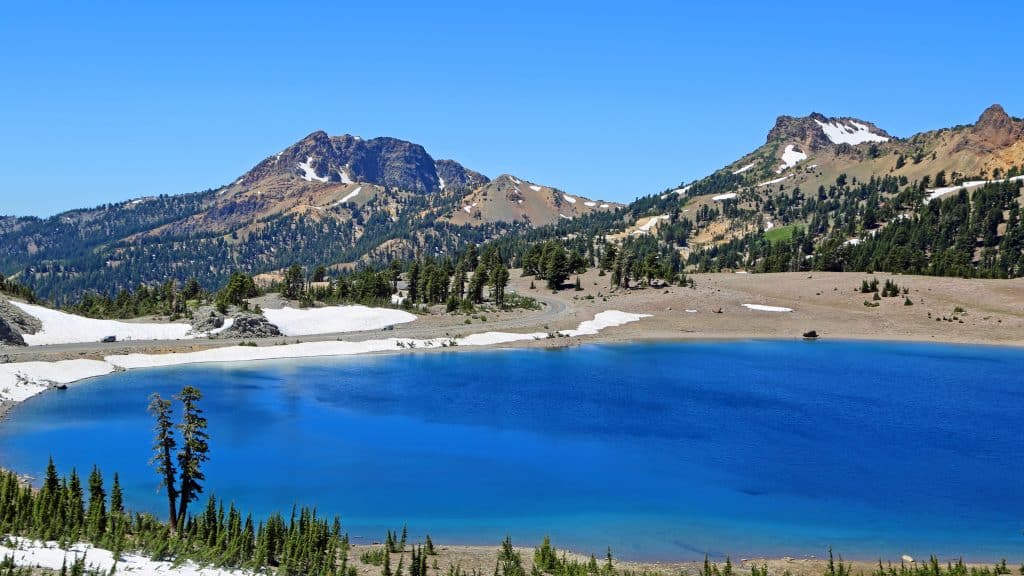 Mount Lassen Volcanic National Park is not terribly popular. It is far from major population centers and gets so much snow that the main road often does not open until June. It is a fascinating place though, with various geothermal features set among evergreen forest and the rocky remains of lava flows. Many of the park's attractions are accessible in a few steps from the car.
It is also possible to climb Mount Lassen, a rigorous 5-mile trek. Bumpass Hell, a huge geothermal feature, is quite close to the road. It features a stinky variety of bubbling mud pots and steaming fumaroles, set in a landscape of multicolored mud. The whole feature can be visited on a mostly level two-hour walk. The Cinder Cone, on the other hand, is a tough climb, up a steep spiraling trail through sliding reddish cinders. Climbing Cinder Cone is like trying to run on a beach.
There are also peaceful lakes though, evergreen forests, and alpine flowers. A delicate flower, the Lassen Smelowskia, grows only within the bounds of Lassen Park. It is a threatened and endangered species.
President Teddy Roosevelt declared Lassen Peak and Cinder Cone National Monuments in 1907. Volcanic activity occurred starting in 1912, and because of it, Lassen became a National Park in 1916. The major eruption did not come until 1921, blasting away a chunk of the mountain, and leaving a devastated area still visible today.
In high summer, many of the National Parks are heavily used. Yet even then, it is possible to find solitude by visiting areas that are less well known. Some parks never get many visitors and even the ones that do deserve their popularity. To experience the beauty of California, visit one of these great National Parks.
Don't miss the Lassen Volcanic NP visitor center! It is filled with amazing information.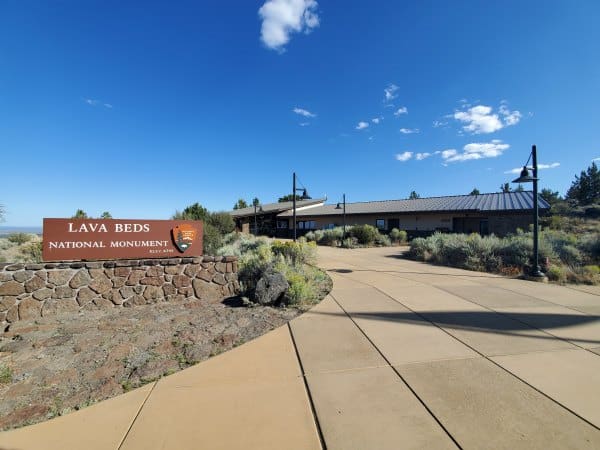 Lava Beds NM is located in northern California approximately 35 miles from Klamath Falls, Oregon. The park is open year-round and offers cave touring, hiking, wildlife watching, and camping.
The park has a great visitor center that interprets the volcanic activity of the area. It is highly suggested that visitors stop at the visitor center to learn more about the caves and what to expect within the park. There are multiple levels of cave experiences available from beginner to very advanced.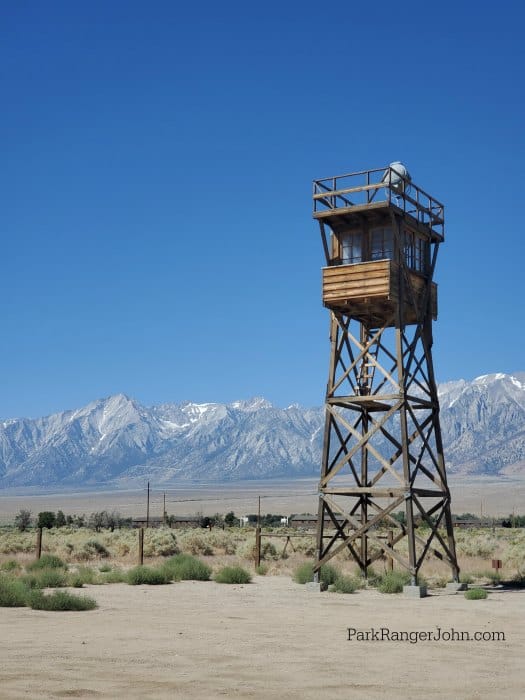 Manzanar NHS is located in east-central California approximately 170 miles from Bakersfield. The park is open Fall through Spring and offers historical exhibits and an auto-tour route.
After the Japanese attack of Pearl Harbor in 1941, the United States government ordered 110,000 Japanese American citizens to leave their homes and move to remote camps. The Manzanar War Relocation Center was one of 10 camps set up around the United States.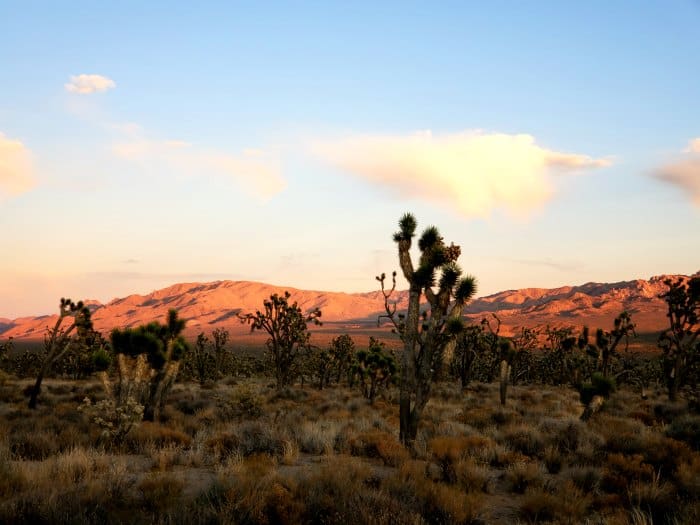 Mohave National Preserve
Midway between Los Angeles and Las Vegas is desolate Mohave National Preserve. It is often unbearably hot here from May to October, but there are compensations. In fact, this huge desert park holds a surprising variety of attractions.
After a rainy winter, the wildflower show is astonishing. Whatever the season, winding canyons lead on, and mysterious caves burrow into the dry hills. The cinder cones remind visitors of the power of nature, and the Kelso dunes amaze those who run down them to hear their distinct song. Most of all, there is solitude.
Hole-in-the-Wall is a developed campground suitable for families. It has an information center and a short nature trail that introduces travelers to the plants of the region. The campground is set among pockmarked cliffs with a prehistoric feel. Take the Rings Trail down Banshee Canyon for an unusual experience. Explore it by climbing down a series of bolts and rings through a chute that can feel extremely narrow. If the wind is right, you will hear the Banshee howl.
Desert tortoises live in the preserve, along with bighorn sheep, poisonous Gila monsters, golden eagles and rattlesnakes. The rattlesnakes of the Mohave are particularly deadly, so never put your hands or feet in any place you cannot see.
The Mohave Preserve is one of the most recent areas to come under the protection of the Park Service. It joined the system in 1994. Because it is a preserve rather than a national park, certain uses prohibited elsewhere, such as hunting, are permitted here.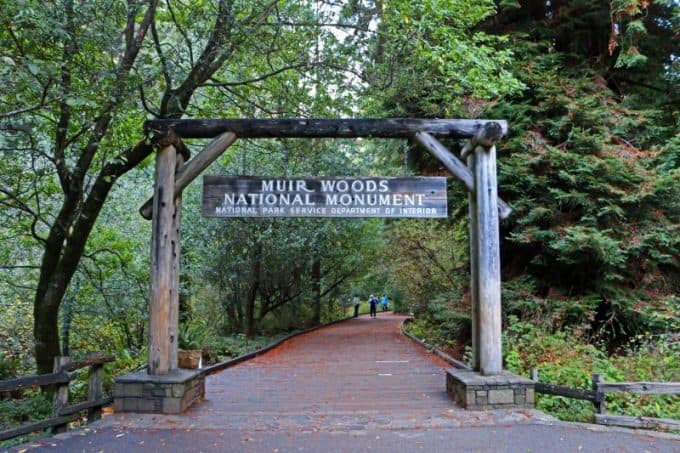 Muir Woods NM is located in Northern California just north of San Francisco. The park is open year-round and offers hiking among big trees and ranger-led tours.
The park protects coast redwood trees that stand up to 260 feet high as well as some very tall Douglas Fir trees. The average age of the redwoods in Muir Woods are between 600 to 800 years old. With some of the trees being closer to 1,200 years old. The park includes six miles of hiking/walking trails that wind through the trees.
Visitors will want to reserve Muir Woods parking and shuttle passes well in advance of when they want to visit the park.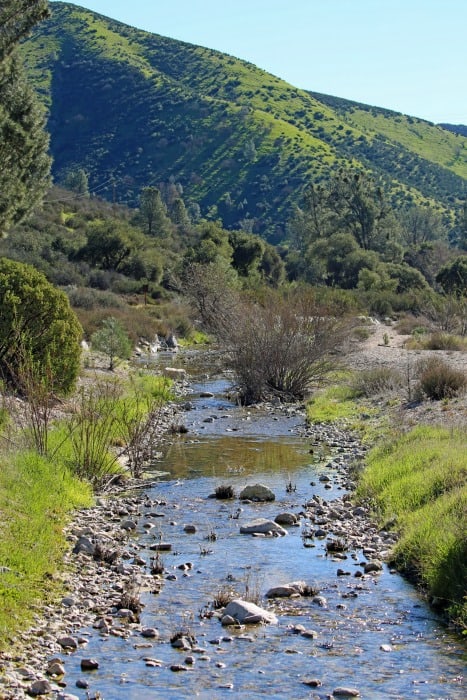 Pinnacle NP is located in Central California approximately 75 miles south of San Jose. The park is open Fall through Spring due to summers being extremely hot. The park offers hiking, rock climbing, camping and the opportunity to see Condors in the wild.
I have to say that seeing Condors is not guaranteed but there is a high chance of seeing them even though we have not seen one after multiple visits. We always hear that we just missed them.
Pinnacles offer great rock climbing for experienced climbers. Pinnacles Campground is one of the few National Park campgrounds that have a pool.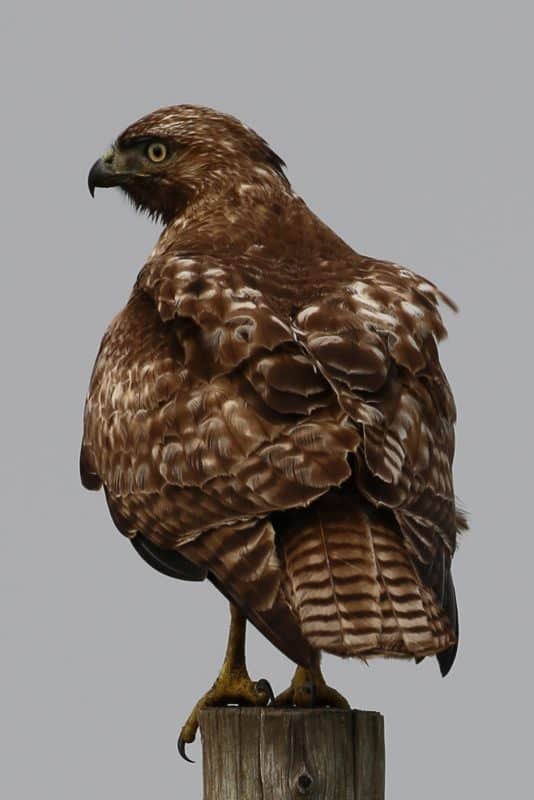 Point Reyes National Seashore
Point Reyes National Seashore is located approximately 30 miles north of San Francisco. The park offers the opportunity to escape the crowds of San Francisco and experience beautiful scenery.
There are 150 miles of hiking trails within the national seashore. Visitors may be surprised to see elk in a 2,600-acre preserve. Visitors can also visit the 1870 Point Reyes Lighthouse. Rangers lead seasonal tours of the lighthouse. This is a great spot to watch for grey whales in the winter.
Port Chicago Naval Magazine National Memorial is located in Northern California approximately 25 miles from Oakland. The park is open year-round but visitors must be on a guided tour.
On July 17, 1944, a huge explosion occurred at Port Chicago Naval Magazine. The explosion occurred when ammunition was being loaded onto ships bound for World War II combat in the Pacific. The explosion killed 320 men instantly including 202 African Americans who were serving in the US military.
After the explosion, the remaining surviving members of the battalion were ordered to resume work. Many of the surviving members refused due to the lack of safety measures and training. They were court-martialed and given bad conduct discharges and fines. Thurgood Marshall observed the trials and helped publicize the racial discrimination of the military.
After this, the US military began ending racial discrimination including a 1948 presidential executive order calling for the desegregation of the armed services.
Visitors can visit a small area with interpretive panels about the events. The site is located on an active military base so visits are by guided tour only. Reservations need to be made a minimum of 1 week in advance.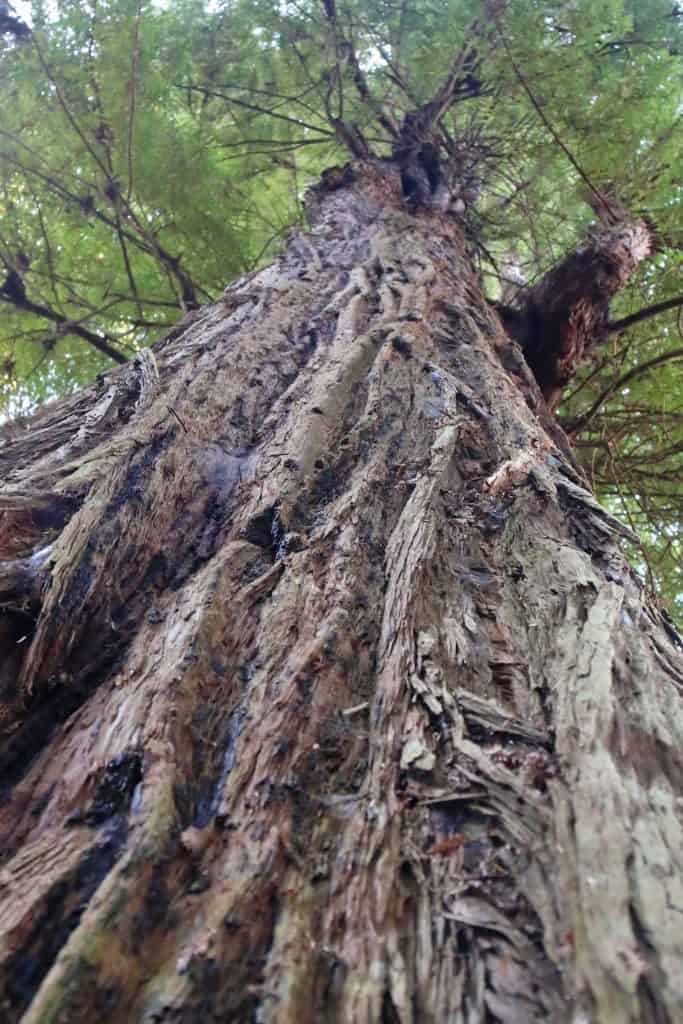 Located in Crescent City. It contains the tallest trees in the world. These Redwood trees can grow to over 260 feet tall. The park welcomes visitors year-round. However, in the winter, the weather is cold and the trails muddy. The hiking and biking trails wind through the redwoods.
The 40-mile scenic drive along the coast shows the rocky cliffs and the expansive ocean. The park has some of the best, short backpacking trails and mountain bikers will follow the many logging roads through the trees. In the spring, the wildflowers burst out providing unmatched photo opportunities.
The park itself has no camping facilities. However, state parks and forests adjacent and inside the park have four campgrounds.
Recreational areas Whiskey-town, Trinity, Shasta National Recreation Area provides many lake-related opportunities. Camping is available, but reservations are necessary during the summer months.
Rosie the Riveter World War II Home Front NHP is located in Northern California approximately 9 miles from Oakland. hbbbbbbg nnnnnnnnnnnnnnnnnnnnnnnnnnnnnnnnnnnnnnnnnnnnnnnnnnnnnnnnnnnnnn
Whiskeytown-Shasta-Trinity National Recreation Area

Glaciers carved the hanging valleys of Yosemite, and the marks of that icy passage are still sharp and plain to see. Waterfalls tumble down chutes of gray granite and chunks of mountain domes stand guard. Yosemite Valley gets most of the visitors, but other regions of the park are as magnificent and much less crowded.
South of Yosemite Valley, Glacier Point is a gorgeous overlook. Here, visitors stare down at the famous waterfalls of the valley walls and across to the gray granite majesty of Half Dome and its companions. Many trails into the backcountry start near Glacier Point.
In the northern wilderness of Yosemite, backpackers explore the Grand Canyon of the Tuolumne on a long tough trail. Its beauty amply rewards the dogged hiker. Waterwheel Falls on the Tuolumne is like nothing else on earth. In the right conditions, its waters arc up and around, defying gravity.
Yosemite Park is always open, but the rigors of winter are not for everyone (though the valley is uncrowded then). Many of the roads close in winter, but visitors can ski cross-country and camp in the snow.
The elegant Ahwahnee and the nostalgic Wawona are popular hotels at any time of year, but especially at Christmas. Yosemite Valley Lodge sits at the base of Yosemite Falls, and simple accommodations from tent sites to cabins are scattered throughout the Yosemite Valley. White Wolf Lodge on Tioga Pass is a peaceful place to stay before heading off into the wilderness.
Abraham Lincoln signed the bill that set aside land for Yosemite in Northern California. Later, John Muir camped with Teddy Roosevelt at Glacier Point and persuaded him to increase the protection of the park. Most of Yosemite is designated wilderness now, protected forever from civilization.
Affiliated Sites
(CA, CO, ID, KS, MO, NE, NV, OR, UT, WY)
Juan Bautista de Anza National Historic Trail
Old Spanish National Historic Trail
Pony Express National Historic Trail
( CA, CO, KS, MO, NE, NV, UT, WY)
Presidio of San Francisco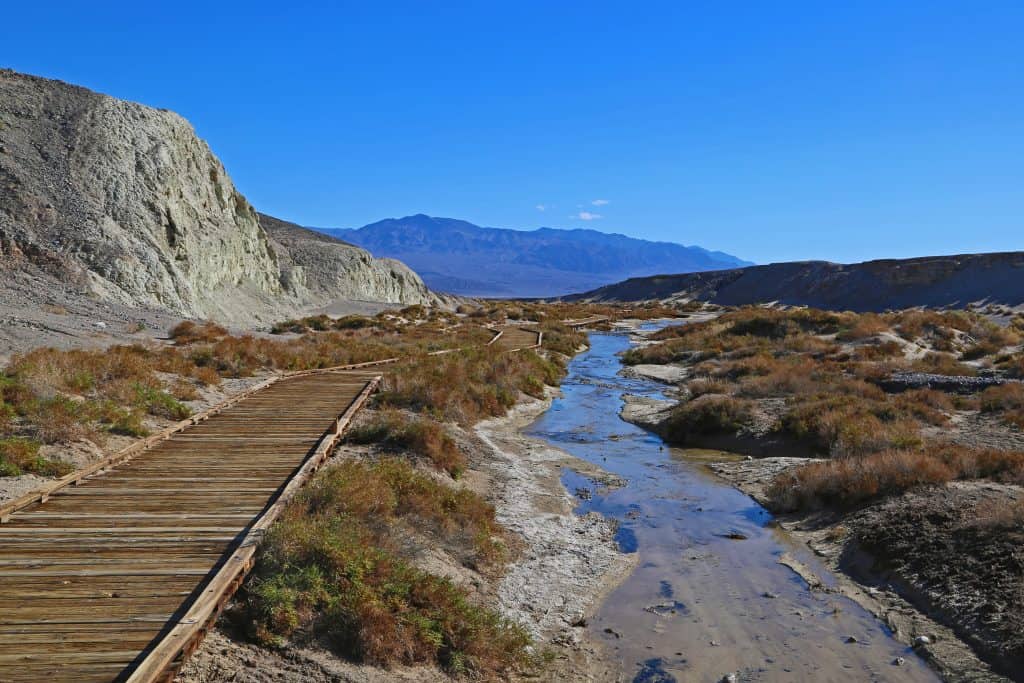 California National Parks List
Cabrillo National Monument
Castle Mountains National Monument
Death Valley National Park (also Nevada)
Eugene O'Neill National Historic Site
Fort Point National Historic Site
Golden Gate National Recreational Area
Mojave National Preserve
Point Reyes National Seashore
Port Chicago Naval Magazine National Memorial
Whiskeytown-Shasta-Trinity National Recreation Area
Affiliated Sites
California National Historic Trail (CA, CO, ID, KS, MO, NE, NV, OR, UT, WY)
Juan Bautista de Anza National Historic Trail
Old Spanish National Historic Trail
Pony Express National Historic Trail ( CA, CO, KS, MO, NE, NV, UT, WY)
Presidio of San Francisco
There are 28 California National Parks with over 40 million visitors each year. These parks produce over $2 billion in economic benefits from visitors.
National Parks in California include 9 wild and scenic rivers managed by the National Park Service, 4 National Trails, 2,738 National Register of Historic Places listings, 145 National Historic Landmarks, 36 National Natural Landmarks and 2 World Heritage Sites.
California National Parks protect 92 threatened and endangered species!
The National Parks in California also include 3,839 places recorded by the Heritage Documentation Program, 26,532,245 objects in the California National Park Museum collections.
National Parks in neighboring states
Do you know how many National Parks you have visited? Check out our printable list of all US National Park Sites to count how many you have been too!