Devils Postpile National Monument protects one of the world's best examples of Columnar Basalt.
80,000 to 100,000 years ago basaltic lava flow erupted from a vent and flowed down the valley then pooled until it was blocked by a natural dam. This created a lava lake up to 400 feet deep.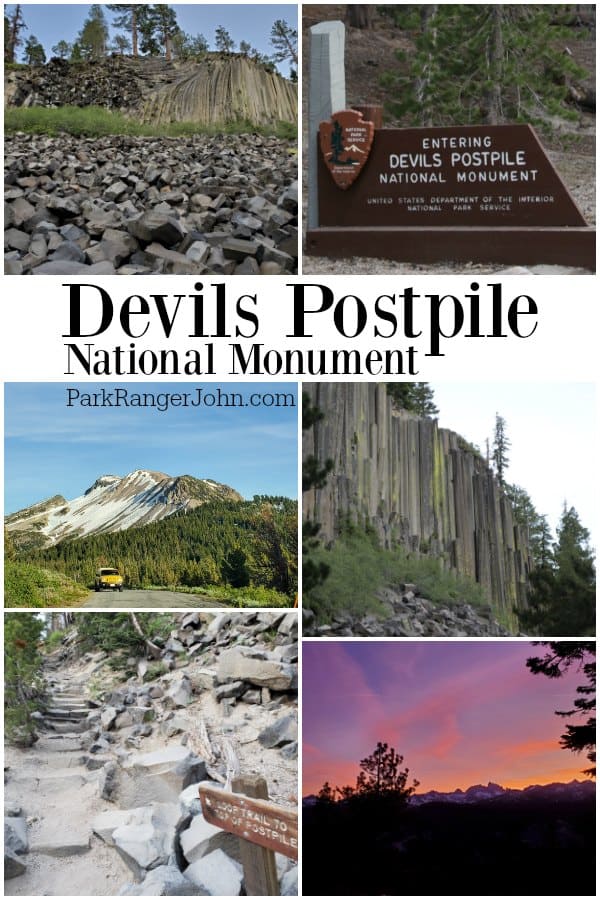 Devils Postpile National Monument
As the basaltic lava cooled into rock it contracted and cracks formed in a regular pattern. Glacier moving down what is now Reds Mountain Valley scraped away the top layer of materials exposing the columnar basalt.
The Devils Postpile formation of basaltic columns can be up to 60 feet tall. Most of the columns are 6-sided hexagons but there are also three, four, and seven-sided columns.
It is a .4 mile walk to Devils Postpile from the park parking lot. You will want to be prepared for mosquitoes!
We walked the trail at dusk and spent most of the walk trying to swat away the bugs and not get bit all over the place.
My wife had to get Benadryl from the grocery store after our walk because she had so many bug bites all over her face and legs.
Sadly we didn't think to use permethrin bug spray on our clothes before we flew to California.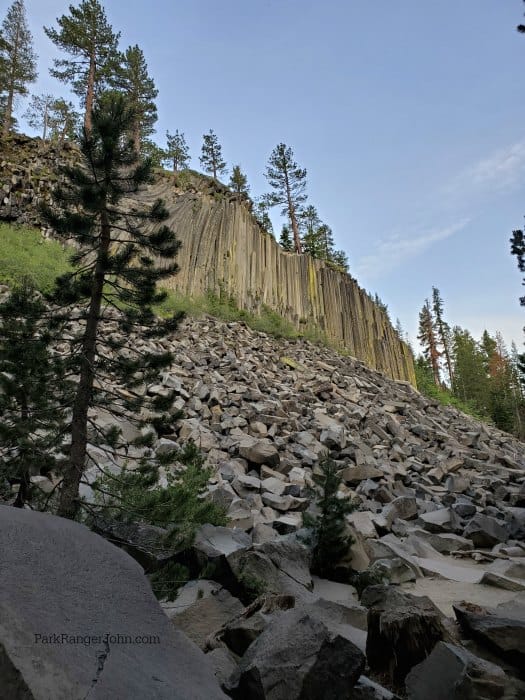 There are quite a few things you can do at Devils Postpile including fishing in the San Joaquin River, hiking the Sierra Nevada Mountains,
Hiking
There are approximately 8-miles of trails within Devils Postpile NM. You can also expand your hiking range by looking at the High Sierra of the Ansel Adams Wilderness.
The 211-mile John Muir Trail which links Yosemite National Park and Mount Whitney and the 2,638 miles long Pacific Coast Trail join at Devils Postpile and run through the park.
There are a ton of great Mammoth Lakes trails near the park.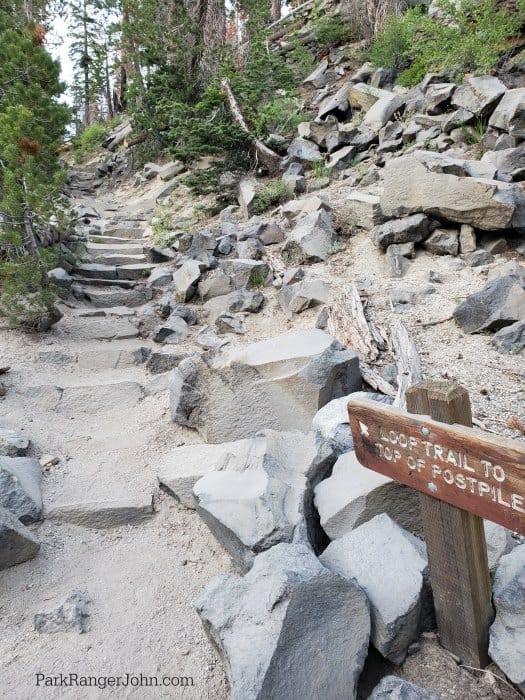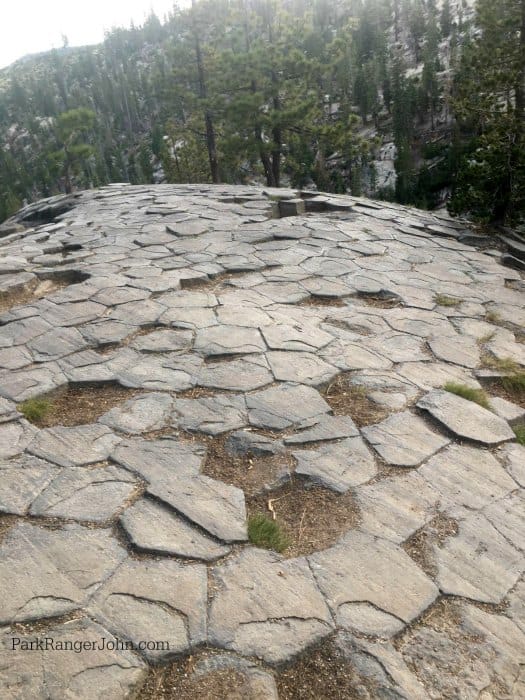 Loop trail to the top of Devils Postpile
You can take these rock stairs to the top of the formation to see the hexagonal shaped columnar basalt from the top. There are some elevation gain and a switchback along the way. From this trail, you can continue down and around to see the main formation.
Rainbow Falls
From the ranger station, it is a mostly downhill, 2.5-mile one-way hike to Rainbow Falls. You will want to be prepared for the heat during the summer months and have lots of water and bug spray with you.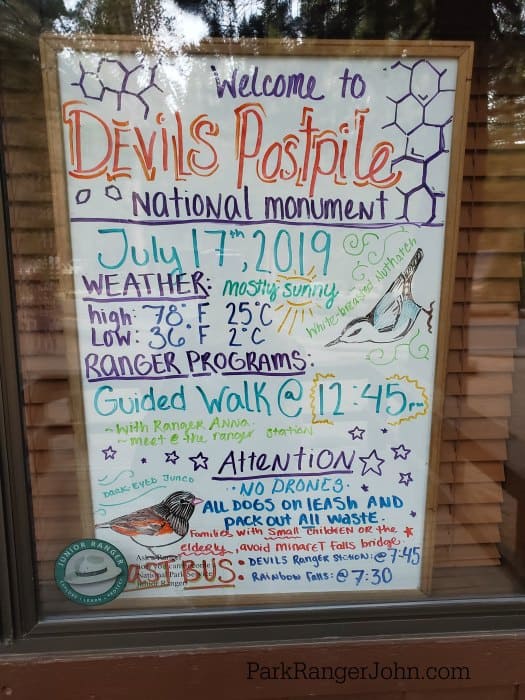 Ranger Guided Program
Call 760-934-2289 for more information or stop by the ranger station during your visit.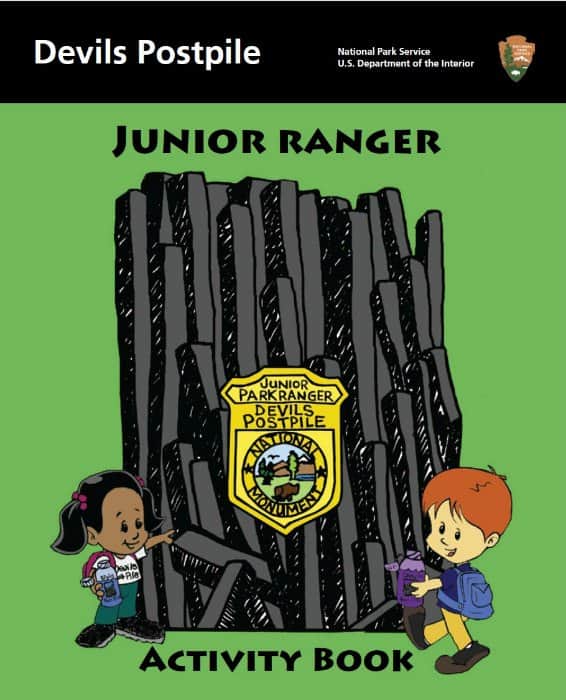 Junior Ranger Program
The Junior Ranger program includes walking to Devils Postpile along with a crossword, word search, and interviewing a Ranger or attending a ranger program.
Download a copy and print it at home.
Biking
You can bike the road into the Red's Meadow Valley but you will want to be prepared for a steep descent into the valley and traffic.
Mountain biking is generally not permitted in the Reds Meadow Valley and is not permitted anywhere in Devils Postpile National Monument.
Camping
The campground is closed due to damage. The campground has been closed since 2016 and the park is now asking visitors for their thoughts on if the campground should re-open or stay a day-use area.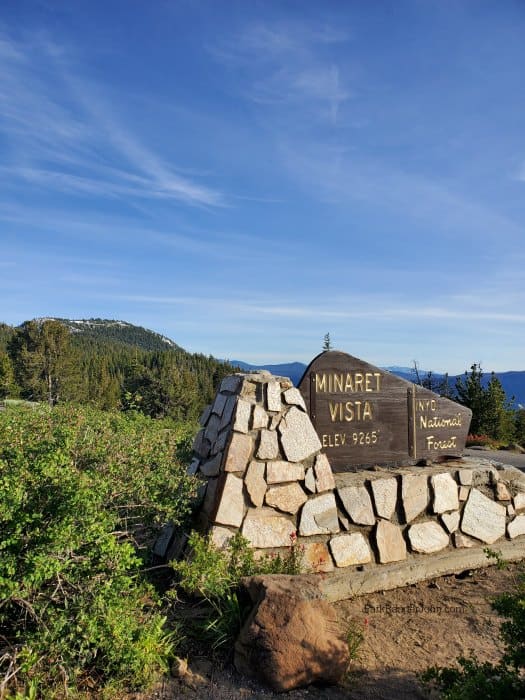 Minaret Vista - Inyo National Forest
Located next to the ranger station before you drive down into Devils Postpile the Minaret Vista offers amazing views of the Sierra Nevada Mountains. Sitting at 9,265 feet you can see the snow-covered peaks and the Mammoth Ski Area.
This is an amazing place to watch the sunset and enjoy the views. Be prepared for it to be windy. There is an outhouse bathroom available in the parking lot.
There are so many epic things to do in Mammoth Lakes!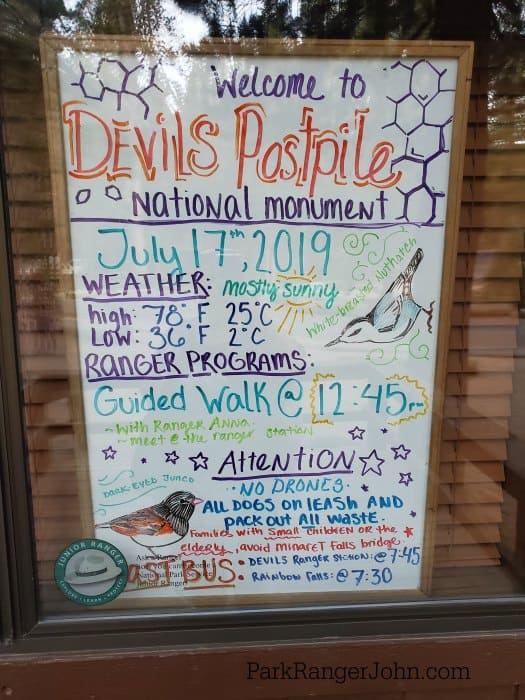 Things to know when planning a trip to Devils Postpile National Monument
Mandatory Shuttle Bus - Most visitors to Devils Postpile NM will need to ride the shuttle bus from the Adventure Center in the main gondola building at Mammoth Mountain.
The shuttle runs from 7:30 am to 7 pm daily.
The shuttle costs $8 per adult and $4 per child (age 3-15) under 2 are free.
Visitor Center Hours - 9 am to 5 pm
Entrance Fee - $0.00
There is a fee to ride the shuttle bus from Mammoth Lakes (Between mid-June and the Wednesday after Labor Day)
Pets are allowed on trails and in the campground at the monument and must be on a leash at all times.
Weather - The park receives nearly 400 inches of snow each winter! Due to this the park opening and closing dates are seasonal and weather dependent.
Season - Generally the park is open from early June through October but you should check to make sure it is open if traveling in spring or fall.
Check out all the epic places to eat in Mammoth Lakes. There is so many great food options we had a hard time picking where to go.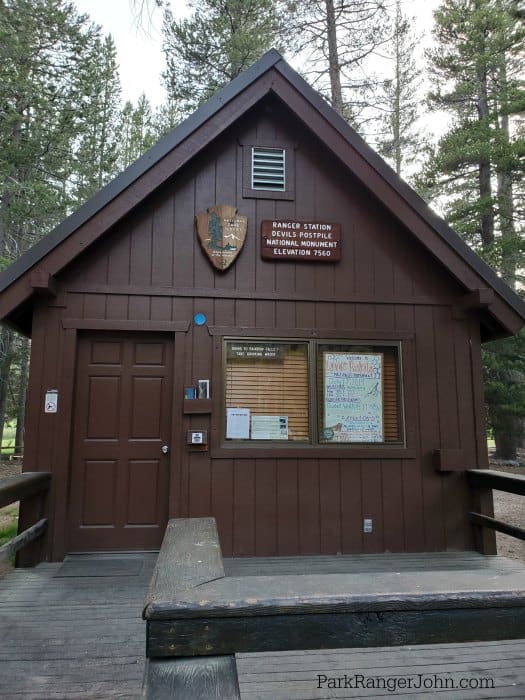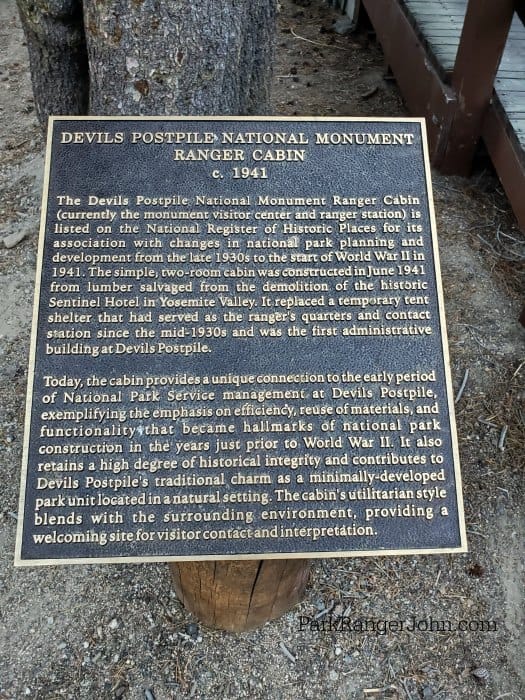 National Park Sites near Devils Postpile National Monument
Manzanar National Historic Site
Check out all of the California National Parks along with neighboring Arizona National Parks, Oregon National Parks, and National Parks in Nevada