Oregon National Parks include the gorgeous Crater Lake National Park, Oregon National Historic Trail where you can learn about the Oregon Trail and how it inspired the Oregon Trail game we all grew up on. Bonus you don't have to worry about dysentery when you visit the park. LOL!
Oregon is a diverse state with many points of interest and highlights. All in the space of a few hundred miles, you can experience the Pacific Ocean, the mountains, the forest, desert, lakes, streams, rivers, and abundant wildlife. There are historical points of interest, as well as many sporting activities to partake in. But alas, Oregon has but one National Park.
National Parks in Oregon also includes a couple based on Lewis & Clark and their exploration of the west. Plus Oregon Caves National Monument and Preserve which I really want to visit and check out their National Park Lodge.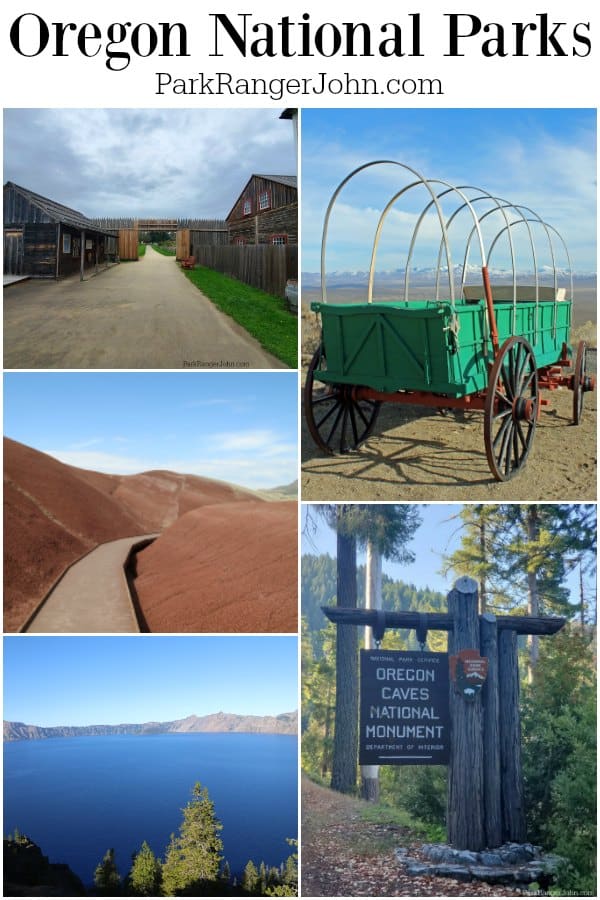 Oregon National Parks
Oregon is a state of contrasts. In the east is the stark Oregon high desert, with elevations of several thousand feet. In the west is the Oregon coast.
A major dividing line between the two extremes is the Cascade Mountains that raise an average of 5,000 to 7,000 feet, and which effectively block much of the moisture coming in from the Pacific Ocean, enabling the existence of the desert. It is fitting that Oregon's only national park is located in the Cascade Mountains.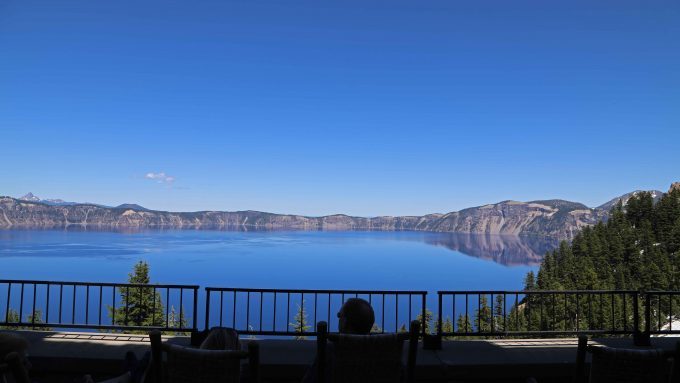 Crater Lake National Park was formed many thousands of years ago, when Mount Mazama erupted, sending enormous amounts of ash, lava, and other debris into the atmosphere and surrounding land.
When the magma pocket under the mountain became depleted, the weight of the top of Mount Mazama caused it to cave into the vacated magma pocket, creating a huge depression.
Being high in the Cascade Mountains where the mountain received copious quantities of precipitation, mostly in the form of heavy snowfall, a lake gradually formed.
Today, that lake dominates the park. At nearly 2,000 feet deep, it is one of the world's deepest and is the deepest freshwater lake in North America. The depth and purity of the water combine to give the lake a breath-taking dark blue color when seen from above.
Crater lake is nearly 2,000 feet deep in points and is a stunningly breathtaking view from the rim of the caldera. This lake simply astonishes you when you see it. Even for visitors who have returned many times to the lake are blown away each time they return.
Crater Lake National Park is one of the most scenic and beautiful places in North America. Located in southern Oregon, within 100 miles of the Pacific Ocean, Crater Lake has a unique story.
Formed as the result of a volcanic eruption that occurred almost 8,000 years ago, Crater Lake is one of the deepest and clearest lakes in the country.
Compared to many other national parks in the Western US, Crater Lake is a relatively small park of not much more than 920 square miles (about 2,331 sq km). However, what it lacks in size, it more than makes up for in beauty.
Wildlife is abundant, and visitors can occasionally catch glimpses of black bears, squirrels, badgers, porcupines, foxes, North American Elk, deer, and several less often seen animals.
This national park is home to many beautiful plants, including towering Ponderosa and sugar pines, Douglas and Shasta fir, hemlocks, huckleberries, alpine lupines, wild chives and onions, columbine, honeysuckle, pussy willow, and so many other plants that a book could be well filled just describing them all.
Less commercial than many national parks, Crater Lake offers nature trails, spectacular views of the lake, a great pumice plain that is over 600 feet deep in places, streams, waterfalls, and enough adventure to keep the intrepid traveler occupied for some time.
In more than one location, water and wind have combined to produce spectacular spires of rock known as pinnacles.
Of special interest to many, is the ⅛ mile nature trail through the Castle Crest Flower Gardens, where wildflowers grow in abundance. Many of the plants are labeled with small signs so people will know what kind of plant they are looking at.
Then there is the lake itself. A trail winds back and forth down over a thousand feet to the water, where people can take boat tours of the lake.
Tours generally include a trip to Wizard Island, a cinder cone located off-center in the lake and caused by a subsequent eruption after Mount Mazama collapsed. There are also fish in the lake, planted many decades ago by the C.C.C, and carried laboriously down to the lake before the only trail down was even created.
The practice of planting the lake was halted for several reasons, however large rainbow trout and kokanee are occasionally caught.
Two well-maintained campgrounds in the park allow people to stay overnight, and if they prefer to have more luxurious accommodations, there is the Crater Lake Lodge, recently renovated and providing a glimpse into the past, as this structure was built almost 100 years ago. The huge wood on native rock building retains its charm and mystery. Located in rim village overlooking the lake, sightseeing is near at hand.
National parks just don't get much more beautiful than this one. The author had the distinct pleasure and honor of living at Crater Lake National Park for 12 years early in his life. It will always be home. For those who haven't seen this marvel high in the Cascades of Oregon, it is well worth the visit. People come from all over the world to see this small but exceedingly beautiful park, and once you've seen it yourself, you will know why.
Bring your family, and plan to spend at least several days at Crater Lake National Park. There is too much to see, otherwise. Also, bring plenty of film or storage in your camera, because you will see things that will amaze you. Most of all bring your spirit of adventure and your love of beauty. You will not be disappointed by Oregon's only national park.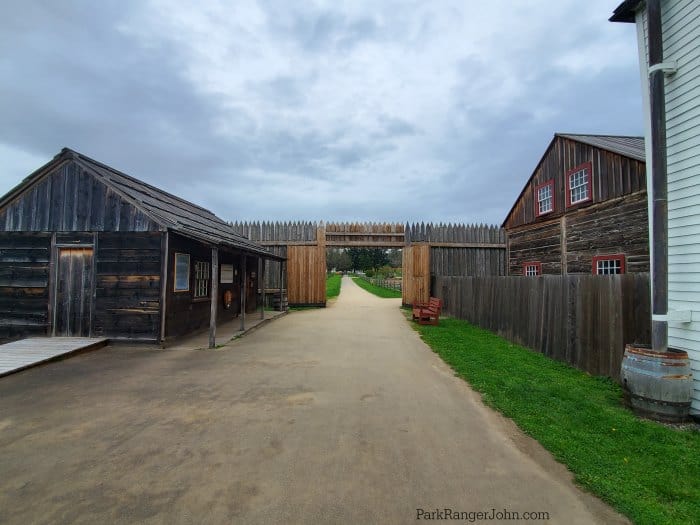 Fort Vancouver NHS is located in southwestern Washington just north of Portland, Oregon. The park is open year-round and offers visitors the opportunity to tour a recreated 19th-century trading post.
In 1825 the Hudson Bay Company built a headquarters and supply depot for its operations in the Pacific Northwest. This trade center had significant influence on the cultural, political, and commercial developments in the Oregon Territory.
Fort Vancouver had the first hospital, library, school, sawmill, gristmill and shipbuilding site. The fort also served as the terminus of the Oregon Trail for immigrants.
Visitors can explore the recreated fort, watch weapons demonstrations, and amazing living history programs.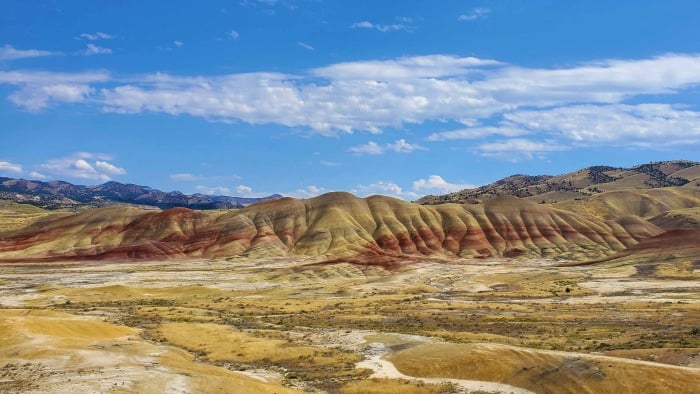 John Day Fossil Beds NM is located in central Oregon approximately 180 miles east of Eugene. The park is open year-round and offers hiking, ranger-guided walks, and great photography.
More than 2,200 species of plants and animals have been found by paleontologists in this area of Oregon. Making it one of the most extensive and comprehensive records of ancient life in North America.
Fossilized animals here have included primitive horses, giant birds, crocodiles, camels, sloths, saber-toothed cats, and bear-dogs.
There are three units within the park, the Sheep Rock Unit which has the Thomas Condon Paleontology Center, the Painted Hills Unit, and the Clarno Unit. Each of the units includes epic sites to for visitors to experience.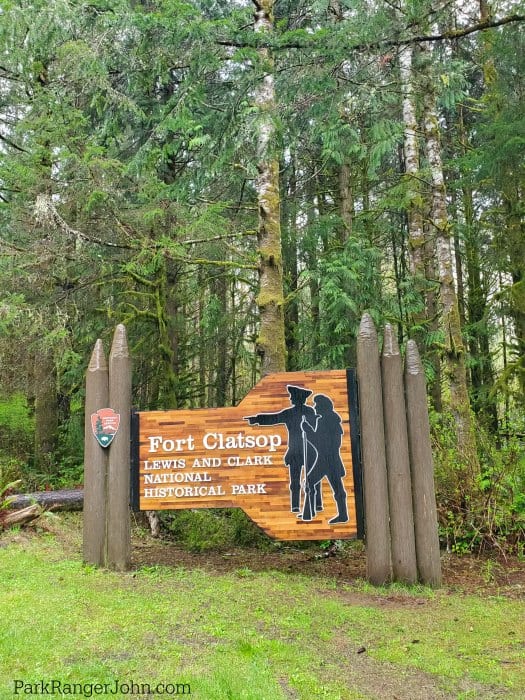 Lewis and Clark NHP is located in Northwestern Orgon and Southwestern Washington State. The park is approximately 90 miles northwest of Portland, Oregon.
Visitors have the opportunity to see historic sites, explore hiking trails, and whale watching.
Meriwether Lewis and William Clark set off in May 1804 to explore the northwest lands of America for President Thomas Jefferson. They made significant discoveries in geography, natural history and climate as well as meeting with many Native American Tribes.
They spent the winter of 1805-06 along the Columbia River where they built a structure called Fort Clatsop. The Lewis and Clark NHP includes the original site of Fort Clatsop along with 11 other park sites that stretch for 40 miles along the Pacific Coast.
The visitor center at Fort Clatsop has the recreation of the wooden fort that was built by Lewis and Clark along with a great movie and interpretive displays.
Nez Perce NHP is located in Idaho, Montana, Oregon, and Washington with the main visitor center near Lewiston, Idaho. The park has sites spread over 4 states but many can be seen on a day's drive.
The Niimiipuu people who have historically been called Nez Perce have lived in the Pacific Northwest for 100s of years. They like many tribes experienced non-Indian immigration into the region.
In 1877, fighting broke out between a faction of Nez Perce and white settler in the Wallowa Valley of Oregon. These battles would become known as the Nez Perce War.
Today visitors can visit 38 sites that are spread over what was the traditional Nez Perce people's homeland. There is an amazing visitor center is Lapwai, Idaho that has a wonderful movie and information about the park.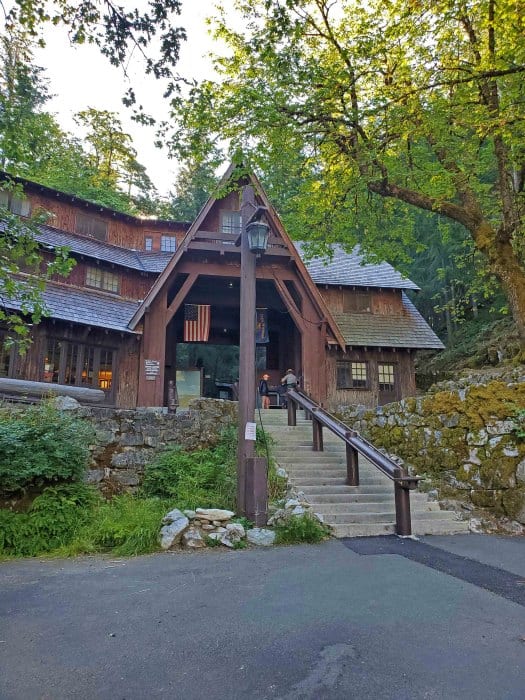 Oregon Caves NM and Preserve is located in southwestern Oregon approximately 50 miles southwest of Grants Pass.
The park is open from Spring through November depending on snow loads from the winter. The park offers guided cave tours, hiking, camping, and a historic lodge.
The historic Oregon Caves Chalet is closed for renovations and will hopefully reopen in the next couple of years. Until then you can still enjoy guided tours of the cave.
In order to visit the cave, you will need to be on a guided tour. If you are not a fan of caves don't worry the park also protects an old-growth coniferous forest and has a gorgeous campground.
List of National Parks in Oregon
Affiliated Areas
California National Historic Trail (CA, CO, ID, KS, MO, NE, NV, OR, UT, WY)
Ice Age Floods National Geologic Trail (WA, OR, ID, MT)
Lewis and Clark National Historic Trail (ID, IL, IA, KS, MO, MT, NE, ND, OR, SD, WA)
Oregon National Historic Trail (ID, KS, MO, NE, OR, WA, WY)
There are 5 Oregon National Parks that receive over 1.3 million visitors a year. These visitors produce over $97 million in economic benefits from tourism.
National Parks in Oregon include 1 Wild and Scenic River managed by the National Park Service, 3 National Trails, 2,023 National Register o Historic Place Listings and 17 National Historic Landmarks.
Oregon National Parks also include 11 National Natural Landmarks, 523 places Recorded by Heritage Documentation Programs, and over 1.2 million objects in the Oregon National Park Museum Collections. Along with 150 Archaeological Sites.
Do you know how many National Parks you have visited? You can print off this list of US National Parks in Alphabetical Order to check them off.
Plus check out how to become a Park Ranger to find out what it takes to work in our parks.
National Parks in neighboring states