Fort Vancouver National Historic Site is located just across the water from Portland, Oregon on the Washington side. The Hudson's Bay Company opened this headquarters in 1825 sitting it on the Columbia River near the confluence with the Willamette River.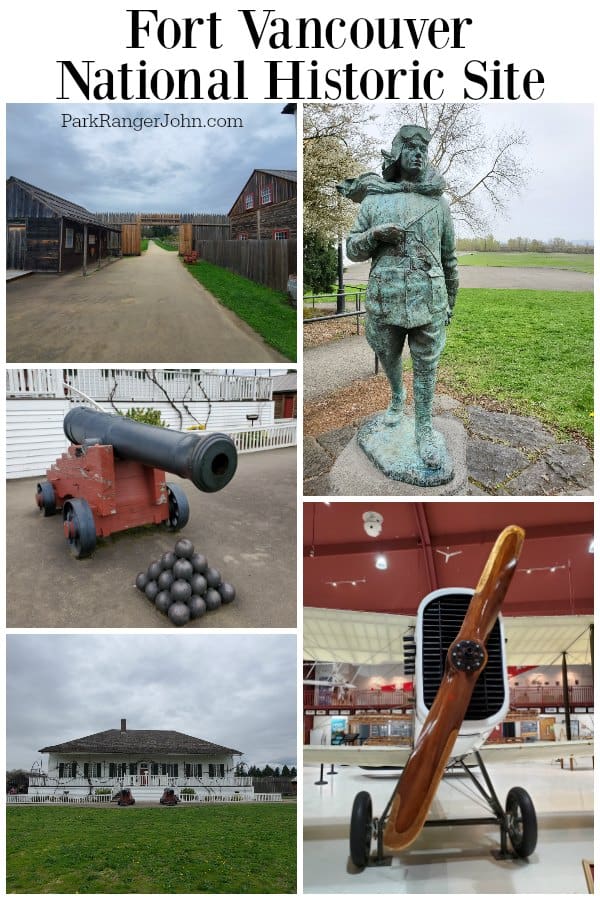 Fort Vancouver National Historic Site
The Hudson's Bay Company ran a commercial enterprise that operated over huge portions of North America in the 19th century acquiring furs from trappers and Native Americans. These furs were used in fashion designs of the era.
Fort Vancouver was the original terminus of the Oregon Trail for immigrants and later became a U.S. Army Post. The forts development made it a significant trade center that employed people from many ethnic groups. The fort played a huge role in influencing the culture, politics, and commercial development of the Oregon Territory.
The first hospital, library, gristmill, sawmill, school, shipbuilding area, and fruit orchards were established at Fort Vancouver.
Today as a visitor you have the opportunity to explore the reconstructed trading fort and learn what life was like at the fort. You can see the palisades wall, chief factor's house, bakehouse, a fur shop, blacksmith area, kitchen, and of course the jail.
Depending on when you visit you may be able to see National Park Rangers demonstrate historic weapons and present living-history programs. If you live near Fort Vancouver NHS make sure and check out the saber classes they offer in the summer. This is the only National Park site that I know of teaching you how to wield a saber.
Things to do at Fort Vancouver National Historic Site
Fort Vancouver has a few different places to visit during a trip to the park.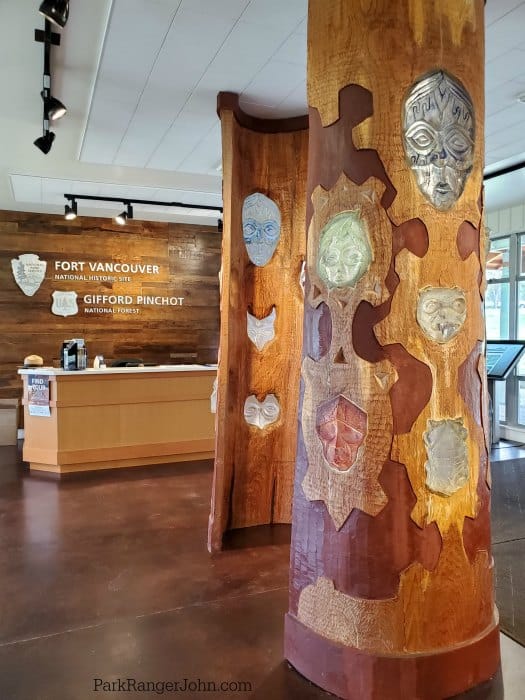 Visitor Center
The Visitor Center also serves as a visitor center for Gifford Pinchot National Forest.
There is a great park movie that does a really wonderful job explaining the history of Fort Vancouver and the Hudson Bay Company. The visitor center also has rotating displays of art and artifacts related to the site.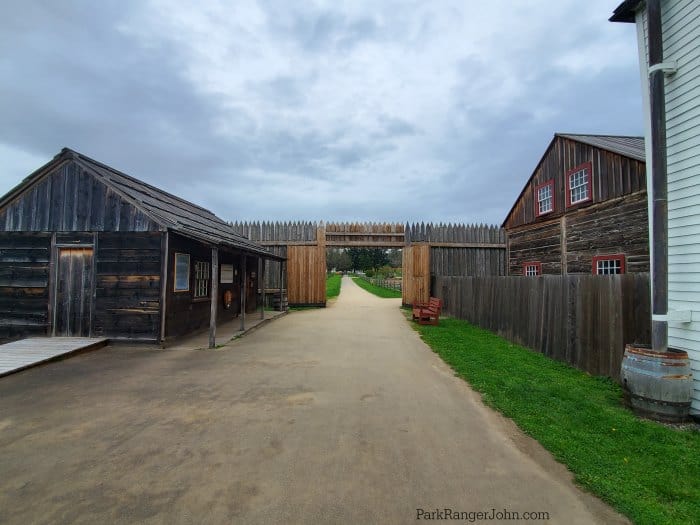 Fort Vancouver
The London-based Hudson's Bay Company established Fort Vancouver in 1825. The original fort was built to the northeast of the current fort's location. The fort was relocated in 1829 to the present location. National Park Service Archaeologist Louis Caywood researched the fort and found the original remains in this location from 1947 to 1952.
The fort stockade and several buildings have been reconstructed and can be explored. You can wander inside many of the buildings and see how they would have been used.

Pearson Air Museum
Pearson Air Museum is a great place to learn more about the early military and civilian aviation. The Pearson Airfield is one of the oldest airfields in the country. You can also see the site of the site's World War I Spruce Mill, which produced aviation-grade lumber for Allied planes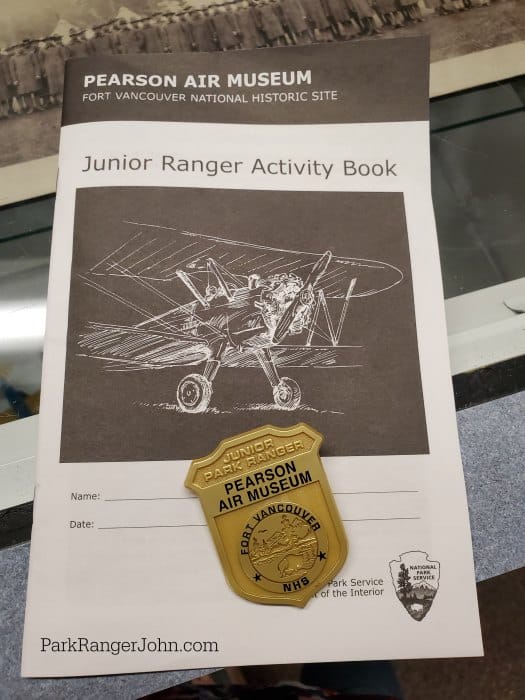 There is a separate Junior Ranger program available at Pearson Air Museum. It is pretty intense so make sure and check out the booklet to help young visitors complete it.
You can easily spend a few hours learning about early aviation and checking out all of the planes.
McLoughlin House
The site is open Friday and Saturday from 10:00 a.m. to 4:00 p.m. Free tours of the McLoughlin House take place at 10:15 am, 11:15 am, 12:15 pm, 1:15 pm, 2:15 pm, and 3:15 pm; tours begin at the Barclay House.
Lantern Tours
For a completely different perspective of the park check out the Lantern Tours that are offered on specific dates during the year. The Lantern Tour season runs from October through March each year. You have the chance to explore the fort by lantern to see it in a whole new way.
You get to tour with a Park Ranger through the reconstructed fort's Counting House, Fur Store, Chief Factor's House, Kitchen, and Bake House. Experience historical vignettes with costumed living history interpreters.
Reservations are required for all Lantern Tours. Reservations and payment can be made on the Friends of Fort Vancouver website here. For assistance, call (360) 816-6216.
Tours last approximately 1 hour and 30 minutes, and tour routes are approximately one mile in length.
Vancouver Barracks
The Fort Vancouver Barracks is currently closed but the National Park Service is working to turn this area into an amazing space.
Things to know when planning a visit to Fort Vancouver NHS
Park Address: 1501 E Evergreen Blvd, Vancouver, WA 98661
Park Hours
Sunday and Monday the park is CLOSED!
Tuesday - Saturday the normal hours are 9 am to 5 pm
Winter Hours start November on Daylight-Savings-Time (DST) and end March on DST.
During the winter the hours for Tuesday - Saturday are 9 am to 4 pm
The park is closed on Thanksgiving, Christmas Eve, Christmas Day, New Year's Eve, and New Year's Day.
McLoughlin House is open Friday and Saturday from 10 am to 4 pm
Park Entrance Fee:
Reconstructed Fort Vancouver Entrance Fee - Per Adult - $7.00 (Visitors ages 16 and up. Fee applies to one individual. Receipt allows re-entry for seven days)
Visitors 15 and under - $0.00, no fee
Pearson Air Museum Entrance Fee - $0.00, no fee for all visitors during open hours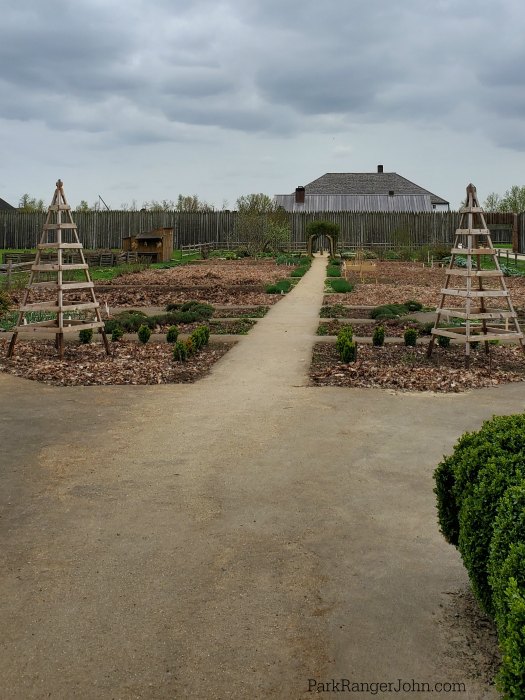 National Park Sites near Fort Vancouver National Historic Site
Lewis & Clark National Historic Trail
Lewis & Clark National Historical Park
Oregon National Historic Trail
San Juan Island National Historical Park
Whitman Mission National Historic Site
Check out all of the Washington National Parks along with neighboring Oregon National Parks, Idaho National Parks, National Parks in Hawaii, and National Parks in Alaska
There are so many great things to do in Portland with Kids! This post has a ton of great ideas on all the places you don't want to miss!