National Parks in Idaho include 7 different park properties including a portion of Yellowstone National Park. From taking a look at the Oregon Trail and imagining what it was like to cross the United States in a horse and wagon to looking at Craters of the Moon National Monument and wondering if you have landed on a different planet Idaho National Parks have a wide variety of things to see and do.
The National Parks in Idaho include a wide range of historic trails and parks to visit. You can learn about the Nez Perce tribe, see how the Ice Age Floods dramatically impacted the landscape of the area and learn about Lewis & Clarks exploration out west.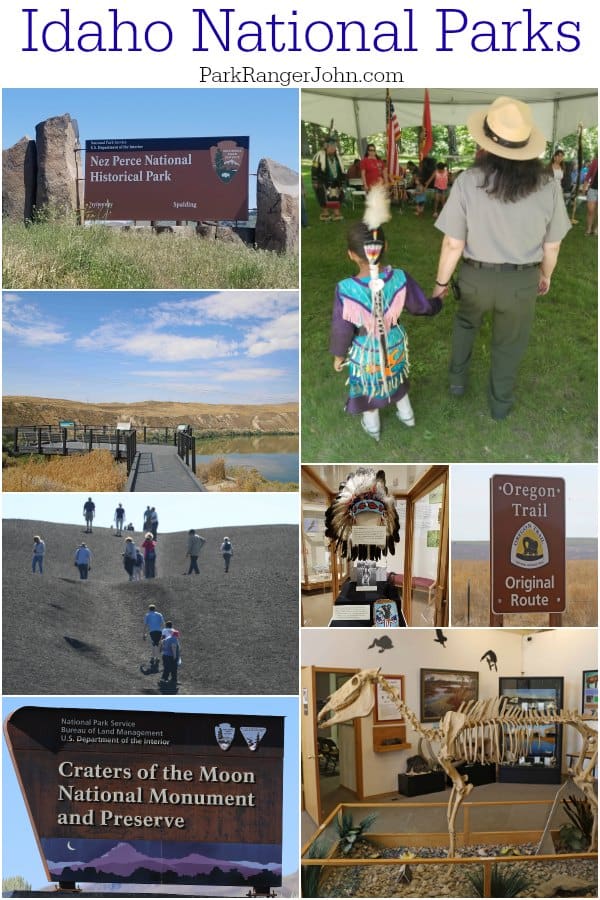 Idaho National Parks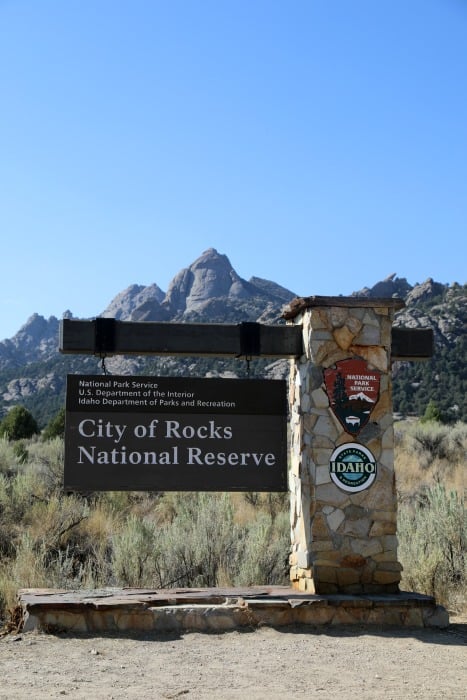 City of Rocks National Reserve is located in Southcentral Idaho approximately 85 miles southeast of Twin Falls. This 14,000-acre park is known for hiking, rock climbing, biking, camping, and horseback riding.
This "city" of granite pinnacles was seen by westbound immigrants on the California Trail. You can see their names written in axle grease on Register Rock and Camp Rock.
There are more than 700 developed routes for rock climbing on the eroded granite spires and domes. Some of these granite spires and domes are over 2.5 billion years old.
More than 22 miles of trails meander through the park perfect for day hikes, mountain biking, and horseback riders. This park also has the largest forest of Pinion Pines in Idaho.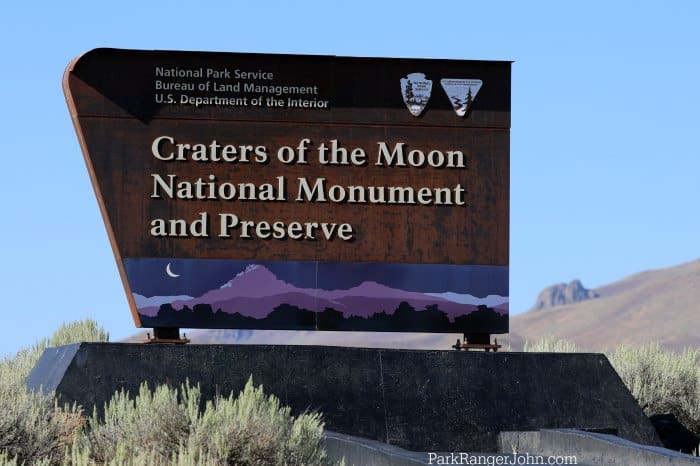 Craters of the Moon NM and Preserve is located in south-central Idaho approximately 80 miles west of Idaho Falls. This 752,000-acre park offers amazing year-round hiking, lava tube caves, camping, cross country skiing and snowshoeing.
Craters of the Moon is a land of dramatic lava flows, cinder cones, and moon-like landscapes. It is a park you have to see to believe.
When the park was established in 1924 President Calvin Coolidge described it as a "Weird and scenic landscape peculiar to itself."
From hiking to cave exploring there is something for every visitor to enjoy.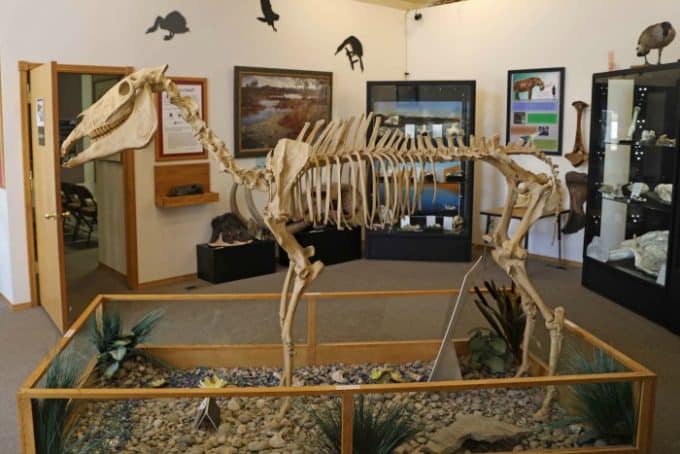 Hagerman Fossil Beds NM is located in south-central Idaho approximately 35 miles northwest of Twin Falls. The park is 4,300 acres that are open year-round. Visitors can explore the visitor center, a scenic drive and hike a portion of the Oregon Trail.
It is hard to believe that one of the most important sites for the study of ancient horses is in Idaho but Hagerman Fossil Beds NM protects land that used to be very different than it is now.
Three to four million years ago this area received double the rain it does now and was home to camels, sloths, sabertoothed cats, giant marmots, and water birds.
The park protects around 600 fossil sites that have more than 40,000 specimens from more than 200 species of plants and animals. The most notable fossil being the Hagerman horse which is a bit of a stretch when they actually think the animal was closer to a zebra.
Thirty complete skeletons and portions of 200 individual horses have been found in this area making it one of the most important sites in the world for the study of the modern horse.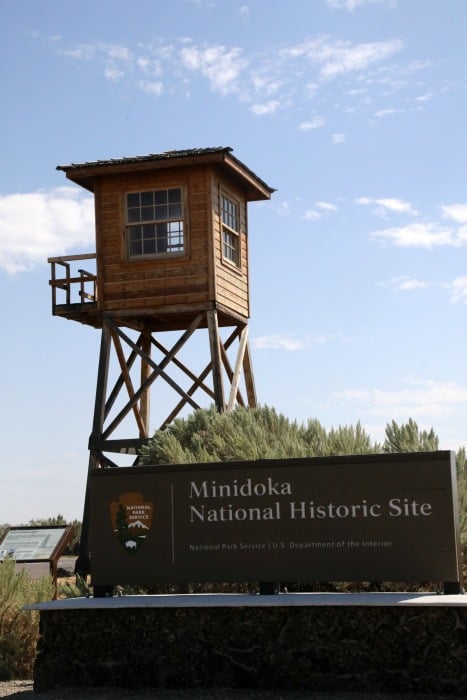 Minidoka NHS is located in south-central Idaho approximately 20 miles northeast of Twin Falls. The park is open year-round and offers the opportunity for visitors to learn about a World War II internment campsite.
Minidoka War Relocation Center was established in 1942 after President Franklin Roosevelt signed an executive order forcing almost 120,000 Japanese Americans into ten relocation centers. More than 9,000 people were relocated to Minidoka.
The site is still a work in progress but is well worth visiting. There is a 1.6-mile interpretive trail that takes you past historic structures and interpretive signs. You will want to have closed-toed shoes and be aware of your surroundings. We did see a few snakes while in the park.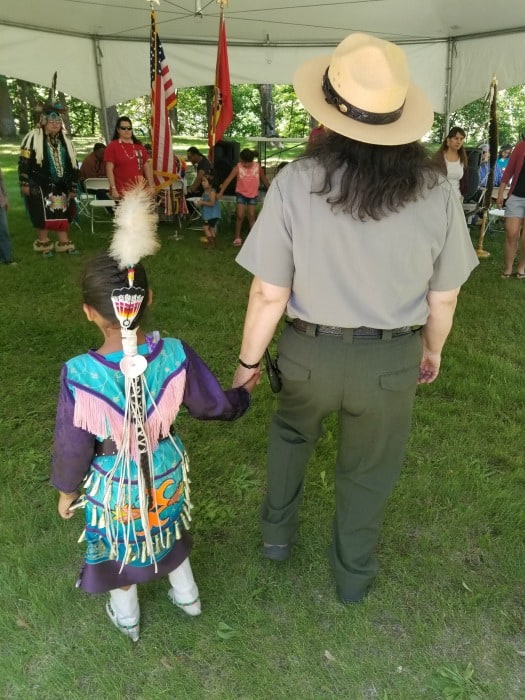 Nez Perce NHP is located in Idaho, Montana, Oregon, and Washington with the main visitor center near Lewiston, Idaho. The park has sites spread over 4 states but many can be seen on a day's drive.
The Niimiipuu people who have historically been called Nez Perce have lived in the Pacific Northwest for 100s of years. They like many tribes experienced non-Indian immigration into the region.
In 1877, fighting broke out between a faction of Nez Perce and white settler in the Wallowa Valley of Oregon. These battles would become known as the Nez Perce War.
Today visitors can visit 38 sites that are spread over what was the traditional Nez Perce peoples homeland. There is an amazing visitor center is Lapwai, Idaho that has a wonderful movie and information about the park.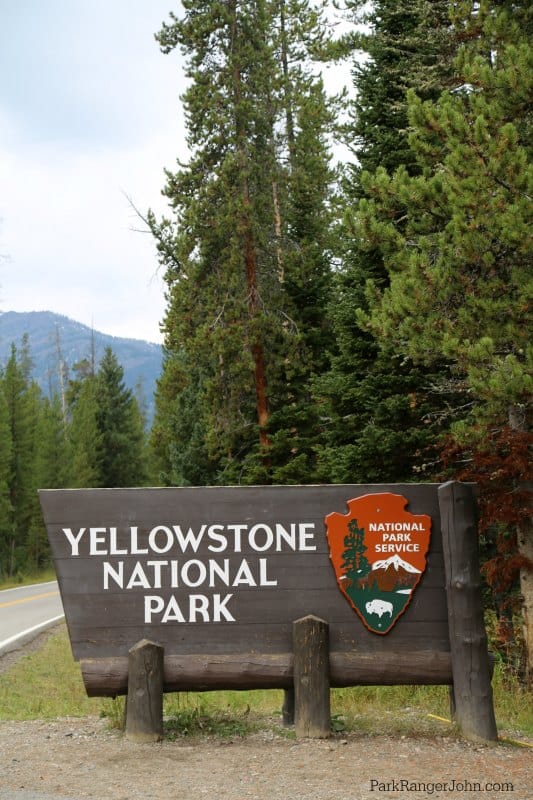 A small portion of Yellowstone National Park is in Idaho while the majority of it can be found in Wyoming. Yellowstone was the 1st designated National Park in the United States and is one of the most visited parks in the National Park Service.
From Mammoth Hot Springs to Old Faithful and Lake Yellowstone there is so much to see within this gorgeous park.
Affiliated Sites
Ice Age Floods National Geologic Trail (Wa, Or, ID, Mt)
Oregon National Historic Trail (ID, KS, MO, NE, OR, WA, WY)
List of Idaho National Parks
Affiliated Sites
California National Historic Trail (CA, CO, ID, KS, MO, NE, NV, OR, UT, WY)
Ice Age Floods National Geologic Trail (Wa, Or, ID, Mt)
Lewis and Clark National Historic Trail (ID, IL, IA, KS, MO, MT, NE, ND, OR, SD, WA
Oregon National Historic Trail (ID, KS, MO, NE, OR, WA, WY)
Idaho National Parks receive an estimated 746K visitors a year, pretty sure Yellowstone is not included in this total. These visitors provide an estimated $48 million dollars in economic benefits.
National Parks in Idaho include 3 National Trails managed by the National Park Service, 1,046 National Register of Historic Place Listings and 10 National Historic Landmarks.
Idaho National Parks also include 1 World Heritage Site, 11 National Natural Landmarks and 382 places that have been recorded by the Heritage Documentation Program.
For an entire list of US National Parks head over to our list of US National Parks in Alphabetical Order. We also have a printable checklist of all 417 National Park properties in the United States available.
If you have dreamed of working in the National Parks make sure and check out our article on How to Become a Park Ranger. Working in the parks is one of the most amazing jobs you can find. There is just something special about waking up and knowing you are going to work in a beautiful park.
National Parks in Neighboring States