Idaho National Parks include seven drastically different park properties.
This includes a small portion of the world's first National Park, Yellowstone.
City of Rocks provides epic rock climbing opportunities, and Craters of the Moon National Monument feels like you landed on another planet.

Idaho National Parks
The National Parks in Idaho sites also include a wide range of historic trails to visit including the California Trail, the Oregon Trail, the Ice Age Geologic Trail, and the Lewis and Clark Trail.
If there is one thing people from the gem state know is that there is an abundance of outdoor activities for nature lovers!
Public lands dominate in Idaho and if you get bored with a national park site, simply find one of Idaho's State Parks or one of the the National Forests. All are filled with spectacular scenery
Now get out there and find yourself emersed amongst the Ponderosa Pines, scenic rivers, and thermal pools to spatter cones and lava tubes!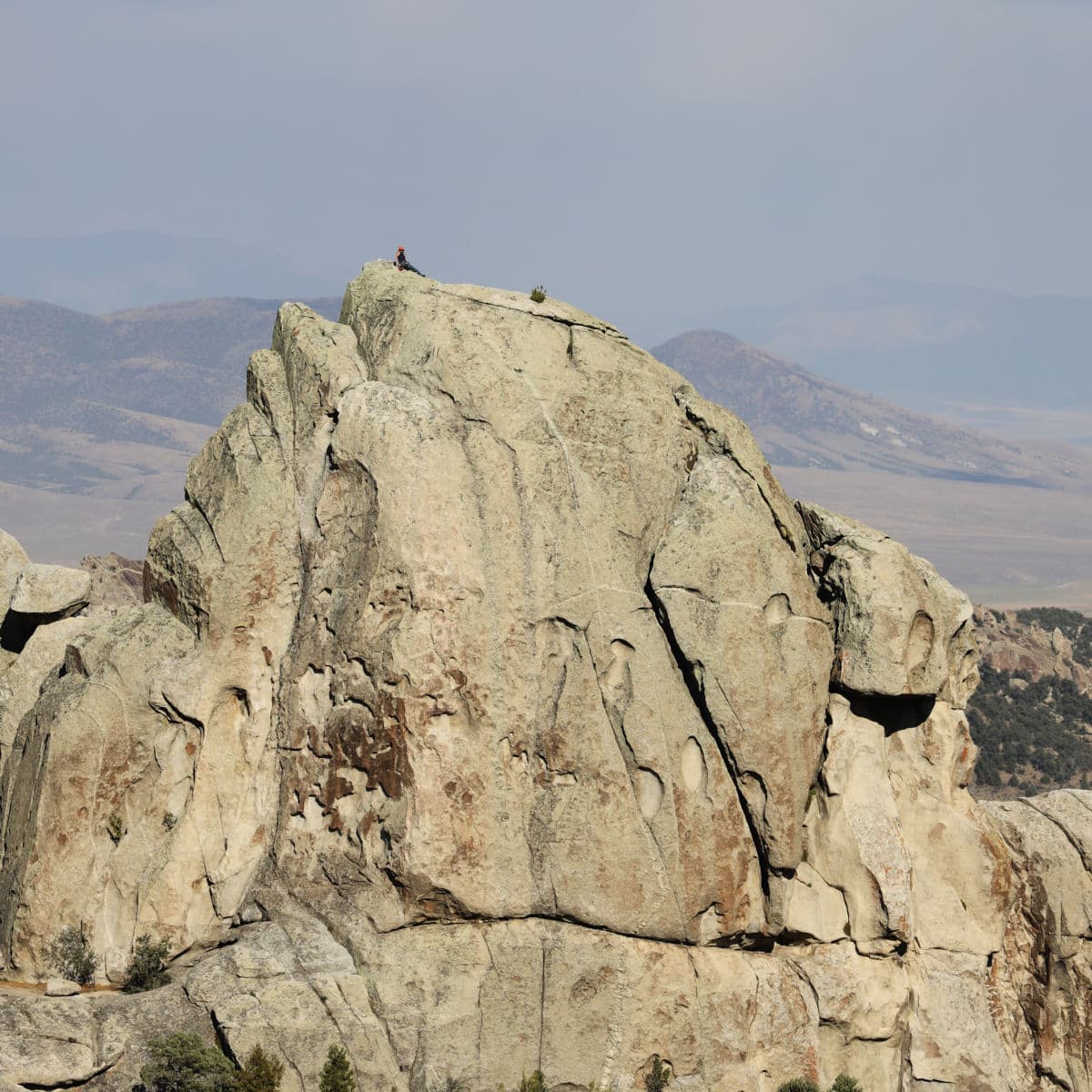 Top Things to do - Hiking, Climbing, Birding, Photography, Camping, Stargazing, Biking, Auto Touring, Horseback Riding, Archery, Winter Activities
Lodging - City of Rocks National Reserve has a variety of options to choose from, depending on the level of comfort you are seeking from a new luxurious glamping yurt or lodge at Castle Rock
The Lodge at Castle Rocks Ranch
The Bunkhouse at Castle Rocks Ranch
Willow Glamping Yurt
Castle Rocks Picnic Shelter
Camping- Spend the night surrounded by impressive granite formations and starry skies. There are 69 standard campsites and 3 group sites to choose from with easy access to hiking trails and vistas.
Park Address -
3035 Elba-Almo Road
Almo 83312
City of Rocks National Reserve is located in Southcentral Idaho approximately 85 miles southeast of Twin Falls. This 14,000-acre park is known for hiking, rock climbing, biking, camping, and horseback riding.
This "city" of granite pinnacles was seen by westbound immigrants on the California Trail. You can see their names written in axle grease on Register Rock and Camp Rock.
There are more than 700 developed routes for rock climbing on the eroded granite spires and domes. Some of these granite spires and domes are over 2.5 billion years old.
More than 22 miles of trails meander through the park perfect for day hikes, mountain biking, and horseback riders. This park also has the largest forest of Pinion Pines in Idaho.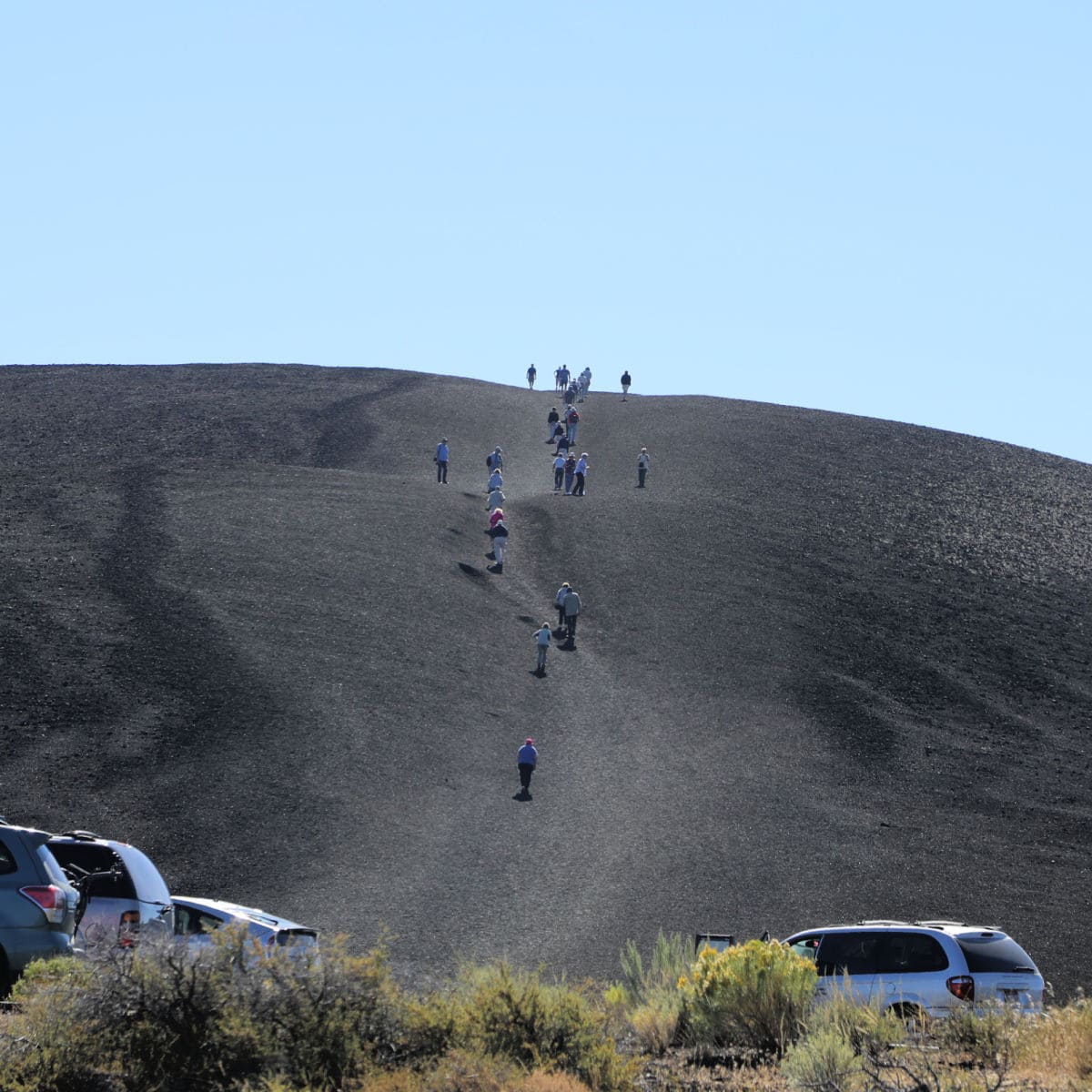 Top Things to do - Explore a Cave, Hike Broken Top Loop, Hike the Tree Molds Trail, Visit Craters in Winter
Lodging - There is no lodging available in the park. The nearest lodging and other services are available in Arco, 18 miles east of the visitor center on US Highway 20/26/93.
Camping- Extend your stay at Craters by camping at the Lava Flow Campground.
Camping is also permitted in the Craters of the Moon Wilderness and the NPS Preserve and BLM Monument for those who are properly outfitted.
Park Address -
1266 Craters Loop Road
Arco, ID 83213
Craters of the Moon NM and Preserve is located in south-central Idaho approximately 80 miles west of Idaho Falls. This 752,000-acre park offers amazing year-round hiking, lava tube caves, camping, cross-country skiing, and snowshoeing.
Craters of the Moon is a land of dramatic lava flows, cinder cones, and moon-like landscapes that cover the Snake River Plain in South Idaho. It is a park you have to see to believe.
When the park was established in 1924 President Calvin Coolidge described it as a "Weird and scenic landscape peculiar to itself."
From hiking to cave exploring there is something for every visitor to enjoy.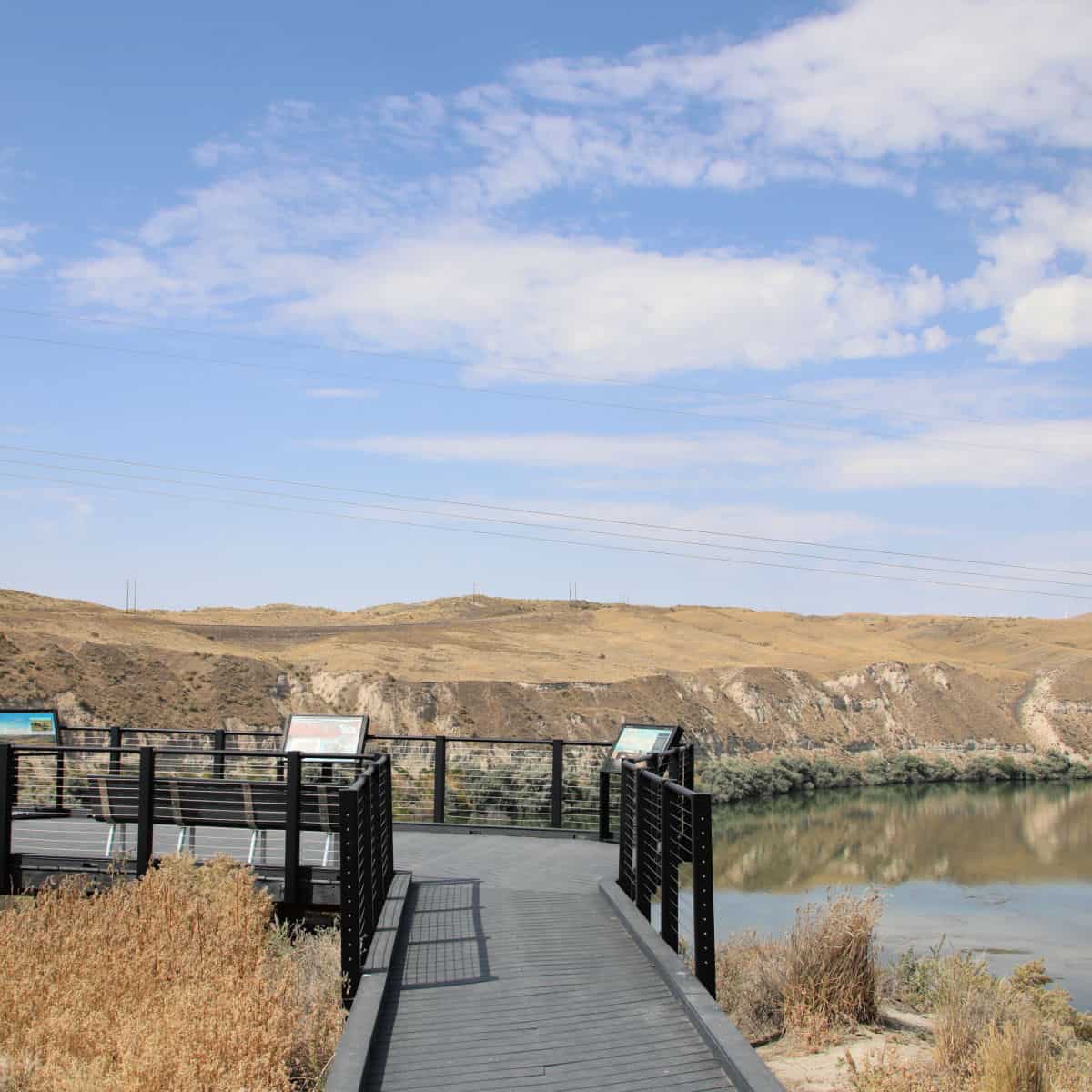 Top Things to do - start at Thousand Springs Visitor Center, Become a Hagerman Fossil Beds Junior Ranger, Hike the Emigrant Trail, See Fossils on Display, Take a Scenic Drive, Birdwatching, Picnicking
Lodging - There are no lodging in the park
Camping- There are no campgrounds within the monument
Park Address -
17970 U.S. Hwy 30
Hagerman, ID 83332
Hagerman Fossil Beds NM is located in south-central Idaho approximately 35 miles northwest of Twin Falls. The park is 4,300 acres that are open year-round. Visitors can explore the visitor center, a scenic drive, and hike a portion of the Oregon Trail.
It is hard to believe that one of the most important sites for the study of ancient horses is in Idaho but Hagerman Fossil Beds NM protects land that used to be very different than it is now.
Three to four million years ago during the Pliocene Epoch, this area received double the rain it does now and was home to camels, sloths, sabertoothed cats, giant marmots, and water birds.
The park protects around 600 fossil sites that have more than 40,000 specimens from more than 200 species of plants and animals. The most notable fossil is the Hagerman horse which is a bit of a stretch when they actually think the animal was closer to a zebra.
Thirty complete skeletons and portions of 200 individual horses have been found in this area making it one of the most important sites in the world for the study of the modern horse.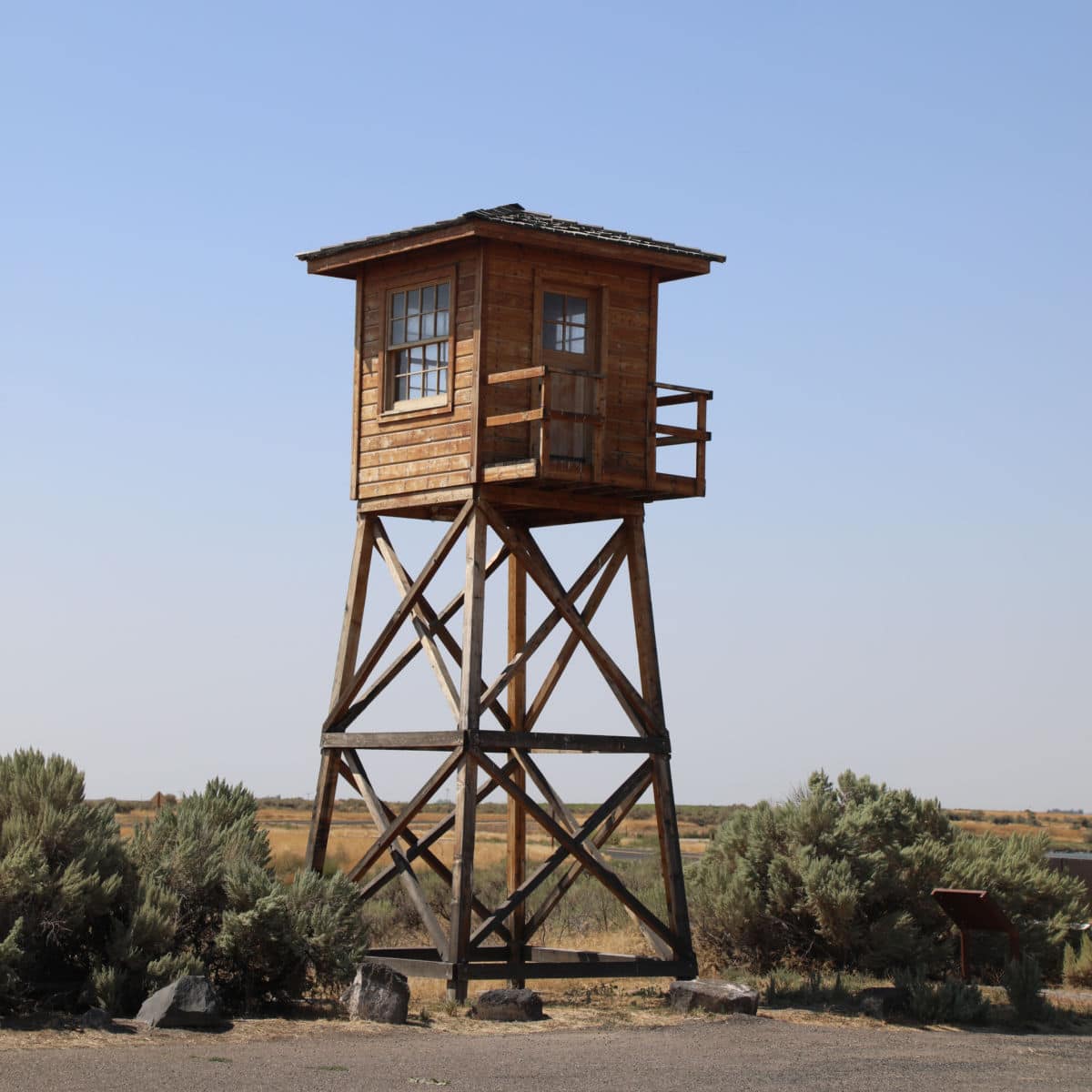 Top Things to do - visit Minidoka Visitor Center, Self-Guided Tours - Walking, Museum Exhibits, Watch the Minidoka Film, Become a Minidoka Junior Ranger
Lodging - while there are no lodging facilities within the park itself, there are lodging options available in nearby towns and cities. The closest town with lodging options is Rupert, Idaho, which is approximately 15 miles northwest of the park.
Camping - There are no camping opportunities within the park
Park Address -
1428 Hunt Road
Jerome, ID 83338
Minidoka NHS is located in south-central Idaho approximately 20 miles northeast of Twin Falls. The park is open year-round and offers the opportunity for visitors to learn about a World War II internment campsite.
Minidoka War Relocation Center was established in 1942 after President Franklin Roosevelt signed an executive order forcing almost 120,000 Japanese Americans into ten relocation centers. More than 9,000 people were relocated to Minidoka.
The site is still a work in progress but is well worth visiting. There is a 1.6-mile interpretive trail that takes you past historic structures and interpretive signs. You will want to have closed-toed shoes and be aware of your surroundings. We did see a few snakes while in the park.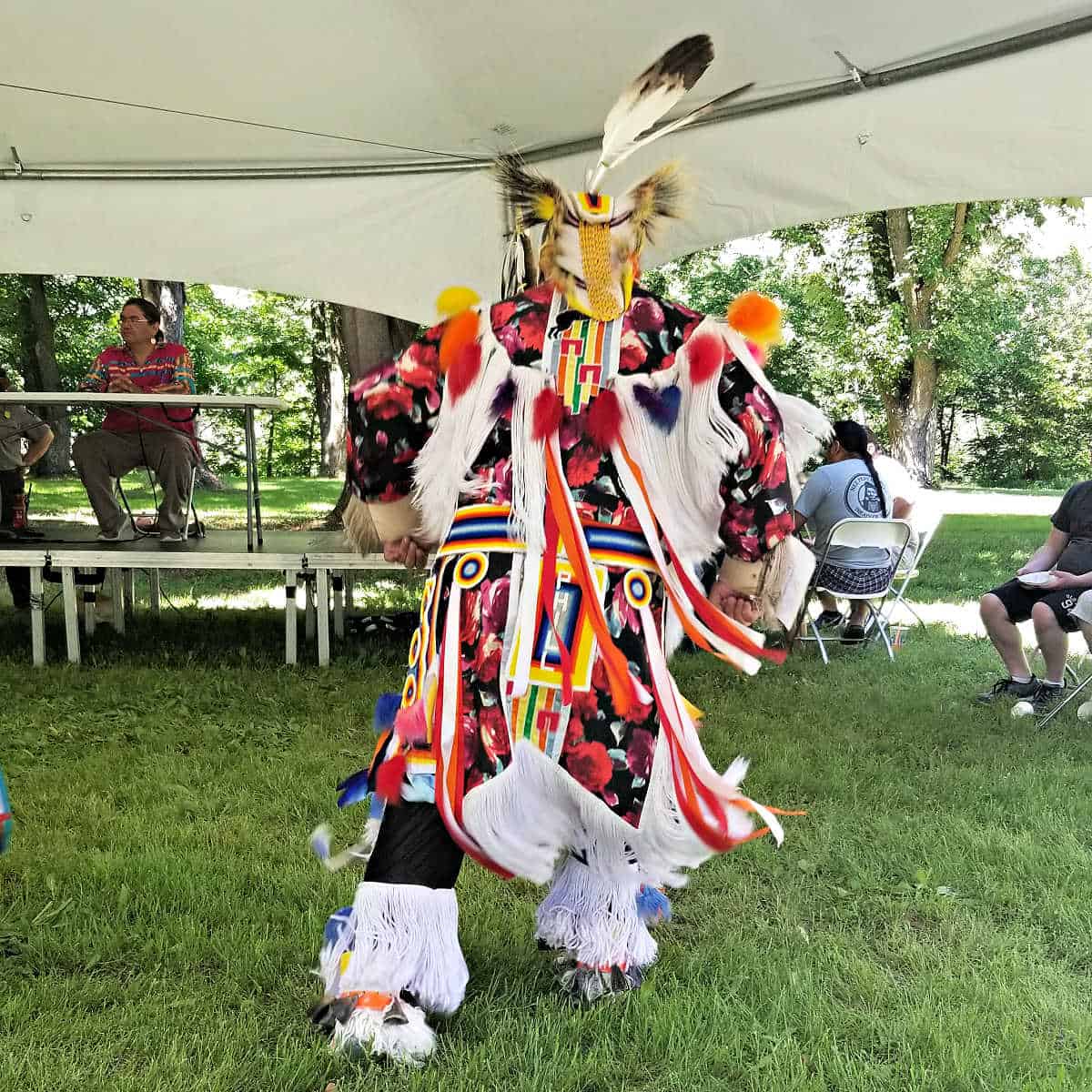 Top Things to do - visit the Visitor Center, become a Junior Ranger, visit Historical Sites, explore the 38 park sites
Lodging - There are no lodging options within the park.
In places like Lewiston, Idaho, and Joseph, Oregon, you can find hotels, motels, and bed-and-breakfasts. Consider lodging in nearby towns when visiting different units of the park.
Camping- There are no campgrounds within the park
Park Address -
39063 US Hwy 95
Lapwai, ID 83540-9715
Nez Perce NHP is located in Idaho, Montana, Oregon, and Washington with the main visitor center near Lewiston, Idaho. The park has sites spread over 4 states but many can be seen on a day's drive.
The Niimiipuu people who have historically been called Nez Perce have lived in the Pacific Northwest for 100s of years. They like many tribes experienced non-Indian immigration into the region.
In 1877, fighting broke out between a faction of Nez Perce and white settler in the Wallowa Valley of Oregon. These battles would become known as the Nez Perce War.
Today visitors can visit 38 sites that are spread over what was the traditional Nez Perce peoples homeland. There is an amazing visitor center in Lapwai, Idaho that has a wonderful movie and information about the park.
Top Things to do - Explore Thermal Basins, Hike a Trail, Watch Wildlife, Bike in the park, Ride a horse, Camping, Attend Cultural Events, Become a Junior Ranger, Join a Guided Tour, Swim and Soak, Catch a fish, Ski and Snowshoe
Lodging - Yellowstone National Park Lodges operates nine lodges (hotel- and cabin-style) in the park with more than 2,000 rooms. All are open from late spring through fall. Old Faithful Snow Lodge is open during winter.
Camping- Yellowstone National Park offers 12 campgrounds with over 2,000 established campsites.
Park Address - Yellowstone National Park
2 Officers Row
Yellowstone National Park Headquarters
Yellowstone National Park, WY.82190
A small portion of Yellowstone National Park is in Idaho while the majority of it can be found in Wyoming. Yellowstone was the 1st designated National Park in the United States and is one of the most visited parks in the National Park Service.
From Mammoth Hot Springs to Old Faithful and Lake Yellowstone there is so much to see within this gorgeous park.
List of Idaho National Parks
Affiliated Sites
California National Historic Trail (CA, CO, ID, KS, MO, NE, NV, OR, UT, WY)
Ice Age Floods National Geologic Trail (Wa, Or, ID, Mt)
Lewis and Clark National Historic Trail (ID, IL, IA, KS, MO, MT, NE, ND, OR, SD, WA
Oregon National Historic Trail (ID, KS, MO, NE, OR, WA, WY)
Idaho National Parks receive an estimated 746K visitors a year, pretty sure Yellowstone is not included in this total. These visitors provide an estimated $48 million dollars in economic benefits.
National Parks in Idaho include 3 National Trails managed by the National Park Service, 1,046 National Register of Historic Place Listings, and 10 National Historic Landmarks.
Idaho National Parks also include 1 World Heritage Site, 11 National Natural Landmarks, and 382 places that have been recorded by the Heritage Documentation Program.
For an entire list of US National Parks head over to our list of US National Parks in Alphabetical Order. We also have a printable checklist of all 417 National Park properties in the United States available.
If you have dreamed of working in the National Parks make sure and check out our article on How to Become a Park Ranger. Working in the parks is one of the most amazing jobs you can find. There is just something special about waking up and knowing you are going to work in a beautiful park.
Planning a National Park vacation? America the Beautiful/National Park Pass covers entrance fees for an entire year to all US National Park Sites and over 2,000 Federal Recreation Fee Sites.
The park pass covers everyone in the car for per-vehicle sites and for up to 4 adults for per-person sites.
Buy on REI.com and REI will donate 10% of pass proceeds to the National Forest Foundation, National Park Foundation, and the U.S. Endowment for Forestry & Communities.
Free Entrance Days -Mark your calendars with the five free entrance days the National Park Service offers annually.
For a fun adventure, check out Escape Campervans. These campervans have built-in beds, kitchen area with refrigerators, and more. You can have them fully set up with kitchen supplies, bedding, and other fun extras. They are painted with epic designs you can't miss!
Escape Campervans has offices in Vancouver, Seattle, Portland, San Francisco, Las Vegas, Los Angeles, Phoenix, Salt Lake City, Denver, Chicago, New York, and Orlando
National Parks in the Neighboring States