Complete guide to Yellowstone National Park in Wyoming. Everything you need to know to plan an epic trip to this amazing national park including lodging, camping, things to do, history, wildlife, and information on the local area.

Yellowstone National Park
Yellowstone National Park was created by the United States Congress and President Ulysses S. Grant on March 1, 1872. Yellowstone is located in the United States, mainly in the state of Wyoming, although it extends through Montana and Idaho. Yellowstone, the first national park in the United States, is also widely considered the oldest national park in the world.
About Yellowstone National Park
Yellowstone is located above the caldera of the largest volcano in America, very alive but without an eruption since 640 000 years ago. Because of that, it has numerous geothermal phenomena, especially the Old Faithful geyser, one of its most popular attractions. It is famous for its diversity in fauna, due to the fact that hunting of any kind has been prohibited for over 150 years.
The main road in the park is the 142-mile Grand Loop Drive, with upper and lower loops, forming a rough figure eight in the center of the park. On the undulating Yellowstone Plateau, you cross the Continental Divide twice, both with signs showing the elevation at the Continental Divide 8391 feet and 8262 feet.
On March 1, 1872, President Ulysses Grant signed into existence Yellowstone as the world's first national park. This 2.2 million acres of wilderness covers three states including Montana, Wyoming, and Idaho, and was set aside"For the Benefit and Enjoyment of the People."
Today, you can see these famous words as they are written on the Roosevelt Arch, the rock arch entrance as you enter from the north in Garnier, Montana.
There is just a special feeling driving through the arch as you read these words. You know that you have entered a special place, a place of unspoiled beauty, iconic western scenery, and the birthplace of something truly special, the U.S. National Park System. Perhaps America's best idea yet.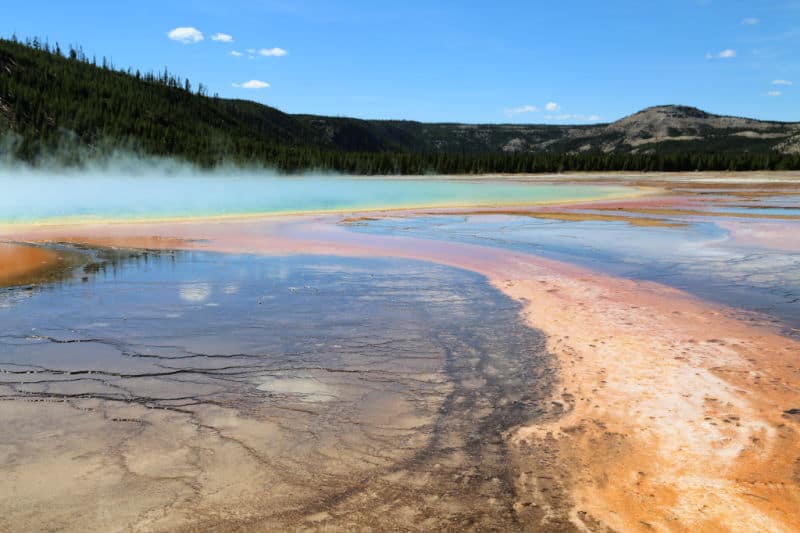 Is Yellowstone National Park worth visiting?
Yes! Yes! Yes! How many times can I say yes?
At nearly 12,000 square miles, it has an amazing variety of sights to offer, whatever your interests.
Where else in the world can you find geysers, hot springs, fumaroles, and other signs of hot geothermal activity, with snow-capped mountain peaks close by, huge meadows dotted with bison, elk, and mule deer, rivers steaming as hot springs empty into them, waterfalls and a canyon, all in one park?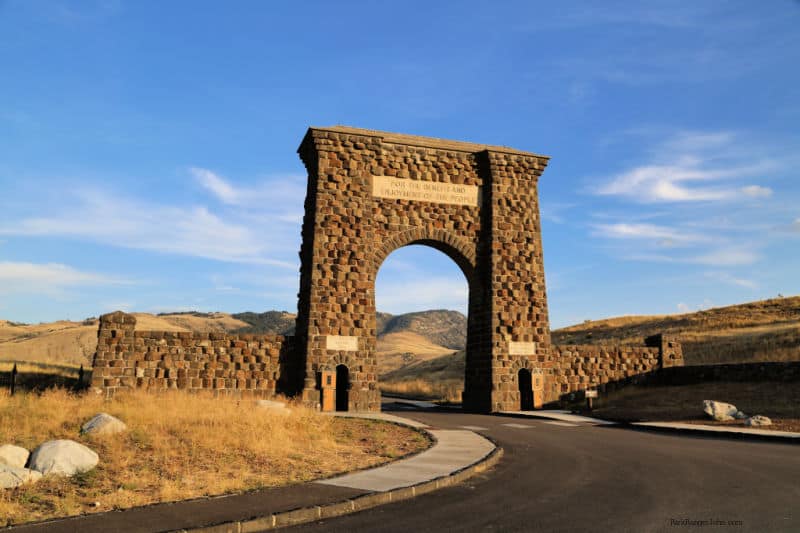 History of Yellowstone National Park
The Yellowstone Plateau volcanic field resulted from three volcanic eruptions that spanned two million years.
The first cycle occurred over two million years ago and it created the Island Park Caldera. The second cycle happened approximately one million years later and it formed the Henry's Ford caldera situated west of the first caldera.
The third cycle, which occurred 640,000 years ago, shifted to the Yellowstone Plateau and formed the caldera which is present today.
In Yellowstone, traces of human presence have been found, dating back at least 11,000 years. In the 1950s, construction work on the Gardiner Post Office uncovered a projectile from the Clovis culture.
In 1806, John Colter, who was a member of the Lewis and Clark expedition, left his fellow travelers to join with a group of trappers led by Manuel Lisa. Under his orders, Colter was sent to explore the upper reaches of the Yellowstone River.
He was probably the first European to have visited this region and come into contact with the Amerindian tribes.
In 1869, the Folsom expedition ascended the Yellowstone River to Yellowstone Lake. It was the first to provide a detailed description of the Yellowstone region. In 1870, Montana residents also organized an expedition (the Washburn-Langford-Doane Expedition ), led by surveyor Henry Washburn and involving Nathaniel P. Langford and an army detachment, commanded by Lieutenant Gustavus Doane.
For a month, they studied the region, collected numerous specimens, and christened several places. Cornelius Hedges, a writer, and lawyer from Montana participated in the Washburn expedition. Between 1870 and 1871, the newspaper Helena Herald published several articles that detailed his observations.
He was one of the first, with the governor of Montana, Thomas Francis Meagher, to propose making the Yellowstone a protected national park.
In a letter of 1871, addressed to Ferdinand Hayden by Jay Cooke, the latter claimed that his friend, Senator William D. Kelley had suggested creating a law that would make Yellowstone a public park.
Hayden led a second and more important expedition, financed this time by the Government. He wrote a full report on Yellowstone, illustrated with photographs by William Henry Jackson, 33, and illustrations by Thomas Morgan, which made the US Congress protect this region.
On March 1, 1872, US President Ulysses Grant signed the decree creating the "Yellowstone National Park" in order to create a place "free of commercial exploitation, dedicated to the satisfaction of the people." The Hayden Valley takes its name from this geologist.
In order to mitigate the insufficiency of means to protect the national park, between 1886 and 1918 its administration was entrusted to the Army but On October 31, 1918, the Army ceded control of Yellowstone to the National Park Service.
At the beginning of the 20th century, a 146 miles road with an "8" shape was built connecting the most interesting points of the park. Between 1933 and 1941, the Civil Conservation Corps built the tourist information centers, the campsites, and most of the current roads.
In 1959, a powerful earthquake struck west of Yellowstone on Hebgen Lake and damaged the roads and facilities of the national park.
On October 26, 1976, Yellowstone Park was declared an international biosphere reserve alter on September 8, 1978, it was integrated into the UNESCO world heritage.
But in 1995, this Committee placed it on the list of endangered world heritage areas. The poor quality of the water, the tourist crowds, and the use of snowmobiles were other reasons for concern.
Following the efforts of the federal government, the situation has improved and in July 2003 the park was removed from the list of endangered areas.
During the dry summer of 1988, some fires caused by lightning devastated 36% of the surface of the park, 783,880 acres, and the most affected part was North Fork.
Today, the National Park Service intentionally causes fires, circumscribed to certain areas already studied in advance, to prevent a catastrophe like the one of 1988.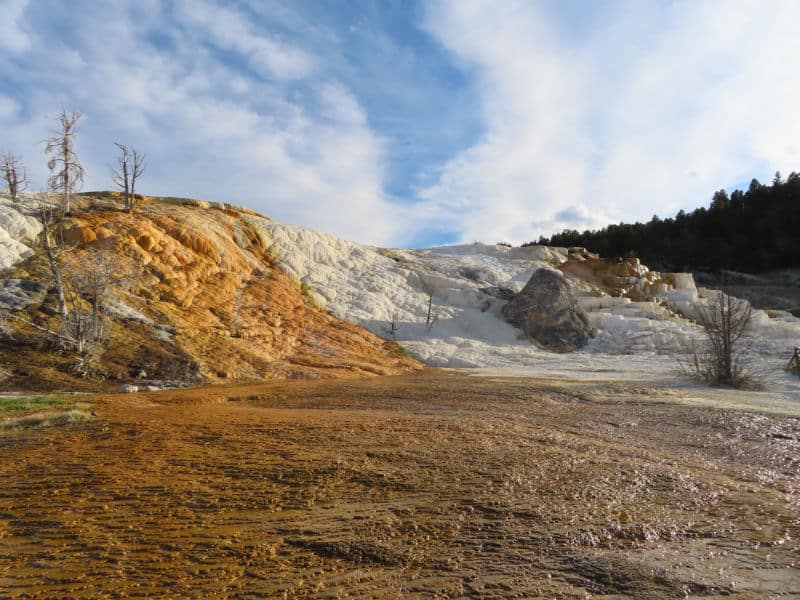 Things to know before your visit to Yellowstone National Park
Season
The park is open year-round but many features are closed in the winter.
Entrance fee
A fee is charged for entry to the park, with a 7-day permit available. The permit provides access to all areas of Yellowstone National Park, as well as nearby Grand Teton National Park
Yellowstone Entrance Fee - Private Vehicle - $35
Yellowstone Entrance Fee - Motorcycle - $30
Yellowstone Entrance Fee - Hiker/Biker - $20
Yellowstone Annual Pass - $70
Free Entrance Days - Check out the 5 days during the year that entrance fees are waived.
Learn more about National Parks Passes!
Time Zone
MST- Mountain Standard Time
Pets
Pets are allowed in Yellowstone NP but they must be on a leash at all time.
Please remember that there is a ton of wildlife in Yellowstone and they may be attracted to your pet.
Keeping your pet on a leash helps to keep them safe during your visit.
Leashes cannot be longer than 6 feet in length. You are responsible for cleaning up after your pet.
Pets are not allowed on any park trails or in the park backcountry. Pets are not considered pack animals.
Cell Service
We have had fairly good service in the park especially on the main roads. There are definitely parts of the park where cell phone service is not available or there may be a intermittent cell signal.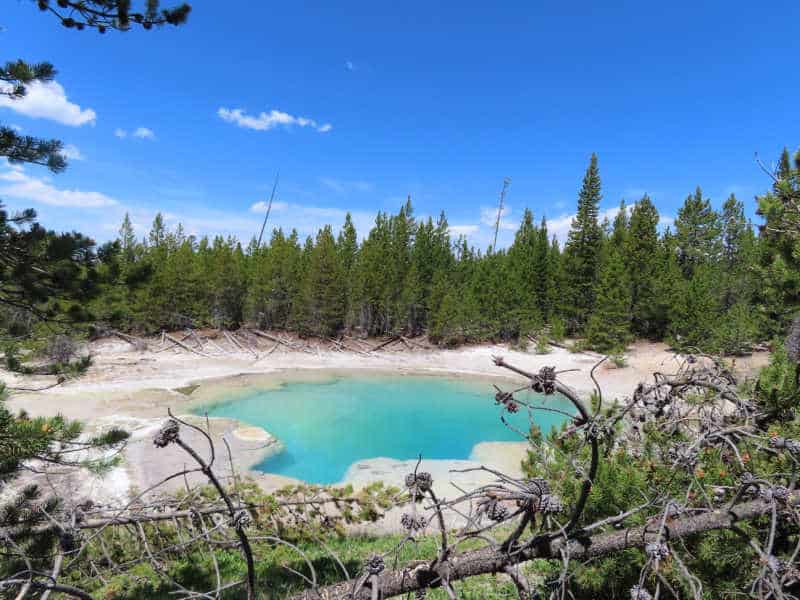 Park Hours
The park remains open year-round, with the operating hours for the visitor centers depending on the time of the year.
Wi-Fi
Wi-Fi may be available at the park visitor centers.
Insect Repellent
It is always a good idea to bring insect repellent with you. We use permethrin bug spray that can be applied to your clothes before you leave for your trip.
Water Bottle
Make sure to bring your own water bottle and plenty of water with you. Plastic water bottles are not sold in the park.
Parking
There are large parking lots available near Old Faithful.
Other attractions in the park have smaller parking lots and can be difficult to find parking.
If you are planning to visit Midway Geyser Basin to explore Grand Prismatic Spring you can almost guarantee having to wait for a parking spot.
Food/Restaurants
There are multiple restaurants and fast service counters within Yellowstone.
Canyon Lodge - Eatery, Falls Café, Ice Creamery, M66 Grill
Canyon General Store - 60s-style burger counter and ice cream counter
Washburn Lodge - Washburn Lookout (snacks and drinks)
Grant Village Lodge - Dining Room, Lake House at Grant
Grant Village General Store - Snack bar and ice cream counter
Lake Hotel and Cabins - Lake Hotel Dining Room, Lake Hotel Deli, and alcohol bar
Lake Lodge and Cabins - Cafeteria
Lake General Store - Snack bar and ice cream counter
Fishing Bridge General Store - Snack bar and ice cream counter
Bridge Bay Marina Store - Snack bar
Mammoth Hot Springs Hotel and Cabins - Mammoth Hotel Dining Room, Terrace Grill, Map Room Bar
Mammoth General Store - Snack bar and ice cream counter
Old Faithful Inn - Old Faithful Inn Dining Room, Bear Paw Deli, Bear Pit Lounge
Old Faithful Snow Lodge - Obsidian Dining Room, Geyser Grill, Coffee counter,
Old Faithful Lodge - Cafeteria, Bake Shop, Lobby Snack Shops, Ice cream counter
General Stores (Upper and Lower) - Store Soda Fountain
Roosevelt Lodge - Roosevelt Lodge Dining Room, Old West Dinner cookout
Tower Fall General Store - Snack bar and ice cream counter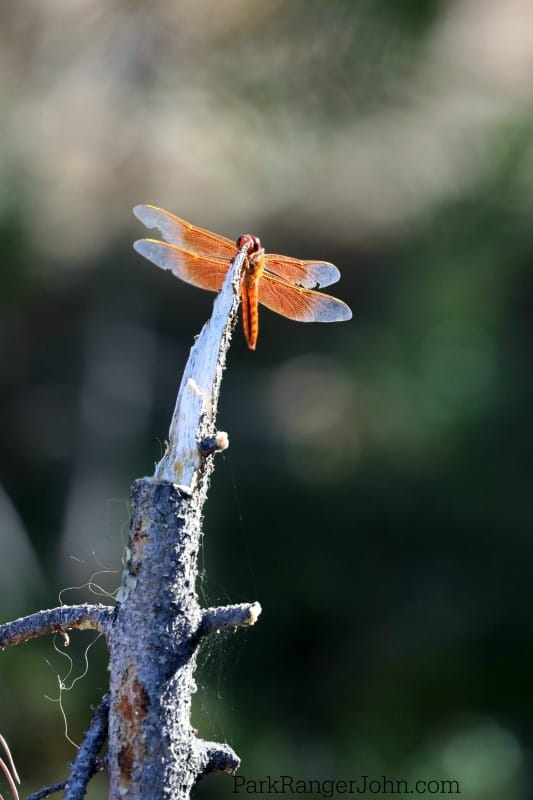 Gas
There are gas stations located near Old Faithful, Grand Village, Fishing Bridge, Canyon, Tower/Roosevelt Junction, and Mammoth Hot Springs.
National Park Passport Stamps
National Park Passport stamps can be found in the visitor center. Make sure to bring your National Park Passport Book with you.
Large Vehicles
There are several large parking lots at the main attractions but will prove difficult on many other roads and smaller parking lots.
Electric Vehicle Charging
Public EV charging stations are now available in a number of park locations.
The stations are Level 2, and provide 208/240 volt electric service. Charging takes about 4 hours from empty to full.
Yellowstone Forever, the park's official nonprofit partner, installed one of the public charging stations at their headquarters and retail store at 308 E Park St. Gardiner, Montana 59030.
Yellowstone National Park Lodges, the authorized concessioner operating the park's hotels, has installed public charging stations near several of the park hotels:
Mammoth Hot Springs: In front of the Haynes PhotoShop; and behind the Northwest corner of the Mammoth Hotel.
Old Faithful: At the Old Faithful Lodge Cabins (Lower Loop), outside of Shower house 1.
Canyon Village: In front of both Rhyolite and Washburn lodges.
Lake Village: In front of Teal employee dorm.
West Entrance/ West Yellowstone MT: The Gray Wolf Inn and Suites, 250 S Canyon St., and the Holiday Inn, 315 W Yellowstone Ave, West Yellowstone, MT 59758. Tesla stations are also located in West Yellowstone.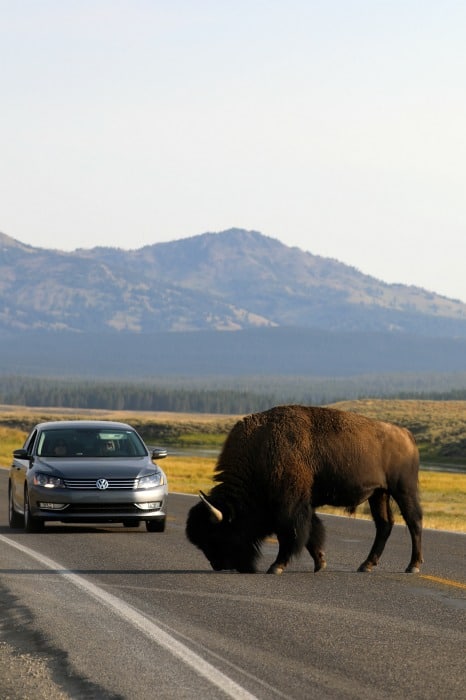 Details about Yellowstone National Park
Size - 2,219,790 Acres
Yellowstone NP is currently ranked at 8 out of 63 National Parks by Size.
The Yellowstone National Park covers an area of 2,219,790 acres that includes lakes, canyons, rivers, and mountain ranges, Yellowstone Lake being the largest mountain lake in North America.
Date Established
Yellowstone National Park was created by the United States Congress and President Ulysses S. Grant on March 1, 1872.
Visitation
In 2020, Yellowstone NP had 3,806,306 park visitors.
In 2019, Yellowstone NP had 4,020,288 park visitors.
Yellowstone is one of the top ten most visited National Parks in the United States.
Yellowstone National Park Address
Yellowstone National Park
2 Officers Row
Yellowstone National Park Headquarters
Yellowstone National Park, WY.82190
Yellowstone National Park Map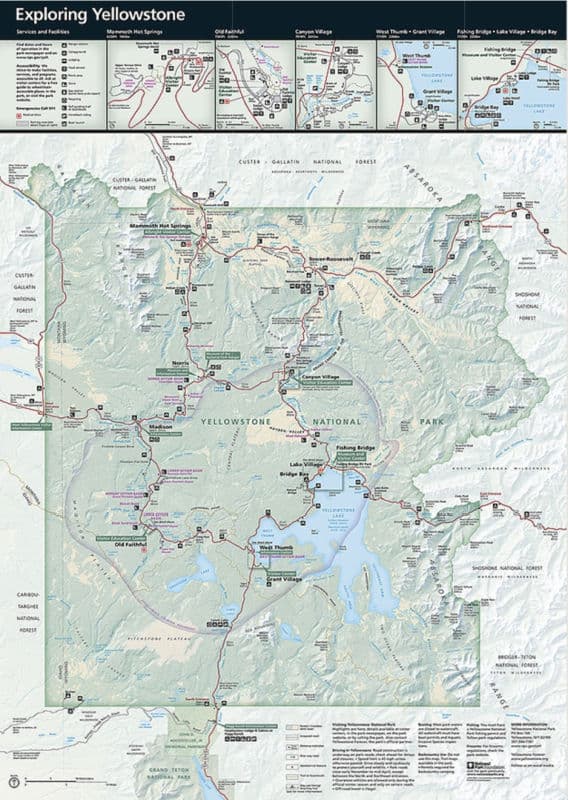 If you want to check out a detailed map of the park you can purchase a trails illustrated map which highlights 1,000 miles of mapped trails and the main attractions within the park.
They also sell a Yellowstone map pack that includes:
Map 302 :: Old Faithful: Yellowstone National Park SW
Map 303 :: Mammoth Hot Springs: Yellowstone National Park NW
Map 304 :: Tower, Canyon: Yellowstone National Park NE
Map 305 :: Yellowstone Lake: Yellowstone National Park SE
Every Trails Illustrated map is printed on "Backcountry Tough" waterproof, tear-resistant paper.
Where is Yellowstone National Park
Yellowstone is about a seven-hour drive north of Salt Lake City, three hours from Jackson, and very close to the town of West Yellowstone.
Estimated distance from major cities nearby
Gardiner, MT - Borders the north entrance of Yellowstone
West Yellowstone - Borders the west entrance of Yellowstone
Idaho Falls, ID - 108 miles, 1 hour and 45 minutes
Bozeman, MT - 78 miles, 1 hour and 25 minutes
Casper, WY - 267 miles, 4 hours and 40 minutes
Salt Lake City, UT - 320 miles, 4 hours, and 50 minutes
Boise, ID - 340 miles, 5 hours and 10 minutes
Estimated Distance from nearby National Park
The road through Yellowstone is closed for the winter.
Grand Teton National Park - 65 miles
Glacier National Park - 366 miles
Arches National Park - 557 miles
Where are the Yellowstone National Park Visitor Centers?
Albright Visitor Center
Location - Located in the northern part of the park near Mammoth Hot Springs
Canyon Visitor Education Center
Location - Location near the Grand Canyon of the Yellowstone.
Fishing Bridge Visitor Center and Trailside Museum
Location - The Fishing Bridge Museum and Visitor Center is located one mile off the Grand Loop Road on the East Entrance Road.
Flagg Ranch Information Station
Grant Visitor Center
Location - The Grant Visitor Center is located on the western shore of Yellowstone Lake, a short distance south of the West Thumb Geyser Basin.
Madison Information Center and Trailside Museum
Location - halfway between Old Faithful and West Yellowstone
Museum of the National Park Ranger
Location - The Museum of the National Park Ranger is located off the Grand Loop Road at the entrance to the Norris Campground.
Norris Geyser Basin Museum and Information Center
Location - On the trail within Norris Geyser Basin.
Old Faithful Visitor Education Center
Location - Near Old Faithful Geyser
This large visitor education center has a great windowed view of the geyser. There is a nice park store, natural wonders of Yellowstone exhibit hall, restrooms, and rangers available to answer questions.
West Thumb Information Center
Location - West Thumb Geyser Basin
West Yellowstone Visitor Information Center
Location - Located in West Yellowstone near the entrance to the park.
This visitor center includes NPS Park Rangers who can answer questions specific to the park. There are also staff members for the West Yellowstone Chamber of Commerce who can answer questions about lodging and information on West Yellowstone.
Getting to Yellowstone National Park
By Air
Cody and Jackson, WY; Bozeman and Billings, MT, and Idaho Falls, ID are close airports that are open year-round. The West Yellowstone, MT airport is serviced from June to early September from Salt Lake City, UT.
The Jackson, Wyoming airport is great! You can rent a car on-site and be in the park pretty quickly. On your way back home you can enjoy comfy leather couches, fireplaces, and a relaxing airport before flying out.
Commercial airlines serve the following airports near Yellowstone National Park all year: Cody and Jackson, WY; Bozeman and Billings, MT, and Idaho Falls, ID.
Yellowstone Airport (WYS)
Located in West Yellowstone just outside of the park. This airport is open from early May to mid-October from Salt Lake City, UT.
Yellowstone Regional Airport (COD)
Located in Cody, Wyoming. Delta and United offer year-round flights to this airport. One thing to know is the east entrance to the park closes in the winter.
When making a reservation make sure to confirm if you are flying into Yellowstone Airport or Yellowstone Regional Airport.
Jackson Hole Airport - JAC
Jackson Hole Airport is located within Grand Teton National Park just south of Yellowstone.
Alaska, American, Delta, and United Airlines all offer year-round flights to and from Jackson Hole.
Allegiant, Frontier, and Sun Country Airlines offer direct flights between Jackson Hole and Denver in the summer months only.
International Airports
Salt Lake City International Airport - SLC
Regional Airports
Idaho Falls Regional Airport - IDA
Cody, Wyoming
Bozeman, Montana
Billings, Montana
By Car
There are five main entrances to the park. These are open depending on weather conditions.
Be prepared that your GPS may not work correctly within the park. Bring a paper map and pick up current maps from the visitor center when you arrive at the park.
For current road conditions call (307) 344-2117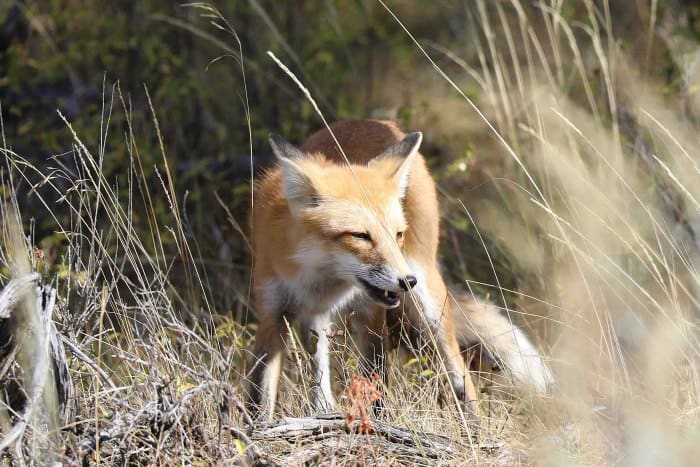 Entrances to Yellowstone National Park
West Entrance
The West Entrance to Yellowstone National Park is open during the summer only from Mid-April to early November.
Winter access is only open by a commercially guided snow coach or snowmobile.
Closest City - West Yellowstone
Closest Airport - West Yellowstone Airport (WYS)
The West Yellowstone Airport is located one mile north of West Yellowstone. It is open from Mid-May to early October and served by SkyWest Airlines (Delta Connection).
Bozeman Airport is 90 miles north of the west entrance.
Idaho Falls Airport is 110 miles south of the west entrance.
North Entrance
Closest City - Gardiner, Montana
Closest Airport - Bozeman (BZN)
Northeast Entrance
Closest City - Cooke City, Montana
Closest airport - Billings-Logan International Airport (BIL)
The northeast entrance is not only the gateway to Yellowstone but also on the most scenic drive in America the Beartooth Highway.
Traveling the Beartooth Highway takes you through the Absaroka and Beartooth Mountains
Closest Bus Station to Yellowstone
Bus service from Bozeman, MT to West Yellowstone, MT via Highway 191 is available all year.
Bus service directly from Idaho to West Yellowstone is limited to the summer months.
Commercial transportation from Bozeman, MT to Gardiner, MT is available during the winter and summer seasons.
Commercial transportation to the park from Cody and Jackson, WY is available during the summer season.
Closest Train Station to Yellowstone
Train service is not available to Yellowstone National Park.
The nearest train depots are in southeast Idaho, Salt Lake City, Utah, and northern Montana.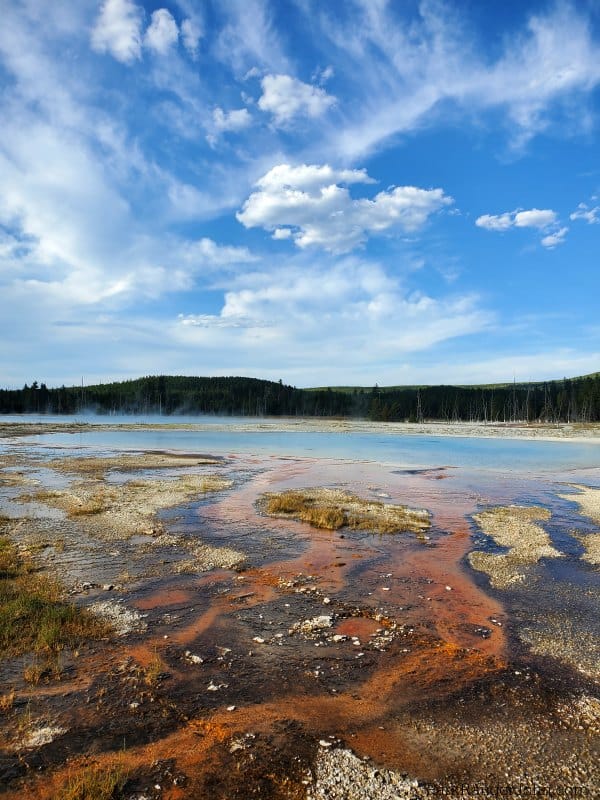 Best time to visit Yellowstone National Park
The best time to visit Yellowstone is any time you can make it to the park. Every season in the park brings the opportunity to see something amazing.
Yellowstone National Park Weather and Seasons
Spring
During spring the roads start to open to visitors starting the third Friday of April.
Spring visitors to Yellowstone can enjoy wildlife viewing including bison calves, black bears emerging from their dens, spring birds, and wildflowers breaking through any remaining snow.
Visitation increases as the days move closer to Memorial Day. All roads within the park are open most years by Memorial Day weekend.
Summer
Summer is by far the busiest visitation within Yellowstone NP. More than half of the annual visitors visit the park between June, July, and August.
Starting from Memorial Day weekend visitation increases for the remainder of the summer.
The highlight of visiting during the summer is all of the roads are open and services are available including all of the lodges and campgrounds.
Early in the summer bears are visible as they are enjoying roadside meadows and emerging from dens. Later in the summer, they will start to move to higher elevations.
Bison Rut starts in July and can be seen in Lamar and Hayden Valleys.
One thing to know about late summer is there is a chance of wildfire smoke obscuring views and making it hard to see anything.
Visiting Yellowstone during the summer takes planning and a lot of patience! You want to plan to arrive to the park entrances as early as you can!
By 9 am you could be in a long line just trying to get into the park.
One benefit of visiting in the summer is the longer days. Plan to stay late to avoid crowds. A lot of visitors will head out to West Yellowstone and surrounding areas for dinner leaving the park easier to explore.
From 10 am to 3 pm the main park attractions of Old Faithful, Grand Prismatic Springs, Grand Canyon of the Yellowstone, and Norris Geyser Basin are crowded and then some!
Plan to visit other attractions like Black Sand Basin, Biscuit Basin, Mud Volcano, and Firehole Lake Drive during the busiest parts of the day. This is also a great time to enjoy a picnic in the park.
Autumn/Fall
Starting in September campgrounds will start to close and some roads may experience temporary weather closures.
Elk are in rut during the Fall which is amazing to see. Listening to an elk bugle is a true National Park bucket list moment.
By October many park roads will begin closing for the winter season. This date can change based on the weather.
Both Dunraven Pass and Beartooth Highway normally close by mid-October.
By November the park has started winter travel restrictions for all areas except Mammoth.
Winter
During the winter most of the roads within Yellowstone are closed to automobiles.
The roads are open to limited snowmobile and snow coach travel from mid-December through mid-March.
The only road that is open for visitors to drive their own vehicles is between the North and Northeast entrance through Lamar Valley.
Most park facilities are closed in the winter. The only lodging open is Mammoth Hot Springs Lodge and Old Faithful Snow Lodge.
The only campground in the park open year-round is in Mammoth Hot Springs, located 5 miles south of the park's North Entrance.
Visitors in the winter can enjoy cross country skiing, snowshoeing, snow coach tours, wildlife watching, and a winter wonderland.
Visitation is low during the winter making it feel like you have the park to yourself.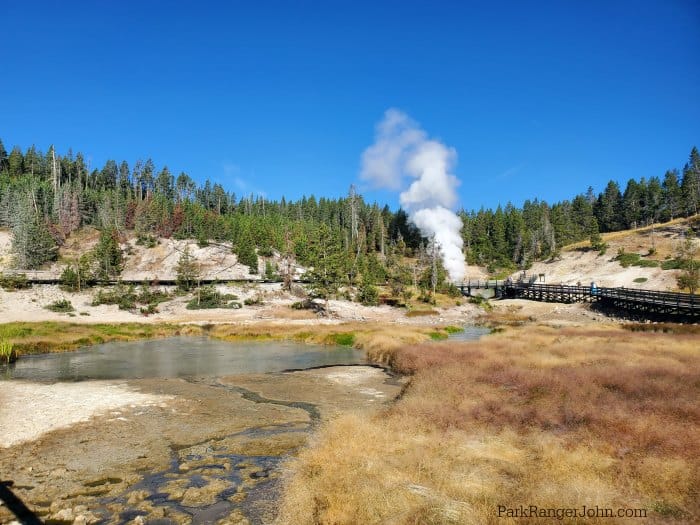 It is physically impossible to see all of Yellowstone in a day! In fact, a week will go by fast in this amazing park with so many opportunities for outdoor recreation. Remember the size of the park, throw in over 200 miles of roads, 900 miles of trails, and fight to get to attractions as Yellowstone has more annual visitors than the population of 24 of the 50 states in America.
The most visited areas of the park include Old Faithful Geyser, Midway Geyser Basin, Grand Prismatic Spring, Norris Geyser Basin, Lamar Valley, Hayden Valley, Grand Canyon of the Yellowstone, West Thumb Geyser Basin, the standing trunk of a petrified redwood tree, about 50 million years old, Mammoth Hot Springs, Fountain Paint Pots, and Morning Glory Pool.
Millions of park visitors come to Yellowstone each year, the number one thing on their bucket list to do is go to the Upper Geyser Basin and see Old Faithful erupt in a predictable fashion.
Of course, Yellowstone is filled with geysers and people explore all through the Upper Geyser Basin plus Biscuit Basin, Black Sand Basin, midway geyser basin, Norris Geyser Basin, and West Thumb Geyser Basin.
Yellowstone is America's Serengeti. It is here that you will see one of America's healthiest ecosystems with incredible wildlife viewing opportunities. Some of the best places to view wildlife include Lamar Valley and Hayden Valley. With that being said we always suggest keeping your camera in your lap because you never know what wildlife you will see as you drive through the park.
Bring your patience when visiting Yellowstone. What draws visitors to the park-like yourself, is the outstanding wildlife viewing opportunities which include Elk, Bison, wolves, Grizzly, and Black Bears. With wildlife this abundant, it is guaranteed to create traffic jams going from one location to another. Remember that for most park visitors, this is a once-in-a-lifetime event and they are just as excited as you are.
Yellowstone is the core of one of the last, nearly intact, natural ecosystems in the Earth's temperate zone.
Picturesque Mammoth Hot Springs is located just south of the north entrance of the park. Make sure to take time and walk through the boardwalks and get close to this amazing feature! Wildlife is often seen hanging out in the lawn areas including elk and bison.
Just remember to enjoy these animals from a distance as they are still wild animals.
Take advantage of the park's 900 miles of trails! Besides nothing is better than stretching your legs after a long road trip.
Make sure to stay on designated footpaths as these geysers, pools, mud pots, and vents are heated water and can cause severe injuries and even death.
Remember that Yellowstone is an active volcano, some call it a supervolcano! The 1000-3000 earthquakes a year, active ground deformation, and the 10,000+ thermal features are all evidence of its activity.
There are many beautiful waterfalls within Yellowstone but nothing more famous than Yellowstone Falls. Not only are the falls huge but so is this canyon! I found myself just staring in amazement.
What are you waiting for, start planning that trip to Yellowstone! It is the one you and your family will always remember.
There is so much to see and do and a week is not enough to see it all. You also have the Grand Teton National Park just South of Yellowstone which is just as spectacular and has just as many recreational opportunities!
The Junior Ranger Program can be picked up at the park visitor centers. This program is a fantastic way for visitors of all ages to learn more about the park.
There is a special snowflake patch for completing the winter Junior Ranger program.
Biking
Yellowstone allows bicycles and e-bikes on established public roads, parking areas, and designated bike routes.
All bikes are subject to the same traffic rules as automobiles. Bikes are prohibited on backcountry trails, boardwalks, and over snow routes in Yellowstone.
If you don't want to haul your bike with you to the park you can rent them at Old Faithful.
During the spring visitors can ride 49 miles between the West Entrance to Mammoth Hot Springs. The park plows the road but it is not open to motorized vehicles for a limited time.
Check the Spring and Fall Bicycling page for road segment status.
There are designated bike trails within the park including the Abandoned Railroad Bed Bike trail, Bunsen Peak Loop Bike Trail, The Old Gardiner Road Bike Trail, Fountain Freight Road Bike Trail, Lone Star Geyser Bike Trail, and Natural Bridge Bike trail.
Bike trails range from 1-6 hours in duration.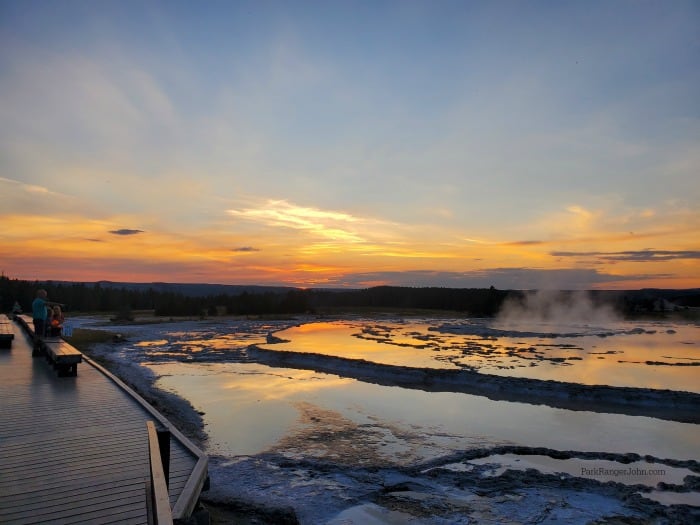 Hiking at Yellowstone National Park
There are more than 900 miles of hiking trails within Yellowstone National Park.
Heading out on a day hike does not require a permit. You do want to make sure you have the ten essentials and someone knows where you are headed.
One thing to always remember when planning to hike in Yellowstone is the park is 7,000 feet above sea level.
Many areas of the park will still have snow until late May and into early June.
Make sure to check with a visitor center for current trail conditions and closures. Many areas of the park can be closed for bear management.
Hiking in Yellowstone is hiking in bear country! Bringing bear spray with you is always a good idea.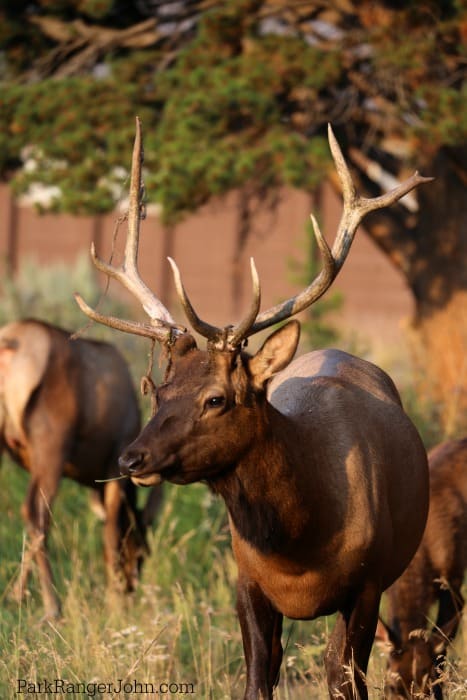 Yellowstone is home to numerous species of mammals including the gray wolf (reintroduced species), and the grizzly (threatened species). Other mammals include bison, black bear, mountain lion, elk, deer, pronghorn antelope, mountain goat, and Bighorn Sheep.
The park has well over 1000 native plants in Yellowstone including wildflowers, trees, shrubs, and plants.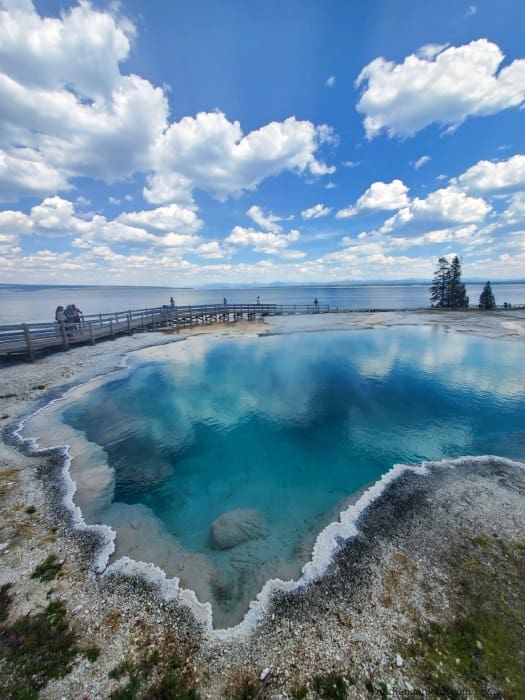 How to beat the crowds in Yellowstone National Park?
The majority of visitors come to Yellowstone from June through August. Holidays and weekends in the Spring and fall are ofter very full as well. Winter has far fewer visitors. Try going on weekdays in the spring and fall and if possible, visit in the early morning or late afternoon, when there are fewer tour buses.
On peak days, in July and August, as many as 25,000 people wait for the famous geyser, Old Faithful, to erupt.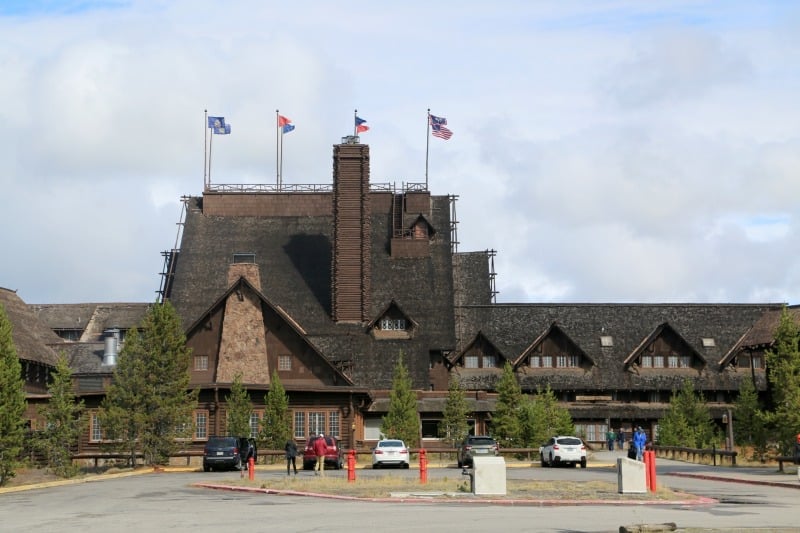 Where to stay when visiting Yellowstone National Park
When planning where to stay while vacationing in Yellowstone you will want to determine which area of the park you are planning to visit.
We suggest if possible staying at a few different lodging options to provide easy access to different portions of the park.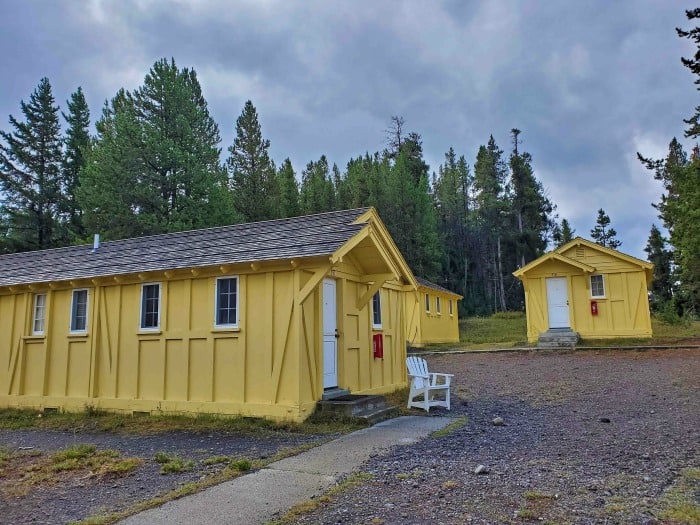 There are nine National Park Lodges located within the park offering over 2,000 rooms.
Only two lodges are open during the winter - Old Faithful Snow Lodge and Mammoth Hot Springs Hotel.
From late spring through fall all of the lodges are open.
Canyon Lodge and Cabins: 400+ guest rooms spread across 5 hotel-style lodges, with 100+ cabins being more rustic accommodations.
Grant Village Lodge: 300 guest rooms spread across 6 two-story, hotel-style lodges.
Lake Hotel and Cabins: Large lodge that has hotel room-style and cabin accommodations.
Lake Lodge Cabins: 186 cabins.
Mammoth Hot Springs Hotel and Cabins: Large lodge that has hotel room-style and cabin accommodations.
Old Faithful Inn: Rustic lodge with hotel room-style accommodations.
Old Faithful Lodge: Cabin accommodations.
Old Faithful Snow Lodge: Large lodge that has hotel room-style and cabin accommodations.
Roosevelt Lodge: Cabin accommodations.
Lodging near Yellowstone NP
Click on the maps below to see current rates for hotels and vacation rentals near Yellowstone NP.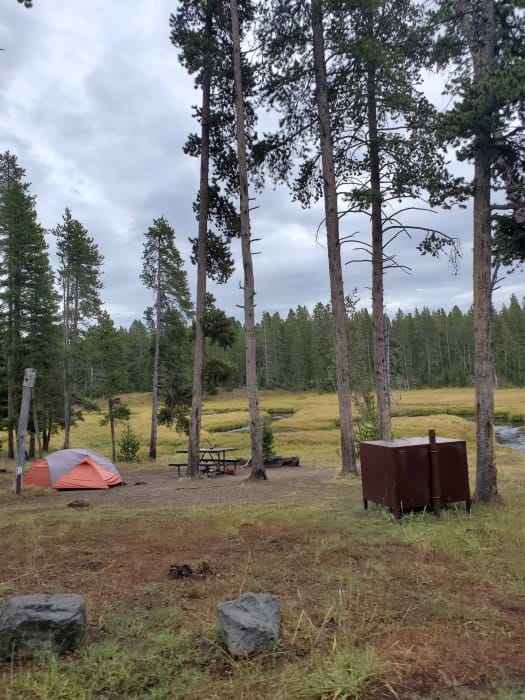 There are over 2,000 campsites within Yellowstone spread among 12 campgrounds.
The only campground that is open year-round is Mammoth Campground.
The majority of campgrounds within the park open in May and close in late fall.
Five of these campgrounds are managed by the concessionaire who manages the Yellowstone Lodges. Reservations are handled through the concessionaire.
The National Park Service managed seven of the campgrounds. Reservations are handled through Recreation.gov
Backcountry Camping
The process for reserving backcountry campsites and obtaining backcountry permits has changed for 2022.
Early Access Lottery - Reservation applications will be accepted beginning in March 1 to the 20th, 2022 on Recreation.gov
Advanced Reservations - On April 26, remaining permits for open campsites will be available on Recreation.gov. Reservations must be made at least 3-days prior to the start date of a trip.
Walk-Up Permits - Walk-up backcountry permits are available on a first-come, first-served basis in person at a Yellowstone Backcountry Office. Hikers can obtain these permits up to 2-days prior to the start date of your trip.
Walk-up Permits cannot be issued over the phone or online through Recreation.gov.
Back Country Permit Fees
Early Access Lottery Application Fee: $10 non-refundable. The application fee is charged for all applications to the Early Access Lottery regardless of success.
Recreation Fee: $5 per person, per night plus a $10 reservation fee. The recreation fee is charged year-round for permits secured through Recreation.gov or in-person at a backcountry office.
The $10 reservation fee is charged for all permits except those acquired during the Early Access Lottery.
Permits are required year-round for all overnight stays in Yellowstone's backcountry. A backcountry permit allows the permit holder and group members to camp in a designated location.
Yellowstone maintains 293 designated backcountry campsites.
Each designated campsite has a maximum limit for the number of people and stock allowed per night.
The maximum stay per campsite varies from 1 to 3 nights per trip.
A list and map of campsites can be found in the Backcountry Trip Planner and the online Backcountry Trails and Campsites map.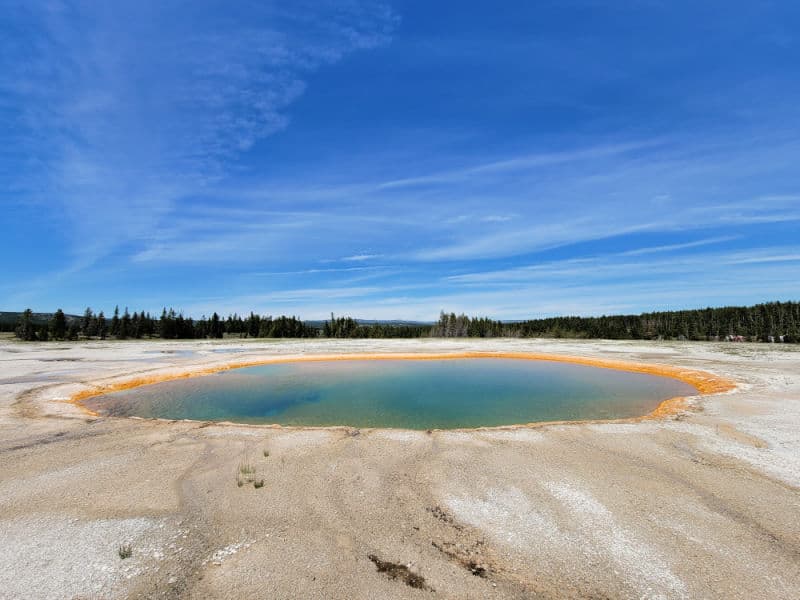 Travel Tips
Be prepared for CROWDS!!!
Have a hit list and plan of attack for what you want to see in the park. There is a lot of driving and construction in Yellowstone
Know your game plan and have a backup plan for weather, construction, too many people
Download the Geyser App for Yellowstone so you know Old Faithful times and don't miss it by a few minutes and have to wait an hour
Pack snacks and water
Dress in layers
If you want to stay at a Yellowstone lodge make your reservations as far in advance as you can. Many dates sell out a year in advance.
Know you will see more Bison than you can imagine. Don't worry about getting the perfect shot when you see the first one.
Be careful! Be aware of your surroundings.
Be bear aware, practice bear safety
Ask people what they are looking at when you see them pulled over or standing staring in one direction. It will make it a lot easier to see great wildlife.
Use the bathroom when you see it. The park is huge and it can take time to get to the next bathroom.
Go early in the morning and stay late in the evening to decrease the crowds you have to deal with.
Have a full tank of gas when you enter the park.
The park is a high elevation park. Be prepared for weather changes
Check weather and road conditions before you head into the park. Check for updates on Facebook and Twitter from the park and also on the website.
Be prepared to wait in road construction. I know we said it already but really be prepared! You could spend 20-40 minutes staring at the back of an RV or looking at the same trees.
Give yourself as much time as possible to explore the park! While you can drive the entire park in a day it will be a long day and you may not see as much as you want too.
Research the times for Old Faithful during your visit. This will help prevent having to wait for an hour or more to see Old Faithful
If you plan on visiting Yellowstone Falls try and get there early in the day. During the afternoon, the sun is directly behind the falls making it really hard to photograph.
Keep your camera ready during your drive through the park. You never know when a bear or other wildlife will appear.
If you are vegetarian the black bean burger at the grills inside the park is great.
Pack extra camera batteries and smart cards. You will take more pictures than you plan on
Be careful pulling off on the side of the road. In some areas, the dips are a lot bigger than you expect them to be. In the Lamar Valley, there can be quite a drop on the side of the road. If you have a low clearance vehicle be very careful.
Be prepared for road construction while driving through the park. You can be delayed for a few minutes to a lot longer.
Check your gas tank while near the few gas stations in the park. The gas stations are pretty spread out so make sure you have enough gas to get from one area of the park to the next.
Bug spray is your friend! Make sure you have some with you.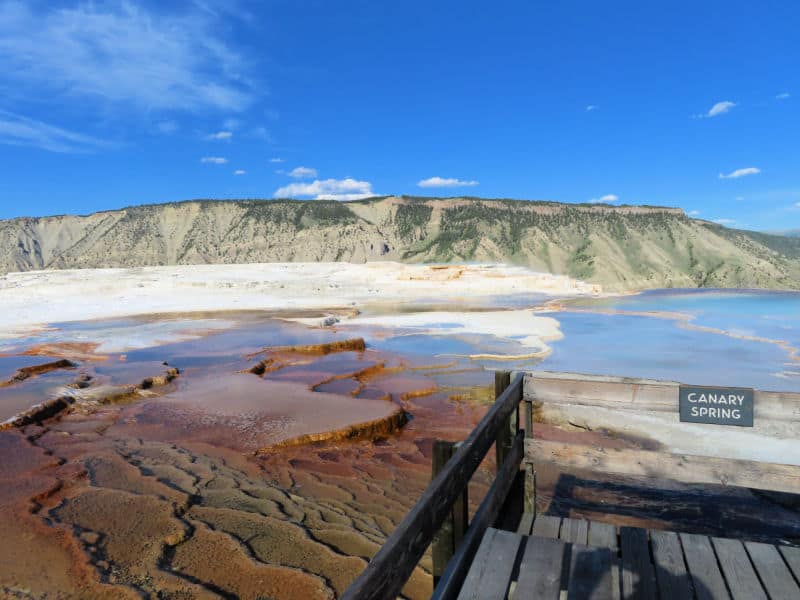 Yellowstone National Park information
How did Yellowstone get its name?
Yellowstone National Park is named after the Yellowstone River which runs through the park.
The river was named by the Minnetaree Indians who called it Mi tse a-da-zi, or Yellow Rock River.
This name was passed on to French trappers who called it Roche Jaune and then later changed by American trappers to Yellow Stone.
For those who enjoy spirits, the gift stores in Yellowstone carry a Bourbon that is only sold in their stores. It is Roche Jaune Whiskey. This is a very good bourbon, in fact, I get emails from visitors every year asking how they can get another bottle. Make sure to check out my article Spirits inspired by the National Parks.
How big is Yellowstone National Park?
Yellowstone is larger than the states of Rhode Island and Delaware combined!
The park covers 3, 472 miles including 1,000 miles of trails, 52 picnic areas, 900 historic buildings, and 290 waterfalls.
Is Yellowstone the largest National Park?
No! Wrangell-St. Elias National Park in Alaska is the largest park unit with over 13 million acres.
What is the highest peak in Yellowstone?
The highest peak in the park is Eagle Peak in the southeastern part of the park at 11,358 feet.
Can you swim in Yellowstone rivers, lakes, or hydrothermal?
Swimming is not really recommended in the lakes or streams because they are COLD!
Firehole Canyon near Madison Junction has a popular swimming area in the summer.
Soaking in any thermal features is illegal and really dangerous!
The only exception to this is the Boiling River north of Mammoth Hot Springs where a large hot spring enters the Gardner River. This area has a mixing of hot and cool waters that make it comfortable to soak in.
There are more than 10,000 hydrothermal features in the park. Of these hydrothermal, there are 500 geysers with 300 active geysers.
Over half of all the world's geysers are found in Yellowstone.
When does Old Faithful erupt?
Each eruption prediction is based on the last eruption so times vary by the day.
The average eruption is every 92 minutes.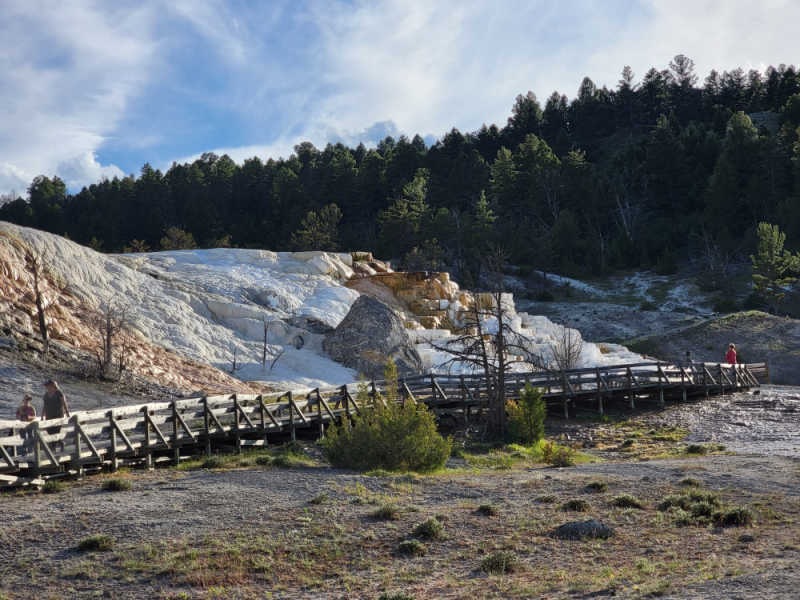 Yellowstone National Park Facts
Size - 3,472 square miles
Trails - over 1,000 miles of trails
Picnic areas - 52
Historic buildings - 900
Waterfalls - 290
Hydrothermal Features - 10,000
Geysers - 500, 300 of them are active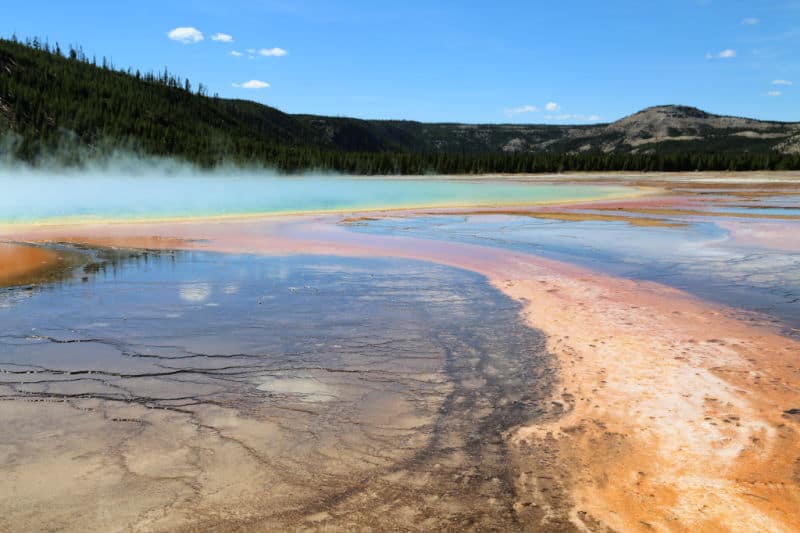 National Parks near Yellowstone National Park
Craters of the Moon National Monument
Timpanogos Cave National Monument
Fossil Butte National Monument
Golden Spikes National Historic Site
City of Rocks National Reserve
Check out all of the great National Parks in Wyoming along with neighboring Colorado National Parks, Idaho National Parks, National Parks in Utah, Nevada National Parks, Arizona National Parks, and New Mexico National Parks.
National Park Service Website