Complete Guide to visiting Bryce Canyon National Park in Utah! Everything you need to know to plan a great visit including lodging, camping, hiking, things to do, and so much more!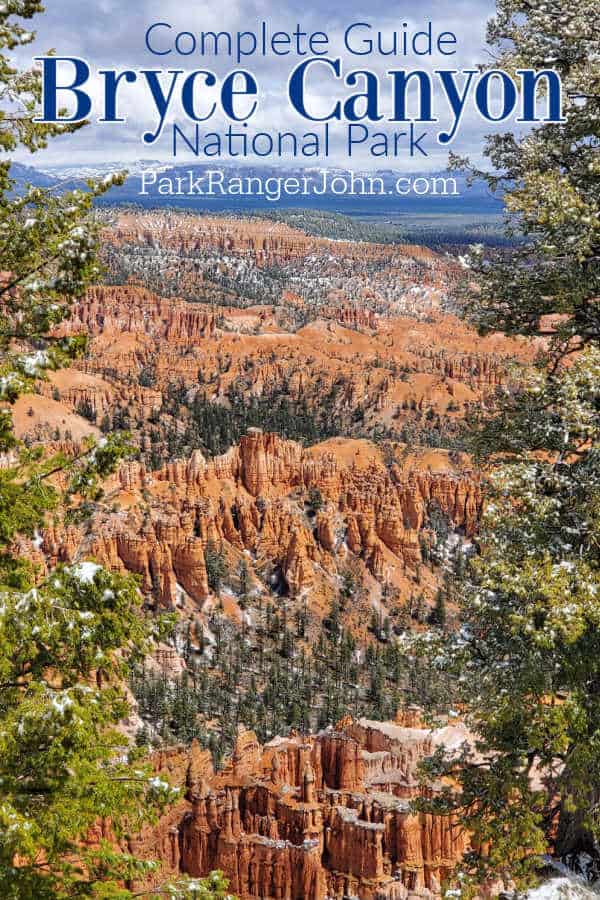 Bryce Canyon National Park
Be prepared for sensory overload as you take your first look into Bryce Canyon NP. It is a place that will dazzle your imagination!
It has something for everyone with iconic points of interest like Thor's Hammer, Hat Shop, and Wall Street to overlooks with names like Inspiration Point, Rainbow Point, and Sunset Point.
It doesn't matter what the background is, whether it's snowing or filled with sunshine, the rich colors embedded in the rock formations called hoodoos will have you reaching for your camera while your imagination runs free as you stare out into the breathtaking amphitheater of hoodoos.
These odd-shaped rock spires are the result of eons of erosion and nowhere do you see greater concentrations of them than Bryce Canyon National Park. Half the fun is starring at the hoodoos and figuring out what the shapes look like.
The ravines were formed by natural erosion, which carved the plateau into thousands of rock towers, spires, and columns. The shales, limestone, and sandstone of the plateau are rich in iron compounds, manganese, and copper.
These minerals contribute to the variety of colors - orange, burning red, and deep purple - that make the 35,835-acre (14,502-hectare) area one of the most frequently visited national parks in the United States.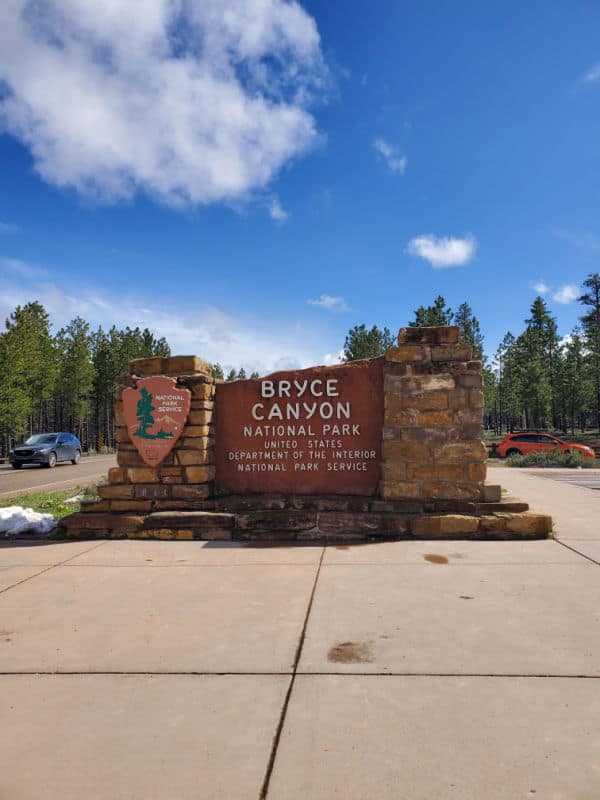 About Bryce Canyon National Park
Bryce Canyon is part of an area in the American Southwest known as the Grand Circle; an area that consists of the highest concentration of National Parks and National Monuments in the United States.
This is a highly trafficked area, especially in the summer as millions of visitors come to see some of the most beloved National Parks in the system!
This area covers five southwestern states: Nevada, Utah, Arizona, Colorado, and New Mexico. Many visitors to Bryce Canyon either fly into Las Vegas, Nevada and rent a car or drive to what is affectionately known as Utah's Mighty five (the five national parks in Utah).
Depending upon how much time you have available, you can add nearby parks like the Grand Canyon, Monument Valley Tribal Park, Upper Antelope Canyon, Page, Arizona/Lake Powell, and Mesa Verde National Park.
Some people even add Great Basin National Park, Black Canyon of the Gunnison, Great Sand Dunes NP, and Natural Bridges National Monument. Others add state parks like Valley of Fire State Park, Goblin Valley State Park, Kodachrome Basin State Park, Dead Horse Point State Park, and Goosenecks State Park.
Since this area of the country has a huge concentration of national parks and recreation areas, you may wish to spend at least two weeks planning your visit to Bryce Canyon which will allow you to visit several of these incredible parks.
Bryce Canyon is centrally located in the middle of these parks and is located about 80 miles northeast of Zion National Park and 150 miles north of the north rim of the Grand Canyon.
Driving to Bryce Canyon from Salt Lake City takes about four hours and from Flagstaff about five hours.
Bryce Canyon is open year-round. The park itself is open twenty-four hours a day, but the visitor center has variable hours depending on the season and is closed on Thanksgiving Day and Christmas Day.
Sixty percent of its visitors come in summer, between June and September, but the park service encourages visitors to consider coming in the off-season.
There are numerous viewpoints with easy access for all fitness levels.
The drivable portion of the park is a thirty-eight-mile round trip scenic road, running mainly north and south, with thirteen observation points along the way.
The road follows the edge of the Paunsaugunt Plateau, and all the rock formations that people recognize as Bryce Canyon are below the eastern rim of the plateau.
The park operates shuttle buses that leave at regular intervals from the visitor center and travel the entire route. The shuttle is not mandatory, but park officials hope that many visitors will take advantage of the shuttle to minimize congestion and pollution in the park.
The road along the plateau is at an elevation between 8,000 and 9,000 feet above sea level. Visitors with heart or respiratory problems should take care not to overexert themselves at this altitude.
Even a healthy person who is accustomed to living at sea level may huff and puff a bit at this elevation. Remember your sunscreen and a hat. Even though the temperature may be cool and pleasant, the sun is stronger at higher elevations and it's easy to get a sunburn without realizing it.
Park Ranger John Pro Tip: No matter the time of season you visit Bryce Canyon, be prepared for cool weather, remember the park sits at an average between 8000 feet to 9000 feet in elevation.
Not only should you pack appropriate clothing but you should also include your vehicle. The last time I visited Bryce was over Memorial Day Weekend and it snowed several inches when we were there!
It was enough snow they had to close a portion of the road due to park visitors were sliding off the road. We were also very happy that we packed coats, hats, and gloves for the trip!
You should always have a first aid kit in your vehicle, a blanket, and snow chains in your trunk.
Is Bryce Canyon National Park worth visiting?
Yes! This is one of the fan-favorite National Parks! Everyone loves Bryce and everyone seems to want to go back too, It's easy to see once you have seen it yourself, it's breathtaking and has something for everyone.
History of Bryce Canyon National Park
Bryce Canyon National Park in southern Utah, which was established on September 15, 1928, it is known for its spectacular network of ravines, which run for some 20 miles (32 kilometers) along the eastern edge of the Paunsaugunt Plateau.
Archeologists believe that Paleo-Indians hunted in this region around 10,000 to 15,000 years ago.
Around 12oo A.D. Paiute Indians inhabited the area as hunters and gatherers. They stayed in the area for several hundred years.
It wasn't until the late 1800s that the area was explored and documented by Major John Wesley Powell. He surveyed Bryce Canyon region in 1875.
This was around the same time that Mormon pioneer Ebenezer Bryce was sent to the Paria Valley by the LDS church.
Ebenezer Bryce was born in Scotland and worked as a carpenter by trade. He built what is now the oldest Mormon church in continuous use in nearby Pine Valley.
He constructed a timber road to the rim of Bryce Canyon. He is known for saying that Bryce Canyon was a "helluva place to lose a cow."
The area became know as Bryce's Canyon and has stuck ever since.
The area became popular as the Union Pacific expanded rail service in the early 1900s.
Pioneer Rancher Reuben Syrett, also known as Ruby, moved his family to the region in 1916.
He along with his wife Minnie set up lodging and tour services near Bryce Canyon's rim to assist visitors who came in on the train.
The State of Utah gave Ruby and his wife permission to build a lodge near the canyon rim. He eventually moved his lodge to his nearby ranch where today you can still visit Ruby's Inn.
It still serves as the gateway to Bryce Canyon NP.
With increased visitation and tourism there was a call by conservationists to protect Bryce Canyon and preserve it.
President Harding established Bryce Canyon National Monument in 1923.
The park was upgraded to a National Park in 1928.
Park boundaries were extended in both 1931 and 1942 to reach the current size of 35,835 acres.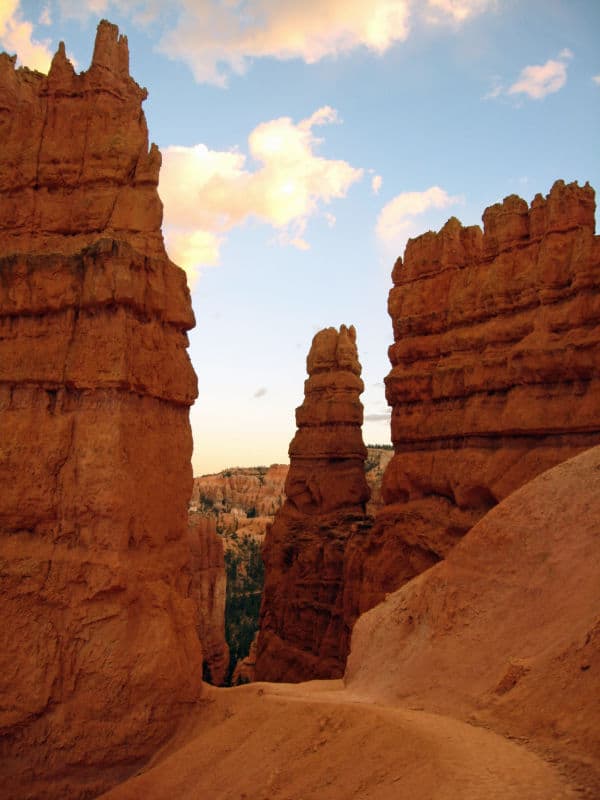 Things to know before your visit to Bryce Canyon National Park
Entrance fee
7-day single-vehicle park pass - $35
7-day individual park pass - $20
7-day motorcycle park pass - $30
Annual Park Pass - $40
Valid for one year through the month of purchase. Admits one private, non-commercial vehicle or its pass holder.
Planning a National Park vacation? America the Beautiful/National Park Pass covers entrance fees for an entire year to all US National Park Sites and over 2,000 Federal Recreation Fee Sites.
The park pass covers everyone in the car for per vehicle sites and for up to 4 adults for per-person sites.
Buy on REI.com and REI will donate 10% of pass proceeds to the National Forest Foundation, National Park Foundation and the U.S. Endowment for Forestry & Communities.
Learn more about National Park Passes for parks that have an entrance fee.
Free Entrance Days -Find the five free entrance days the National Park Service offers annually.
Time Zone
MST - Mountain Standard Time
Time zone in Bryce Canyon City, UT (GMT-7)
Pets
Are dogs allowed in Bryce Canyon? Yes, but there are restrictions on where dogs can go within the park.
Pets must be on a leash no longer than 6 feet.
Pets are only permitted on paved surfaces in the park; this includes: Campgrounds, Parking lots, Paved road
Paved viewpoint areas (all viewpoints except Piracy Point)
On the paved trail (section of Rim Trail) between Sunset Point and Sunrise Point
On the paved Shared Use Path between the park entrance and Inspiration Point
Pets are not permitted on trails or unpaved viewpoints (Piracy Point), in public buildings or on public transportation vehicles. These regulations also apply to pets that are carried.
Bryce Canyon has a great B.A.R.K. Ranger Program for pets!
Check with the visitor center to pick up an official Bark Ranger card and pet treat.
Cell Service
Cellular access will vary widely between carriers across different areas of the park. Generally, the Visitor Center and Bryce Amphitheater viewpoints provide adequate signals for calls and texts.
Park Hours
The park is open 24 hours a day 365 days a year.
Visitor Center and Fee Booths are closed on Thanksgiving and Christmas Day.
Wi-Fi
Free public Wi-Fi is provided at the Visitor Center.
Insect Repellent
Insect repellent is always a great idea when outdoors, especially if you are around any body of water.
We use Permethrin Spray on our clothes before our park trips.
Water Bottle
Make sure to bring your own water bottle and plenty of water with you. Plastic water bottles are not sold in the park.
Parking/Oversized Vehicles
Parking Restrictions apply during shuttle hours to vehicles 20 feet (6 m) or longer.
These vehicles are restricted from parking in the following areas:
Visitor Center 1-hour Parking Lot
Sunrise Point
Bryce Lodge
Sunset Point
Inspiration Point
Bryce Point
Paria View (all hours, due to parking lot size)
Vehicles 20 feet (6 m) or longer can be parked at the Additional Parking Lot across from the Visitor Center, the Shuttle Station Parking Lot in Bryce Canyon City, or a park or Ruby's Inn campsite or hotel.
Food/Restaurants
The Lodge at Bryce Canyon Dining Room
Season - Open seasonally for breakfast, lunch, and dinner
The General Store
Season - Typically open from April through December
The General Store offers grab-and-go food including pizza, sandwiches, ice cream, and soup.
Valhalla Pizzeria and Coffee Shop
Season - Open from June through September
The Valhalla Pizzeria offers pizzas, salads, pastries, coffee, and espresso drinks.
Gas
Gas is available right outside of the park.
National Park Passport Stamps
National Park Passport stamps can be found in the visitor center. Make sure to bring your National Park Passport Book with you or we like to pack these circle stickers so we don't have to bring our entire book with us.
Bryce Canyon NP is part of the 1988 National Park Stamp Set
Electric Vehicle Charging
EV Charging Stations are available at Ruby's Inn and The Best Western Plus right outside of the park.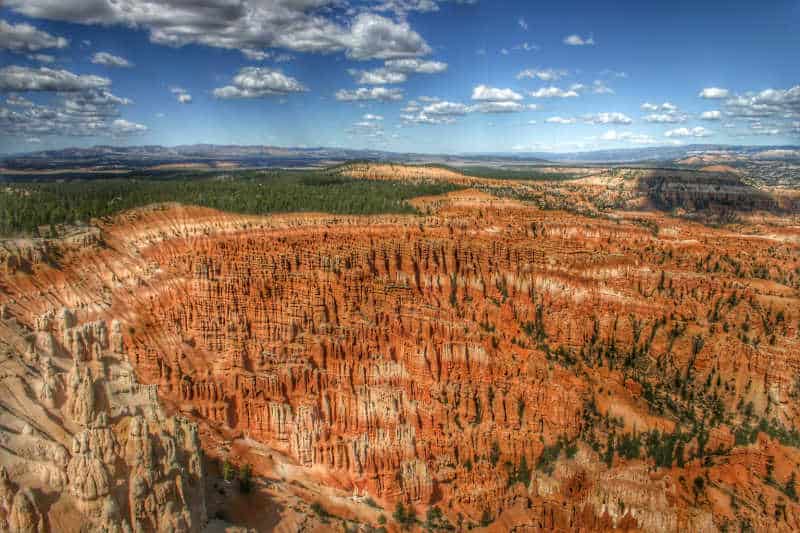 Details about Bryce Canyon National Park
Size - 35,835 Acres
Bryce Canyon NP is currently ranked at 52 out of 63 National Parks by Size.
The size of the park was increased to the current 35,835 acres in 1931, via two Proclamations by President Hoover.
Date Established
President Warren G. Harding proclaimed Bryce Canyon a national monument on June 8, 1923.
On February 25, 1928, Bryce Canyon officially became a national park.
Visitation
In 2021, Bryce Canyon NP had 2,104,600 park visitors.
In 2020, Bryce Canyon NP had 1,464,655 park visitors.
In 2019, Bryce Canyon NP had 2,594,904 park visitors.
Learn more about the most visited and least visited National Parks in the US
What state is Bryce Canyon in?
Utah
National Park Address
Highway 63
Bryce Canyon National Park
Bryce, UT 84764
Latitude: N 37° 38' 24" / Longitude: W 112° 10' 12"
Latitude: 37.6 / Longitude: -112.1
Bryce Canyon Elevation
Park elevations reach 9,100 feet (2778 meters).
Bryce Canyon National Park Map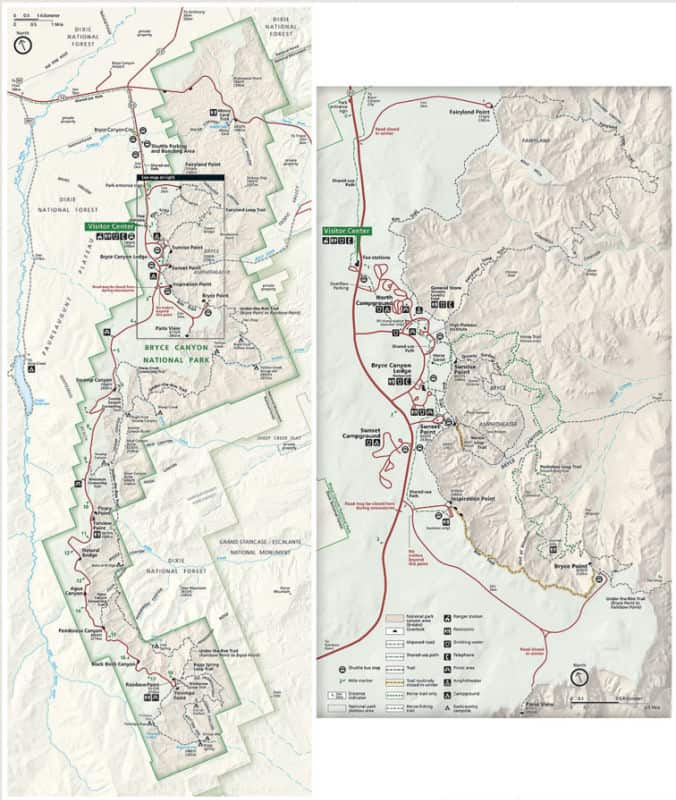 For a more detailed map, we use the National Geographic Trails Maps available on Amazon.
Where is Bryce Canyon National Park?
Bryce Canyon NP is located in Southwestern Utah State in the United States.
Estimated distance from major cities nearby
Tropic, Utah - 14 miles
Panguitch, Utah - 27 miles
Hatch, Utah - 28 miles
Escalante, Utah - 52.5 miles
Cedar City, Utah - 81.2 miles
St. George, Utah - 141 miles
Moab, Utah - 248 miles
Salt Lake City, Utah - 268 miles
Phoenix, Arizona - 289 miles
Sedona, Arizona - 312 miles
Los Angeles, California - 527 miles
San Diego, California - 589 miles
Estimated Distance from nearby National Park
Zion National Park - 72 miles
Capitol Reef National Park - 111 miles
Grand Canyon National Park (North Rim) - 157 miles
Arches National Park - 244 miles
Canyonlands National Park - 256 miles
Where is the National Park Visitor Center?
The visitor center is located on the main road through the park.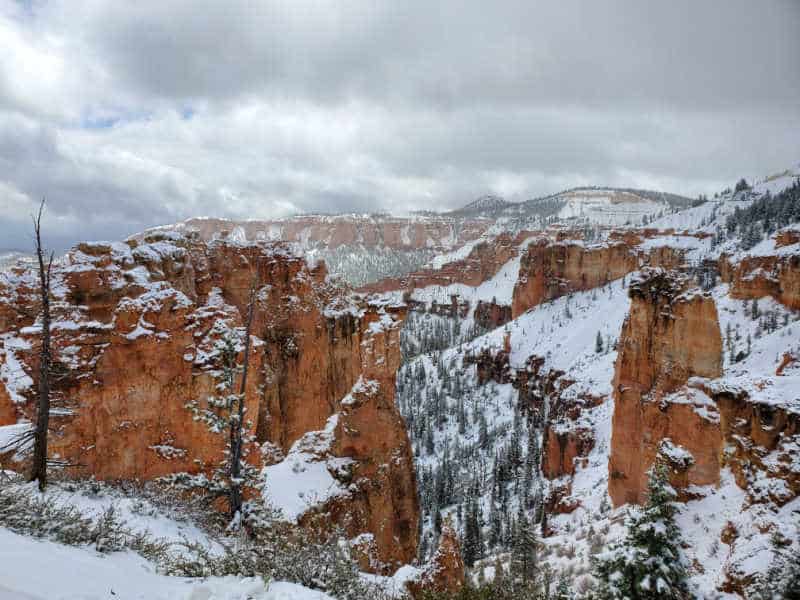 Getting to Bryce Canyon National Park
Closest Airports to Bryce Canyon
Bryce Canyon Airport (BCE) - 12 miles
Cedar City, Utah (CDC) - 94 miles
International Airports
Las Vegas International Airport (LAS) - 270 miles
Salt Lake City International Airport (SLC) - 270 miles
Phoenix Sky Harbor International Airport PHX) - 430 miles
Regional Airports
St. George, Utah (SGU) - 125 miles
Public Transportation
Public transportation is not available to the park.
Driving Directions
From the North:
Take I-15 south to UT-20 (exit 95). Travel east on UT-20 to US-89. Follow US-89 south to UT-12. Travel east on UT-12 to UT-63. Take UT-63 south to Bryce Canyon National Park. The visitor center sits 1 mile inside the park boundary.
From the South through Zion National Park:
Take I-15 north to UT-9 (exit 16). Follow UT-9 east through Zion National Park to US-89. Travel north on US-89 to UT-12. Go east on UT-12 to UT-63. Take UT-63 south to Bryce Canyon National Park. The visitor center sits 1 mile inside the park boundary.
Take I-15 north to exit 59. Go east on 200 north, then south on Main Street to Center Street/UT-14. Travel east on UT-14 to US-89. Go north on US-89 to UT-12. Follow UT-12 east to UT-63. Take UT-63 south to Bryce Canyon National Park. The visitor center sits 1 mile inside the park boundary. This is a very scenic route during the summer months and early fall.
From the South through Bear (Dog) Valley:
Take I-15 north to UT-20 (exit 95). Go east on UT-20 to US-89. Follow US-89 south to UT-12. Travel east on UT-12 to UT-63. Take UT-63 south to Bryce Canyon National Park. The visitor center sits 1 mile inside the park boundary.
Bryce Canyon Shuttle Service
The free Bryce Canyon Shuttle Service takes visitors to the park's most popular viewpoints, trails and facilities.
Season - Shuttles run from April through mid-October.
Buses typically come every 15 minutes.
There is a new Bryce Canyon Shuttle Tracker that allows you to time your next ride to the minute.
All buses are wheelchair accessible and can accommodate 2 bicycles on a front rack.
Best time to visit Bryce Canyon National Park.
Bryce is one of those parks that offers something new and exciting during each season of the year.
The Fall and spring offer beautiful foliage and wildflower displays, and winter snows offer a stunning contrast for the background of the park's bright-colored hoodoos.
The summer has great weather and lots of opportunities for hiking and exploring.
How much time do I need to visit Bryce Canyon?
If you have only a limited amount of time, allow yourself at least half a day to drive the scenic road or take the shuttle and stop at all the observation points.
The views are spectacular and unique to this park. If you have time, take a short hike or enjoy a ranger program.
If you have two days with an overnight stay, plan to drive the scenic road on the first day.
Be at one of the observation points from about one and a half hours before sunset to see some amazing colors. Perhaps you can catch a stargazing program in the evening.
The next morning, get up before sunrise and go to one of the observation points to see the formations in all their glory.
Go back and have breakfast and then take a hike and enjoy the scenery around you or participate in a ranger program.
Whatever time frame you choose, you will have the opportunity to see one of the most unusual natural spectacles in the world.
Bryce Canyon National Park Weather and Seasons
Daily high temperatures average from the 40s in winter to the 80s in summer. Overnight lows average from the teens in winter to the 40s in summer.
Snow accumulation can close roads in winter, I have even seen it snow a measurable amount on Memorial Day weekend so it is wise to be aware of weather conditions before you get underway.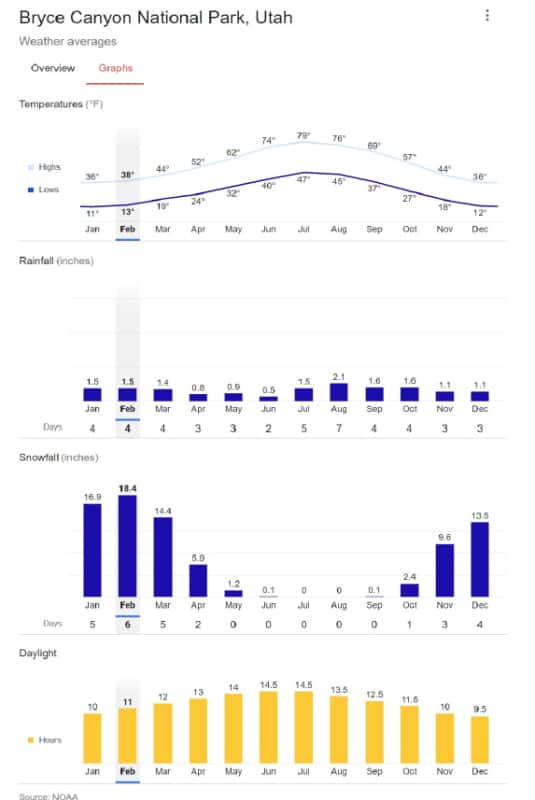 Spring
Spring is a fun time as the park is opening up from winter. There are fewer crowds and hopefully, you get a chance to see the snow against the hoodoos as it is spectacular!
Summer
I personally love Bryce Canyon in the summer even if it is full of visitors. The weather is much cooler than most of the Southwest parks as they are reaching 100 degrees or higher, it's pleasant in Bryce and a great time to go for a hike.
Autumn/Fall
The fall is another great time to visit the park. Typically the weather is still nice, there are fewer people to contend with on the trails and no matter how you get to Bryce, there seems to be amazing fall colors somewhere.
Winter
Bryce is a fully functional winter park! You can go for a hike, go snowshoeing, cross country skiing, even astronomy is great in the winter! If you like the snow, I'm sure you will enjoy Bryce.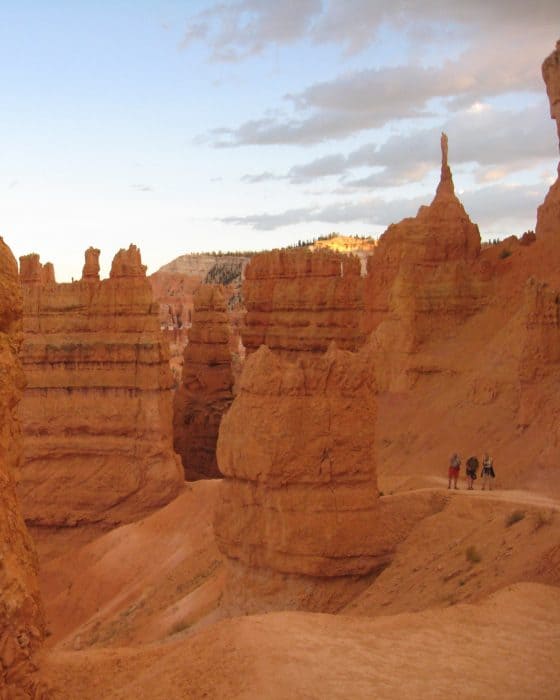 Bryce Canyon has many so many opportunities to explore the park. You can Hike, go for a horseback ride or simply take the auto tour and see some of its incredible overlooks. The choice is yours.
Bryce Canyon Scenic Drive
The park has an incredible 18-mile long drive that gradually keeps climbing to the highest points of the park, Rainbow Point and Yovimpa Point. There are numerous trailheads and pullouts along the way, each giving a unique view into the Bryce Amphitheater. Make sure to have your camera ready and drive the speed limit as I have seen lots of wildlife along this road. I would plan at least 4 hours to enjoy the scenic drive.
Wildlife viewing
Wildlife commonly seen at Bryce includes Mule Deer, Utah Prairie Dogs, Chipmunks, Golden-mantled Ground Squirrels, Pronghorn (antelope), Gray Fox, Ravens, Steller's Jays, Clark's Nutcrackers, Red-tailed Hawks, Turkeys, and Mountain Short-horned Lizards.
Black Bear, Elk, and Mountain Lions are rarely seen.
The Junior Ranger Program can be picked up at the Visitor Center.
This is a great way for visitors of all ages to learn more about the park.
Horseback Riding
There are designated horse trails within Bryce Canyon. You can bring your own horse (reservation required) or sign up for a guided horseback tour.
If you plan to bring your own horse to Bryce Canyon NP you will need to schedule a date and time prior to entering the park.
The park request at least 72 hours prior to the visit to be informed via email.
Horseback Guided Tours
Canyon Trail Rides, the park's concessioner, offers 2-hour ($75 per person) and 3-hour ($100 per person) guided horse and mule rides into the Bryce Amphitheater along a dedicated horse trail and the Peek-a-boo Loop Trail.
Guided trail rides typically begin in April and run until October 31st, depending on the weather.
Get Your Guide offers guided horseback rides in the Dixie National Forest to the north rim of Bryce Canyon.
Dark Sky Park
Stargazing is another popular option. The night sky at Bryce Canyon is so dark that, when it's clear, you can see as many as 7,500 stars on a moonless night.
The park offers regular programs including a multimedia show followed by telescope viewing. When the moon is full, the park offers ranger-guided full moon hikes.
Ranger Programs
Check the schedule at the visitor center to see what other ranger programs are offered on any particular day.
There are hikes, lectures, video and slide presentations, and programs, especially for kids.
Photography
Many of the photographs you see of Bryce Canyon were taken either at sunrise or sunset.
The shallow angle of the sun at these times adds extra color to the formations and results in some stunning pictures.
Probably the most photographed area is the Bryce amphitheater which is viewed from Bryce Point.
Bryce Canyon Tours
Check out these Bryce Canyon Tours and click through to see additional tour options.
Private Airplane Tour - Enjoy an epic flight over Bryce Canyon and Capitol Reef NP on a private airplane tour.
Guided ATV Tour
- Enjoy a guided tour to the rim of Bryce Canyon through Ponderosa Pine Forests.
3 hour sightseeing tour
- Enjoy an epic tour with a local guide of the must see sites and learn more about the history of the area.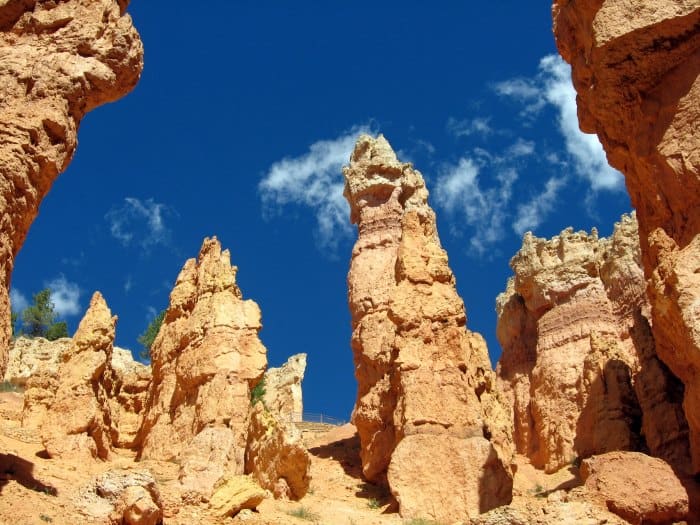 There are two ways to experience Bryce Canyon; looking into the canyon from its viewpoints, and go for a hike into the canyon, and getting up close and personal with the formations.
There is everything from easy to difficult hikes. At Bryce Canyon, you first go downhill from the rim and circle around and return uphill to the rim. You don't want to tire yourself out and then have to hike uphill!
Also, keep in mind that this is a high-elevation park. It is easy to overwork yourself and could become a medical emergency for those who do not know their limits. Remember to have fun and take it easy when hiking in Bryce Canyon.
Also, make sure to always carry the 10 essentials for outdoor survival when exploring.
The most popular and scenic hikes in Bryce Canyon include
Trail Length: 1.3 miles
Trail Difficulty: Medium
Starting Point: Sunset Point
The Navajo Loop Trail is my favorite hike. Here you hike down into Wall Street, passing by pines that seem to glow from the sun's reflection off the red-colored rock. The hike back up passes by Two Bridges and Thor's Hammer!
Fairyland Loop Trail
Trail Length: 8 miles
Trail Difficulty: strenuous
Starting Point: Fairyland Point or north of Sunrise Point
This is one of the park's longer trails that is filled with neverending views, especially when you go counterclockwise. The hike includes the Fairyland Trail, a portion of the Rim Trail, and the Tower Bridge Trail.
Hike between Sunset Point and Sunrise Point
Trail Length: 1-mile Roundtrip
Trail Difficulty: Easy
Starting Point: Either Sunrise Point or Sunset Point parking lots.
This is probably the easiest trail in the park and it gives outstanding views of the hoodoos below. There is very little elevation gain and it is paved.
The trail is ADA accessible and you can even bring your pet so long as they are on a 6 foot or less leash.
Peek A Boo Loop Trail
Trail Length: 5.5 miles
Trail Difficulty: Strenuous
Starting Point: Bryce Point
Don't let the distance fool you, this is a strenuous hike. There is plenty of ups and downs along the way. This is a beautiful hike but if you have 1 or fewer days to visit Bryce, I would choose the Navajo Loop or Queens Garden Loop Trail first.
Queens Garden
Trail Length: 1.8 miles
Trail Difficulty: Moderate
Starting Point: Sunrise Point
If you want to hike into the Bryce Amphitheater but don't want a strenuous hike, this will be your best option to hike as it only descends 320 feet below.
As you walk down, start looking at the hoodoos and their formations. With some imagination, you will see garden-like formations and you might even see Queen Victoria at the end of a short spur on the tail overlooking the garden.
Hat Shop
Trail Length: 4 miles
Trail Difficulty: Strenuous
Starting Point: Bryce Point
You will spend the first two miles hiking down 1500 feet in elevation! Once you hit the turnaround point, you will see hoodoos with grey rocks on top that look like the hoodoos are wearing hats.
Make sure to take the time and soak up the moment and take plenty of pictures as you will have a fun little hike back up to the trailhead.
Bristlecone Pine Trail
Trail Length: 1 mile
Trail Difficulty:
Starting Point: Rainbow Point or Yovimpa Point
This short hike will take you through Bristlecone Pines (The oldest living things on earth) and a subalpine fir forest. Throw in so amazing views and it makes for a nice hike!
Mossy Cave Trail
Trail Length:0. 8 miles
Trail Difficulty: Easy
Starting Point: North end of the park, 4 miles East on Highway 12.
This is a beautiful streamside walk that leads to a nice waterfall.
Tower Bridge Trail
Trail Length: 3 miles
Trail Difficulty: Moderate
Starting Point: North of Sunrise Point
This is a nice, less crowded trail but then again not as pretty as the main canyon hikes like the Navajo Loop trail, etc. Still has beautiful views.
Backcountry Hiking
Backcountry hiking is also available, but camping in the backcountry is only permitted in designated sites, and you must have a permit.
Permits can be secured from the visitor center up to 48 hours before you hike, but only in person. You cannot get a permit by phone or internet.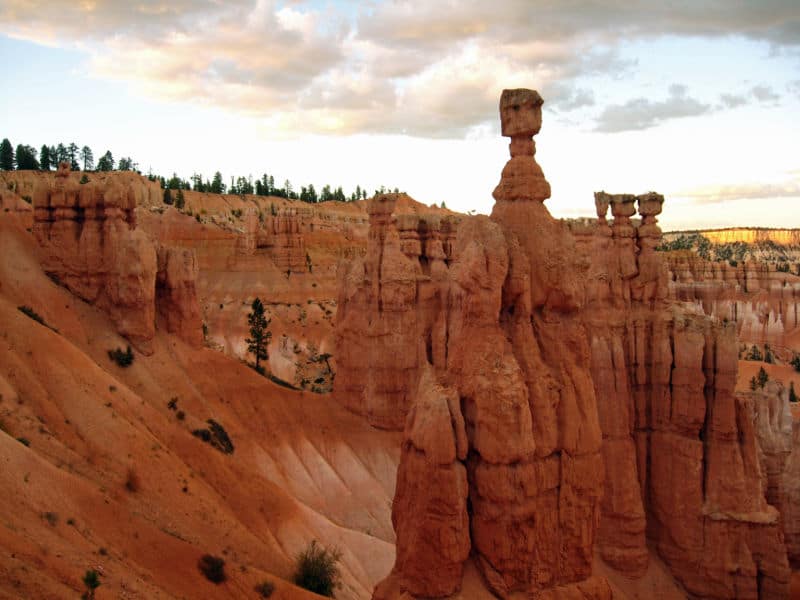 How to beat the crowds in Bryce Canyon?
June through September are the busiest months in Bryce Canyon. If you are not afraid of snow and would like a unique perspective of the park, visit in the winter.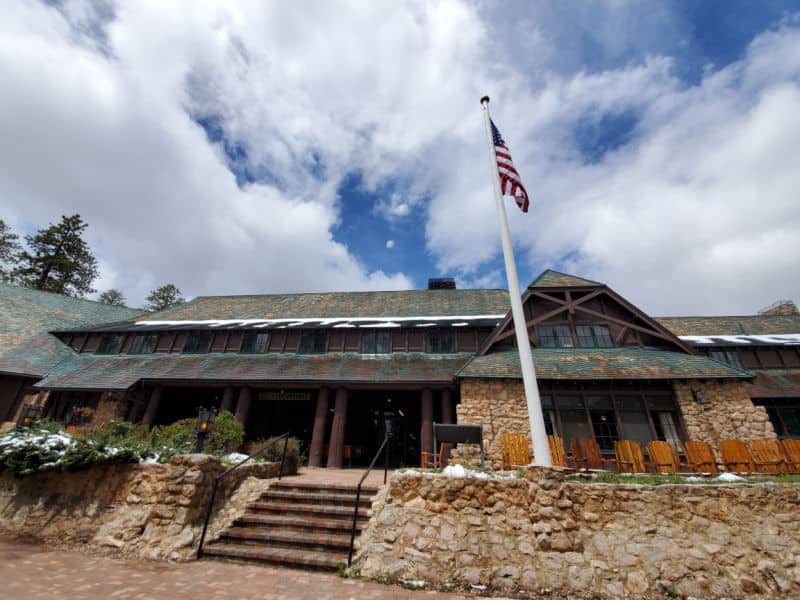 Where to stay when visiting Bryce Canyon National Park
A variety of lodging options is available. There is one National Park Lodge within the park.
The Bryce Canyon Lodge has 114 rooms, and there are a half dozen other hotels within a few miles of the park entrance.
The lodge is located near the edge of Bryce Canyon. Guests can walk from their rooms to the rim of Bryce Canyon.
The lodge rooms are in two story lodging buildings. We really enjoyed our stay at the Bryce Canyon Lodge.
Room can accommodate up to five guests in queen rooms and three guests in king rooms.
Amenities in each room include:
Full Bathroom (Shower/Tub) with Sink/Dressing Area
Hair Dryer
Semi-Private Porch or Balcony
Refrigerator, Microwave, Coffeemaker, Clock-Radio Alarm, Telephone, Portable Fan and thermostat-controlled Heat
ADA accessible rooms are available on the first floor of the Sunset/Sunrise Lodge with a ramp to the front door. Rooms have interior/exterior door clearance of 33" for wheelchair access.

-King bed - ADA Room features a bathroom with tub & chair. maximum occupancy is 3 with Rollaway bed ($15 extra)
-2 Queen Beds - ADA w/Roll-In Shower, maximum occupancy is 4 and Rollaway beds are not permitted.
Bryce Canyon Cabins
Historic Western Cabins are located near the Bryce Canyon Lodge.
The cabins can accommodate four guests.
Amenities in each cabin:
Two Queen-Sized Beds
Full Bathroom (Shower/Tub)
Additional Sink/Dressing Area with Hair Dryer
Small Semi-Private Porch
Gas-Log Fireplace
Additional Amenities Include: coffee maker, microwave, mini-fridge, clock radio with alarm, telephone, portable fan, thermostat-controlled heat
Lodging near Bryce Canyon NP
Best Western Plus Ruby's Inn - At Best Western Plus Ruby's Inn, you can look forward to a free breakfast buffet, a free roundtrip airport shuttle, and an art gallery on site. Free in-room Wi-Fi is available to all guests, along with shopping on site and a coffee shop/café.
Bryce Country Cabins - smoke-free cabin features a convenience store, a garden, and barbecue grills. Other amenities include a picnic area. All 22 cabins provide conveniences like refrigerators and microwaves, plus free Wi-Fi and flat-screen TVs with cable channels.
Bryce Canyon Inn - Bryce Canyon Inn provides amenities like a coffee shop/café and a restaurant. Guests can connect to free in-room Wi-Fi.
Bryce GatewayInn Cabins - Bryce Gateway Inn Cabins provides laundry facilities and more. Guests can connect to free in-room Wi-Fi.
Quality Inn Bryce Canyon - Quality Inn Bryce Canyon provides amenities like a free breakfast buffet and a restaurant. Stay connected with free in-room Wi-Fi.
If you are looking for lodging close to the park click on the map below to find the current rates for hotels and vacation rentals near Bryce Canyon.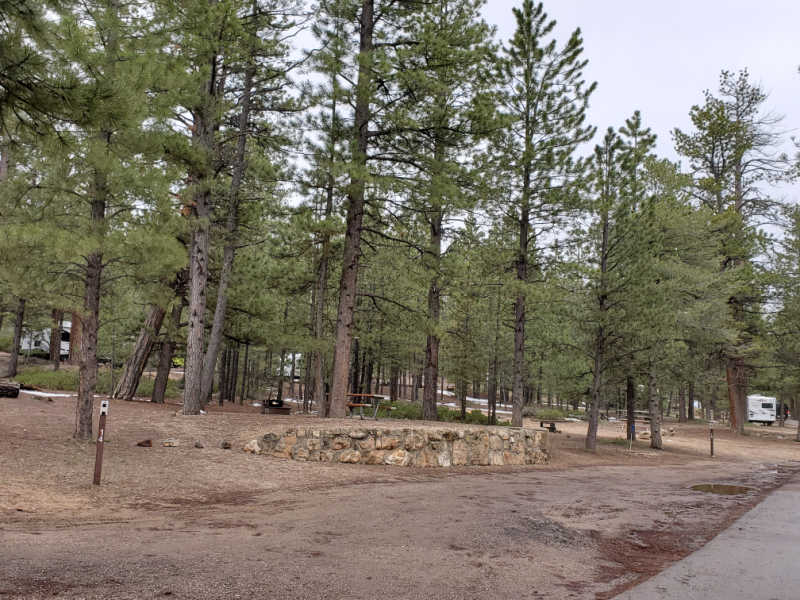 There are two campgrounds within the park that have flush toilets and drinking water, but no hook-ups. Laundry and shower facilities are available during the summer months.
There are also private campgrounds just outside the park entrance, some with full hook-ups and a number of other amenities.
For a fun adventure check out Escape Campervans. These campervans have built in beds, kitchen area with refrigerators, and more. You can have them fully set up with kitchen supplies, bedding, and other fun extras. They are painted with epic designs you can't miss!
Escape Campervans has offices in Vancouver, Seattle, Portland, San Francisco, Las Vegas, Los Angeles, Phoenix, Salt Lake City, Denver, Chicago, New York, and Orlando
Campsites - 100
Location - Located across the road to the east of the Bryce Canyon Visitor Center
North Campground is reservation-based from May 27th through October 1st and first-come, first-served from October 2nd through May 26th.
South Campground
Campsites - 99
Location - Located west of Sunset Point, approximately 1.5 miles south of the Bryce Canyon Visitor Center
Sunset Campground is first-come, first-served April 15th through October 31st. Sunset Campground also has a Group Site and 2 ADA Accessible sites for reservation.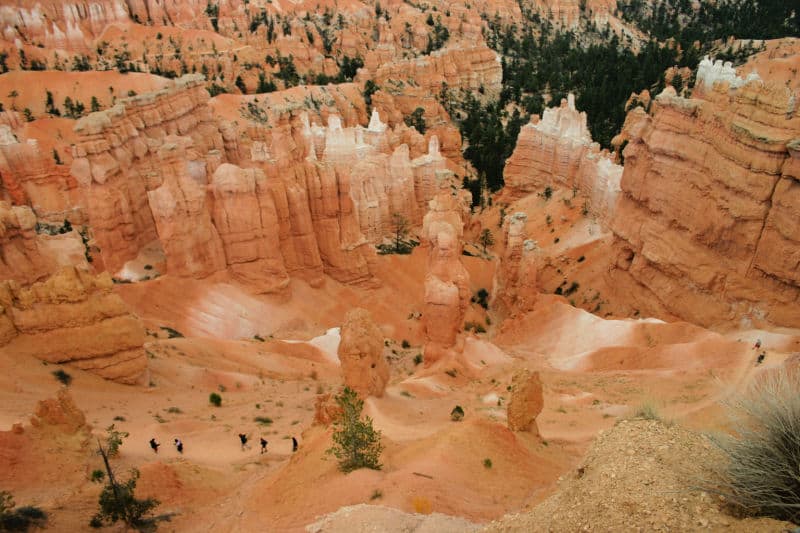 Travel Tips
The most common mistake made by the first-time visitor is having an itinerary to visit multiple parks within the "Grand Circle" leaving themselves only a few hours to explore each park.
Bryce Canyon, along with most of the parks within the Grand Circle are huge and impossible to see with such a short timeframe.
When you visit Bryce Canyon make sure to spend at least a full day exploring. Sunsets can be breathtaking and it is a great location for stargazing.
There is lots of wildlife to see along the way including deer, elk, and antelope so there is much more than just red rock.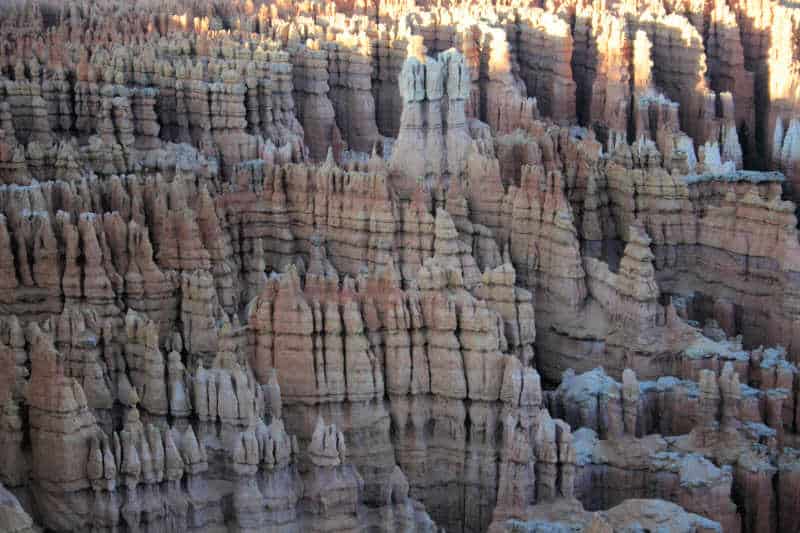 Additional Bryce Canyon Resources
Bryce Canyon National Park Gifts
Parks near Bryce Canyon National Park
Cedar Breaks National Monument
Pipe Springs National Monument
Rainbow Bridge National Monument
Glen Canyon National Recreation Area
Lake Mead National Recreation Area
Grand Staircase Escalante National Monument - BLM
Moki Dugway
Check out all of the National Parks in Utah along with neighboring National Parks in Arizona, National Parks in Colorado, National Parks in Idaho, Nevada National Parks, New Mexico National Parks, and Wyoming National Parks
National Park Service Website