The Navajo Loop Trail is one of the most popular trails in Bryce Canyon National Park. It is a great hike to give you a taste of being amongst the hoodoos in Bryce Canyon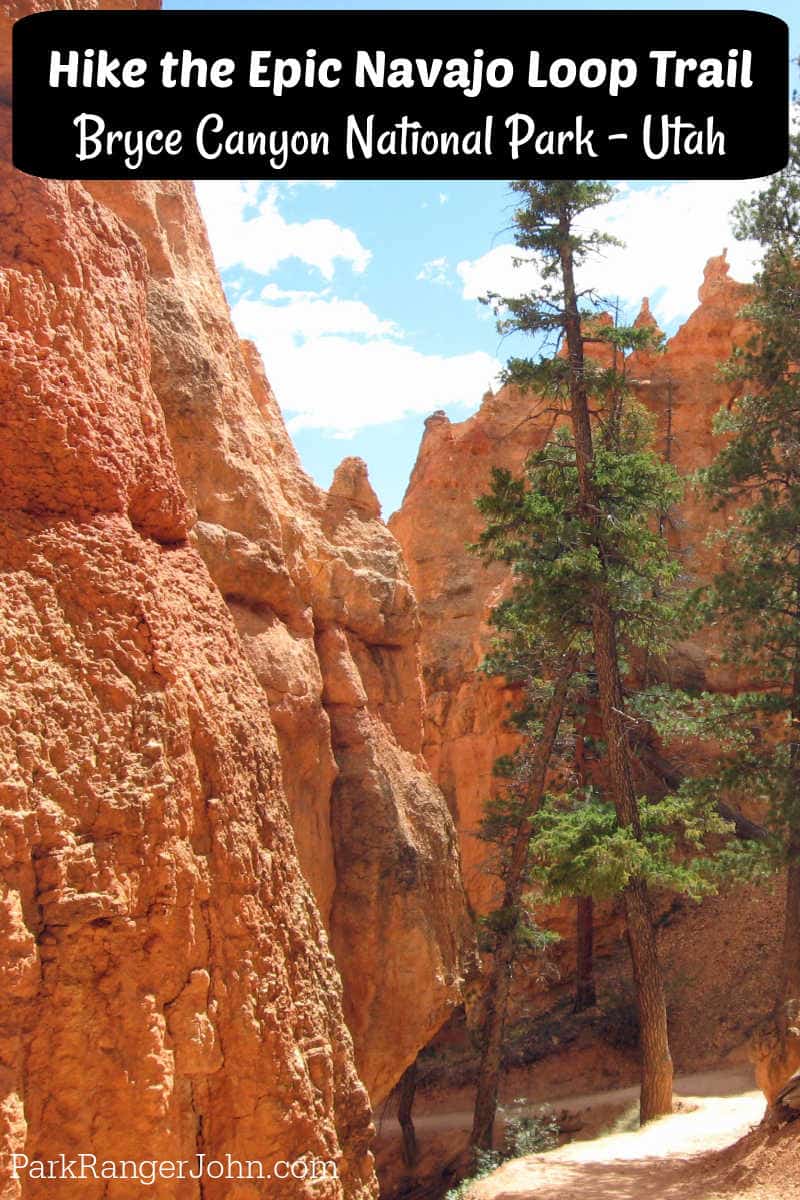 Distance: 1.4-mile loop trail
Elevation gain/loss: 515 feet
Trailhead Elevation: 8000 feet
Trail difficulty: Moderate
Time Required: 1-2 Hours
Trailhead Location: Sunset Point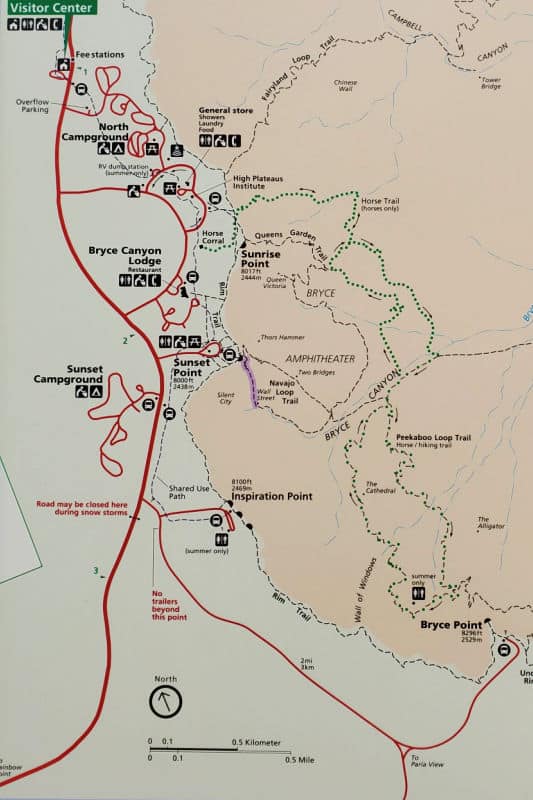 It is extremely important to know your limitations before heading out for a hike in Bryce Canyon National Park. A hike here, like the Grand Canyon, starts off easy as you start off hiking downhill.
It is easy to hike much further into the canyon than walking uphill on your way back out!
You also have to account for the lack of oxygen as this is a high-elevation park.
Weather can also play a big role in Bryce Canyon as summer temperatures easily skyrocket 30 plus degrees during the day.
Make sure to check the NPS website or the park's visitor center between early fall through late spring as the Wall Street portion of the trail may be closed due to snow showers and the risk of rock falls.
Wall Street may very well be closed between November and April, dependent on the weather, making it an out-and-back hike on the Two Bridges portion of the trail.
I personally saw a pretty good snowstorm in Bryce Canyon on Memorial Day Weekend with an accumulation of 3-5 inches of snow!
Before heading out on any hike, make sure you are prepared. Always carry the 10 essentials, know the weather report before heading out, carry plenty of water, and carry sunscreen.
Yes, the sun can be very intense here. This is a well-used trail that is pretty easy to follow and you can get away with wearing tennis shoes. Of course, if you are like me and have had previous knee and ankle injuries or like the ankle support, hiking boots will make your life much better, especially with the uphill and downhill portions.
I personally started the hike going counterclockwise and dropped straight into Wall Street, one of the several highlights along this trail.
This is by far, the steepest portion of the trail which means hiking down several switchbacks before finding yourself surrounded by the breathtaking hoodoos and massive Douglas Fir trees whose bark seems to glow from the light.
It's funny that when you look down from Sunset Point, the trees don't seem that large but once you are standing amongst them, you can see these are full-grown trees. The trail continues downhill but at a much easier slope into the canyon as you pass by the bright red rock and deep blue skies above that have made the southwest famous!
Like most trails in Bryce Canyon, they cross and intersect with other trails giving hikers numerous options. Trail options include the park's most popular trail combination, the Navajo Loop and Queen's Garden Loop.
You can also take the Peekaboo Loop making a 4.9-mile hike or you can be adventurous and do the Navajo/Queen's Garden Loop and Peekaboo Loop making for a 6.4-mile figure 8 loop trail!
Look at the map above to see all the trail combinations listed.
I continued back uphill on the Two Bridges section of the trail up past perhaps the most iconic rock in all of Bryce Canyon, Thor's Hammer. This impressive Hoodoo stands a staggering 150 feet tall!
After taking numerous photos and soaking in this moment, I continued a short distance up the trail back up to Sunset Point as this is where I had parked.
The benefit of hiking this trail counterclockwise is that it was nowhere as steep hiking out of the canyon as it was hiking down into the canyon.
This trail is hands down, one of my favorite hikes in the National Park system! I would also recommend that any visitor take the time to not only explore Bryce canyon from its viewpoints but also take a hike and get into the canyon amongst the hoodoos!
It's like exploring two different parks! The Navajo Loop trail will give you a great perspective of what it is like in the canyon while passing several of the park's iconic locations!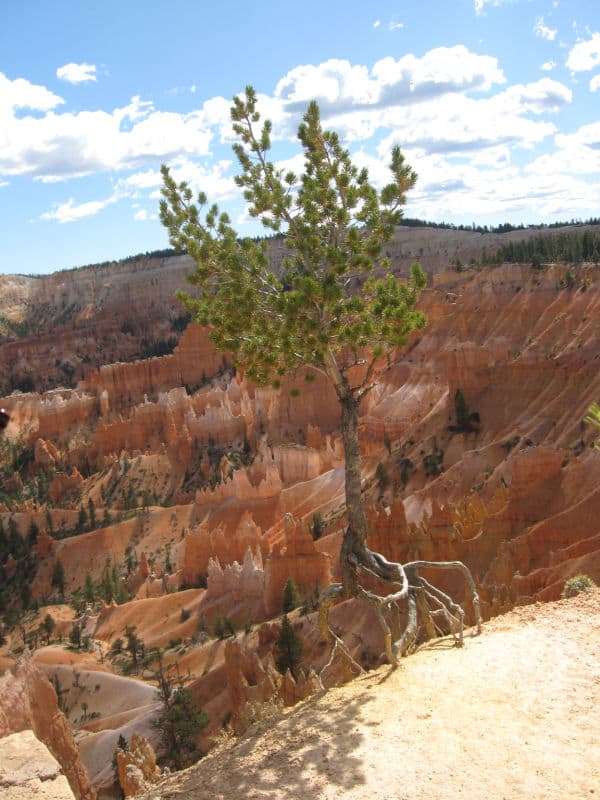 What are Hoodoos?
The Hoodoos that you see at Bryce Canyon National Park were carved out of four different types of rock (Limestone, siltstone, Dolomite, and Mudstone) carved from the Claron Formation, all of which erode at different rates making for very unique formations!
The mudstone erodes the fastest and can run down the sides of the Hoodoos after a good rain creating something similar to stucco and protecting the Hoodoos!
The harder rocks will make a cap on top of the Hoodoos reducing erosion and protecting these incredible spires.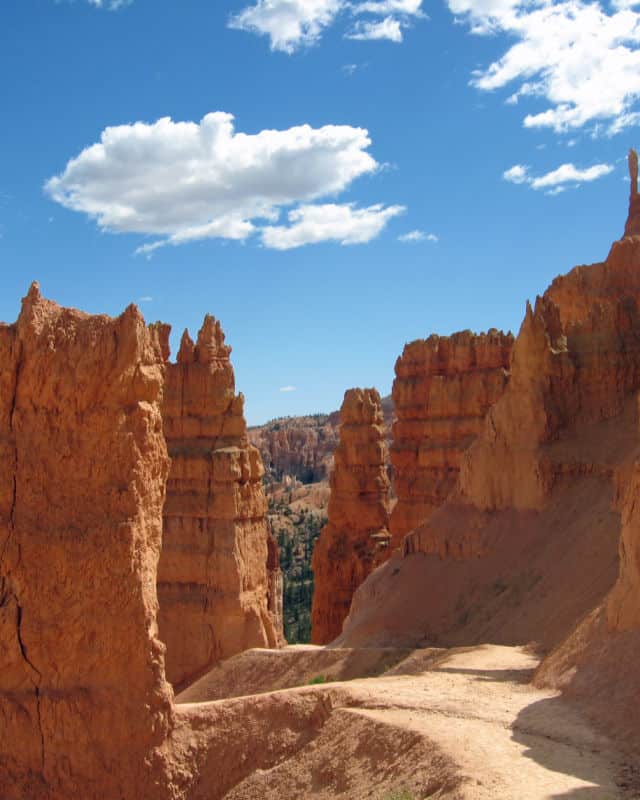 Those wanting to take a little longer hike should add the Queen's Garden Trail to the Navajo Loop Trail. Incidentally, this is the park's most popular trail so you can expect to see other hikers exploring what the NPS has labeled "The World's best 3-mile hike!"
This 2.9-mile hike begins at either Sunrise Point or Sunset Point and ends at the other trailhead.
To get back to your starting destination, you can take the parks shuttle bus (In Season). This will eliminate the worry about the fact that you start and end at different trailheads as the shuttle bus stops at both Sunset and Sunrise Point.
You can also choose to hike along the Rim trail between viewpoints. This is a great way to slow down and enjoy the view from above the canyon after hiking inside the canyon!
This trail should take 2-3 hours to complete and has an elevation Gain/Loss of approximately 600 feet.
The NPS recommends taking this hike in a clockwise direction but then again I have read books where it says just the opposite. I just recommend going on this trail if you get the chance!
Make sure to check out my Complete Guide to Bryce Canyon National Park. Here you will find everything you need to know including things to do, lodging, and camping options.
Planning a National Park vacation? America the Beautiful/National Park Pass covers entrance fees for an entire year to all US National Park Sites and over 2,000 Federal Recreation Fee Sites.
The park pass covers everyone in the car for per vehicle sites and for up to 4 adults for per-person sites.
Buy on REI.com and REI will donate 10% of pass proceeds to the National Forest Foundation, National Park Foundation and the U.S. Endowment for Forestry & Communities.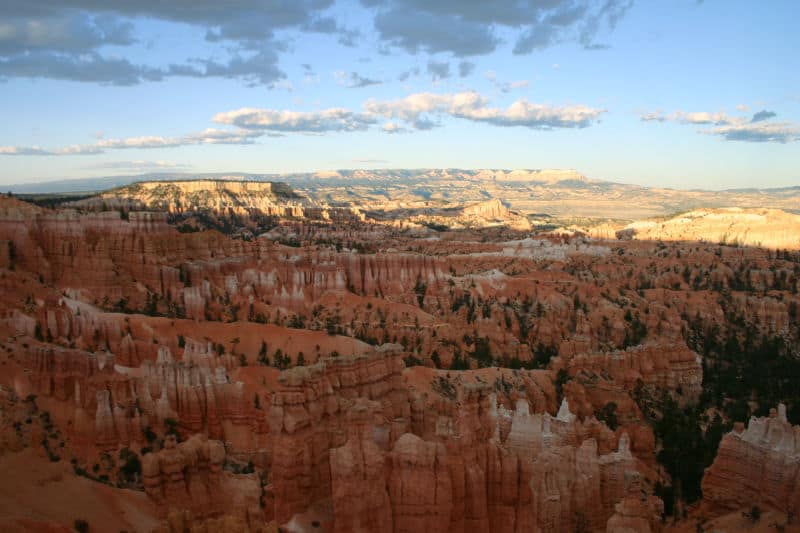 Must Do Hikes Near Bryce Canyon National Park
Zion National Park Emerald Pools Trail
Arches National Park Devil's Garden Hike
Parks to visit Near Bryce Canyon National Park
Kodachrome Basin State Park-Utah
Cedar Breaks National Monument