Complete guide to Capitol Reef National Park in Utah including things to do, camping, lodging, history, and so much more.

Capitol Reef National Park
About Capitol Reef National Park
Capitol Reef is the least visited of Utah's "Mighty Five" National Parks. Those who skip this southern Utah Park miss out on much more than rugged desert scenery, however.
This unique park is an eclectic mix of historic landmarks, otherworldly rock formations, and some seriously spectacular landscapes.
Visitors to Capitol Reef National Park can expect a collection of epic hiking trails, beautiful scenic drives, a wide variety of ranger programs, and much more. The park is split into three districts:
Cathedral Valley District
Located in the northern section of Capitol Reef, the Cathedral Valley District is one of the more remote areas of the park.
Towering sandstone monoliths dominate the rugged desert landscape, and the best way to explore this area is by driving the scenic roads - using a vehicle with AWD is highly recommended.
Fruita Historic District
The Fruita District is famous for its historic buildings and lush valleys. It's the most accessible district in the park and home to some of Capitol Reef's top attractions, including historic buildings from the Mormon Homestead and some well-maintained orchards.
Unsurprisingly, this is the park's most popular district.
Waterpocket Fold District
This is the most remote area of the park, and it's located in the southern region of Capitol Reef.
You'll have to have a strong desire to trek into this area of the park, in addition to a reliable AWD vehicle! The best way to access the Waterpocket Fold District is via the Burr Trail Scenic Byway.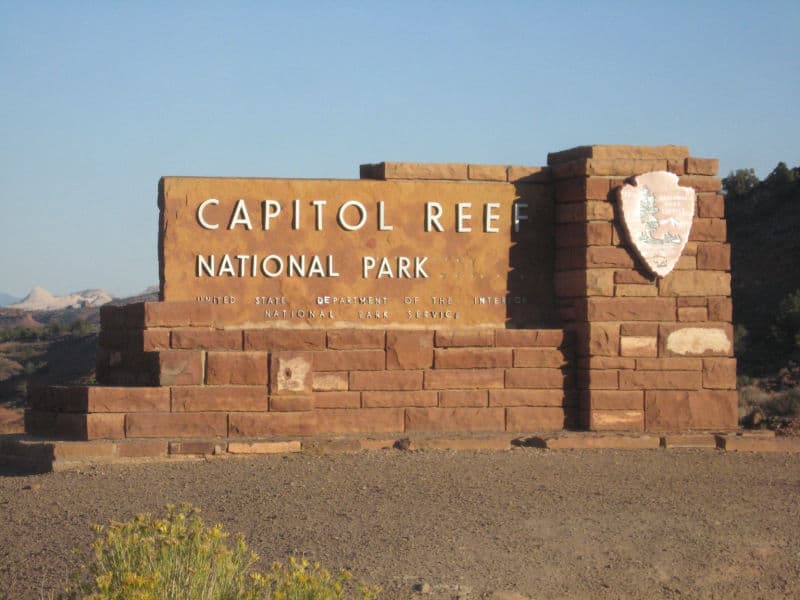 Is Capitol Reef National Park worth visiting?
Many people skip over Capital Reef in lieu of Utah's other famous national parks, but this gem is absolutely worth a visit!
It offers the same rugged scenery and unique rock formations, plus some historic buildings and abundant orchards - all with fewer crowds!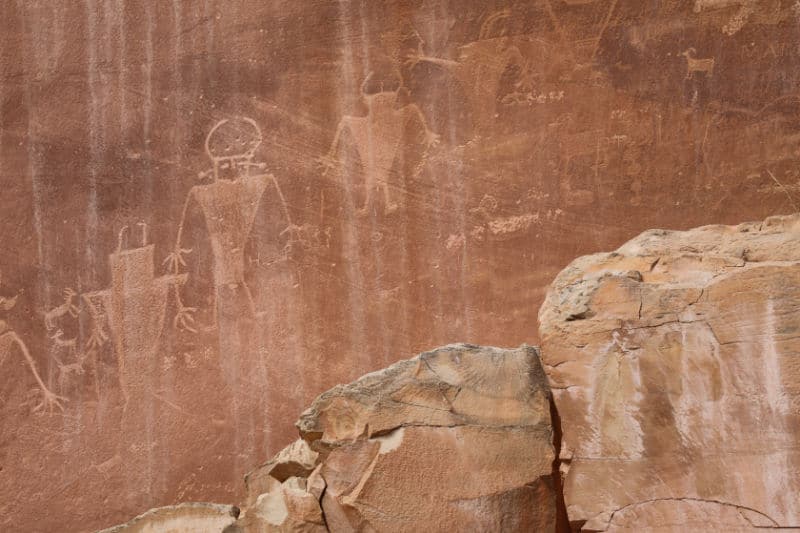 History of Capitol Reef National Park
The park preserves a large section of the Waterpocket Fold, a 100-mile "wrinkle" in the earth that rises as high as 7,000 feet in certain areas.
The monocline (the wrinkle's technical name) was created between 50 and 70 million years ago, and since its inception, various arches, towers, canyons, and other noteworthy geological features have been formed along its steep incline.
The northern corner of Capitol Reef was home to the indigenous Fremont people from 800 to 1250 AD, and you can still see evidence of their existence from petroglyphs carved into the rocks.
Other tribes later settled in this region, likely due to the protection from the cliffs and the abundant Fremont River.
In the late 1800s, Mormon pioneers came to the area and created Junction - a settlement later referred to as Fruita.
This thriving area contained homesteads, a schoolhouse, orchards, and more, and some of these still stand in the park to this day.
The area was designated as a national monument in 1937 and was later declared a national park in 1967.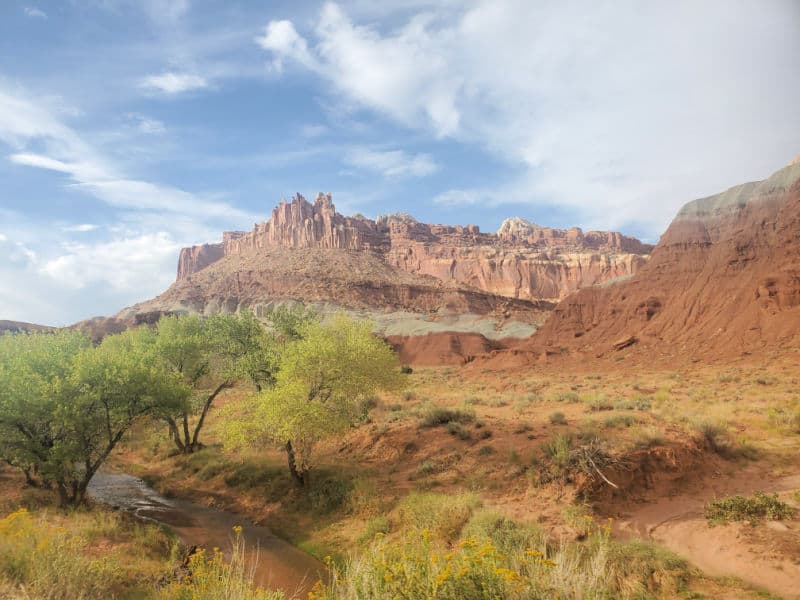 Things to know before your visit to Capitol Reef National Park
Entrance fee
7-day single-vehicle park pass - $20
7-day individual park pass - $10
7-day motorcycle park pass - $15
Annual Park Pass - $35
Valid for one year through the month of purchase. Admits one private, non-commercial vehicle or its pass holder.
Planning a National Park vacation? America the Beautiful/National Park Pass covers entrance fees for an entire year to all US National Park Sites and over 2,000 Federal Recreation Fee Sites.
The park pass covers everyone in the car for per vehicle sites and for up to 4 adults for per-person sites.
Buy on REI.com and REI will donate 10% of pass proceeds to the National Forest Foundation, National Park Foundation and the U.S. Endowment for Forestry & Communities.
Learn more about National Park Passes for parks that have an entrance fee.
Free Entrance Days -Mark your calendars with the five free entrance days the National Park Service offers annually.
Time Zone
Mountain Time
Pets
Pets are allowed in the park on a leash 6 feet or less. Pets are allowed in the following areas:
on the trail from the visitor center to the Fruita Campground
on the Fremont River Trail from the campground to the south end of Hattie's Field (where there is a gate)
in unfenced and/or unlocked orchards
in the Chestnut and Doc Inglesby picnic areas
in campgrounds
within 50 feet of centerline of roads (paved and dirt) open to public vehicle travel
parking areas open to public vehicle travel
Pets are not allowed on any other hiking trails, in buildings, or in the backcountry.
Cell Service
There is little to no cell phone reception in the park. We randomly had service in a couple of areas but it was not for long.
The closest town with cell reception is Torrey, Utah approximately 11 miles from the visitor center or Hanksville, Utah approximately 37 miles from the visitor center.
Park Hours
The park is open 24 hours a day all year long.
The visitor center is open daily except for on major holidays.
Visitor Center hours vary depending on the season you are visiting in. The best way to get the most up to date hours is by calling 435-425-3791.
Wi-Fi
Limited Wi-Fi is available at the visitor center.
Insect Repellent
Insect repellent is always a great idea when outdoors, especially if you are around any body of water.
We use Permethrin Spray on our clothes before our park trips.
Water Bottle
Make sure to bring your own water bottle and plenty of water with you. Plastic water bottles are not sold in the park.
Parking
Limited parking is available at the Visitor Center, various trailheads, lookout points, and other attractions around the park.
Food/Restaurants
The Gifford House in Fruita within the park sells epic baked goods! Get double the pies you think you will want they are that good.
They also have coffee and tea, canned goods, ice cream, and other snacks during spring and summer.
The visitor center also has snacks available and a vending machine for drinks.
Gas
There are no gas stations within the park.
Drones
Drones are not permitted within National Park Sites.
National Park Passport Stamps
National Park Passport stamps can be found in the visitor center.
Make sure to bring your National Park Passport Book with you or we like to pack these circle stickers so we don't have to bring our entire book with us.
Capital Reef NP is part of the 2010 Passport Stamp Set
Electric Vehicle Charging
The closest EV Charging Stations are in Torrey, Boulder, and Escalante, Utah.
Broken Spur Inn and Steakhouse off of Utah 24 has two Tesla Destination Chargers.
Rim Rock Patio has a NEMA outlet.
The following campgrounds in Torrey, Utah also have chargers - Wonderland RV Park, Sand Creek RV Park, and Thousand Lakes RV Park.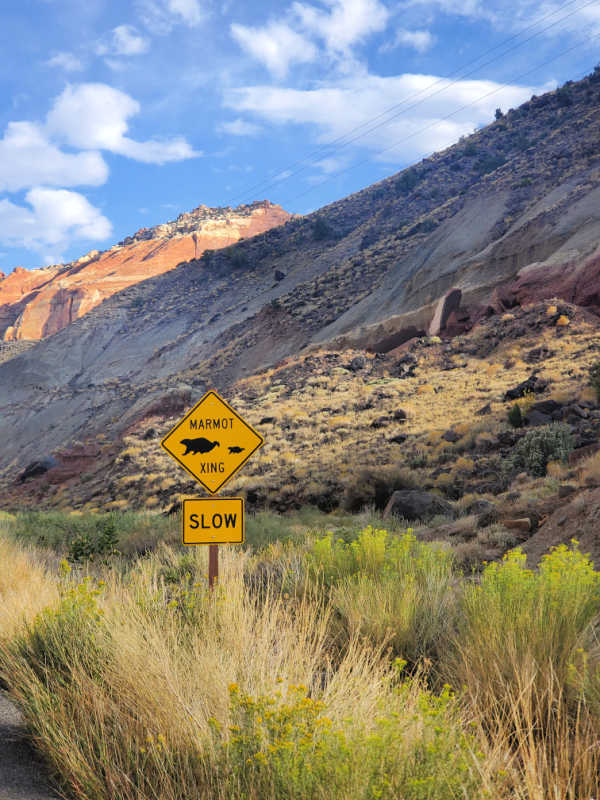 Details about Capitol Reef National Park
Size - 241,904 acres
Capital Reef NP is currently ranked at 29 out of 63 National Parks by Size.
Date Established
December 18, 1971 by President Richard Nixon
Visitation
In 2021, Capital Reef NP had 1,405,353 park visitors.
In 2020, Capital Reef NP had 981,038 park visitors.
In 2019, Capital Reef NP had 1,226,519 park visitors.
Learn more about the most visited and least visited National Parks in the US
National Park Address
52 West Headquarters Drive
Torrey, UT 84775
Capitol Reef National Park Map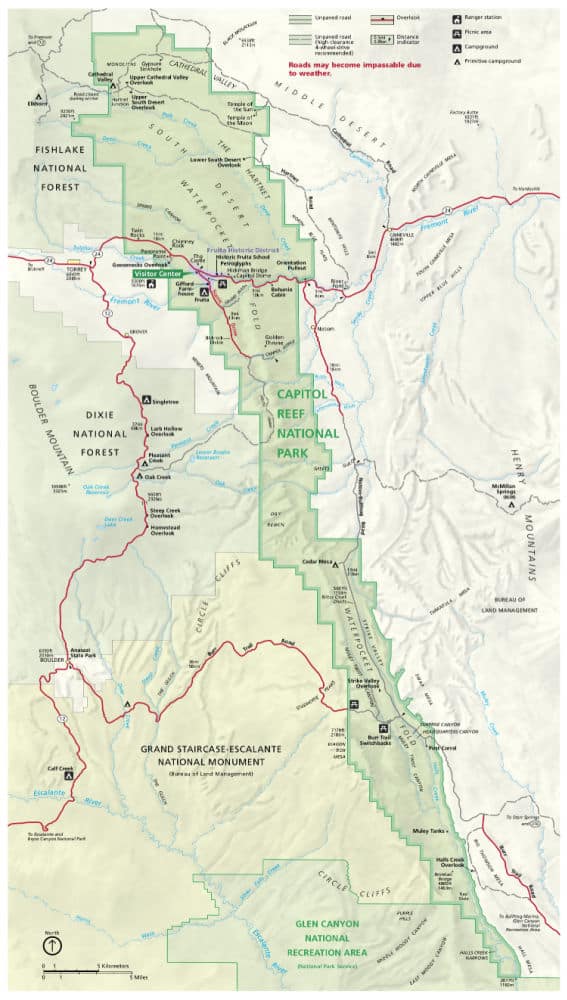 For a more detailed map, we like the National Geographic Trails Illustrated Maps available on Amazon.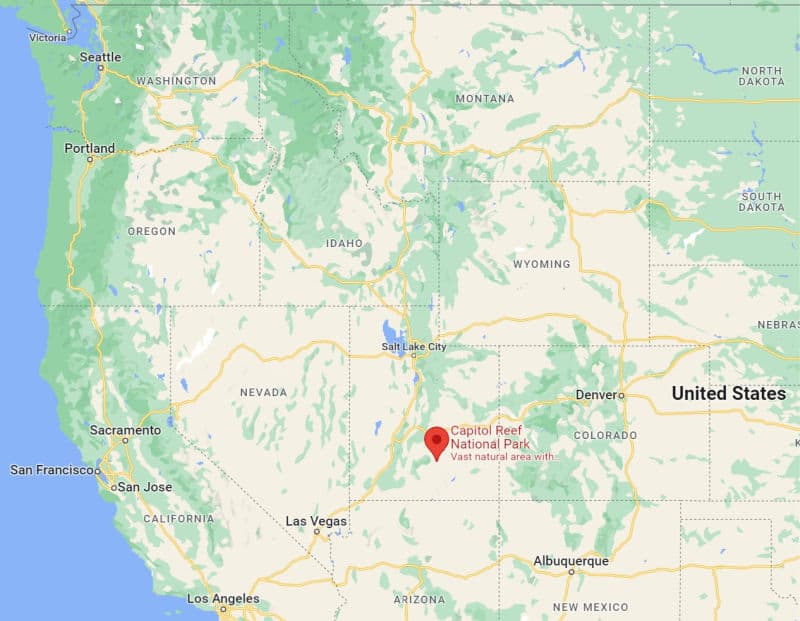 Where is Capitol Reef National Park?
Capitol Reef is located in the desert of south-central Utah.
Estimated distance from major cities nearby
Mileage calculated to the Capitol Reef NP Visitor Center.
Salt Lake City, UT- 223 miles
Henderson, NV - 353 miles
Las Vegas, NV - 334 miles
Paradise, NV - 340 miles
Glendale, AZ - 531 miles
Scottsdale, AZ - 544 miles
Phoenix, AZ - 535 miles
Albuquerque, NM - 511 miles
Estimated Distance from nearby National Parks
Bryce Canyon National Park - 118 miles
Canyonlands National Park - 156 miles
Arches National Park - 142 miles
Zion National Park - 192 miles
Mesa Verde National Park - 270 miles
Great Basin National Park - 241 miles
Black Canyon of the Gunnison National Park - 266 miles
Where is the National Park Visitor Center?
The Capitol Reef Visitor Center is located in the Fruita District off of the scenic Highway 24.
Address: 52 Scenic Drive, Torrey, UT, 84775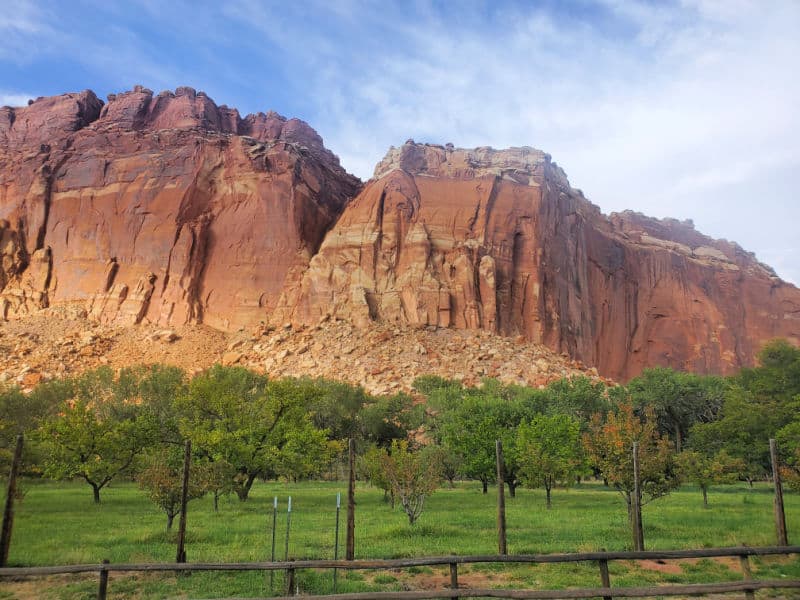 Getting to Capitol Reef National Park
Closest Airports
Canyonlands Field, Moab, UT (CNY)
International Airports
Salt Lake City International Airport (SLC)
Las Vegas, NV (LAS)
Phoenix Sky Harbor International Airport (PHX)
Regional Airports
Cedar City Regional Airport (CDC)
Grand Canyon National Park Airport (GCN)
Provo Municipal Airport (PVU)
Driving Directions
From I-70: Take exit 149, then take UT-24 west toward Hanksville; continue for 43.8 miles (70.5 km). Turn right to continue on UT-24 west and continue for 37.3 miles (60 km).
From I-15: take exit 188 then US-50 east toward Scipio. Left on UT-50; continuing 0.7 miles (1.1 km).
Turn right onto US-50 East; continue for 24.4 miles (39.3 km). Turn right onto UT-260 south and continue 4.2 miles (6.8 km), then right on UT-24 for 71.3 miles. UT-12: North on highway 12 to Torrey, UT. Right onto UT-24.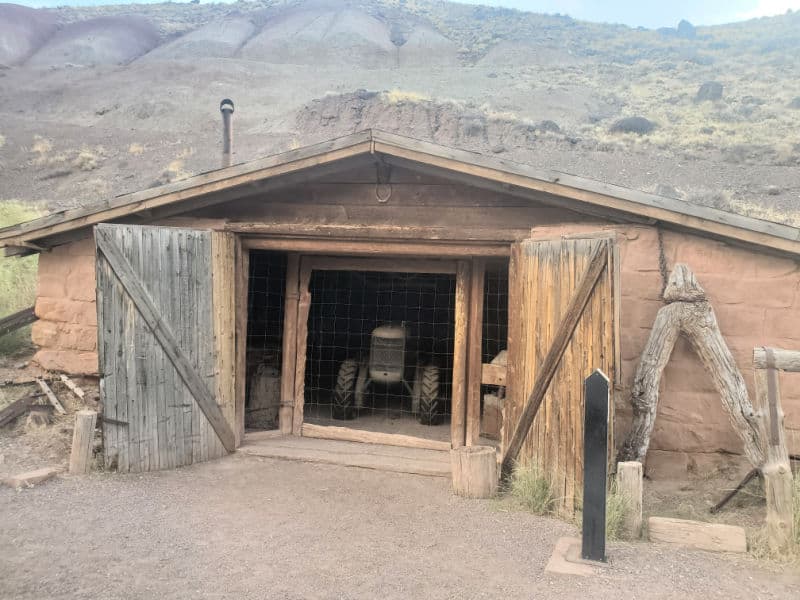 Best time to visit Capitol Reef National Park
Although Capitol Reef National Park is open year-round, the best times to visit the park are when the weather is at its most mild. This is usually in the Spring and Fall.
Weather and Seasons
Spring
Spring is one of the best times to visit the park. The temperatures are hot but not unbearable, allowing visitors to enjoy all of the park's outdoor activities.
Spring is also the time of year when the orchards in the Fruita District are in full bloom, creating a beautiful contrast against the red rocks in the distance.
If you want to avoid the crowds, try to visit in early spring, as May is the busiest month at Capitol Reef.
Summer
Because of the soaring temps, summer sees fewer visitors than spring and fall.
By June, highs can reach into the 80s and 90s, so it's best to plan your activities for early in the morning or in the evening. Of course, you could always stick to the scenic drives and crank the A/C!
Autumn/Fall
Autumn is another great time to visit Capitol Reef NP. The temperatures have cooled, making it easy to enjoy outdoor activities around the clock.
In addition, the fall foliage during this season is magnificent, specifically the bright yellow cottonwood trees.
Winter
The best part about visiting the park in the winter is that the crowds are few and far between.
The downside is that temperatures are often below freezing, and snow can limit your ability to hike and drive within the park. That being said, the snow does make for a beautiful contrast against the red rocks!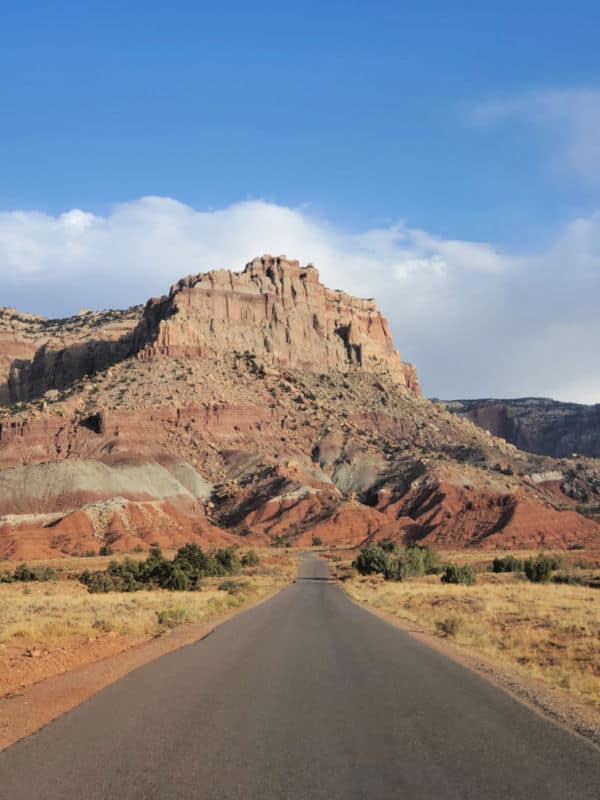 Scenic Drives
Highway 24
This is the main road that cuts through the park from east to west along the Fremont River.
Along this scenic stretch, you'll drive past massive Navajo sandstone in the form of domes and cliffs, orchard-covered valleys, historic buildings, red sandstone mountains, and unique rock formations and cliffs.
There are tons of scenic overlooks along this route, and the best part is there is no fee to drive this 16-mile stretch.
If you're short on time and want a good summary of the park, the 7.9-mile Capitol Reef Scenic Drive is the perfect activity.
The scenic drive starts in the historic Fruita District and ends at Capitol Gorge Road.
Of course, if you do have time, this is also a great way to spend an entire day.
There are tons of viewpoints and hiking trails along the road, and if you have a vehicle with AWD, you can continue onto the unpaved two-mile Capitol Gorge Road at the end of the route.
Note that if you do not have a National Park Pass, there is a $20 fee to access this scenic route.
Cathedral Valley is perhaps one of my favorite scenic drives in the National Park system! It starts with Fjording a river, driving through some sandy areas, and driving through otherworldly landscapes like the Bentonite Hills.
This area is known for its spectacular desert landscapes and massive iconic monoliths including The Temple of the Moon and The Temple of the Sun.
This 57.6-mile trip does require advance preparation as it is extremely remote and odds are that you may not see anyone else the entire day!
Make sure to carry a map, and plenty of water, drive a reliable 4X4 vehicle, and check with the ranger station on road conditions before heading out as sometimes the road is inaccessible due to weather conditions.
If you are not comfortable driving the dirt roads you can book a guided tour of Cathedral Valley.
Burr Trail Scenic Byway
Those with 4WD and a sense of adventure can check out the backcountry Burr Trail Scenic Byway.
This 67-mile route is as rugged as it is scenic.
You'll pass by red rock formations, tiny towns, and lovely Lake Powell before descending along a series of terror-inducing switchbacks through the Waterpocket Fold.
Fruit Picking
Thousands of fruit and nut trees are thriving in the Fruita District, with heirloom varieties of apricots, apples, cherries, peaches, pears, and plums.
These orchards date back to the late 1800s when the Mormon pioneers planted them.
Visitors are allowed to pick fruit from the orchards year-round, and you'll know when the harvest is ripe for the picking by the u-pick signs placed outside the orchard.
Note that all fruit must be weighed and paid for.
Wildlife Viewing
Capitol Reef encompasses a wide variety of ecological zones, and with the diversity comes an eclectic cast of park residents.
There are mammals both big and small, including mountain lions, desert bighorn sheep, mule deer, tons of squirrels, marmots, beavers, cave bats, and more.
There are also plenty of amphibians and reptiles - including rattlesnakes - so hike with caution!
Bird Watching
The park's diverse landscape is also a habitat for many bird species, including wren, eagles, Mexican spotted owls, and the endangered Peregrine falcon.
Smaller bird species are best spotted in the crevices of rock ledges, while larger species will most likely be seen soaring above the canyons or hanging out on cliff ledges.
The Fremont River Trail is another excellent place for birding in the park.
Visitors both young and old can partake in the park's Junior Ranger Program.
Not only is it a fun way to learn more about the park's history, wildlife, and more, but once you complete the program, you'll get a cool badge to add to your collection.
Ranger Programs
Capitol Reef puts on tons of fantastic ranger programs, including guided hikes, full moon walks, star talks, and more.
Most of these programs are held between June and October, but some you can find year-round, like Geology Talks and the Junior Ranger Program.
Head to the visitor center to learn more about which programs are available during your visit.
Guided Tours of Capitol Reef NP
If you are looking to get out and explore the park with a guide here are some fantastic options.
Milky Way Portraits and Stargazing - Take in the wonders of the universe with a guide on a stargazing tour from Torrey to Capitol Reef National Park. Enjoy hotel transfers and take home a Milky Way portrait from your experience.
Bryce Canyon and Capitol Reef Airplane Tour - Explore two of Utah's Mighty 5 National Parks on this private airplane tour: Bryce Canyon National Park and Capitol Reef National Park.
From Salt Lake City - Private tour of Capitol Reef
Enjoy the benefits of a private tour and explore the peaceful landscapes of Capitol Reef NP and learn about the historic people who inhabited this desert oasis.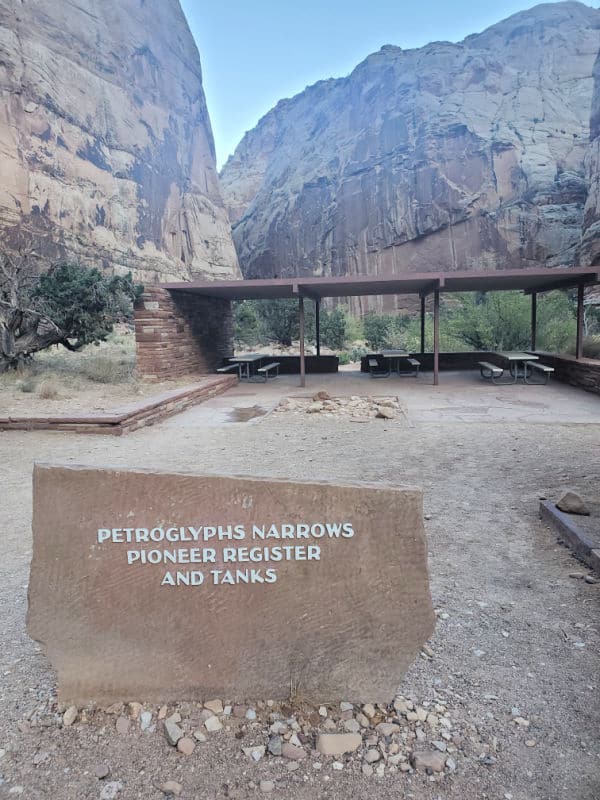 Hiking in Capitol Reef National Park
Always carry the 10 essentials for outdoor survival when exploring.
There are tons of trails in Capitol Reef National Park, so whether you're looking for a leisurely stroll with great views or an all-day trek through some of the park's coolest rock formations, we've got you covered.
Note that hiking in the summer is not recommended due to the high temperatures. Flash flooding is also common after big storms. Always check the weather and trail conditions before heading out.
Grand Wash Trail
Distance - 5.0 miles
Trail Difficulty - Easy
Time Required - 2 hours
Trailhead - Fruita District
Following a wide sandy trail, this hike leads you through the Grand Wash Canyon in the Waterpocket Fold.
This hike is all about the sandstone cliffs and rock formations that surround the trail, so you can turn around before the end of the five miles if you are looking for a shorter hike.
Red Canyon Trail
Distance - 5.6 miles
Trail Difficulty - Easy
Time Required - 2 hours
Trailhead - Waterpocket District
This route meanders through the sagebrush flats of the Waterpocket District. As you hike, you'll take in epic views of the Henry Mountains, along with the high sandy walls of Red Canyon.
There are tons of cool plant life along this trail as well, especially if you're hiking during the spring and early summer.
Capitol Gorge Trail
Distance - 4.5 miles
Trail Difficulty - Moderate
Time Required - 1.75 hour
Trailhead - Fruita District
As you trek through the gorge, you'll encounter various historical sites, including petroglyphs created by ancient tribes and inscriptions carved into the rock walls (also known as the Pioneer Register) by settlers and miners from the late 1800s and early 1900s.
From there, you'll come upon "the tanks" - large natural water pockets that often fill with rain.
Hickman Bridge Trail
Distance - 1.7 miles
Trail Difficulty - Moderate
Time Required - 1.5 hours
Trailhead - Fruita District
This is one of the most popular trails in the park. It's a relatively short route that leads to some epic rock formations that are reminiscent of some of Utah's other national parks.
The highlight is the Hickman Bridge, a 133-foot natural arch situated at the back of the canyon.
There is little shade along this route so bring plenty of sun protection and water!
Cassidy Arch Trail
Distance - 3.1 miles
Trail Difficulty - Hard
Time Required - 2 hours
Trailhead - Fruita District
Although a bit more strenuous than some of the other hikes in the park, Cassidy Arch Trail is perhaps the most popular route.
The natural bridge at the end (Cassidy Arch) is the main draw to this trail, but the epic views across Grand Wash are likely what you'll remember most from this challenging trek.
Navajo Knobs
Distance - 9.5 miles
Trail Difficulty - Hard
Time Required - 4.5 hours
Trailhead - Fruita District
Although long and strenuous, the incline along this route is fairly steady the whole way.
This hike is all about the stunning vistas, and if you don't feel like hiking the full trail, you can turn around at the first major lookout point - Rim Overlook.
Those who do make it all the way to the top will be rewarded with breathtaking 360-degree views across the park.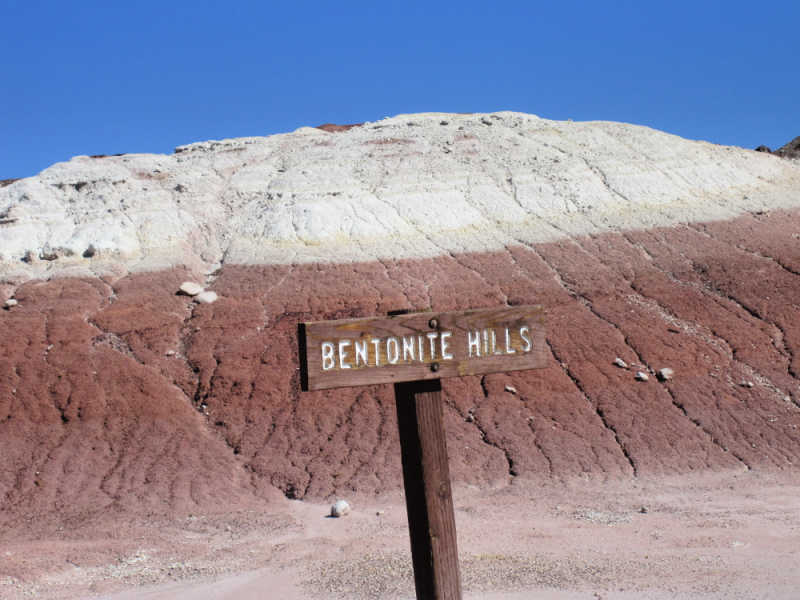 How to beat the crowds in Capitol Reef National Park?
The busiest time of year at Capitol Reef NP is between May and June and September and October. If you want to avoid the crowds, consider planning your trip for the off-season.
If you don't want to contend with extreme weather (90-degree heat in the summer and snow in the winter), then March and November are the best times to avoid the crowds.
Where to stay when visiting Capitol Reef National Park
There are no National Park Lodges within the park.
The closest lodging is in Torrey, Teasdale, and Grover, Utah.
Capitol Reef Resort - Located right outside of the park offers epic lodging options.
Days Inn Capitol Reef - This hotel is 4 miles from the park and offers free Wi-Fi, cable tv, a pool, and more.
Broken Spur Inn & Steakhouse - This hotel has breakfast included and is close to the park.
For additional hotels and vacation rentals click on the map below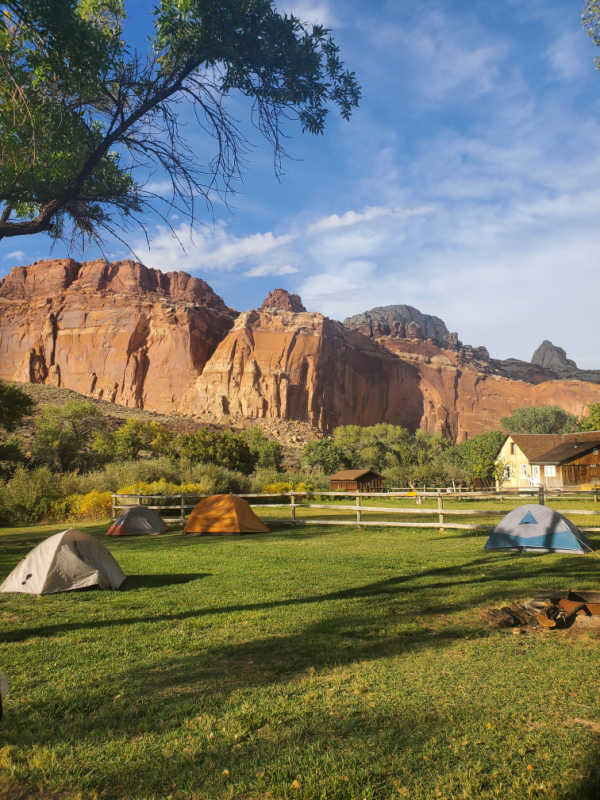 Capitol Reef Camping
For a fun adventure check out Escape Campervans. These campervans have built in beds, kitchen area with refrigerators, and more. You can have them fully set up with kitchen supplies, bedding, and other fun extras. They are painted with epic designs you can't miss!
Escape Campervans has offices in Vancouver, Seattle, Portland, San Francisco, Las Vegas, Los Angeles, Phoenix, Salt Lake City, Denver, Chicago, New York, and Orlando
Fruita Campground is located in the historic orchards of the Fruita Historic District along the Fremont River.
There are 71 sites for tents and small RVs. Each site is equipped with a picnic table and firepit. No hook-ups are available.
There are restrooms with flush toilets, an RV dump station, and a potable water filling station.
The campground is open year-round, and reservations are available up to six months in advance for the March-October season.
Primitive Campgrounds
Cathedral Valley Primitive Campground
This primitive campground is located in the Cathedral Valley District. There are six sites available on a first-come-first-served basis. Sites are free and open year-round.
Cedar Mesa Primitive Campground
This primitive campground is located in the Waterpocket Fold District. There are five sites available on a first-come-first-served basis. Sites are free and open year-round.
Backpacking Camping
Backcountry camping is allowed at Capitol Reef National Park. A permit is required and can be acquired at the Visitor Center for free.
Most choose to hunker down along one of the six main backpacking routes. For more info, check in with a ranger at the Visitor Center.
Capitol Reef National Park Group Campsite
There is one group campsite available near the Fruita District. The site can host up to 40 people and can be reserved up to 12 months in advance.
Check out additional campgrounds in the area on CampSpot.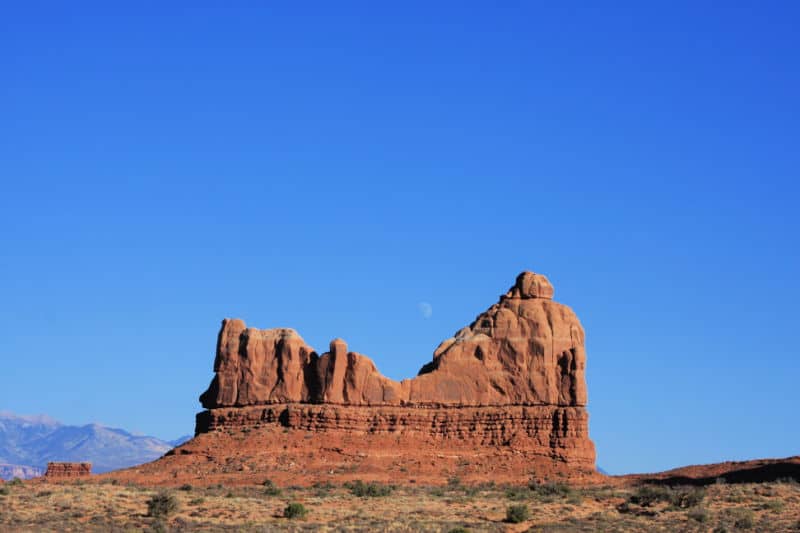 Parks Near Capitol Reef National Park
Timpanogos Cave National Monument - 200 miles
Natural Bridges National Monument - 170 miles
Glen Canyon National Recreation Area, Bullfrog Marina - 104 miles
Hovenweep National Monument - 266 miles
Cedar Breaks National Monument - 149 miles
Check out all of the National Parks in Utah along with neighboring National Parks in Arizona, National Parks in Colorado, National Parks in Idaho, Nevada National Parks, New Mexico National Parks, and Wyoming National Parks