The Capitol Reef scenic drive is an incredible and easy introduction to the beauty of the least visited National Park in Utah.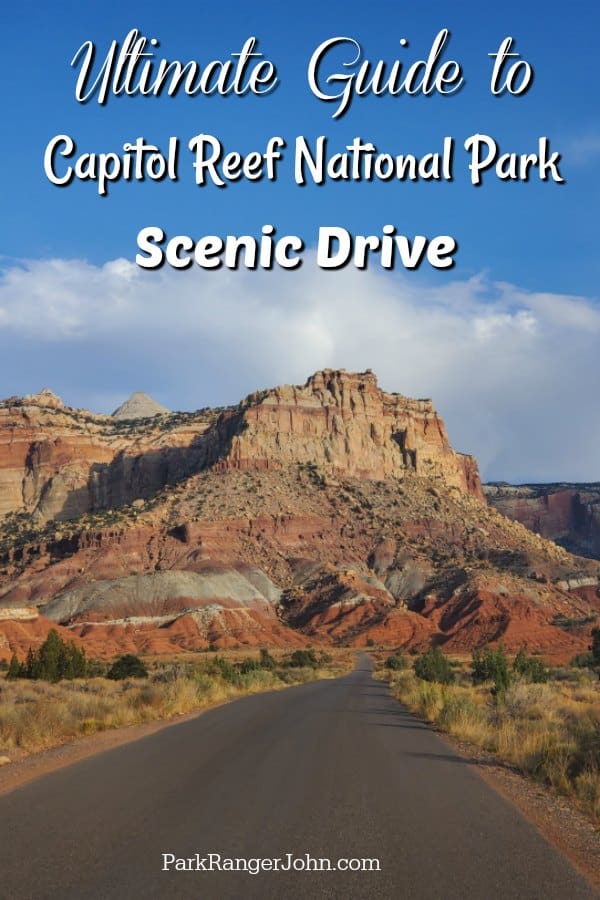 Capitol Reef Scenic Drive
What I love most about this scenic drive is that park visitors of all physical abilities have the opportunity to get up close and see a canyon that has been eroded by flash flooding. Although not quite as dramatic as the 2000 foot cliff walls of the Zion Narrows, you also don't have to get out and hike several miles in and out of a river.
Visitors of all physical capabilities get the opportunity to get up close and experience the true wonder of a slot canyon!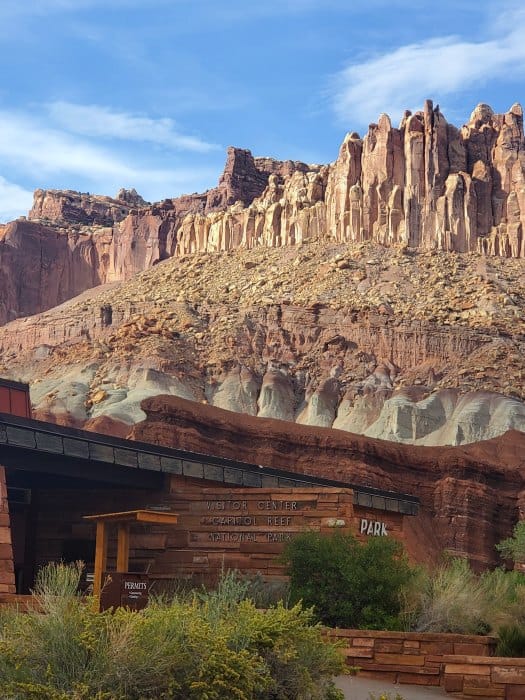 Where is the Capitol Reef Scenic Drive located?
Most people coming to Capitol Reef are visiting several National Parks Like Bryce Canyon or Arches. I would highly recommend visitors coming from/going to Bryce Canyon take Scenic Highway 12. It may be 20 minutes longer but the views are absolutely breathtaking! Simply take Highway 12 to Highway 24 and is approximately 3 hours.
Visitors from Arches simply drive north to Interstate 70 then south on Highway 24 to the park entrance approximately 2.5 hrs. away.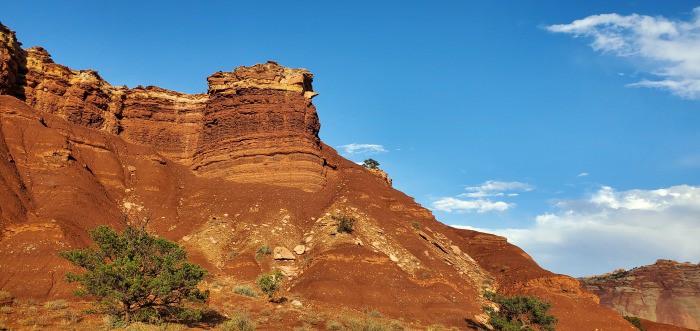 Entrance Fees
The Capitol Reef vehicle entrance fee is $20 as of 2020. If you plan on visiting a few national parks within the next year or on this trip, especially through Utah's Big 5, I highly encourage you to look at purchasing the National Park Pass at $80.
Otherwise, you will get charged at each park and can easily cost more than $80 as Zion and Bryce Canyon are both $35/vehicle and Arches and Canyonlands are both $30/vehicle.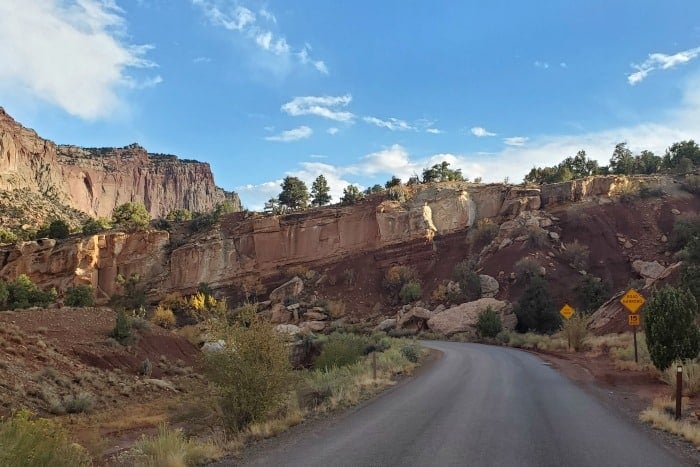 The Scenic Drive (paved section of drive)
Today, the majority of the Capitol Reef National Park scenic drive consists of an easily accessible paved road passing through the jaw-dropping red rock in what is largely known as color country. It was originally a wagon road and built in the late 1800s providing early travelers to remote locations.
The drive begins at the Capitol Reef visitor center on the corner of Highway 24. You drive south and pass through the fruit orchards of the Fruita District, the Fremont River, the Gifford House, Fruita Campground then continue on in an epic 10-mile scenic drive that takes you along the famous Waterpocket Fold.
Highlights along this route include the Grand Wash, Cassidy Arch Hike, and ends in the gravel section as you pass through spectacular canyon walls into Capitol Gorge.
At the end of the paved section, there is a small picnic area with epic views. This is an amazing place to stop and just take in the views of Capitol Reef National Park.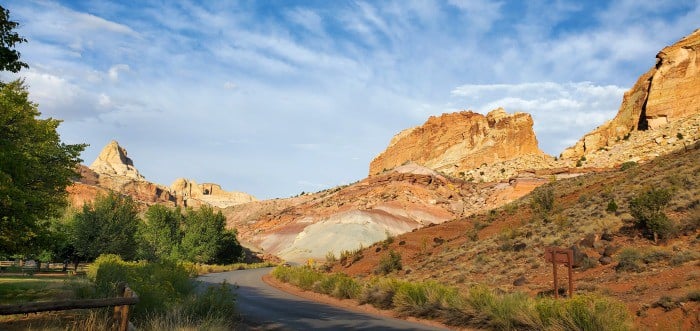 The Scenic Drive (Gravel section of drive)
When the road turns to gravel, you can turn around or park and go for a walk if you do not want to drive on gravel. I personally think this is when the scenic drive becomes intoxicating! This is also where the road turns from a paved 2 lane road to a 1.5 lane road so you will need to be prepared to pull over to the side to let other cars pass.
We saw everything from small RVs to 4 door cars along the gravel portions of the road. I am not saying these are the best vehicles to take on a dirt road but they made it happen.
Be aware that beyond this point, the vehicle maximum length is 27 feet. Road conditions can change quickly based on rain, snow, or other weather events. You will want to come prepared to drive on a dirt muddy road that is definitely bumpy.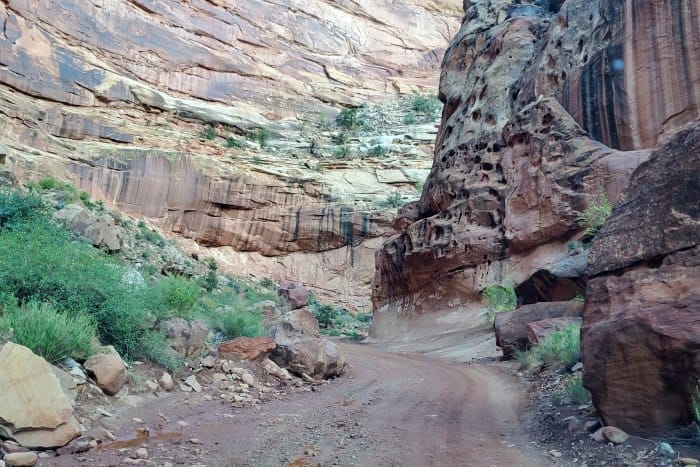 As you continue the scenic drive you can see how the park service has maneuvered the road to work with flash floods through the canyon walls. The National Park Service has done a fantastic job of adding signs with rock formation names and highlights along the road.
You may be amazed at just how quiet it is and how gorgeous the surrounding rock features are. The Capitol Reef Scenic Drive offers the amazing opportunity to learn about the waterpocket fold and the effects of flash flooding.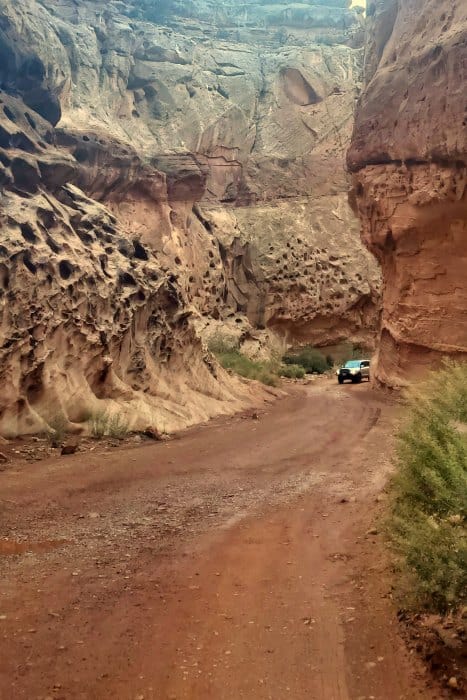 This incredibly scenic drive ends at the Capitol Gorge Trailhead. This is a great time to get out and take a hike. There is the Capitol Gorge Trail, an easy 1 mile each way hike, or a more strenuous Golden Throne Trail.
The drive back is just as beautiful and I personally find it easier to photograph the waterpocket fold.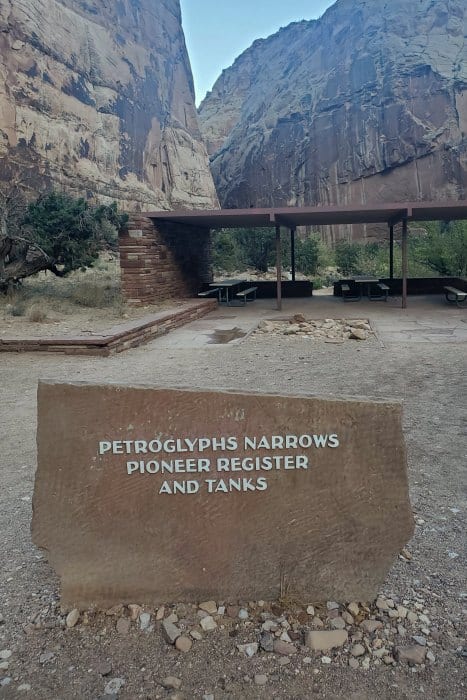 Visitor Safety and Flash Flooding
It is imperative to check with the visitor center or make sure you know the weather in the park and surrounding areas and the risk of flash flooding before heading out. The scenic drive does have multiple washes and areas that flash floods can and have occurred.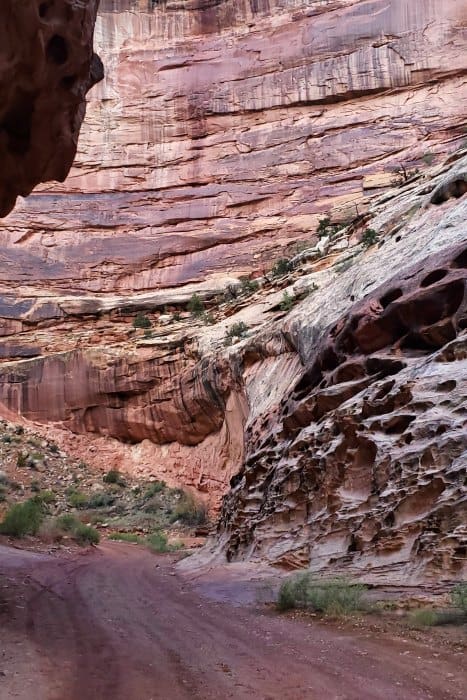 I don't mean to scare you away from taking the epic Capitol Reef Scenic Drive but I wouldn't be a park ranger without warning you of all that could happen.
It is better to be prepared and know what you are going into than have a big surprise.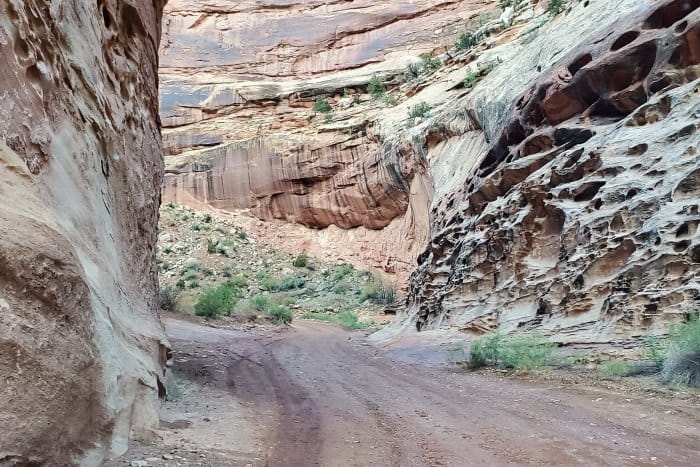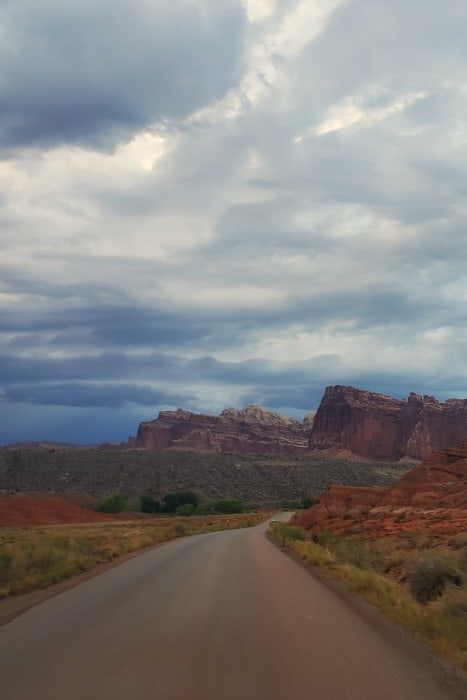 If you have time don't miss the beautiful Cathedral Valley Scenic Drive also in Capitol Reef National Park.
Additional Utah National Park Articles
Epic Things to do in Arches NP
Zion National Park Camping Guide
Check out all of the National Parks in Utah along with neighboring Colorado National Parks, Idaho National Parks, Wyoming National Parks, Nevada National Parks, Arizona National Parks, and New Mexico National Parks.