New Mexico National Parks include National Monuments, Carlsbad Cavern National Park, National Historic Parks and more. The National Parks in New Mexico are some of the coolest to explore with great Pueblo historic sites.
New Mexico, Land of Enchantment, has a lot to offer in the way of National Parks and monuments. Like many of the western states, there are large tracts of land that are dedicated to preserving and celebrating the history and legacy of this country.
Beautiful rocks, mysterious civilizations, and bats escaping out of the most beautiful cave in our country are a few things that come to mind when I think of New Mexico. Soft warm colors fill the lands of the American Southwest. People of this land have long made their mark, and New Mexico houses a few marvelous examples.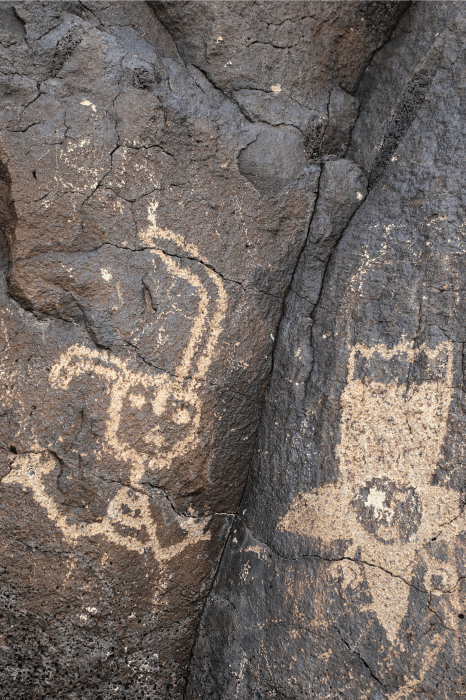 National Parks in New Mexico
Aztec Ruins National Monument
This monument is located just a few miles from Aztec in the northwestern corner of New Mexico. It marks the structures and artifacts of the Ancestral Pueblo people. These ruins represent a time period from the 1100s to the 1200s. This monument was established in 1923 and was designated a World Heritage Site in 1987.
Gila Cliff Dwelling National Monument
This monument is well protected by wilderness and the Gila National Forest. This is a tiny treasure of 553 acres. It has interlinked ruins of five cliff dwellings. These were built by people of the Mogollon culture. Gila Cliff Dwellings National Monument created by people living there between the 12-1300s there's also a visitor center here to bring you back in time.
El Malpais National Monument
This is a celebration of volcanology. The lava was formed from 115,000 to 2,000 years old. Malpais means "the badland" and the area has a variety of wildlife to view.
Bandelier National Monument
This was designated a National Monument in February 1916. It was named after Adolph Bandelier, an anthropologist. It is most famous for its ancestral pueblo homes, rock paintings, kivas, and petroglyphs. Cave dwellings were popular locations throughout the southwest. Bandelier National Monument is striking because the cave is made from porous volcanic materials. The dwellings blends in this landscape with it's holes of entry and windows making it a unique site.
Petroglyph National Monument
What stands out most about this monument truly is the extremely large number of petroglyphs that can be viewed. There are over 24,000 petroglyphs dating back from the Ancestral Pueblo period of 13000 to 16000 AD. The petroglyphs detail everything from hunting, animals, people, masks, and designs and these provides many insights as to what was most important to the people of that time in this region.
Capulin Volcano National Monument
This monument is located in the far northeastern corner of New Mexico. In 1916 this was declared a National Monument to celebrate Capulin Volcano that rises 1000 feet and is one of the best-preserved volcano sites. It is located in an out of the way area and gives one the chance to walk a volcano. Linking peoples to the land was a discovery made in a remote National Monument, Capulin Volcano. Evidence found there proves that people lived here in 10,000 BC. In you are looking for a place to "get away", this could be a good option since most people don't even know about it. El Malpais is another volcanic site which links to land containing lave tubes. It is amazing to enter one of these caves and imagine how much molten earth passed through right where you are standing to create the landscape we see on the surface.
El Morro National Monument
The most famous feature of this area is Inscription Rock. It was first tagged by the Ancestral Puebloans and the tradition continues, like others who found the hidden waterhole at the base of the cliff left their markings as well. It looks like a signing in a book at the oldest hotel in the west.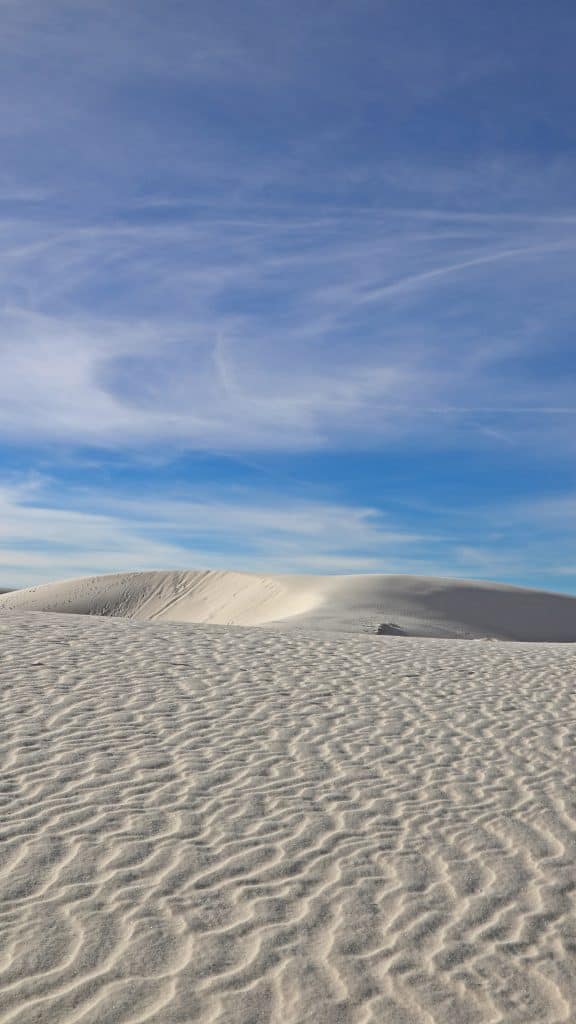 White Sands National Monument
This is a desert area covered with 275 square miles of pristine white gypsum sand. The reflection of the sun is overwhelming. For those who are familiar with snow packed rolling hills, the appearance is similar. It is truly unique. White Sands does not earn its reputation from being a dry flat beach in the desert. It's really bright white gypsum dunes where you will wish you had cramped a sled in the car, and people often do. When you're there also be on the lookout for one of a kind inhabitants that are also white, so it will pay here to check out the visitor center to see what creatures you will find here.
Salinas Pueblo Missions National Monument
This was the home of the Tompiro and Tiwa Native Americans. This is also the site where Spanish missionaries came to introduce Christianity to these people. There are ruins of the villages of the Tiwa and Tompiro people and also the ruins of four mission churches. It is located in central New Mexico.
Fort Union National Monument
This monument was declared in 1956. This was a key stopover location for those traveling the Santa Fe Trail. There were three forts located in the area. Fort Union is a fort that was built more like a frontier village. There were no stockades of any kind. There are many stories that were repeated by those finding rest here along the Sante Fe Trail.
Chaco Canyon National Historic Park
This area has been described as "one of the most significant historical sites in America". This was a major urban area for the Chacoun people. It is one of the best-preserved areas of an infrastructure of an ancient culture. The Chaco Culture National Historic Park was the center of the community for the Anasazi. The Aztec Ruins are an outlying "village" of sorts from the Chaco location offering a small labyrinth if dwellings that spark the curiosity. The doors are small and low make us wonder about what the people looked like while the geometry used in the layouts allow us to marvel at what they may have been thinking.
This is one of the few places "out west" where one can visit a battlefield from the civil war. The park features two Spanish Colonial Missions, the Civil War Battle of Glorieta Pass, the ancient pueblo of Pecos and the Forked Lightning Ranch.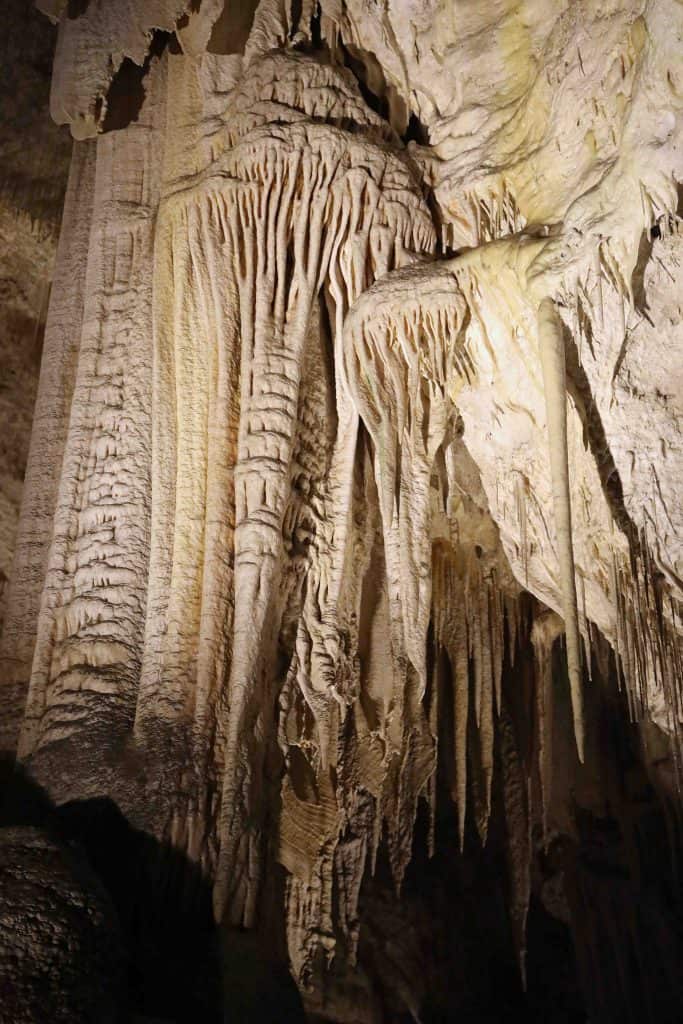 Carlsbad Caverns National Park
These caverns are simply amazing. The "Big Room" is the size of eight football fields. There are formations throughout the caverns and expert spelunkers will enjoy this experience. There are bats that are plentiful and active in the evenings. Check out all of our posts on Carlsbad Caverns National Park! Carlsbad Caverns, which was the setting to the movie "Journey to the Center of the Earth" no doubt because it feels other-worldly. All of the intricate formations were formed by the same process created by combining surface water and limestone. They continue to grow today, one drip at a time. There is more to it than that, but it is something you may have to see to believe yourself. Be sure to bring a jacket when you visit, because no matter what the temperature is on the outside, the cave is always a constant "chilly". if you are visiting at sunset, witnessing the bat flight is quite impressive.
There are many great locations to visit in New Mexico. Don't miss a thing.
National Parks in New Mexico
Aztec Ruins National Monument
Bandelier National Monument
Capulin Volcano National Monument
Carlsbad Caverns National Park
Chaco Culture National Historical Park
El Camino Real de Tierra Adentro National Historic Trail
El Malpais National Monument
El Morro National Monument
Fort Union National Monument
Gila Cliff Dwellings National Monument
Manhattan Project National Historical Park- Los Alamos
Old Spanish National Historic Trail
Pecos National Historical Park
Petroglyph National Monument
Salinas Pueblo Missions National Monument
Sante Fe National Historic Trail
Valles Caldera National Preserve
White Sands National Monument
There are 15 National Parks in New Mexico with over 1.7 million visitors a year. These visitors produce over $108 million in economic benefits through tourism.
New Mexico National Parks include 1 National Heritage Area, 3 National Trails managed by the National Park Service, 1,149 National Register of Historic Place Listings and 46 National Historic Landmarks.
National Parks in New Mexico also includes 12 National Natural Landmarks, 3 UNESCO World Heritage Sites (Check out this list of all the UNESCO World Heritage Sites in the United States), and 327 places recorded by the Heritage Documentation Program.
There are over 7 million objects in the New Mexico National Park museum collections. Along with 8,960 Archeological Sites within the National Parks in New Mexico.
Check out this printable checklist of all 417 National Park sites in the United States to count just how many you have been to.
If you are heading to Arizona check out the Arizona National Parks that are well worth visiting.
Check out the other neighboring states National Parks
Utah National Parks