Bandelier National Monument is located in Northern New Mexico. The park preserves and protects ancient cliff dwellings of the Ancestral Pueblo People.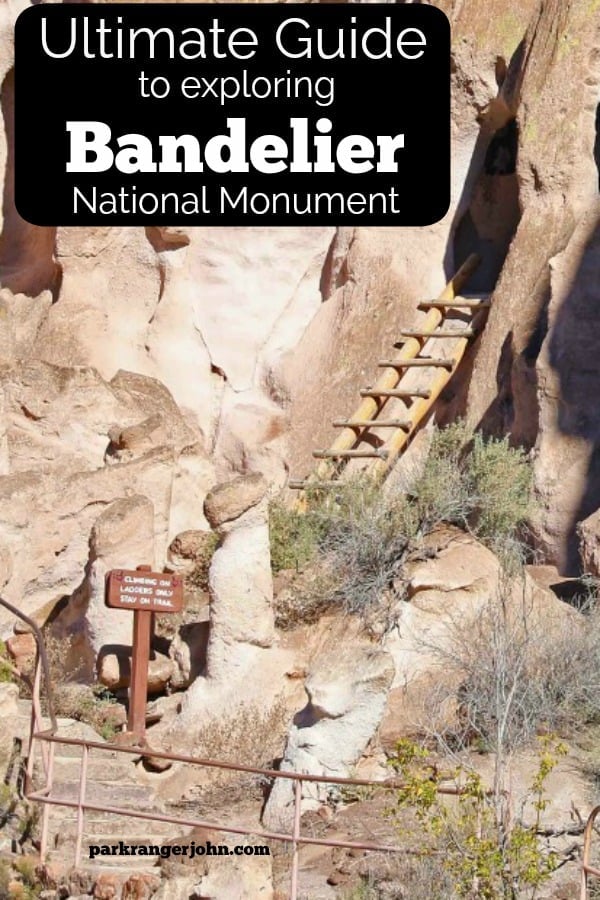 Bandelier National Monument
Bandelier National Monument was founded in 1916. Alfred Bandelier, a self-taught anthropologist, discovered the area in 1880 after being guided by Cochiti Pueblo Native Americans.
Here in this vast wilderness located near Los Alamos, Bandelier first laid eyes on the cliff dwellings located in an area called Frijoles Canyon.
I can only imagine what he was thinking as he starred out among all the archeological sites now managed by the National Park Service!
Since that time, archaeologists and anthropologists have studied the clues found in ancient artifacts such as spearheads and pottery to trace the story of these ancient peoples.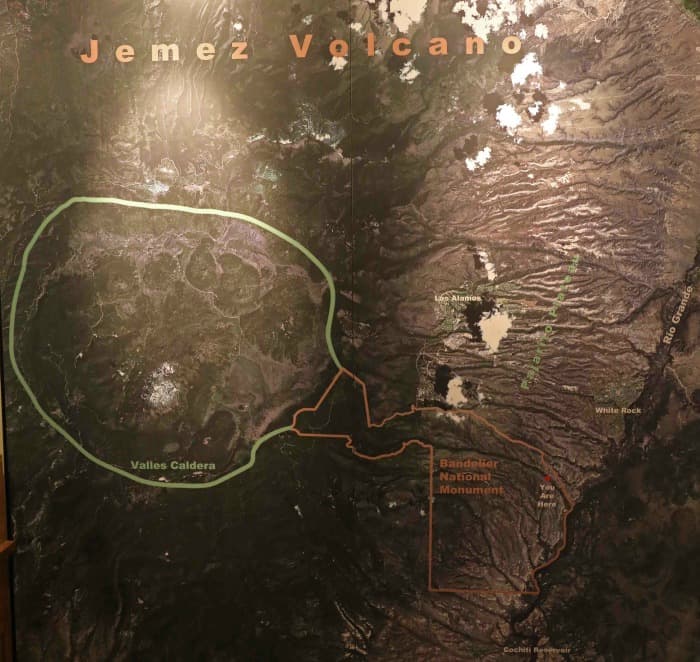 History of Bandelier National Monument
Bandelier National Monument in Northwest New Mexico contains a mystery. It is here that ancient people once lived high upon its cliffs then suddenly they disappeared.
Scientists estimate that by the late 1400s the population peaked at about 500 people. Then more than 450 years ago, they disappeared and by 1550, the Ancestral Pueblo people who had a human presence in this canyon for over 11,000 years had moved to pueblos along the Rio Grande.
Scientists theorize that a nomadic people first wandered along the floor of the Canyon thousands of years ago.
Here they wandered along the Pajarito Plateau, a 400-square mile area, which was formed by the eruptions of the Jemez Volcano located in nearby Valles Caldera National Preserve over a million years ago.
The two eruptions that spewed from this volcano were 600 times more powerful than that of the 1980 Mount St Helen's eruption. When it was all over, the area was covered with a layer of volcanic ash that in places measured more than 1000 feet thick.
The Ancestral Pueblo People as they are now called, first settled in pit houses, which were mainly built underground. At first, they hunted and ate native plants.
Gradually, they transitioned into growing their own crops, and by 1200 A.D., they were growing corn, squash, and beans in small fields and on the surrounding mesas.
The Ancestral Pueblo people climbed the salmon-colored cliffs dotted with gaping holes left by the volcanic ash and peered inside. They found small caves that could be enlarged and made big enough for a dwelling carved out of the soft rock.
They built ladders to climb to their homes. One such community is now called 'Long House.' These multi-storied stone homes stretch over 800 feet high and the cave rooms or cavates as they are often called, climb way up the cliffs.
Additional cliff side dwellings include the Tallus House and the Alcove House, which is perched on a cliff that reaches 140 feet from the Canyon floor. To reach this house, the people had to climb four sets of ladders and clamber over treacherous stones.
This area is a sacred place to the Native American descendants of the early people who lived here. They believe that the spirits of their ancestors still roam the canyon.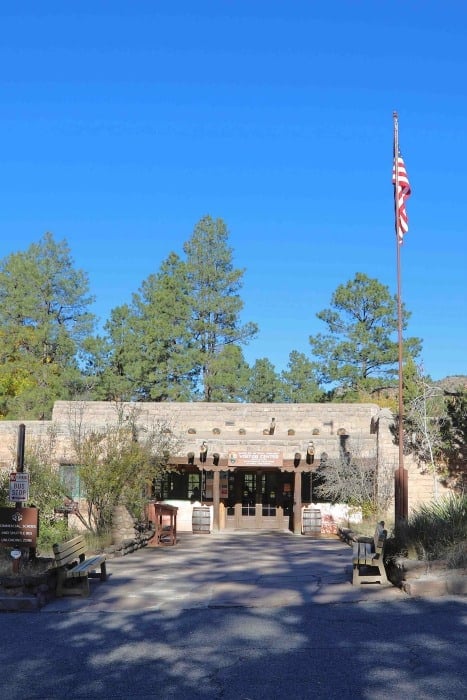 Things to do at Bandelier National Monument
Bandelier National Monument Visitor Center
The visitor center has a small museum and park store. There is also a nice little restaurant just outside the visitor center (closed November-February).
Make sure to take time and watch the park's 14-minute film titled "This Place Knows Us". Stop on your way out at the Ranger's Desk and pick up a junior ranger program, maps, and trail guides and info about the park.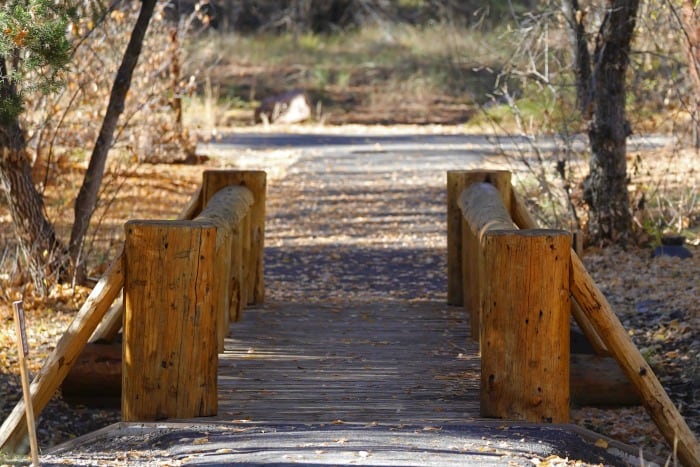 Bandelier National Monument Hiking
Hiking is the best way to get out and explore Bandelier National Monument! There is only 3 miles of road in the park while there are 70 miles of hiking trails available at Bandelier National Monument!
There are at least 10 short hikes and a few long hikes for the adventurous. In reality most park visitors come to hike the Main Loop Trail just behind the parks visitor center.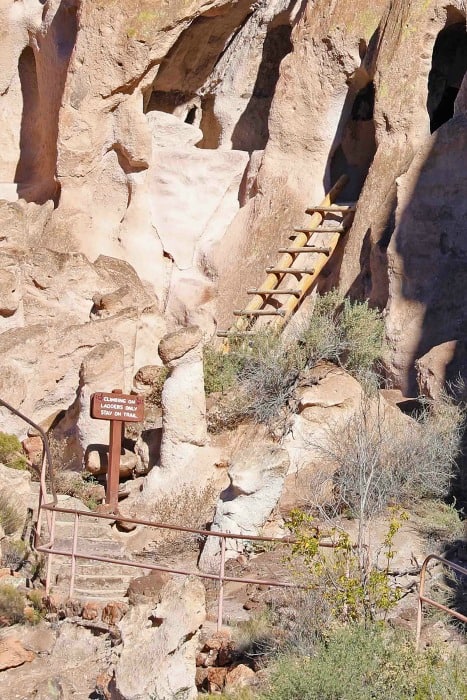 Main Loop Trail
Trail Length: 1.2 Miles
Elevation gain/loss: 220 Feet
Hiking Time: 1 Hour
Trailhead Location: Leaves from behind the visitor center
Caution: High cliffs, use of ladders to reach cave dwellings,
The Main Loop Trail is the star of Bandelier National Monument!
It is also the most heavily hiked and you should expect to see several other park visitors on this trail.
This epic trail leads you through excavated archaeological sites on the floor of Frijoles Canyon through a series of ladders that you are permitted to climb.
These ladders lead to the cave dwellings where you can peer inside. This is the trail that you will tell everyone about and really brings the fun factor when exploring parks!
There is nothing like getting the first-hand experience as to what life was like for those who lived in these canyons.
Make sure to pick up the trail guide at the visitor center (I paid $2 for the guide) as it tells you all about the area you are exploring making it all the more fascinating!
Falls Trail
Trail Length: 3 miles out and back.
Elevation gain/loss: 450 feet
Trailhead Location: The Falls Trail starts at the end of the Backpacker's Parking Lot near the visitor center
Caution: There are steep drop-offs along the trail and plank bridges across the creek
This trail is for the waterfall lovers out there. The best time to see this waterfall is in the spring after the ice has melted from the trail.
Don't be surprised if the falls are not running in the fall but it is still a pleasant hike. The trail is moderately used but there will be much fewer crowds than the Main Loop Trail.
This is also a nice hike to take if you have more than a couple of hours in the park.
Become a Junior Ranger or Deputy Ranger
We love doing the Junior Ranger programs within the parks. Bandelier NM has a few different junior ranger programs available:
PreK to 1st Grade
2nd Grade to 3rd Grade
4th Grade to 6th Grade
Deputy (7th Grade and up)
Take a ranger-led tour
From June through September Ranger-led tours are offered within the park.
Main Loop Tours - Short 1 to 1.5-hour tour starts from the Visitor Center and ends at the Tyuonyi Pueblo or beyond.
Backcountry tours - Backcountry hikes by reservation only. Call the visitor center for an updated list of hike dates and locations. 505-672-3861 ext. 517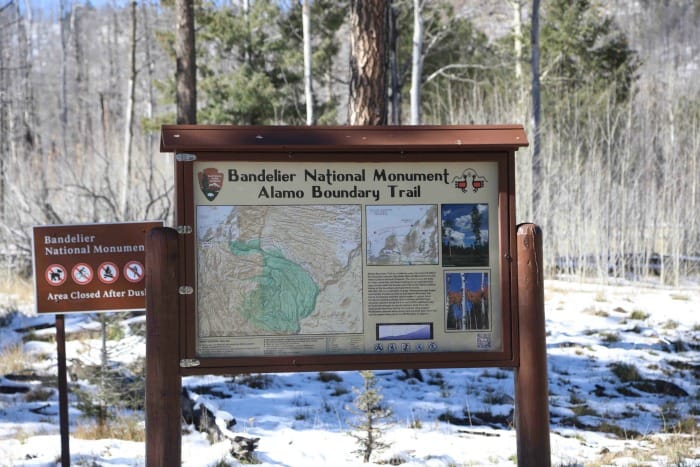 Cross Country Skiing and Snow Shoeing
Let's take a minute and celebrate all the winter recreation parks out there!
There are four trails in the Upper Frijoles Area off of Highway 4.
1) The Cerro Grande Trail
2) The Alamo Boundary Trail
3) two Upper Frijoles loop trail 2.4 miles round-trip and
4) Upper Frijoles Loop Trail that is 5 miles round-trip.
Snow is best between Mid-November to Mid-March.
You can call the park visitor center for snow conditions at (505)672-3861 x517.
Things to know when planning a trip to Bandelier National Monument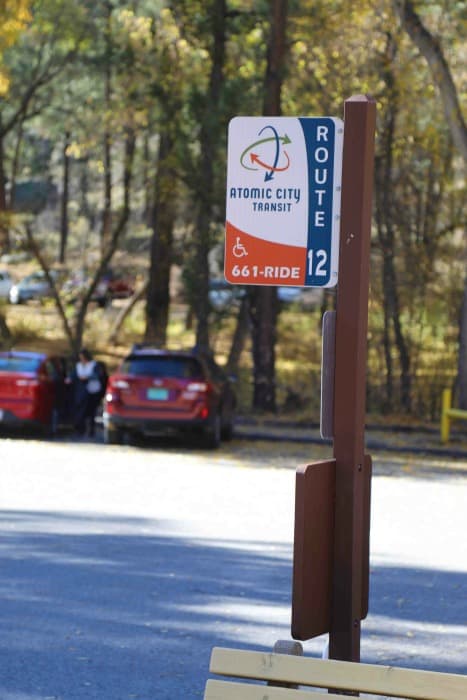 Required Park Shuttle Service
Parking is very limited within Bandelier National Monument. This means that starting approximately May 15 through October 15 of each year, park visitors are required to take a shuttle bus from the White Rock visitor center to access the main visited area of Bandelier National Monument between the hours of 9 AM and 3 PM.
The shuttle service runs every 30 minutes, 20 minutes on the weekends, and takes visitors to the visitor center, Main Loop Trail, and Falls Trail.
Exceptions to the shuttle service include people with a disability tag, a pet, overnight backpackers, access to the Juniper Campground, bicycles, and if you have official park business or unloading a tour group.
White Rock is easy to get to and is located on State Road 4 just off of 502 between Los Alamos and Santa Fe.
White Rock Visitor Center Address
115 State Rd 4, White Rock, NM 87547
Park Address
Bandelier National Monument
15 Entrance RD
Los Alamos, NM 87544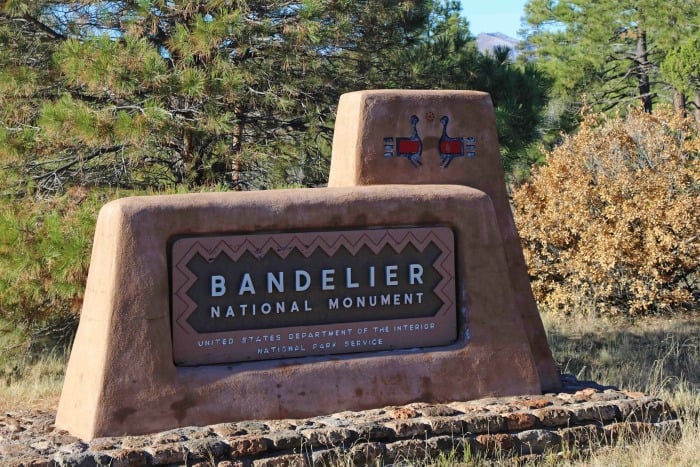 How to get to Bandelier NM
From NM285 US84 in Pojoaque NM. West on NM502, West on NM4 to White rock. Then 12 miles to the monument entrance on the south side of the road.
Park Hours
Open All Year 9 AM - 5 PM
Mid-May to Mid-October the park has longer hours during shuttle season - 9 AM - 6 PM
The park closes at 3 pm on Thanksgiving. The park is closed on Christmas Day and New Years.
If you are visiting in winter and there is a chance of snow call (505)672-3861 X 517 before you leave home to make sure the park is open.
Park Entrance Fee
7-day automobile entry - $25
7-day single entry - $15
7-day motorcycle entry - $20
Bandelier NM Annual Pass - $45
You can also use a current National Park Pass
Pets
Pets are not allowed on any trails in Bandelier NM!
Pets are allowed in Juniper campground, the parking lot in front of the visitor center, and in the Cottonwood Picnic Area across Frijoles Creek between the "No Dogs Permitted Beyond this Point" signs.
Pets must be on a leash at all times. The leash can not be longer than 6 feet long. Pets are not allowed on the shuttle buses.
Service animals are allowed everywhere their owners go!

National Parks near Bandelier National Monument
Valles Caldera National Preserve - 17 miles
Pecos National Historical Park - 72 miles
Fort Union National Monument - 135 miles
Chaco Culture National Historical Park - 136 miles
Petroglyph National Monument - 106 miles
Check out all of the great National Parks in New Mexico and neighboring Arizona National Parks and Texas National Parks