Petroglyph National Monument is located in North-Central New Mexico near Albuquerque. The park is filled with more than 24,000 examples of rock art and petroglyphs.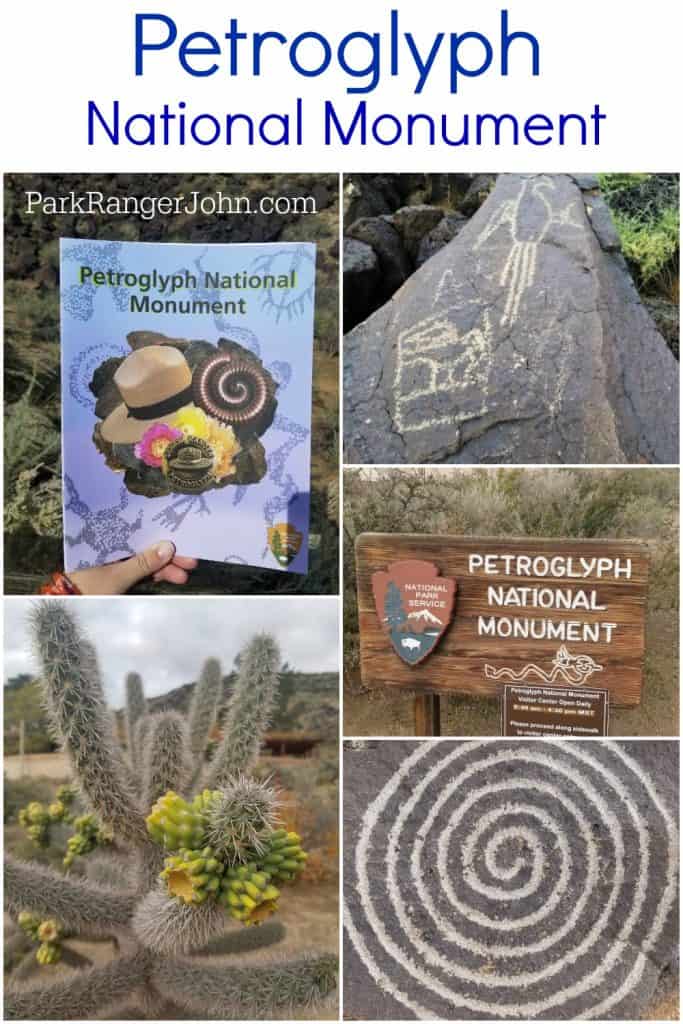 Petroglyph National Monument
One interesting thing to know is that petroglyphs are created by carving or pecking away at the dark patina on boulders or cliff faces to reveal the lighter colored rock underneath.
This is different from pictographs which are created using paint.
Ancestral Puebloan people lived in the Rio Grande Valley beginning before A.D. 500. Most archaeologists believe that the petroglyphs found in the park are from between 1300 and the late 1600s.
The petroglyphs were created by both Indians and Spaniards during the time that Spain occupied the area around 1540.
The best way to enjoy Petroglyph National Monument is to start at the visitor center to get the most up to date information on the park.
Then head over to Boca Negra Canyon to enjoy the short easy paved trails that lead to views of over 200 petroglyphs. The trails are easily accessible and give you the opportunity to see petroglyphs up close and personal.
If you are looking to explore a little deeper into the park you can head out and explore the Rinconada Canyon Trail which is 1.25 miles each way.
This trail passes along an escarpment of basalt that was deposited during volcanic eruptions 200,000 years ago. There are several hundred petroglyphs that can be seen along the trail.

Visit the Visitor Center
The visitor center has a nice size bookstore, a couple of pieces of information but no real museum. The park film does a great job of detailing the history of the park and the importance of the petroglyphs.
There is a small amphitheater outside for ranger programs. There is a small trail next to the visitor center with native plants highlighted.

Become a junior ranger
You can pick up a Ranger Scout, a Junior Ranger, or a Senior Ranger activity book at the visitor center. They checked every answer in our book when we turned it in at the visitor center.
They did a great job of helping with the couple of questions that we had missed.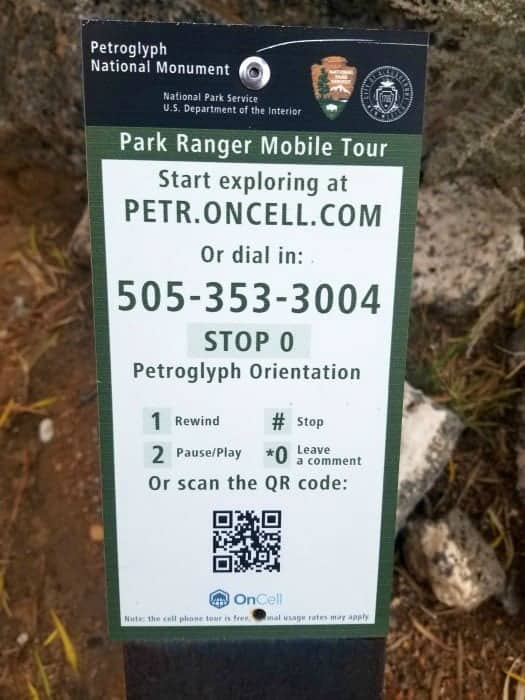 Cell Phone Audio Tours
Look for the "Park Ranger Audio Tour" signs, call 505.353.3004, and enter the stop number. Cell phone service can be spotty in some areas of the park.
You may want to take a picture of the signs if you do not have cell service so you can call in at a later time and hear the information.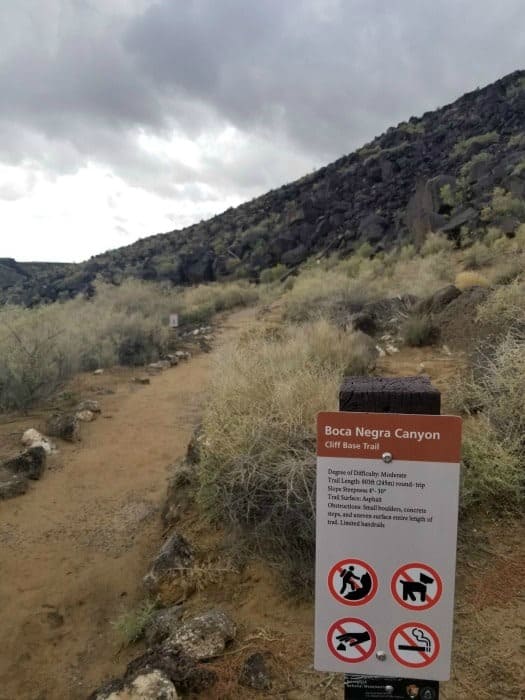 Boca Negra Canyon
Boca Negra Canyon has three short trails that give you the opportunity to see over 100 petroglyphs in a fairly quick time period.
The Macaw Trail at Boca Negra Canyon is super short! Be prepared with sturdy comfortable shoes though since you walking on a dirt and rock path. There are rock steps that are a bit uneven.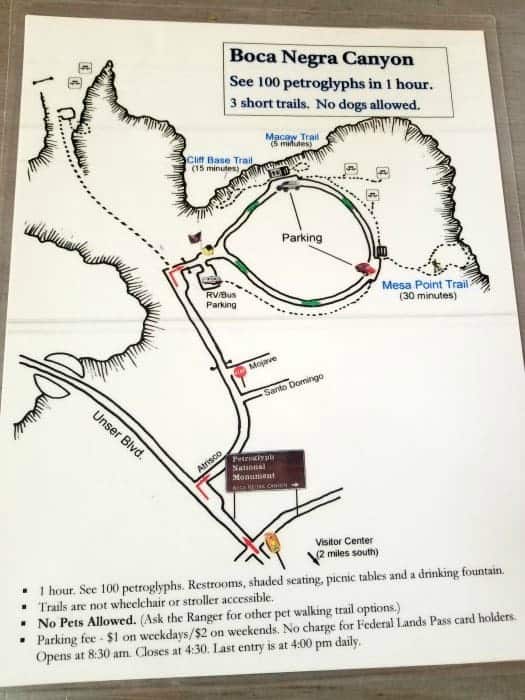 Cliff Base Trail
The cliff base trail is 803 feet round trip. Most of the trail is asphalt but there are some areas of rocks.
If you or someone you are with is not comfortable walking on steps or along the trail many of the petroglyphs can be seen from the road or parking lot.
If you bring a pair of binoculars you can see many of them without walking along the trail. This is a great option for visitors with mobility restrictions.
Mesa Point Trail
The Mesa Point Trail is a series of stairs that lead you to a viewpoint at the top of the hill. The park service suggests 30 minutes minimum for this trail.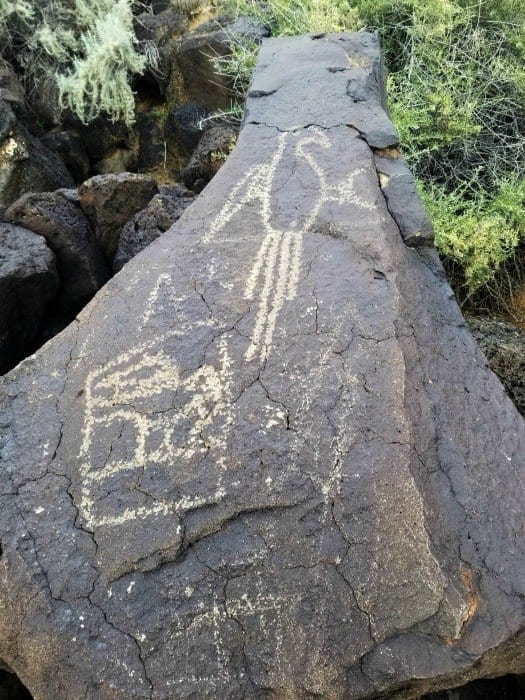 Things to know when planning a visit to Petroglyph National Monument
All petroglyph viewing trails are a 1 to 7-mile driving distance from the visitor center.
The City of Albuquerque does not offer bus transportation to Petroglyph National Monument.
If you are using an uber/car service to reach the park make sure you have them take you to the trail you plan to explore.
There are no trails at the visitor center and you will need to schedule another ride to get to the trailheads.
Also, make sure you have cell phone service to schedule a pick up when you get to the trailheads.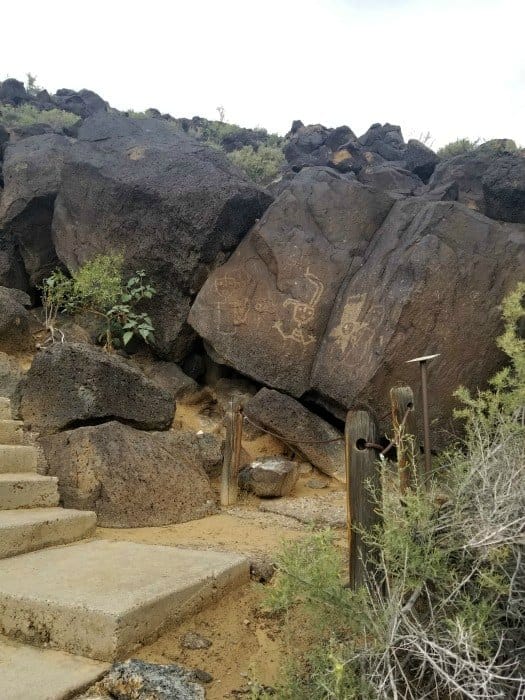 Visitor Center Address
The visitor center is located at the intersection of Unser Blvd. NW at Western Trail.
GPS Lat: 35.139 GPS Long: -106.711
From Interstate 40, take the Unser Blvd. exit (#154) proceed north 3 miles to Western Trail. Turn left or west onto Western Trail and follow the road to the Visitor Center parking lot.
From Interstate 25, take the Paseo del Norte exit (#232) and proceed west to Coors Road exit south (you'll need to be in the center lane to veer left at the Y). Proceed south on Coors Road to Western Trail. Turn right or west onto Western Trail and follow the road to the Visitor Center parking lot.
Visitor Center hours
Open 8:30 am to 4:30 pm
Entrance Fees
Boca Negra Canyon Parking Fees - Automobiles and RVs: $1 weekdays or $2 weekends
There are no other fees charged in the monument.

National Parks near Petroglyph National Monument
Pecos National Historical Park - 85 miles
Bandelier National Monument - 106 miles
Valles Caldera National Preserve - 76.2 miles
Fort Union National Monument - 152 miles
El Malpais National Monument - 102 miles
El Morro National Monument - 149 miles
Check out all of the great National Parks in New Mexico and neighboring Arizona National Parks, National Parks in Texas, Oklahoma National Parks, Colorado National Parks, and National Parks in Utah.