Mesa Verde National Park in southwestern Colorado protects and preserves the cultural heritage of 26 tribes of Ancestral Pueblo people.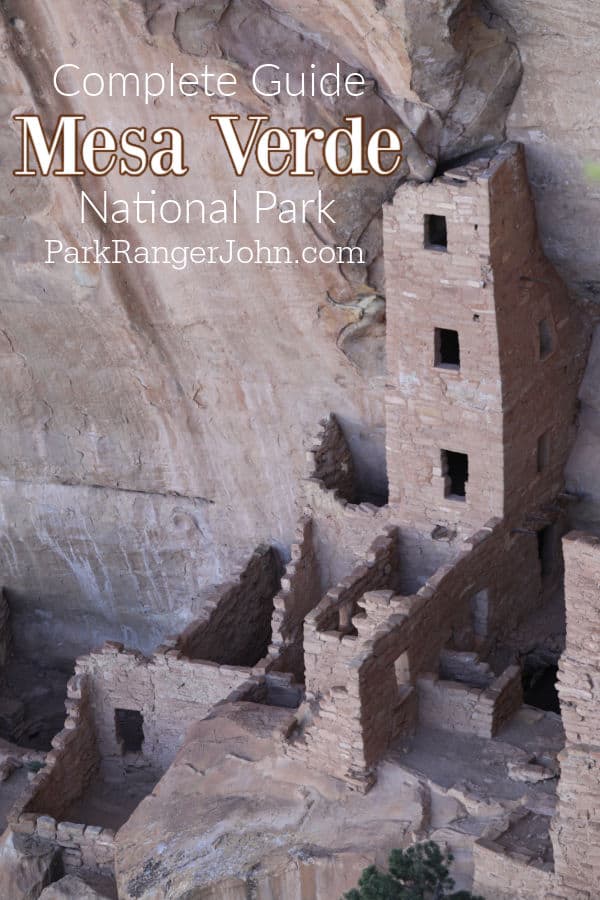 Mesa Verde National Park
Mesa Verde National Park's history begins long before its official creation in 1906, or even the erection of its most famous cliff dwellings.
This national park boasts thousands of years of history that have been well preserved in the region's arid climate.
Guided tours can lead visitors on paths carved by Ancestral Puebloans into immaculately preserved cliff dwellings.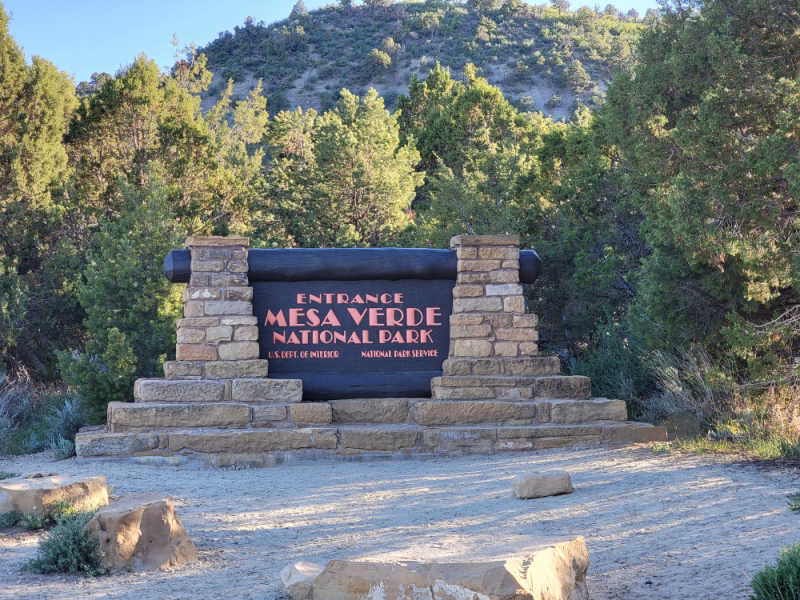 About Mesa Verde National Park
The Mesa Verde cliff dwellings are the largest and most well-preserved cliff dwellings in the world. Visit to catch a glimpse of the life of the Ancestral Pueblo people.
Is Mesa Verde National Park worth visiting?
Yes! Mesa Verde National Park is a bucket list National Park to visit. Standing at an overlook looking down in awe at the cliff dwellings is one of those travel moments you never forget.
History of Mesa Verde National Park
Mesa Verde National Park, located in southwestern Colorado, is home to the largest cliff-dwelling complex in the United States.
Over 600 cliff-side structures fill the park along with 1000s of other archeological sites. Mesa Verde became a national park in 1906 thanks in part to Theodore Roosevelt and is visited by more than a half-million people each year.
Geology of Mesa Verde National Park
The incredible engineering of the Ancestral Puebloans is possible because of the Colorado Plateau's unique geology. Ancient inland seas helped to create layers and layers of sandstone and shale.
The uplift caused by the formation of the San Juan and Rocky Mountains exposed these layers to the elements.
Water, wind, and rain eroded the softer shale leaving behind mesas with thousands of sandstone alcoves. A few of these formations would be large enough to shelter entire villages. The sandstone deposits were also the primary building material of the Ancestral Puebloan engineers.
The mesas were topped with a thin layer of soil that supported animal life, a smattering of trees, and later small-scale farming. Among the mesa tops and alcoves, there are small springs and seeps. The park's eastern border is the Mancos River, the only river in the area.
Native American Development of Mesa Verde National Park
Ancestral Puebloan groups migrated to the area as early as 1500 BCE. These early inhabitants are famous for their basket-weaving skills.
Many colorful, intricately woven baskets attributed to the Ancestral Puebloans have been discovered across the southwest United States. The basketry became more sophisticated over time until eventually gave way to fired pottery.
With the adoption of pottery and new hunting technology, the bow, and arrow, Ancestral Puebloans were able to store food and hunt more efficiently.
Food security promoted population growth and specialization in architecture. This advancement in engineering led to the sandstone cliff-side dwellings which dot Mesa Verde National Park.
These dwellings were constructed from 1100 CE-1300 CE. By 1300 CE most Ancestral Puebloans had left Mesa Verde. Through the study of tree rings, scientists theorize that the depopulation of the park was the result of an extended drought during the late 1200s.
Americans Encounter Mesa Verde National Park
The first reliable sighting of Mesa Verde by non-indigenous people was not until the mid-19th century. After the conclusion of the Mexican American War (1846-1848), the United States gained control of vast new territories across the southwest. Geological survey teams were quickly dispatched to explore and map these newly acquired areas.
The name "Mesa Verde" was first mentioned in government reports by J.S. Newbery in 1859. Newberry remarked on the beauty of the geologic formations but made no mention of the famous cliff dwellings.
Following the Civil War, more thorough surveys of Mesa Verde were carried out. Famous photographs by W. H. Jackson revealed to the U.S. public for the first time the incredible architecture tucked away in the alcoves of the arid San Juan Mountains.
Mesa Verde Becomes a National Park
H. Jackson was directed to the cliff dwellings by miners already working along the Mancos River. Over the course of the late 1800s, more miners and ranchers arrived in southwestern Colorado. Chasing cattle and gold seams, these new arrivals stumbled upon hundreds of cliff dwellings.
Fueled by photographs and discoveries of jaw-dropping sites such as Cliff Palace, Balcony House, and Long House, Coloradans pushed for national park recognition similar to Yellowstone and Yosemite.
Early attempts to create the park stalled in Congress in 1901 and 1902. Complicating the issue of creating the park, much of the area that today comprises Mesa Verde National Park was part of Ute Mountain Reservation.
In 1906 the United States Congress approved the creation of Mesa Verde National Park while also reaching an agreement to acquire land from the Ute Tribe.
Since becoming a national park, numerous archeological digs have taken place revealing the long history of Ancestral Puebloans in the region. Prior to the construction of the cliff dwellings in the 12th and 13th centuries, pit houses and kivas were created on top of the mesa.
When visiting the park today, the Mesa Top Loop Road takes visitors near these ancient sites and provides scenic viewing areas for the spectacular cliff dwellings.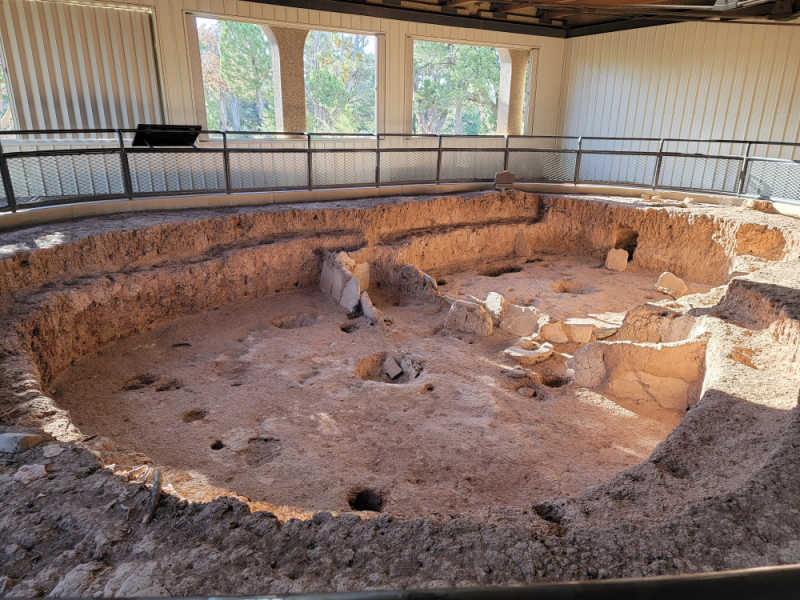 Things to know before your visit to Mesa Verde National Park
Entrance fee
A 7-day single-vehicle park pass
January 2 - April 30 - $20
May 1 - October 31 - $30
November 1 - December 31 - $20
A 7-day individual park pass
January 2 - April 30 - $10
May 1 - October 31 - $15
November 1 - December 31 - $10
A 7-day motorcycle park pass
January 2 - April 30 - $15
May 1 - October 31 - $25
November 1 - December 31 - $15
Annual Park Pass - $55
Valid for one year through the month of purchase. Admits one private, non-commercial vehicle or its pass holder.
Learn more about National Park Passes for parks that have an entrance fee.
Free Entrance Days -Find the five free entrance days the National Park Service offers annually.
Time Zone
MST - Mountain Standard Time
Pets
Pets are not allowed on trails, in archeological sites, or in buildings (service animals, excepted).
Pets may be walked along paved roads, in parking lots, and at the campground.
Pets must be leashed at all times when outside a vehicle.
Cell Service
Cell phone coverage is limited within the park. We had coverage at the top of the mountain area but not very many other places within the park.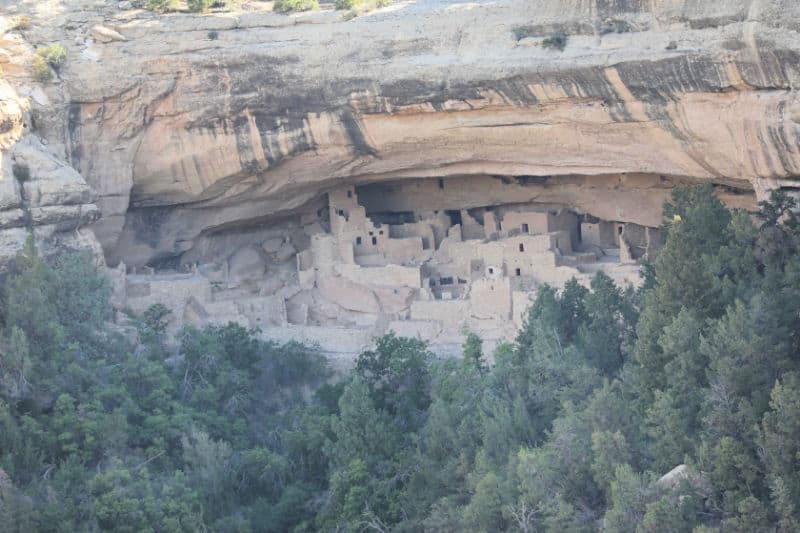 Park Hours
The park entrance and main road are open 24 hours.
Visitor Services hours depend on the time of year.
Wi-Fi
There is free Wi-Fi at the visitor center.
Insect Repellent
Insect repellent is always a great idea when outdoors, especially if you are around any body of water.
We use Permethrin Spray on our clothes before our park trips.
Water Bottle
Make sure to bring your own water bottle and plenty of water with you. Plastic water bottles are not sold in the park.
Large Vehicles/Towed Vehicles
Trailers and towed vehicles are not permitted beyond Morefield Campground. If not camping, you may park these vehicles in the large parking lot located near the entrance station.
Tunnel (between mileposts 4 and 5) - The tunnel has a height restriction of 20.5 feet (6.25 m).
The Wetherill Mesa Road has sharp curves and steep grades on the twelve-mile stretch from the Far View area to Wetherill Mesa. Vehicles on this road are restricted to less than 8,000 pounds and 25-feet in length.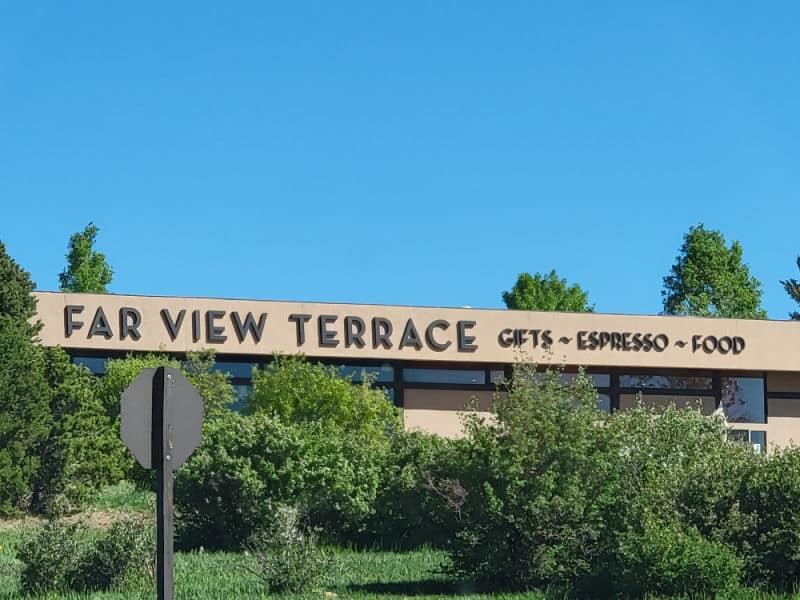 Food/Restaurants
If you don't plan on visiting the park's restaurants and store we highly suggest picking up snacks and food before heading to the park.
It is a long drive back to a grocery store once you are in the park.
Spruce Tree Terrace Café
This restaurant is located near the park headquarters and Chapin Mesa Museum They offer indoor and patio seating.
Far View Terrace Café
This restaurant features a food-court setting with a casual environment.
They offer a breakfast buffet and standard breakfast, lunch specials, an espresso bar, and grab & go options.
Metate Room
Located in the Far View Lodge this restaurant offers a fine dining experience.
They focus on wild game, fresh fish, and fresh local organic produce.
Far View Lounge
The Far View Lounge offers pub fare, appetizers, and snacks along with a variety of cocktails, beer, and wine.
Knife Edge Café
Located in the Morefield Campground the café offers outdoor patio seating. They serve breakfast foods and pancakes.
Morefield Campground Store
The Morefield Campground Store offers snacks, food, and beverages
Gas
Gas is available at Morefield Campground village.
Drones
Drones are not allowed to be flown within the National Park site.
Mesa Verde National Park Passport Stamps
National Park Passport stamps can be found in the visitor center.
Make sure to bring your National Park Passport Book with you.
Mesa Verde NP is part of the 1996 Passport Stamp Set.
We like to bring these 1.5-inch circle stickers with us to the park so we don't have to carry our entire Passport Book with us.
Electric Vehicle Charging
There is an EV Charging station located in the Morefield Campground.
Farview Lodge also has a Tesla Connector.
The nearby city of Cortez, Colorado also has EV charging stations.
Details about Mesa Verde National Park
Size - 52,485 acre
Mesa Verde NP is currently ranked at 49 out of 63 National Parks by Size.
Date Established
On June 29, 1906, President Theodore Roosevelt established Mesa Verde National Park to "preserve the works of man".
This was the first National Park of its kind.
Visitation
In 2021, Mesa Verde NP had 548,477 visitors
In 2020, Mesa Verde NP had 287,477 park visitors.
In 2019, Mesa Verde NP had 556,203 park visitors.
Learn more about the most visited and least visited National Parks in the US
Mesa Verde National Park Address
Mile .7 Headquarters Loop Road
Mesa Verde National Park, CO 81330
Mesa Verde National Park Map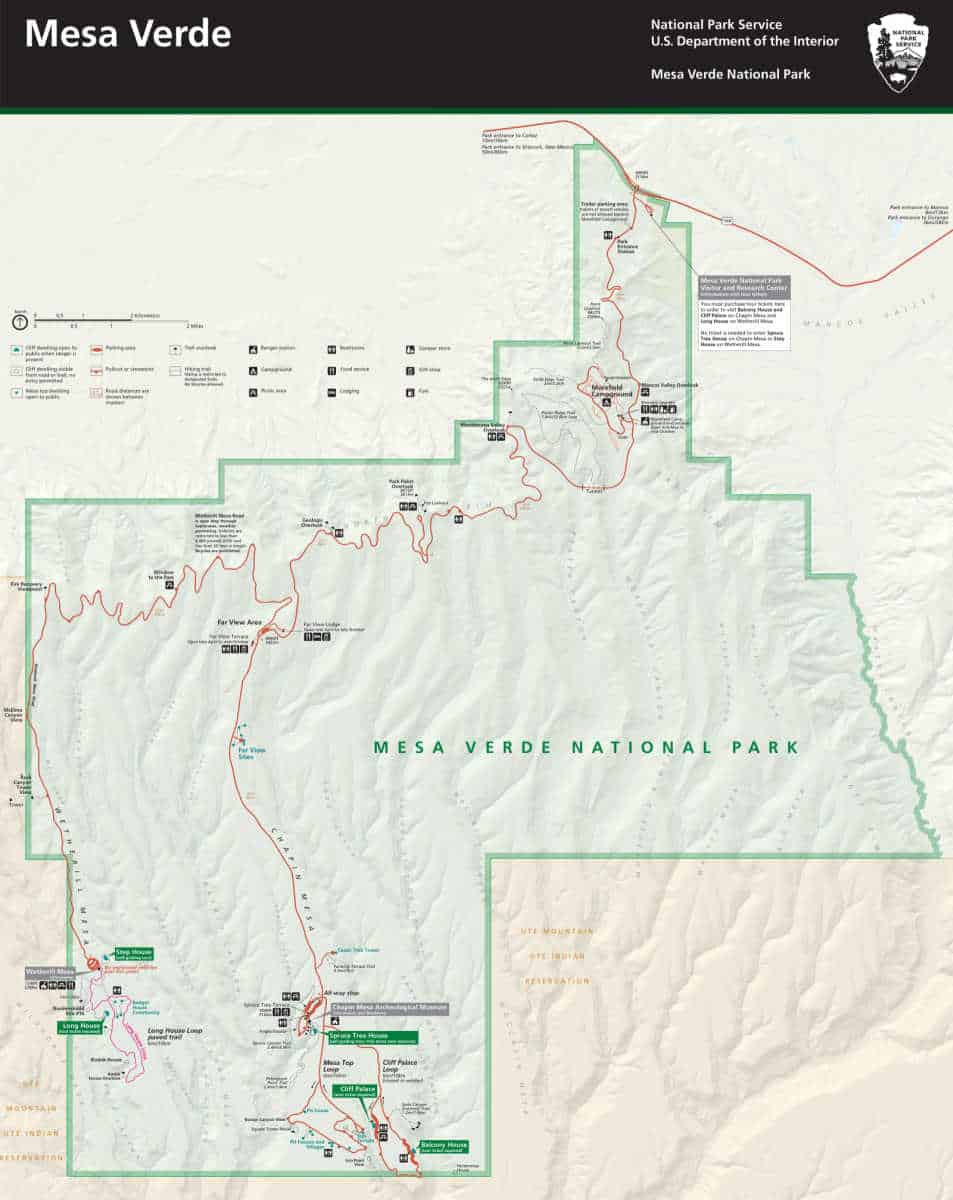 Where is Mesa Verde National Park?
Mesa Verde National Park is located in Southwestern Colorado about 200 miles southwest of Denver and approximately 250 miles northwest of Albuquerque.
The Park entrance is along Highway 160 between the towns of Mancos and Cortez, Colorado, and about 35 miles west of Durango, Colorado.
In order to reach the first cliff dwellings, you must drive 21 miles up a windy mountain road. This takes approximately 45 minutes on a good day. If you get car sick plan on stopping a few times along the way.
Estimated distance from major cities nearby
Durango, CO - 35 miles
Albuquerque, NM - 246 miles
Colorado Springs, CO - 341 miles
Denver, CO - 371 miles
Phoenix, AZ - 419 miles
Estimated Distance from nearby National Park
Arches National Park - 130 miles
Canyonlands National Park-Needles District - 100 miles
Canyonlands National Park - Island in the Sky District - 157 miles
Great Sand Dunes National Park - 220 miles
Grand Canyon National Park - 255 miles
Black Canyon of the Gunnison National Park - 175 miles
Petrified Forest National Park - 214 miles
White Sands National Park - 468 miles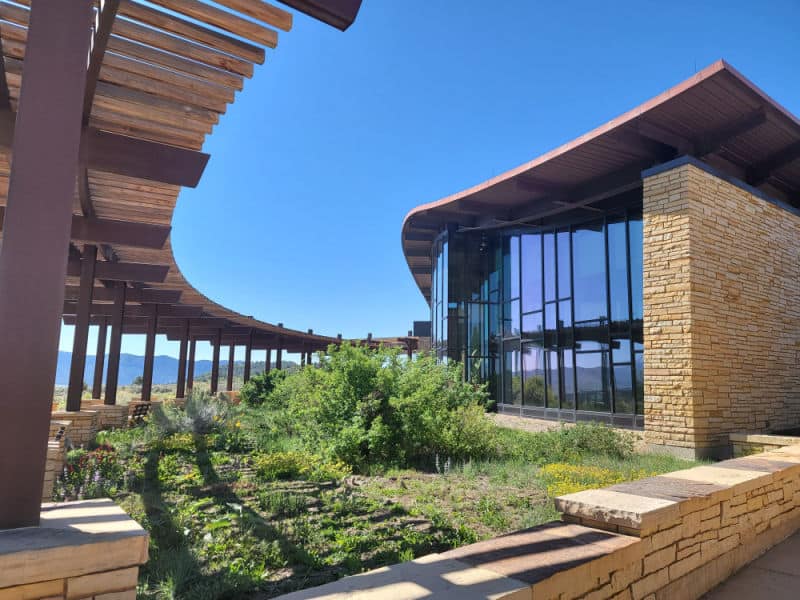 Where is the National Park Visitor Center?
The Mesa Verde National Park visitor center is the first thing you come to when heading into the park.
The visitor center has a gift store, bathrooms, interpretive exhibits, and free Wi-Fi! This is a great place to start your visit to Mesa Verde.
We found the staff to be extremely helpful! They helped us map out our time in the park and maximize what we were able to see while there.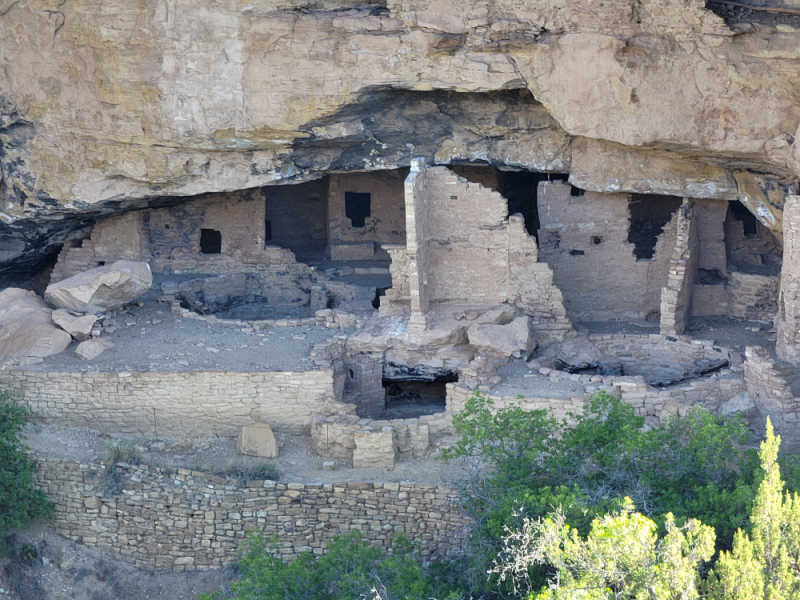 Getting to Mesa Verde National Park
Closest Airports
Cortez Municipal Airport (CEZ) - 28 miles
Durango La Plata County Airport (DRO) - 62 miles
Four Corners Regional Airport (FMN) - 93 miles
Gunnison-Crested Butte Regional Airport (GUC) - 123 miles
International Airports
Albuquerque International Sunport (ABQ) - 262 miles
Salt Lake City International Airport (SLC) - 376 miles
Las Vegas McCarren International Airport (LAS) - 377 miles
Denver International Airport (DEN) - 407 miles
Phoenix Sky Harbor International Airport (PHX) - 437 miles
El Paso International Airport (ELP) - 534 miles
Driving Directions
The park entrance is along Highway 160, between the towns of Cortez and Mancos, Colorado.
Once you enter the park, the first view of a cliff dwelling is 21 miles (approximately 45 minutes) along with a steep, narrow, and winding road.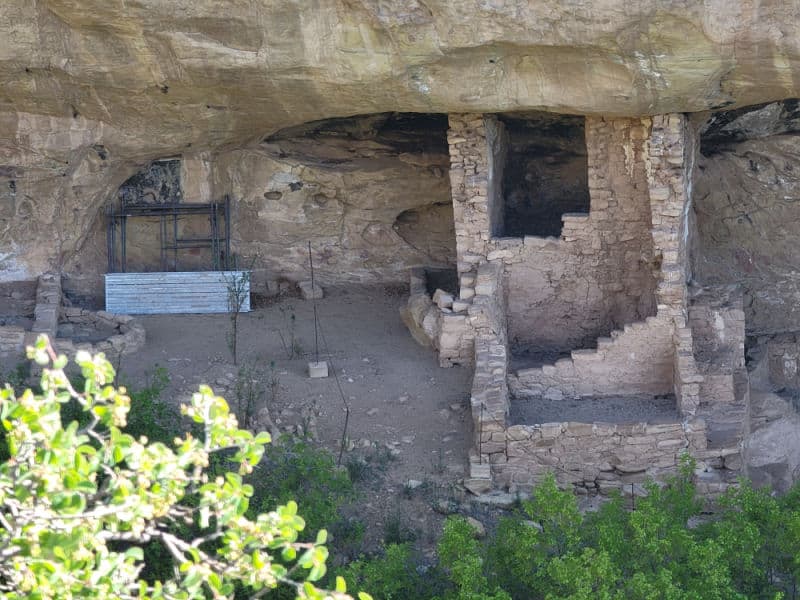 Best time to visit Mesa Verde National Park
Late Spring and early fall is the perfect time to visit Mesa Verde National Park. You want to arrive after the snow is gone yet before the temperatures soar well into the 90's.
You will want to get out and explore as the cliff dwellings are incredible! This will also afford you the opportunity to take a cliff-dwelling tour.
Mesa Verde National Park Weather and Seasons
Spring
Snowstorms can occur as late as May. The average spring temperature range is 40 degrees to 70 degrees F.
Summer
During the summer temperatures can reach well into the 90s.
Thunderstorms are common during July and August.
Autumn/Fall
During the Fall temperatures drop down to 50 to 75 degrees F.
Snowstorms start in October.
Winter
Winter temps drop into the teens to low 30s. The roads can be icy.
Visitors will want to be prepared with snow tires, all-wheel drive, or chains.
Best Things to do in Mesa Verde National Park
There are a ton of things to do in Mesa Verde NP. Everything from cliff dwelling tours to auto touring.
The nice thing about Mesa Verde is you can truly decide what kind of adventure you want to have.
Cliff Dwelling Tours
Tours are offered from May through October. Tickets are required and available 14 days ahead of time.
Most cliff dwellings can only be entered when on a ranger-guided tour. The only cliff dwelling that can be visited without a tour is Step House located on Wetherill Mesa.
Tour tickets can be purchased only on recreation.gov or by calling 877-444-6777.
Ranger-guided tours are offered to Long House and Cliff Palace.
Backcountry tours are offered to Balcony House, Mug House, Square Tower House, and Spring House.
If you plan on taking a backcountry tour make sure to read the description of what the tour includes!
Cliff Palace Loop Road
Cliff Palace Loop Road is a must-visit! The 6-mile drive guides you past amazing cliff dwellings.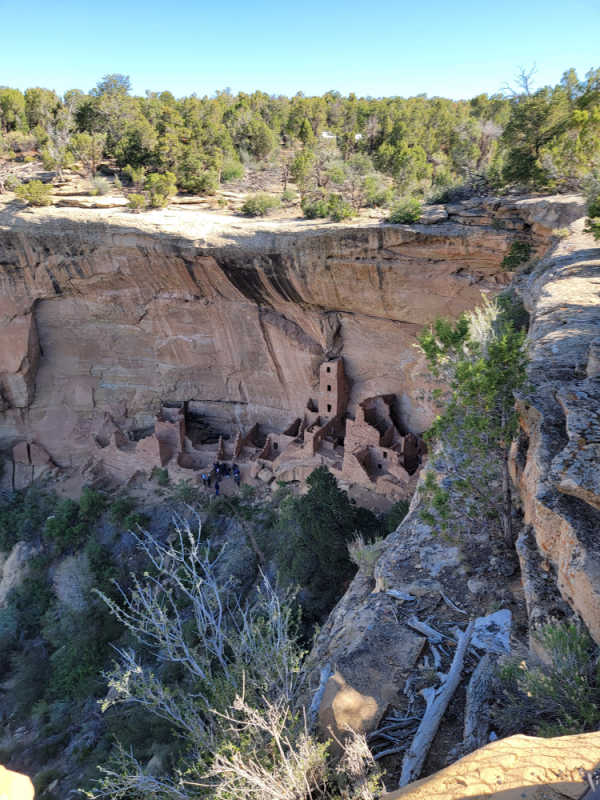 Mesa Top Loop Road
Mesa Top Loop Road is a 6-mile self-driving auto tour through 700 years of Ancestral Pueblo history.
Make sure to pick up the park brochure at the beginning of the road that explains each stop along the road.
Cliff Palace
Cliff Palace is the largest cliff dwelling in North America. Visitors can view the dwelling from the Cliff Palace Overlook on the Cliff Palace Loop also from the Sun Temple on the Mesa Top Loop.
Wetherill Mesa
Wetherill Mesa is open from May to October depending on the weather.
In this part of the park, you can check out Step House, Long House Loop, Badger House Community, and Nordenskiöld Site #16 Trail.
Wildlife viewing
You are almost guaranteed to see at least one mule deer during your visit to the park.
You may also see turkeys along the side of the road.
Black bears are occasionally seen within the park. Other wildlife includes coyote, gray fox, mountain lion, elk, marmot, and porcupines.
If you see horses they have crossed the boundary from the Ute Mountain Ute Indian Reservation and are enjoying a free meal in the park.
The Junior Ranger program is a great way for visitors of all ages to learn more about the park.
Junior Ranger programs can be picked up at the visitor center.
International Dark Sky Park
Mesa Verde was certified as the 100th International Dark Sky Park in 2021.
The archeological sites, trails, and backcountry are closed at night to protect resources.
There are multiple overlooks along the park road including Geologic Overlook, Mancos Overlook, and Montezuma Valley Overlook open with space to park and view the night sky.
Bird Watching
There are multiple distinct bird habitats within the park.
Birds species include Turkey vultures, towhees, grouse, hawks, Great Blue Heron, Western and Mountain Bluebirds, red-winged and Brewer's Blackbirds, Bald and Golden Eagles, and more.
Seasonally you may see migrating birds including waxwings, evening grosbeaks, flycatchers, goldfinches, ruby and golden-crowned kinglet, and swallows.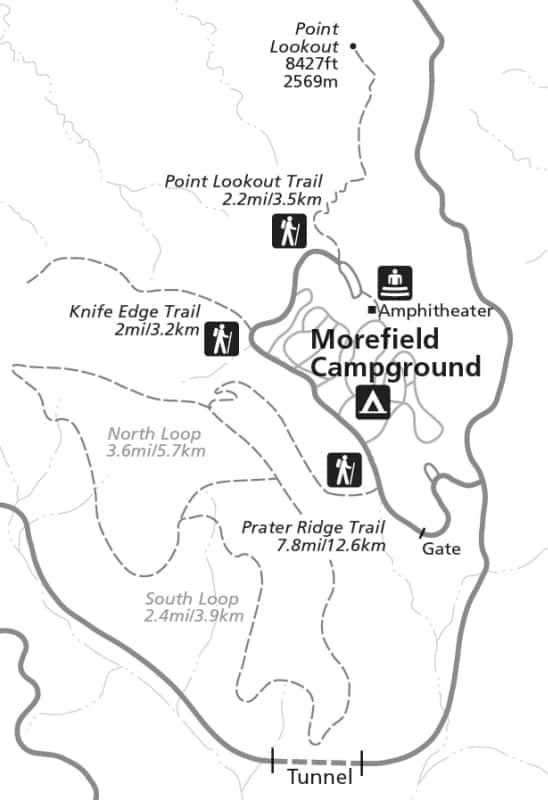 Hiking in Mesa Verde National Park
Always carry the 10 essentials for outdoor survival when exploring.
There are 30 miles of hiking trails within the park.
Morefield Canyon Trails
Knife Edge Trail
Distance - 2 miles roundtrip
Difficulty - Easy
Trailhead - Morefield Campground
The Knife Edge trail departs from the campground on a level trail. The trail goes through a section of the historic park road that was built in 1914.
Point Lookout Trail
Distance - 2.2 miles roundtrip
Difficulty - Moderate
Trailhead - Morefield Campground
The Point Lookout Trail departs from the campground and heads up steep switchbacks to the top of Point Lookout.
Prater Ridge Trail
Distance - 7.8 miles roundtrip
Difficulty - Strenuous
Trailhead - Morefield Campground
The Prater Ridge Trail leaves from the campground and climbs 1.1 miles to the top of Prater Ridge.
Chapin Mesa
Farming Terrace trail
Distance -.5 miles roundtrip
Difficulty - Easy
Trailhead - Cedar Tree Tower Road
This easy trail drops into Soda Canyon and passes a series of dams built by Ancestral Pueblo Farmers.
Petroglyph Point Trail
Distance - 2.4 miles roundtrip
Difficulty - Strenuous
Trailhead - Spruce Tree House Overlook near the Chapin Mesa Museum.
The Petroglyph Point Trail is an adventurous trail with steep drop-offs. The trail traverses the side of Spruce Canyon and descends narrow rock staircases to reach a large petroglyph panel.
There is a 100-foot cliff that hikers must scramble up to the mesa top.
Spruce Canyon Trail
Distance - 2.4 miles roundtrip
Difficulty - Strenuous
Trailhead - Spruce Tree House Overlook near Chapin Mesa Museum
The Spruce Canyon Trail starts down switchbacks and through Spruce Canyon. The hike has a steep climb out of the canyon.
Wetherill Mesa
Step House
Distance - 1-mile roundtrip
Difficulty - Moderate
Trailhead - Wetherill Mesa Kiosk
The Step House trail is only open when a ranger is there. The trail loops into Long Canyon and through the Step House.
Nordenskiold Site No. 16 Trail
Distance - 2 miles roundtrip
Difficulty - Moderate
Trailhead - Wetherill Mesa Kiosk
Nordenskiold Site No. 16 Trail leads to an overlook of a cliff dwelling in Rock Canyon.
Long House Loop Trail
Distance - 5 miles roundtrip
Difficulty - Moderate
Trailhead - Wetherill Mesa Kiosk
The Long House Loop trail is paved and follows along the top of Wetherill Mesa to the Badger House Community, Long House Overlook, and Kodak House Overlook.
How to beat the crowds in Mesa Verde National Park?
We suggest heading into the park early in the morning. We left the lodge really early in the morning and saw only a couple of other cars while we explored the overlooks and viewpoints.
Where to stay when visiting Mesa Verde National Park
The Fair View Lodge is located within Mesa Verde NP.
The lodge is located 15 miles from the park entrance and provides an amazing opportunity to wake up in the park.
Click on the map below for current rates for hotels and vacation rentals near Mesa Verde NP including the Far View Lodge!


Mesa Verde National Park Camping
Morefield Campground in Mesa Verde National Park in Colorado offers the opportunity to camp within the park and be close to the main park road to the ruins.
This front country campground has a great RV loop with full hookups.
Located 4 miles inside the park the campground offers 267 sites including 15 full hookup RV sites (these require reservations).
There is a full-service village at the campground that offers a gas station, RV dump station, coin-operated laundry, a gift shop, grocery store, and best of all...Complimentary Showers!!!!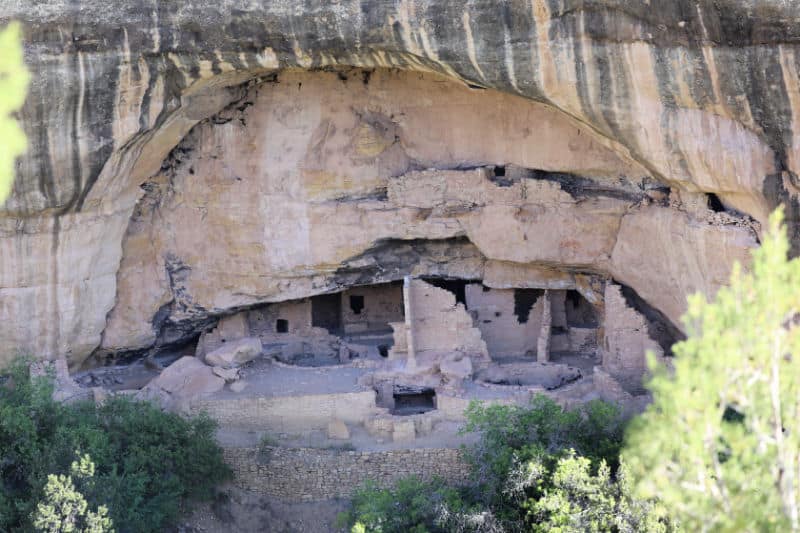 Travel Tips
I say this every time we talk about National Park Travel Tips so this is probably not a surprise but...when you see a bathroom use it. Bathrooms can be spread out in the park so if there is a chance you will need one make sure and stop.
Side roads and overlooks in the park close at sunset. Give yourself enough time to drive the 21 miles back out of the park.
The visitor center is fantastic! They have individual brochures on different cliff dwellings and things to see within the park. Well worth making time for a visit.
If you plan on taking a cliff-dwelling tour make sure you have on sturdy shoes and are prepared to climb ladders depending on the tour you are on.
Bring snacks and water with you!
Layers are your friend! It can get windy on the top looking over at the cliff dwellings.
Parks near National Park
Yucca House National Monument - 22 miles
Hovenweep National Monument - 46 miles
Monument Valley Tribal Park - 153 miles
Aztec Ruins National Monument- 75 miles
Canyon de Chelly National Monument - 152 miles
Chaco Culture National Historical Park - 141 miles
Pueblo-related Destinations
Anasazi Heritage Center/Canyons of the Ancients National Monument - 20 miles
Chimney Rock National Monument - 81 miles
Check out all of the National Parks in Colorado along with neighboring National Parks in Arizona, National Parks in Kansas, Nebraska National Parks, New Mexico National Park, National Parks in Oklahoma, National Parks in Utah, and Wyoming National Parks.
National Park Service Website