During the 19th-century tens of thousands of pioneers passed through Nebraska on their way West. Many of the National Parks in Nebraska interpret this time in North America. The Oregon Trail, Mormon Trails, and the Lewis and Clark expedition all traveled through Nebraska at one time.
The National Park Service includes five Nebraska National Parks and five affiliated sites.

National Parks in Nebraska
Agate Fossil Beds NM is located in northwestern Nebraska approximately 47 miles north of Scottsbluff. The park offers the opportunity to view fossils of ancient mammals and American Indian artifacts.
This national monument was established to protect the deposit of fossils here in the mostly undeveloped Niobrara River Valley. It is hard to imagine that twenty million years ago this part of Nebraska was savanna grassland. The grasslands were home to a predatory bear-dog, small rhinoceros, small camel-like animals, and land-dwelling beavers.
Visitors can check out the National Park Service visitor center with life-sized model skeletons of many of the mammals whose fossils have been located here. Visitors can also check out a collection of Native American artifacts. There is a 2.7-mile interpretive Fossil Hills Trail that crosses the Niobrara River and University and Carnegie Hills.
On January 13, 2021 Homestead National Monument of America was redesignated as Homestead National Historical Park.
Homestead National Monument of America is located in southeastern Nebraska approximately 40 miles south of Lincoln. The park is open year-round and offers the opportunity to learn more about pioneer life.
The Homestead Act of 1862 was signed into law by President Abraham Lincoln. This act transferred vast areas of land from the public domain to private ownership. To claim land settlers had to choose a 16-acre plot of land, apply for and pay a fee to the land office and then build a house and begin farming on 10-acres of land.
Homestead National Monument of America was established in 1936 on land once claimed by Daniel Freeman on January 1, 1863. His descendants sold the land to the Department of Interior for the purpose of creating the national monument.
Visitors can explore the Homestead Heritage Center which is filled with interpretive programs and exhibits. The park also includes a 100-acre tract of restored tallgrass prairie and 40-acres of a mesic bur-oak forest.
Lewis and Clark NHT is approximately 4,900 miles long crosses sixteen states following the Lewis and Clark Expedition. The Lewis and Clark expedition led by Meriwether Lewis and William Clark officially started in May 1804 and ended in September 1806.
President Thomas Jefferson was determined to send an expedition to explore western North America and find a feasible water route to the Pacific Ocean.
The Lewis & Clark National Historic Trail in Nebraska includes:
Indian Cave State Park
Brownville Riverside Park
Missouri River Basin Lewis & Clark Interpretative Trail and Visitor Center
Eugene T. Mahoney State Park
Lewis & Clark National Historic Trail Headquarters and Visitor Center - Omaha, Nebraska
Missouri National Recreational River
The Missouri National Recreational River runs from northeastern Nebraska to southeastern South Dakota. The park includes 98 miles of the Missouri River along with 20 miles of the lower Niobrara River and 8 miles of Verdigre Creek. The park offers boating, fishing and bird watching.
The Corp of Discovery led by Lewis and Clark followed the Missouri River for its entire length.
Niobrara National Scenic River
The Niobrara National Scenic River is located in Northern Nebraska approximately 300 miles northwest of Omaha. The park offers the opportunity to enjoy canoeing, kayaking, and other water activities.
In 1991, 76-miles of the Niobrara River were designated as a national scenic river. The river begins in Wyoming and winds more than 500 miles across northern Nebraska.
The park offers epic opportunities to get out on the water and enjoy time in a canoe, kayak, or raft. The most popular section is just east of the town of Valentine, Nebraska.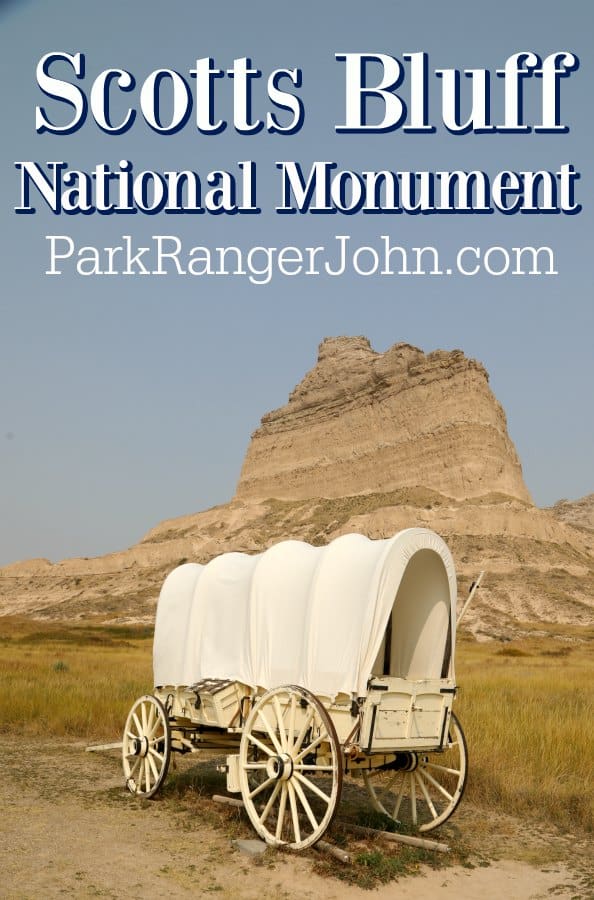 Scotts Bluff NM is located in western Nebraska approximately 7 miles southwest of Scottsbluff. The park is open year-round offering hiking, driving the Summit Road, and a park visitor center.
During the 19th century pioneers on the Oregon Trail followed the North Platte River when possible heading west. The geologic formation called Scotts Bluff became a popular landmark for pioneers.
It was so significant that it became the first US national monument in 1919. Visitors can reach the top of the bluff on the 1.6 miles Saddle Rock Trail or by the Summit Road. From the top, you can see the Oregon Trail.
List of National Parks in Nebraska
Nebraska National Parks include National Historic Trails, National Recreation Rivers, National Monuments, and More!
These parks receive over 300 thousand visitors a year. Have you visited these parks?
Missouri National Recreational River (also South Dakota)
Niobrara National Scenic River
Affiliated Sites
California National Historic Trail (CA, CO, ID, KS, MO, NE, NV, OR, UT, WY)
Lewis and Clark National Historic Trail (ID, IL, IA, KS, MO, MT, NE, ND, OR, SD, WA)
Mormon Pioneer National Historic Trail (IL, IA, NE, UT, WY)
Oregon National Historic Trail (ID, KS, MO, NE, OR, WA, WY)
Pony Express National Historic Trail ( CA, CO, KS, MO, NE, NV, UT, WY)
One park you might expect to see listed is Chimney Rock National Historic Site. Chimney Rock was designated a National Historic Site on August 9, 1956, and today is maintained and operated by the Nebraska State Historical Society.
The National Parks in Nebraska receive over 300K visitors producing over $14 million in economic benefits.
Nebraska National Parks include 2 Wild and Scenic Rivers managed by the Park Service, 5 National Trails managed by the park service, and 1,094 National Register of Historic Places Listings.
The National Parks in Nebraska also includes 20 National Historic Landmarks, 5 National Natural Landmarks and 114 places Recorded by the Heritage Documentation Program. There are over 1.3 million objects in the Nebraska National Park Museum Collection. Along with 148 Archeological Parks within the Nebraska National Parks.
If you have dreamed of working in the National Parks make sure and check out our article on How to Become a Park Ranger. Working in the parks is one of the most amazing jobs you can find. There is just something special about waking up and knowing you are going to work in a beautiful park.
National Parks in neighboring states
For an entire list of US National Parks head over to our list of US National Parks in Alphabetical Order. We also have a printable checklist of all 418 National Park properties in the United States available.