Kansas National Parks include quite a few National Historic Sites to visit. There is also the Sante Fe Trail, Oregon Trail, Lewis, and Clark National Historic Trail and TallGrass Prairie National Preserve located in Kansas.
Have you visited any of these great National Park Sites in Kansas?
Complete information on national parks and national monuments in Kansas including location, top things to see and more.

Kansas National Parks
Located in Topeka, Kansas the Brown v. Board of Education National Historic Site is a 2-acre site located in the former Monroe Elementary School. This was once a public school for African-American students in Topeka.
The 1954 unanimous decision by the supreme court in Oliver Brown Et Al vs. The Board of Education of Topeka et al ruled that segregation by race in school violated the principles of "equal protection" as established by the 14th amendment of the US Constitution.
The case put into motion the dismantling of segregation within schools in the United States. This was one of the most important landmarks in the struggle for equality and justice for African Americans and the civil rights movement.
The case was headed by Thurgood Marshall and included five cases from Virginia, Delaware, South Carolina, Kansas, and Washington DC.
In 1967 Mr. Marshall was appointed a Supreme Court Justice.
The site opened on May 17, 2004, in celebration of the 50th Anniversary of the historic U.S. Supreme Court decision that ended segregation, Brown v. Board of Education.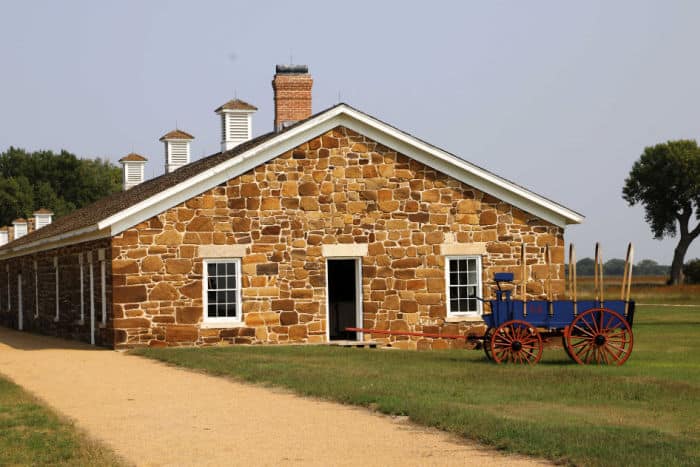 Located in Western Kansas 110 miles northwest of Wichita the Fort Larned National Historic Site is 410 acres that include restored buildings from the 19th century, U.S. Army Fort.
Traveling through the Great Plains was dangerous for pioneers, traders, and mail coaches during the time of conflicts with Plains Indians. The U.S. Army established a series of forts along major transportation routes to patrol and protect traffic along those routes.
Fort Larned was located along the Pawnee River near the well-traveled Sante Fe Trail. There are currently nine of the original buildings on site with seven of them open for tours.
Some of the building walls are two and a half feet thick built with locally quarried stones. The original buildings on-site include the quartermaster's storehouse, commissary, hospital, barracks, and officers' quarters. The blockhouse onsite is a reconstruction.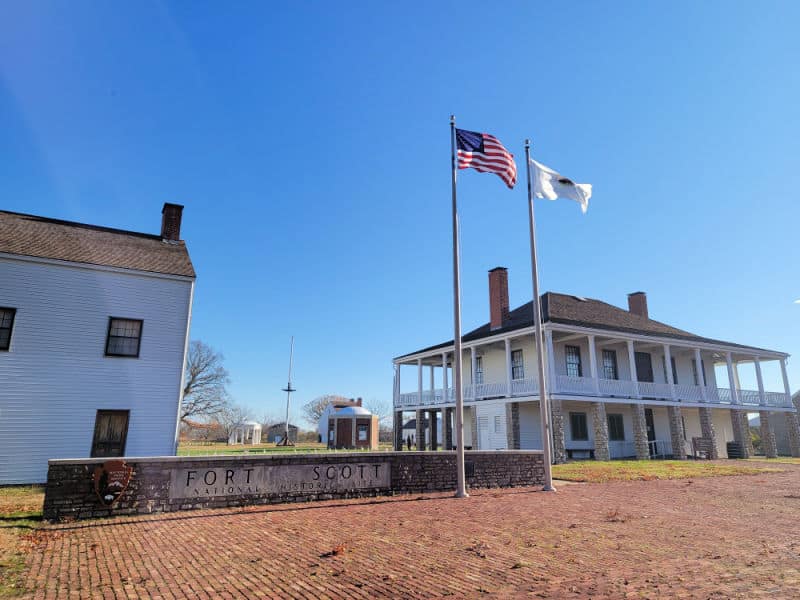 Fort Scott National Historic Site is located 125 miles east of Wichita, Kansas. The 17-acre park is open year-round and provides the opportunity to visit a historic military post and restored tallgrass prairie.
The soldiers based at Fort Scott played a role in the shaping of US History. Fort Scott was established in 1842 during a time when many Native American tribes were being relocated often with force from their lands. The fort's mission was to prevent conflict between Native Americans and white settlers and also to oversee conflict between tribes.
Soldiers from Fort Scott also protected travelers who were heading west on the Sante Fe trail and other trails in the area. The fort never came under attack while it was running. The U.S. Army abandoned Fort Scott in 1853. During the Civil War, the fort reverted back to a military holding with the Union Army occupying several buildings starting in 1861.
The Army abandoned the fort again in 1865 only to return again in 1870 when soldiers were assigned to protect railroad workers laying track in the region. When you visit today you can see a collection of 20 buildings of which 11 are considered original.
The original structures include the hospital (now the visitor center), officer's quarters, quartermaster's storehouse, the bakehouse, and carriage houses. You can also see the parade grounds and three different architectural styles that were used at the fort.
Lewis and Clark NHT is approximately 4,900 miles long crosses sixteen states following the Lewis and Clark Expedition. The Lewis and Clark expedition led by Meriwether Lewis and William Clark officially started in May 1804 and ended in September 1806.
President Thomas Jefferson was determined to send an expedition to explore western North America and find a feasible water route to the Pacific Ocean.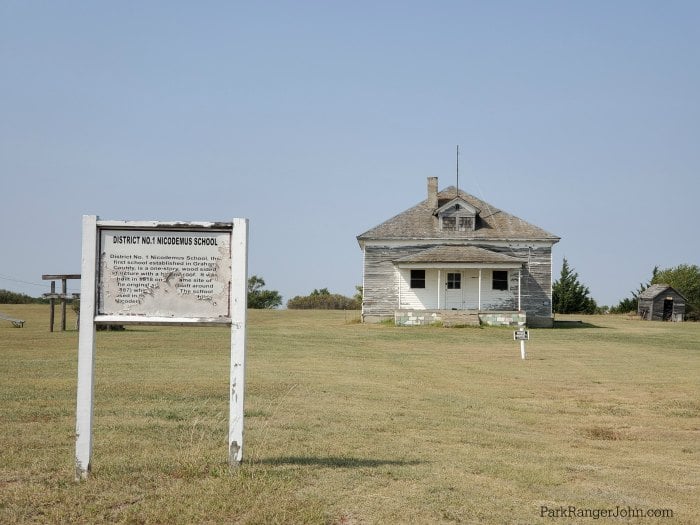 Nicodemus National Historic Site is located 110 miles northwest of Salina, Kanas. The 161-acre park is open year-round though winters can be rough.
Nicodemus was named after a slave who bought his freedom. African Americans in 1877 founded the town of Nicodemus in NW Kansas. Nicodemus remains the only remaining African-American town west of the Mississippi River that was settled on the Great Plains by former slaves. There are still descendants of the original settlers living in town.
The site was created in 1996 to commemorate the heritage of the area as a focal point of hopes and dreams of people seeing a better life. The historic site includes five buildings including the 1939 township hall, two churches (Old First Baptist Church and African Methodist Episcopal), St Francis hotel and the schoolhouse.
The township hall is the only structure open to the public and the home of the visitor center.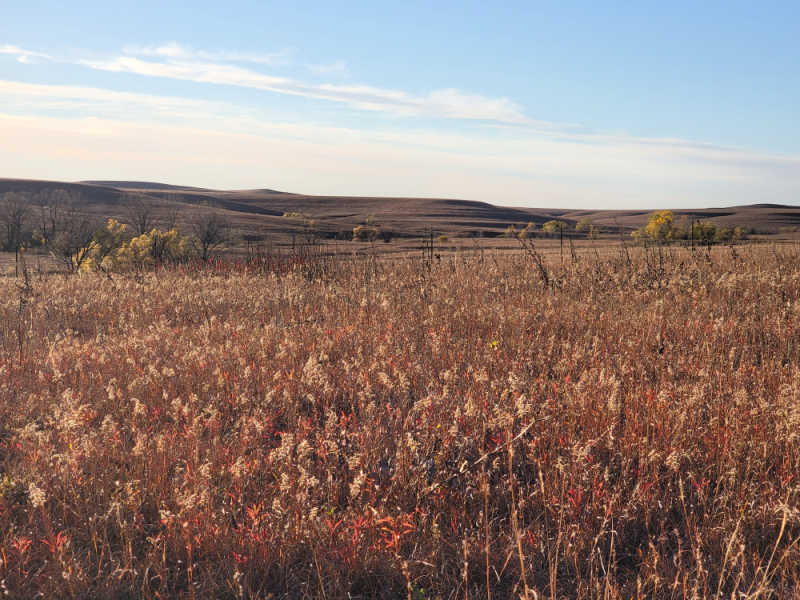 Tallgrass Prairie National Preserve is located 85 miles northwest of Wichita, Kansas. The preserve is 11,000 acres and open year-round. You can enjoy bus tours, hiking trails, wildlife viewing, and interpretive tours.
Congress established Tallgrass Prairie National Preserve in 1996 as a public-private partnership with the area administered by the National Park Service. The site was created to interpret not only the prairie ecosystem but also the cultural heritage of ranching in this region of Kansas.
Only 4% of the tallgrass prairies that once covered North America remains in the Flint Hills of Kansas
There are over 40 miles of hiking trails ranging from easy to backcountry routes. Keep an eye out for white-tailed deer, badgers, coyotes, and bobcats. Some of the grasses can grow to 8-feet tall giving this area the aptly named Tallgrass Prairie.
In 2009, the National Park Service with the Nature Conservancy reintroduced bison to the preserve. The herd now resides on Windmill Pature and is thriving in the park.
List of National Parks in Kansas
Affiliated Sites
California National Historic Trail (CA, CO, ID, KS, MO, NE, NV, OR, UT, WY)
Lewis and Clark National Historic Trail (ID, IL, IA, KS, MO, MT, NE, ND, OR, SD, WA)
Oregon National Historic Trail (ID, KS, MO, NE, OR, WA, WY)
Pony Express National Historic Trail ( CA, CO, KS, MO, NE, NV, UT, WY)
Sante Fe National Historic Trail (CO, KS, MO, NM, OK)
There are 5 National Parks in Kansas with an estimated visitation of over 112K visitors. These visitors produce over $7.2 million in economic benefits through tourism.
Kansas National Parks also include 1 National Heritage Area, 4 National Trails managed by the National Park Service, 1,473 National Register of Historic Places listings and 26 National Historic Landmarks.
There are also 5 National Natural Landmarks, 228 places registers by heritage documentation programs, 663,457 objects in the Kansas National Parks museum collections.
National Parks in Kansas also includes 30 Archaeological sites.
National Parks in the Neighboring States
Do you know how many parks you have visited? Check out this printable list of US National Parks in Alphabetical Order to count how many National Parks you have visited.
If you want to go big check out this National Park Checklist of all of the park sites in the United States.
Photo - stock image/rcreitmeyer