Below you'll find the ultimate guide to Great Sand Dunes National Park, including things to do, how to get there, the best times to visit, where to camp, and more.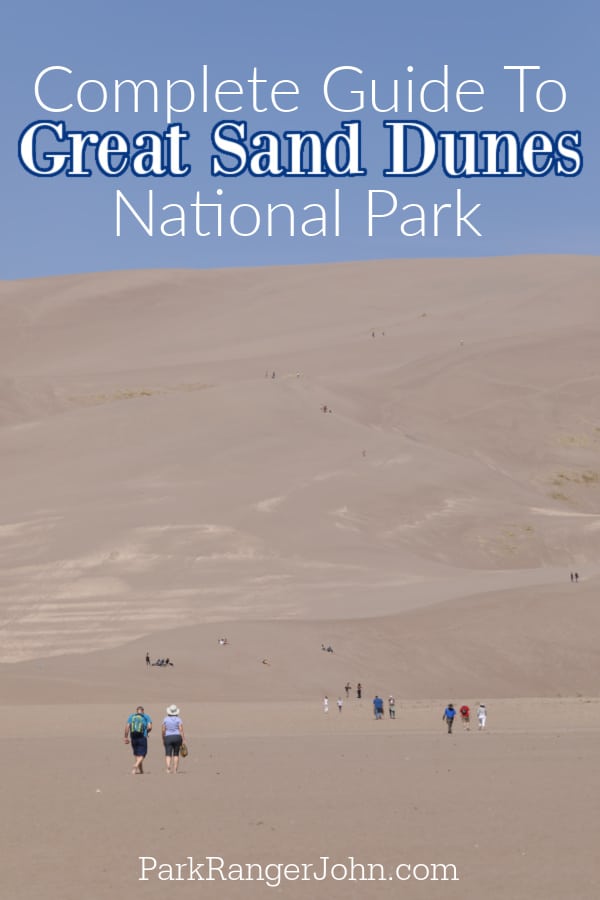 Great Sand Dunes National Park
The park is located at the foot of the Sangre De Cristo Mountains in Colorado.
Star Dune is an epic 775 feet tall. Visitors have the opportunity to explore 30 square miles of sand dune field.
Did you know that Bing Crosby even wrote a love song about the park? His 1940 hit "The Singing Sands of Alamosa" is based on the sounds he heard within the park.
The park features not only a giant sand dune field but also alpine lakes and tundra at the highest elevation of the park.
Lower in the park are grasslands and shrublands that feature vast stretches of grass and wildflowers.
One of the really great things about visiting the park is every time you visit it will have changed. The sands shift with the wind, Medano Creek appears and then settles into dust and the weather shifts during the year.
Colorado's Great Sand Dunes National Park is at once intensely picturesque and fabulously fun place. Evolved over centuries by unique wind patterns on the San Luis Valley floor, eons of sifting and building, created epic dunes almost 800 feet tall and spanning for miles.
The park's biology and geology create awe-inspiring and one-of-a-kind conditions rivaling more traditional parks. There are a large array of habitats to explore, from aspens and pines to sand dunes, shrub and grasslands, and even tundra and thick spruce-fir forests.
About Great Sand Dunes National Park
As the name suggests, Great Sand Dunes National Park is home to some pretty spectacular sand dunes.
In fact, the park boasts the tallest sand dune in all of North America, with the highest peak reaching over 750 feet! This mega 30 square mile sandbox is one of the country's coolest outdoor playgrounds, and visitors flock to southern Colorado to sandboard and sled down the epic slopes.
Believe it or not, there's so much more to this park than its sizeable sand dunes.
Its location between the Sangre de Cristo mountain range and the San Luis Valley means that there is a wide variety of terrain to be explored.
So, you can glide down dunes, explore alpine lakes, and watch hoards of elk and pronghorns grazing grasslands all within the same park.
There are also several hiking trails and some pretty fantastic stargazing opportunities here as well.
The park has the highest sand dunes in North America, that rise to a maximum height of 755 feet, from the floor of the San Luis Valley.
This group of dunes covers about 19,000 acres and according to the researchers, began to form 440,000 years ago.
The park also has mountain lakes and high mountain tundra, six peaks above 12,795 feet tall, old spruce and pine forests, meadows, and wetlands, etc.
All these environments are home to various species of animals and plants.
An extraordinary phenomenon can be observed on Medano Creek, a creek east of the dunes near the visitor center.
Because fresh sand trickles evenly into the water, the stream does not find a stable and permanent river bed. This creates small underwater dunes that form dams and collapse again.
To get to the dunes you have to cross the wide and very shallow Médano Creek, which runs only from spring until the beginning of summer. Hiking is permitted, with the announcement that the sand can be very hot in the summer, up to 60 degrees Celsius.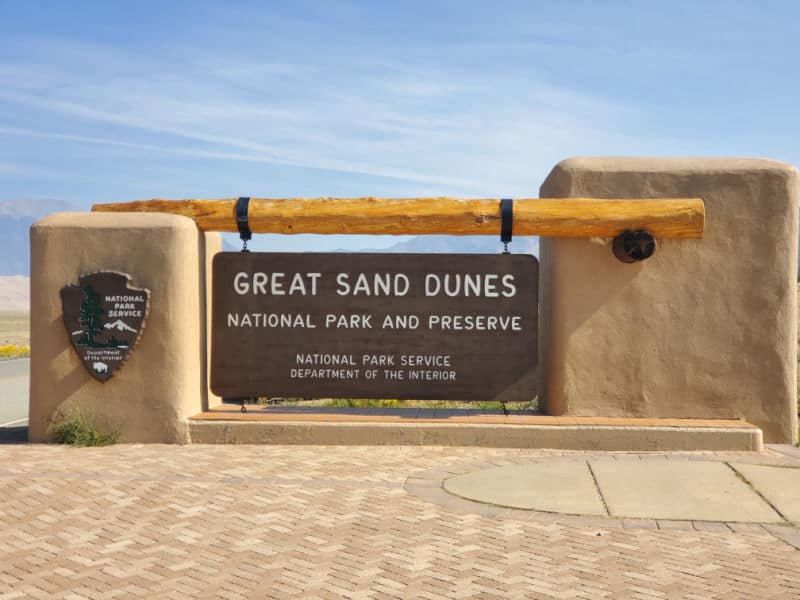 Is Great Sand Dunes National Park worth visiting?
While it is quite a ways off the beaten path, Great Sand Dunes National Park is absolutely worth visiting. The scenery is spectacular, and there are tons of fun activities to keep you entertained for hours (or even days) on end.
Certain times of year are better for visiting the park than others, so keep reading to find out everything you need to know for planning your trip.
History of Great Sand Dunes National Park
Human history at Great Sand Dunes National Park dates back about 11,000 years, and there is even evidence of nomadic tribes hunting mammoths through this area.
The Navajo and Ute tribes once called this place home, and the nearby Bianca Peak is considered one of the four sacred peaks to the Navajo Nation.
The dunes are created by the sand and sediment deposits of the Rio Grande and its tributaries, that flow through the San Luis Valley.
With the passing of the years, winds from the west collect the sand particles from the lands flooded by the river and when the wind loses its strength, before crossing the Sangre de Cristo Mountains, it deposits the sand at the eastern end of the valley.
This process continues and the dunes grow slowly as the wind molds them again and again, each day.
The dunes are pretty much stable but with the passing of season after season, their morphology changes a bit, their shape being affected by the wind intensity and direction.
The wind normally goes from the SW to the NE but at the end of summer, the wind turns around creating the dunes. This is why the dunes are so high!
Things to know before your visit to Great Sand Dunes National Park
Entrance fee
7-day single-vehicle park pass - $25
7-day motorcycle park pass - $20
Annual Park Pass - $45
Valid for one year through the month of purchase. Admits one private, non-commercial vehicle or its pass holder.
Learn more about National Park Passes for parks that have an entrance fee.
Free Entrance Days -Mark your calendars with the five free entrance days the National Park Service offers annually.
Time Zone
MST - Mountain Standard Time
Pets
Pets are allowed in certain areas of the park and preserve, including Mosca Pass Trail, Piñon Flats Campground, Dunes Overlook Trail, and the Medano Pass Primitive Road.
Pets are NOT allowed in the visitor center or bathrooms, the backcountry of the dune area, north of Point of No Return, any of the backpacking campsites, and north of Castle Creek Picnic Area (with the exception of Medano Pass Primitive Road).
Pets must remain leashed at all times, and be sure to clean up after your pet.
If you do decide to bring your pet, beware of the dangers present at the park. Some of these include hot sand temperatures in the summer months, cactus spines, and wildlife.
Cell Service
Due to its remote location, cell service inside the park is limited. Your best chances of finding a signal will be at the Visitor Center, the campground, and Dunesfield (especially for Verizon users).
Park Hours
The park is open 24 hours a day year-round.
Wi-Fi
There is no Wi-Fi available in the park.
Insect Repellent
Insect repellent is always a great idea when outdoors, especially if you are around any body of water.
We use Permethrin Spray on our clothes before our park trips.
Water Bottle
Make sure to bring your own water bottle and plenty of water with you. Plastic water bottles are not sold in the park.
Parking
A large parking lot (Dunes Parking Lot) is located about half a mile north of the Visitor Center that does fill up and will see people circling the lot for an open space during busy times.
A few smaller lots are scattered around the park, available at the Mosca Pass Trailhead, the Visitor Center, and the Amphitheater.
Food/Restaurants
The Oasis Restaurant and Store is the only dining option within 25 miles of the park. The restaurant is located near the park's main entrance and is open seasonally from April through October.
Gas
There are no gas stations inside the park.
The closest option is located just outside the park along CO-150, though it is only open seasonally from April-October.
Other options for filling up can be found in the nearby towns of Mosca, Center, Alamosa (24-hours), Fort Garland (24-hours), and Conoco.
Drones
Drones are not permitted within National Park Sites.
National Park Passport Stamps
National Park Passport stamps can be found in the visitor center.
Make sure to bring your National Park Passport Book with you or we like to pack these circle stickers so we don't have to bring our entire book with us.
Great Sand Dunes NP is featured in the 2002 Passport Stamp Set
Electric Vehicle Charging
There are no electric vehicle charging stations inside the park.
The closest EV charging stations are located in Alamosa and Walsenburg.
Details about Great Sand Dunes National Park
Size - 107,341 acres
Great Sand Dunes NP is currently ranked at 39 out of 63 National Parks by Size.
Date Established
Great Sand Dunes National Park was originally established as a national monument by President Herbert Hoover back in 1932.
The monument was re-designated as a national park in 2004.
Visitation
In 2021, Great Sand Dunes NP had 602,613 park visitors.
In 2020, Great Sand Dunes NP had 461,532 park visitors.
In 2019, Great Sand Dunes NP had 527,546 park visitors.
Learn more about the most visited and least visited National Parks in the US
National Park Address
Visitor Center
11999 State Highway 150
Mosca, CO 81146
Great Sand Dunes National Park Map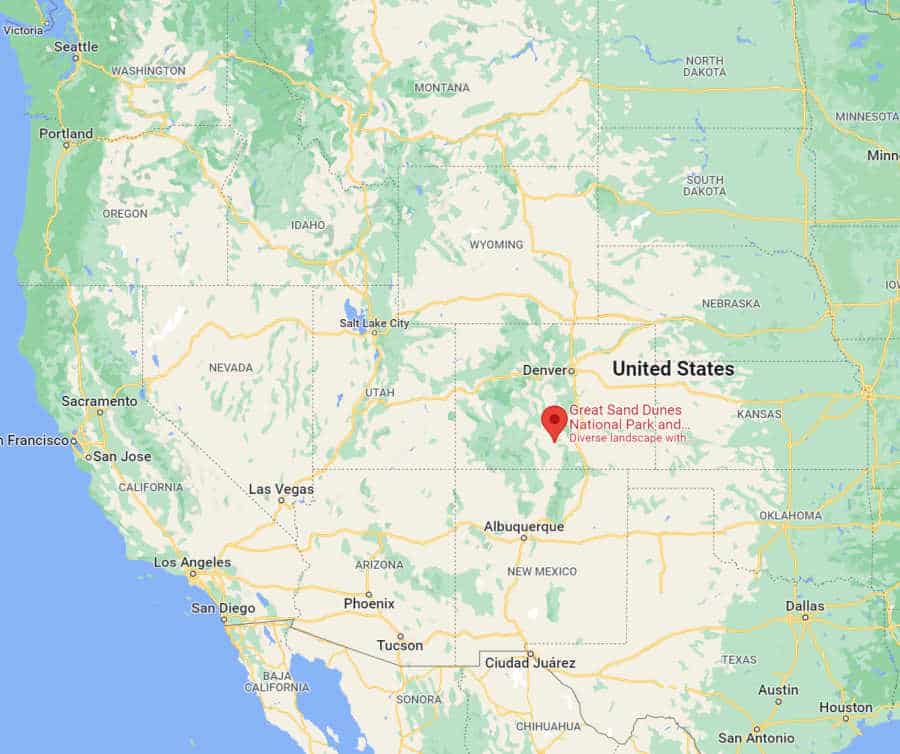 Where is Great Sand Dunes National Park?
Great Sand Dunes National Park is located in south-central Colorado to the west of the Sangre de Cristo Mountains.
The Great Sand Dunes National Park and Preserve are located in the easternmost part of the counties of Saguache and Alamosa.
Originally designated Great Sand Dunes National Monument, the Park and Reserve were created by an act of the United States Congress on September 13, 2004. The park occupies approximately 149,005 acres.
The closest city is Alamosa although Cañon City, Pueblo, Colorado Springs, Albuquerque (New Mexico) and Denver are a few hours drive away.
Estimated distance from major cities nearby
Mosca, CO - 20 miles
Hooper, CO - 26 miles
Alamosa, CO - 31 miles
Colorado Springs, CO - 165 miles
Denver, CO - 236 miles
Albuquerque, NM - 234 miles
El Paso, TX - 498 miles
Estimated Distance from nearby National Park
Black Canyon of the Gunnison National Park - 190 miles
Mesa Verde National Park - 199 miles
Rocky Mountain National Park - 267 miles
Arches National Park - 327 miles
Capitol Reef National Park - 438 miles
Bryce Canyon National Park - 550 miles
Grand Canyon National Park (South Rim) - 454 miles
Where is the National Park Visitor Center?
The Visitor Center is located off of CO-150.
37.733198616464826, -105.51158315248885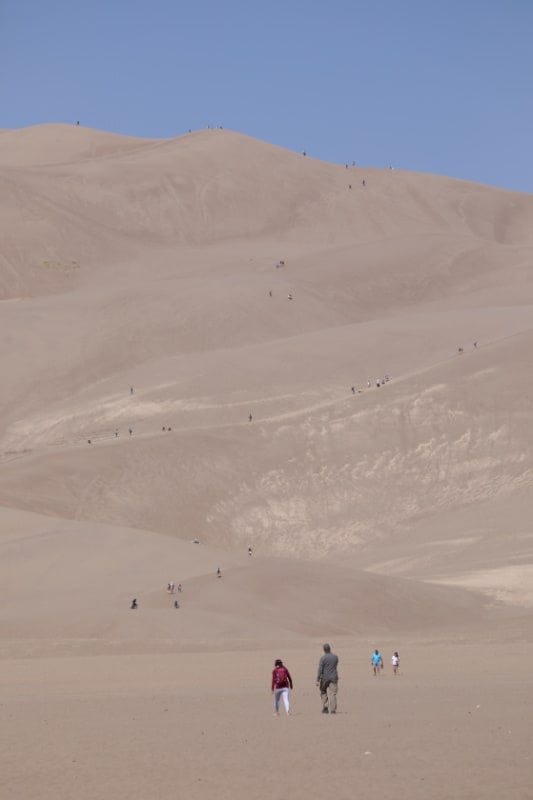 Getting to Great Sand Dunes National Park
International Airports
Albuquerque International Sunport (ABQ)
Denver International Airport (DEN)
Regional Airports
San Luis Regional Airport (ALS)
Gunnison-Crested Butte Regional Airport (GUC)
Pueblo Memorial Airport (PUB)
Los Alamos County Airport (LAM)
Durango-La Plata County Airport (DRO)
Aspen-Pitkin County Airport (ASE)
Santé Fe Municipal Airport (SAF)
Driving Directions
Great Sand Dunes National Park is extremely remote and has just one park entrance located off of CO-150.
The closest major interstate to the park is I-25, allowing visitors from Denver and Albuquerque fairly easy access to the park.
Be wary of following GPS directions, as these can often lead you into remote areas of the park. Map out your directions ahead of time using the Visitor Center as your end destination.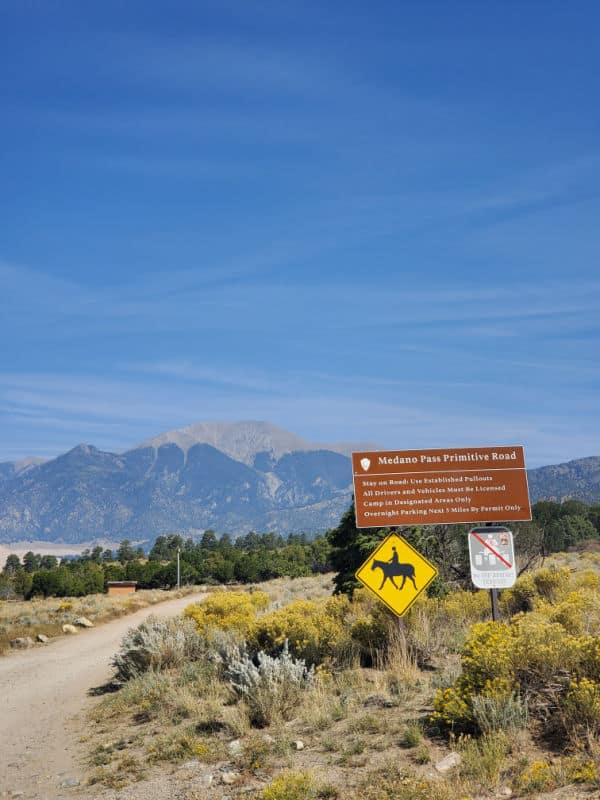 Best time to visit Great Sand Dunes National Park
The best times to visit Great Sand Dunes National Park include spring, early summer, and autumn. This is when conditions are best for enjoying all aspects of the park.
For obvious reasons, these are also the busiest times at the park, so try to arrive early in the mornings and avoid weekends and holidays if you want to evade the crowds.
Weather and Seasons
Spring
Early spring is one of the worst times to visit, specifically the months of March and April. This is when the winds are at their highest, and the snow is at its deepest levels.
These conditions make most of the park inaccessible, including the dunes and most of the trails.
Late spring brings near-perfect conditions to the park, but it also brings plenty of crowds along with it.
May is especially busy, but the snow is mostly gone and the temperatures are still bearable. This is also the month to visit if you're hoping to see Medano Creek is at its fullest.
The weather can be sporadic year-round, so be prepared for high winds in the afternoon.
Summer
Early summer is another great time to visit the park, specifically the month of June.
Just like May, June sees some of the highest visitation rates of the year, mostly due to great weather and the fact that the Medano Creek is still flowing.
July and August are bearable if you visit during the morning hours, but keep in mind that while the air temperature may seem moderate, the sand can reach scorching heights of up to 150 degrees Fahrenheit by mid-afternoon.
Mid-day thunderstorms are also not unheard of in the summer months. Even in the summer, nighttime temperatures often dip down to the mid-40s. The perk of visiting in July and August? Colorful wildflowers in full bloom.
Autumn/Fall
The autumn may be the best time to visit the park if you are hoping to avoid the crowds. Temperatures are also mild during these months, and the fall foliage is at its peak.
While the Medano Creek is often dried up by this time, it's not usually warm enough that visitors need it to cool down during these months.
Winter
Unless you are passing through the area and want to check out the Visitor Center, visiting Great Sand Dunes National Park is not recommended during the winter.
While the park is open year-round, heavy snowfall usually makes accessing the dunes and hiking trails impossible. The cold temperatures are also not ideal during these months.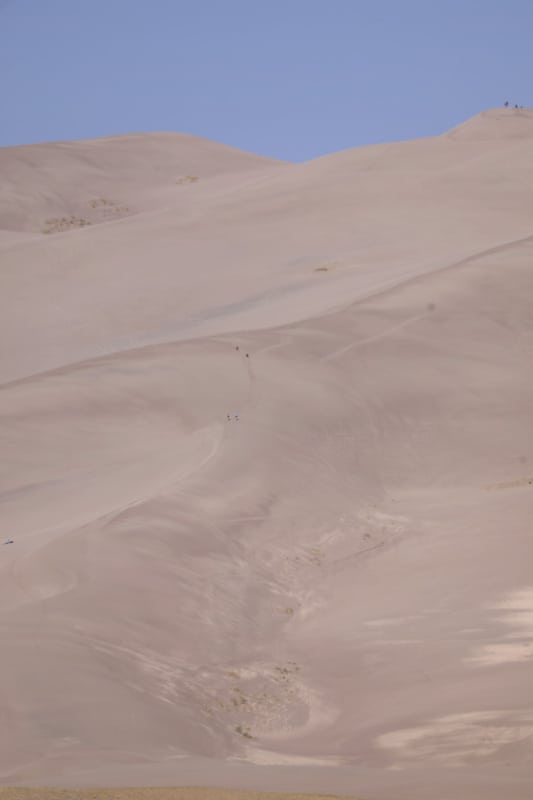 Wildlife viewing
While a sandy desert may not seem like a desirable habitat for many animals, the park's forests and grasslands are the perfect settings for a wide variety of wildlife.
At sunrise, you can see pronghorns grazing, and if you're awake around dawn or dusk, you might spot one of the nine species of owls that call the park home.
Other critters you might catch sight of include bears, bighorn sheep, bobcats, elk, kangaroo rats, and tiger salamanders.
The Junior Ranger Program is a great way for the youngsters in your group to learn more about the park in a fun, hands-on way. Once they complete the program, they'll even receive a cool badge to commemorate their trip.
Sand Boarding & Sledding
No trip to Great Sand Dunes National Park would be complete without trying your hand at sandboarding.
This is by far the most popular activity in the park, and this epic pastime is one of the best ways to get a feel for just how spectacular the dunes really are.
Depending on how high you climb, you'll also get some fantastic views of the park from up top the dunes.
You can climb up as high as you want to on the dunes and then glide down the sand.
Keep in mind that this is no easy feat, and one step forward often feels like two steps back in the heavy sand.
Some of the highest dunes take up to six hours for experienced hikers to tackle, so plan accordingly and stay hydrated!
The high altitude can also make reaching tall heights extremely difficult for some visitors.
Hot sand temperatures and high winds also present a challenge, so wear proper foot coverings and bring a bandana or some other type of mouth guard along if you want to sandboard or sled.
Board and sled rentals are unavailable inside the park, so you'll need to stop at a private outfitter before entering the park.
Rentals are available seasonally at the Oasis Store, located just outside of the park, and at other outfitters in Alamosa and Blanca.
Dark Sky Park
Due to its remote location far from city lights, the dry air, and its high elevation, Great Sand Dunes National Park is a great place for stargazing.
The park is recognized as an International Dark Sky Park, allowing nighttime visitors incredible views of the night sky.
The park was recognized in 2019 as a certified International Dark Sky Park by the International Dark Sky Association.
The Milky Way is most visible on nights without a moon from mid-summer through early fall evening.
Medano Pass Primitive Road
4WD vehicles are required for Medano Pass Primitive Road!
All-Wheel-Drive (AWD) vehicles, mini-SUVs, wagons, and similar vehicles with lower clearance will get stuck in the deep sand or creek crossings.
ATVs and UTVs are not permitted within the park. All vehicles used in the park must be highway legal in Colorado.
Medano Pass Primitive Road is a 22-mile road that connects Great Sand Dunes NP and Preserve with the Wet Mountain Valley and Colorado State Highway 69.
It is only open/passable in the summer warm months and with high clearance 4wd vehicles.
The road passes Medano Pass which has an elevation of 10,040 feet. Along the route, you will cross areas of deep sand along with crossing Medano Creek 9 times.
Things to do near Great Sand Dunes National Park and Preserve
Zapata Falls
Zapata Falls is located on BLM Land just south of the park off of highway 150. It is a short hike that provides an epic view of the entire dune field and San Luis Valley.
The hike is .5 miles but you will need to wade into a crevasse with slippery rocks to see the falls.
Fort Garland Museum and Cultural Center
Fort Garland has been restored to its original 19th-century appearance. The museum and cultural center have living history events, and exhibits to share more about 19th century Colorado.
San Luis Lakes State Wildlife Area
This wetland complex is adjacent to the western edge of the park and offers epic birdwatching. The wildlife area is closed to the public from February 15 to July 15th to allow for shore bird nesting.
Baca National Wildlife Refuge
This National Wildlife Refuge was created in 2004 to protect the entire natural hydrological system of the Great Sand Dunes.
It is adjacent to Great Sand Dunes NP on the western boundary.
Alamosa National Wildlife Refuge
Alamosa NWR features wetlands along the Rio Grande River and is located a few miles southeast of Alamosa, Colorado.
Monte Vista National Wildlife Refuge
This National Wildlife Refuge is a great place to see sandhill cranes that migrate through during spring and fall.
It is located south of Monte Vista, Colorado.
Hiking in Great Sand Dunes National Park
Always carry the 10 essentials for outdoor survival when exploring.
While it would be easy to assume that the park is just a big (albeit incredible) pile of sand, there's a lot more to Great Sand Dunes National Park than you may notice at first glance.
While there are various hiking trails along the dunes, there are also some great routes through the lesser-known parts of the park, including alpine forests, lush meadows, and mountain passes.
Below we've outlined some of the park's best hiking trails, categorized by difficulty. Happy hiking!
Easy:
Dunes Overlook Trail - 6.4 miles - Out & Back
Montville Nature Trail - .5 miles - Loop
Sand Sheet Loop - .4 miles - Loop
Pinyon Flats Campground Trail - 1 mile - Loop
Wellington Ditch Trail - 1.8 miles - Out & Back
Moderate:
Mosca Pass Trail - 6.4 miles - Out & Back
Sand Dunes Loop - 5 miles - Loop
Medano Lake Trail - 7.9 miles - Out & Back
Dunes Overlook Trail - 2.7 miles - Out & Back
Medano Pass Primitive Road - 19.9 miles - Point to Point
Difficult:
High Dune Hike - 3 miles - Out & Back
Dune Trail from Pinyon Flats - 4.5 miles - Loop
Hight and Star Dune Loop- 8 miles - Loop
Upper Sand Creek Lake Trail -7.4 miles - Out & Back
Point of No Return to Cold Creek - 18.5 miles - Out & Back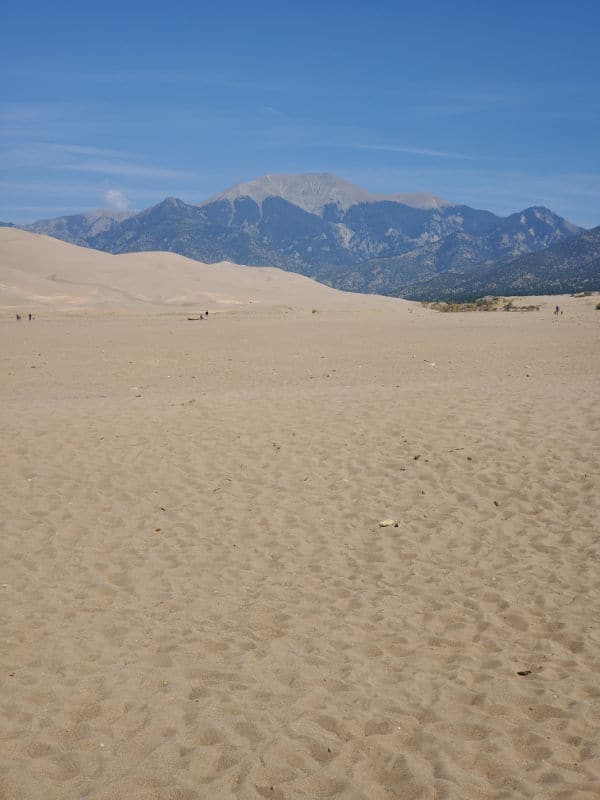 How to beat the crowds in Great Sand Dunes National Park?
The best way to beat the crowds at Great Sand Dunes National Park is by visiting during the off-season.
While not every month presents great weather, the fall boasts the perfect combination of mild temperatures and fewer crowds. Another tip for avoiding crowds is to arrive early in the day and to visit during the week.
Most people who visit the park stick to the area around the Visitor Center, as this is the most accessible.
However, if you have the capabilities and sense of adventure to wander into the backcountry areas of the park, you will likely find most of the trails and viewpoints completely empty, even during the busiest months of the year.
Where to stay when visiting Great Sand Dunes National Park
There are no National Park Lodges within Great Sand Dunes NP.
Click on the map below to see current rates for hotels and vacation rentals near Great Sand Dunes.


Great Sand Dunes National Park Camping
Pinon Flats Campground is the main hub for visitors looking to camp at Great Sand Dunes National Park.
The campground is located about one mile north of the Visitor Center and features dump stations, flush toilets, and nearly 100 campsites.
The sites are suitable for tents and RVs and are equipped with tent pads, fire pits, grills, and picnic tables.
The campground is open seasonally from April-October. Note that reservations are required for Pinon Flats Campground and can be made up to six months in advance.
Backcountry Camping
If you're feeling adventurous, you could also choose to set up your tent in the backcountry area of the park.
There are seven designated spots located along Sand Ramp Trail and 20 undesignated sites in the dunes themselves.
While backcountry sites are available year-round, be aware of the severe weather conditions that come with each season, including high winds, thunderstorms, snow, and extreme temperatures.
Permits are required for backcountry camping and sell out quickly. For this reason, it is recommended that you purchase your permits online well in advance.
Camping near the park
Here are a couple of campground options near the park:
Aspen Acres Campground - 30 miles from the park in Rye, CO
This campground offers lodging, RV and Tent Sites.
San Isabel Lodging - 30 miles from the park in Rye, CO
This campground offers cabins, canoeing, kayaking
Circle the Wagons RV Park - 31 miles from the park in La Veta, CO
This campground offers lodging, RV and Tent Sites.
Check out additional campgrounds in the area on Campspot.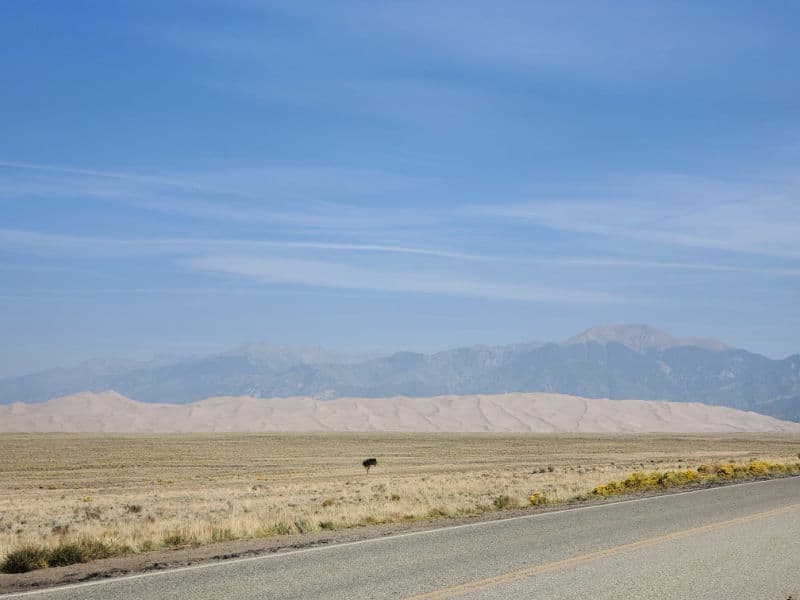 Parks Near Great Sand Dunes National Park
Curecanti National Recreation Area
Florissant Fossil Beds National Monument
Bent's Old Fort National Historic Site
Capulin Volcano National Monument
Valles Caldera National Preserve
Check out all of the Colorado National Parks along with neighboring National Parks in Wyoming, Utah National Parks, Oklahoma National Parks, National Parks in New Mexico, National Parks in Nebraska, Kansas National Parks, and Arizona National Parks.