Epic Guide to Herbert Hoover National Historic Site in Iowa including things to do, guided tours, history, how to get to the park, and more.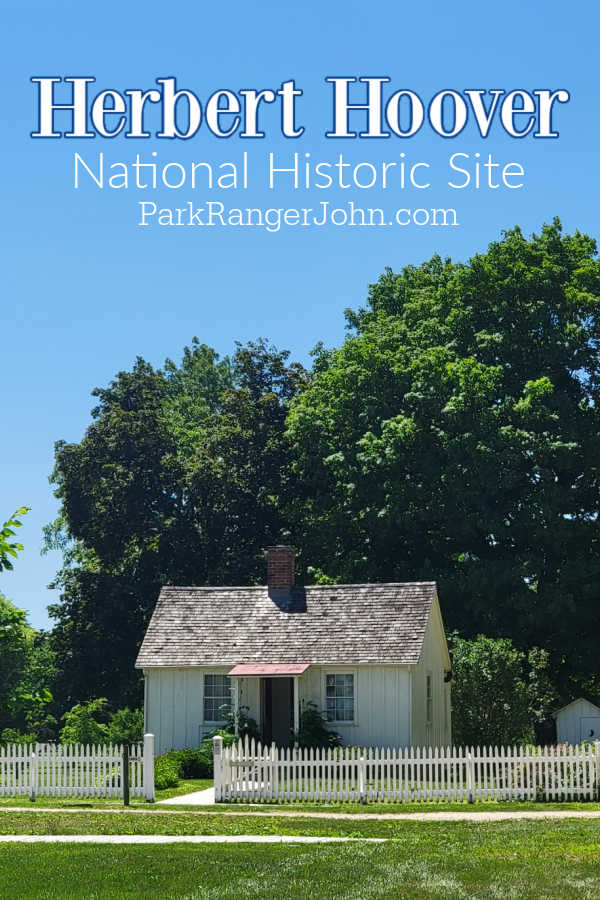 Herbert Hoover National Historic Site
Herbert Hoover National Historic Site is located in West Branch, Iowa.
The park is the location of the birthplace of the 31st president Herbert Hoover. It is also the location of his final resting place.
"My country owes me no debt. It gave me, as it gives every boy and girl, a chance. It gave me schooling, independence of action, opportunity for service and honor. In no other land could a boy from a country village, without inheritance or influential friends, look forward with unbounded hope."

Herbert Hoover
During Herbert Hoover's presidency from 1929 to 1933, the land designated for new national parks and monuments increased by 40 percent.
Recreation grounds and natural museums are as necessary to advancing our civilization as are wheat fields and factories.

Herbert Hoover
Herbert Hoover was president of the National Parks Association in 1924. Hoover's administration increased appropriations for national park operations from $2.2 million in 1929 to $3.7 million in 1932. National parks saw an increase in visitors from 1929-1932, 3.4 to 3.8 million.
The Hoover administration formally opened two National Parks that were established before his election - Grand Teton and Carlsbad Caverns.
President Hoover add to the lands of Aztec Ruins National Monument, Bandelier National Monument, Carlsbad Caverns National Park, Bryce Canyon National Park, Craters of the Moon National Monument, Hot Springs National Park, Katmai National Park, Pinnacles National Park, Rocky Mountain National Park, Scotts Bluff National Monument, Yellowstone National Park and Yosemite National Park.
On April 12, 1929 President Hoover established Arches National Monument which included 2,600 acres known as "Devil's Garden" and 1,600 acres called "Windows." Future presidents added more land and Nixon signed the bill creating Arches National Park.
In 1931 President Hoover established Isle Royale National Park. He also established Sunset Crater National Monument.
Kings Mountain National Military Park, George Washington Birthplace National Monument, Morristown National Historical Park, and the George Washington Memorial Parkway were also established by Herbert Hoover.
Hoover also established a number of other places as national parks: Appomattox Court House, Black Canyon of the Gunnison, Canyon de Chelly, Death Valley, Fort Necessity, Great Sand Dunes, Saguaro, Theodore Roosevelt Island, and White Sands National Park.
Camp Rapidan in Shenandoah National Park was President Hoovers nature retreat. He spent $120,000 of his own money to build the rustic fishing cabin. When he left the White House in 1933 the mountain retreat was donated to Shenandoah NP.
About Herbert Hoover National Historic Site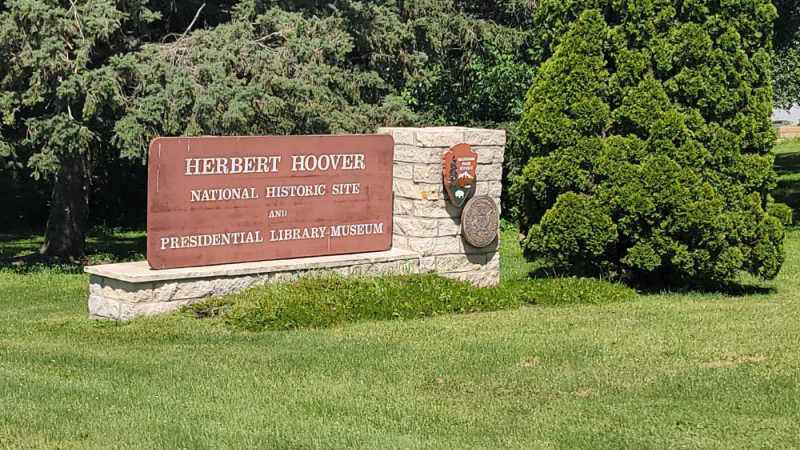 Is Herbert Hoover National Historic Site worth visiting?
Yes! We were so impressed with Herbert Hoover NHS! The park was so much more than we thought it would be when planning our trip.
The grounds are amazing and feel like you are stepping back in time. It is a park you will want to plan time to explore.
History of Herbert Hoover National Historic Site
Herbert Clark Hoover was born on August 10, 1874 in West Branch, Iowa to a respected, honest, and simplistic couple.
He was the first president to be born west of the Mississippi River. Hoover had an older brother, Theodore, and then a younger sister, Mary. Hoover's father, Jesse, was of German, Swiss and English ancestry.
His mother, Hulda, was raised in Ontario before moving to Iowa in 1859. Jesse was a Quaker blacksmith and farm equipment salesman. His father was a caring and friendly businessman and his mother was actively involved in the church.
Sadly, Jesse died of pneumonia when Hoover was just six. Hulda took care of the family by sewing and taking boarders into their home until she died of typhoid fever when Hoover was nine.
He and his brother and sister lived at a nearby farm with his uncle in Iowa for nearly two years until Hoover was sent to his uncle John's in Oregon.
John, a physician, was the person who saved Hoover's life when he was two and nearly died from the croup.
As a young man living in the west, Hoover worked as a miner in the Sierra Nevada Mountains and eventually was hired by a company that took him to Australia and eventually China.
By age 40, Hoover had been made a millionaire in the mining industry. In 1900, Hoover married Lou Henry; they would eventually have two children together, Herbert Jr. and Allan.
During World War I, Hoover saw firsthand the food crisis in Europe. Hoover was soon appointed head of the U.S. Food Administration.
Hoover earned worldwide acclaim for his humanitarian efforts in Europe during and after the war.
As Secretary of Commerce under President Coolidge, Hoover played a vital role in the technology of radio broadcasting as well as the construction of a dam on the Colorado River, which is named after him.
Hoover won the presidential election in 1928 and just seven months into his term, America was thrust into economic crisis and the Great Depression.
Millions of Americans lost their jobs and homes and were forced to live in shantytowns, aptly named "Hoovervilles" by civilians.
Because of his long-held conservative beliefs, namely that government should not play a large role in the lives of Americans, Hoover was often criticized for his reaction to the Depression.
Lou Henry Hoover died of a heart attack in 1944 and was buried in California. President Hoover died in 1964. Before his death, he made it known that his most memorable and formative years were back in humble Iowa farm country and he wished for he and his wife to be buried side by side at the place of his birth.
After Hoover's death, over 100,000 people lined the funeral procession of approximately 30 miles between Cedar Rapids and West Branch, Iowa. When standing at the burial site of the President and his wife, you can see Hoover's birthplace cottage.
Built in 1871 by Jesse Hoover and his father Eli, Hoover's birthplace was a two bedroom cottage built across the street from Jesse's blacksmith shop.
The home's foundation stones were shipped by wagon from the prairies and the timber from a sawmill in nearby Muscatine, Iowa.
Hoover lived in the modest family cottage until he was three years old, at which time Jesse's prosperity afforded that the family could build a bigger home about a block away.
The cottage was owned by the Scellers family for nearly four decades, up until 1934. The Scellers had moved the cottage to face the south and built a two-story home to live in, which was connected to the cottage.
For years Mrs. Scellers enjoyed visitors showing up at the house wanting a little piece of educational history on the 31st President. She eventually began charging ten cents and let visitors tour her home.
Mrs. Scellers found it interesting that many visitors were from Europe; visitors who spoke highly of Hoover's humanitarian efforts during the war.
In 1935, after Mrs. Scellers passed away, the Hoover family reacquired the property as their son Allan purchased the home.
Allan's first move was to demolish the two-story home, move the birthplace cottage to its east-facing location, and restore it to its original 1870s look.
The family believed that creating the area exactly as it was in the 1870s created a true experience for visitors to see how Hoover grew up in small town Iowa.
Before their deaths, the Hoovers improved the buildings, land, and environment surrounding the little cottage.
The country of Belgium gifted Hoover with an Isis statue to thank him for his efforts during the war; this gift was placed at the park.
The nearly eight foot statue represents the "Goddess of Life." The family also acquired nearby land, created gardens, and rebuilt Jesse Hoover's blacksmith shop.
The site was officially established in 1965. Hoover's schoolhouse and place of worship were moved to the site eventually as well. Located in present-day downtown West Branch, the site also includes other buildings that would have stood at the time Hoover lived there as a boy.
Between 1869 and 1873, West Branch was a boomtown. Its growth continued after the President was born and well into the 20th century.
Although the second home the Hoover's lived in after the cottage no longer stands, Downey and Poplar Streets boast homes of numerous time period neighbors to the Hoover.
These sites include the homes of Laban Miles, the brother-in-law of Hulda Hoover, the home of P.T. Smith, whose hill Hoover would sled on with his friends, and the home of John Wright, another local blacksmith.
It is no wonder that Hoover wished to be buried at the place of his humble beginnings. In Hoover's mind the site left a lasting legacy of family, hard work, and modest, humble beginnings.
In 1931, famous Midwest painter Grant Wood was commissioned by Iowa businessmen to create a painting of the Herbert Hoover birthplace site.
The painting ended up being sold to a dealer after Hoover declined it because the large two-story home was the prominent building in the painting, overshadowing the birthplace cottage.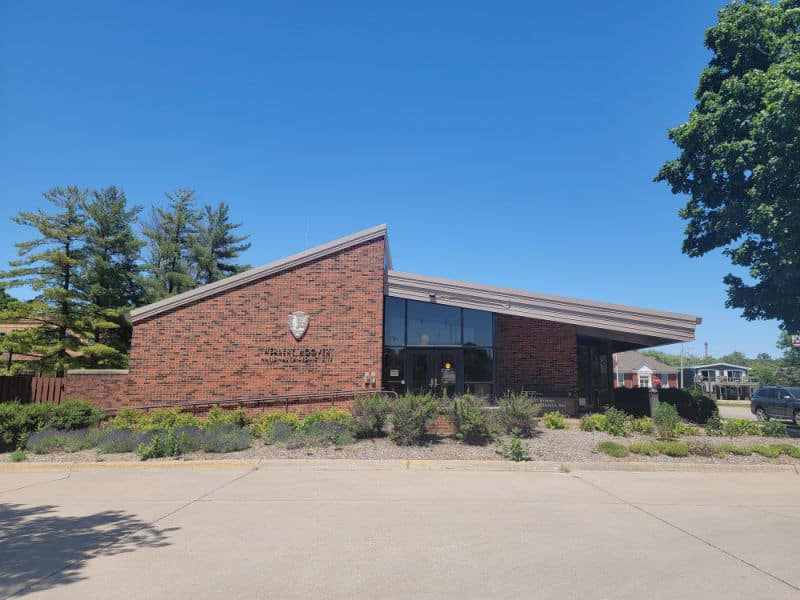 Things to know before your visit to Herbert Hoover National Historic Site
Entrance fee
$0.00 - There is no entrance fee to visit the park.
There is a $10 entrance fee for adults to visit the Herbert Hoover Presidential Library and Museum.
Planning a National Park vacation? America the Beautiful/National Park Pass covers entrance fees for an entire year to all US National Park Sites and over 2,000 Federal Recreation Fee Sites.
The park pass covers everyone in the car for per vehicle sites and for up to 4 adults for per-person sites.
Buy on REI.com and REI will donate 10% of pass proceeds to the National Forest Foundation, National Park Foundation and the U.S. Endowment for Forestry & Communities.
Free Entrance Days -Mark your calendars with the five free entrance days the National Park Service offers annually.
Time Zone
Central Time Zone
Pets
Pets are allowed in the park as long as they are on a leash less than 6 feet in length.
Pets are not allowed in park buildings or the visitor center.
Cell Service
We had great cell service while visiting the park.
Park Hours
Historic buildings and the Visitor Center are open from 9:00 a.m. to 5:00 p.m.
The grounds of the historic site are open 24 hours.
Wi-Fi
Free public Wi-Fi is available at the visitor center.
Insect Repellent
Insect repellent is always a great idea when outdoors, especially if you are around any body of water.
We use Permethrin Spray on our clothes before our park trips.
Water Bottle
Make sure to bring your own water bottle and plenty of water with you. Plastic water bottles are not sold in the park.
Parking
There is a nice size parking lot in front of the visitor center. There is also parking areas by the presidential library and tallgrass prairie overlook.
Food/Restaurants
There are no restaurants within the park.
The park has two picnic shelters perfect for bringing lunch or snacks.
You can also picnic where Herbert Hoover celebrated his 80th birthday in 1954 at a picnic shelter built by Boy Scouts.
Gas
There are no gas stations within the park.
Drones
Drones are not permitted within National Park Sites.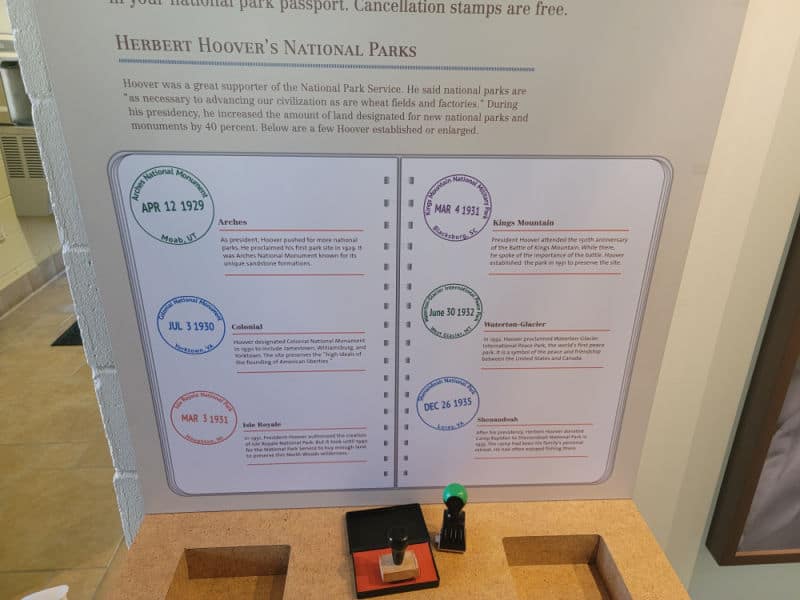 National Park Passport Stamps
National Park Passport stamps can be found in the visitor center.
Make sure to bring your National Park Passport Book with you or we like to pack these circle stickers so we don't have to bring our entire book with us.
Herbert Hoover NHS is part of the 1999 Passport Stamp Set.
Electric Vehicle Charging
There are at least 17 EV Charging Stations within 10 miles of West Branch, Iowa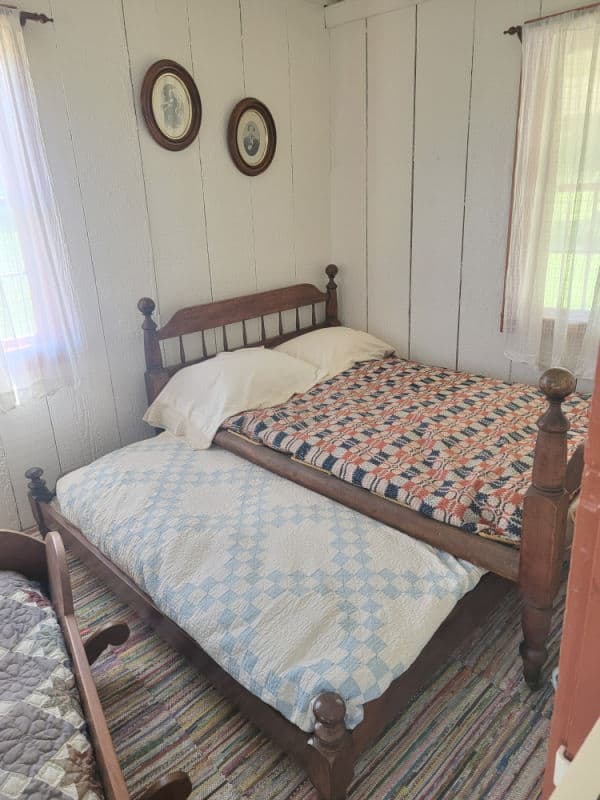 Details about Herbert Hoover National Historic Site
Size - 186.8 acres
Check out how the park compares to other National Parks by Size.
Date Established
August 12, 1965
Visitation
In 2021, Herbert Hoover NHS had 69,483 park visitors.
In 2020, Herbert Hoover NHS had 56,270 park visitors.
In 2019, Herbert Hoover NHS had 125,688 park visitors.
Learn more about the most visited and least visited National Parks in the US
National Park Address
110 Parkside Drive
West Branch, IA 52358
National Park Map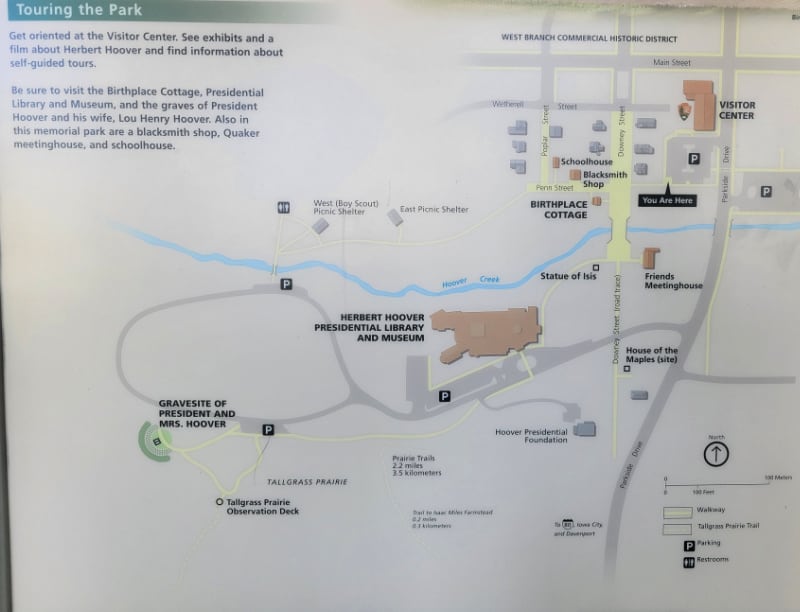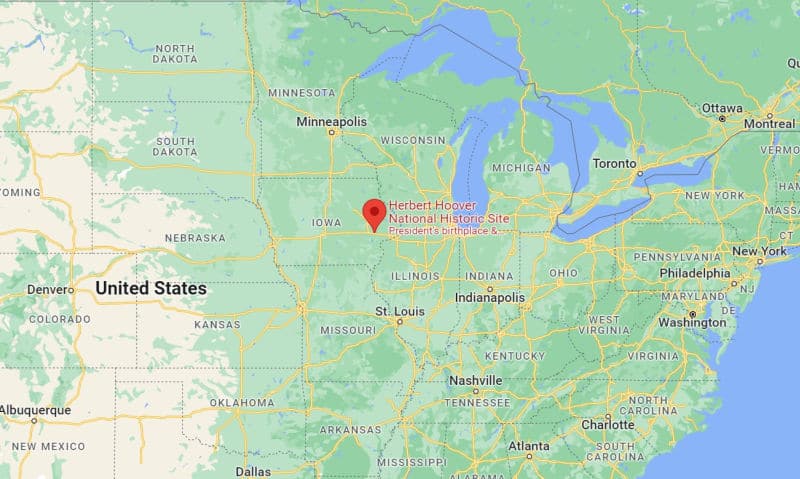 Where is Herbert Hoover National Historic Site?
Herbert Hoover NHS is located in east central Iowa. It is a Midwest National Park Site.
Estimated distance from major cities nearby
Iowa City, IA - 11 miles
Cedar Rapids, IA - 36 miles
Madison, WI - 174 miles
Chicago, IL - 211 miles
Milwaukee, WI - 251 miles
St. Louis, MO - 280 miles
Omaha, NE - 258 miles
Kansas City, MO - 316 miles
Minneapolis, MN - 313 miles
Lincoln, NE - 312 miles
Indianapolis, IN - 355 miles
Estimated Distance from nearby National Park
Indiana Dunes National Park - 233 miles
Cuyahoga Valley National Park - 544 miles
Gateway Arch National Park - 280 miles
Mammoth Cave National Park - 554 miles
Voyageurs National Park - 550 miles
Where is the National Park Visitor Center?
The visitor center is located in West Branch, Iowa. This is the perfect place to start your visit to the park.
There is a great parking area right next to the visitor center with easy access to the Birthplace Cottage and other sites.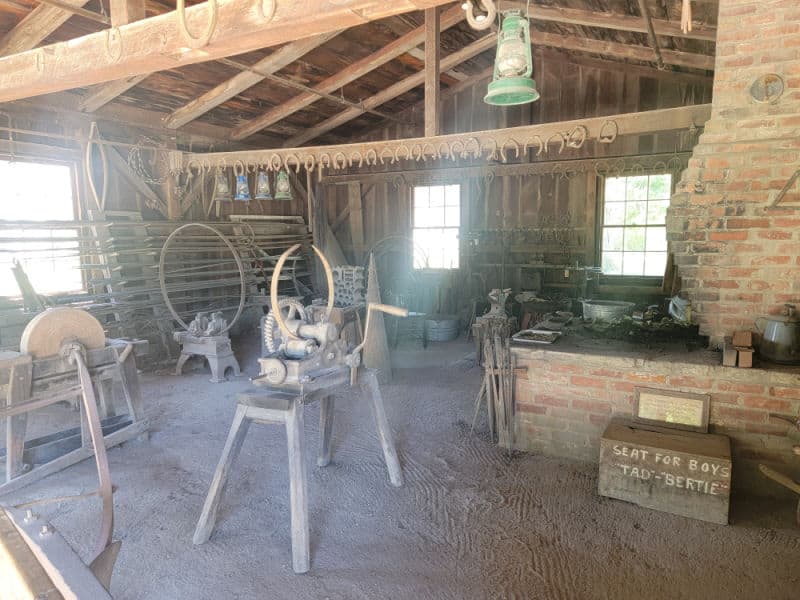 Getting to Herbert Hoover National Historic Site
Closest Airports
Eastern Iowa Airport (CID)
Quad City International Airport (MLI)
Dubuque Regional Airport (DBQ)
Southeast Iowa Regional Airport (BRL)
Driving Directions
Take exit 254 off Interstate 80 to West Branch, Iowa. The Visitor Center is 0.3 miles north of Interstate 80.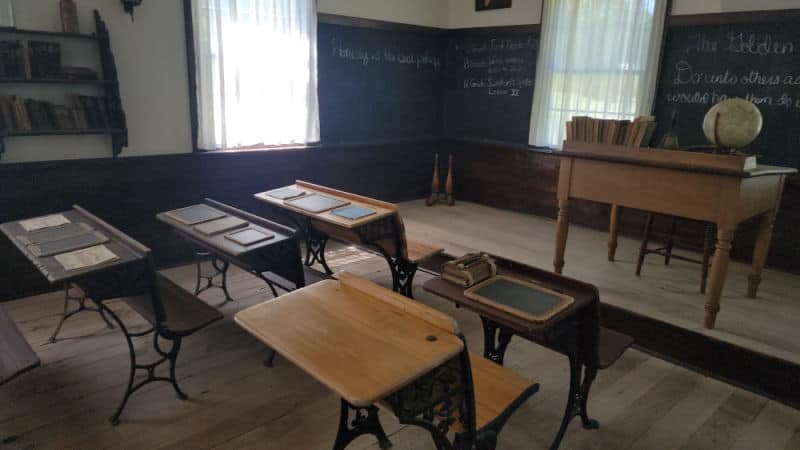 Best time to visit Herbert Hoover NHS
The best time to visit the park is from spring through fall. The weather should be nice during this period.
Weather and Seasons
West Branch, Iowa experiences long warm summers and cold snowy winters.
The hottest weather is from May 20th to September 21st with an average daily temperature above 74 degrees. July is the hottest month.
The coldest weather is from November 30th to March 2nd with an average daily temperature below 41 degrees. The coldest month is January.
June receives the most rain on average with 4.4 inches. Snow occurs on average from November 14th to March 24th with December getting the most snow.
Best Things to do in Herbert Hoover National Historic Site
We suggest planning a few hours at minimum for visiting the park. There was a lot more to see than we realized when planning our trip.
Park Film
The park film does a great job of describing the importance of West Branch, Iowa to Herbert Hoover and why the park was established.
The Junior Ranger program can be picked up at the visitor center. The program is spread between the visitor center and walking around the park.
It does a great job of sharing information about the park and encouraging you to explore as much of the park as you can.
Birthplace Cottage
The birthplace cottage is a short walk from the visitor center. You can walk inside and see how the cottage would have looked when Herbert Hoover was born.
Tallgrass Prairie
There are two miles of trails through the reconstructed tallgrass prairie. There is a parking area near the tallgrass prairie making it easy to explore this area of the park.
Blacksmith Shop
The reconstructed blacksmith shop is based on sketches Herbert Hoover's older brother drew of their Father's blacksmith shop.
Their father Jesse owned and operated a blacksmith shop from 1871 to 1878.
The current blacksmith shop shits west of the original shop's location.
Schoolhouse
The schoolhouse is reconstructed to show what school life would have been like for Herbert Hoover. Visitors can walk inside and see the desks and what students would have been learning.
Friends Meetinghouse
Herbert Hoover's Quaker family worshiped at the Friends Meetinghouse.
Gravesite of President & Mrs. Hoover
Simple marble slabs mark the graves of President and Mrs. Hoover.
It is a short walk from the parking area to look at the gravesites.
Presidential Library and Museum
The presidential library and museum is not part of the park but is nearby.
The museum has artifacts of President Hoover's life.
Hiking in Herbert Hoover NHS
Always carry the 10 essentials for outdoor survival when exploring.
The park has 2 miles of trails through the Tallgrass Prairie and along Hoover Creek.
How to beat the crowds in Herbert Hoover NHS?
We did not experience any large crowds while visiting the park. It is easy to maneuver around people while wandering the park grounds.
Where to stay when visiting Herbert Hoover NHS
There are no National Park Lodges within the park.
There is lodging and vacation rentals available in West Branch, Iowa along with in nearby Iowa City.
Days Inn by Wyndham West Branch - free to-go breakfast, a bar, and a gym at Days Inn by Wyndham West Branch Iowa City Area. Stay connected with free in-room WiFi.
Highlander Hotel - 4-star family-friendly hotel in the business district. Free continental breakfast, a poolside bar, and a terrace are just a few of the amenities provided at The Highlander Hotel. For some rest and relaxation, visit the hot tub. The onsite restaurant, The Highlander Lounge, features happy hour. Free in-room WiFi is available to all guests, along with a coffee shop/cafe and dry cleaning/laundry services.
Travelodge by Wyndham Iowa City - Consider a stay at Travelodge by Wyndham Iowa City and take advantage of dry cleaning/laundry services, a fireplace in the lobby, and conference space. Guests can connect to free in-room WiFi.
Hotel Chauncey Iowa City, Tapestry Collection by Hilton - 3-star hotel. A terrace, a bar, and a 24-hour gym are just a few of the amenities provided at Hotel Chauncey Iowa City, Tapestry Collection by Hilton. Stay connected with free in-room WiFi, and guests can find other amenities such as a restaurant.
Hyatt Place Iowa City Downtown - 3-star hotel in a shopping district. You can look forward to a free breakfast buffet, a terrace, and a coffee shop/cafe at Hyatt Place Iowa City Downtown. The onsite café, 24/7 Gallery Menu, features light fare. Stay connected with free WiFi in public areas, and guests can find other amenities such as dry cleaning/laundry services and a bar
Click on the map below to see current rates for hotels and vacation rentals
Camping
There are no National Park Campgrounds within the park.
For a fun adventure check out Escape Campervans. These campervans have built in beds, kitchen area with refrigerators, and more. You can have them fully set up with kitchen supplies, bedding, and other fun extras. They are painted with epic designs you can't miss!
Escape Campervans has offices in Vancouver, Seattle, Portland, San Francisco, Las Vegas, Los Angeles, Phoenix, Salt Lake City, Denver, Chicago, New York, and Orlando
Nearby Campgrounds include:
Blue Inn Campground - Monticello, Iowa
This campground offers RV and Tent Sites, fishing, a playground, and more.
Yogi Bears Jellystone Park - Monticello, Iowa
This campground offers lodging, RV and Tent Sites, a beach, pool, arcade, and more.
Sun Retreats Rock River - Hillsdale, IL
This campground offers lodging, RV and Tent Sites, waterfront, a pool, hiking and more.
Check out additional campgrounds in the area on CampSpot.
List of all of the National Parks established by President Herbert Hoover
Arches National Monument, Utah (renamed Arches National Park in 1971), on April 12, 1929
Holy Cross National Monument, Colorado (abolished in 1950), on May 11, 1929
George Washington Birthplace National Monument, Virginia, on Jan. 23, 1930

Sunset Crater National Monument (renamed Sunset Crater Volcano National Monument in 1990), on May 26, 1930

George Washington Memorial Parkway, Virginia, Maryland, and District of Columbia, on May 29, 1930

Appomattox Battlefield Site, Virginia (designated a National Monument in 1935, redesignated as Appomattox Courthouse National Historical Park in 1954), on June 18, 1930
Colonial National Monument, Virginia (Redesignated Colonial National Historical Park in 1936), on July 3, 1930
Canyon de Chelly National Monument, Arizona, on February 14, 1931
Isle Royale National Park, Michigan, on March 3, 1931
Fort Necessity National Battlefield Site, Pennsylvania (redesignated Fort Necessity National Battlefield in 1961), on March 4, 1931
Kings Mountain National Military Park, South Carolina, on March 4, 1931
Second Grand Canyon National Monument, Arizona (incorporated in Grand Canyon National Park in 1975), on December 22, 1931
Great Sand Dunes National Monument, Colorado (Redesignated Great Sand Dunes National Park in 2000), on March 17, 1932
Theodore Roosevelt Island, District of Columbia, on May 21, 1932
White Sands National Monument, New Mexico, on Jan. 18, 1933
Death Valley National Monument, California and Nevada (incorporated in Death Valley National Park in 1994), February 11, 1933
Saguaro National Monument, Arizona (redesignated Saguaro National Park in 1994), on March 1, 1933
Black Canyon of the Gunnison National Monument, Colorado (redesignated Black Canyon of the Gunnison National Park in 1999), on March 2, 1933
Morristown National Historical Park, New Jersey, on March 2, 1933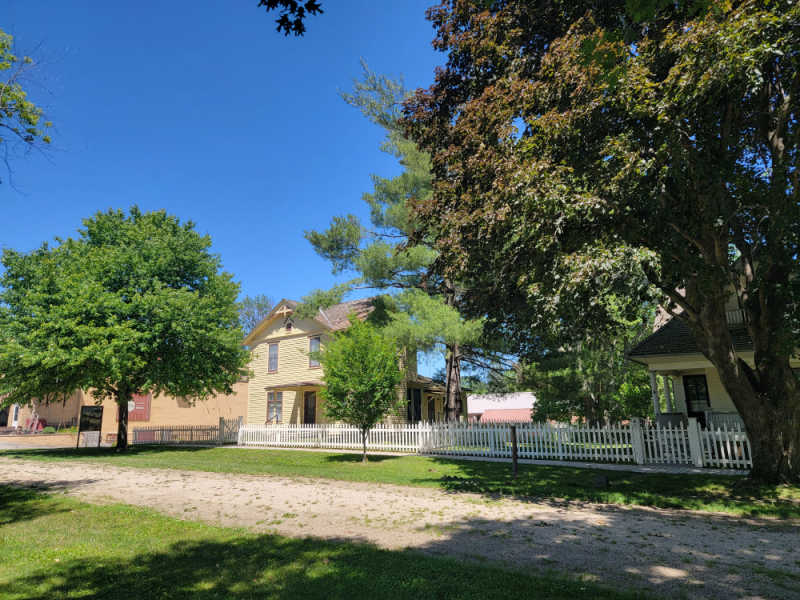 Parks Near Herbert Hoover National Historic Site
Lincoln Home National Historic Site
Effigy Mounds National Monument
Harry S Truman National Historic Site
Homestead National Historical Park
Check out all of the Iowa National Parks along with neighboring Wisconsin National Parks, National Parks in South Dakota, National Parks in Nebraska, Missouri National Parks, National Parks in Minnesota, and Illinois National Parks