The Midwest National Parks spans 3 time zones and 13 states including Arkansas, Illinois, Indiana, Iowa, Kansas, Michigan, Minnesota, Missouri, Nebraska, North Dakota, Ohio, South Dakota, and Wisconsin.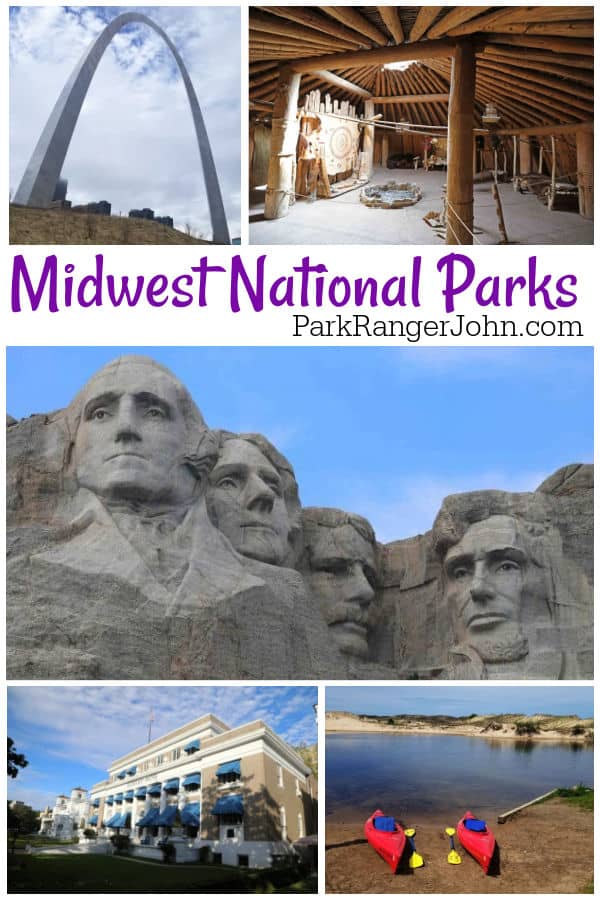 Midwest National Parks
The Midwest National Parks include regions 3, 4, and 5 of the U.S. National Park Service. These regions were last updated in 2018 with a Department of Interior-wide reorganization. The National Park Service now has twelve administrative regions, each providing oversight and guidance to the park units within its geographic area.
Today, the Midwest National Parks includes 62 National Park Units in America's heartland. The Midwest regional Headquarters is in Omaha, Nebraska
The Midwest National Park Service Sites include:
9 National Parks
10 National Monuments
1 National Preserve
6 National Historical Parks
17 National Historic Sites
1 National Battlefield Park
1 National Military Park
1 National Battlefield
2 National Memorials
3 National Lakeshores
6 National Rivers
Planning a National Park vacation? America the Beautiful/National Park Pass covers entrance fees for an entire year to all US National Park Sites and over 2,000 Federal Recreation Fee Sites.
The park pass covers everyone in the car for per vehicle sites and for up to 4 adults for per-person sites.
Buy on REI.com and REI will donate 10% of pass proceeds to the National Forest Foundation, National Park Foundation and the U.S. Endowment for Forestry & Communities.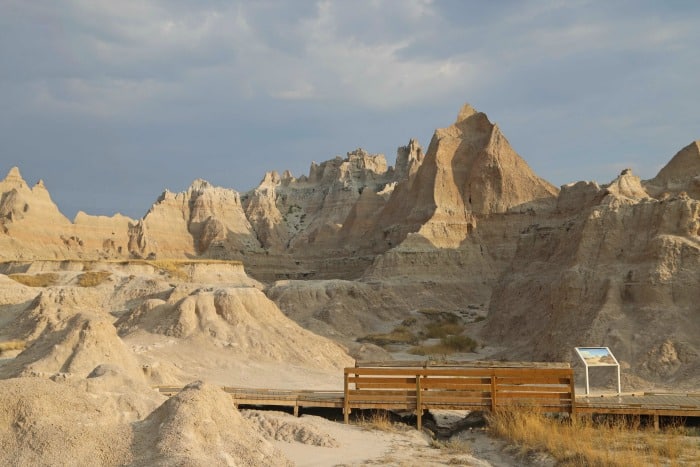 National Parks of the Midwest
There are 9 National Parks in the Midwest. A national park is defined as containing a variety of resources and encompasses large land or water areas to help provide adequate protection of the resources.
These are the big parks that you hear about often.
While these are the big parks that you hear about don't miss some of the smaller unique parks that are also amazing.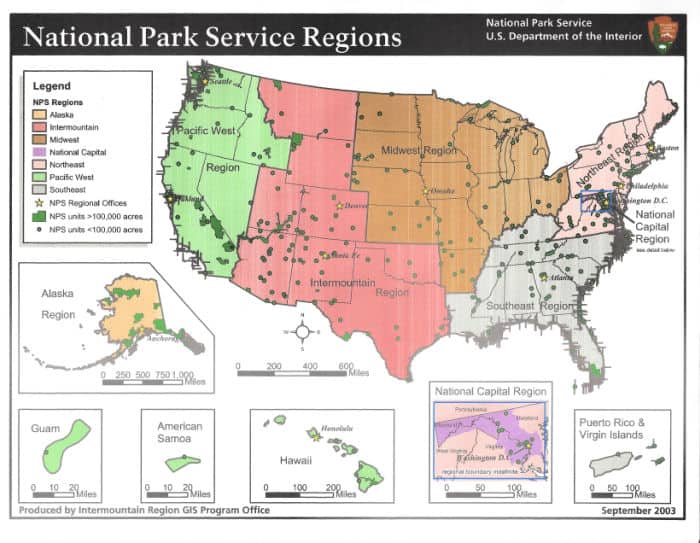 Best National Parks in the Midwest
The Midwest National Parks are arguably one of the most diverse regions in the system! You can explore a region steeped in United States History covering Several U.S. Presidents Abraham Lincoln and President William Jefferson Clinton, African American History, Women's Suffrage, the westward movement, Lewis and Clark, and Native American History.
You can find epic hiking trails like the Notch Trail in Badlands National Park, hidden gems like Knife River Indian Villages, and Jewel Cave and Isle Royale on Lake Superior!
If that's not enough, you can have an amazing hot springs bath and a beer from the only brewery in a national park in Hot Springs and take a pod to the top of Gateway Arch in St Louis.
National Trails of the Midwest
One thing you may notice looking at the map above is there are a ton of trails that originate from the Midwest.
These National Historic Trails are spread across the United States in all directions and help share the historic stories of the United States.
The historic westward movement including the Oregon Trail and California Trail have their roots in the Midwest. There is so much history in this part of the country that the National Park Service interprets and shares with each visitor.
You can learn about many of these National Historic Trails while visiting the National Park Sites in the Midwest.
Keep an eye out for specific National Park Passport stamps for these trails at the parks and information on how each specific park is a stop on the National Historic Trails.
Trail of Tears National Historic Trail (AL, AR, GA, IL, KY, MO, NC, OK, TN)
California National Historic Trail (CA, CO, ID, KS, MO, NE, NV, OR, UT, WY)
Pony Express National Historic Trail (CA, CO, KS, MO, NE, NV, UT, WY)
Santa Fe National Historic Trail (CO, KS, MO, NM, OK)
Lewis and Clark National Historic Trail (ID, IL, IA, KS, MO, MT, NE, ND, OR, SD, WA)
Oregon National Historic Trail (ID, KS, MO, NE, OR, WA, WY)
Mormon Pioneer National Historic Trail (IL, IA, NE, UT, WY)
North Country National Scenic Trail (MI, MN, ND, NY, OH, PA, WI)
Ice Age National Scenic Trail (WI)
Major U.S. Cities in the Midwest Region with Airports
Chicago, Illinois: Chicago has two major airports; Chicago O'Hare (ORD) and Chicago Midway (MDW)
Columbus, Ohio: John Glenn Columbus International Airport (CMH)
Indianapolis, Indiana: Indianapolis International Airport (IND)
Detroit, Michigan: Detroit Metropolitan Airport (DTW)
Milwaukee, Wisconsin: Milwaukee Airport (MKE)
Kansas City, Missouri: Kansas City International Airport (MCI)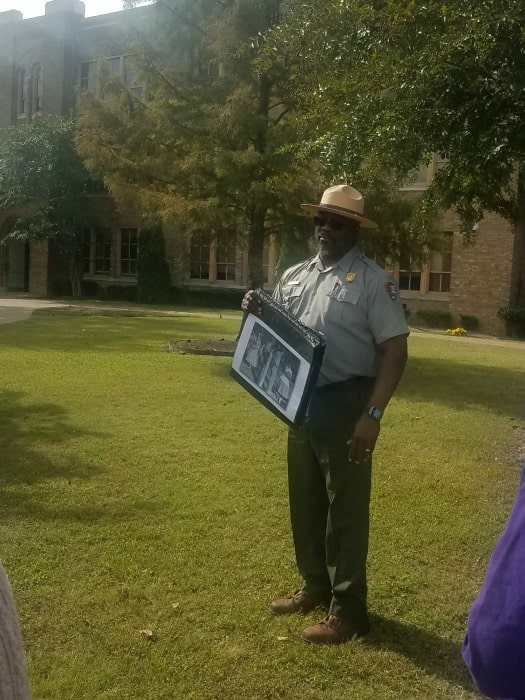 Park Ranger John's most memorable experiences in Midwest National Parks
I have had the opportunity to visit over half of the National Park Sites in the Midwest Region and have plans to increase this coverage in the next year. Here is a list of some of my most memorable experiences in the Midwest National Parks
Ranger-led Interpretative Program at Little Rock Central High School. Ranger Randy began talking and was able to clearly paint a picture in my mind of the events that happened here. I have to admit, Ranger Randy jolted me, I knew the history but I could feel it as he spoke and I actually had to step out of the group twice to regain my composure. I wish everyone could hear Ranger Randy!
Attend the Evening Ranger Program at Mount Rushmore. The evening lighting ceremony is truly amazing. From the patriotic music to the dedication to all US Veterans you may have tears in your eyes as I did. The talk before the lighting ceremony by a Park Ranger was fantastic. The wave he weaved history and life together was great. I could have easily listened to him for hours. Then when they bring all of the veterans down on the stage...grab your tissues!
Work hard and take some well-deserved R&R in Hot Springs National Park. Hot Springs has some amazing hiking trails, especially the Grand Promenade Trail. It's short but is a connector to several other trails. If you get the opportunity, go when the fall colors are in! After spending a day hiking, go treat yourself to a hot bath (Hot Springs is known for its healing water) and a beer at the only brewery in a national park!
Explore the Elkhorn Ranch Unit of Theodore Roosevelt National Park. It is here where Theodore Roosevelt choose to live after the deaths of his mother and wife just days apart. This ranch helps Theodore Roosevelt learn more about land conservation, the impact of overgrazing, and why it is so important to protect natural lands. This knowledge would be used when he was President to create five new national parks: Crater Lake, Oregon; Wind Cave, South Dakota; Sully's Hill, North Dakota (later re-designated a game preserve); Mesa Verde, Colorado; and Platt, Oklahoma (now part of Chickasaw National Recreation Area).
Theodore Roosevelt also created the Antiquities Act of June 8, 1906 which enabled President Roosevelt and succeeding Presidents to proclaim historic landmarks, historic or prehistoric structures, and other objects of historic or scientific interest in federal ownership as national monuments.
During his time at President Theodore Roosevelt established 150 National Forests, 51 federal bird reserves, 4 national game preserves, 5 National Parks, and 18 National Monuments that protect over 230 million acres of public land.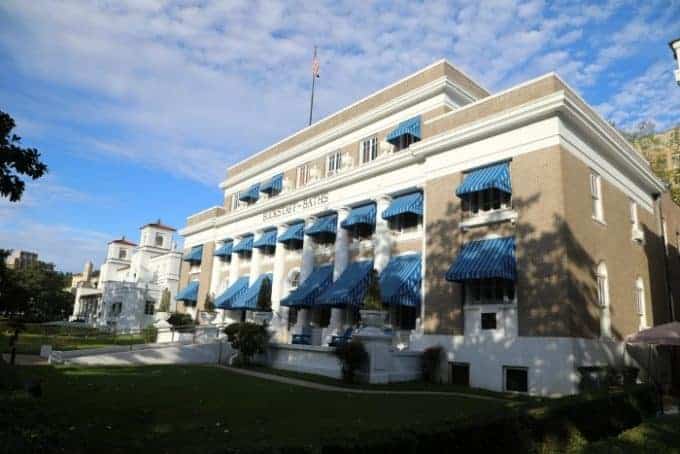 Arkansas
Arkansas Post National Monument
Fort Smith National Historic Site
Little Rock Central High School National Historic Site
Pea Ridge National Military Park
President William J. Clinton Birthplace Home National Historic Site
Illinois
Lincoln Home National Historic Site

Indiana
George Rogers Clark National Historical Park
Lincoln Boyhood National Memorial
Iowa
Effigy Mounds National Monument
Herbert Hoover National Historic Site

Kansas
Brown v. Board of Education National Historic Site
Fort Larned National Historic Site
Fort Scott National Historic Site
Nicodemus National Historic Site
Tallgrass Prairie National Preserve

Michigan
Keweenaw National Historical Park
North Country National Scenic Trail (Headquarters)
River Raisin National Battlefield Park
Pictured Rocks National Lakeshore
Sleeping Bear Dunes National Lakeshore
Minnesota
Grand Portage National Monument
Mississippi National River & Recreation Area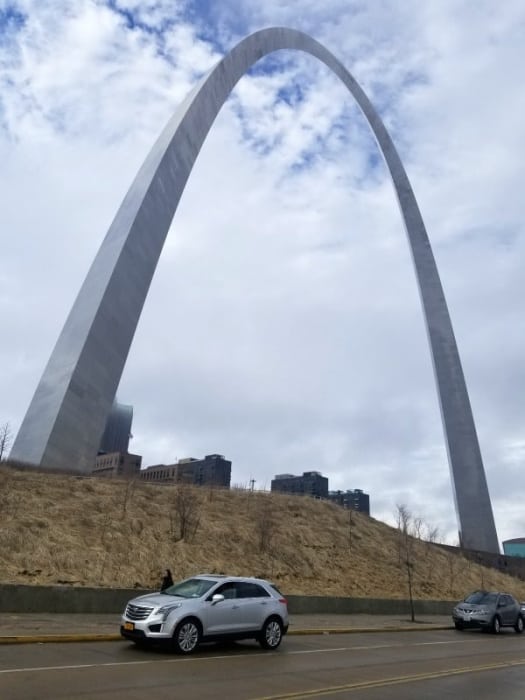 Nebraska
Agate Fossil Beds National Monument
Homestead National Historical Park
Lewis & Clark National Historic Trail (Headquarters)
Missouri National Recreational River (NE, SD)
Niobrara National Scenic River
Scotts Bluff National Monument

North Dakota
Fort Union Trading Post National Historic Site
Knife River Indian Villages National Historic Site
Theodore Roosevelt National Park
Ohio
Charles Young Buffalo Soldiers National Monument
Dayton Aviation Heritage National Historical Park
First Ladies National Historic Site
Hopewell Culture National Historical Park
James A. Garfield National Historic Site
Perry's Victory & International Peace Memorial
William Howard Taft National Historic Site

South Dakota
Minuteman Missile National Historic Site
Mount Rushmore National Memorial
Wisconsin
Apostle Islands National Lakeshore
Ice Age National Scenic Trail (Headquarters)
Saint Croix National Scenic Riverway
There are so many amazing National Park Service sites to visit in the Midwest! From historic sites to full National Parks you can learn about the history of the United States and stare in wonder at the beauty and scenery of the Midwest.
For a fun adventure check out Escape Campervans. These campervans have built in beds, kitchen area with refrigerators, and more. You can have them fully set up with kitchen supplies, bedding, and other fun extras. They are painted with epic designs you can't miss!
Escape Campervans has offices in Vancouver, Seattle, Portland, San Francisco, Las Vegas, Los Angeles, Phoenix, Salt Lake City, Denver, Chicago, New York, and Orlando
Do you have a favorite NPS site in the Midwest?
NPS Midwest Website - https://www.nps.gov/orgs/1671/index.htm
Check out all of the fun free things to do in Chicago