Following the twisty Cuyahoga River ("Ka-ih-ogh-ha" is an American Indian word for crooked), the Cuyahoga Valley National Park (CVNP) in Northeastern Ohio is unlike other national parks in our country- no admission fees, no permits or passes required, and no seasonal crowds or closures. It's more like a gigantic 33,000-acre scenic city park that's easily entered from many locations throughout Cleveland and Akron. Year-round park activities such as hiking, biking, horseback riding, picnicking, golfing, nature-watching, fishing, skiing, sledding, and snowshoeing are certainly enjoyable, but if you're a history buff, two special attractions in the park- the Cuyahoga Valley Scenic Railroad and the Ohio & Erie Canalway- are the real highlights.
The railroad tracks, originally built in 1880, are listed in the National Register of Historic Places and run over bridges, past farms, and through small towns. A large part of the 110-mile long Canalway, including the scenic Towpath alongside it, runs through the CVNP. Although now popular with runners, hikers, and bicyclists, the Towpath was once used by mules to pull the canal boats laden with trade goods.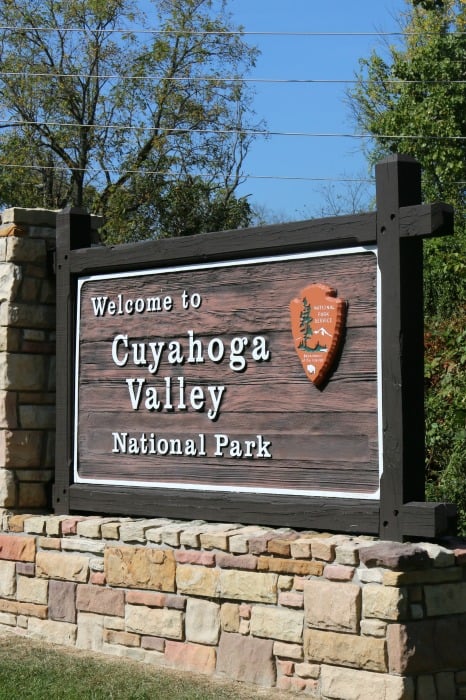 If you're short on time, make the most of both attractions by hopping aboard the train at the Peninsula Depot and riding the rails north toward the Canal Visitor Center. Once at the Canal Visitor Center (there's a 50-minute layover for round-trip train riders), you'll learn about the importance of the early canal and lock systems and can take a walk on part of the original Towpath.
At the beginning of the 19th Century, canals connected the East Coast and the Midwest and facilitated commerce and trading. The Ohio & Erie Canal specifically opened up growth for Ohio. For example, the price of wheat rose from ten cents to a dollar a bushel in 1827- making for some very happy farmers and prospering towns! The manual lock system aided boats with changes in canal elevation by raising or lowering the water level in a particular area. It's all done by hand and skillfully demonstrated by costumed interpreters throughout the summer. You can even pitch in and help push the heavy beams that control the flow of water! Informative displays inside the Visitor Center also illustrate how the locks worked.
Nearby is the beautiful brick Frazee farmhouse. Amazingly, most of the original glass windowpanes are still intact, even though the house was built in 1826. According to the park ranger on duty, the glass was brought by canal boat since fragile glass wouldn't travel very well over rutted wagon roads. The scenic Towpath continues right through the Frazee House's spacious front yard, or you can drive alongside the Towpath and through the Cuyahoga Valley National Park on the designated Canalway Ohio National Scenic Byway.
The Cuyahoga Valley National Park is truly an unexpected find in the middle of a major metropolitan area. It's a delightful link to nature and to Ohio's history!