Acadia National Park is located on the wild and rugged coastline of Maine It is here that you can catch a glimpse of the rising sun as it first sets on America each morning!
It may not be the most easterly point in Maine but the height of Mt. Cadillac within Acadia gives park visitors the first rays of the sun each morning.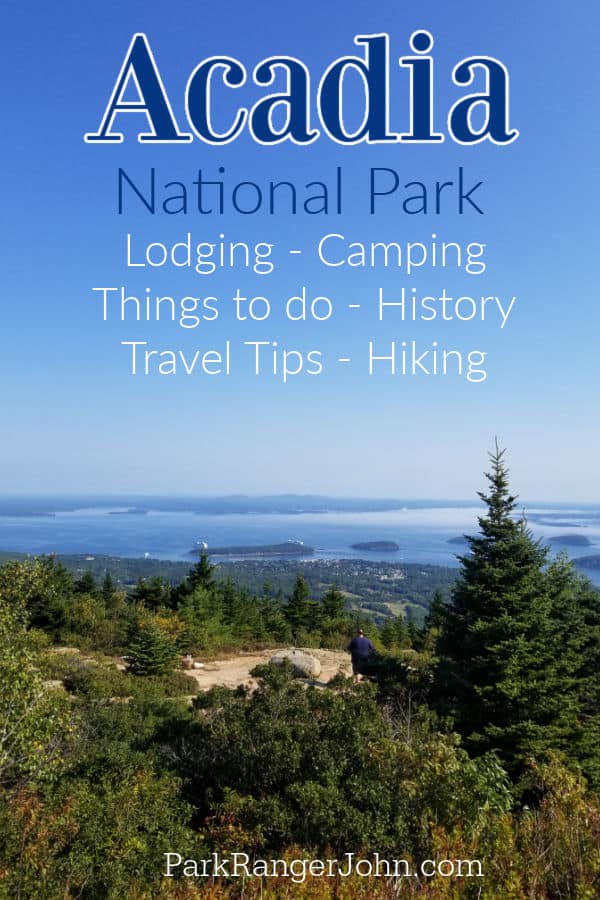 Acadia National Park
Acadia NP is one of the top ten most visited national parks and for good reason, the has so much to see and do that you can easily visit multiple times and see something new on each visit.
Acadia is a very diverse park with over 330 species of birds, 40 species of mammals, and over 1,100 plant species that have been identified in the park.
It is a place that attracts so many visitors with its fall leaves, carriage roads, breathtaking coastal views, and epic sunrise from Cadillac Mountain. You just can't go wrong with a visit to this gorgeous Maine National Park!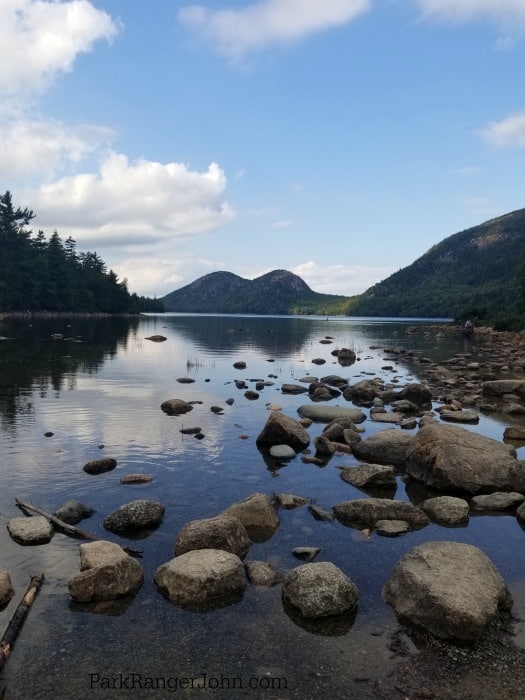 About Acadia National Park
As one of the most visited National Parks, Acadia gets more than 3 million visitors in a single year.
The area surrounding the park is rich with activities for young and old, so there is never a lack of things to do.
There is a loop road that runs along the outskirts of the park that offer outstanding views of the forest, harbors, and rocky headlands of the Atlantic Coast.
Birdwatching is very popular here, especially during seasonal migration.
Sand Beach, one of the few sand beaches in this part of Maine, is a popular destination, but be prepared-the water is always cold!
Even in August, you will only see a few bathers and they don't stay in the water very long. The tidepools in the area offer outstanding up-close viewing of tiny aquatic creatures, sure to capture the interest of little travelers.
There are actually two parts of Acadia National Park; the main park, where the carriage trails, Mt. Cadillac, Sand Beach, and the NPS Headquarters are (fee charged), and the Schoodic Point area, which is east of the main park, but does not charge a fee.
There is unexpected grandeur and geography in the Schoodic Point area and is well worth the trip. It is not visited nearly as much as the main park so there are fewer traffic jams.
Summer is the high season to visit Acadia National Park, but don't think that this isn't a place to visit in the winter, it might be cold, but there are winter activities sure to make memories that will last a lifetime.
How about ice-fishing or cross-country skiing? Snowshoeing in virgin snow or racing on the trails in a dog-sled? Winter camping?
As conditions change frequently on the coast of Maine in the winter, you should always call first to check the hours.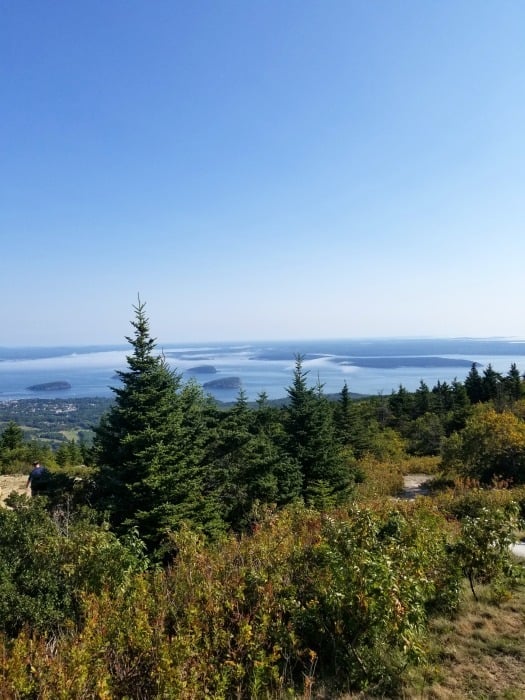 Is Acadia National Park worth visiting?
Yes! Acadia NP is gorgeous! Located along the Eastern coastline of the United States this park has an amazingly rich cultural heritage, wildlife, and so much more.
One of the best parks in the United States for scenic views. We also think the park is one of the best places to visit in Maine!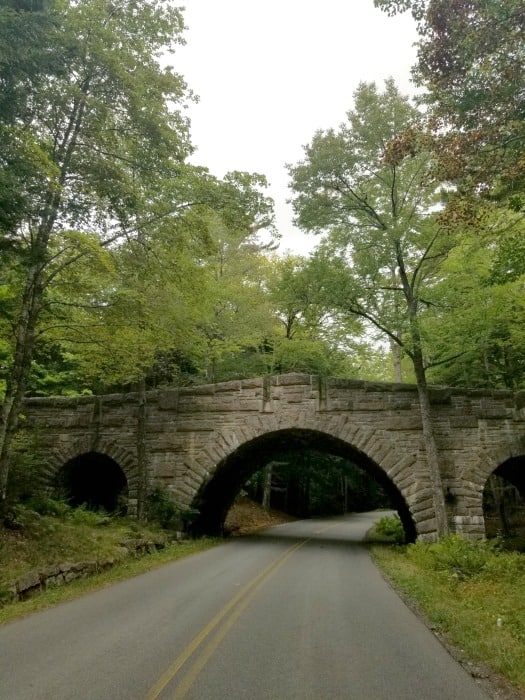 History of Acadia National Park
Acadia was first established as Sieur de Monts National Monument (named after a region in Greece) in 1916 by President Woodrow Wilson.
The name was changed to Lafayette National Park in February 1919 when it became the first East Coast National Park. It was the 1st national park east of the Mississippi River.
The name was changed to Acadia National Park in January 1929. Acadia was named after a region in Greece that it resembled called Arcadia.
Acadia National Park protects roughly 50,000 acres of natural beauty along the Maine coast. Within the 50,000 acres that make up the park, you will discover a rich and long history that takes you back twelve thousand years into the past!
Acadia National Park has been home to many people throughout history. The first people to settle in the area did so five thousand years ago.
The Wabanaki People
The Wabanaki people, or 'People of the Dawnland,' have called the Maine coastline their homeland for thousand's of years. They called Mount Desert Island Pemetic, which means 'the sloping land,' or 'range of mountains.' Archeological evidence uncovered at the site suggests that the Wabanaki people inhabited Mount Desert Island for over five thousand years.
Thousands of years ago, the Wabanaki people traveled to Mount Desert Island in birch canoes. They set up camps on the island at Somes Sound.
Since salmon was abundant during the winter months, it is believed that the Wabanaki people lived on the coast.
In the summer months, the Wabanaki people would camp in the cool forests in the interior. Some believed it was the opposite way around and that the tribe lived on the coast in the summer.
The Wabanaki people hunted, fished, harvested clams, and gathered berries to survive.
In the early 1600s Europeans landed on the Maine coastline. We know that the Wabanaki people encountered the French colonizers in 1604 through the accounts of Samuel de Champlain. The Wabanaki people were described as making conical shelters made from bark.
The European colonizers tried to remove the Wabanaki people from their homeland, but the tribes resisted. The Abbe Museum in Acadia National Park is home to the largest collection of basketry, art, and crafts made by the Native nation tribes who inhabit Maine.
French Colonization of Maine
The first Frenchmen arrived on Mount Desert Island on September 5th, 1604. It would be 16 years before the Mayflower pilgrims landed at Plymouth Rock.
In 1613 the first French mission in the New World was established on Mount Desert Island by Jesuits. The Wabanaki people welcomed the missionaries to the island. The missionaries baptized the Native people who wanted to join the Jesuit faith, planted corn, and began building a fort.
It was not long until the British destroyed the mission. The British began settling in the New World in 1607. By 1613 the British settlements in Massachusetts were increasing, as were tensions between the French and the British.
The founder of Detroit, Antoine Laumet, whose title was Sieur de la Mothe Cadillac, was briefly in control of the region. He tried and failed to establish a feudal estate on the land.
After Laumet, no further attempts were made to occupy the area and Mount Desert became a contested territory that no one settled for over 150 years while Britain and France waged war with one another over control of the colonies.
Acadia and New England
For nearly a century and a half, there was a conflict between Britain and France. The conflict was over trade and control of lands in North America. In 1759, Britain ended French control of Acadia after the Battle of Quebec.
The British victory at Quebec meant that the Maine coast was now open to British settlers, incorporating the site into New England.
The governor of Massachusetts, Francis Bernard tried to settle the area in 1760. He offered free land to those who were willing to settle there.
Two men, James Richardson and Abraham Somes accepted Bernard's offer and settled in what would become Somesville. The plans to settle in the region were abandoned when the Revolutionary War broke out in 1775. After the war, Bernard lost the right to land in what was now the United States of America.
Half of Mount Desert went to Bernard's son and the other half to the granddaughter of Antoine Laumet. Both sold their land shortly after opening the land up to homesteaders in the early 1800s.
Mount Desert became home to fishermen, farmers, shipbuilders, and lumberjacks.
Mount Desert Island in the 1800s
Towards the latter half of the 1800s, Mount Desert Island became a popular tourist destination for tourists who were referred to as 'rusticators.' Visitors to Mount Desert Island were drawn there due to the work of several artists.
The rusticators stayed in the homes of local farmers and fishermen as they sought to experience the simple, idyllic life that Mount Desert had to offer.
The region attracted the most wealthy members of American society, such as the Rockefellers, Astors, Fords, and Vanderbilts.
The wealthy families built several estates on Mount Desert where they could spend their summers in luxury. Many of these sprawling estates were destroyed in a fire that ripped through the area in 1946.
In the early 1900s, George B. Dorr became concerned with the rapid development happening in the region. Dorr devoted decades of his life to preserving the region. He acquired 16,000 acres of land, which he donated to the Federal government.
In 1916 the Sieur de Monts National Monument was created, starting what would eventually become the 50,000 acres of Acadia National Park.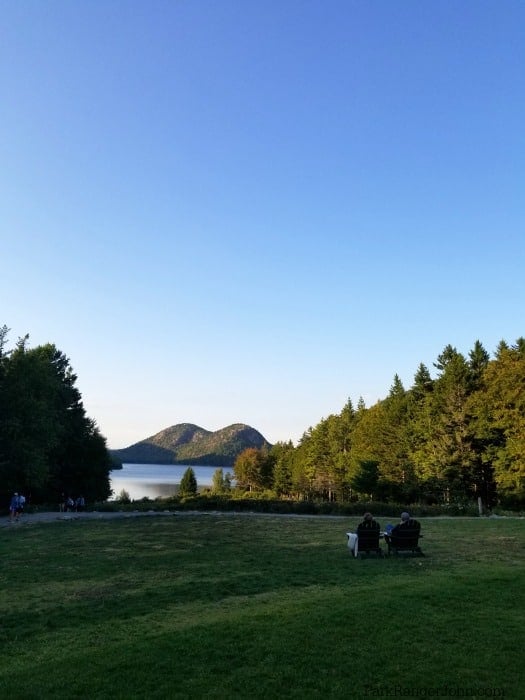 Things to know before your visit to Acadia National Park
Entrance fee
All park visitors are required to pay an entrance fee upon entry.
7-day private car pass - $30
7-day motorcycle pass - $25
7-day individual with no car - $15
Planning a National Park vacation? America the Beautiful/National Park Pass covers entrance fees for an entire year to all US National Park Sites and over 2,000 Federal Recreation Fee Sites.
The park pass covers everyone in the car for per vehicle sites and for up to 4 adults for per-person sites.
Buy on REI.com and REI will donate 10% of pass proceeds to the National Forest Foundation, National Park Foundation and the U.S. Endowment for Forestry & Communities.
Learn more about National Park Passes for parks that have an entrance fee.
Free Entrance Days -Find the five free entrance days the National Park Service offers annually.
Cadillac Summit Road Reservations
From May 25 to October 22, 2022, you will need a vehicle reservation to access Cadillac Summit Road.
Vehicle reservations are not required for any other areas of the park, or for visitors who enter the area by foot, bike, or taxi.
Cadillac is not served by the Island Explorer bus system.
Vehicle reservations cost $6. They are sold online in advance at Recreation.gov. They are not available for purchase at the park.
Thirty percent of vehicle reservations are made available 90 days ahead of each date. The remaining 70 percent are released at 10 am ET two days ahead.
Visitors must have a park entrance pass to enter the park in addition to purchasing a vehicle reservation for Cadillac Summit Road.
Sunrise reservations have a two-hour entry window. Daytime reservations have a 30-minute entry window.
Vehicle reservations are per vehicle, not per person. Motorcycles, motor scooters, and mopeds are considered vehicles, and a vehicle reservation is required for each.
Time Zone
EST - Eastern Standard Time
Pets
You can bring your pet with you to Acadia NP!
All pets must be on a leash that is less than 6 feet in length.
There are 100 miles of hiking trails and 45 miles of carriage roads that pets are permitted on.
These park trails are closed to pets
Precipice
Beehive
Ladder Trail to Dorr Mountain
Beech Cliffs Trail
Perpendicular Trail (Mansell Mountain)
Jordan Cliffs Trail between Penobscot East Trail and the carriage road
You can even sign up to be a Bark Ranger at Acadia NP! Stop by a campground ranger station, the Sieur de Monts Nature Center, or the Hulls Cove Visitor Center to pick up a copy of an activity checklist and learn more about Acadia's Bark Ranger program.
Dogs completing this short program can be sworn in as Bark Rangers and their owners will be eligible to purchase a special Bark Ranger collar tag at the Eastern National Bookstore at the Hulls Cove Visitor Center.
Ticks are prevalent in Acadia, mostly active late spring to early fall. Check yourself and your dog thoroughly after a visit.
Cell Service
Cellular access throughout the park is very limited. Do not plan to rely on cellular connectivity along Ocean Drive (Sand Beach, Thunder Hole, Otter Cliffs, etc...) or on most of the park trails.
Park Hours
Acadia National Park is open year-round.
Wi-Fi
There is no public WIFI available within the park.
Insect Repellent
Insect repellent is always a great idea when outdoors, especially if you are around any body of water.
Bug spray is your friend! We use Permethrin Clothing Insect Repellent to pre-treat our clothes before we visit the park.
Water Bottle
Make sure to bring your own water bottle and plenty of water with you. Plastic water bottles are not sold in the park.
Parking
Parking can be extremely difficult in popular areas of the park.
You will want to be prepared to be patient when it comes to finding a parking space.
If the idea of waiting and looping parking lots on your national park vacation sounds horrible we suggest taking the free Island Explorer bus to explore the park.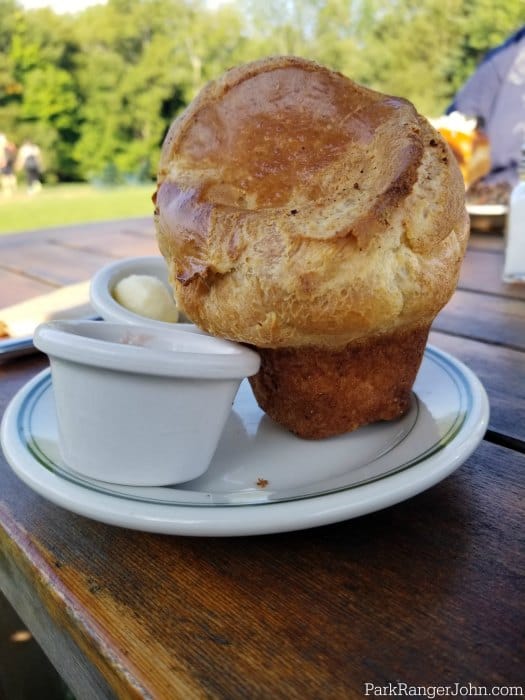 Food/Restaurants
Jordon Pond Restaurant is the only dining facility within the park.
They serve epic popovers and a full menu of great meals for lunch, tea, and dinner.
Gas
There are no gas stations within the park.
There are multiple gas stations in Bar Harbor and nearby communities.
National Park Passport Stamps
National Park Passport stamps can be found in the visitor center.
Make sure to bring your National Park Passport Book with you or we like to pack these circle stickers so we don't have to bring our entire book with us.
Acadia NP is part of the 1987 Passport Stamp Set and the 2016 Passport Stamp Set
Electric Vehicle Charging
There are EV Charging Stations available outside of the park.
RV/Oversized Vehicle Restrictions
The following areas are closed to recreational vehicles (RVs) and trailers:
Cadillac Summit Road
Echo Lake Beach Road (Only buses with permits are allowed.)
Lurvey Spring Road
The following areas are closed to buses, recreational vehicles (RVs), and trailers:
Duck Brook Road
Lighthouse Road
The dead-end portion of Schooner Head Road (a.k.a. Great Head Road)
Sand Beach Parking Lots
Jordan Pond South Parking Lot
Bubble Pond Parking Lot (excluding Island Explorer buses)
Schoodic Head Road
The portion of Schoodic Loop Road from the Schoodic Woods Day Use Parking Area to the end of the one-way at Wonsqueak.
Arey Cove Road to Schoodic Point. (Excluding traffic specific to the SERC campus.)
The shortest underpass on Park Loop Road is 11 feet 8 inches (3.56 m).
Height restrictions are as follows:
Park Loop Road is closed to vehicles taller than 12 feet 2 inches (3.70 m) from Sieur de Monts to Sand Beach Entrance Station.
Park Loop Road is closed to vehicles taller than 12 feet (3.65 m) from Fabbri Picinic Area to Wildwood Stables.
Stanley Brook Road is closed to vehicles taller than 10 feet 4 inches (3.15 m). Fish House Road is closed to vehicles taller than 11 feet 6 inches (3.50 m).
Details about Acadia National Park
Size - 49,076 Acres
Acadia NP is currently ranked at 50 out of 63 National Parks by Size.
Acadia National Park protects more than 47,000 acres (19020 hectares):
35,332 acres (14298 hectares) owned by the National Park Service
12,416 acres (5025 hectares) of privately owned lands that are under conservation easements managed by the National Park Service
Date Established
February 26, 1919
On February 26, 1919, President Woodrow Wilson signed a Presidential Proclamation to establish Grand Canyon and Lafayette (now Acadia).
Visitation
In 2020, Acadia NP had 2,669,034 park visitors.
In 2019, Acadia NP had 3.437,286 park visitors.
Learn more about the most visited and least visited National Parks in the US
Acadia National Park Address
25 Visitor Center Road
Hulls Cove Visitor Center
Bar Harbor, ME 04609
Acadia National Park Map
Where is Acadia National Park?
Acadia is located on Mount Desert Island along the coast of Maine. The park is 264 miles from Boston and 50 miles from Bangor, Maine.
Acadia National Park, just outside the beautiful town of Bar Harbor, is a 2-½ hour drive from Portland Jetport and an hour from Bangor International Airport.
In the peak season, traffic around Ellsworth and Bar Harbor can make these times longer. The closest regional airport is in Trenton.
Estimated distance from major cities nearby
Bangor, Maine - 50 miles
Portland, Maine - 160 miles
Boston, Massachusetts - 280 miles
New York City, New York - 483 miles
Estimated Distance from nearby National Park
Shenandoah National Park - 778 miles
Cuyahoga Valley National Park - 917 miles
New River Gorge National Park - 994 miles
Great Smoky Mountains National Park - 1,180 miles
Congaree National Park - 1,186 miles
Indiana Dunes National Park - 1,207 miles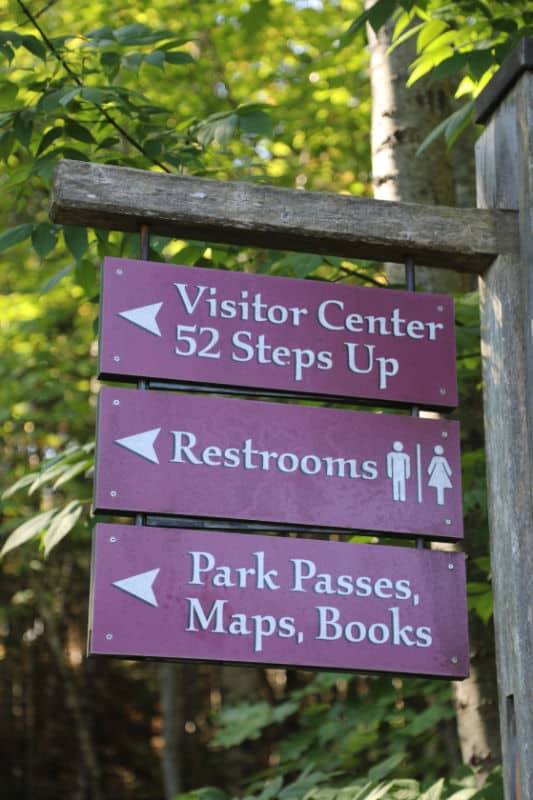 Where is the National Park Visitor Center?
Hulls Cove Visitor Center
There are 52 steps from the parking lot up to the Acadia National Park Visitor Center. The bathroom is at the top of these stairs within the visitor center. Be prepared for it to be crazy busy.
Please do not do what we did and arrive having to go to the bathroom and have to make it up 52 stairs, through a crowd of people, and into the visitor center. Trust me this is not how you want to start your visit to Acadia!
The visitor center has a 15ish minute video that overviews the national park. It is an ok video but not life-changing. If you are short on time or just don't feel like watching it you will be just fine!
Sieur De Monts Nature Center
Sieur de Monts Nature Center has visitor services, hiking information, and interactive exhibits. It acts as a trailhead for many hiking trails starting in the Sieur de Monts area.
Park rangers are present during the spring, summer, and fall months.
Village Green Information Center
Village Green Information Center provides park information, park entrance passes, and access to Island Explorer shuttle buses in downtown Bar Harbor.
Islesford Historical Museum
The Islesford Historical Museum is expected to reopen in 2021 showcasing both the upgrades and a community-curated exhibit helping to tell the stories of the Cranberry Isles.
Rockefeller Welcome Center
Rockefeller Welcome Center is located on Schoodic Peninsula off the one-way loop road. Exhibits about the old Navy base and park information can be found here.
Schoodic Woods Campground Ranger Station
Information, Camping, Island Explorer buses, and park passes.
Thompson Island Information Center
Thompson Island Information Center is located off Route 3 on a small island between the mainland and Mount Desert Island.
It is a small, seasonal facility usually staffed by a park ranger and local chamber of commerce representative.
Park passes are available for purchase here.
Winter Information - Bar Harbor Chamber of Commerce
Each winter, typically from Nov 1 through April 14, park information is available from rangers at the Bar Harbor Chamber of Commerce, 2 Cottage St., at the corner of Cottage and Main streets in downtown Bar Harbor.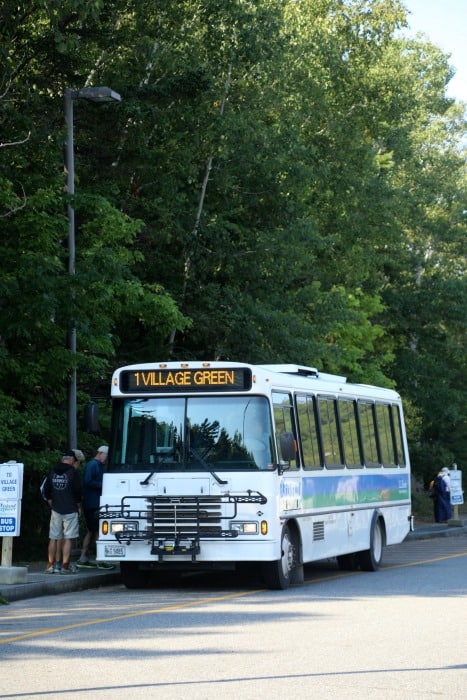 Getting to Acadia National Park
Closest Airports
Hancock County–Bar Harbor Airport (BHB) - 10 miles from the park.
International Airports
Boston Logan Airport
Bangor International Airport
Regional Airports
Portland International Jetport (PWM)
Driving Directions
From Boston take I-95 north to Augusta, Maine, then Route 3 east to Ellsworth, and on to Mount Desert Island.
For an alternate route, continue on I-95 north to Bangor, Maine, then take I-395 to U.S. Route 1A east to Ellsworth. In Ellsworth, take Route 3 to Mount Desert Island.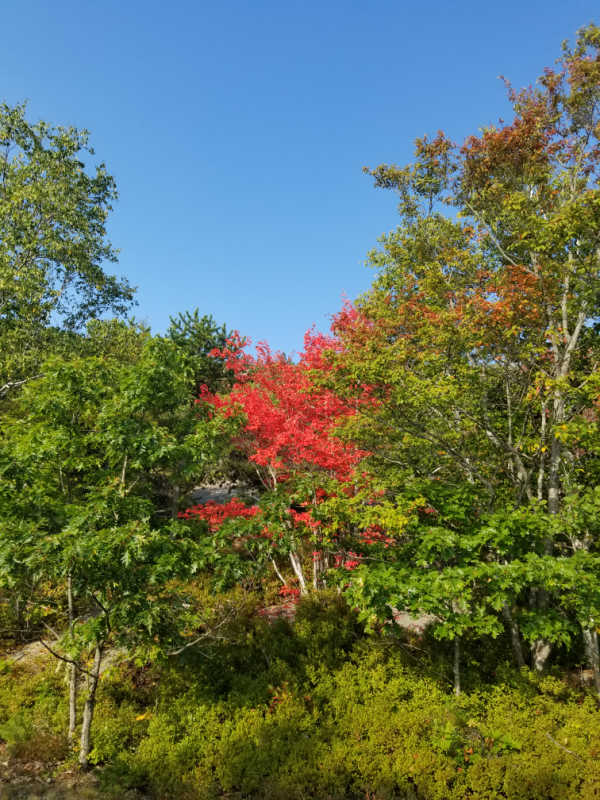 Best time to visit Acadia National Park.
The best time to visit Acadia NP really depends on what you want to see and do.
If you are looking to experience Fall Foliage in Maine then a trip in the Fall is a perfect time.
If you want to enjoy long days of sunshine and don't mind crowds then you will love summer.
The park also offers amazing winter recreations.
Honestly, the best time to visit Acadia is any time you can get to the park and spend a few days exploring.
Acadia National Park Weather and Seasons
Acadia is a four-season park! From warm summer days to snowy winter days the park offers every weather and season.
Spring
Spring temperatures range from 30 to 70s depending on the month you are visiting.
You will want to dress in layers to be prepared for weather fluctuations.
This is a great time of year to enjoy a bike ride on the Carriage Roads. There are 45 miles of crushed rock surface perfect for enjoying on a bike.
Summer
Peak visitation to Acadia NP is typically between June into September. During this time parking is limited and tends to fill up early.
The park offers a free Island Explorer shuttle service for visitors to help deal with congestion.
The most congested areas in the park include Cadillac Summit Road, Jordan Pond, Park Loop Road, Sand Beach parking lot, Eagle Lake Carriage Road Access, Acadia Mountain Parking and Echo Lake parking.
To avoid crowd we suggest arriving EARLY and Staying Late in the park! Enjoy the sunrise and sunset while soaking in how gorgeous the park is.
Autumn/Fall
The peak time to see fall leaves is usually mid-October. The leaves start turning colors in September.
Crowds may be less than summer but this time of year is incredibly popular! Most visitors come on the weekends.
If you can visit mid-week you will enjoy fewer crowds.
Winter
During winter you can find information about the park at the Bar Harbor Chamber of Commerce in Bar Harbor.
Two sections of the Park Loop Road are open in the winter, Ocean Drive and Jordan Pond Road.
Ocean Drive is a one-way portion of the Park Loop Road that is accessible from Schooner Head Road one mile south of downtown Bar Harbor.
Make sure to look out for snowmobiles while exploring the park.
There are forty-five miles of carriage roads in the park that are the perfect place to enjoy cross country skiing and snowshoeing.
Snowmobiling is allowed on the 27 mile Park Loop Road system including the road up to Cadillac Mountain.
Did you know you can enjoy ice fishing in Acadia!
The average snowfall in Acadia is around 60 inches. Learn more about visiting Maine in winter.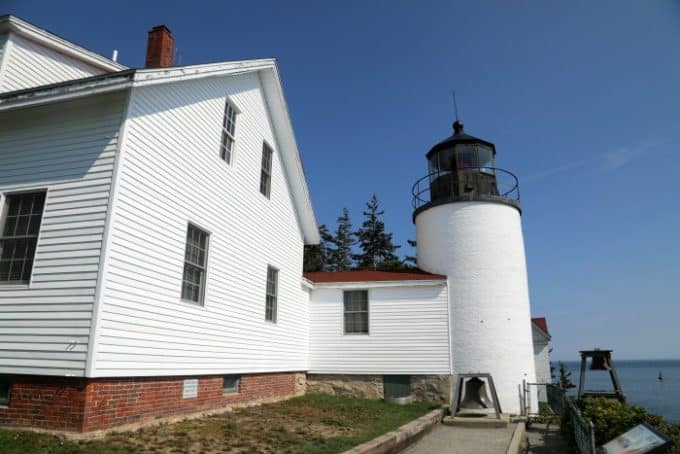 There is something for everyone to see and do in Acadia NP! Highlights include sunrise on Cadillac Mountain, exploring the carriage roads, popovers at Jordan Pond House, and soaking in the epic beauty of this Maine National Park.
Most people spend 2 to 3 days visiting the park and surrounding area.
Carriage Roads
The carriage roads are unique features for a national park. It was the vision of John D. Rockefeller Jr. who funded, gifted, and directed the construction of the roads.
The roads were designed for horse-drawn carriages so that park visitors could get out and experience Acadia in all its beauty without any modern-day distractions.
Today, the carriage trails in Acadia are one of the most beloved portions of the park, especially in the fall! The carriage trails not only offer carriage rides but also offer great hiking and biking opportunities.
The views are spectacular of the broken stone roads commonly used at the turn of the 20th Century as well as stone face bridges. The 16-foot wide road takes full advantage of sweeping views of the landscape making for a must-see portion of Acadia!
Acadia Park Loop Road
The scenic 27-mile (43 km) scenic loop begins at Hulls Cove Visitor Center and offers access to Sand Beach, Thunder Hole, Otter Cliffs, Jordan Pond, and Cadillac Mountain.
Bridge Clearances on the Loop Road
Stanley Brook Entrance: 10 feet 4 inches (3.1 m)
Sieur de Monts: 12 feet 2 inches (3.7 m)
Fabbri Picnic Area: 11 feet 6 inches (3.5 m)
Blackwoods Campground: 11 feet 8 inches (3.5 m)
Wildwood Stables: 13 feet (3.9 m)
The Park Loop Road closes on December 1, unless there is a significant snowfall that forces an earlier closure. The road reopens on April 15 if weather permits.
A two-mile section of the road, one of the most scenic sections, remains open all year.
Cadillac Mountain
Another one of the top attractions in Acadia is watching the sunrise at Cadillac Mountain. in fact it is so popular that now reservations are now required.
This is due to the fact that Cadillac Mountain is the highest point on the Eastern Seaboard of the United States.
It may not be the easternmost portion of the United States, but its location, combined with its elevation makes it the first place you can witness sunrise each morning in the United States between the months of October and March.
Vehicle reservations are required for Cadillac Summit Road from mid-May through mid-October.
Dates for vehicle reservations in 2022 will be from May 25 through Oct 22.
Reservations cost $6. They are sold online in advance at Recreation.gov. They are not available for purchase at the park.
Thirty percent of vehicle reservations are made available 90 days ahead of each date. The remaining 70 percent are released at 10 am ET two days ahead.
No RVs or trailers are allowed up Cadillac Summit Road.
There is no public transportation up to the summit.
How tall is Cadillac Mountain? The summit is 1530 feet (466m).
Whale watching cruise
There are several options for cruises including whale watching tours, wildlife tours, lighthouses, sunset cruises, and tours to Baker Island. Cruises leave out of Bar Harbor, Maine.
There is an opportunity to see whales, puffins, seals, and great bird watching.
Bird Watching
Acadia has been referred to as the "warbler capital of the world" by Roger Tory Peterson.
The park has over 20 species of warblers breeding on the island and 308 bird species in and around the park.
From Late August to October, you can join park rangers and volunteers daily on Cadillac Mountain for Hawkwatch.
The park is home to around 40 species of mammals, more than 330 species of birds, 30 species of fish, 7 reptiles, and 11 amphibians.
Thunder Hole
Thunder Hole is a small inlet that has been created by the ocean's waves eroding it. Now when the ocean is reaching high tide, you can hear a loud thundering sound of the water thundering into the inlet and the air escaping the inlet from the waves themselves.
The best time to hear this is approximately 1-2 hours before high tide.
There are stairs that lead down for a much closer look at this phenomenon but be warned, the waves coming off the rocks can reach up to 40 feet! This can lead to a very wet and even dangerous experience.
Many park visitors would say that no trip to Acadia would be complete without a trip to Thunder Hole.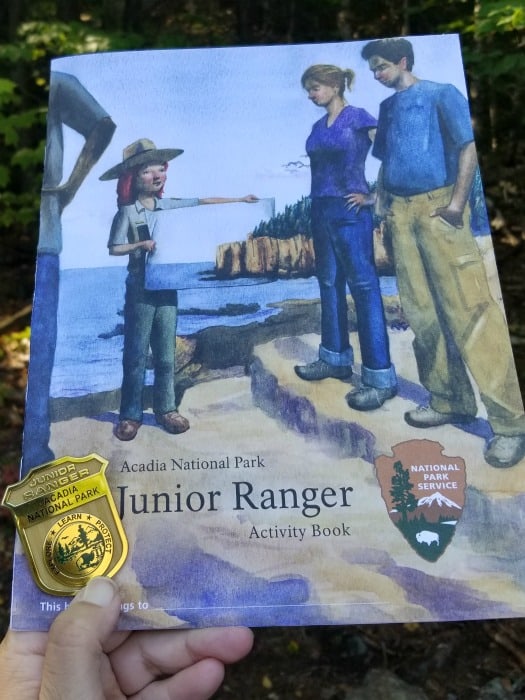 The Junior Ranger Program can be picked up at the visitor center. This is a great way to learn more about the park for all ages.
Bar Harbor, Maine
If you are spending time exploring Bar Harbor make sure to check out this 3 hour culinary walking tour with tastings of local flavors.
Hiking in Acadia National Park
Always carry the 10 essentials for outdoor survival when exploring.
There are more than 150 miles of trails within Acadia NP. You can enjoy a mountain hike, coastal hikes, or lake and forest hikes.
The Beehive Loop Trail is one of the popular hikes in the park. It is not for the faint of heart with rocky stairs and sheer ledges.
Trail Closures are posted online and at park visitor centers.
Make sure to follow Leave no Trace Principles.
How to beat the crowds in Acadia National Park?
The best way to beat the crowds in Acadia is to arrive early and stay late.
Be prepared with a goal plan but know that you may have to change it depending on how crowded places are.
Make sure you have a National Park Pass ahead of your visit to skip the long lines to buy a pass.
Ride the Island Explorer bus to save yourself the hassle of finding parking.
Where to stay when visiting Acadia National Park
There are no National Park Lodges within Acadia.
The closest towns to Acadia National Park include Bar Harbor, Trenton, and Ellsworth.
Asticou Inn - 3-star hotel near Acadia National Park. Consider a stay at Asticou Inn and take advantage of free continental breakfast, 18 holes of golf, and a terrace. Tee up with amenities like golf lessons at this hotel. In addition to a garden and a library, guests can connect to free in-room Wi-Fi.
Kimball Terrace Inn Northeast Harbor - Kimball Terrace Inn Northeast Harbor provides amenities like a business center and a restaurant. Stay connected with free in-room Wi-Fi.
Atlantic Eyrie Lodge - free continental breakfast, a terrace, and a garden. In addition to laundry facilities and a business center, guests can connect to free in-room Wi-Fi.
Bar Harbor Motel - free continental breakfast, a playground, and laundry facilities at Bar Harbor Motel. Adventurous travelers may like the hiking/biking at this motel. In addition to a business center, guests can connect to free in-room Wi-Fi.
Wonder View Inn - laundry facilities, a bar, and a business center. Be sure to enjoy a meal at The Looking Glass, the onsite restaurant. Stay connected with free in-room Wi-Fi.
Holiday Inn Resort Bar Harbor - Acadia Natl Park - A marina, a poolside bar, and a terrace are just a few of the amenities provided at Holiday Inn Resort Bar Harbor - Acadia Natl Park, an IHG Hotel. For some rest and relaxation, visit the sauna. Be sure to enjoy a meal at any of the 3 onsite restaurants. Free in-room WiFi is available to all guests, along with a garden and laundry facilities.
Click on the map below to check current rates and see what is available for lodging and vacation rentals.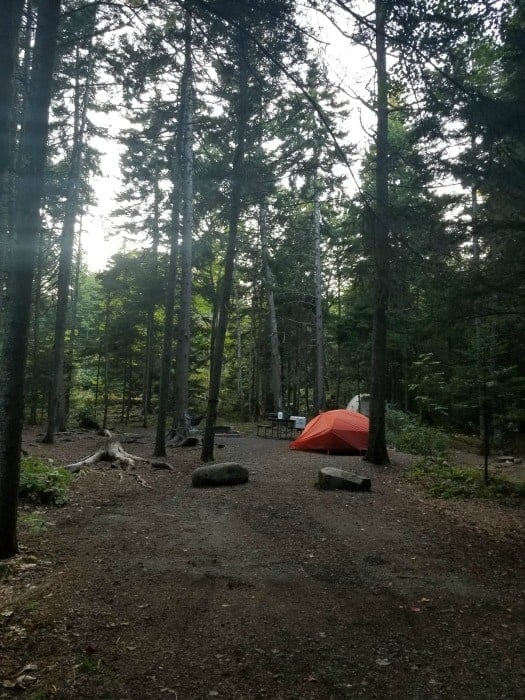 Acadia National Park Camping is permitted only in designated campsites at Blackwood's, Seawall, Schoodic Woods, and Duck Harbor (Isle au Haut) Campgrounds.
All campgrounds require reservations. No sites are available for last-minute walk-ups.
For a fun adventure check out Escape Campervans. These campervans have built in beds, kitchen area with refrigerators, and more. You can have them fully set up with kitchen supplies, bedding, and other fun extras. They are painted with epic designs you can't miss!
Escape Campervans has offices in Vancouver, Seattle, Portland, San Francisco, Las Vegas, Los Angeles, Phoenix, Salt Lake City, Denver, Chicago, New York, and Orlando
Blackwoods Campground
Sites - 281 sites
Season - May 6 through October 17, 2022, 10 am
Location - East side of Mount Desert Island, about 5 miles (8 km) south of Bar Harbor on Route 3.
Seawall Campground
Sites - 202 campsites
Season - May 25 through October 10, 2022, 10 am
Reservations - Reservations are available two months in advance
Location - West side of Mount Desert Island about 4 miles (6 km) south of Southwest Harbor.
Schoodic Woods Campground
Sites - 89
Season - May 25 through October 10, 2022, 10 am
Reservations - Reservations are available 2 months in advance
Location - 1.5 miles (2.5 km) southeast of Winter Harbor on the Schoodic Peninsula.
Duck Harbor Campground on Isle au Haut
Sites - Five lean-to shelters, three-sided with roof and floor.
Season - The first night is June 4th and the last night is October 10th.
Reservations - Reservations are available 7 months in advance of the reservation date.
Location - Isle au Haut is linked to the mainland by a ferry from Stonington. No auto ferry exists.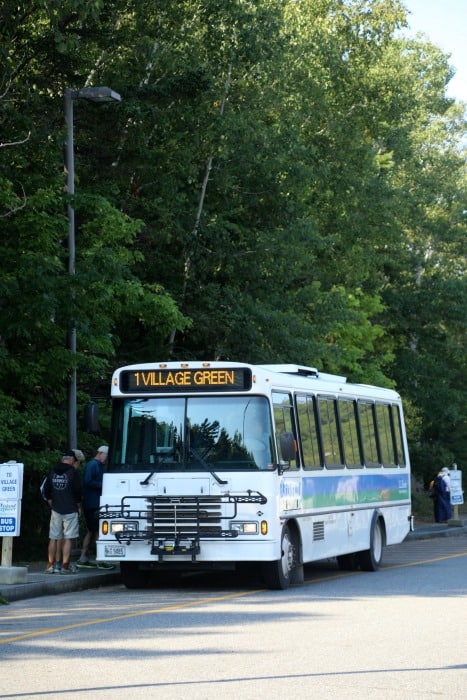 Travel Tips
Watch out for suicidal squirrels while driving! They will throw their bodies in front of cars more than you expect.
It gets dark really fast so be prepared if you are out hiking
Give yourself more time than you think you will need to the scenic loop and to find parking.
Make reservations as early as you can! Hotels and restaurants fill up quickly.
The visitor center is crazy busy! You can buy a National Park Pass if you don't have one in town or online to save time.
1 day really is only a tease of the park, make sure you give yourself time to enjoy yourself and not be running all over the place to squeeze it all in.
If you are renting a car in Boston or NY check to see if you can get an EZ Toll Pass for the rental car. This will save you time and money.
The rising sun touches the slopes of the Cadillac Mountains before anyplace else in the USA.
Acadia has 130 miles of hiking trails, ranging from easy to strenuous.
Make sure to have a popover at Jordan Pond House restaurant! They have been served for over 100 years.
Acadia National Park Facts
Acadia is unique because it was created from donated land, most notably 11,000 acres donated by John D. Rockefeller Jr. He also built about 45 miles of the carriage roads in the park.
The Cadillac Mountains are also the highest points on the North Atlantic Seaboard.
Additional Resources
The Photographer's Guide to Acadia National Park: Where to Find Perfect Shots and How to Take Them
Historic Acadia National Park: The Stories Behind One of America's Great Treasures
Acadia National Park Waterproof Trail Map
Moon Coastal Maine: With Acadia National Park (Travel Guide)
Photographing Acadia National Park: The Essential Guide to When, Where, and How
Best Easy Day Hikes Acadia National Park (Best Easy Day Hikes Series)
Acadia: The Complete Guide: Acadia National Park & Mount Desert Island (Color Travel Guide)
Acadia National Park: A Centennial Celebration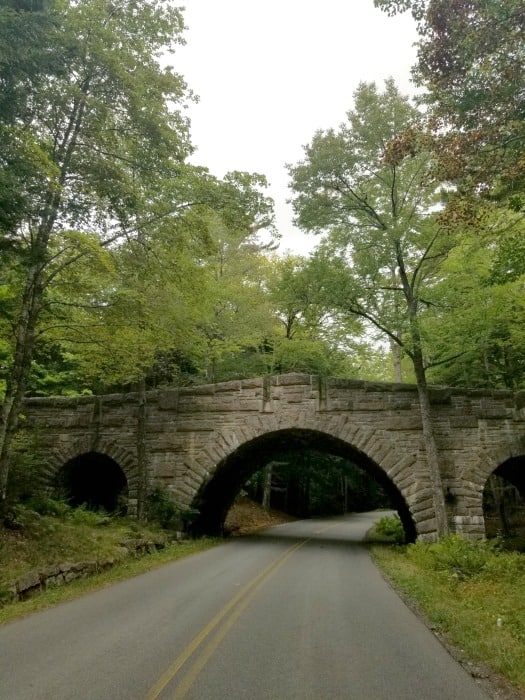 Parks near Acadia National Park
Saint Croix Island International Historic Site
Katahdin Woods and Waters National Monument
Saint Gaudens National Historical Park
Marsh Billings Rockefeller National Historical Park
Appalachian National Scenic Trail
Lowell National Historical Park
Make sure to check out all of the National Parks in Maine along with neighboring National Parks in New Hampshire, National Parks in Vermont, National Parks in New York, and National Parks in Pennsylvania
Printable list of US National Parks in Alphabetical Order
National Park Service Website