These great Arches National Park Hikes put you right in the middle of the world's highest concentration of natural sandstone arches with over 2,000 arches identified within the park. It is no longer a hidden gem within the National Park System either. Photos of icons like Delicate Arch have led the general public to fall in love with Arches and has made it one of the most visited National Parks in the United States.
You can anticipate a line to get into the park and full parking lots once you do get in. The Arches National Park hiking trails will be full of people and there will be photographers jockeying for the perfect spot to get their favorite photograph to take back home and show their friends. It is also common to see several international tourists making the trek to Arches as they too have seen photos of this magnificent place.
You may ask yourself if it is worth going? I will tell you the answer is without a doubt Yes! I have visited Arches several times and hiked the best hikes in Arches National Park and have come up with my list of the best hikes in Arches National Park.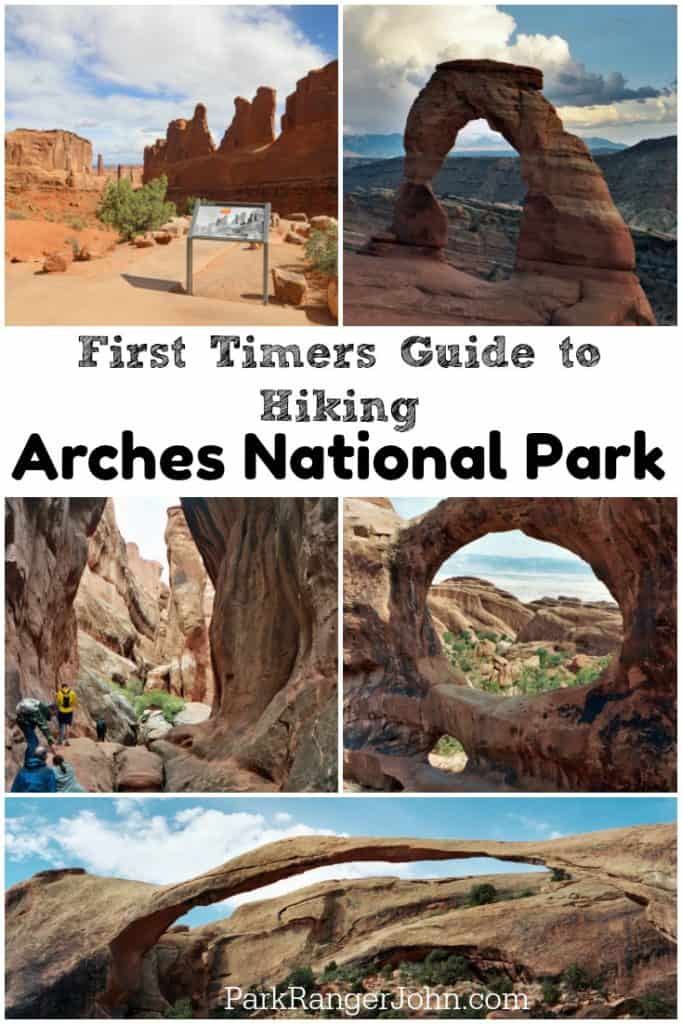 Arches National Park Hikes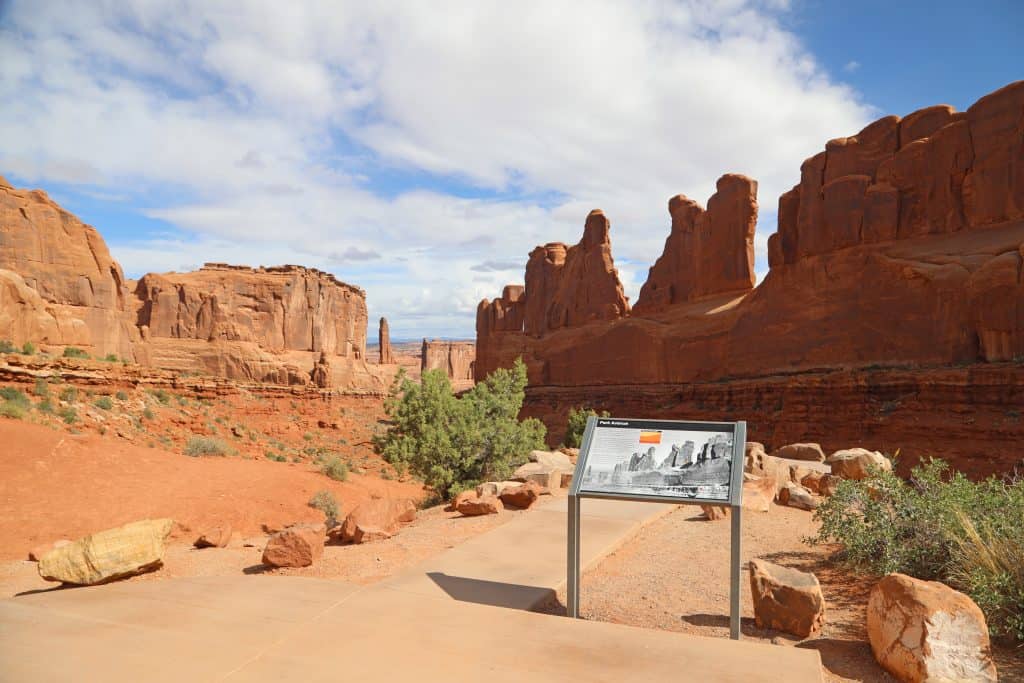 Park Avenue Trail
Distance: 1-Mile One Way or 2 miles round trip
Elevation change: 320 feet
Hiking time: 30-60 minutes each way
Trail Rating: Moderate
Park Avenue is the first trail you will run into after entering the park. This is a moderate trail with epic views of monoliths, The Three Gossips, Sheep Rock, The Organ and Tower of Babel!
You can make this a one-way 1-mile hike if you have someone that can pick you up at the Courthouse Towers Viewpoint. I see many people itching to get out of the car and hit the first trail head when they get to Arches National Park.
I suggest visiting Park Avenue in the evening as it is better for photography. If you are in the morning hours make sure to stop at the Courthouse Towers Viewpoint as the Three Gossips are beautiful and do photograph better in the morning light.

Delicate Arch Hike
Distance: 3 Miles Round trip
Elevation change: 480 feet
Hiking Time: 2-3 hours
Trail Rating: Difficult
Delicate Arch is more than an arch, it's a symbol of the American Southwest. Delicate arch replaced Utah's Olympic Winter Games license plate and has been easily recognized as the symbol of Utah ever since. This is also one of my most memorable hikes and is one of my top 10 all time hikes in the National Parks!
Delicate Arch Trail is considered a difficult trail for a good reason; it's not just the distance and elevation gain/loss, it's because you will be hiking on the exposed slick rock with the Southwests baking sun bearing down on you the whole hike with absolutely no shade.
The hike starts off going straight uphill in direct sunlight and not much to see. If it were not for the huge crowds you would think that you were off the trail as you don't see the arch and only red rock in front of you.
Something happens after hiking over a mile, you begin to walk along a rock a short rock wall. I personally will never forget the moment when I walked around the rock wall and Delicate Arch stood there in it's full beauty! It all but took my breath away.
I stood in amazement soaking in the moment. When I came back to my senses I noticed the sheer number of people and the whole one side was nothing but photographers fighting for position for the perfect shot.
Delicate Arch itself brings in photographers from around the world. You don't need to be a pro to get a good photograph, just know the best time to photograph Delicate Arch is in the Late Afternoon. Also make sure to be prepared if there is a full moon. Photographers flock to Delicate Arch on full moons attempting to get the perfect shot with Delicate Arch and a Full Moon.
For a fun perspective go to the lower Delicate Arch overlook. Here you will see what looks like hundreds of ants climbing up and around the arch. Upon closer inspection, you will notice it is all the hikers making their way to Delicate Arch.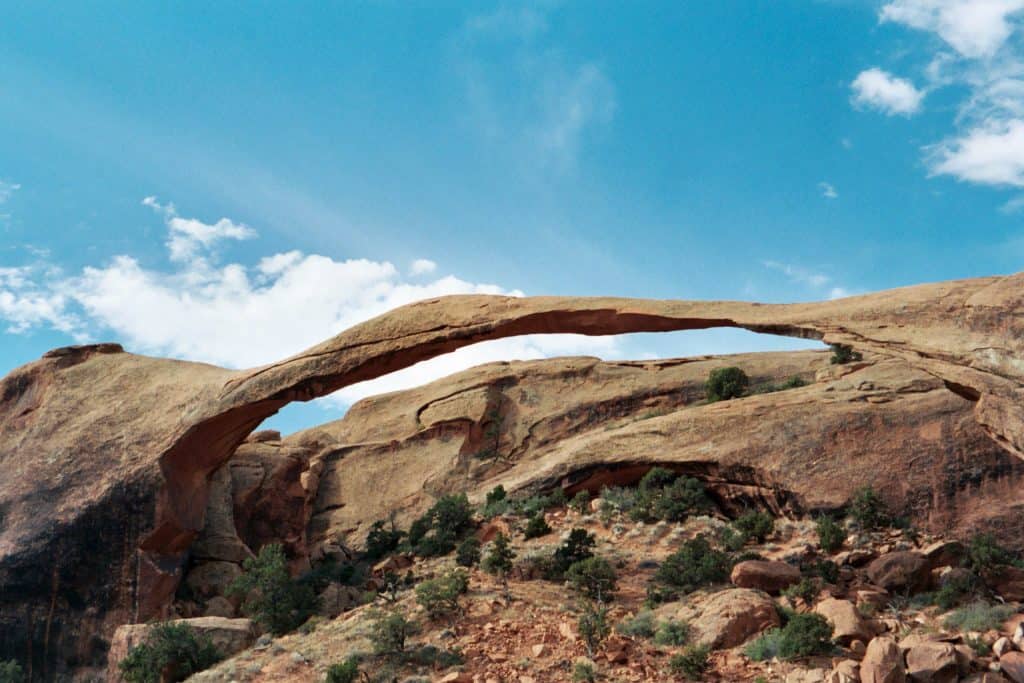 Distance: 7.2 miles round trip
Hiking Time: 3-5 hours
Trail Rating: Difficult
The Devils Garden Hike is not your typical hike where you go to see a single destination. This incredible trail has seven Arches including: Landscape Arch, Tunnel Arch, Pine Tree Arch, Partition Arch, Navajo Arch, Double O Arch and if you decide to make it a loop trail along the primitive trail you can see Primitive Arch. You can also hike to the 150-foot sandstone tower named Dark Angel and a primitive loop where you can hike among the sandstone fins that will someday become future Arches.
Devils Garden is a difficult trail and should not be attempted when the rock is wet or icy. The trail becomes more challenging after passing Landscape Arch at .8 miles with narrow ledges, rock scrambling up the slick rock, uneven trail surfaces, and exposure to heights. You can go as little as a half mile or hike the full loop depending on what you want to see and do just make sure you show up early as the parking lot will fill up.
The Devils Garden Trail, along with the Delicate Arch Trail is on my top ten hikes in all of the National Parks! That's right, you get 2 jaw dropping hikes in one national park! It is here that you get to see why Arches was named as Arches National Park has the highest concentration of Arches in the World!

Sand Dune Arch
Distance: .3 mile round trip
Hiking Time: 15-30 minutes
Trail Rating: Easy
Sand Dune Arch is an easy short hike from the parking lot. It is still enough to get your blood pumping as it is a slight uphill climb in the soft deep sand. If you want to take a longer hike you can also hike to Broken Arch then to Tapestry Arch located just behind the Amphitheater in the Devils Garden Campground.
The parking lot at Sand Dune Arch is generally full in the summertime. This is a good time to exercise some patience and wait a few minutes for a parking space. Remember that this is a easy .3 mile round trip this and hikers move through this hike rather quickly and off to the bigger hikes in the park.

The Windows Section
Distance: 1-mile round trip
Hiking Time: 30-60 minutes
Trail Rating: Easy
The Windows area of Arches includes Turret Arch, North Window, South Window, and Double Arch. Most people recognize this section by the famous photograph of Turret Arch seen through the North Window.
This is a nice 1-mile hike with incredible views! My personal favorite is Double Arch. Each time I see this arch I start humming the tune from the opening of Indiana Jones and the Last Crusade. The opening scene started here however the cave and railroad do not exist.

Balanced Rock Arches National Park
Distance: .3 mile roundtrip
Hiking Time: 15-30 minutes
Trail Rating: Easy
You can easily see Balanced Rock from the road and many people simply drive past it taking photos from the window of their moving cars, seriously you can see people doing this from the trail!
It's a pity because this short .3-mile paved loop gets you up close and personal to this rock. It feels like you are flirting with danger standing below while this rock is perched on top and looks like it could fall at any moment.

Fiery Furnace Hike
Distance: Approx. 2 Miles, Ranger Led Hike
Hiking Time: 2 Hours
Trail Rating: Difficult
The Fiery Furnace is an incredible labyrinth of narrow sandstone canyons. There is no trail here so it is strongly recommended to take the Ranger-led tour.
You can obtain a day use permit to enter the Fiery Furnace on your own but it is easy to get lost and you could easily miss the highlights of this incredible area of Arches NP!
I loved the Ranger Led hike and would recommend it to anyone! It gives you the thrill of exploring an area without trails but make sure you choose your steps carefully as this area requires agility and scrambling.
This is not an exaggeration, it is a trail for the thrill seekers needing more than a hike! My personal highlight was laying down and looking up at Hidden Arch.
There are many more trails within Arches to explore but the reality is that most people only spend an average of four hours in a National Park. If there is ever a park to spend more time, Arches is one of them! I guarantee you that you will be dreaming of your next visit to Arches NP and your desire to try out each of my 7 epic hikes in Arches National Park!
Arches National Park Hours
Arches National Park is open Year-round, 24 hours a day.
Why is this important? Arches National Park camping has only 50 campsites at the Devils Garden Campground. Arches National Park has had over a million visitors each year since 2010 and in 2018, Arches had 1,663,557 reported visitors and continually shows a dramatic increase in visitation. So where do all the visitors come from?
Most park visitors stay in Moab Utah approximately 11 miles/20 minutes away. If you want to get to the Devils Garden Trail, expect to add on another 18 miles/ 45 minutes to get to he far north end of the park and the Devils Garden Trail head. You also have to consider traffic with this much day use traffic!
Arches busiest months are from March through October. If you arrive at the park between 9:00 am-2:00 pm, you can also expect long lines sometimes taking over an hour to get into the park.
The park will oftentimes reach capacity and will have to initiate temporary entry delays. This is why it is important to plan ahead and try to get into the park early or later in the afternoon.
There is several reasons to avoid the busy times; easier parking, its much cooler and more comfortable to go on a hike, and photographing Arches National Park lends itself to the early morning and late afternoon light as opposed to the harsh direct light of mid day.
Arches National Park Photography
I personally think that social media is a big reason for the success of Arches National Park along with numerous other sites in the American Southwest. Sites like Antelope Canyon were relatively unheard of thirty years ago but have now become household names as their images are found throughout the internet and calendars. Here is a quick reference for what sites to see and when to see them.
Sites in Arches National Park to see in the early morning: Moab Fault, The Three Gossips, Sheep Rock, The Great Wall, Turret Arch, The Spectacles, Double Arch, Cache Valley, Wolfe Ranch, Landscape Arch, and Double O Arch.
Sites in Arches National Park to see in the late afternoon: Park Avenue, Courthouse Towers, Petrified Dunes, Balanced Rock, The Garden of Eden, North and South Windows, Delicate Arch, Fiery Furnace, Skyline Arch, Fins in Devils Garden, and Tower Arch.
The reason for photographing a subject in the early morning or the late afternoon is all about lighting. You will often hear photographers talking about the magic hour; the first and last hour of sunlight in the day. During this time to have less contrast, shadows are less dark, and highlights are less likely to be overexposed. the warm color of the low sun enhances the color of the scene and will deepen the redness of the rock turning them into brilliant hues that give this region the name of color country.
Knowing this, make sure to know when sunrise and sunset is each day of your trip and plan accordingly. You will be extremely pleased to beat the crowds and have photographs that everyone will rave about once you get back home.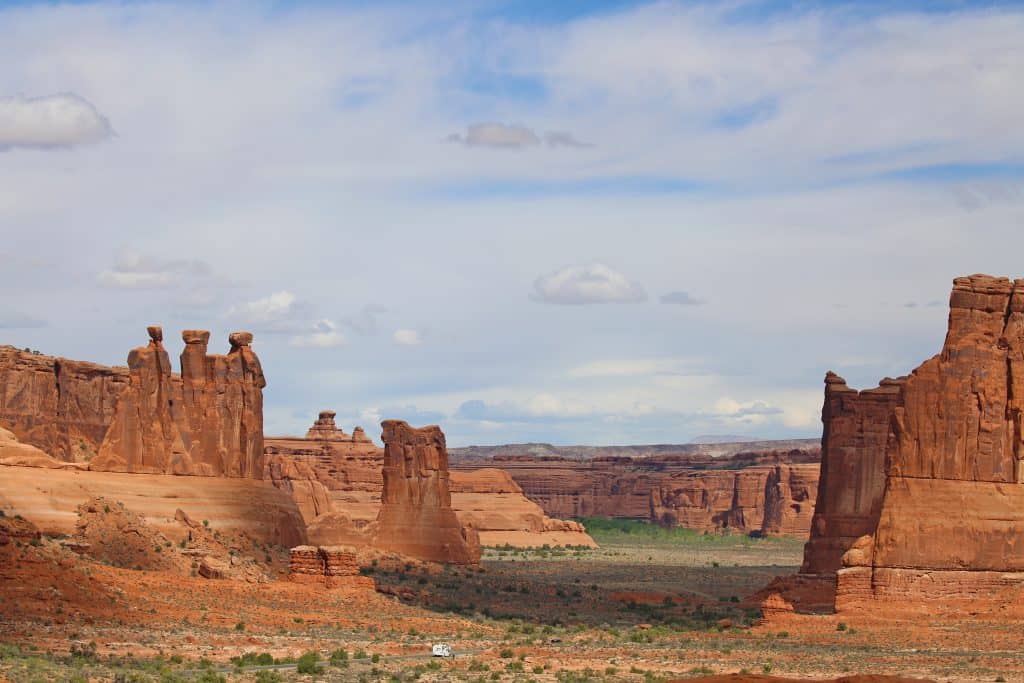 Traveling to Utah? Check out all of the Utah National Parks to help plan your trip. From Arches, it is a quick and easy trip to check out Mesa Verde. If you are heading that way check out these Mesa Verde Travel Tips.
Do you know how many National Parks you have visited? You can print this list of National Parks in alphabetical order to count how many of the 63 parks you have visited.
Wonder what it is like to work in a National Park? Check out this post on how to become a Park Ranger to learn a bit more about what it takes to be a Park Ranger.