Have you ever looked at a photo on a postcard, calendar or maybe even a photo on your favorite social media channel like Facebook, Instagram, Pinterest or Twitter that is so beautiful that you said to yourself that one day you will go there? If so, you are not alone. This is especially true when it comes to Upper Antelope Canyon! Until recently, Upper Antelope Canyon was a quiet slot canyon that was hardly visited. The few that knew of this place could have spent the entire day here and not seen another human being all day!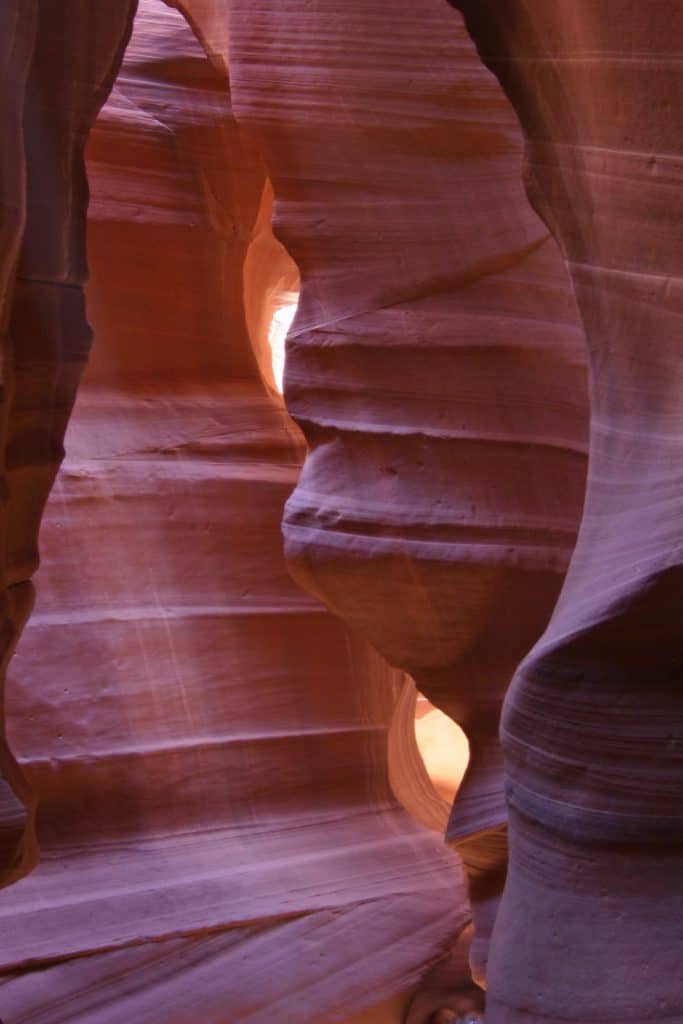 The late '80s is when the popularity of this small approximately 200-yard slot canyon came to be. Upper Antelope Canyon has now become most photographed slot canyon in the American Southwest with no signs of slowing down. It is one of the few places on earth that can be instantly recognized by people around the globe by a single picture with it famous Navajo Sandstone and light beam shining down. Perhaps you too are looking at this article in anticipation of one day exploring Upper Antelope Canyon. Here are my tips for visiting Antelope Canyon.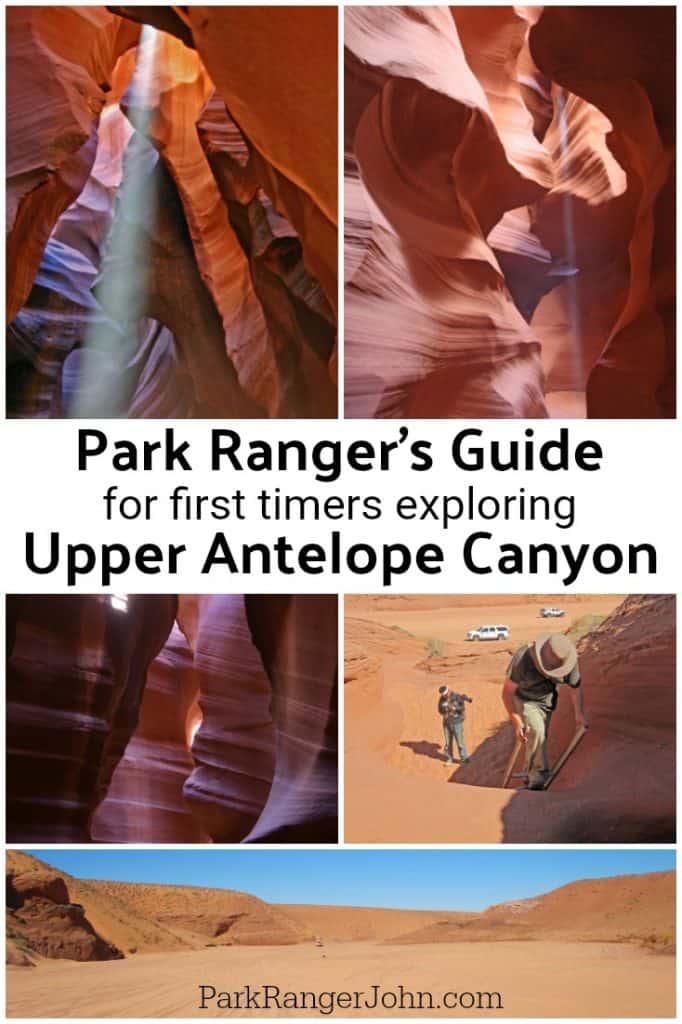 Visiting Antelope Canyon
There are two parts to Antelope Canyon; Upper Antelope Canyon which is also is known as The Crack and Antelope Canyon which is also known as The Corkscrew. The Navajo call Upper Antelope Canyon Tsé bighánílíní, "the place where water runs through rocks". This name is very accurate as this slot canyon was primarily formed by water erosion, especially by flash flooding.
Make sure to know about flash floods and check the weather before heading out anywhere flash flooding occurs. These floods carved canyons out of the soft layers of Navajo Sandstone creating a canyon approximately 120'-130' deep.
Park Ranger John Pro Tip: Make sure to stop before entering the canyon. The Navajo people feel this canyon is sacred and treat it as a cathedral. They feel that by stopping puts them in the right frame of mind and as a sign of respect. It also allows them to leave the canyon feeling uplifted by what mother nature has to offer. For the Navajo, entering the canyon is a spiritual experience and even bless the canyon every four years.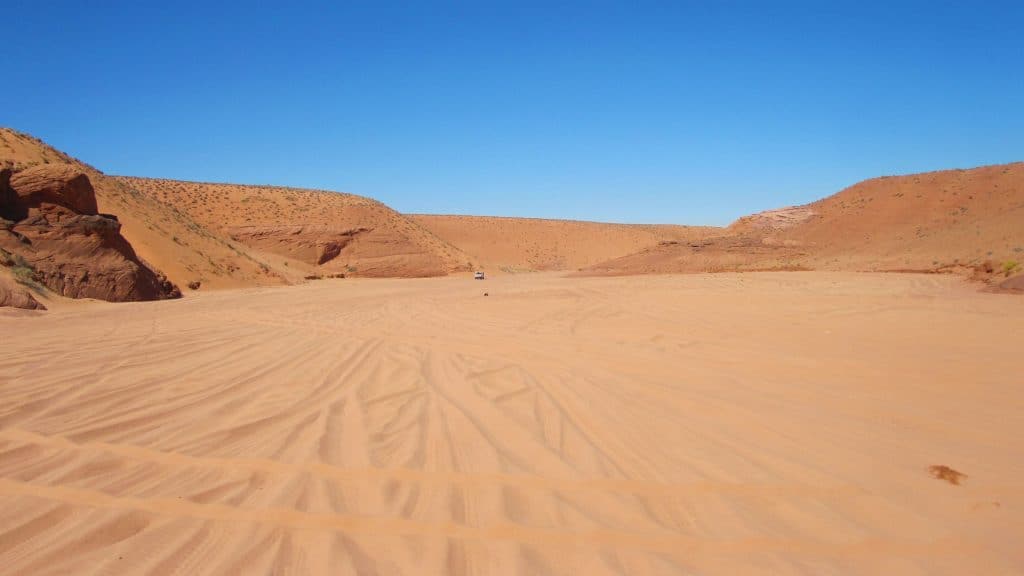 Best time to visit Antelope Canyon
I wanted to address the question I get asked all the time, what is the Best time to visit Antelope Canyon? The first question that I ask them is if they are wanting to get a photo and/or see the light shaft in the canyon? If so, the light beams only show up between April-October with the best times being from Mid-May through mid-July when the sun is at its zenith. The light beams start showing up around 11:30 am and don't last long in each spot so make sure that you are ready for that special moment.
One thing to remember is that this can be an extremely difficult time to photograph as the darkness of the canyon versus the brightness of the beam is massive! If you want to take photos of the canyon itself, try the offseason when the light is softer and really brings out the layers and colors of the sandstone. If you want to avoid the crowds then I would suggest coming in the winter.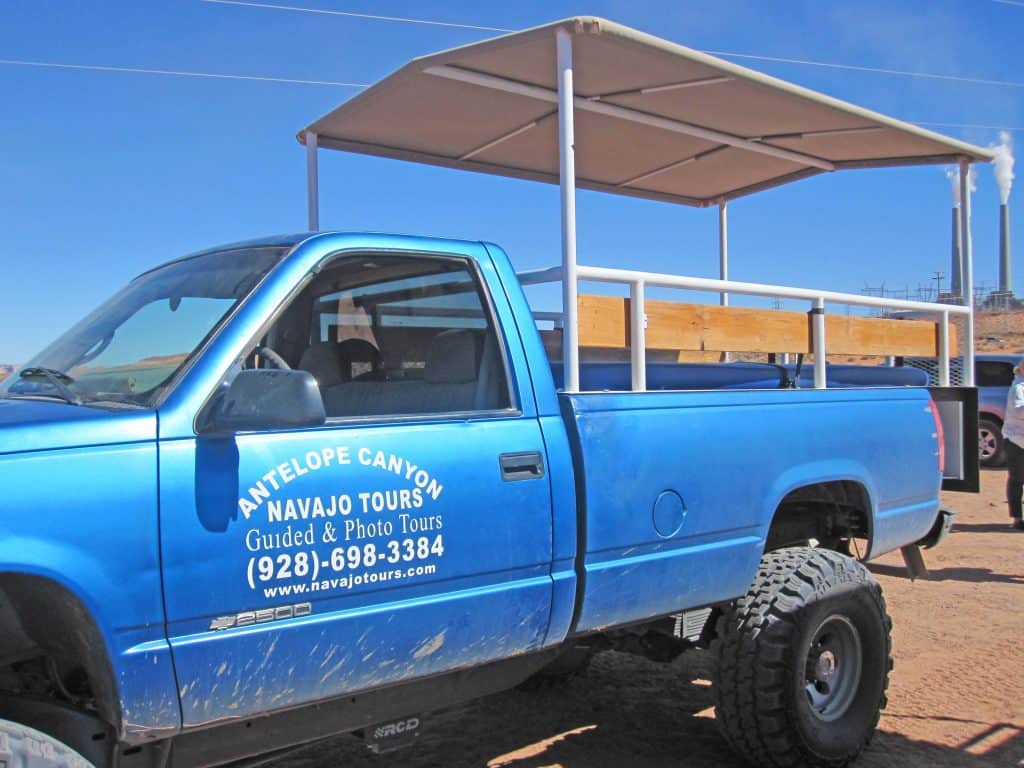 Antelope Canyon Navajo Tours
There are several tour companies for Upper Antelope Canyon. I took the Antelope Canyon Navajo Tours for my trip into Upper Antelope Canyon. They have a couple tour options available and I felt they did an excellent job on this tour. Our guide was extremely knowledgeable about the park, the area and knew how to use anybody's camera on the tour. He was quick to offer taking photographs for guests and to give some basic advice. I would easily go back for another tour.
Guided Sightseer's tour
Most visitors choose to take The Guided Sightseer's Tour is a 1.5 hour guided tour with Navajo Guides through Upper Antelope Canyon. You can carry cameras and clear water bottles on this tour. Do not bring tripods, monopods, selfie sticks or bags on this tour as they are not allowed.
The prices as of January 1, 2019, is $60/adult & $30/children, these prices include tax and $8 NPR fee. One thing to note is the fees have constantly gone up so don't be surprised if the prices listed are out of date.
This is one of our favorite things to do in Page, AZ!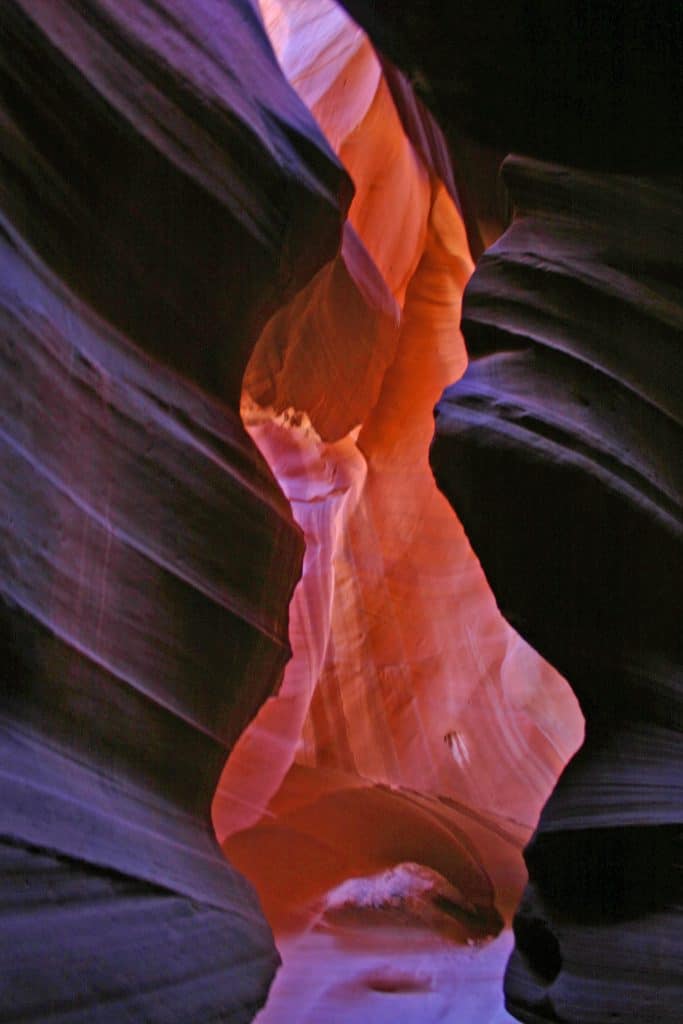 Antelope Canyon Photography Tour
Do you have a
DSLR
and a large tripod? Do you want more time in Upper Antelope Canyon? Do you want that unforgettable photo to show all your friends and family? If you answered yes to these questions then the Antelope Canyon Photography Tour is for you!
This tour is 2.5 hours with extremely limited spaces available so make reservations as far out as possible. The prices as of January 1, 2019, is $160/person, this includes tax and $8 NPR fee. Again, the fees are constantly going up so don't be surprised to see the fees has changed since I wrote this article.
Make sure you pack a
Camera Cleaning Kit
so you can blow out any sand that gets on your camera.
Do I need to book a tour for Antelope Canyon?
Yes, you have to be with an authorized tour company.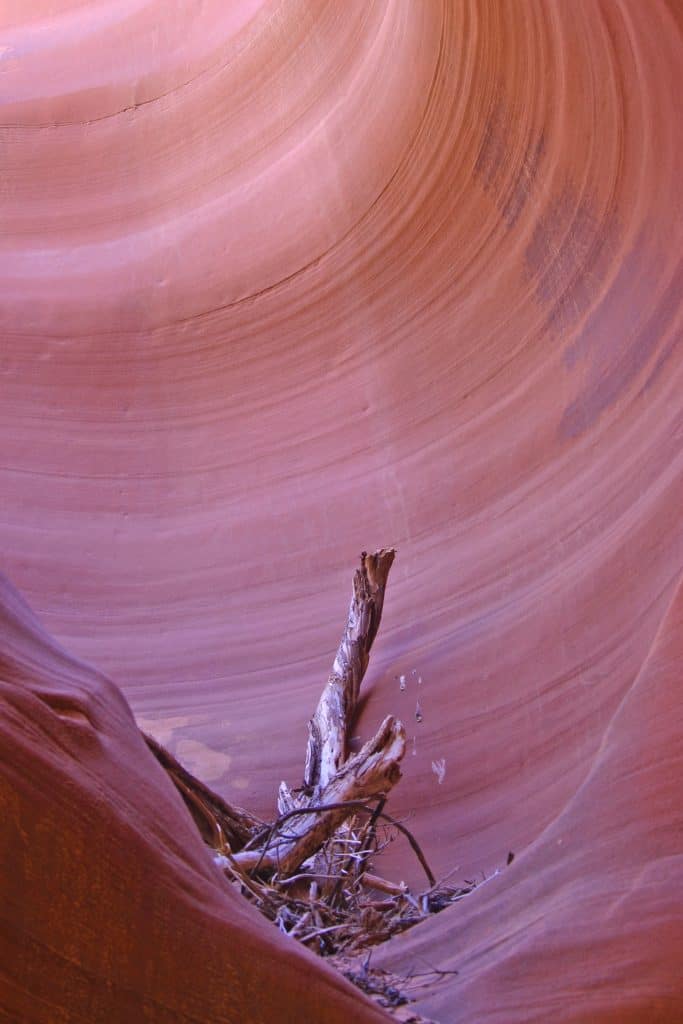 Tips for experiencing Upper Antelope Canyon
The first light beam in the canyon is both an awe-inspiring moment and also one of pure mayhem! I distinctly remember seeing people all of a sudden pointing at the first shaft of light followed by the hysteria of people half trampling over each other while grabbing cameras trying to get their photo before the light disappears! (This is not an exaggeration either) I found myself reverting back to my 80's big hair band concert days when the band would hit the stage and there would be this insane push forward from the crowd behind you who now wanted to be in the front row, it was time to claim my ground and stand tall.
The guides all of a sudden have their work cut out for them at as they try to get hundreds of frantic tourists under control so that everyone has an opportunity to see and photograph this incredible event while keeping everyone safe. There was no need to worry, everyone got plenty of opportunities to see and photograph the event.
There is also A LOT of sand in Upper Antelope Canyon. This sand gets everywhere and even places you never imagined. Having said that, sand does not play well with electronics and especially cameras/lenses. We learned this the hard way as we had our bag tucked away on the side of the canyon wall with one of our favorite lenses.
Unfortunately, the big surge that happened when mayhem broke out at the first sight of the magical light beam created a flow of the fine red sand into our camera bag that created a nice grinding halt to our lens. My advice is to have a dry bag to keep this sand out of things. This will be a big help because you will bring plenty of sand home with you in your shoes and places that shouldn't be mentioned here.
Did I mention that the guides start tossing sand in the air when the light beams start showing up? This is because the sand will add the dramatic contrast in your photos by making the light beam show up and easy for everyone to see. I highly suggest taking only what you need.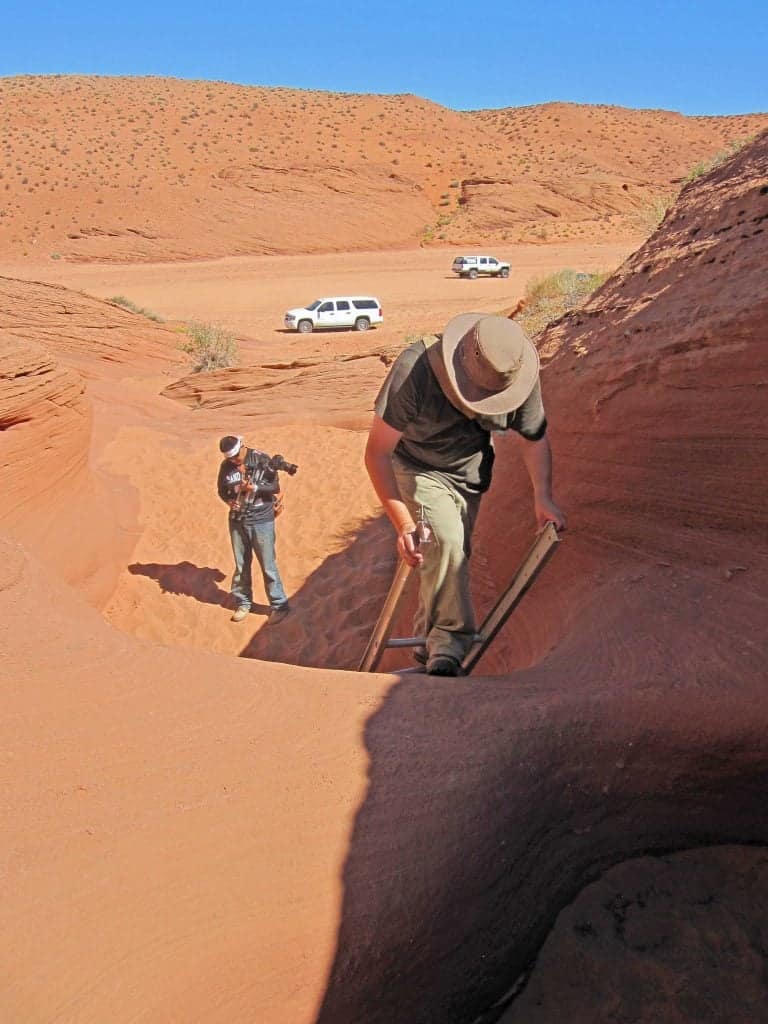 Antelope Canyon Hike
Upper Antelope Canyon is an easy hike. There is not a designated trail but the slot canyon itself is only 200 yards long. This makes for a flat, sandy, half-mile roundtrip hike. Think of walking on a soft sandy beach.
Lower Antelope Canyon gets a bit more exciting. The Lower Antelope Canyon Trail is a .6 mile loop with about 100 feet of elevation gain/loss. There have been several ladders installed for easy access into this slot canyon. lighting for photography is best in the morning. This makes for a great hike early in the day then head up to Upper Antelope Canyon for the Mid Daylight.
If you are visiting Antelope Canyon then chances are you are visiting several parks in one trip. It would be silly not to, after all, it is a challenge to get here as the closest major Airport is either Las Vegas or Phoenix. So what other parks can you visit while Exploring Upper Antelope Canyon Arizona?
You are close to Glen Canyon National Recreation Area, North Rim of the Grand Canyon and Natural Bridges National Monument. If you travel to/from the East you can access Monument Valley Navajo Tribal Park, Sunset Crater Volcano National Monument, Wupataki National Monument and the South Rim of the Grand Canyon.
If you are coming to/from the West then try Zion National Park and Lake Mead National Recreation Area. I hope you enjoy your visit to Antelope Canyon and all throughout the American Southwest.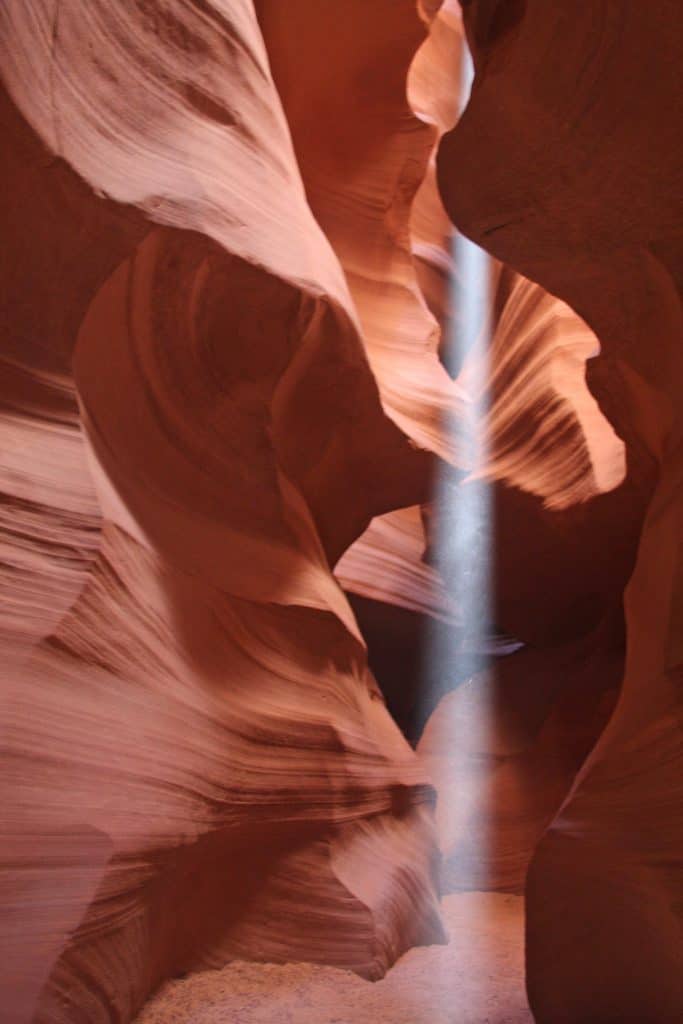 Where is Antelope Canyon
Antelope Canyon is located on the northern border of Arizona about halfway between New Mexico on its East and Nevada to the West. The closest city is Page, Arizona which is approx. 7.5 miles to the NorthWest along Arizona 98. Most people coming to Upper Antelope Canyon come one of three ways.
The first is through Zion National Park in Springdale Utah via Highway 89. The second is to travel North from Flagstaff Arizona via Highway 89 and the third is taking Highway 98 then Highway 160 towards Monument Valley Navajo Tribal Park. I really don't know of an address but put this GPS Coordinated in 36°53'17.0"N 111°22'04.0"W
Parks Near Antelope Canyon
Glen Canyon National Recreation Area
Check out all of the Arizona National Parks and neighboring Utah National Parks.