Zion National Park is open all year round, being aware of the possible weather conditions for each season will help make your trip more enjoyable. The number of people you have to share the park with also varies from season to season. The park is less crowded in spring or fall, and you get the added bonuses of wild flowers in the spring, or the changing leaves in the fall.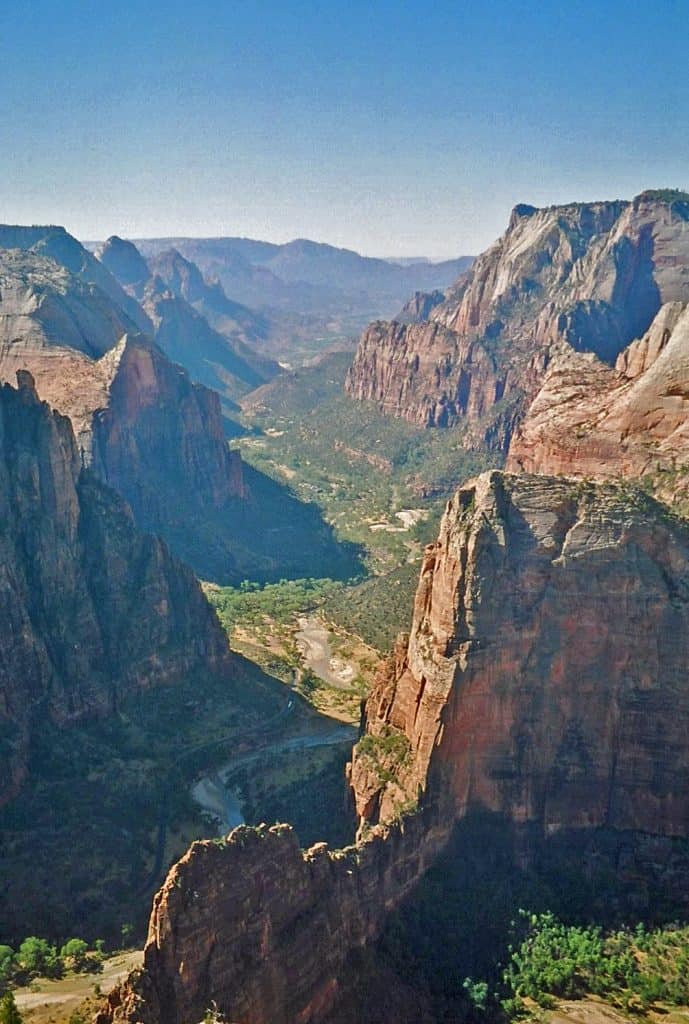 When visiting Zion National Park, pay close attention to the different birds you see there. With 288 species on the park's bird list, variety is not lacking to say the least.
Part of the global Important Bird Area and state Important Bird Area programs, Zion National Park carefully tracks it's population of birds. The sheer variety you might see here is impressive to say the least, everything from humming birds to vultures, finches to black birds, it is a bird watcher's paradise. In Zion, the park takes care to maintain nesting sites and reduce change as much possible for the birds and other wild life.
Three of the most impressive birds that can be found here are on the endangered species lists.
The Peregrine falcon, the California condor, and the Bald Eagle. Zion National Park is a place of protection where these birds have their needs for food, nesting and habitat unchanged.
The Peregrine falcons have established 13 nesting sites over the years. By August of 2008, 2.16 chicks per winged pair flew to their winter home in Central and South America. This is especially impressive when you consider that in 1970 there were only 39 breeding Peregrine falcon pairs left in the United States.
The California condor came even closer to extinction. In 1980 there were only 27 of these birds left in the world. A few years later, those that lived were bred and released, and are now living in Zion National Park and other National Parks in the Southwest desert.
These condors can be seen in the Lava Point, Canyon Overlook, and Angels Landing areas of Zion. With wing spans up to 9 ½ feet long, they make for an impressive sight if you are lucky enough to catch a glimpse of one. It is easy to see why many Native American tribes have called this bird the Thunderbird.
In the late 20th century, the bald eagle was on the brink of extinction in the lower 48 states, but thanks to the dedicated efforts of the Important Bird Area programs and others, it was removed from the endangered list, and today is listed as a threatened species.
This national symbol of the United States can be found in Zion National Park during the winter. In the summer they can be found near large bodies of water, such as seacoasts, rivers and lakes, as they prefer fish as part of their diet. With the average life expectancy of 20 years it is not uncommon for the same birds to return to the park year after year.
So grab some binoculars, print out the Zion Bird List at the top of the page, and see how many different species you can check off during your trip to Zion National Park.
Within Zion National Park itself, there are three campgrounds. Lava Point Campground, South Campground, and Watchman Point Campground. Keep in mind that camping is permitted in designated areas only, and the campgrounds tend to fill up early! Check out our Zion National Park Camping Guide for tips on camping in the park. Springdale is just outside the park and offers pay showers, laundromats, firewood, and restaurants.
Weather
Spring-April through June
Wet weather is not unusual, but a more typical spring consists of warm sunny days. Temperatures rarely rise above 90 F, but depending on elevation and time of day this can vary widely. Night time temperatures can drop more than 30 F, so if you are visiting in spring dress in layers.
This is an excellent time of year to visit the park. The summer tourist season hasn't started yet so Zion National Park won't be as crowded as it will be later during the summer months. The entire park will be open, even those trails that are closed during the winter months, and you will get the added bonus of seeing the wild flowers in bloom if you visit in the spring.
Summer-July through mid September
The temperature in summer regularly exceeds 100 F, 90 F in the higher elevations, with a drop of 40 F or more at night. Be prepared for the drastic drop by dressing in layers. The risk of sunburn is also very high, so don't skimp on the sunscreen, and always have water with you.
The first of the monsoon seasons occur mid July into September, bringing with it the risk of flash floods. If the risk is too high, some trails may be closed until the threat has passed. Due to the warm conditions mixing with these storms this is also the season when thunderstorms and lightening strikes occur. Check for storm warnings with the ranger station before starting on a hike.
Zion National Park has more visitors now than at any other time of year, so be prepared for crowds in some areas. Shuttle buses are a very popular way to get around the park, and can be somewhat crowded in the summer.
Fall-mid September through October
In the fall it is rare to see a day warmer than 90 F. There is still some risk of flash flooding, so again, check with the visitors' center before starting out. The tourists who flood the park in the summer will be gone now, so catching one of the shuttles shouldn't be a problem.
Fall also bring with it some wonderful colors in the way of changing leaves. Trees turn from green to yellow, orange, and bright red. Combine this with the natural cream, pink, and red colored rocks and you can expect some beautiful sights.
Winter-November through March
Winters in Zion National Park are cold and wet. The second monsoon season sweeps in at this time of year bringing with it rain and snow. Almost half of the park's annual rainfall occurs during this time of year, with rain at the lower elevations, and snow accumulating as you go higher. Roads are plowed, but some of the trails may be closed due to icy conditions.
The temperatures range from 50-60 F during the day to well below freezing at night. If you plan on visiting this time of year, bear in mind that you might not get to see the whole park, and plan to be done each day well before dark.
Any time you can visit Zion National Park you will be able to experience some breathtaking sights. If you want to avoid the extreme heat, cold, and the summer crowds, spring or fall are good times to go.
Don't miss these Zion NP Hikes and great things to do in Zion!