Zion National Park is more than just a park for so many of its park visitors. It has become a Pilgrimage, a place to find oneself within nature.
It is also easy to say the heartbeat of this endeavor is the Zion Canyon, a place where the multi-colored layers of sandstone draw your imagination upward towards the deep blue skies then down towards the picturesque Virgin River that slices the canyon deeper and deeper.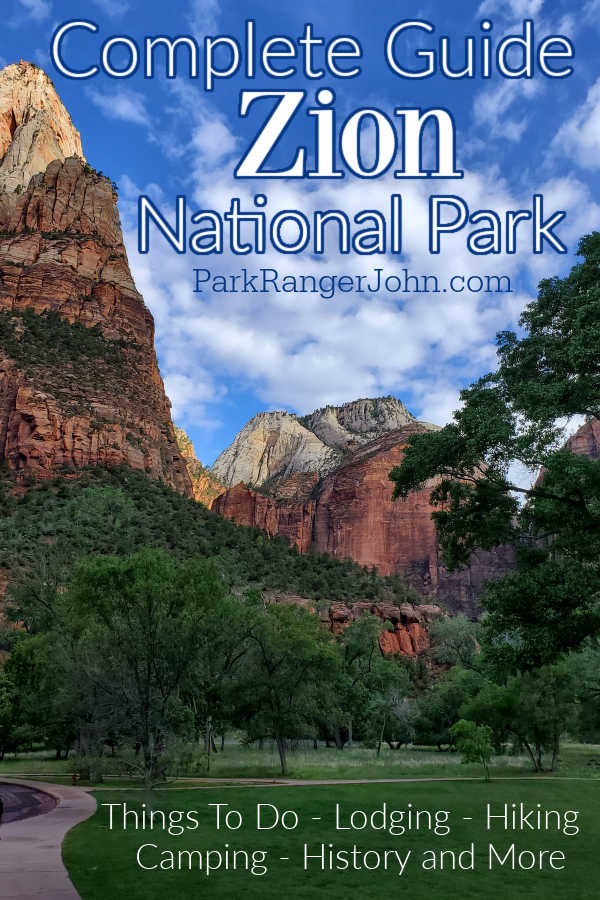 Zion National Park
Zion is filled with unprecedented beauty and adventure around what seems like every corner you turn. Your first shuttle bus stop in the Zion Canyon is at the Court of the Patriarchs (bus stop 4).
Here you will see three large sandstone cliffs that were named after the biblical figures of Abraham, Isaac, and Jacob. These cliffs photograph beautifully in the late afternoon.
As you continue down the canyon, the sights get more and more impressive, several of the trails lead to a bird's eye view of the canyon, have steep drop-offs with chains for you to hold on to that give the sense of danger and excitement.
The crown jewel is hiking the Zion Narrows. Once you have reached bus stop #9 for the Temple of Sinawava you get out and hike the one-mile Riverside Walk.
This easy flat trail ends where the fun really begins as you step into the Virgin River and begin your trek up the Zion Narrows. The sandstone cliffs continue to shrink towards you until eventually, you can almost touch both canyon walls while starring up at 2000' sandstone cliffs!
This is a moment you will never forget.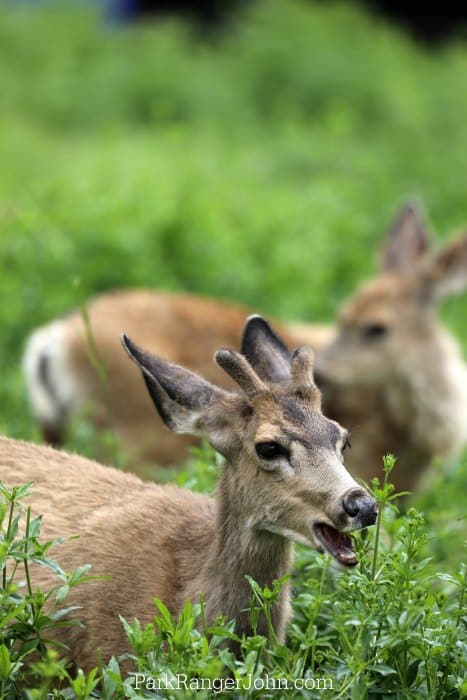 About Zion National Park
Zion is the first and most visited national park in Utah. The park's main attraction is Zion Canyon and its numerous breathtaking trails and waterfalls at the park's southern entrance by the town of Springdale.
It is here where you will find familiar attractions like the Narrows, the Emerald Pools, and Angels Landing.
Kolob Canyons is located at the park's northwestern entrance. The highlight here is Kolob Arch, the world's largest natural arch spanning 310'!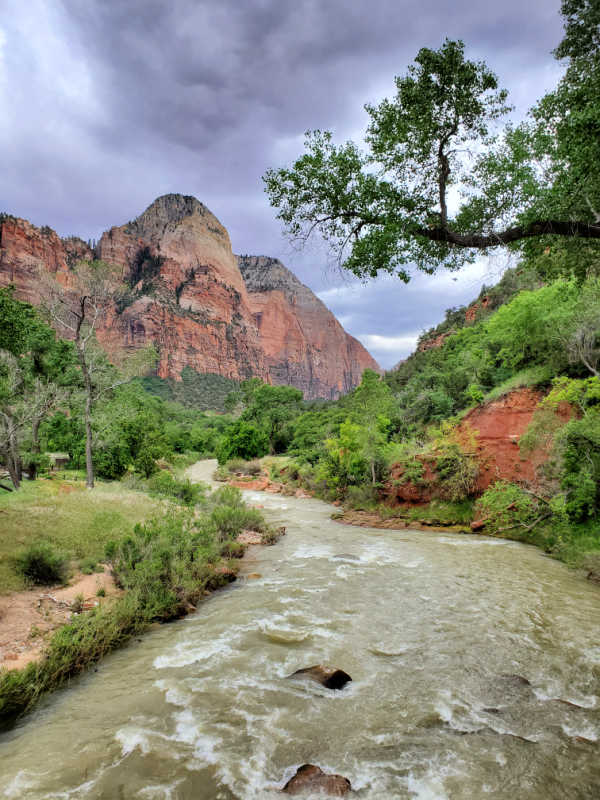 Is Zion National Park worth visiting?
Yes! Some of my best memories from National Parks come from Zion!
You do have to put yourself in the right state of mind as you are not going to have this park to yourself. In fact, entering the park can feel more like entering a theme park at first with the sheer number of park visitors.
Be prepared for busy trails, especially the popular ones but you can easily find a trail away from the canyon and find peace and solitude. In fact, when I hiked Cable Mountain, I only saw one other couple all day.
History of Zion National Park
Zion National Park was first explored by Mormon pioneers, missionaries, and explorers as the early settlers were establishing their roots in Utah around the 1850s. This area had never really been explored previously by white men, only the native Paiute Indians who had inhabited the area for thousands of years.
These early settlers instantly fell in love with the area just like people who visit Zion today. In fact, they loved the place so much they began giving names like the Court of the Patriarchs after the biblical figures of Abraham, Isaac, and Jacob. Isaac Behunin is credited for naming this area Zion, a biblical word referring to a place of spiritual sanctuary.
Springdale was soon established in the 1860s. The area flourished with an influx of outside travelers all the way into the 1900s.
Famous explorer John Wesley Powell called this area a different name, Mukuntuweap, which is the Paiute word for "straight canyon".
In 1909, President William Taft declared the area Mukuntuweap National Monument. He ended up naming the park after the Paiute name rather than Zion which was chosen by the Mormon pioneers.
Residents of Utah were very disappointed by the name given, after all, it was not their beloved Zion Canyon. The newly formed National Park Service decided to change the name to Zion National Monument after almost a decade of grievances by the locals.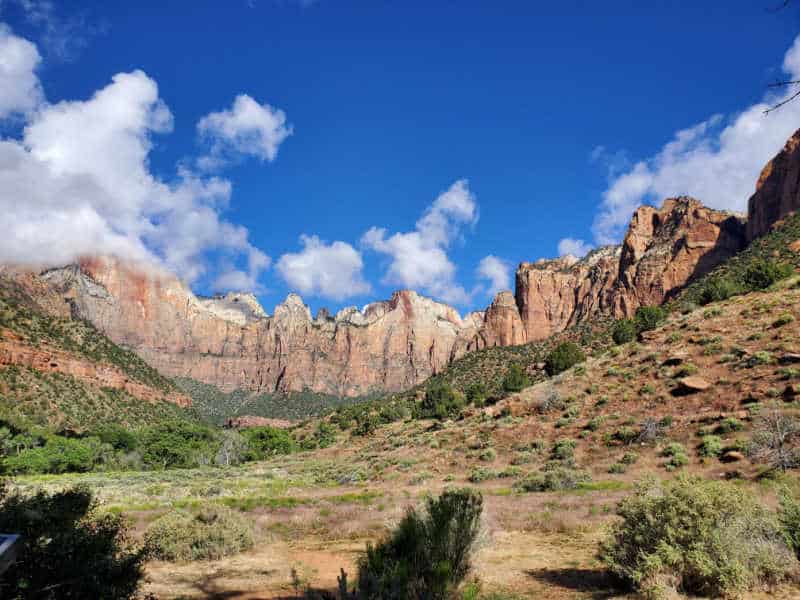 Things to know before your visit to Zion National Park
Entrance fee
Private Vehicle: $35. Valid for 7 days
Motorcycle: $30. Valid for 7 days.
Per Person: $20. Valid for 7 days.
All park visitors are required to have a valid National Parks Pass in their name or purchase a recreational use pass upon entering Zion National Park. Passes are non-transferable. Credit Cards are accepted at all fee collection areas.
Planning a National Park vacation? America the Beautiful/National Park Pass covers entrance fees for an entire year to all US National Park Sites and over 2,000 Federal Recreation Fee Sites.
The park pass covers everyone in the car for per vehicle sites and for up to 4 adults for per-person sites.
Buy on REI.com and REI will donate 10% of pass proceeds to the National Forest Foundation, National Park Foundation and the U.S. Endowment for Forestry & Communities.
Time Zone
MST- Mountain Standard Time
Pets
Pets are allowed within Zion NP. Pets must be on a leash no longer than 6 feet long.
The only trail that allows pets is the Pa'rus Trail, which begins at the Zion Canyon Visitor Center. Additionally, Pets are not permitted on any other trails, wilderness areas, on shuttle buses, or in public buildings in Zion.
It gets super hot in Zion so make sure you are prepared with water and supplies for your pet.
Boarding kennels are available in the nearby towns of Rockville, Hurricane, St. George, Kanab, and Cedar City.
Cell Service
Cell Phone service is normally pretty good near the park entrance and visitor center. The farther you go into the Zion Canyon the less service you may have.
Park Hours
The park is open 24 hours, every day of the year. Some of the park's attractions and buildings may close seasonally or for natural occurrences like rockslides.
Wi-Fi
Free, public WIFI is available during operating hours at the Zion Canyon Visitor Center and the Human History Museum.
Insect Repellent
Insect repellent is always a great idea when outdoors, especially if you are around any body of water. We use Permethrin Spray on our clothes before our park trips.
Water Bottle
Make sure to bring your own water bottle and plenty of water with you. Plastic water bottles are not sold in the park.
Water refilling stations are located throughout the main canyon in the following areas:
Visitor Center - shuttle stop 1
Zion Human History Museum - shuttle stop 2
Zion Lodge - shuttle stop 5
The Grotto - shuttle stop 6
Temple of Sinawava - shuttle stop 9
Reusable bottles and a water station are also available at the Kolob Canyons Visitor Center.
Parking
Parking can be a challenge at Zion. If you have a reservation at the Zion Lodge simply drive and park your vehicle at the Zion Lodge and use the parks shuttle system to get around the park.
The same goes if you are camping at the Watchman or South Campground by the park's visitor center and park store. Park your vehicle at your campsite and use the park's shuttle bus to get around the park.
If you have overnight accommodations in Springdale, simply leave your vehicle there and catch the Springdale shuttle bus to the park entrance and use the walk-through entrance that leads to the park visitor center and gift store and shuttle bus into the Zion Canyon.
For those who are visiting the park for the day, you can either park in the parking lot at the park visitor center/gift shop (typically fills up very early in the morning) or park in a paid parking area in downtown Springdale.
From Springdale take the free shuttle bus to the park's entrance. This will lead you to the park visitor center/gift store and the Zion Canyon Shuttle.
Food/Restaurants
There are several restaurants in and near the town of Springdale.
There are also a couple of dining options at the Zion Park Lodge.
There is the Castle Dome Café for casual food and the Red Rock Grill Dining Room is available for sit-down dining.
Reservations are recommended for the Rock Creek Grill for Dinner from spring-Fall at (435)722-7760.
Gas
There are no gas stations available within the park. These services can be found outside the main canyon in Springdale.
National Park Passport Stamps
National Park Passport stamps can be found in the visitor center.
Make sure to bring your National Park Passport Book with you or we like to pack these circle stickers so we don't have to bring our entire book with us.
Zion NP is part of the 1997 Passport Stamp Set
Large Vehicles
Vehicles sized 11'4" in height or 7'10" in width, or larger, are required to have an escort, or traffic control, through the Zion-Mount Carmel Tunnel.
If your vehicle is 11'4" (3.4m) tall or taller or 7'10" (2.4 m) wide or wider, including mirrors, awnings, and jacks, you will need a tunnel permit.
If you are driving a large vehicle/RV you will need to:
Have you vehicle measured at the front entrance station.
Pay $15.00, in addition to the park entrance fee, for the tunnel permit at the entrance station before proceeding to the tunnel.
Drive to the tunnel during the tunnel hours of operation (posted seasonally).
There are rangers posted at the tunnel to help control traffic and assist you with driving through the tunnel.
$15.00 tunnel permit is good for two trips through the tunnel for the same vehicle within seven days of purchase.
The following vehicles are prohibited from driving through the tunnel - vehicles over 13 feet 1 inch tall, Semi-trucks, vehicles carrying hazardous materials, vehicles weighing more than 50,000 pounds, single vehicles over 40 feet long, combined vehicles over 50 feet long. All Bicycles. Pedestrians.
Electric Vehicle Charging
Kolob Canyons Visitor Center:
One dual-port Level 2 J1772 charging station
Available 24 hours/day with purchase of code (no overnight camping at the Visitor Center)
Zion Canyon Visitor Center:
One dual-port Level 2 J1772 charging station
Available 24 hours/day with purchase of code (no overnight camping at the Visitor Center)
Purchase a $5 charging code at the Zion National Park Forever Project bookstore inside the Visitor Center during operating hours.
Code will be active for three days and provides charging at Kolob Canyon Visitor Center and Zion Canyon Visitor Center.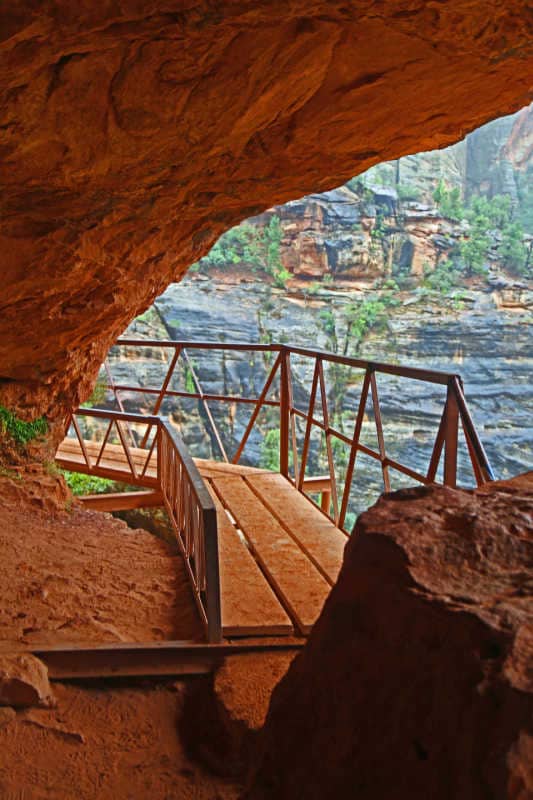 Details about Zion National Park
Size - 147,242 acres
Zion is currently ranked at 36 out of 63 National Parks by Size.
Date Established
In 1909, President William Howard Taft signed a proclamation creating Mukuntuweap National Monument to protect Zion Canyon and its surrounding area.
The Woodrow Wilson administration significantly expanded the park and renamed it Zion National Monument in 1918.
On November 19, 1919, President Woodrow Wilson signed a bill into law establishing Zion National Park
Visitation
Zion National Park has not only become Utah's most visited National Park but has also become one of the nation's top visited National Parks!
It has had dramatic increases in attendance over the years. This has led to a shuttle bus system that started in 2000 and a permit system for some of the park's top attractions listed below under permits.
In 2021, Zion NP had 4,827,852 park visitors between January-November).
In 2011, Zion NP had 2,825,505 park visitors.
In 1971, Zion NP has 897,000 park Visitors
Zion National Park Address
1 Zion Park Blvd.
State Route 9
Springdale, UT 84767
Zion National Park Map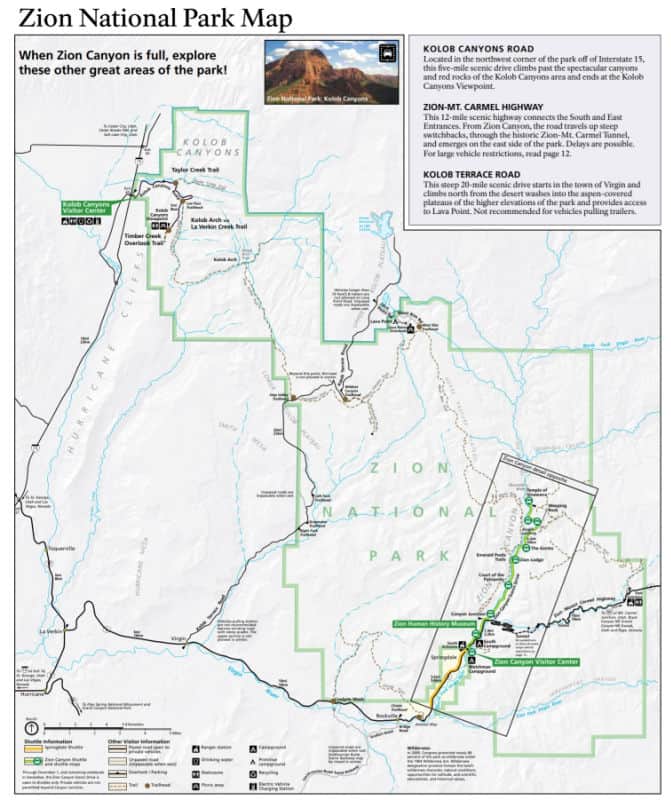 Where is Zion National Park?
Zion NP is located in southern Utah.
Estimated distance from major cities nearby
St. George, Utah - 40 miles
Kanab, Utah - 45 miles
Cedar City, Utah - 57 miles
Mesquite, Nevada - 80 miles
Page, Arizona - 118 miles
Las Vegas, Nevada - 163 miles
Salt Lake City. Utah - 307 miles
Estimated Distance from nearby National Park
Bryce Canyon National Park, Utah - 86 miles
Grand Canyon National Park: North Rim, Arizona - 126 miles
Grand Canyon National Park: South Rim, Arizona - 253 miles
Capitol Reef National Park - 192 miles
Canyonlands National Park - 362 miles
Arches National Park - 341 miles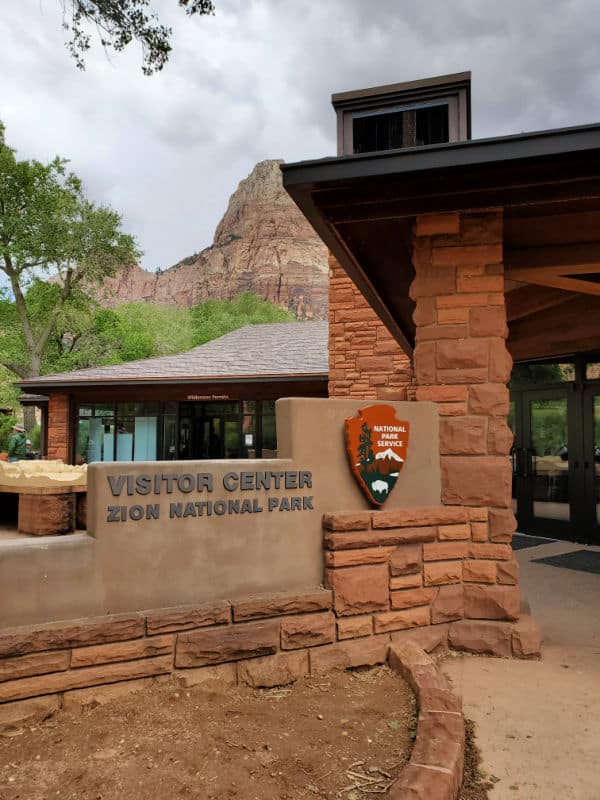 Where is the Zion National Park Visitor Center?
The Zion Visitor Center is located near the main entrance to the park.
You can walk in or park near the visitor center.
Getting to Zion National Park
Closest Airports
International Airports
McCarren International Airport, Las Vegas, Nevada - 170 miles
Salt Lake City, Utah - 300 miles
Regional Airports
Saint George, Utah (49 miles) has flights from Salt Lake City, Utah and Denver, Colorado.
Cedar City, Utah (60 miles) has flights from Salt Lake City, Utah
Driving Directions
Las Vegas to Zion National Park:
If you fly to Las Vegas, you will arrive at McCarren International Airport. From there you will take a transfer bus to the rental car garage located at 7135 Gillespie Street. From here, there is extremely easy access to Interstate 15. Make sure to take Interstate 15 North.
Simply turn North onto Gilespie from the rent-a-car facility and drive approximately a half-mile. Turn left onto Hidden Well Road and follow it to the I-15 North onramp. (Map above)
From there you will drive approximately 135 miles to exit 16 towards Hurricane. It is easy to spot because there will be big brown signs telling you where to turn for Zion National Park.
After 12.5 miles, Turn right onto Zion Park Scenic Byway/W 500 N/UT-9. Continue to follow UT-9. You are just under 20 miles straight ahead to the park!
Salt Lake City to Zion National Park
If you fly into the Salt Lake City International Airport, you will be approximately 313 miles and just over 5 hours to Zion National Park. The Rental car facilities at Salt Lake Airport are located on Terminal Drive. Basically, Terminal Drive is a loop road from Interstate (I-80) to the Airport and back.
All you need to do is exit Terminal Drive and turn East onto I-80. Drive approximately 3.5 miles and turn onto I-15 South towards Las Vegas.
You will travel 280 miles south on I-15 to exit 27 towards Hurricane. Drive 6 miles, then Turn left onto Zion Park Scenic Byway/W 500 N/UT-9. Continue straight to the park's entrance just shy of 20 miles.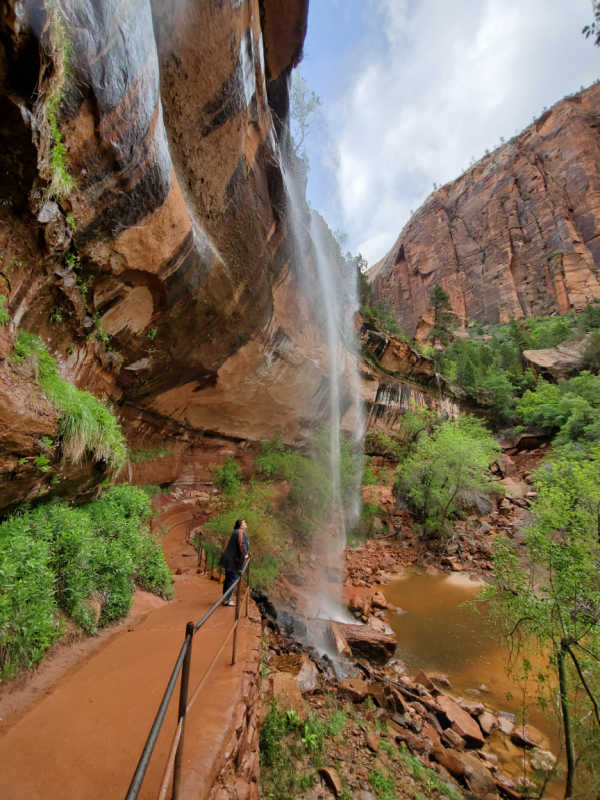 Best time to visit Zion National Park.
I would say anytime you can get to Zion is the best time to visit, but that's me. There is something special each time of the year at Zion, take a look below and see what season appeals to you.
Zion National Park Weather and Seasons
Zion National Park is open year round, being aware of the possible weather conditions for each season will help make your trip more enjoyable.
The number of people you have to share the park with also varies from season to season. The park is less crowded in spring or fall, and you get the added bonuses of wildflowers in the spring or the changing leaves in the fall.
Any time you can visit Zion National Park you will be able to experience some breathtaking sights. If you want to avoid the extreme heat, cold, and summer crowds, spring or fall are good times to go.
Spring
Wet weather is not unusual, but a more typical spring consists of warm sunny days. Temperatures rarely rise above 90 F, but depending on elevation and time of day this can vary widely. Night-time temperatures can drop more than 30 F, so if you are visiting in spring dress in layers.
This is an excellent time of year to visit the park. The summer tourist season hasn't started yet so Zion National Park won't be as crowded as it will be later during the summer months.
The entire park will be open, even those trails that are closed during the winter months, and you will get the added bonus of seeing the wildflowers in bloom if you visit in the spring.
Summer
The temperature in summer regularly exceeds 100 F, 90 F in the higher elevations, with a drop of 40 F or more at night. Be prepared for the drastic drop by dressing in layers. The risk of sunburn is also very high, so don't skimp on the sunscreen, and always have water with you.
The first of the monsoon seasons occur mid-July into September, bringing with it the risk of flash floods. If the risk is too high, some trails may be closed until the threat has passed.
Due to the warm conditions mixing with these storms this is also the season when thunderstorms and lightning strikes occur. Check for storm warnings with the ranger station before starting on a hike.
Zion National Park has more visitors now than at any other time of year, so be prepared for crowds in some areas. Shuttle buses are a very popular way to get around the park and can be somewhat crowded in the summer.
Autumn/Fall
In the fall it is rare to see a day warmer than 90 F. There is still some risk of flash flooding, so again, check with the visitors' center before starting out. The tourists who flood the park in the summer will be gone now, so catching one of the shuttles shouldn't be a problem.
Fall also bring with it some wonderful colors in the way of changing leaves. Trees turn from green to yellow, orange, and bright red.
Combine this with the natural cream, pink, and red-colored rocks and you can expect some beautiful sights.
Winter
Winters in Zion National Park are cold and wet. The second monsoon season sweeps in at this time of year bringing with it rain and snow.
Almost half of the park's annual rainfall occurs during this time of year, with rain at the lower elevations, and snow accumulating as you go higher. Roads are plowed, but some of the trails may be closed due to icy conditions.
The temperatures range from 50-60 F during the day to well below freezing at night.
If you plan on visiting this time of year, bear in mind that you might not get to see the whole park, and plan to be done each day well before dark.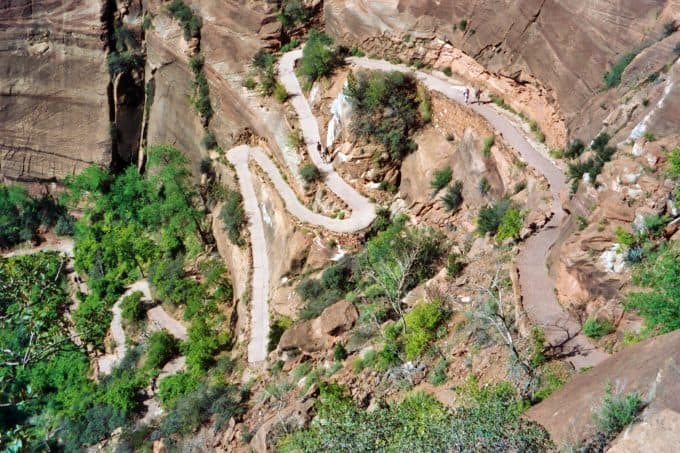 There are so many amazing thing to do while visiting Zion. This park truly has something for all ages and visitors.
From a leisurely stroll along the Pa'Rus trail to the sheer adrenaline of looking over the canyon side while hiking Angels Landing this park has it all.
Come prepared for an adventure and a trip of a lifetime!
The Zion Junior Ranger program can be picked up at the visitor center. This is a great way for visitors of all ages to learn more about the park.
Bird Watching
When visiting Zion National Park, pay close attention to the different birds you see there. With 288 species on the park's bird list, variety is not lacking to say the least.
Part of the global Important Bird Area and state Important Bird Area programs, Zion National Park carefully tracks its population of birds.
The sheer variety you might see here is impressive, to say the least, everything from hummingbirds to vultures, finches to blackbirds, it is a bird watcher's paradise. In Zion, the park takes care to maintain nesting sites and reduce change as much as possible for the birds and other wildlife.
Three of the most impressive birds that can be found here are on the endangered species lists.
The Peregrine falcon, the California condor, and the Bald Eagle. Zion National Park is a place of protection where these birds have their needs for food, nesting, and habitat unchanged.
The Peregrine falcons have established 13 nesting sites over the years. By August of 2008, 2.16 chicks per winged pair flew to their winter home in Central and South America.
This is especially impressive when you consider that in 1970 there were only 39 breeding Peregrine falcon pairs left in the United States.
The California condor came even closer to extinction. In 1980 there were only 27 of these birds left in the world. A few years later, those that lived were bred and released, and are now living in Zion National Park and other National Parks in the Southwest desert.
These condors can be seen in the Lava Point, Canyon Overlook, and Angels Landing areas of Zion. With wingspans up to 9 ½ feet long, they make for an impressive sight if you are lucky enough to catch a glimpse of one. It is easy to see why many Native American tribes have called this bird the Thunderbird.
In the late 20th century, the bald eagle was on the brink of extinction in the lower 48 states, but thanks to the dedicated efforts of the Important Bird Area programs and others, it was removed from the endangered list, and today is listed as a threatened species.
This national symbol of the United States can be found in Zion National Park during the winter. In the summer they can be found near large bodies of water, such as seacoasts, rivers and lakes, as they prefer fish as part of their diet. With the average life expectancy of 20 years, it is not uncommon for the same birds to return to the park year after year.
So grab some binoculars, print out the Zion Bird List at the top of the page, and see how many different species you can check off during your trip to Zion National Park.
Virgin River
The real attraction to Zion is the Virgin River. This seemingly calm river has carved out the Zion Canyon that millions of visitors each year come to see and explore.
It seems impossible for this river to have carved a canyon with sheer red cliffs on both sides reaching hundreds of feet in the air.
You quickly learn that this area is prone to flash flooding. Warning signs are posted everywhere warning park visitors of its dangers and what to watch out for.
Flash floods occur when it rains further upstream and there is nowhere for the water to absorb into the ground. The water runs off to the closest river and can cause this seemingly peaceful river to turn into a massive river with virtually no advance warning.
Thousands of years of flash floods have created the Zion Canyon as sandstone is a soft rock that is easily susceptible to erosion.
These floods have created one of the best hiking trails in the world! I mean this is one you will tell everyone about and how they must go and visit.
I have personally drug numerous friends and family members to share this experience with them. This could possibly be a bit extreme, or perhaps its the Park Ranger in me that is passionate about sharing these types of life experiences with the people I care about.
Guided Tours of Zion NP
From Springdale - Zion Bike Tour
Immerse yourself in the striking rocky landscape of Zion National Park on a cycling trip with a transfer from Springdale. Admire the panoramic views of Utah's mountains, canyons, and red rock cliffs.
From Springdale - Narrows Guided Hike
Experience The Narrows, the most popular hike in Zion National Park. Walk along the river surrounded by soaring sandstone walls and awe-inspiring views at every turn.
East Zion - 1 hour White Mountain Horseback Tour
Take the opportunity to visit a slot canyon from horseback. Enjoy a scenic ride to the mouth of a secluded slot canyon and take in the towering sandstone walls.
Get a taste for canyoneering on a guided 4-hour adventure, located just outside of Zion National Park. Rappel, hike, climb, have fun, and enjoy amazing views.
Experience both Zion NP and Bryce Canyon NP on a day trip from Las Vegas. Take a guided excursion through the stunning natural beauty of both parks.
Take a UTV tour of up to 25 unique destinations and finish the day with a beautiful sunset at Zion National Park. Learn how to drive over the rugged terrain from an expert guide.
Experience the beauty of Bryce Canyon & Zion National Parks. Discover secret vistas and learn from a guide on this tour of no more than 14 people, with lunch.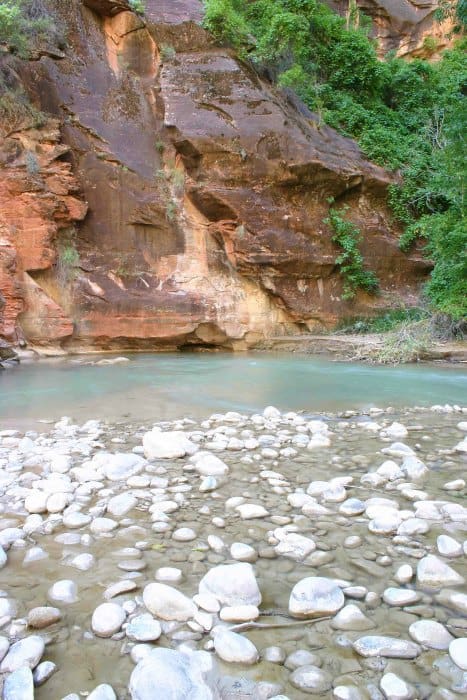 Zion is an epic park for hiking! There are every level of trails available from beginner to expert. One thing to know is the trails are POPULAR!
You will want to get an early start so you can enjoy the day and escape the heat especially in the summer. A couple of our favorite trails include the Narrows and Emerald Pools Trail.
Hiking up the Narrows is a bucket list experience within Zion National Park. If you have seen photos of people walking in the river with sheer cliffs on either side they were most likely hiking the Narrows.
This hike has become extremely popular and crowded depending on when you visit the park. Make sure to check with the visitor center to see if there are any flash flood warnings before heading to the Narrows.
To get to the Zion Narrows simply take the shuttle bus from the visitor center to the Temple of Sinawava. You start off with an easy 1.1-mile hike on the Riverside Walk.
Now the fun begins as its now time to get wet. The trail is the river as you follow it upstream. It is much tougher to hike upstream against the flow of the river but the cool water is refreshing on a hot day.
The water gets deeper and depending on the water level you could be swimming to the next piece of dry land.
The canyon walls continue to get taller above you. Eventually, you find yourself hiking in nothing but water with nothing but sheer red cliffs towering above as you only see a sliver of blue sky above.
Nowhere else on earth have I felt as one with nature, feeling its power and seeing its beauty.
You turn around with new vigor and perspective in life. The hike back is much quicker as the river helps push you back down.
Congratulations! you have now just explored the true essence of Zion and now have the bug to come back again and again.
Emerald Pools Trail is a gorgeous semi-easy walk near the Zion Lodge. The trail does have some elevation gain and a bit of uneven trail but it is so worth it when you come around the corner and see the Emerald Pools.
Depending on the time of year you visit you can also see an amazing waterfall.
Angels Landing Permit System
In response to concerns about crowding and congestion on the trail, on and after April 1, 2022, everyone who hikes Angels Landing needs to have a permit.
Zion NP is putting in place a trial permit system to see if it helps with the crowding of the trail.
There are a couple of ways to obtain an Angels Landing Permit.
Seasonal Lottery
With the seasonal lottery you can pick seven ranked days and times or windows of days and times you want to hike.
There are specific dates you need to apply for a permit based on when you want to complete the Angels Landing Hike!
It costs $6 to apply for a seasonal permit. The fee covers an application for up to 6 people (including the person filling out the application). This fee is non-refundable.
The permit system is handled through Recreation.gov.
If you are chosen for a permit you will receive an email from Recreation.gov informing you that you have a permit and you will be charged $3 for each person you registered.
Make sure to print or download a copy of the confirmation email and bring it with you on your hike. Mobile phone service is unreliable at the permit checkpoint so be sure to print or download before you arrive.
Day Before Lottery
You can apply for an Angels Landing Permit the day before you plan to hike. This lottery opens every day at 12:01 a.m. and closes at 3 p.m. Mountain Time (MT).
It costs $6 to apply for a permit which covers up to 6 people being on the application. This fee is non-refundable.
Permits are issued at 4pm mountain time the day you apply so make sure you have your application in by 3pm.
At 4pm you will receive an email that confirms if you have a permit for the next day. If you receive a permit you will be charged $3 per person listed on the application.
Please make sure to print or download your confirmation email!!!
Once you receive a permit make sure you check the Zion shuttle schedule and have plans in place to make it in time for your permit time.
The time printed on your permit is the time you need to be at Shuttle Stop 6, the Grotto.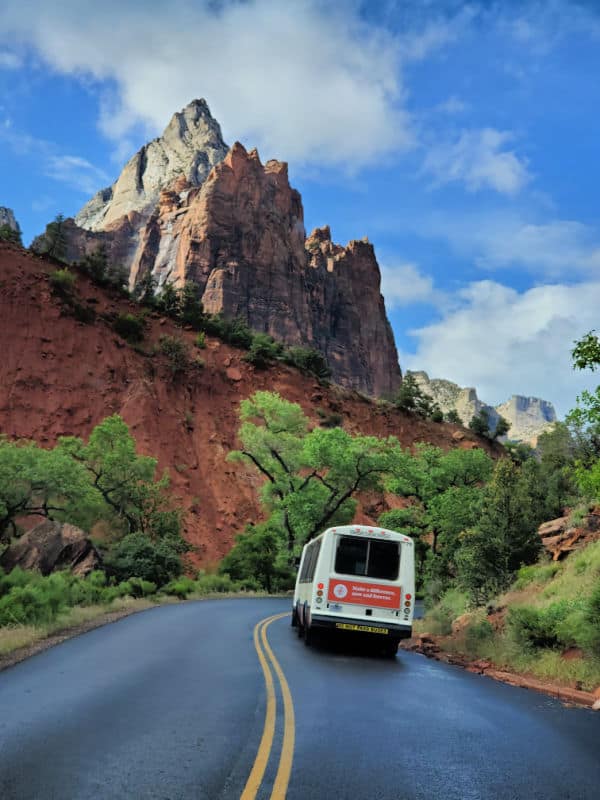 The Zion National Park Shuttle was introduced to help fight congestion in Zion Canyon. The Zion Shuttle normally runs from February through November, weekends in February, and the last week in December.
With increased visitation we may see the shuttle schedule change and adapt to keep crowds under control.
The shuttle is free but you will want to be prepared to possibly wait in line to get onto a shuttle!
All shuttle buses are wheelchair accessible.
A few regulations to be aware of:
No eating or smoking on the bus
Beverages other than water are not allowed
Pets are not allowed on the shuttle buses.
The Scenic Canyon Drive is closed to private vehicles during the shuttle season. Only Zion Lodge and Canyon Trail Rides guests with reservations (individuals will receive passes or codes when making reservations) are allowed up the Zion Canyon Scenic Drive to designated parking areas.
Private vehicles are only allowed to drive the Scenic Drive during the non-shuttle season, usually January to mid-February.
The best piece of advice I can offer for the Zion Shuttle is to not wait until the last shuttle to ride down to the visitor center. The last shuttle can and may be full leaving you to have to walk to the Zion Lodge or down the entire 8 miles of the canyon in the dark.
Even if you get to the Zion Lodge there is no guarantee they will have a company you can hire to drive you back down for a fee.
The Springdale Shuttle, or town shuttle, is located in the Town of Springdale. It stops at 9 locations in town and picks up and drops off visitors at the park's pedestrian/bike entrance.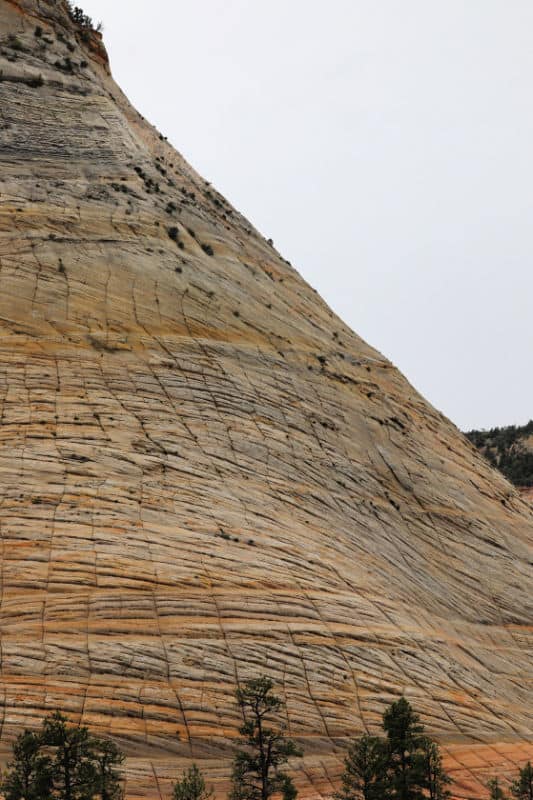 How to beat the crowds in Zion?
Beating the crowds in Zion can be a bit interesting depending on the time of year you visit.
If you are visiting during the summer you will want to be prepared for crowds. Heading to Kolob Canyon or exploring other areas of the park can help with beating the crowds.
Zion Canyon is super popular so you are not going to have it to yourself. That being said we suggest staying at Zion Lodge during the off season and exploring the park when the crowds are less in Spring and Late Fall.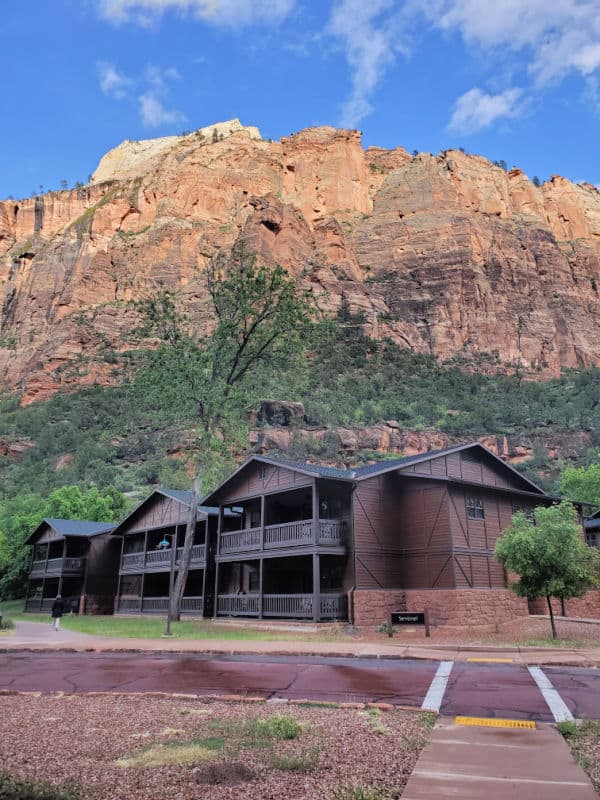 Where to stay when visiting Zion National Park
Zion Lodge is located in the heart of the Zion Canyon. Guests can drive to the parking area near the lodge and use the parks shuttle to explore the rest of the canyon.
There is nothing like waking up to watch the sun light hit the epic sandstone cliffs in front of the lodge.
The Zion Lodge is across from the Emerald Pools Trail making it really easy to walk over and explore the trail or walk along the Virgin River.
The cabins in Zion are located near the Zion Lodge. The cabins are comfortable and have everything you need to have an amazing park vacation.
Lodging near Zion NP
The majority of lodging outside of the park is located in Springdale or Virgin Utah.
Under Canvas Zion - Sleep under the stars in a glamping tent.
Cliffrose Springdale, Curio Collection by Hilton - 4-star hotel. Take advantage of a roundtrip airport shuttle, a grocery/convenience store, and a terrace at Cliffrose Springdale, Curio Collection by Hilton. With a private beach, this hotel is the perfect place to soak up some sun. In addition to a firepit and a garden, guests can connect to free in-room Wi-Fi.
Best Western Plus Zion Canyon Inn & Suites - Consider a stay at Best Western Plus Zion Canyon Inn & Suites and take advantage of a free breakfast buffet, laundry facilities, and a 24-hour health club. For some rest and relaxation, visit the hot tub. In addition to a 24-hour business center, guests can connect to free in-room Wi-Fi.
La Quinta Inn & Suites by Wyndham at Zion - Consider a stay at La Quinta Inn & Suites by Wyndham at Zion Park/Springdale and take advantage of free continental breakfast, a grocery/convenience store, and laundry facilities. Stay connected with free in-room Wi-Fi, and guests can find other amenities such as a gym and a 24-hour business center.
Hampton Inn & Suites Springdale/Zion - Take advantage of free breakfast, dry cleaning/laundry services, and a 24-hour gym at Hampton Inn & Suites Springdale/Zion National Park. Stay connected with free in-room Wi-Fi, and guests can find other amenities such as a 24-hour business center and a snack bar/deli.
Holiday Inn Express Springdale - look forward to a grocery/convenience store, a terrace, and shopping on site at Holiday Inn Express Springdale - Zion National Park Area, an IHG Hotel. For some rest and relaxation, visit the hot tub. In addition to a firepit and a garden, guests can connect to free in-room Wi-Fi.
Fairfield Inn & Suites by Marriott Virgin Zion - free breakfast buffet, a grocery/convenience store, and a terrace at Fairfield Inn & Suites by Marriott Virgin Zion National Park. Active travelers can enjoy bicycling at this hotel. For some rest and relaxation, visit the hot tub. Free in-room Wi-Fi is available to all guests, along with dry cleaning/laundry services and a fireplace in the lobby.
Click on the map below to see additional vacation rental and lodging options near Zion NP.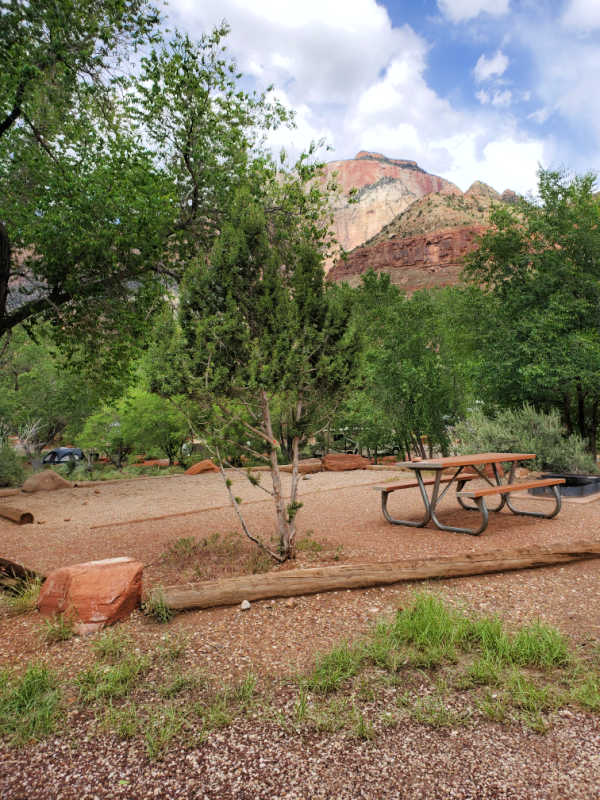 Within Zion National Park itself, there are three campgrounds. Lava Point Campground, South Campground, and Watchman Point Campground.
Keep in mind that camping is permitted in designated areas only, and the campgrounds tend to fill up early!
Springdale is just outside the park and offers pay showers, laundromats, firewood, and restaurants.
The Lava Point Campground is about a 1-hour drive from Zion Canyon on the Kolob Terrace Road (closed in winter). There are no campgrounds in Kolob Canyons.
From March through mid-November, the park-wide camping limit is 14 nights. An additional 30 nights is permitted the rest of the year. These limits apply to all park campgrounds.
For a fun adventure check out Escape Campervans. These campervans have built in beds, kitchen area with refrigerators, and more. You can have them fully set up with kitchen supplies, bedding, and other fun extras. They are painted with epic designs you can't miss!
Escape Campervans has offices in Vancouver, Seattle, Portland, San Francisco, Las Vegas, Los Angeles, Phoenix, Salt Lake City, Denver, Chicago, New York, and Orlando
Zion National Park Travel Tips
If you plan to hike the Narrows make sure you have water shoes, hiking poles and are prepared.
The pizza place in Springdale is fantastic
Take a shuttle from town to save yourself the hassle of parking.
If you plan to drive the Zion Tunnel be prepared for the height restrictions. If your vehicle is 11"4 (3.4m) tall or taller or 7'10" (2.4 m) wide or wider, including mirrors, awnings, and jacks, you will need a Zion Tunnel permit
Pack snacks and water
There is very limited to no cell service within the park
Dress in layers, the weather can change quickly
Stop by the visitor center for the most up to date trail information
Give yourself time to deal with crowds
Know your physical limitations!
Make sure you have the ten essentials with you before heading out on a hike.
Let someone know where you are going and when you plan to return.
There is no bottled water sold within the park so make sure you have a reusable water bottle with you.
Have you visited Zion? What is your favorite part of the park?
National Parks near Zion National Park
Cedar Breaks National Monument
Pipe Springs National Monument
Lake Mead National Recreation Area
Check out these other great Utah National Parks, Nevada National Parks, Idaho National Parks, Wyoming National Parks, Colorado National Parks, New Mexico National Parks, and Arizona National Parks.
National Park Service Website