Goosenecks State Park in southeastern Utah near the Arizona border offers amazing views of the San Juan River twisting and turning causing epic goosenecks in the canyon 1,000 feet below.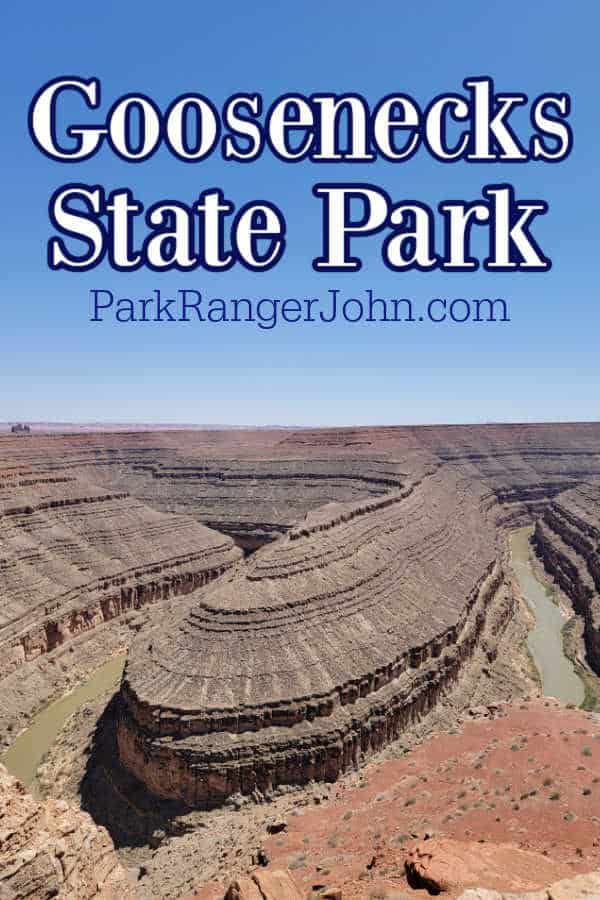 Goosenecks State Park
Over 300 million years the San Juan River has carved through the rugged landscape. Goosenecks State Park is one of the most distinct examples of "incised meanders" in the country.
A meander is when an entrenched river or entrenched stream is a river or stream that flows in a narrow trench or valley cut into a plain or relatively level upland.
The headwaters of the San Juan River are in the San Juan Mountains of southwestern Colorado, which is the origin of 90 percent of the river's flow. The San Juan flows 360 miles from its source to the Colorado River, starting at an elevation of 14,000 feet and dropping to 3,600 feet at Lake Powell.
The San Juan River flows with twists and turns as it passes through the deep canyon. This cause the river to flow a distance of over six miles while advancing one and a half miles west on its way to Lake Powell and Glen Canyon National Recreation Area.
This is a Utah State Park you do not want to miss especially if you are already visiting Monument Valley. It is so close and well worth the 20 to 30 minutes you will spend in the park.
We had so much fun checking out the views and marveling at the gooseneck in the river. From the park you are within minutes of the entrance to the Valley of the Gods and driving the Moki Dugway both of which are must see's in the Southwest!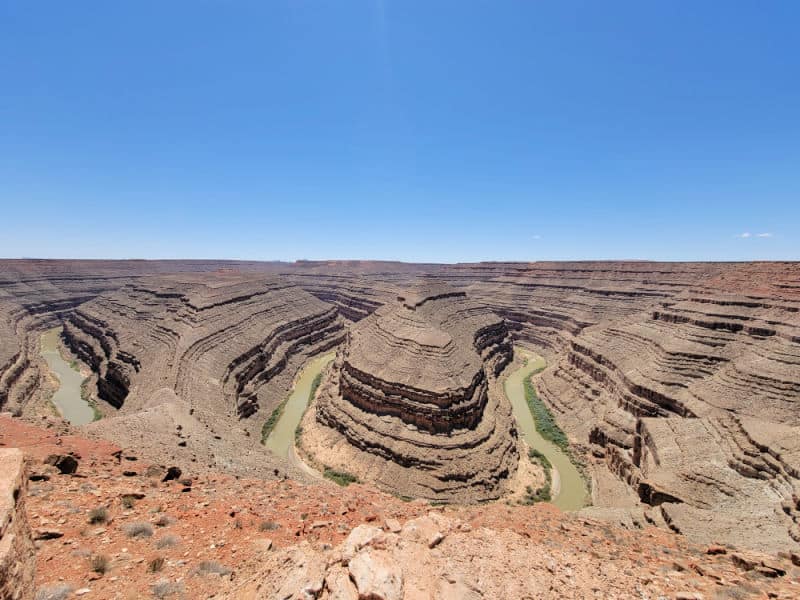 Photography
The San Juan River is 1,000 feet below the overlook. The main focus of the park is being able to photograph the goosenecks in the river below. We highly suggest having a wide-angle lens to be able to get the best landscape photo possible.
Sunrise and Sunset provide beautiful golden hour lighting over the canyon.
Night Sky
This park offers amazing views of the night sky. There is little to no light pollution so you can enjoy amazing views of the stars.
There are no hiking or bike trails within the Park. The San Juan- Honaker Trail is located near the park.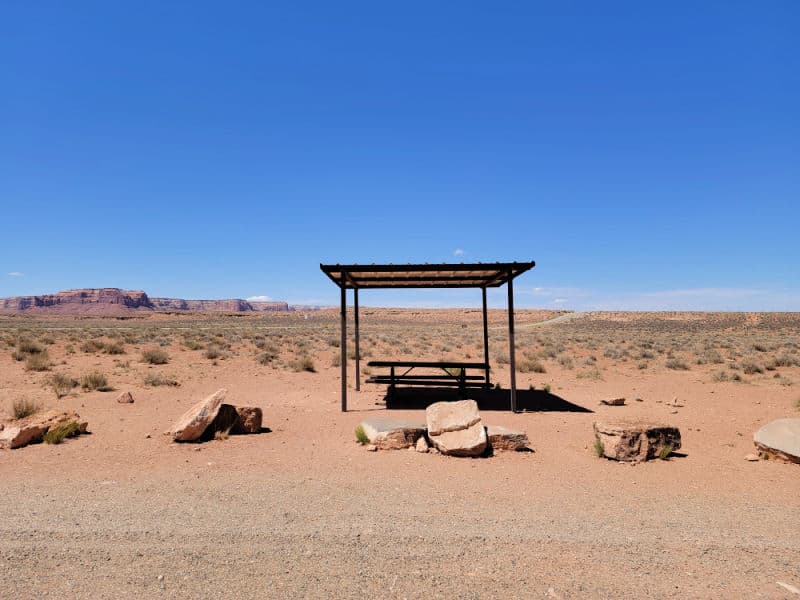 Goosenecks State Park Camping
Camping here is primitive and you will want to be prepared for the wind and weather! We read multiple posts about how windy this campground gets. People said they lost tent stakes and their tent cover was flapping in the wind a ton. Make sure you prepare your campsite for the wind and keep as many things as possible in your car.
$10.00 per night per campsite. If no ranger on duty, pay at fee tube using the self-serve envelopes.
Camping is in 8 designated sites along the rim, where fire-ring and picnic tables are located.
First come, first served site only. No reservations accepted.
Conditions are primitive, bring your own firewood and water.
No services except vault toilets.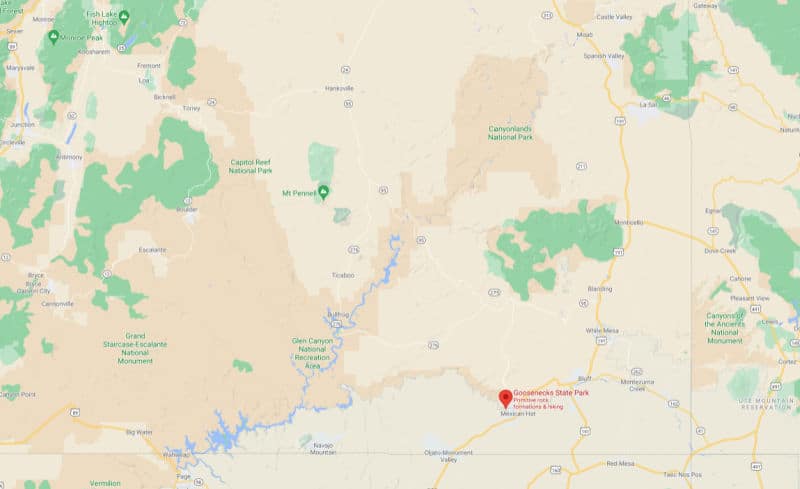 Where is Goosenecks State Park?
Approximately 349 miles southeast of Salt Lake City.
25 miles west of Bluff along US 163, west on SR 261, then southwest on SR 316
From Mexican Hat, Utah, continue east on Hwy 163 for 4 miles. Turn left onto UT 261, and head north for about 1 mile. Following signs to Goosenecks State Park, turn left onto UT 316 and follow the road to its end. The campground is on the left side of the road near the overlook.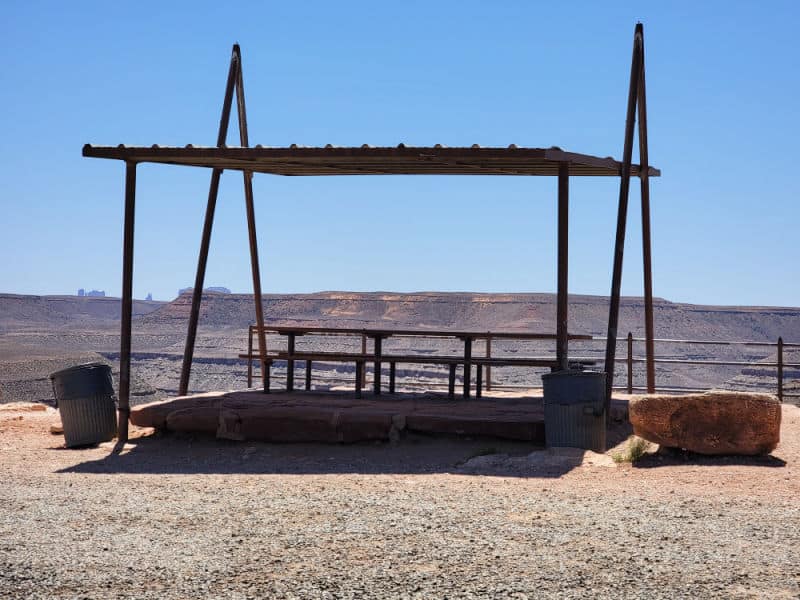 Things you need to know to plan a trip to Goosenecks State Park
There is no shade at Goosenecks SP so you will want to be prepared for the weather! Make sure you have sunscreen, water, and shoes that can handle hot rocks.
Visitor Center: There is no visitor center at the park. If you want to talk with a ranger you can visit the Edge of the Cedars State Park Museum in nearby Blanding, Utah
Park fees:
$5.00 day-use fee per car with up to 8 people
$2.00 per person fee for bus tour groups
Park Hours: The park is open 24 hours a day.
Season: The park is open year-round
Pets: Dogs are allowed in the park, but must stay on a leash.
Restroom: There is one vault toilet available in the park.
Water: There is no drinking water in the park so make sure you are prepared.
Biking: Bikes are permitted on public roads only.
There was a Navajo jewelry stand set up during our visit. If you are interested in purchasing jewelry I would make sure you have cash with you.
Opened to the public as a state park in 1962.
Park Elevation: 4,500 feet
Towns near the park include Mexican Hat or Bluff, Ut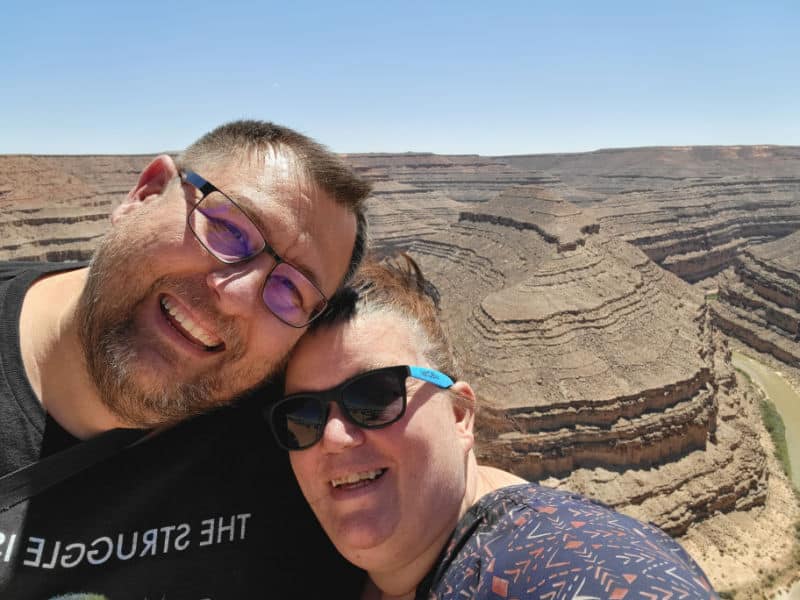 Park Sites near Gooseneck State Park
Natural Bridges National Monument
Check out all of the Utah State Parks
Check out all of the National Parks in Utah along with neighboring Colorado National Parks, Idaho National Parks, Wyoming National Parks, Nevada National Parks, Arizona National Parks, and New Mexico National Parks.