There is an endless amount of Things to do in Canyonlands National Park! The park is very large, broken up into several sections and can be anything from easy to technical/difficult to access. This guide will help you plan the best trip for you!

Things to do in Canyonlands National Park
To understand Canyonlands, think of the park as a tall rectangle with a Y shape in the middle. The Y shape in the middle is a natural barrier that you can't cross in the park.
The Y shape is the Green River coming from the top-left towards the center and the Colorado River coming down from the top right to the center. Both rivers join in the middle and flow south towards Lake Powell and the Grand Canyon. The river itself provides activities but also makes for long travel times between each district.
Canyonlands National Park is broken up into three different districts; Island in the Sky is the north section between the Green and Colorado River, The Needles is in the southeast section of the park and east of the Colorado River, and The Maze District is western section of the park and west of the Colorado and Green Rivers. Additionally there is the Horseshoe Canyon District that is north of the Maze District and river activities to enjoy in Canyonlands National Park.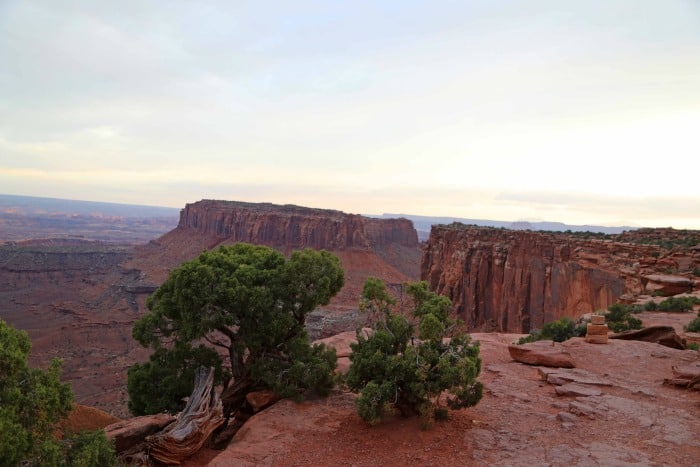 I am breaking each section down into an easy and difficult categories. The easy category will be for those who want to enjoy the visitor centers, scenic overlooks, enjoy the natural and cultural beauty of the park and even take on an easy to moderate hike. without having to have technical skills and equipment.
The Difficult category is going to include activities that require advanced skills, proper equipment, advanced planning and permits, etc. I normally don't dive this deep into a things to do article but difficult is half the fun and activities in Canyonlands National Park!
Island in the Sky District (Easy)
The Islands in the Sky District is the easiest and most visited section of Canyonlands National Park. It is located approximately 32 miles, 40 minutes northwest of Moab UT off of Utah 313.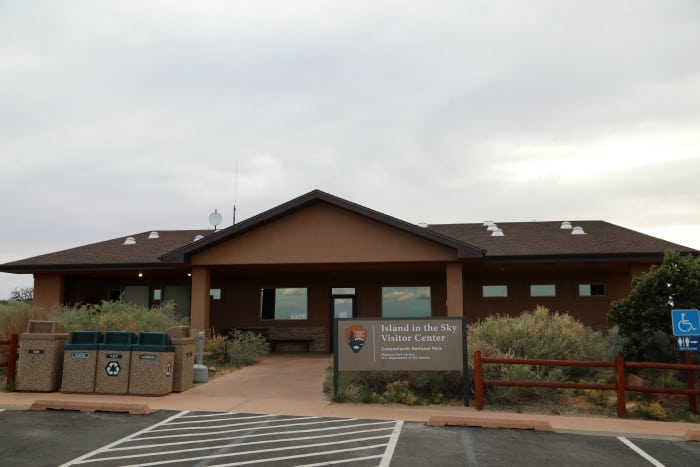 Island in the Sky Visitor Center
The Island in the Sky Visitor Center is open seven days a week in the summer and five days a week in the winter. The visitor center has interpretative displays, park maps and brochures, park movie, a bookstore and restrooms available. Backcountry permits are also available.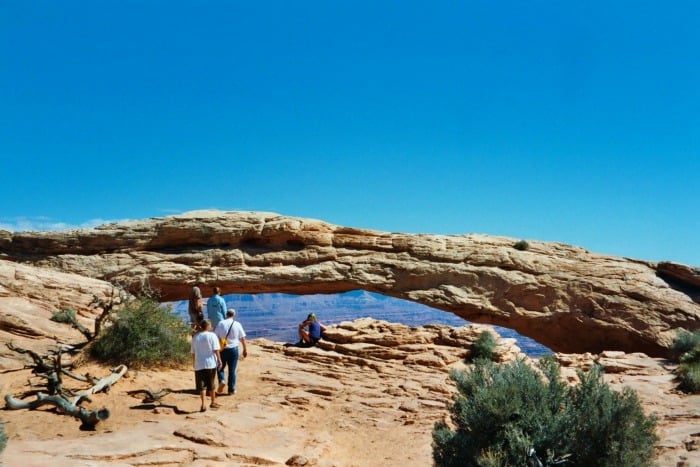 Mesa Arch is a half-mile out and back trail that leads to Mesa Arch. This is the location for one of the Southwest's most iconic photographs where at sunrise, the sun lights up the under part of Mesa Arch making it glow.
You don't have to show up for sunrise to enjoy this arch but if you decide to show up, be prepared to arrive early as you will not be alone. It is not uncommon to see 50+ other photographers wanting to get the exact same photograph. It is also quite a drive in from Moab to get here early and set up before sunrise.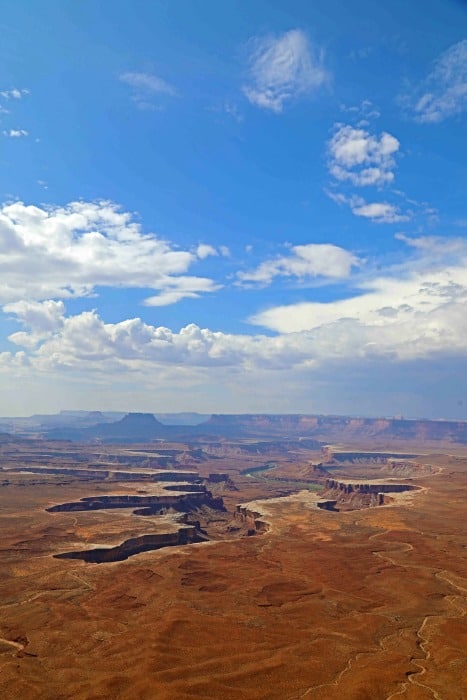 Explore overlooks
There are several overlooks in the Island in the Sky District including, Grand View Point, Schafer, Upheaval Dome and perhaps the most iconic, The Green River Overlook. Each overlook gives you a great view into the canyon 1000 feet below!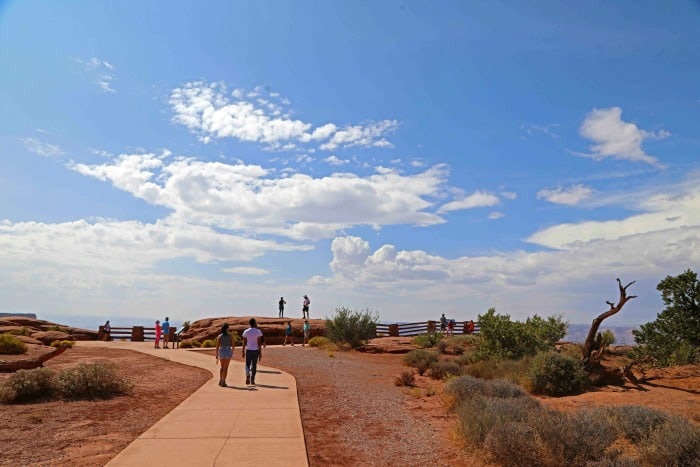 Hiking Trails
Grand View Point Hike
Grand View Point Hike has a beautiful 2 mile out and back hike along the canyons edge! This is not one of those trails where you hike 2 miles for one sight, the whole trail is breathtaking and worth it.
Upheaval Dome Hike
Upheaval Dome Hikes is a steep one mile out and back hike that will give you a clear view into Upheaval dome. Once you reach the overlook, you will have the option to head to a second overlook adding another mile roundtrip.
Aztec Butte Hike
Aztec Butte Hike is a 2 mile roundtrip hike that follows a sandy wash to a split. If you go to the right, you will go up Aztec Butte with breathtaking views. Go back and go left at the split and you will eventually drop below the rim to two ancestral Puebloan ruins!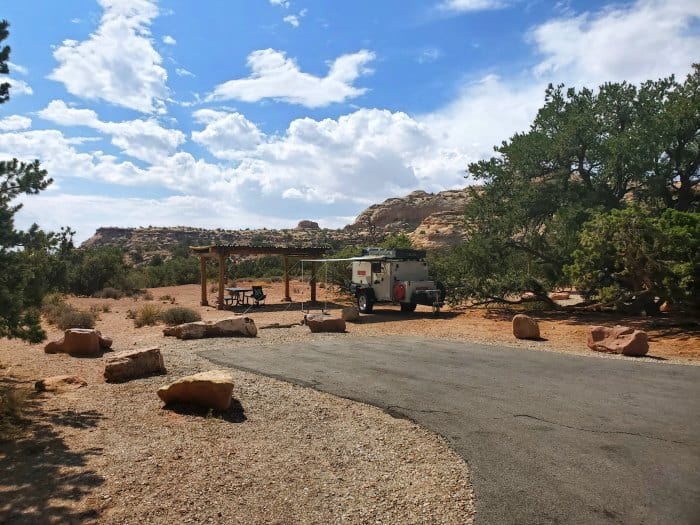 This is a nice small campground that is centrally located in the park. You are a short walk from what I think is the parks prettiest overlooks and you are very close to Mesa Arch. This is important for those who want to photograph Mesa Arch at sunrise. This is because you will only be a few minutes away instead of approximately 45 minutes from Moab, Utah.
Watch Sunset
Watching sunrise or sunset in the canyon is beautiful! I love to watch the sun begin to fill the canyon with shadows in the areas that the sun has not yet reached. It really gives the viewer a perspective of the detail within the canyon. I also enjoy this time for photography as the light is not quite as intense and the shadowing gives photos depth.
Island in the Sky (difficult)
The Moab area in Utah (Including Canyonlands National Park) is known all over the world as a mecca for off-roaders and mountain bikers alike. A big reason for this is that Slickrock has great traction for tires. Off Roaders can do things with their vehicles that should not happen!
Of course, the trails vary greatly. One can find trails suitable for first-timers to advanced users not afraid of a little vehicle damage along the way. Some of the trail descriptions say it best like "requires adult diapers" and "don't take anyone you care deeply about".
This is not the time to act tough and rent a 4X4 and think you can do it. Advanced means advanced in this area. You can quickly/easily find yourself in a heap of trouble here. Many of the trails in Canyonlands can take days to be rescued and tow bills easily go in the thousands of dollars.
PLEASE use caution and exercise good judgment here. The worst accidents I have seen as a Park Ranger are from Off-Roading and people going beyond their capabilities.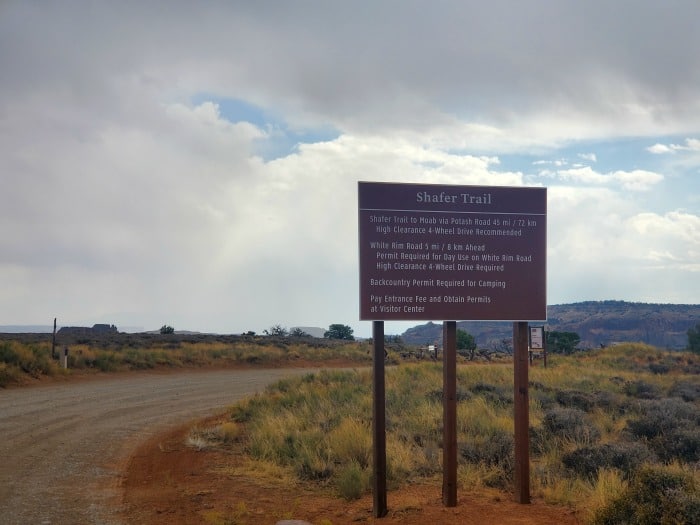 Shafer Trail
The Shafer Trail is 18 miles long and is 45 miles long if you continue to Moab via Potash Road. The trail begins in Canyonlands National Park near the Island in the Sky Visitor Center. This drive is one that a well-maintained high clearance 4X4 and experienced 4X4 operator can complete in good conditions.
Make sure to check at the visitor center before leaving for any known hazards and potential weather that could negatively impact your trip. Remember to keep in your mind that you will be driving down a one-lane dirt road with numerous switchbacks and two-way traffic. This means that someone will have to wait for someone else to use a pullout and there are no guardrails stopping you from falling 2000+ feet!
Novice drivers and anyone with a fear of heights should not attempt this road. This road can and will humble you very quickly! So why take this route? The scenery is jaw-droppingly beautiful! You also pass by arches, Shafer Canyon, Indian petroglyphs, and the site of the famous scene from Thelma and Louise was filmed.

White Rim Trail
The White Rim Road is a 100-mile adventure into this remote area of Canyonlands. Start off at the Inland in the Sky Visitor Center to check on road/weather conditions and confirm all permits and campsites before leaving. Take the Shafer Trail Road down into the canyon for the first 5 miles then continue on to the White Rim Trail. This scenic drive typically takes 2-3 days to complete and is filled with scenic beauty.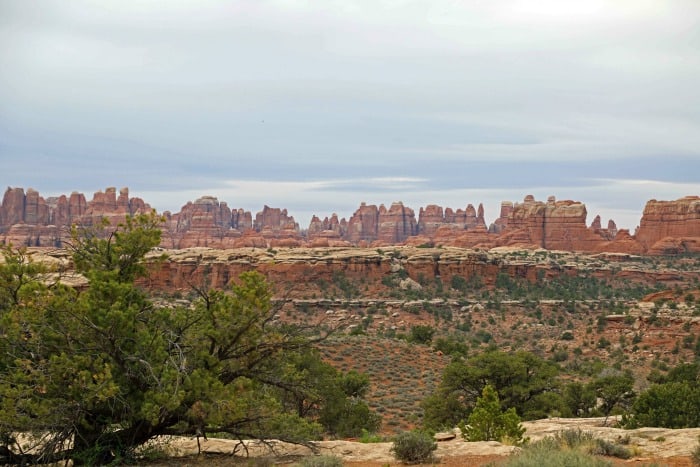 Needles District (Easy)
The Needles District of Canyonlands National Park is named after the red and white pinnacles in this section of the park. This section has a visitor center, campground, overlooks, and hiking trails. One of the best know sites is Newspaper Rock before entering Canyonlands.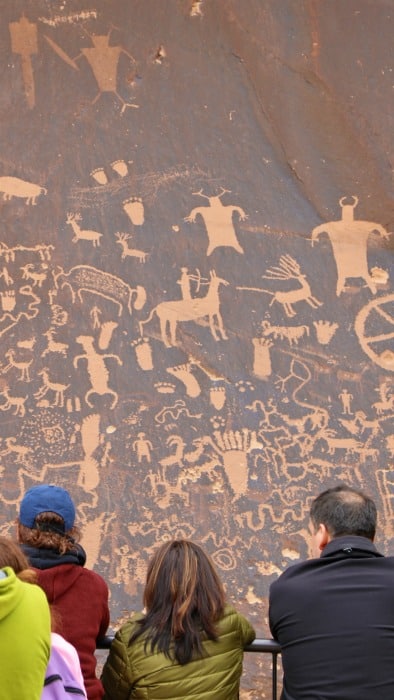 Newspaper Rock
Newspaper Rock is actually a few miles before getting to the park on Utah 211. It is a must-see as it is one of the largest collections of petroglyphs in the US.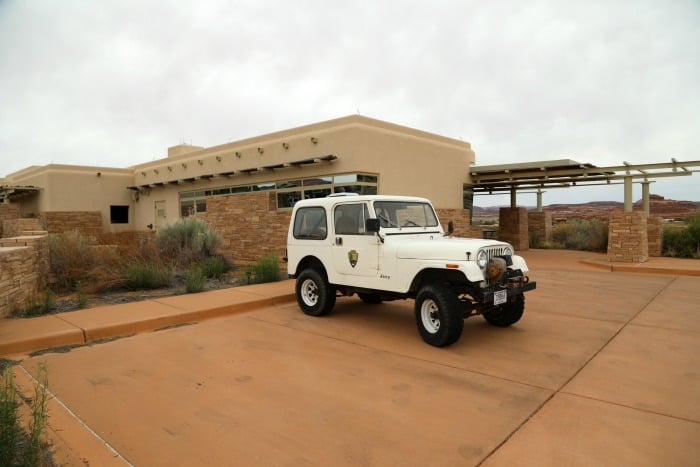 The Needles Visitor Center
The Needles Visitor Center is open year-round. Inside you can find park information, watch a park orientation video, get books and maps and visit the restroom and fill your water bottles before heading out. You can get the latest weather information and backcountry permits before heading out.
They also boast sixty miles of interconnecting trails that weave through the Needles. Most trails are moderate to difficult and traverse through slick rock and sandy washes.
To navigate desert trails, trails are marked with small rock piles called cairns. Strong hikers should be able to hike these trails in one day, but overnight backpacking is recommended in order to more fully explore the expansive trail networks. Backcountry permits are required for overnight camping and are obtained from the National Park Service.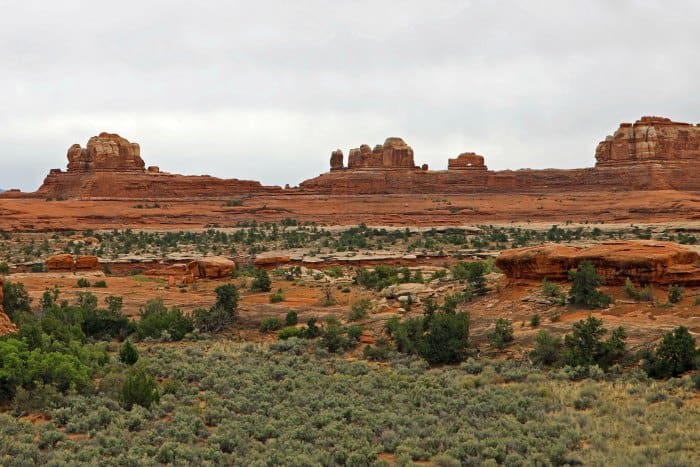 Explore Overlooks
The Needles District has a few scenic overlooks. The one that captured my attention was Wooden Shoe Arch Overlook. This rock formation looks just like a Dutch Wooden Shoe with no stretch of the imagination. except it is made of rock.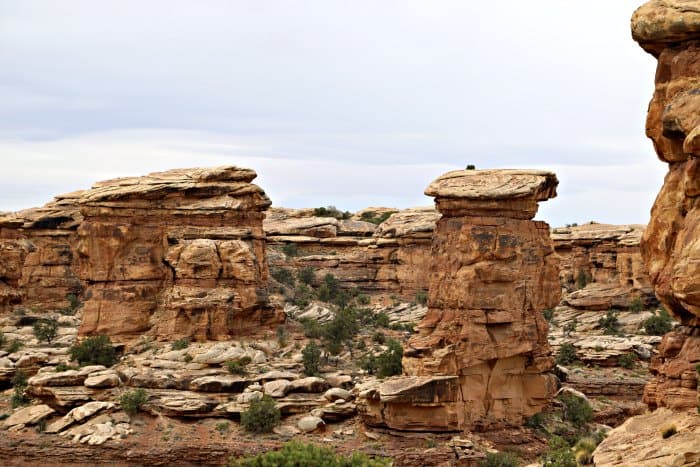 Hiking in the Needles District
Roadside Ruin Trail
The Roadside Ruin Trail is a short .3 mile roundtrip trail that leads to a storage structure built by the indigenous people.
Cave Spring Trail
The Cave Spring Trail is a .6 mile roundtrip loop trail that goes to a historic cowboy camp.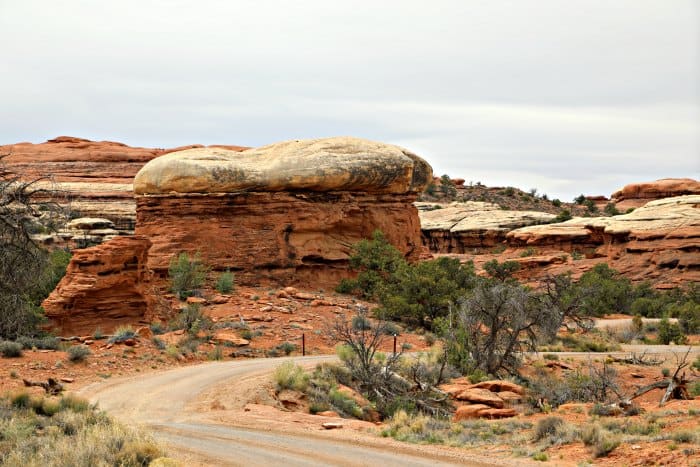 The Needles District (Difficult)
Elephant Hill
Elephant Hill is one of the most technical four-wheel drive roads in all of Utah! Be prepared as it will test the best of the best with steep grades, loose rock, stair-step drops and backing. Make sure to get your permit at the park visitor center before entering.
Salt Creek (Peekaboo)/Horse Canyon
Salt Creek (Peekaboo)/Horse Canyon is a very technical four-wheel drive trail. Expect to navigate quicksand, deep sand, and deep water. The road is often impassable and required a permit so make sure to check in with the visitor center before heading out. For those who make it will be rewarded with several arches and rock art.
Chesler Park/Joint Trail
The Chesler Park/Joint Trail is an 11 miles round trip strenuous hike that should take 5-7 hours to complete. Begin hiking at the Elephant Hill Trailhead. Continue hiking for 3 miles over slick rock, through prickly pear cactus groves, and through dry gulches to reach the expansive meadow called Chesler Park.
Chesler Park is a fairly large meadow of desert grasses and shrubs and is completely surrounded by the brightly colored sandstone spires and pinnacles that give Needles its name. The Joint Trail around Chesler Park is a must-do. The trail winds through a series of narrow and cavernous fractures in the rock. Staying the night at one of the five-backcountry campsites at Chesler Park will certainly be a night to remember.
Druid Arch Trail
The Druid Arch Trail is an 11-mile strenuous round-trip trail that should take 5-7 hours to complete. The trail leads from the Elephant Hill Trailhead to Druid Arch, a large rock formation resembling the stone structures of Stonehenge. This trail offers some of the best views of the Needles.
The trail follows the same trail as the Chesler Park trail and then travels along the bottom of Elephant Canyon. The last .25 miles of the trail is quite challenging. To arrive at the arch there is a steep climb with some scrabbling and a ladder to climb. There are three backcountry campsites located along the trail.
Maze District (Difficult)
Turn around and go back to Island in the Sky or the Needles district. The Maze is difficult to get to, only has high clearance, is technical, has 4X4 roads, and needs a driver with experience in this environment.
This Maze District is not for the faint of heart or anyone who does not have advanced off-road skills.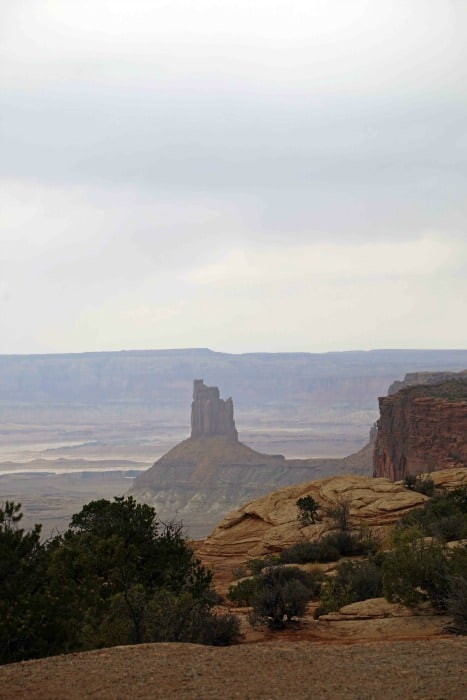 The Maze District is named for its disorienting maze-like canyons. It is by far the most remote and least traveled section of the park. The Maze is best explored over multi-day to weeklong trips. It is nearly impossible to explore the Maze in one day, as it takes several hours over dirt and rugged roads to get to the trailheads listed below.
The Maze Overlook Trail
The Maze Overlook Trail is a relatively short but difficult trail offering incredible vistas of carved canyons characteristic of the park. The trail begins at the Maze Overlook trailhead and descends a steep slick rock trail to the bottom of South Fork Horse Canyon. Hikers must navigate steep steps, narrow cracks, and some scrambling is required.
It is a good idea for backpackers to carry a 30-foot rope to help lower backpacks in steep sections. Once at the bottom of the trail there are many other canyons to explore. Please exercise caution when exploring off from the well-marked Maze Overlook Trail – have a map and good route finding skills to avoid getting lost in the Maze.
Harvest Scene Loop
Beginning at the Chimney Rock Trailhead, this trail leads to the Harvest Scene, a very famous rock-art panel. At 12 miles, this trail is the longest designated trail in the Maze and can be completed as a long day or a more leisurely overnight hike. This trail is definitely for experienced hikers, although it is clearly marked with rock cairns there are some steep descents and plenty of side canyons that could be confusing for a novice hiker.
The Chocolate Drops
The Chocolate Drops are one of the most distinctive rock formations located in the Maze. They are 200-foot rectangular towers of Organ Rock Shale resting on the ridge between South Fork House Canyon and Pictograph Fork Canyon. Start at the Chocolate Drops Trailhead and follow trail markers (cairns) across slickrock 4.4 miles to the Chocolate Drops.
The trail is relatively easy except for a steep section of Slickrock that requires some scrambling.
The Doll House
The Doll House is located approximately 6 hours from the Hans Flat Ranger Station. Along the way you will pass sights like The Wall, Lizard Rock, The Plug, and Chimney Rock. There is a campground located nearby and you can get a reservation here at the ranger station before heading out.
It makes for a good resting place after a full day driving and the Doll House formation is best photographed in the late afternoon sun.
Getting to the Maze District of Canyonlands National Park
Getting to the Maze district is an adventure in itself. It is a good idea to pick up a quality map from a ranger office or visitor center in Moab before you go. All roads into the Maze are unpaved and many require a high-clearance four-wheel-drive vehicle.
To get to the Maze, take US191 north out of Moab and then go west on I-70 11 miles and exit onto Utah 24 South. Travel on Highway 24 South for 24 miles and turn left onto an unpaved road just south of the turnoff to Goblin Valley State Park. Continue on this road for 46 miles to the Hans Flat Ranger Station for maps and information about trail and road conditions.
Permits are required for all overnight trips in Canyonlands National Park. Permits are available from park offices and it is recommended to make reservations well in advance to ensure a permit for the desired trip.
Horseshoe Canyon Unit
Horseshoe Canyon has some of the most significant rock art in North America. The Great Gallery has life-sized figures that have been well preserved. Visitors that want to visit the Great Gallery are in for an adventure.
The hike to the Great Gallery is 7 miles roundtrip, out and back requiring 5-7 hours to complete. The hike starts off with a 780-foot descent into the canyon which means that you get the pleasure of a 780 accent at the end of a seven-mile hike in the heat! Bring plenty of water as you will need it on this hike.
To get to the parking lot, visitors can arrive off of Flint Trail Road off I-70 from the town of Green River. Simply exit into Green River and take the Airport Road South until it turns into Flint Trail Road. You can also turn east onto Flint Trail Road just north of Goblin Valley State Park on Utah 24.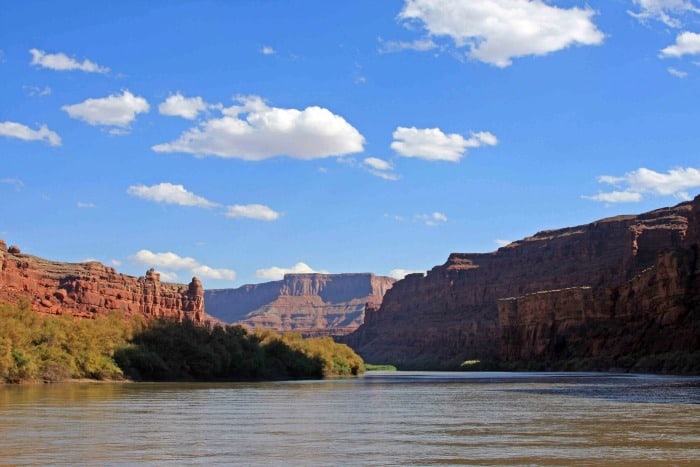 Exploring Canyonlands on the Water (Easy)
There are several concessionaires that have jet boat tours into Canyonlands that leave out of Moab. This is a great way to relax and cool off as the wind blows through your hair with a covered top boat. You can take a one-hour to half-day adventure into the canyon and even have time to get out and go for a walk.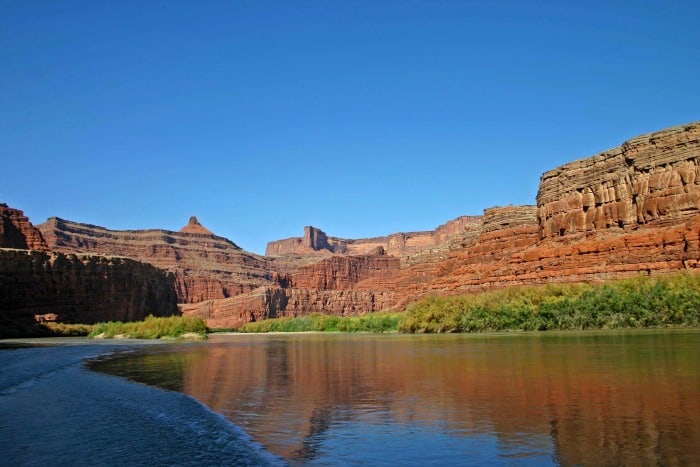 Exploring Canyonlands on Water (Difficult)
So you want to tour Canyonlands National Park through Cataract Canyon? Did you know there are 14 miles of whitewater in this stretch of the canyon?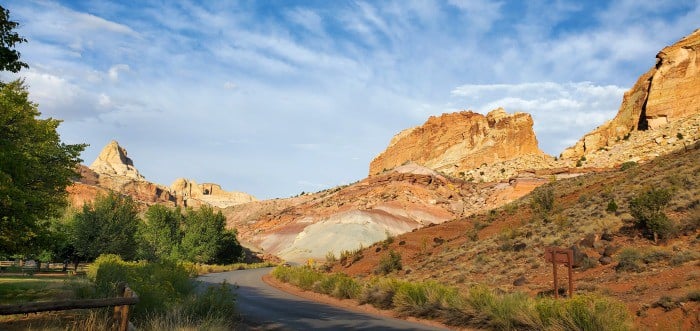 Epic Parks to visit Near Canyonlands
Arches National Park-Things To Do
Capitol Reef National Park- Things To Do
Make sure to check out more Utah National Parks, Arizona National Parks, and Colorado National Parks.