Monument Valley Navajo Tribal Park is a must-visit for anyone who likes scenic drives, red rocks, and the unbelievable scenery. When you drive up to the park it feels like you are on another planet. It is so hard to believe that the landscape is real.
Today we are sharing our best Monument Valley Navajo Tribal Park Travel Tips! These are the tips we have learned from visiting the park and talking with other travelers. Let us know if you have any other tips we should add to this list.
Located on the Arizona/Utah state border, Monument Valley encompasses the Monument Valley Navajo Tribal Park; discover Native American culture at a classic American icon.
South West America is immortalized in images of Monument Valley, an icon of the classic 'wild west'; after driving for seemingly endless miles through desolate, desert landscape, it is startlingly to suddenly see the red and orange buttes and mesas of Monument Valley jut predominately skywards up to 1000 feet high. Monument Valley has been the location and star of many wild west movies but it is also home to an ancient Native American culture.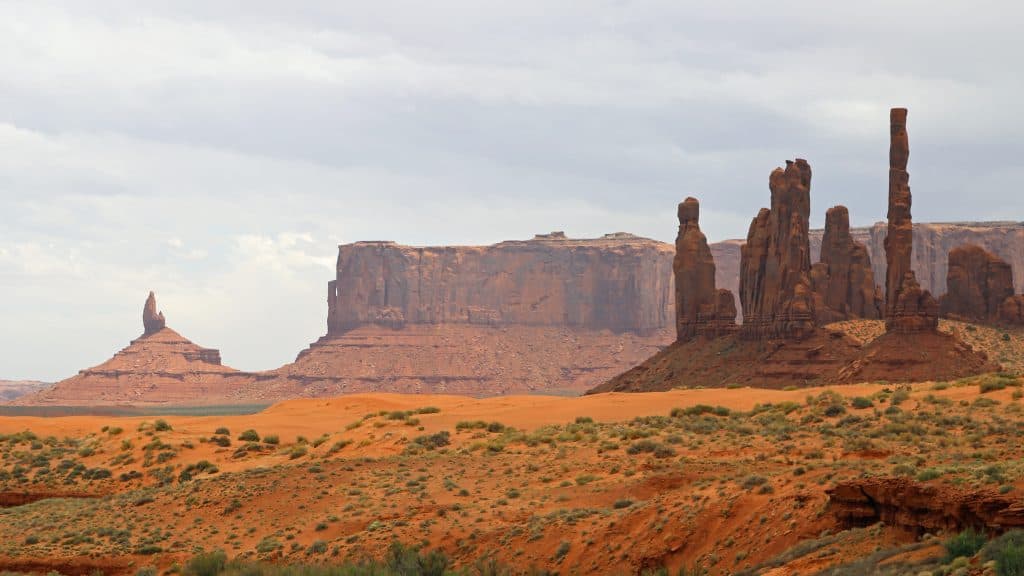 Monument Valley Visitor Center
There is an admission fee to enter the Monument Valley Navajo Tribal Park; the current admission for adults is $5 per person, with admission for children under 7 years of age free.
However, it is always advisable to check ahead for current admission charges, seasonal hours of operation, restrictions, and closures. There is a 4-mile paved road that leads to the Monument Valley visitor center with restroom facilities, a restaurant, exhibits and tourist gifts.
Valley Drive Through the Monument Valley
Although there are stunning views from the Monument Valley visitor center of some of the most famous landmarks of Monument valley, many of Monument Valley's spectacular views are hidden within the Tribal Park. From the Monument Valley visitor center, it is possible to drive 17 miles of unpaved, dirt road; there are two options for the Valley Drive – take your own vehicle or take a tour.
There is often pressure to take a tour with a local guide but there are advantages to taking a tour through Monument Valley. Tours provide local Navajo guides with an income, as tour money goes directly back into the local community; in addition, tour guides can enter areas of the Monument Valley Tribal Park where private vehicles are not allowed, including ancient cave and cliff dwellings, petroglyphs and arches. Tours can take the form of a vehicle or, in classic wild west style, on horseback.
Famous Landmarks of Monument Valley
Some of the most famous buttes and mesas of Monument valley include:
The Mittens and Merrick Butte
Elephant Butte
Three Sisters
John Ford's Point – the location of many of film director's John Ford's western movies between 1939 and 1960
Camel Butte
The Hub
Totem Pole and Yei Bi Chei
Sand Spring
Artist's Point
North Window
The Thumb.
Points to Know When Visiting Monument Valley Tribal Park
When visiting the Monument Valley Tribal Park, it is important to consider the following points:
respect the Navajo Reservation land
ask before taking photos of Navajo people
leave only footprints behind
accommodation is limited, so book ahead
in winter, tours may be restricted.
Visit the Monument Valley Navajo Tribal Park webpage for up to date information on the driving tour and conditions.
You can download the park brochure ahead of your trip here.
Bring water and snacks with you. It takes a bit of a drive to reach the park. Once you pass the visitor center there are no facilities along the driving route. When you see an outhouse use it. We only saw a couple of them so if you need one use it when you see it.
Be prepared for wind and weather changes. It was quite windy the day we visited and we had to carefully take pictures so sand did not get into our camera equipment.
Wear shoes that you are comfortable walking in sand and rocks in. It can be quite hot during the summer months so make sure you have water, sunscreen, a hat, and your 10 essentials.
The valley drive is a 17-mile unpaved dirt road! Make sure you are driving a vehicle that can handle driving on a dirt road. The road is pretty compact dirt but if you have a low clearance vehicle it may be really bumpy. Motorcycles and RVs are not allowed on the driving tour.
No rock climbing is allowed within the park.
Use of ATVs or off-road terrain vehicles is not allowed within the park.
Be prepared for flash floods from June - August! If you see weather approaching check with park staff to make sure you are heading in the correct area.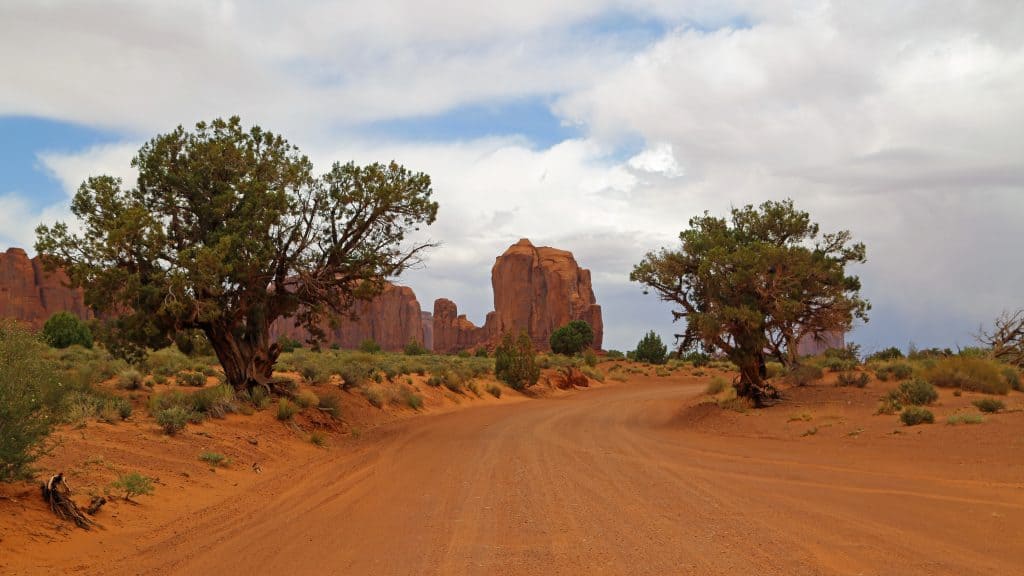 How much does it cost to visit Monument Valley Navajo Tribal Park?
General Admission - $20.00 Per vehicle fee up to 4 people
Ages 6 or younger - Free
**National Parks and Golden Eagle Passes are not accepted.
What times can I visit the scenic drive in Monument Valley?
Peak Season (May 1-Sept 30) 6:00am - 8:00pm
Off-Season (Oct-Apr) 8:00am - 4:30pm
How do I get to Monument Valley Navajo Tribal Park?
Monument Valley is reached by one road of any significance, that of US163, linking Kayenta (AZ) to US 191 in Utah. Monument Valley straddles the Arizona/Utah border.
Monument Valley Navajo Tribal Park is located on the Arizona side but Goulding, which is the location of Goulding's Lodge, the closest hotel to Monument Valley, is located on the Utah side. US 163 provides the classic views of Monument valley before entering the Monument Valley Navajo Tribal Park.
For driving directions using a GPS enter Monument Valley, Utah for directions. We did not have any issues using our GPS to reach the park.
The closest airports to Monument Valley
Page Municipal Airport in Page, AZ - 928-645-4337
Grand Canyon National Park Airport - www.grandcanyonairport.net
Sky Harbor Airport in Phoenix, AZ - www.mccarran.com
McCarran International Airport in Las Vegas, NV - www.phxskyharbor.com
The nearest train station is in Flagstaff, AZ - Amtrak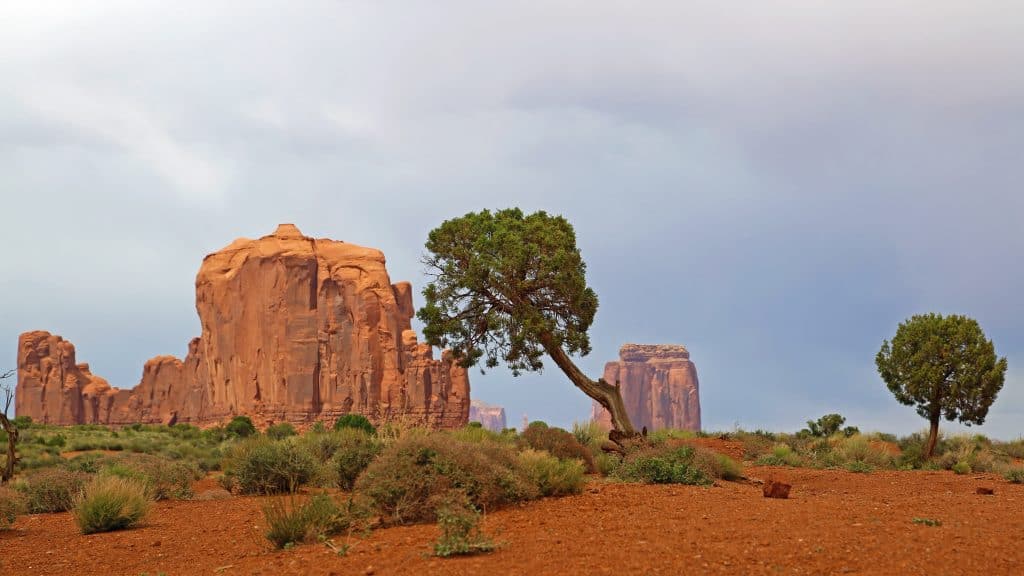 Where are the Monument Valley Navajo Tribal Park Visitor Centers?
The visitor center is located past the entrance gate to get into the park. The visitor center includes displays and exhibits of our nation's largest Native American tribe. The gallery room shows the Government and Cultural history of the Navajo Nation along with the World War II Navajo Code Talkers exhibit.
Monument Valley Navajo Tribal Park Visitor Center Hours
Peak Season (May 1 - Sept 30) 6:00am - 8:00pm, 7 Days a week
Off-Season (Oct 1 - Apr 30) until 8:00am - 5:00pm, 7 Days a week
Thanksgiving Day - 8:00 am-noon
New Years Day - closed
Christmas Day - closed
Where can I find out about staying/camping in Monument Valley Navajo Tribal Park?
Both camping and lodging are available in the park. Prices depend on the season you are visiting. For up to date information call 435-727-5555 or email info@monumentvalleyview.com
The View Hotel is located onsite and can be reached at 435-727-5556 or at www.monumentvalleyview.com

National Park and other great park sites near Monument Valley
Upper Antelope Canyon - 116 miles
Hovenweep National Monument - 87 miles
Canyons of the Ancient National Monument - 90 miles
Grand Canyon National Park - 174 miles
Canyon de Chelly National Monument - 93 miles
Mesa Verde National Park - 151 miles
Check out all of the Arizona National Parks and Utah National Parks.