Monument Valley Navajo Tribal Park is a must visit for anyone who likes scenic drives, red rocks, and unbelievable scenery. When you drive up to the park it feels like you are on another planet. It is so hard to believe that the landscape is real. Today we are sharing our best Monument Valley Navajo Tribal Park Travel Tips! These are the tips we have learned from visiting the park and talking with other travelers. Let us know if you have any other tips we should add to this list.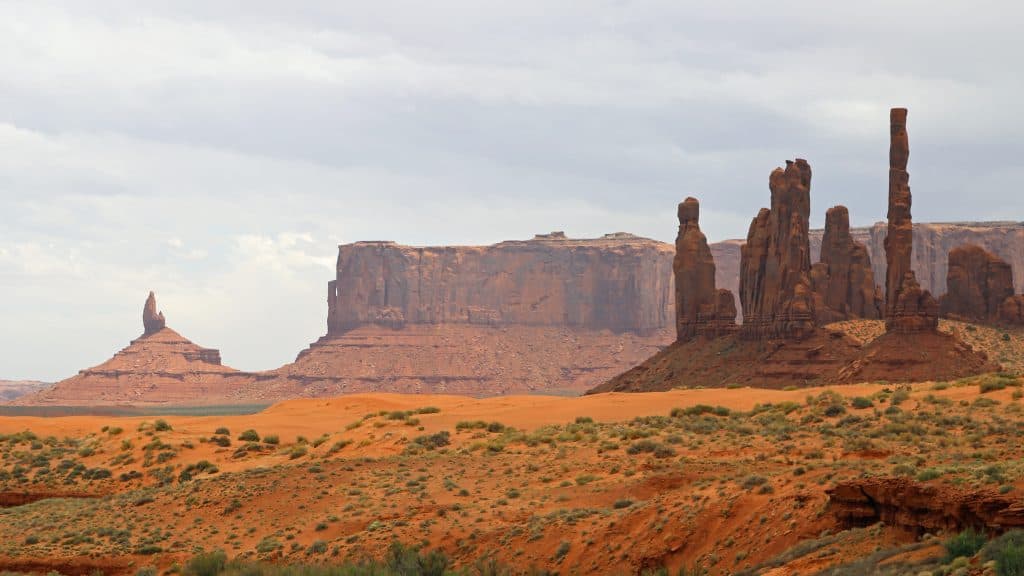 Monument Valley Navajo Tribal Park Travel Tips
Visit the Monument Valley Navajo Tribal Park webpage for up to date information on the driving tour and conditions.
You can download the park brochure ahead of your trip here.
Bring water and snacks with you. It takes a bit of a drive to reach the park. Once you pass the visitor center there are no facilities along the driving route. When you see an outhouse use it. We only saw a couple of them so if you need one use it when you see it.
Be prepared for wind and weather changes. It was quite windy the day we visited and we had to carefully take pictures so sand did not get into our camera equipment.
Wear shoes that you are comfortable walking in sand and rocks in. It can be quite hot during the summer months so make sure you have water, sunscreen, a hat and your 10 essentials.
The valley drive is a 17-mile unpaved dirt road! Make sure you are driving a vehicle that can handle driving on a dirt road. The road is pretty compact dirt but if you have a low clearance vehicle it may be really bumpy. Motorcycles and RVs are not allowed on the driving tour.
No rock climbing is allowed within the park.
Use of ATVs or off-road terrain vehicles is not allowed within the park.
Be prepared for flash floods during June – August! If you see weather approaching check with park staff to make sure you are heading in the correct area.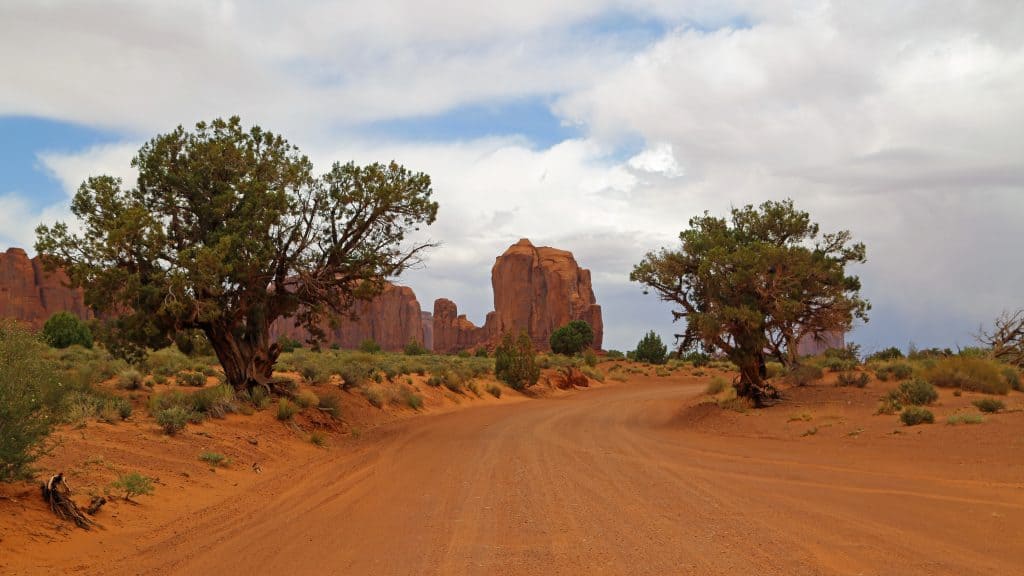 How much does it cost to visit Monument Valley Navajo Tribal Park?
General Admission – $20.00 Per vehicle fee up to 4 people
Ages 6 or younger – Free
**National Parks and Golden Eagle Passes are not accepted.
What times can I visit the scenic drive in Monument Valley?
Peak Season (May 1-Sept 30) 6:00am – 8:00pm
Off Season (Oct – Apr) 8:00am – 4:30pm
How do I get to Monument Valley Navajo Tribal Park?
For driving directions using a GPS enter Monument Valley, Utah for directions. We did not have any issues using our GPS to reach the park.
The closest airports to Monument Valley
Page Municipal Airport in Page, AZ – 928-645-4337
Grand Canyon National Park Airport – www.grandcanyonairport.net
Sky Harbor Airport in Phoenix, AZ – www.mccarran.com
McCarran International Airport in Las Vegas, NV – www.phxskyharbor.com
The nearest train station is in Flagstaff, AZ – Amtrak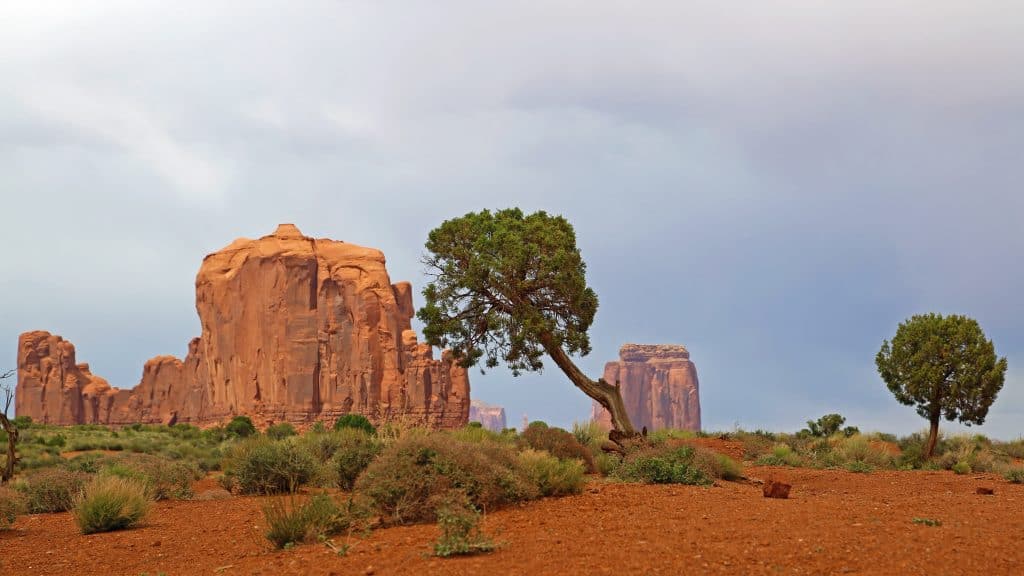 Where are the Monument Valley Navajo Tribal Park Visitor Centers?
The visitor center is located past the entrance gate to get into the park. The visitor center includes displays and exhibits of our nation's largest Native American tribe. The gallery room shows the Government and Cultural history of the Navajo Nation along with the World War II Navajo Code Talkers exhibit.
Monument Valley Navajo Tribal Park Visitor Center Hours
Peak Season (May 1 – Sept 30) 6:00am – 8:00pm, 7 Days a week
Off Season (Oct 1 – Apr 30) until 8:00am – 5:00pm, 7 Days a week
Thanksgiving Day – 8:00 am – noon
New Years Day – closed
Christmas Day – closed
Where can I find out about staying/camping in Monument Valley Navajo Tribal Park?
Both camping and lodging is available in the park. Prices depend on the season you are visiting. For up to date information call 435-727-5555 or email info@monumentvalleyview.com
The View Hotel is located onsite and can be reached at 435-727-5556 or at www.monumentvalleyview.com

National Park and other great park sites near Monument Valley
Upper Antelope Canyon – 116 miles
Hovenweep National Monument – 87 miles
Canyons of the Ancient National Monument – 90 miles
Grand Canyon National Park – 174 miles
Canyon de Chelly National Monument – 93 miles
Mesa Verde National Park – 151 miles
Check out all of the Arizona National Parks and Utah National Parks.