National Parks in Utah include the amazing Arches National Park, Bryce Canyon, Canyonlands, Capitol Reef and so many more awe-inspiring destinations.
Utah National Parks are considered some of the best parks in our park system. They offer the opportunity to get off the grid and explore on foot, by boat, in a Jeep or on a horse.
There are so many things to see and do within the Utah National Parks. It is hard to pick just one to suggest starting with. I would love to spend a few months exploring all of these parks and finding new spots to explore.
With five outstanding national parks considered to be its "jewels," Utah is rich in history and scenery any visitor can appreciate.
These national parks-Arches, Bryce Canyon, Canyonlands, Capitol Reef, and Zion-each offer some of the most stunning Western landscapes and important geologic history within the National Park System of the United States. While some parks (like Zion) are more well known than others (Capitol Reef), each offers stunning vistas never to be forgotten.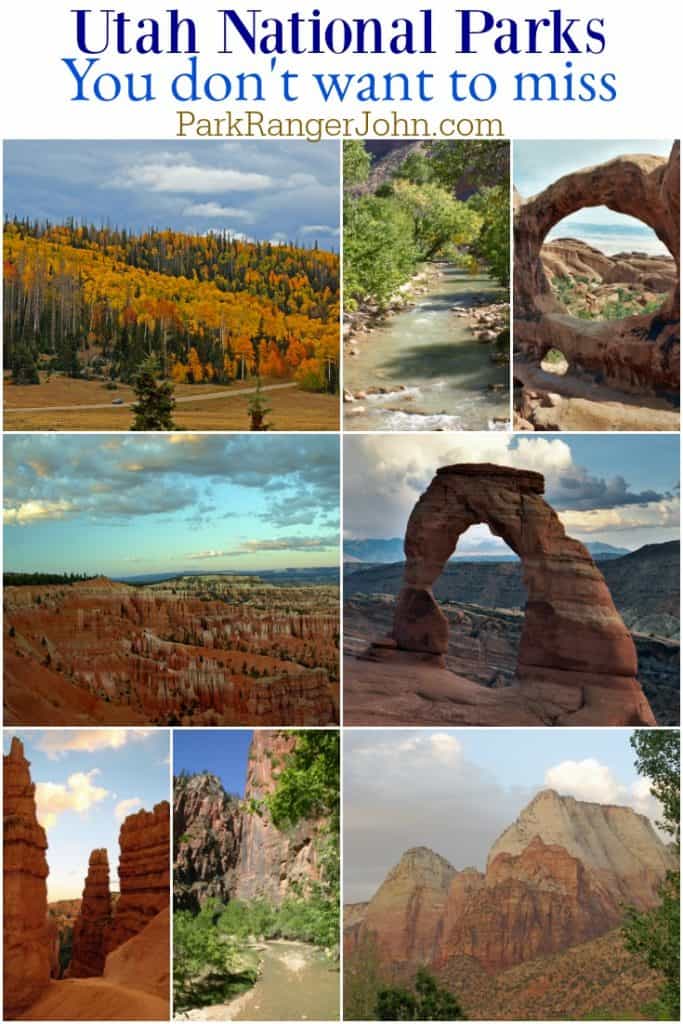 Utah National Parks
Southern Utah is where you will find Arches National Park, Canyonlands National Park, Bryce Canyon National Park, and Zion National Park. It can get very hot here so be sure to bring plenty of water if you plan to walk up to any of the natural wonders. Allow a minimum of one day for each National Park for the scenic drives. Allow more time if you plan to hike any of the trails.
Arches is probably the most often photographed red rocks. Moab is the closest town or campground to the Arches National Park at US 191 and I-70. There are seven arches carved out of the soft sandstone by wind and water visible from the road.
There are thousands of arches to see if you follow the hiking trails. Continue south from Moab at US 191 and Route 211 to the largest national park in Utah, Canyonlands National Park. You will see turrets and spires formed from sandstone.
Follow US 89 to Route 12, then Route 63 to Bryce Canyon National Park. Make reservations to stay in Bryce Canyon. Some call Bryce Canyon a fairyland because of the formations called hoodoos. Hoodoos look like hooded ghost shapes, especially in the moonlight.
The whimsical formations change color throughout the day from reddish-brown to light gold to flaming orange and deep red. St. George off I-15 in Southern Utah is the closest place to Zion National Park. Zion National Park is on Route 9 off of I-15.
Zion is named after the hill in Jerusalem where the Temple was built. Follow the Zion Canyon Scenic Drive to see a cluster of sky-high monoliths called the Court of the Patriarchs.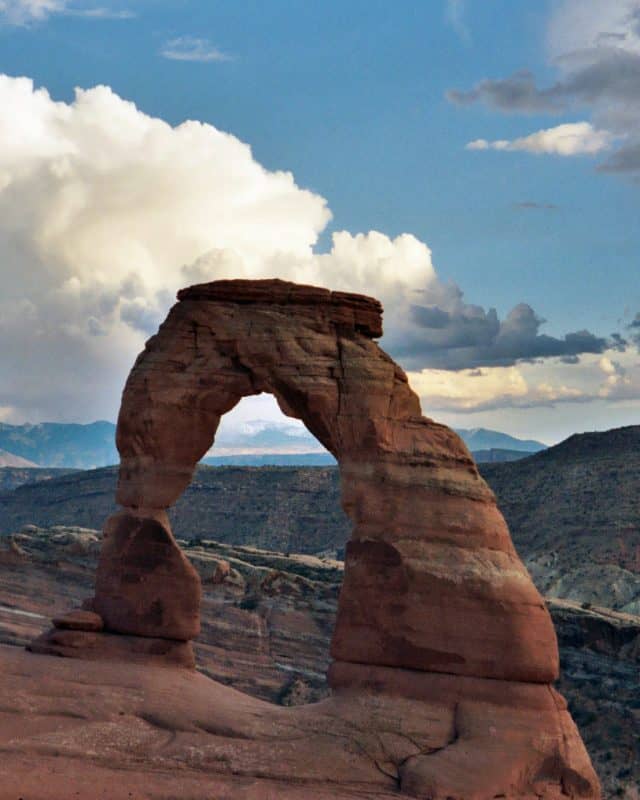 Arches NP is located in eastern Utah approximately 80 miles southwest of Grand Junction, Colorado. The park is open year-round offering scenic drives, hiking, and camping.
More than 2,000 sandstone arches dot the 47,000-acre landscape of this national park. Within this rugged, high desert setting, these delicate sandstone structures bear the imprint of geological history over millions of years.
The most famous landmark within the Arches National Park is Delicate Arch, which provides a sweeping vista of mesas, canyons, and the Colorado River from its lofty location.
Other notable stone monuments include Landscape Arch (the longest), Fiery Furnace, Courthouse Towers, Devil's Garden, Parade of Elephants, and Tower of Babel, among others.
A 40-mile scenic drive takes in the wonders of the park, and there are a number of stopping points, where visitors can get out and follow marked trails or enjoy scenic viewpoints.
Just some of the trails that travelers can pursue include Delicate Arch Trail, The Windows Trail, Double Arch Trail, and Tower Arch Trail. Throughout the park, visitors will enjoy the windowed arches, towering spires, and ancient hoodoos (tent rocks or spires) that make up the stunning vistas of this national park.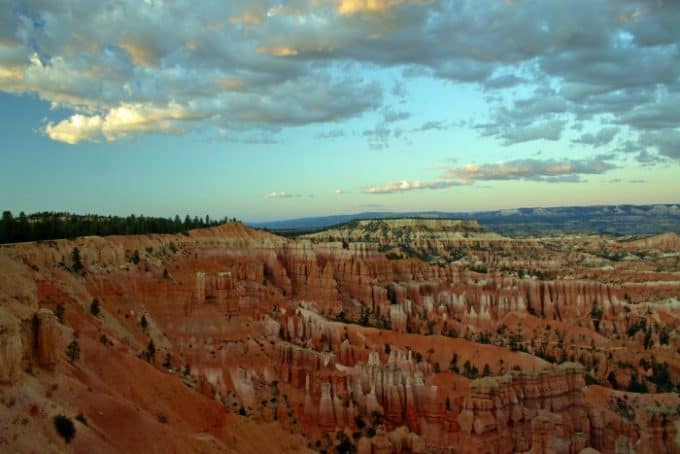 Bryce Canyon NP is located in Southern Utah approximately 120 miles northeast of St. George, Utah. The park is open year-round though winter snow can close some roads.
High atop the Paunsaugunt Plateau, lush greenery of pines gives way at the rim of Bryce Canyon, showcasing an 8,000-foot drop into an amphitheater of spectacular, brilliantly colored limestone rock formations. Surrounded by pink and orange cliffs, this canyon is filled with stunning red rock hoodoos, created by the interaction of wind and water over millions of years.
Summer sunsets are the most spectacular time to view the brilliant colors in this national park, although the park is open year-round.
Traveling along the 37-mile scenic drive will allow visitors to reach key scenic viewing areas to see rock formations such as Queen's Garden, Sinking Ship, Fairyland Canyon, and Inspiration Point. Participating in ranger-guided hikes and on horseback are two other great ways to see Bryce Canyon National Park in Utah.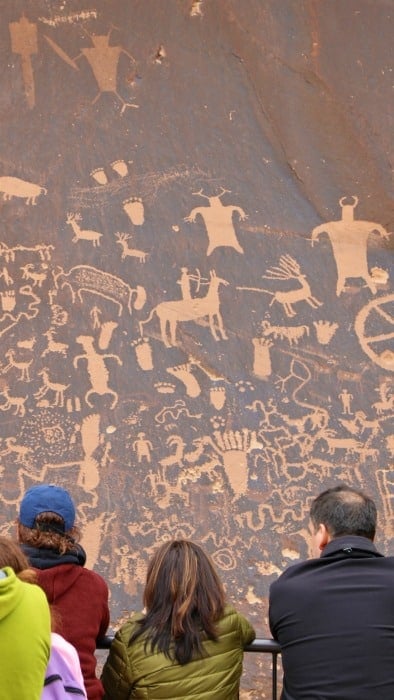 Canyonlands NP is located in Southeastern Utah approximately 110 miles southwest of Grand Junction, Colorado. The park is open year-round
In Canyonlands, Utah's largest national park, the sights are inspiring, whether you are looking thousands of feet down to the Colorado and Green Rivers or up thousands of feet to red rock pinnacles and spires.
The rivers have divided this national park into three distinct areas, each named to reflect its own special vista: Island in the Sky, the Needles, and the most remote district, the Maze. Renowned for its white water rafting, as well as 4-wheel drive and mountain biking trails, Canyonlands has much to offer the traveler to this Utah national park.
In addition, one of the things that makes this national park so unique is an area of petroglyphs left behind by the Fremont people (a Native American tribe).
Within the Needles District, travelers can see these ancient images of hunting scenes and harvesting left behind on the red rock face. This wild, rugged national park offers an amazing experience at any time of the year.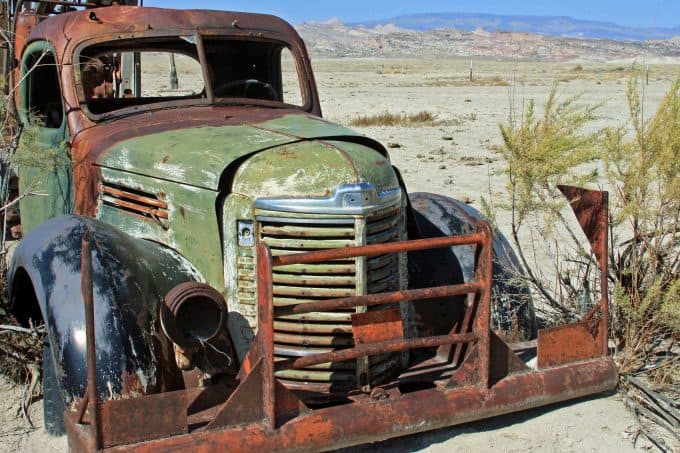 Capitol Reef NP is located in south-central Utah approximately 200 miles south of Salt Lake City. The park is open year-round offering hiking, camping, and scenic drives.
The central geological feature of this national park is the Waterpocket Fold, a 100-mile long warp of rock rising up from the earth. Formed 70 million years ago, a fault below the earth's crust pushed up the layers of rock to create a monocline, better known today as the Capitol Reef.
Much of the rest of the park is a fascinating wilderness of sandstone formations, just some of which are Hickman Bridge, the Temple of the Sun and Moon, Cathedral Valley, and Capitol Dome. These highlights and others can be seen along a 25-mile scenic drive.
Also within the park are remnants of a 1800s pioneer town, Fruita, so named for its abundant orchards of apricots, apples, cherries, pears, and peaches. In addition to fruit-picking, a nature center, children's activities, afternoon ranger talks, and bird watching are popular pastimes within this Utah national park.
Abundant hiking opportunities exist, from easy family walks, like Sunset Point Trail, to the challenging, such as Navajo Knobs, a strenuous trail that rewards hikers with stunning panoramic vistas at its completion.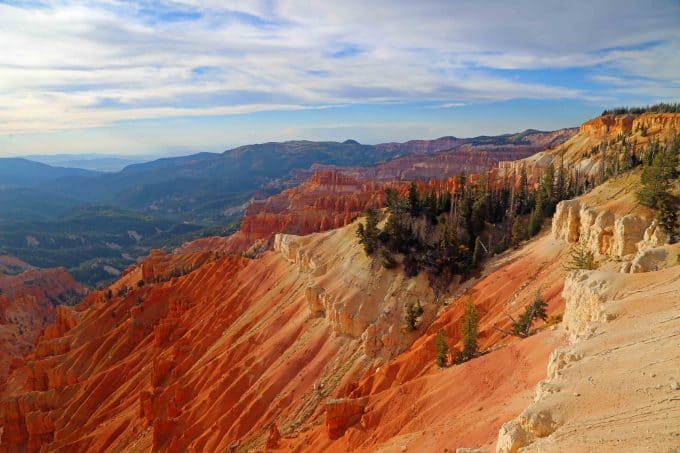 Cedar Breaks NM is located in southwestern Utah approximately 65 miles northeast of St. George, Utah. The park is from late spring through fall. The park offers great scenic drives and hiking.
The park sits much higher than other parks on the Colorado Plateau. The visitor center is located at 10,000 feet in elevation. The park is blanketed in snow throughout the winter.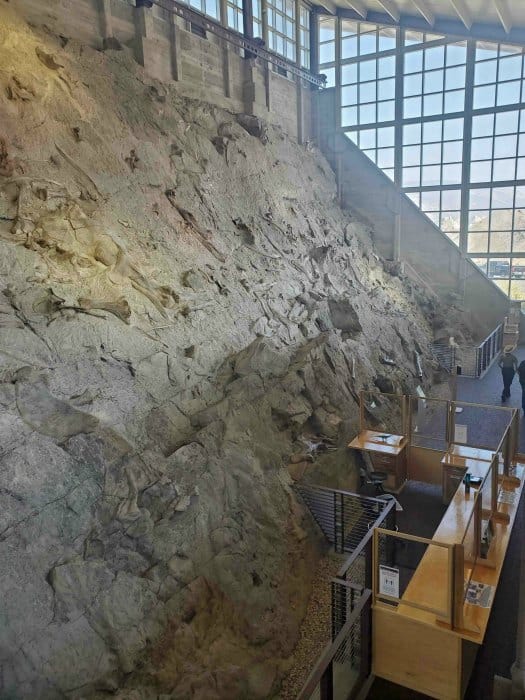 Dinosaur NM is located in northwestern Colorado and northeastern Utah approximately 110 miles south of Grand Junction, Colorado. The park offers dinosaur fossils and rock art, scenic drives, hiking, and camping.
Paleontologist Earl Douglas found eight vertebrae of a dinosaur in the arid badlands of eastern Utah. He had stumbled upon the world's greatest collection of dinosaur fossils.
Remains of ten species of dinosaurs have been found in this area. The fossils that have been excavated can be found in the Carnegie Museum, Smithsonian Institute and the Denver Museum of Natural History.
Glen Canyon National Recreation Area
Glen Canyon NRA is located in southern Utah and northern Arizona approximately 125 miles north of Flagstaff, Arizona. The park is open year-round and offers hiking, boating, camping, fishing, and exploring.
Lake Powell is the second-largest reservoir in the United States. The lake was formed after the construction of the Glen Canyon Dam on the Colorado River in 1963.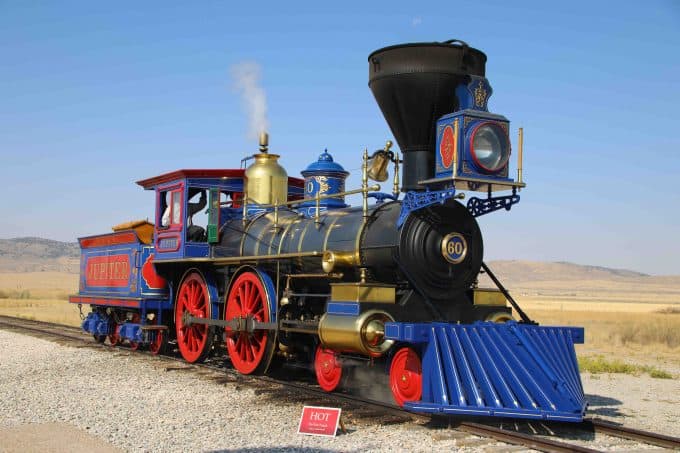 Golden Spike NHP is located in northern Utah approximately 85 miles northwest of Salt Lake City. The park is open year-round and offers the opportunity to view steam locomotives and learn more about railroad history.
In Promontory Summit, Utah on May 10, 1869 officers from Union Pacific and Central Pacific Railroad met to celebrate where the railroad meets from coast to coast.
A golden spike completed the first transcontinental railroad line in the United States.
Hovenweep NM is located in southwestern Colorado and southeastern Utah approximately 150 miles south of Grand Junction, Colorado. The park is open from spring through fall.
The park offers the opportunity to tour thousand-year-old pueblo ruins and camping. There are six pueblo communities protected within the park boundaries.
The park includes dwellings, kivas, and multi-story ruins. The visitor center and Square Tower Group of structures are the only unit within Hovenweep that can be reached on a paved road.
Natural Bridges NM is located in Southeastern Utah approximately 43 miles east of Blanding. The park is open year-round and offers camping, hiking, and a scenic drive.
Located east of Lake Powell this park showcases three rock bridges that have been carved in the sandstone of the Colorado Plateau by erosion.
Visitors can enjoy a 9-mile scenic drive that takes you to overlooks with epic views of the park's three natural bridges - Sipapu, Kachina, and Owachomo.
If you want to get a close-up look there are trails that lead to the bridges.
Rainbow Bridge National Monument (by boat only)
Rainbow Bridge NM is located in Southern Utah approximately 125 miles north of Flagstaff, Arizona. The park is open year-round.
Rainbow Bridge is the world's largest known natural rock bridge. The bridge spans 290 feet from the base to the top and 275 feet in width. The top of the bridge is 42 feet thick and 33 feet wide.
The park is administered by the Glen Canyon NRA. Most visitors visit the park on a commercial boat tour that leaves from Lake Powell.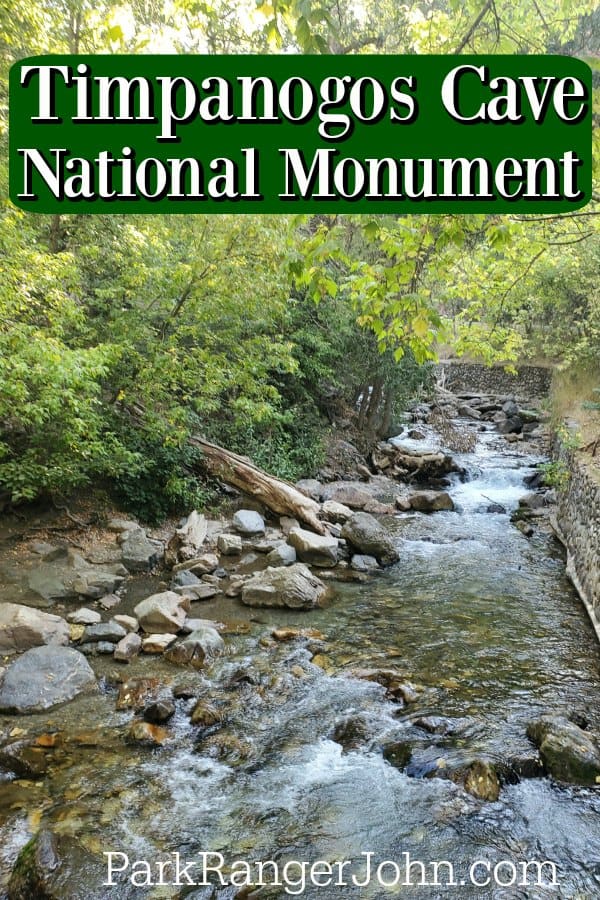 Timpanogos Cave NM is located in Northern Utah approximately 30 miles south of Salt Lake City. The park is open spring through fall depending on the weather.
Visitors to the park can see three caverns that are filled with formations. Some of the highlights include rare green and yellow formations within the caves. In order to visit the caves, visitors must be on a tour.
It is worth noting that to reach the cave entrance visitors need to do a 1.5-mile hike that gains 1,000 feet in elevation. The hike is at an altitude of 6,730 feet above sea level. The path to the cave entrance is paved but the hike can be very difficult due to the altitude.
Zion NP is located in Southwestern Utah approximately 45 miles northeast of St. George. The park is open year-round and offers hiking, camping, a shuttle service up the Zion Canyon and epic views.
The oldest and most visited national park within the state of Utah is Zion National Park, which will celebrate its 100th anniversary in 2009. With nearly 3 million visitors annually who come to see its soaring towers and massive monoliths, the park has come to rely on its own internal transportation system to maintain the fragile ecological park system.
Open-air shuttles transport visitors around the park to see such stunning formations as The Great White Throne and Angels Landing, among others.
Visitors can find some solitude, however, by exploring the Utah park along self-guided trails (which range from easy to challenging) or on guided horseback adventures. The park is known for its abundant birdlife (more than 250 species have been recorded in Zion) and a profusion of wildflowers.
Many unusual species (including orchids and evening primrose) can be found growing in the grottoes of the Virgin River, while drier areas produce a range of flora equally diverse. Free guided hikes, interpretive tours, audiovisual programs, and evening lectures happen within Zion National Park on a daily basis in summer.
Affiliated Sites
(CA, CO, ID, KS, MO, NE, NV, OR, UT, WY)
Mormon Pioneer National Historic Trail
(IL, IA, Ne, UT, WY)
Mormon Pioneer NHT traces the route followed by 19th-century travelers seeking religious freedoms. The Mormon church was founded by Joseph Smith in New York on April 6, 1830. The religion grew quickly which brought opposition to the church's beliefs.
The main body of the church moved west to find a place they could freely practice. They first moved to Ohio, then to Missouri, and then to Nauvoo, Illinois. Violence followed the church members and Joseph Smith was killed in 1844.
Bringham Young assumed leadership and moved the church to the American West. 3,000 Mormons started the trek from Illinois towards Salt Lake City. From 1847 to 1869 nearly 70,000 Mormons would journey along the Mormon Trail.
Today the trail follows the approximate route of the Mormon followers from Nauvoo, Illinois to Salt Lake City, Utah. The trail covers a distance of 1,300 miles.
Old Spanish National Historic Trail
(AZ, CA, CO, NV, NM, UT)
Pony Express National Historic Trail
(CA, CO, KS, MO, NE, NV, UT, WY)
No matter which Utah national park travelers choose to visit, they are sure to be impressed by the outstanding scenery, wildlife, and flora and fauna of the region. All of these national parks have extensive National Park Service programs, visitor centers, and an array of activities within their borders.
For those who love the great outdoors and understand the importance of maintaining it through a national park system, Utah offers visitors a stunning array of natural treasures in its five national parks.
List of National Parks in Utah
Affiliated Sites
California National Historic Trail (CA, CO, ID, KS, MO, NE, NV, OR, UT, WY)
Mormon Pioneer National Historic Trail (IL, IA, Ne, UT, WY)
Old Spanish National Historic Trail (AZ, CA, CO, NV, NM, UT)
Pony Express National Historic Trail (CA, CO, KS, MO, NE, NV, UT, WY)
There are 13 National Parks in Utah that receive over 13.9 million visitors a year! These visitors produce over $1 billion in economic benefits through tourism.
Utah National Parks include 2 National Heritage Areas, 1 Wild and Scenic River managed by the National Park Service, 4 National Trails, 1,830 National Register of Historic Place Listings and 14 National Historic Landmarks.
National Parks in Utah also includes 4 National Natural Landmarks, 674 places recorded by the Heritage Documentation Program, over 2.3 million objects in the Utah National Park museum collections and 6,831 archeological sites.
Check out the National Parks in neighboring states
Do you know how many National Parks you have visited? Check out this printable list of National Parks to see how many of the 62 National Parks you have visited.
Have you ever wanted to work in our National Parks? Check out how to become a Park Ranger for information on what it takes to work in our amazing parks.