Arches National Park is located in southeastern Utah, near the town of Moab. It has become one of the most popular National Parks in the United States with its jaw-dropping views, Iconic hikes, and Delicate Arch which is represented on the Utah license plate!

Arches National Park
The star attraction at Arches is its natural beauty. It is here, in Utah's Colorado Plateau, where the densest concentrations of natural arches are found anywhere in the world. Arches is home to over 2,000 natural sandstone arches.
These magnificent sandstone arches are created by erosion through weak parts of sandstone fins composed of Jurassic-age Dewey Bridge Member of the Carmel Formation and Slick Rock Member of the Entrada Sandstone.
I know this sounds very specific but then again where else in the world do we see so many of these formations?
They are different from the formations at Natural Bridges a little over 100 miles south. A natural bridge is a subtype of natural arch that is primarily water-formed and often spans a waterway such as a stream.
Many of Utah's natural bridges, such as those found at Natural Bridges National Monument, were formed as the gentle uplift of the Colorado Plateau caused the region's rivers and streams to become entrenched in deep canyons, while maintaining their original meandering courses.
As these entrenched meanders deepened and widened over time, erosion and undercutting of the canyon walls on the outside of meander bends eventually allowed the river to break through, rerouting the river to flow along the shorter course under the newly formed natural bridge.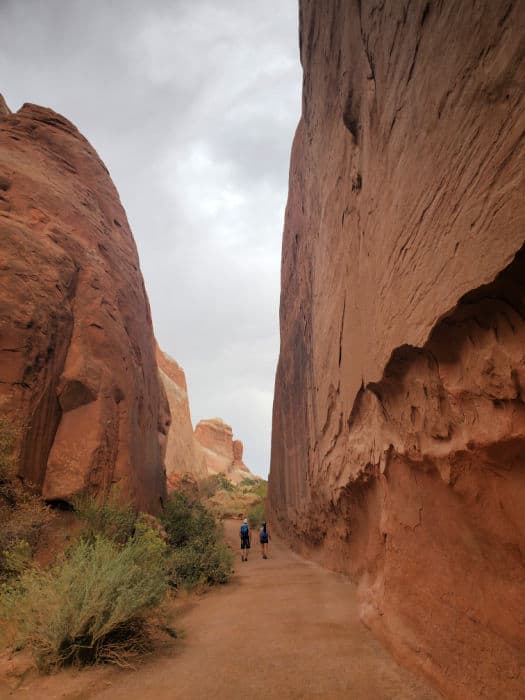 About Arches National Park
The Park is open year-round, twenty-four hours per day. The visitor center has variable hours depending on the season and is closed on Christmas Day.
Arches National Park is in the high desert, an area with an elevation more than 4,000 feet above sea level, resulting in wide temperature fluctuations. The most popular seasons are spring (April-May) and fall (September-October) when the temperatures are moderate.
Summer highs can exceed 100 degrees Fahrenheit, making physical activities very strenuous, but after the sun goes down, summer lows average in the 60s.
Winter highs average in the 40s and winter lows average in the 20s.
Paved roads through the park provide views of many of the interesting features. There are several short side trails, less than half a mile each, that offer views of the formations from a closer perspective.
You can drive all the park roads and stop at the viewpoints in about half a day.
For the more adventurous, there are many hiking trails in Arches, varying in length and difficulty. Some of the park's distinctive features can only be reached by hiking.
For visitors who choose to spend more than one day in the park, a very popular activity is the ranger-guided hike through the Fiery Furnace, a jumbled maze of fins and boulders named for the flaming color of the sandstone at sunset.
It's a place you could get lost in easily without a guide. This hike is offered twice daily and fills up quickly, so reservations are a must. You can reserve online or in person at the visitor center up to seven days in advance.
The hike involves some scrambling using hands and feet, requires shoes or boots with good traction, and is not recommended for children under five years of age.
Arches is a relatively small park, and most of the formations are near roads and trails, so there is little backcountry. If you're looking for backcountry adventures, Canyonlands National Park offers limitless possibilities.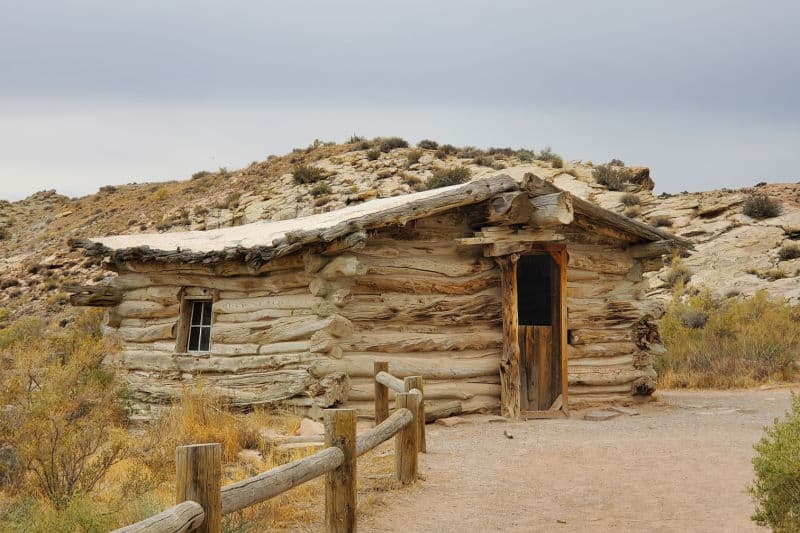 History of Arches National Park
For centuries, several native American tribes called this area home including the Hopi, Ute, and Paiute. Today you can see where they etched into the rock walls like the Rock Art Panel by Wolfe Ranch along the Delicate Arch Hike.
The area around Arches and Canyonlands was, and still is some of the most remote areas in the contiguous U.S. In 1898 John Wesley Wolfe went in search of drier climates due to a civil war injury he suffered that did not go well with the Ohio weather.
He left his wife and kids at home except for his son who helped him settle a 100+ acre property north of Moab in present-day Arches.
He built a small shack, then later a slightly larger one when his daughter arrived (The Stanley's). This time it had windows and floors and can be seen today near the Delicate Arch Trailhead. His Bar DX Ranch grew to more than 1000 head of cattle.
John Wolfe and the Stanley's left Moab in 1910 and eventually moved back to Ohio where John died in 1913.
Wolfe sold the Bar DX Ranch to a Tommy Larson in 1910. Larson sold it four years later to J. Marvin Turnbow, the first custodian of Arches National Monument. The Turnbow's used the cabin sporadically until selling the ranch to Emmit Elizondo. Elizondo eventually sold the property to the US government for inclusion in Arches National Monument.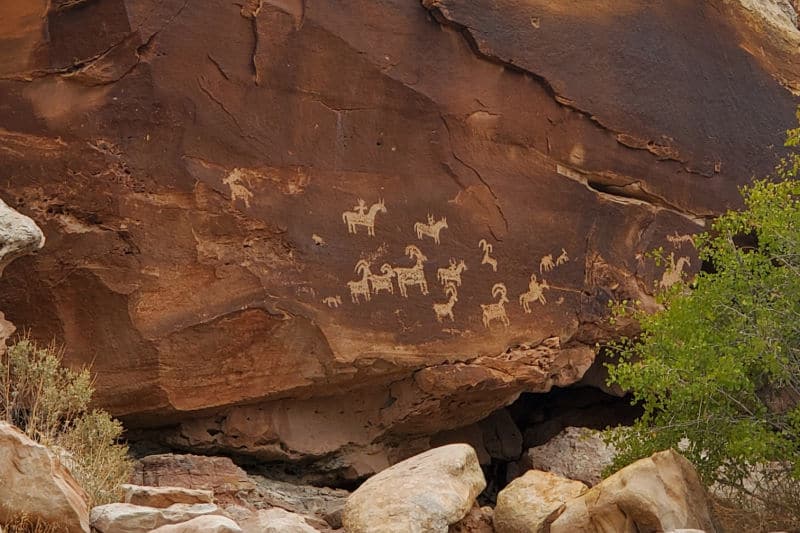 Is Arches National Park worth visiting?
Yes! Not only is it a yes, but this is also a bucket list park for any fan of the National Parks! Visiting in the summer can be a real hassle with the crowds, but then again there's a great reason for these crowds!
Here you are going to have epic hikes, see numerous sandstone arches and other rock formations that dazzle the imagination. I personally love the vibe of Moab, just 5 miles to the south and Canyonlands is a short drive away too. This is guaranteed to be a trip that you will always remember
Timed Entry Reservation Tickets
From April 3 to October 3, 2022 Arches will implement a temporary, pilot timed entry system to help manage traffic and improve visitor experiences.
To enter the park from April 3 through October 3, 2022, visitors will need three things:
Photo ID
Park Entrance Fee OR valid Park Pass (includes Annual, Senior, Access, Military, 4th Grade, or Volunteer passes).
Ticketed entry will run from 6 am to 5 pm daily.
Timed Entry Tickets will not be required for those with camping, backcountry, Fiery Furnace, or special use permits
How do I get a timed entry ticket to Arches?
There are several ways to get a timed entry ticket
1- Download and use the Recreation.gov mobile app
2- Click this link to Recreation.gov to secure your ticket
3- Call the reservation line at (877)444-6777
4- Reservation International Line: (606)515-6777
5- Reservation Line (TDD) at (877)833-6777
How far in advance can I get a timed entry ticket to Arches?
The park will release tickets on a first come-first served basis three months in advance in monthly blocks on dates listed below
Starting January 3 at 8 am MST, you can get timed entry tickets for (April 3-April 30)
Starting February 1 at 8 am MST, you can get timed entry tickets for (May 1- May 31)
Starting March 1 at 8 am MDT, you can get timed entry tickets for (June 1- June 30)
Starting April 1 at 8 am MDT, you can get timed entry tickets for (July 1 - July 31)
Starting May 1 at 8 am MDT, you can get timed entry tickets for (August 1 - August 31)
Starting June 1 at 8 am MDT, you can get timed entry tickets for (September 1- September 30)
Starting July 1 at 8 am MDT, you can get timed entry tickets for (October 1-October 3)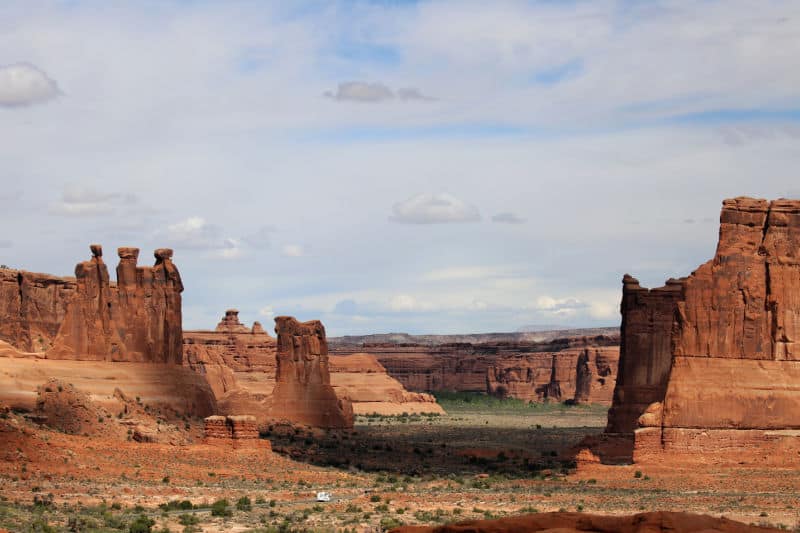 Things to know before your visit to Arches National Park
Entrance fee
7-day single-vehicle park pass - $30
7-day individual park pass - $15
7-day motorcycle park pass - $25
Arches NP Annual Park Pass - $55 Valid for one year through the month of purchase. Admits one private, non-commercial vehicle or its pass holder to Arches and Canyonlands national parks, and Natural Bridges National Monument.
Planning a National Park vacation? America the Beautiful/National Park Pass covers entrance fees for an entire year to all US National Park Sites and over 2,000 Federal Recreation Fee Sites.
The park pass covers everyone in the car for per vehicle sites and for up to 4 adults for per-person sites.
Buy on REI.com and REI will donate 10% of pass proceeds to the National Forest Foundation, National Park Foundation and the U.S. Endowment for Forestry & Communities.
Learn more about National Park Passes for parks that have an entrance fee.
Free Entrance Days -Find the five free entrance days the National Park Service offers annually.
Time Zone
MST - Mountain Standard Time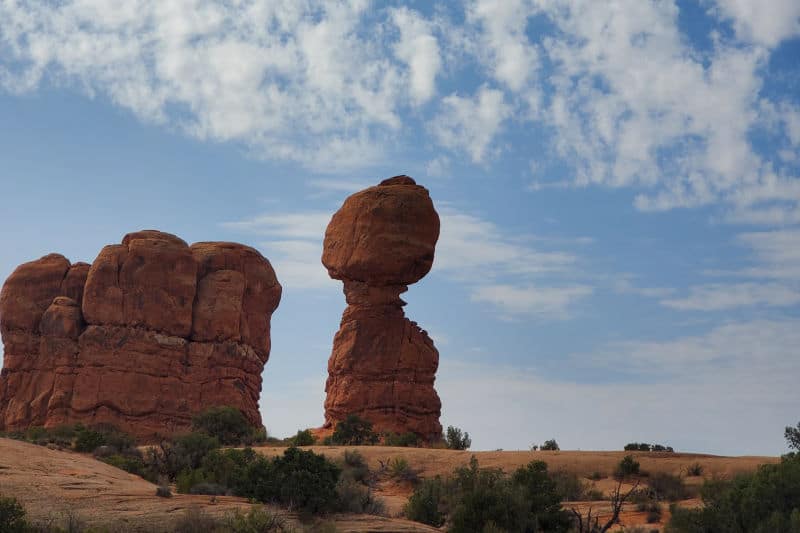 Pets
You can bring your dog with you to Arches but the number of activities they can do with you is limited. Pets need to be on 6 feet (1.8 meters) long or less leashes at all times.
Pets are not allowed on trails, overlooks, or inside the visitor center.
Cell Service
Cellular coverage at Arches is spotty. Service varies between carriers. As a rule of thumb, signals are strongest wherever the La Sal Mountains are visible.
Areas with reliable cell phone coverage for most carriers include:
Arches Visitor Center
Balanced Rock
Panorama Point
Delicate Arch (at end of the trail only)
Salt Valley Overlook
Fiery Furnace Viewpoint

Insect Repellent
We use permethrin spray on our clothes before we visit parks.
Park Hours
Arches National Park is generally open 24 hours a day, year-round.
Wi-Fi
There is no public Wi-Fi at Arches.
Water Bottle
Make sure to bring your own water bottle and plenty of water with you. Plastic water bottles are not sold in the park.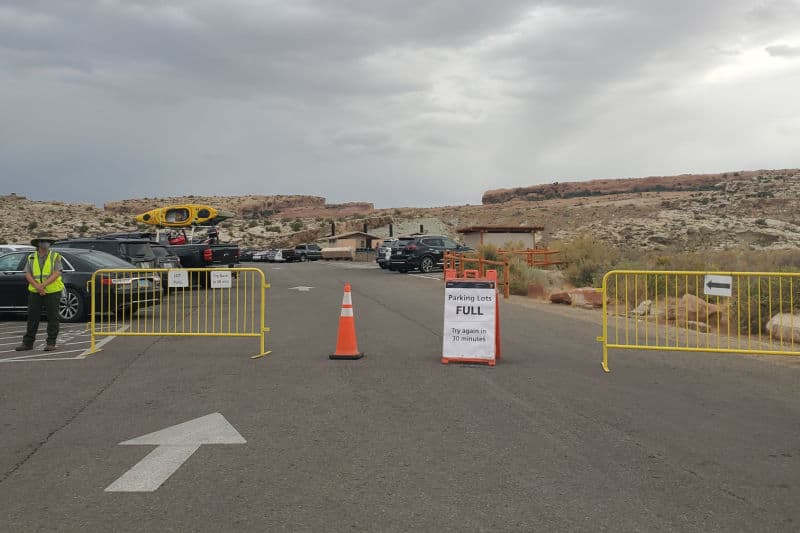 Parking
Parking is limited in pretty much all areas of the park! Parking for oversized vehicles and RVs is extremely difficult.
Devils Garden Parking Lot - 160 spaces/ 10 oversized
The Windows Section Parking Lot - 92 spaces/ 4 oversized
Wolfe Ranch Parking Lot - 157 spaces/ 28 oversized
Food/Restaurants
There are no restaurants within the park.
Gas
There are no gas stations in the park. There are many gas stations in Moab.
National Park Passport Stamps
National Park Passport stamps can be found in the visitor center.
Make sure to bring your National Park Passport Book with you or we like to pack these circle stickers so we don't have to bring our entire book with us.
Arches NP was featured in the 1989 Passport Stamp Set
Electric Vehicle Charging
There are no EV charging stations within the park. There are charging stations in Moab, Utah.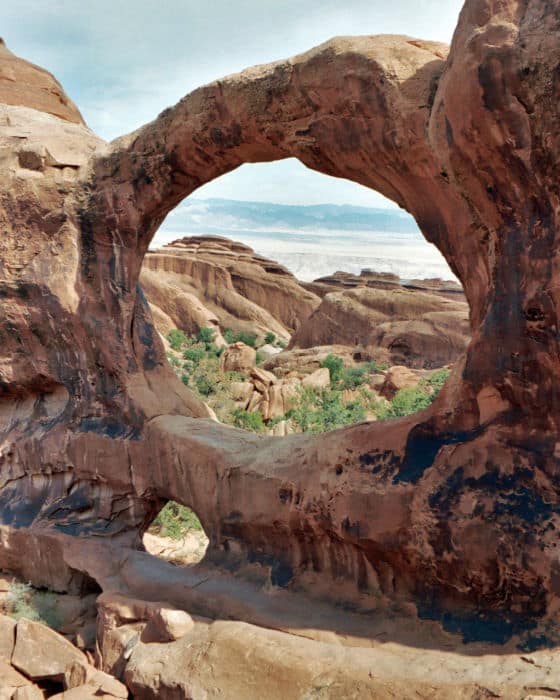 Details about National Park
Size
Arches NP covers 76,678 acres and is currently ranked at 44 out of 63 National Parks by Size

Date Established
Arches became a National Park on November 12, 1971
April 12, 1929 - President Herbert Hoover signs Presidential Proclamation No. 1875 establishing Arches National Monument.
November 25, 1938 - President Franklin D. Roosevelt signs Presidential Proclamation No. 2312 enlarging Arches National Monument.
July 22, 1960 - President Dwight D. Eisenhower signs Presidential Proclamation No. 3360 adjusting the boundaries of Arches National Monument.
November 12, 1971 - President Richard M. Nixon signs Public Law 92-155 changing Arches from a National Monument to a National Park.
October 30, 1998 - President William J. Clinton signs Public Law 105-329 enlarging Arches National Park.
Visitation
In 2021, Arches NP had 1,806,865 park visitors.
In 2020, Arches NP had 1,238,083 park visitors.
In 2019, Arches NP had 1,659,702 park visitors
With over a million visitors Arches NP is one of the most visited National Parks in the United States.

Arches National Park Mailing Address
Arches National Park
PO Box 907
Moab, UT 84532
Arches National Park Map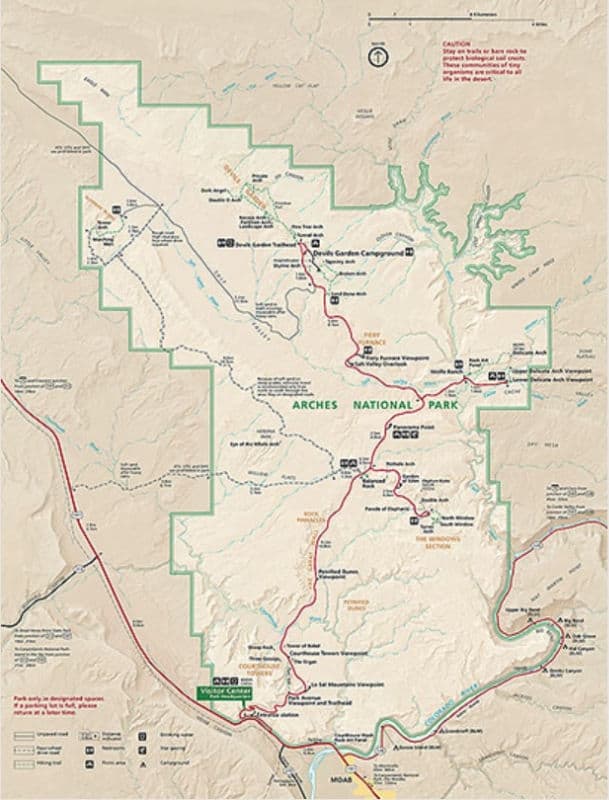 Where is Arches National Park?
Arches NP is located five miles north of Moab, Utah.
Estimated distance from major cities nearby
235 miles to Salt Lake City, Utah
257 miles to Colorado Springs, Colorado
258 miles to Denver, Colorado
298 miles to Albuquerque, New Mexico
347 miles to Las Vegas, Nevada
382 miles to Scottsdale, Arizona
Estimated Distance from nearby National Parks
Canyonlands National Park: 29 Miles, 45 minutes
Capitol Reef National Park: 148 miles, 2 hours and 30 minutes
Zion National Park: 341 Miles, 5 Hours and 35 minutes
Bryce Canyon National Park: 272 miles, 4 hours, 32 minutes
Mesa Verde National Park: 144 Miles, 2 hours, 52 minutes
Black Canyon of the Gunnison National Park: 225 miles, 3 hours, 35 minutes
Great Sand Dunes National Park: 338 Miles, 6 hours, 17 minutes
Grand Canyon National Park: 331 miles, 5 hours, 49 minutes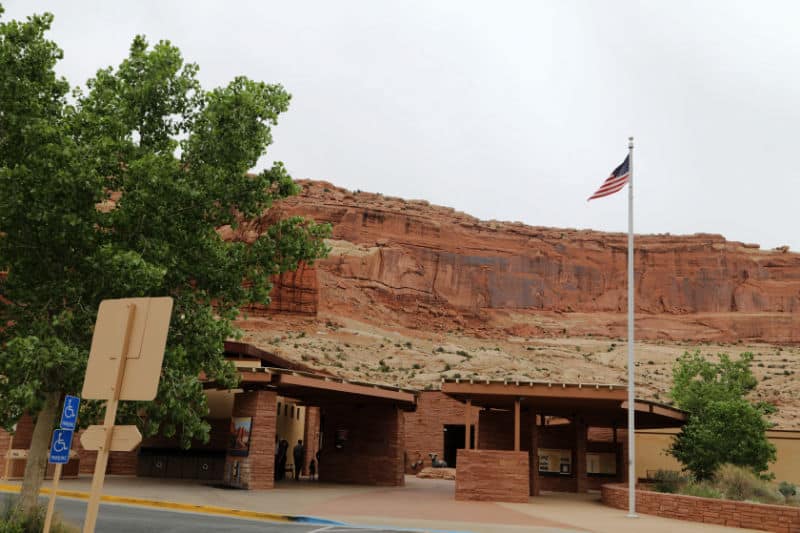 Where is the National Park Visitor Center?
The Arches National Park Visitor Center is located right after the main entrance to the park. There is a large parking lot near the visitor center.
The visitor center is open daily from 9 am to 4 pm.
Getting to Arches National Park
Closest Airports
Moab Airport - 14 Miles
Grand Junction - 110 miles
Salt Lake City - 235 Miles
The closest small airport is in Moab, Utah
For a larger airport, the closest airport is in Salt Lake City, Utah
Driving Directions
Arches National Park is located in southeast Utah, five miles north of Moab on US 191.
From Moab, Utah, drive five miles north on Main Street/US 191. Turn right at the stoplight. From Interstate 70, take exit 182 (Crescent Junction), then drive south 28 miles on US 191. Turn left at the stoplight.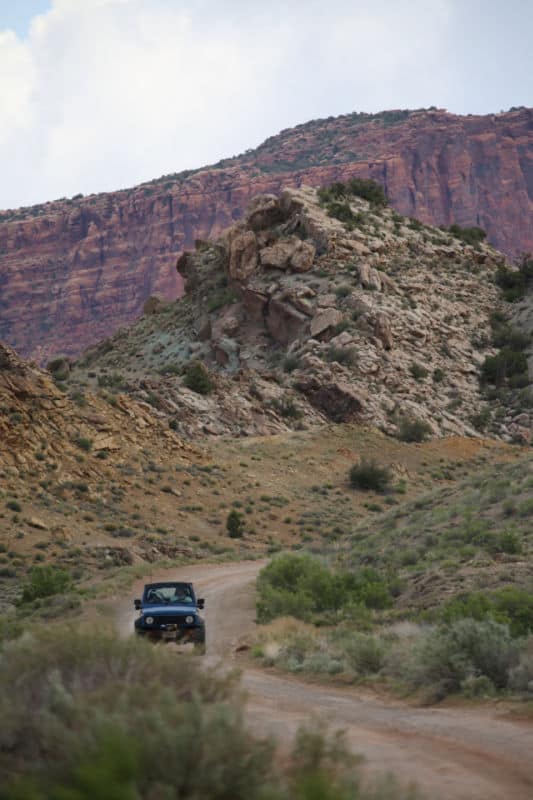 Best time to visit Arches National Park
This is a park that can get crowded quickly and you will want to be prepared for it. Getting to the park at sunrise is one of the best ways to get in and see things before the huge crowds arrive.
Even if the park is crowded it is still amazing and so worth it.
Arches National Park Weather and Seasons
Arches National Park's elevation is between 4,085 to 5,653 feet. This puts it in the heart of the Colorado Plateau, also known as a cold or high desert.
This area is known to have winter air temperatures below freezing. The temperature drops rapidly when the sun goes down and is not uncommon to have the temperature drop over 40 degrees Fahrenheit before the sun begins to rise again.
The summers are just as drastic as July is the park's hottest month averaging 100 degrees Fahrenheit!
Spring
Spring and fall are the best times to visit the park. This is when the weather is at its best with very pleasant temperatures and beautiful skies. You can also avoid some of the crowds on the weekdays before the busy summer season.
Summer
Visiting Arches in the summer requires some preparation. I say this because you can almost count on seeing 100 degree days and the trails here have little to no shade.
Combine that with being on Slickrock that heats up during the day or hiking through soft sand that fatigues you can be a recipe for disaster for those who are ill prepared.
Always carry plenty of water, wear sunscreen and avoid hiking in the middle of the day when temperatures are at their hottest. Incidentally, this is the busiest time to visit the park.
Autumn/Fall
Spring and fall are the best times to visit the park. This is when the weather is at its best with very pleasant temperatures and beautiful skies. You can also avoid some of the crowds on the weekdays before the busy summer season.
Winter
I personally enjoy the winter in Arches. This is your chance to beat the crowds and it can be rather cool outside. I also love the contrast of snow on the red rock (if you get lucky and see snow).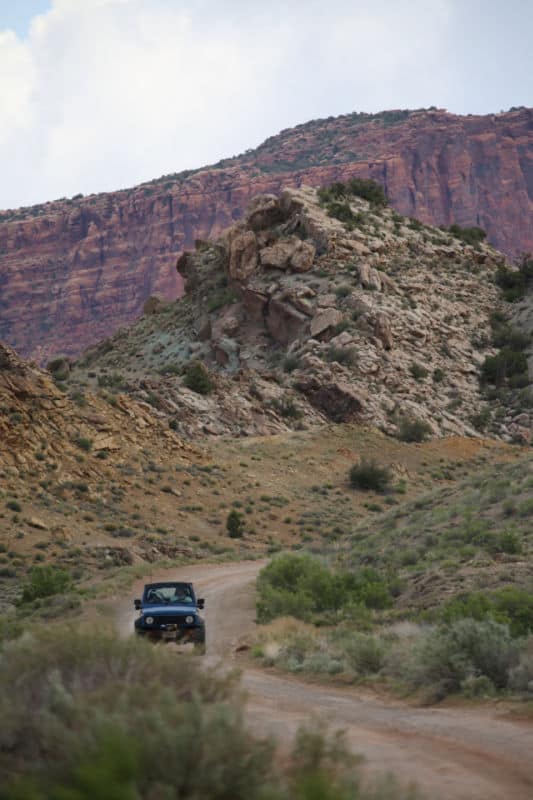 There are so many epic things to see and do while visiting Arches. From hiking to photography you will love everything this epic park has to offer. With that being said we do suggest making a goal list before your visit.
This park is so busy at times that you will want to have a plan of your top must see attractions so you can make sure and see them.
Hiking is by far the most popular activity in Arches National Park! It's easy to see why when a couple of the most popular trails in the National Park system is located here: Devils Garden Trail and Delicate Arch Trail.
There are several other trails to explore and each has its own unique value to them. Please remember that this area is extremely fragile so please stay on trails and paved roads. In undeveloped areas, the park is covered with a biological soil crust, a living ground cover that provides a base for plant growth.
Cyanobacteria, or blue-green algae, form linking fibers that hold fragile soils together and make them resistant to erosion. The crust absorbs water that plants need to survive. Walking or driving on this crust crushes or compresses it, separating the linking fibers and making it susceptible to erosion by wind and water.
Photography
Photography has become a very popular activity at Arches. I remember one trip where I hiked up to Delicate Arch and there was a rather large group of park visitors all at one end of the Arch, all with their cameras set up waiting for nightfall. It was a full moon that night and everyone was there hoping to capture Delicate Arch with the full moon!
It's not just Delicate Arch that people want to photograph either, you can literally take excellent photos throughout the park. Below is a chart of the best times to photograph certain attractions in Arches.
I do want to emphasize the importance of taking care of your equipment in and around Arches as the sand can be a killer to your equipment. Trust me, I learned this first hand at a nearby park when the light came through a slot canyon.
Everyone there lost their minds, practically trampling one another for a photograph. After the light had passed, I realized that my camera bag was open when the light showed up in the canyon.
I was getting a lens out when the push of the crown began towards the light and large amounts of sand was kicked inside my camera bag destroying a very expensive lens.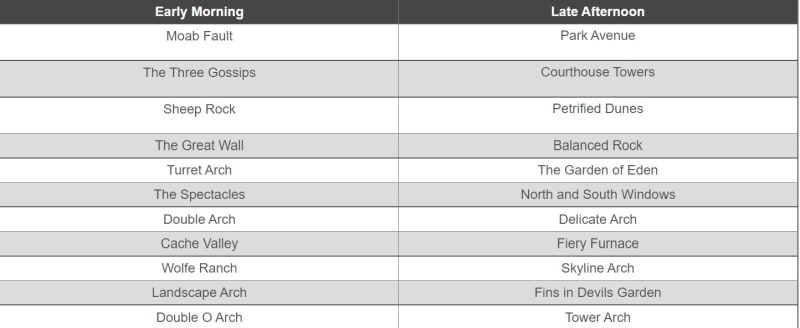 Wildlife watching and Bird Watching
While you're there, look out for Utah juniper. This fascinating tree has gnarled branches and forms amazing shapes, but its real trick is that it can actually shut off water to some of its branches in a drought in order to preserve the life of the rest of the tree.
If you're really lucky, you'll catch a glimpse of a desert bighorn sheep. Once on the brink of extinction, they are making a slow comeback due to the park service's reintroduction program.
They are very shy of human contact and blend well with their environment, so it will take a sharp eye to spot one. The best place to keep watch is in the first three miles of the park road. A pair of binoculars can help.
The Junior Ranger Program can be picked up at the visitor center. This is a great way for visitors of all ages to learn more about the park.
There is a junior ranger program that can be picked up at the visitor center.
Families can also check out explorer backpacks with great activities for exploring the park.
Guided Tours
Arches 4X4 adventure from Moab guided tour is a great option if you would like a guide to take you off road in the park.
There is also an epic Moab U-drive Slickrock Guided Tour that gives you the chance to off road with a guide.
Scenic Flight over Arches NP - Enjoy an epic scenic flight over the park with views of arches, rock formations, and so much more.
There is also a great introduction to mountain biking in Moab tour that gives you the chance to experience mountain biking in Moab.
How to beat the crowds in Arches National Park
Arches have grown in popularity to the point of having to develop a timed entry into the park for a portion of the year. I remember first hiking in Arches well over 20 years ago and having trails to myself, especially during the off-season. I would no longer expect to see this except possibly on a cold December or January weekday.
There are several steps you can do to help beat the crowds at Arches.
Avoid Weekends, holidays, and the busy summer months.
Arrive in the early morning or late afternoon. Incidentally, this is a great time for photography!
Avoid bringing a large oversized vehicle into the park. Parking for oversized vehicles is extremely limited and greatly reduces your chance of finding a parking spot.
Winter months have the least amount of visitors but even the holidays and weekends can be busy, especially if it is a nice day.
Arches National Park Lodging
There are no National Park Lodges within the park.
The majority of lodging options can be found in and around Moab, Utah.
Fairfield Inn & Suites by Marriott Moab - We have stayed here many times and it has been great. There is easy access to the main road into Moab and to Arches. The pool area is amazing and the hotel has great amenities.
Under Canvas Moab - Stay in luxury safari tents under the stars. This is an amazing place to spend time soaking in the red rocks and epic views.
Moab Resort, WorldMark Associate - look forward to a firepit, a playground, and a 24-hour gym. Stay connected with in-room Wi-Fi (surcharge).
Hyatt Place Moab - free breakfast buffet, a terrace, and a coffee shop/café at Hyatt Place Moab. Free in-room Wi-Fi is available to all guests, along with a garden and a playground.
Comfort Suites Moab - free breakfast buffet, a grocery/convenience store, and laundry facilities. For some rest and relaxation, visit the hot tub. In addition to a gym and a business center, guests can connect to free in-room Wi-Fi.
Click on the map below to see additional lodging options near Arches NP.

For hotels check-in Moab, Utah for the closest hotels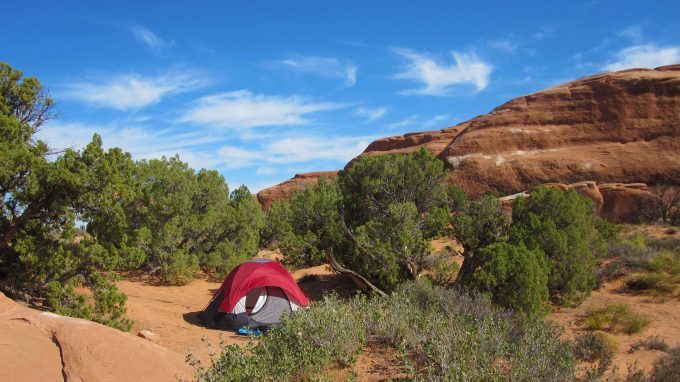 There is only one campground the Devils Garden Campground within the park.
Sites - 51
Reservations - Yes, up to 6 months in advance for stays March 1-October 31.
Between November 1 and February 28, sites are first-come, first-served.
Facilities include drinking water, picnic tables, grills, and both pit-style and flush toilets.
For a fun adventure check out Escape Campervans. These campervans have built in beds, kitchen area with refrigerators, and more. You can have them fully set up with kitchen supplies, bedding, and other fun extras. They are painted with epic designs you can't miss!
Escape Campervans has offices in Vancouver, Seattle, Portland, San Francisco, Las Vegas, Los Angeles, Phoenix, Salt Lake City, Denver, Chicago, New York, and Orlando
Camping near Arches
Check the links below for camping options in and around Moab, Utah.
Portal RV Resort and Campground - Moab, Utah
This campground offers lodging, RV sites, a pool, hiking, dog park, and more.
Sun Outdoors Arches Gateway - Moab, Utah
This campground offers lodging, RV and Tent sites, a pool, hot tub, dog park, bike rentals and more.
Sun Outdoors North Moab - Moab, Utah
This campground offers lodging, RV and Tent sites, a pool, hot tub, dog park, and more.
Check out additional campgrounds in the area on Campspot.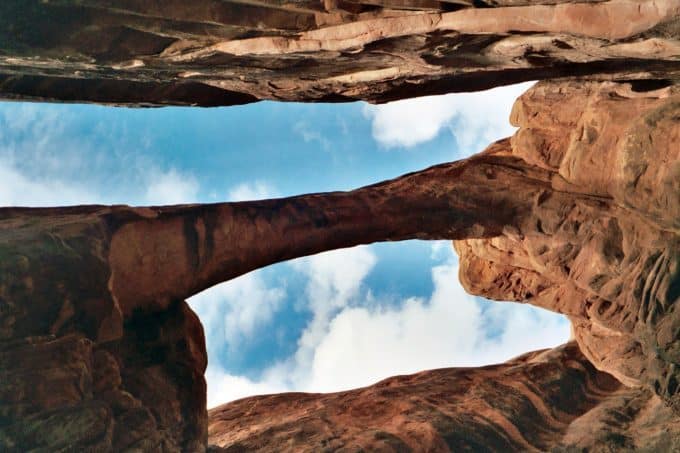 Travel Tips
There are a few important things to remember. Because this is a desert environment, humidity tends to be low. Sweat dries quickly, so you may not realize you're sweating as much as you are. Carry and drink plenty of water. Drinking water is available only at the visitor center and the campground.
Always wear appropriate footwear. Flip-flops or high-heeled shoes will make walking on uneven ground difficult. The terrain is rocky and can be slick. Good shoes with deep tread can help you avoid twisted ankles and falls.
Be prepared for crowds and lines to get into the park!
Give yourself a lot of time to explore the park
Have a must-do list prepared so you can see everything you want to see
Pack snacks and water. There are no restaurants within the park
Be prepared for no cell service in the park.
Pack extra socks especially after hiking to Sand Dune Arch you may get a ton of sand in your shoes/socks
Dress in layers, the weather can heat up quickly during the day
Plan ahead so you can fit in as many of these things to do in Arches National Park as possible.
Know your physical limits!
Be patient!!!!
Check the weather often! If you see lightning head back to your car ASAP!
Don't miss out on these epic Arches National Park Hikes! They are some of the best in all of our national parks.
Readers Tips for Visiting Arches NP!
Go at sunrise. Stay for the sunset. ~ Deb
Pack your water... and then double it! ~ Diana
Go in October - fabulous weather and no crowds. ~ Elizabeth
Go in the off-season and get there early. ~ Kathi
We were there in Mid July this past year and it was pretty hot each day. We stayed at Moab Rim RV park in Moab got up early each day (before sunrise) to start our hikes. We finished our hikes by 1-2 pm. Worked out great as we had no problems with traffic or finding parking. Take lots of water and drink it. ~ Robin
Snag tickets for the ranger-guided hike through the Fiery Furnace. Devil's Garden Loop is a great hike as well. ~Dan
Hike to the delicate arch! Be ready for the hike, it's so worth it!! ~Louanne
Get there early wear the proper footwear, make sure to have lots of water n best part have fun ~ Debby
Wear comfy ankle supporting hiking boots and take water. Do Not Litter! ~Ellen
Don't go in the summer. Very crowded and couldn't find a camping spot in the park ~Travis
Best use of a few hours - go to the Windows area....lots of arches in a small area, plenty of places to explore, good views at sunrise and sunset. ~Angie
HYDRATE! ~Caleb
Depends on time of yr. if summer take tons of water if hiking. More than you think you need. ~Jon
Have plenty of water! ~Donna
Arrive as early as possible. ~ John
Wear sunscreen and drink water ~Steve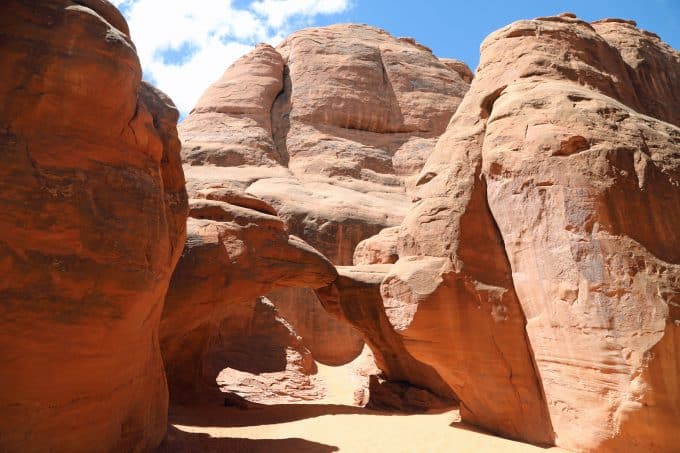 Arches National Park Facts
Highest Elevation: Elephant Butte 5,653 feet
Lowest Elevation: Visitor Center 4,085 feet
Average annual precipitation: 8-10 inches
The number of documented arches: Over 2,000 (Some may have fallen and new arches may be forming.)
Longest arch: Landscape Arch has a light opening 306 feet (93.3 meters) across.
Tallest arch: Double Arch South has a vertical light opening of 112 feet (34.1 meters).
483 species of plants
Rare species: Canyonlands Biscuitroot
186 species of birds
Threatened species: Bald Eagle, Mexican Spotted Owl
52 species of mammals
6 species of fish
Endangered species: Bonytail Chub, Colorado Pikeminnow, Humpback Chub, Razorback Sucker
6 species of amphibians
21 species of reptiles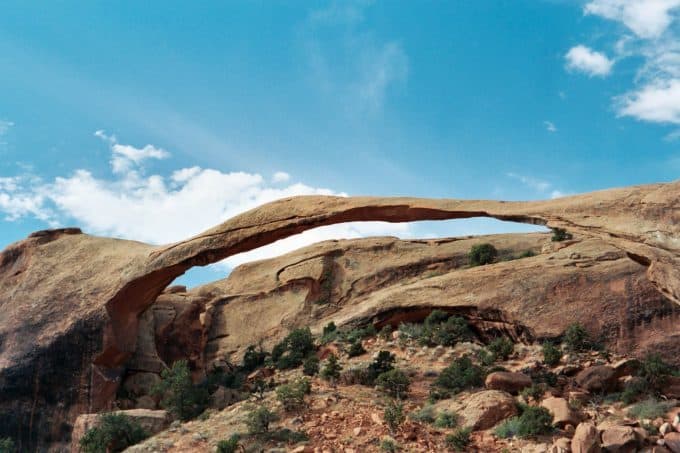 Additional National Park sites near Arches National Park
Glen Canyon National Recreation Area
Natural Bridges National Monument
Currecanti National Recreation Area
Check out all of the National Parks in Utah along with neighboring Colorado National Parks, Idaho National Parks, Wyoming National Parks, Nevada National Parks, Arizona National Parks, and New Mexico National Parks.
National Park Service Website
Additional State Parks and attractions near Arches