Colorado National Monument is located near Grand Junction, Colorado. The park offers beautiful scenic driving, hiking trails, and camping.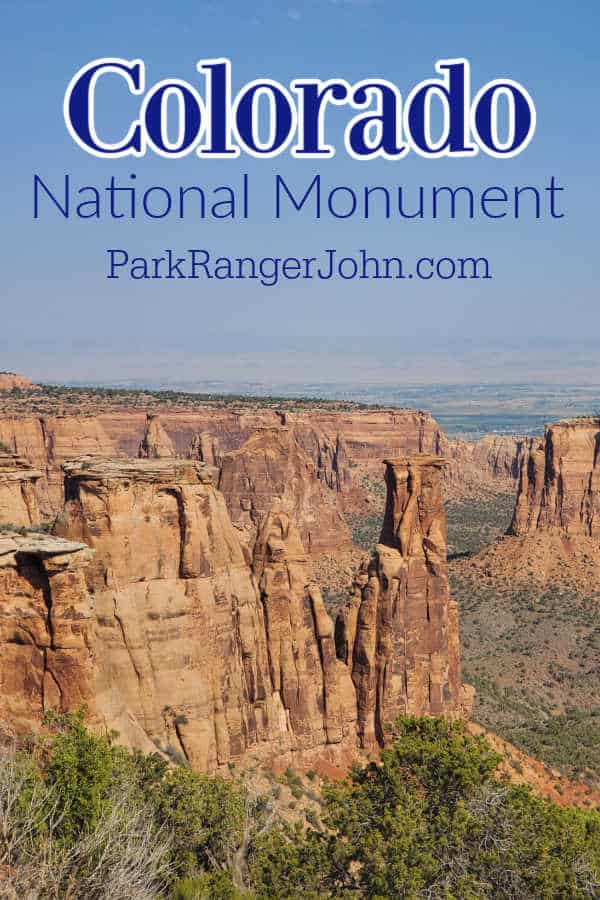 Colorado National Monument
Colorado NM is epic! I can't say it enough this park is a must-visit!
The spectacular red rock canyon views, sweeping vistas, and bighorn sheep are well worth planning a visit to see.
Colorado NM also offers over forty miles of hiking trails! There is a trail for every level of hiking ability.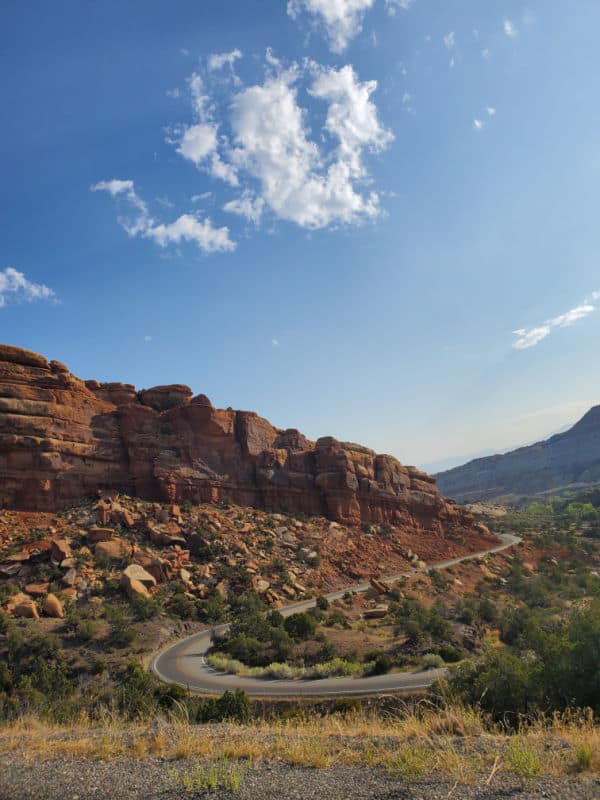 Scenic Drive
There is one main road that leads through the park. It is an easy drive but does include a lot of twists and turns. If anyone in your party gets motion sick they will want to be prepared for a lot of curvy twists and turns.
There are multiple pullouts along the road offering epic views of the scenery.
One thing I will say is if you decide to pull off on the dirt shoulder be very very careful! You will most likely bump down to the dirt shoulder and it is jarring.
There are NO GUARDRAILS to keep you from driving over the side. I know this sounds scary but if you stay on the main part of the road you will be fine.
The park has multiple paved pull-outs offering scenic viewpoints that you can safely stop at.
We highly suggest planning to spend the entire day exploring the park. You will see different things when you drive both directions.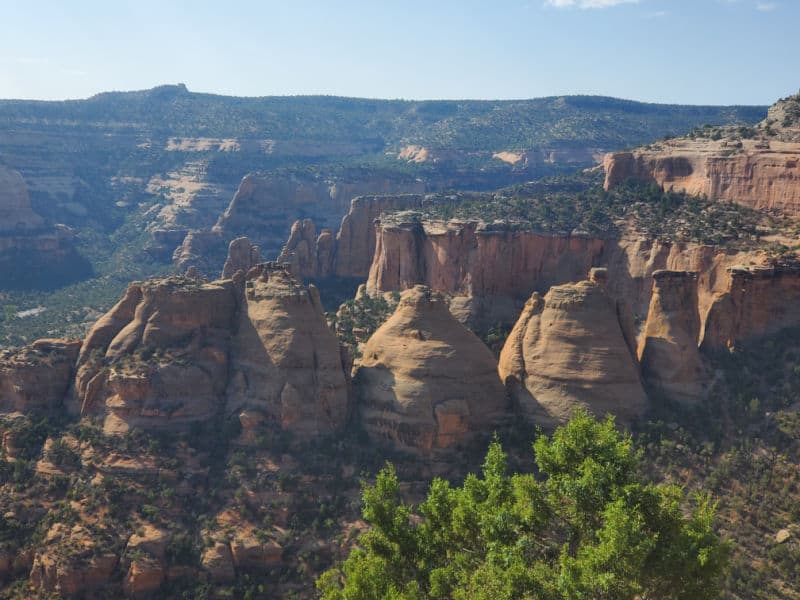 Hiking
There are more than 40 miles of hiking trails within the park.
Please make sure to bring the ten essentials, a lot of water, and let someone know where you will be hiking.
The trailheads were busy so you will want to plan to arrive early to get a parking space. The park borders right up to Grand Junction and a lot of locals use the park for exercise and to get outside.
There is very little shade on some of the trails so make sure you come prepared with a lot of water along with sun protection.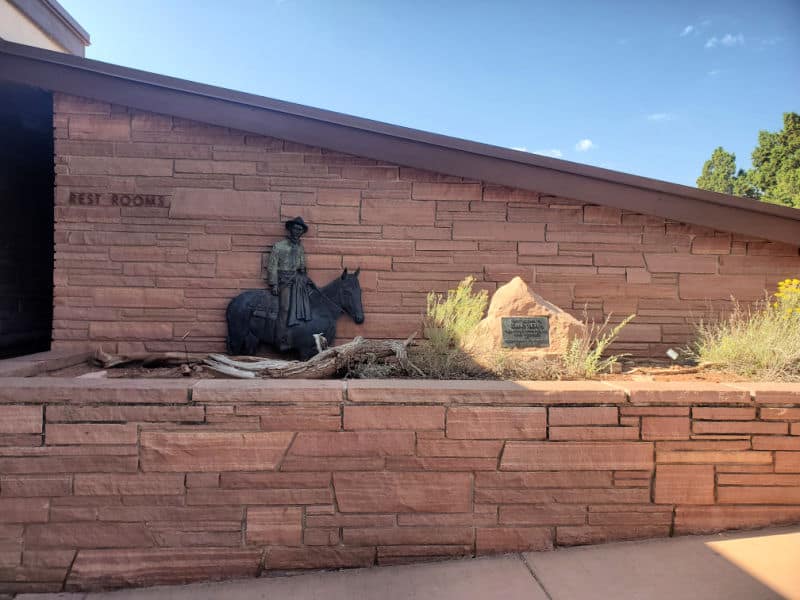 Visitor Center
The National Park Service park visitor center is gorgeous! There is a really nice park bookstore along with a ranger desk for any questions you may have.
A nice bathroom is located next to the visitor center.
You can also pick up your National Park Passport stamp while in the visitor center.
Camping
The Saddlehorn Campground is located just down from the visitor center. There are three loops of campsites.
Check out our campground guide for more information on what to expect when camping in the park.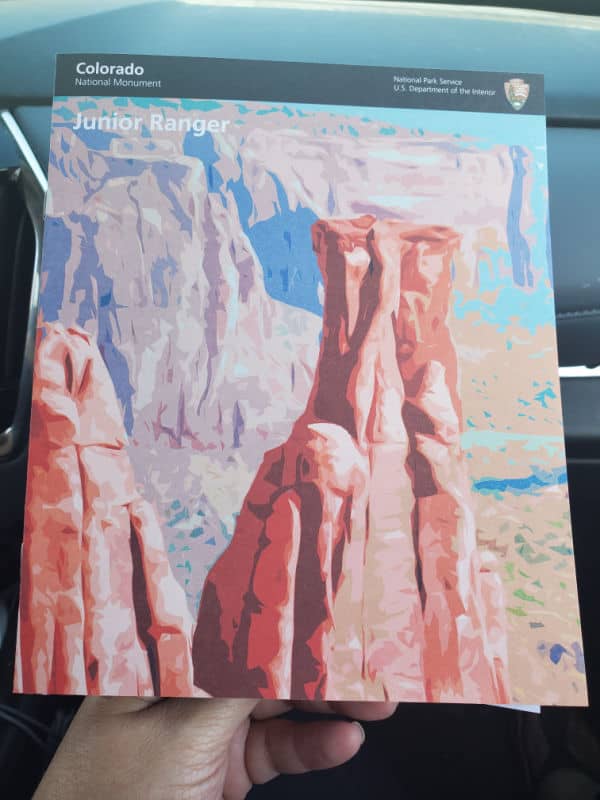 Junior Ranger
Make sure to pick up a Junior Ranger program from the visitor center! This is a great way for all ages to learn more about the park.
Check out all of the Junior Ranger Programs you can complete.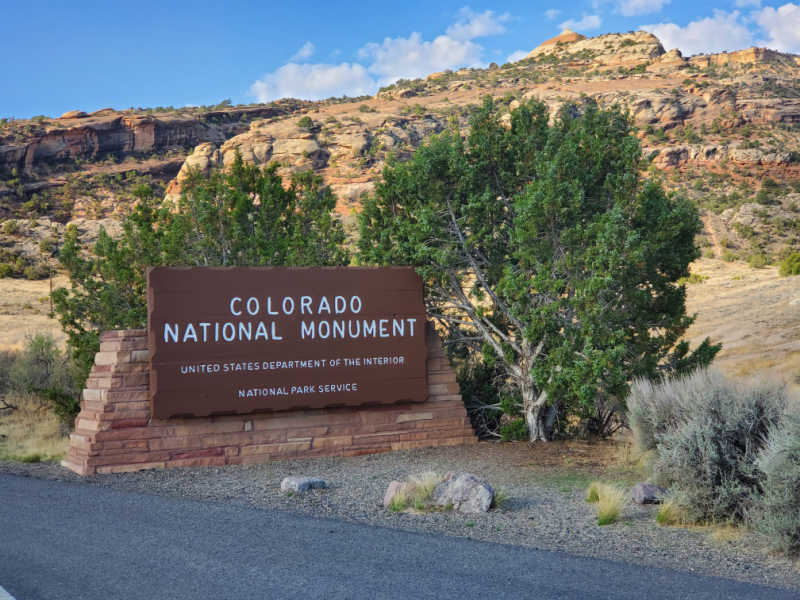 Travel Tips
I know I mentioned it before but the Rim Rock Drive is packed with twists and turns! We normally do not feel a ton of motion sickness and both of us felt it by the time we left the park.
Be prepared for the sun! Even sitting in the car we picked up a ton of sun and had pink cheeks by the time we left the park.
Desert Bighorn sheep are common in the park. Keep an eye out for them. They told us at the park entrance that they are super common but we did not see one.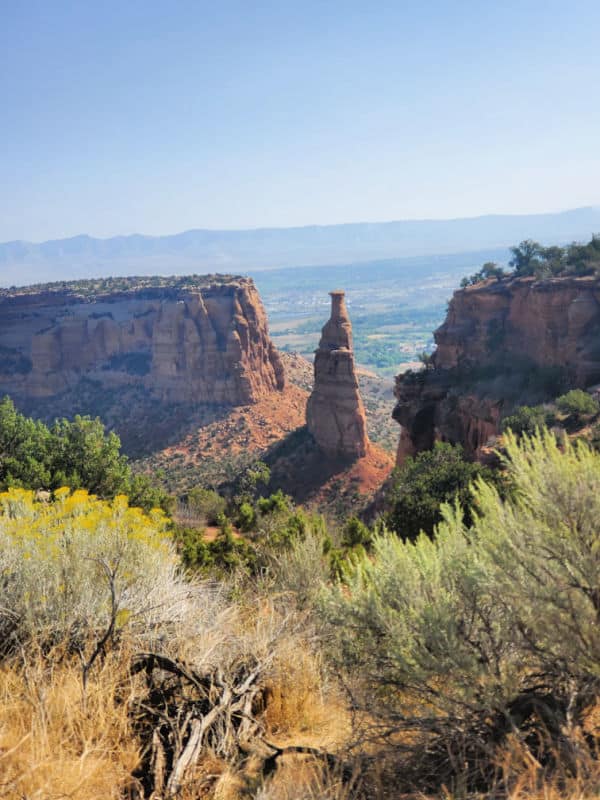 Things to know when visiting Colorado NM
Park Address - 1750 Rim Rock Drive, Fruita, CO 81521
Driving Westbound on Highway I-70 towards Grand Junction, Exit 31 (Horizon Drive). Follow signs through Grand Junction to the east entrance. The visitor center and campground are 19 miles from the east entrance.
Eastbound on Highway I-70 take Exit 19 (Fruita). Turn south on Highway 340 to the west entrance, which is approximately three miles from Fruita. The visitor center and campground are four miles up from the west entrance.
Park Hours - The Monument is open 24 hours a day year-round. Rim Rock Road is only closed for poor road conditions (snow, ice, rock fall, etc).
Entrance Fees - $25 for private vehicles
Motorcycles - $20
Hiker/Biker - $15
You can also use your National Park Pass for entry.
Lodging – There is no lodging within the park. We stayed at a Marriott Springhill Suites in Grand Junction. There are a ton of lodging options within the town of Grand Junction.
Camping – There is one campground within Colorado Nm.
Food/Drink – There are no restaurants or dining options within the park. Make sure to pack snacks and drinks with you.
Cell service – We had really good cell service with T-mobile while in the park.
Park Website - https://www.nps.gov/colm/index.htm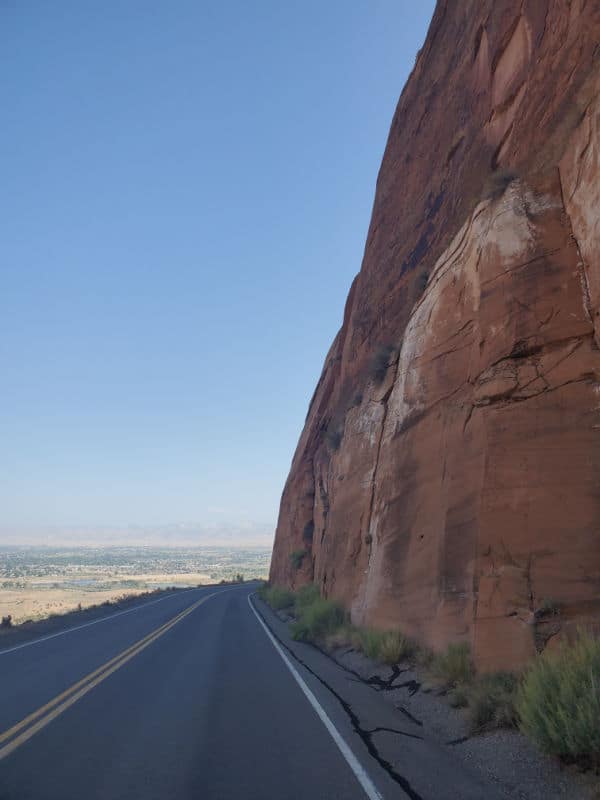 National Park Sites near Colorado National Monument
Arches National Park - 113 miles
Canyonlands National Park - 159 miles
Black Canyon of the Gunnison National Park - 87 miles
Curecanti National Recreation Area - 111 miles
Dinosaur National Monument - 147 miles
Check out all of the National Parks in Colorado and neighboring Utah National Parks, Wyoming National Parks, Nebraska National Parks, Arizona National Parks, Kansas National Parks, Oklahoma National Parks, and National Parks in New Mexico.