Curecanti National Recreation Area borders with Black Canyon of the Gunnison National Park in Colorado. The park offers boating, hiking, camping and so much more.
Curecanti National Recreation Area
Going into our visit to Curecanti NRA we were not really sure what to expect. We honestly thought it might be a drive-through quick visit to the park since we were not planning on doing any water recreation.
When we arrived in the park the first thing we noticed was how many amazing pull-outs there were off the highway. So many easily accessible trailheads and waterways to explore.
A visit to the visitor center is a must while visiting Curecanti NRA! The rangers are able to answer any questions you may have and also tell you about hidden gems within the park.
I picked up a Junior Ranger program while at the visitor center and mentioned how excited we were to work on the train junior ranger program we had just picked up at another park.
This started a conversation about the Narrow Gage Railroad and the exhibits within the park. We had just been talking about all of the amazing National Parks with train exhibits and loved learning about the train history in Curecanti.
Curecanti NRA is a series of three reservoirs along the once wild Gunnison River.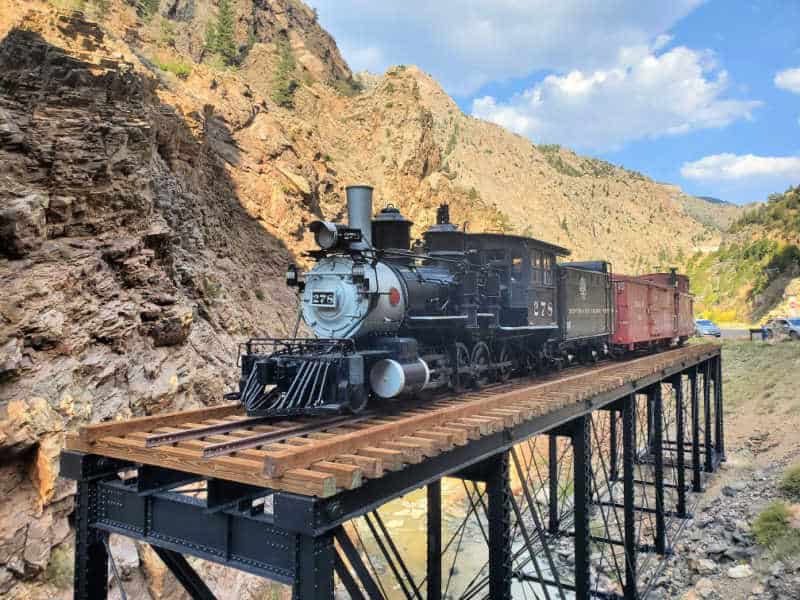 Narrow Gage Railroad
One of the must-visit places in the park is the Cimmaron Canyon Rail Exhibit. The visitor center is train-themed along with having train cars just outside of the visitor center.
Just down the road from the visitor center is one of the coolest train exhibits I have seen in a park! Honestly, this is a must-see!
There are Denver & Rio Grande Western Railroad, bearing the Curecanti Needle on its logo full-size locomotive #278, its coal tender, a boxcar, and a caboose perched on the last remaining railroad trestle along the Black Canyon of the Gunnison route. This exhibit is an excellent example of rolling stock railroad cars used on this branch of the Denver & Rio Grande (D&RG) Narrow Gauge Railroad
It is hard to even describe how epic it is to come around the corner and see the trains.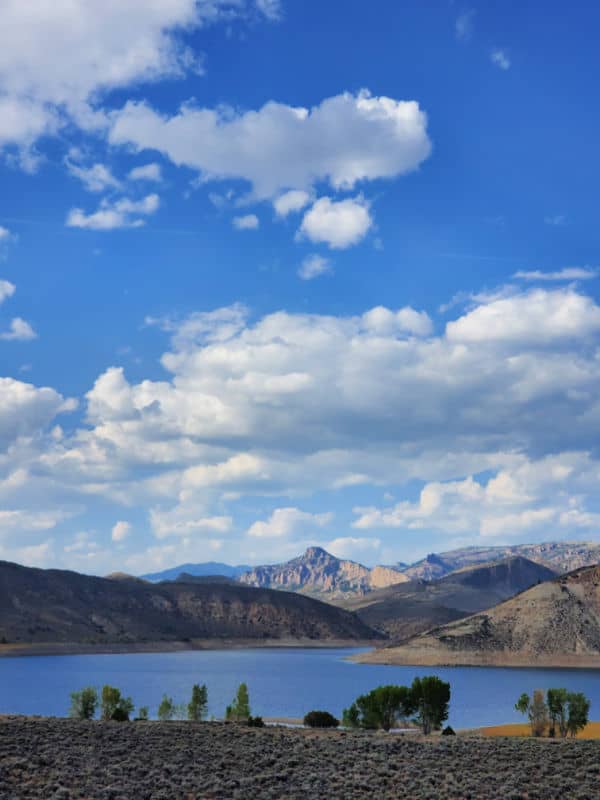 Boating
Being a National Recreation Area the park offers epic boating!
Please visit the Watercraft Inspection page to see where your type of watercraft can launch and if your watercraft requires an inspection for aquatic invasive species before launch.
Fees on Blue Mesa Reservoir
All motorized and/or state-registered vessels on Blue Mesa Reservoir will be required to have a boat permit.
$30.00 for an annual permit (calendar year)
$10.00 for a 14-day permit
$4.00 for a 2-day permit
These user fees are half-price for those visitors who possess the Interagency Senior or Access Pass.
Backcountry Use Permits For Morrow Point Reservoir
Boaters are required to fill out a free backcountry use permit. Permits are available at the Pine Creek trailhead.
Crytal Reservoir Boating
Like Morrow Point Reservoir, boating on Crystal Reservoir is limited to hand-carried craft. The access trail for Crystal Reservoir is reached via the Mesa Creek Trail located near Cimarron.
Fishing
Federal and state fish hatcheries stock over three million fish in the reservoirs each year. Fishing Curecanti is an amazing way to spend an afternoon.
Please make sure you are fully versed in fishing regulations and rules for the park.
Morrow Point Boat Tours
These boat tours will return in 2022! You can enjoy an amazing 1½ hour boat tour on the Morrow Point Reservoir.
Tours normally run at 10 am and 1 pm every day except Tuesday, and usually from mid-June to mid-September.
Reservations are required. Beginning in mid-May you may make reservations at Recreation.gov. Reservations may also be made in person at the Elk Creek Visitor Center prior to the day of the tour. Walk-ons are not permitted.
One thing to know about the boat tours is you will need to walk down 232 stairs to reach the Pine Creek boat dock. Once you are down the 232 stairs you will get to enjoy a mile walk to the dock.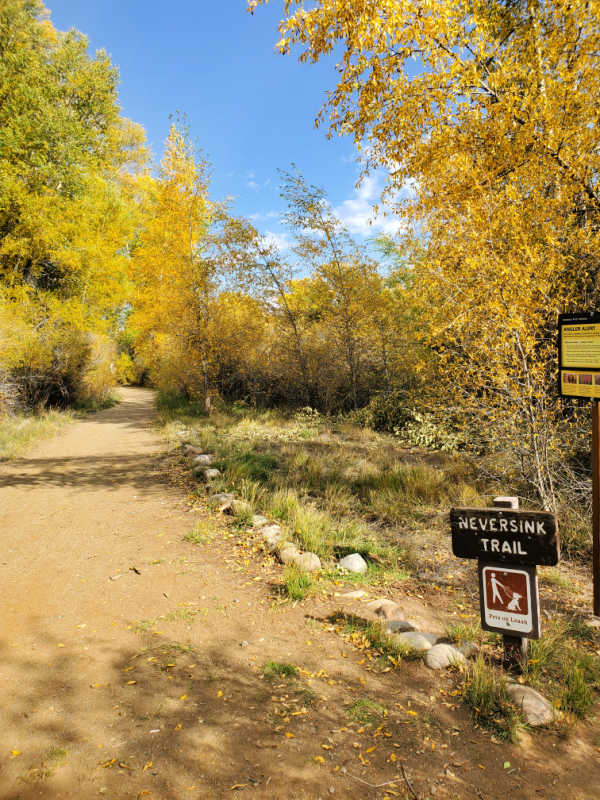 Bird Watching
One of the great things about Curecanti NRA is the wide variety of habitats that are included within the park.
These habitats provide the perfect opportunity for bird watching.
Camping
We recommend making reservations at Curecanti campgrounds prior to coming to Curecanti because cell service and first-come, first-served sites may be unavailable
Reservations may be made on recreation.gov from mid-May to mid-September. All types of camping from tents to large RVs can be accommodated.
There are 10 campgrounds within the park including Elk Creek Campground, Lake Fork Campground, Stevens Creek Campground, Cimmaron Campground, Ponderosa Campground, Dry Gulch Campground, Red Creek Campground, and Gateview Campground.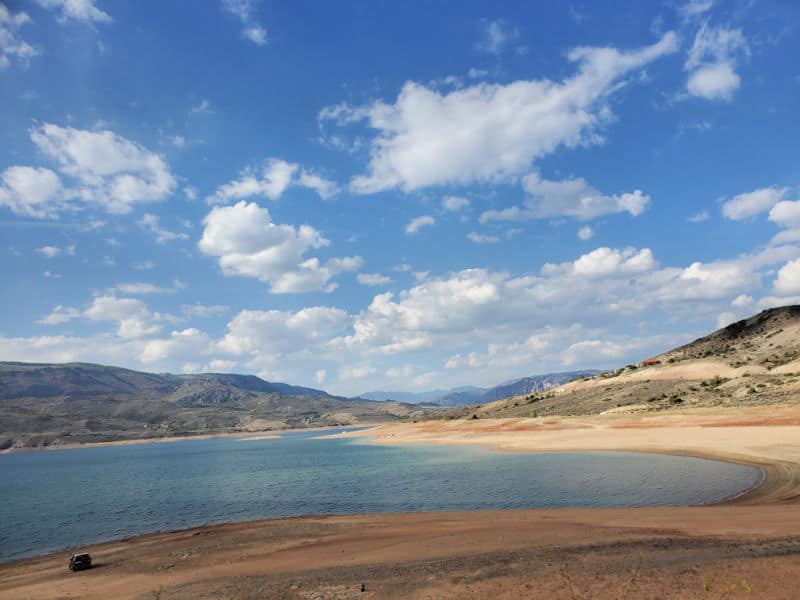 Scuba Diving
One thing you might not expect in a Colorado National Park is scuba diving but Curecanti offers amazing freshwater dive spots.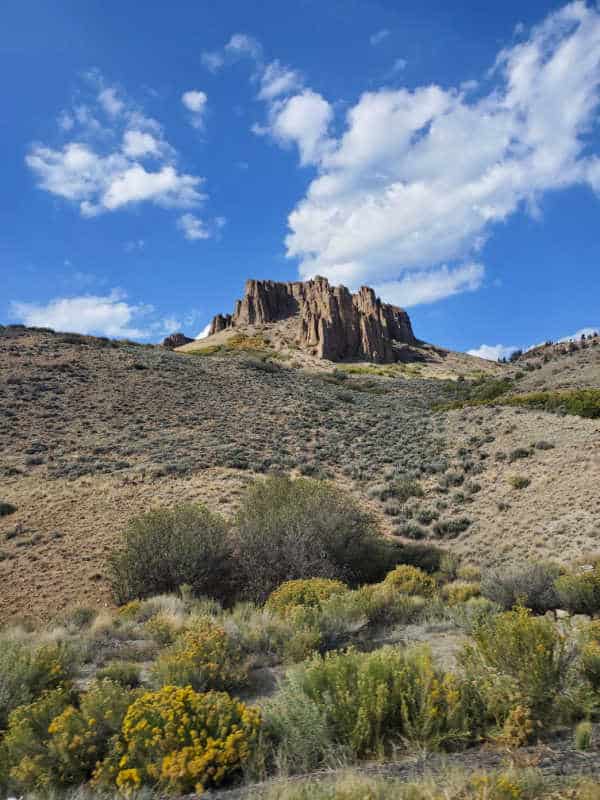 Scenic Drive
The drive through Curecanti is gorgeous! We visited mid-September and the leaves were starting to change which made it even more amazing. A portion of the highway follows along the water providing gorgeous views.
Junior Ranger
Make sure to pick up a Junior Ranger program at the visitor center. This is a great way to learn more about the park.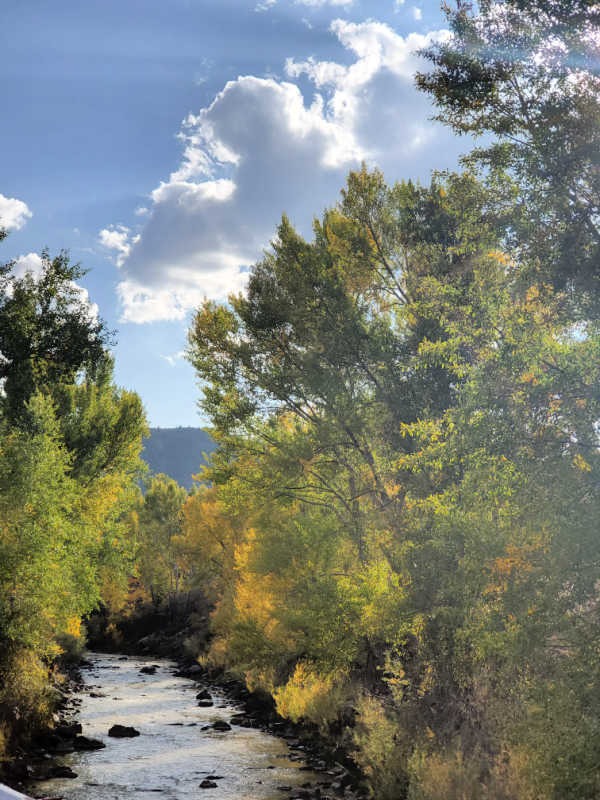 Things to know when planning a trip to Curecanti NRA
How to reach the park - U.S. Highway 50 runs the length of Curecanti between Montrose and Gunnison. The recreation area is also accessed from CO Highway 149 and CO Highway 92.
Entrance Fees - $0.00, There is no charge to visit the park.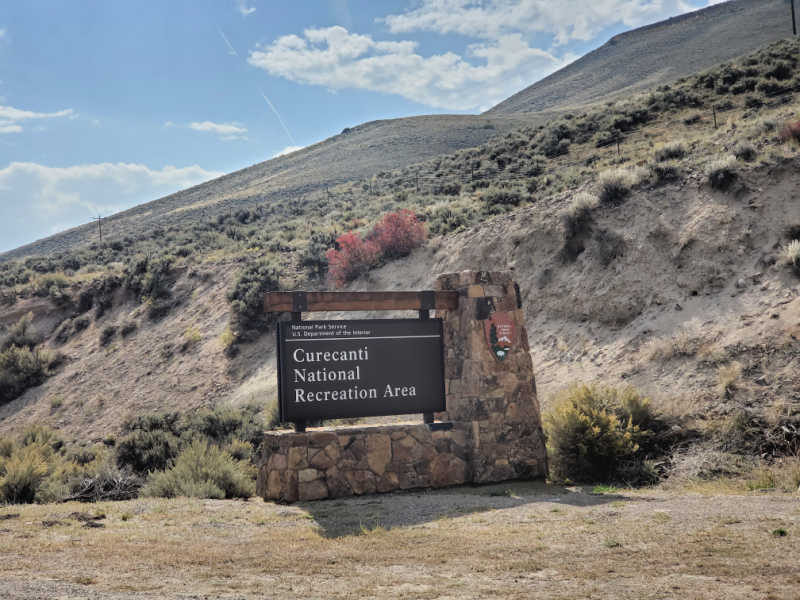 National Park Sites near Curecanti National Recreation Area
Black Canyon of the Gunnison National Park
Great Sand Dunes National Park
Check out all of the National Parks in Colorado and neighboring Utah National Parks, Wyoming National Parks, Nebraska National Parks, Arizona National Parks, Kansas National Parks, Oklahoma National Parks, and National Parks in New Mexico.