There are so many things to do in Great Sand Dunes National Park and preserve! What may surprise you is the diversity of the park. This diversity gives park visitors great opportunities to discover forests, mountain lakes, and spectacular views in its high country.
Don't get me wrong the sand dunes are the main feature of the park but there is also camping, hiking, wildlife viewing and so much more.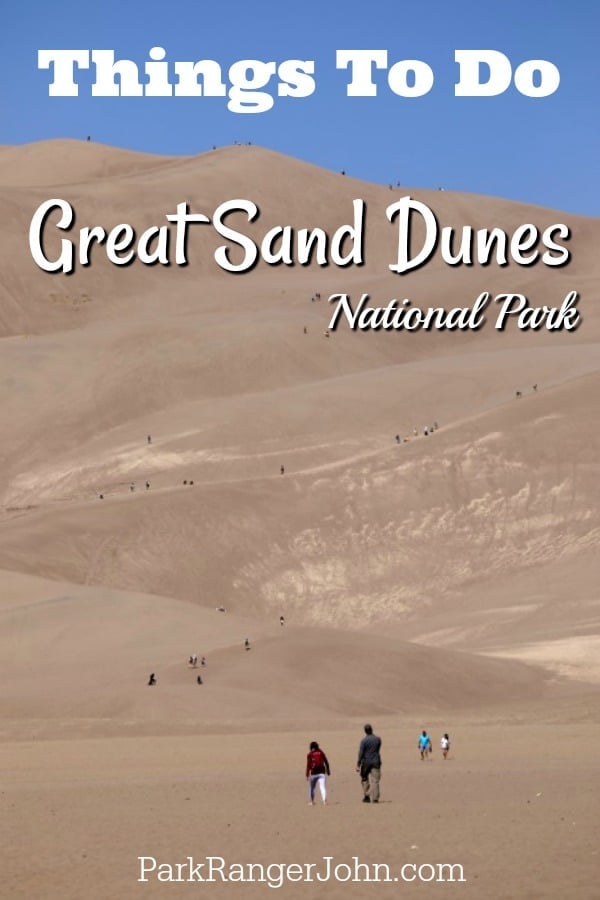 Top Things to do in Great Sand Dunes National Park
Great Sand Dunes National Park and Preserve were established in 2004. The area was formed over 44,000 years ago by opposing wind currents, a dried-up lake bed, and the convergence of three mountain ranges.
There are 30 square miles of dune field with no designated trails that gives park visitors the ability to leave their own footprints in the sand. They will not last long as constant winds will soon wash them away for the next visitor to leave their temporary mark.
Great Sand Dunes Visitor Center
The park Visitor Center makes a great first stop as you enter the park. There is a 20-minute movie about the park, restrooms, and drinking water, interactive displays and it has amazing views of Great Sand Dunes from the back porch! You can check out the park gift shop on the way out, they even carry simple snacks.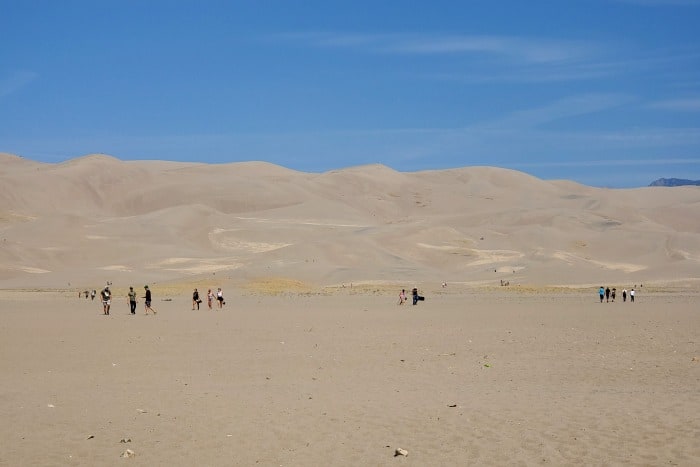 Sand Dunes
The sand dunes are a must-see, after all, you are visiting Great Sand Dunes National Park! Honestly, you can't miss the sand dunes even as you drive towards the park. They are so much bigger than you even imagine them to be.
There is a parking area near the sand dunes that offers easy access to the sand. That being said it is a quarter-mile walk from the parking lot to the actual sand dunes. Visitors of all physical capabilities can reach the sand it is up to you how far and how deep you go into the sand dunes.
Most visitors go straight towards High Dune as it appears to be the tallest dune in the dune field. It is actually 699 feet tall. This is a tough hike and visitors should plan a 2-4 hours roundtrip. Walking in sand, especially uphill with no protection from the sun, is very strenuous.
Star Dune, the tallest dune in North America is about 2 miles south on the Medano Creek Bed.
Don't worry if you are not a fan of hiking through the sand you can still step out onto the sand and get a great epic view without the sand hiking. We saw grandparents relaxing in camp chairs in the shade watching their grandkids play.
We also saw families who had brought sand toys with them and we're letting the kids have a ton of fun playing in the sand. It is really up to you how you enjoy the sand dunes.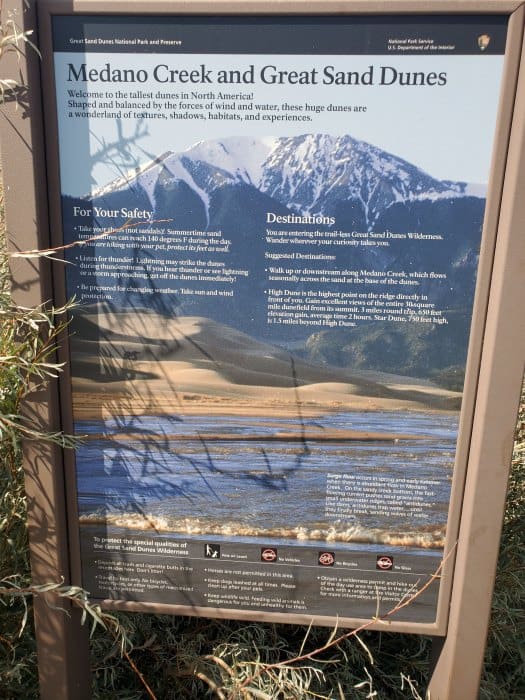 Medano Creek
In late Spring, Medano Creek, at the base of the dunes, grows wide and rhythmic with runoff from these mountains, turning this high desert landscape into a sunny beach, complete with gentle waves. Bathing suits, towels, and Frisbees are in abundance. Campgrounds fill up with families and nature-lovers making their annual road trip here to soak up the beach oasis.
There is a natural phenomenon in the Medano River on the sand called a surge flow. This is where the sand builds up and making a temporary dam to the river. As the water builds up, the sand breaks away creating a surge in the river. making mini waves in the river. This seasonal river at its peak in late May-early June can be as much as 20 inches tall!
Medano Creek is best from late April through June creating a Great Sand Dune Oasis! The creek quickly recedes in the summer months to a trickle before completely disappearing by August and September.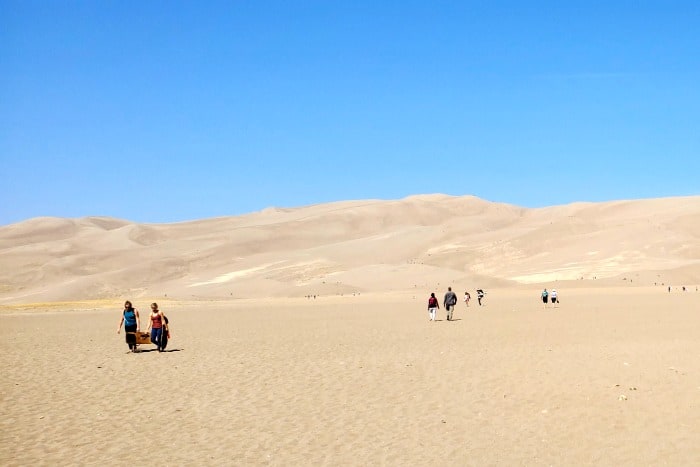 Great Sand Dunes National Park Sandboarding
One of the cool things you can do out on the sand dunes is sandboarding and sand sledding however you will need to bring your own sand sled or board with you.
Winter sleds, skis, and snowboards are much different than Sand sleds and they do not work very well on the sand. You can rent wood sand boards that have been waxed specifically for the sand dunes outside of the park. I know that Kristi Mountain Sports in Alamosa rent sand boards. Remember that they do not rent sand boards within the park.
We have heard of people trying to sled with cardboard and it doesn't really work. The best bet is to rent the sand boards specifically made for the sand dunes. Specially designed boards and sleds, with ultra-slick bottoms, have been created for taking a wild trip down many of the park's dunes.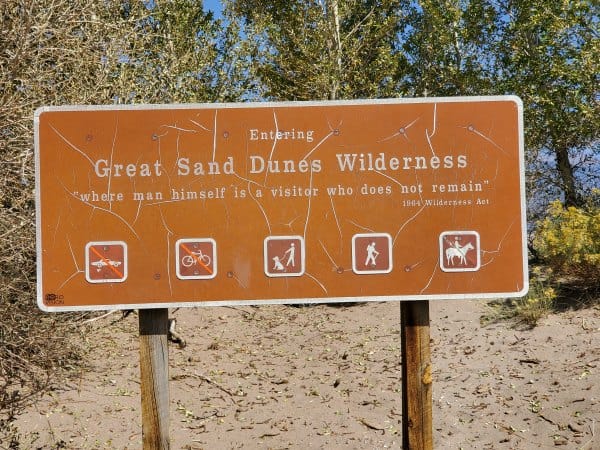 Park Ranger John Pro Tip:
If you are planning to sandboard you will want to protect any phones/cameras you bring out to the dunes. The last thing you want is your phone or camera filled with sand. A dry bag is a great idea for keeping your phone or camera protected.
It is also a great way of keeping all your valuables together! Imagine looking for car keys in a 30 square mile sandbox! I can say that losing a camera and lens to sand is not the best way to visit a park. We lost an epic camera lens and body while visiting Antelope Canyon and having sand get into it.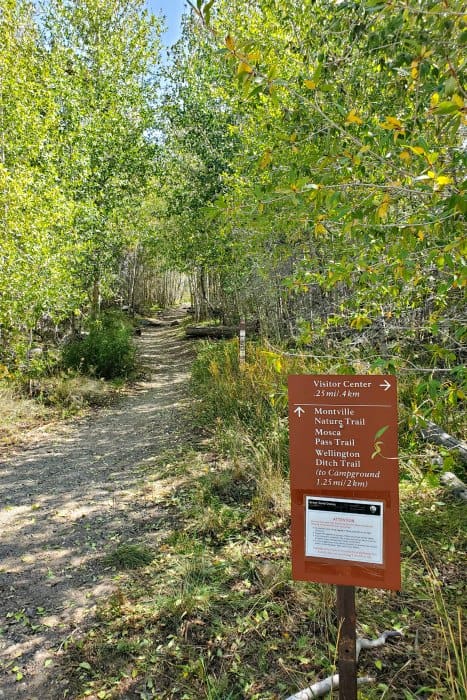 Hiking
Most visitors hike into the sand dunes, particularly towards High Dune. There are no trails, just your desire to go out and explore. There is also a Montville Nature Trail and the Mosca Pass Trail close to the visitor center. For those looking for a long hike and up to the physical challenge, there is the Medano Lake and Mount Heard Alpine Trails. These trails start at 10,000 feet in elevation and climb 2000-3000 feet from there. Those in physical shape to handle the high elevation, elevation gain, etc. will be in for incredible views!
If you want to get away from it all you can get sleep overnight in the sand dunes. This does require you to obtain an advance backcountry permit. People who take this option are rewarded with solitude in a dark sky park filled with stars!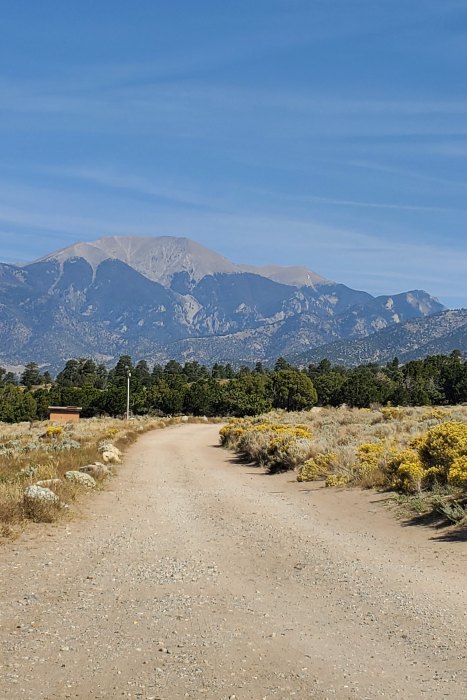 Medano Pass Primitive Road
If you want to really get away from it all and have a high clearance 4x4 you can explore the Medano Pass Primitive Road. This backcountry road takes you deeper into the park away from the crowds. Medano Pass Road is a 22-mile stretch connecting to Wet Mountain Valley and to the Sangre de Cristo Mountains' east side by climbing Medano Pass.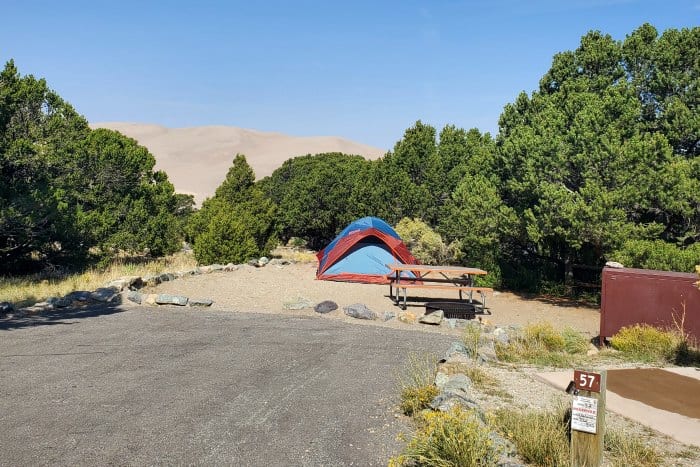 The Pinon Flat campground is located just off of the sand dunes. Many of the campsites have epic views looking out over Great Sand Dunes. This front country campground has restrooms, running water, and great tent/RV sites. There are no hookups within the campground.
Campgrounds and Other Places to Stay Outside the park
San Luis Lakes State Park offers a campground 15 miles west of the park, on County Lane 6. (719) 378-2020 for reservations.
Oasis Campground and Motel (719) 378-2222 has showers, a restaurant, and a store, and is open April-October.
Great Sand Dunes Lodge, a modern motel located just outside the park entrance on Highway 150, (719) 378-2900 is open generally April-October.
Zapata Ranch offers rustic, elegant rooms a few miles south of the park.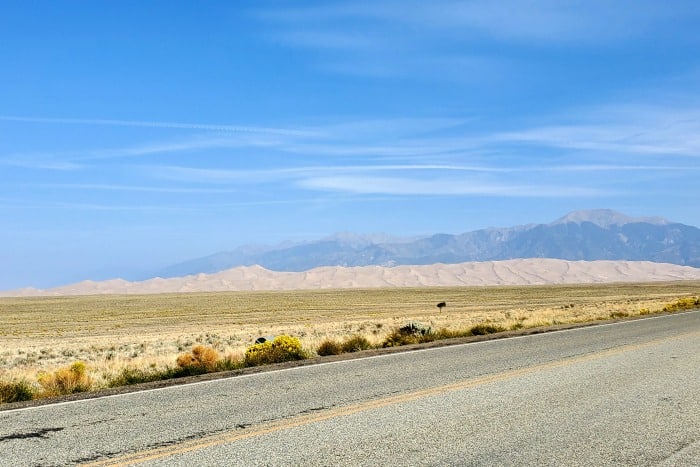 Weather
Weather at this high elevation is also extreme, with drastic changes in temperature occurring within a single day. Visitors are informed to dress in layers in case a mountain storm develops. It's not usual to have both warm sun and pouring rain and hail storms within an hour or less.
The elevation at the park ranges from 8,000 to over 13,000 feet above sea level. Visitors not accustomed to this high elevation should proceed slowly and make sure to stay hydrated.
This park offers visitors the opportunity to discover America's tallest sand dunes, Hiking, 4WD roads, developed and backcountry campgrounds, and even a swimming beach in summer.
Dark Sky Park
Great Sand Dunes NP is a designated International Dark Sky Park. You can see thousands of stars while gazing out into the universe. Great Sands Dunes National Park is a dark sky viewing area which means it encompasses ideal conditions for viewing the stars and constellations.
Junior Ranger Program
You can pick up a Junior Ranger program at the visitor center. The junior ranger program is a great way to learn more about the park for all ages.
Abundant Wildlife
Along with bears, the park is home to mule deer, coyotes, ground squirrels, and chipmunks. Elk and bear have been spotted in the area, and tiger salamanders, toads, and frogs are also found in the wetlands.
Adjacent to the National Park, the wetlands of the San Luis Lakes is a nesting ground for many species of birds, including sandhill cranes, white-faced ibis, American avocets, pelicans, snowy plovers, great blue herons, and countless others.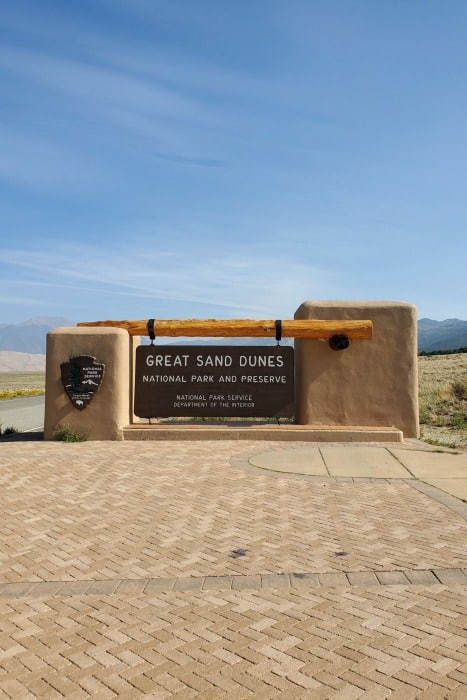 Getting to Great Sand Dunes
Great Sand Dunes National Park is located in San Luis Valley, a region in south-central Colorado in the United States. From Denver or Colorado Springs, the fastest route is south on I-25 to Walsenburg, west on US 160, and then north on state highway 150.
For a more scenic drive through South Park and along with the Collegiate Peaks and through the Arkansas River Valley, take US 285 south to 17 south, and then County Lane 6 east, following signs to the park.
From Albuquerque, drive north on I-25 to Santa Fe, then north on US 285.
Zapata Falls
Zapata Falls is located close to the entrance of Great Sand Dunes National Park on Highway 150. It is a .9 mile out and back hike that takes you to a nice 30-foot waterfall. It makes a great stop to get out and stretch your legs before visiting Great Sand Dunes.
When to visit
The best times to go are between May and November. Visit the park's website for more details on planning a trip.
What to bring/ Travel Tips
There is no real shade once you reach the sand dunes. Make sure you have sun protection but also sand protection. You will want a face mask or covering to protect yourself from eating sand, especially on a windy day.
Mosquito repellent and no-see-ums (tiny gnats) repellent. Insect repellent can make a difference between not wanting to get out of the car and having a good time.
Make sure to drink plenty of water and stay hydrated while in the park.
If you are driving between Great Sand Dunes NP and Black Canyon of the Gunnison NP be prepared for a windy twisty mountain road. Our GPS took us deep in the mountains and the road had a lot more twists and turns than it did straight lines.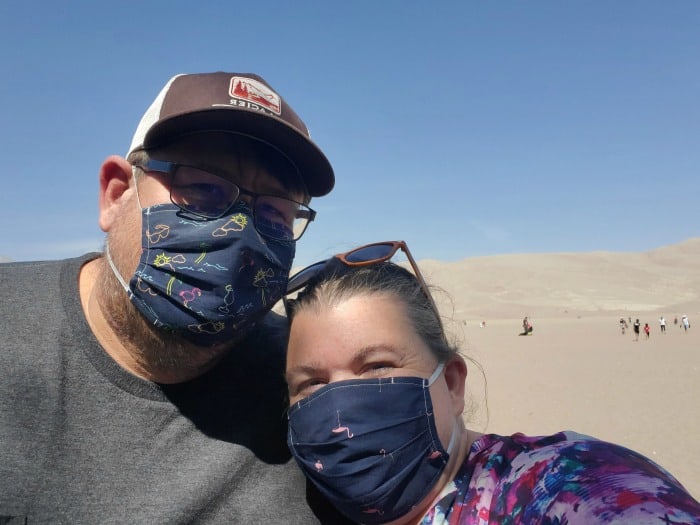 Black Canyon of the Gunnison National Park
Curecanti National Recreation Area
Florissant Fossil Beds National Monument
Check out all of the neighboring Utah National Parks, Wyoming National Parks, Nebraska National Parks, Arizona National Parks, Kansas National Parks, Oklahoma National Parks, and National Parks in New Mexico.