Pinon Flat Campground is a first-come, first-served campground located within the Great Sand Dunes National Park boundary. The campground's 88 sites typically fill up from May through September for weekend stays. Weekdays are usually less crowded.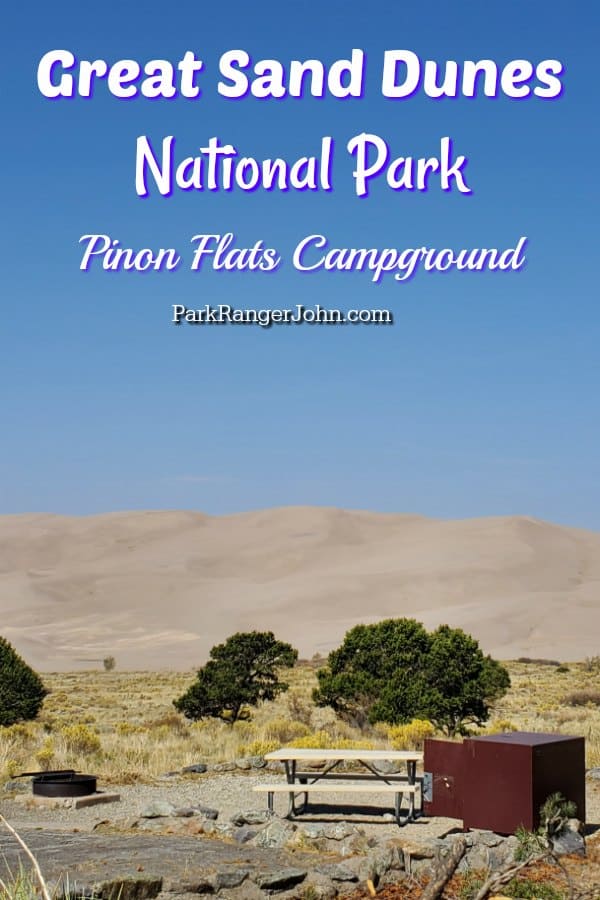 Pinon Flat Campground - Great Sand Dunes National Park
Nestled in the Sangre de Cristo Mountains of southern Colorado, lies the Great Sand Dunes National Park. This 150,000-acre national park provides visitors with spectacular mountain and sand dune scenes and hours of adventure and fun. The contrast of mountains and sand dunes makes for breathtaking views.
The sand dunes also provide diverse activities and adventure. Great Sand Dune National Park experiences over 300,000 visitors yearly, according to the National Park Service. Due to Colorado's climate, visits peak during the spring and summer months.
The Great Sand Dunes National Park and Preserve has only been recognized as a National Park since 2004. This ensures that the Dunes, a significant part of the local ecosystem, will be protected from misuse by park visitors. The sand dunes are the result of siltation deposits left behind by the Rio Grande.
The Dunes themselves are more than 750 feet high and are constantly growing. Hiking is permitted in the area, but visitors are not permitted to engage in off-road activities on the dunes themselves.
The great outdoors is what a visit to the Great Sand Dunes is all about. Hiking, camping, mountain climbing, horseback riding, sandboarding, wading in the creek, and or driving the trail with a 4WD vehicle. A visit to the sand dunes is not complete without an attempted or successful climb up the dunes.
The climb to the top of the first dune summit averages an hour or longer so visitors should be prepared. The view from the top of a sand dune is extravagant, giving the park a whole new perspective. On hot days, Medano Creek is a favorite place to cool off and splash in the shallow water of the mountain creek. Sandboarding and sledding are more extreme options for enjoying the sand dunes at a faster speed.
Great Sand Dunes National Park is open year-round, every day, 24 hours. The visitors center is open most days during business hours. Permits may be obtained for overnight camping on the dunes. The park is located 35 miles northeast of Alamosa.
Oasis Campground and Motel is located just south of the park, offering camping sites, RV sites, and cabins.
Number of Sites: 88
Location in the park: Across from the sand dunes on the main road. Pinon Flats Campground is located 5 miles from the park entrance.
Campsite Cost: $20
An entrance pass is required while in the park and is not included in the camping fee.
Senior/Access Camping Fee: $
Payments accepted:
Reservations: Yes, up to 6 months in advance
Campground Address:
Latitude/Longitude:
Latitude
37° 44' 40.7400" N
Longitude
105° 30' 23.7240" W
Accessible Sites: None
Pets Allowed: Yes, they must be on a leash and under control at all times.
Campground Reservations
Are campground Reservations Available? Yes
Phone Number? 877-833-6777
Online? Recreation.gov
How Far Ahead can you make a reservation? 6 Months
First Come, First Served? First-come, first-serve camping is not available.
Choose your site carefully. If you arrive in camping equipment that is larger than the site, there may not be another site available.
There is no waiting list for campsites and staff cannot hold available sites at the campground.
Tent camping is allowed on RV sites ONLY if all tent options have been reserved. Please check the tent sites first before you book an RV site.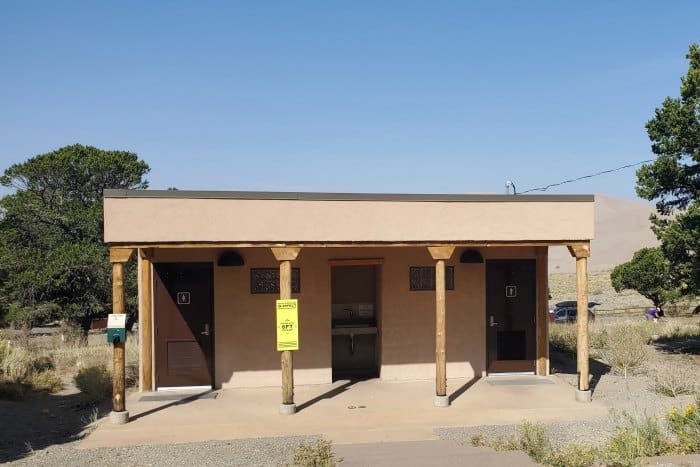 Campground Amenities
Dump Station: Yes, during the warm months
Bear Boxes: Yes
Flush Toilets: Restrooms with sinks, flush toilets, dishwashing sink, and water spigots are available in all three loops. There are no showers available.
Payphone:
Is wifi available? No
Is cellular Phone Service Available?
Is camp host available on site? Yes
Is firewood available for purchase? Yes, at the campground store
Amenities at each campsite:
Fire pit in the site? Yes
Picnic Table in the site? Yes
Bear Box in site/area? Yes
Potable Water? Yes
RV Camping at Pinon Flat Campground
RV Length: RVs up to 25 feet
RVs over 35 feet may not be able to negotiate the campground without damaging the RV or vehicle.
Generators: generator hours are 7 am to 8 pm.
The campground does not have hookups.
How to get to Campground
From Highway 160, turn north on Highway 150 and follow for 16 miles to the entrance of Great Sand Dunes National Park & Preserve. Continue 5 miles north on the park's main road to reach the campground entrance.
From Highway 285, turn south onto CO-17 and follow for 36 miles. Turn east onto Lane 6 and follow for 16 miles to Highway 150. Turn north onto Highway 150 and follow for 2.6 miles to the entrance of Great Sand Dunes National Park & Preserve. Continue 5 miles north on the park's main road to reach the campground entrance.
Important Dates for Campground
During the peak flow of Medano Creek in late May and early June, expect all campsites to be reserved well in advance. On weekends during peak flow, expect long lines of traffic, overflowing parking lots, and most campgrounds within 20 miles to be full.
Campground Regulations
The maximum number of people in a campsite: 8
The number of cars per campsite: 2
Checkout time: 1 pm
Quiet Hours: 10 pm to 6 am
The use of hammocks is prohibited in the Pinon Flats Campground as well as any backcountry campsite within the National Park.
Pinon Flat Campground Map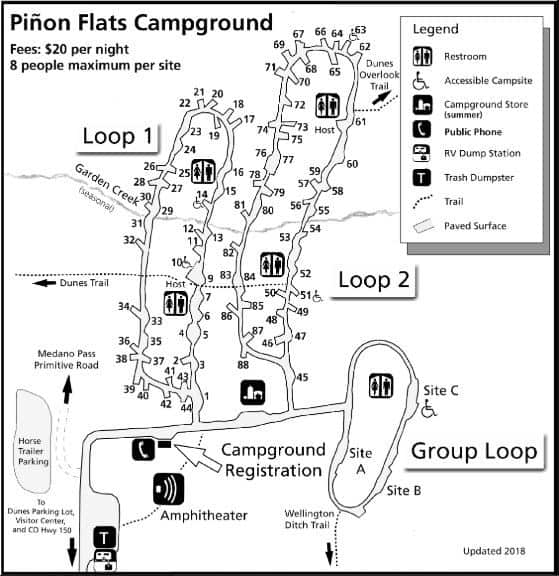 Photos of Piñon Flats Campground
Additional National Park Articles
Florissant Fossil Beds National Monument
Sand Creek Massacre National Historic Site
Great Sand Dunes National Park
Black Canyon of the Gunnison National Park
Epic Guide to the National Park Pass
Check out all of the National Parks in Colorado and neighboring Utah National Parks, Wyoming National Parks, Nebraska National Parks, Arizona National Parks, Kansas National Parks, Oklahoma National Parks, and National Parks in New Mexico.