Sand Creek Massacre National Historic Site is located in a remote area of eastern Colorado. This site marks one of the darkest events in American History.
On November 29, 1864, Colonel Chivington led 675 United States Troops who slaughtered 230 Native Americans (Mostly elderly, women and children) who just months before surrendered to Colonel John Chivington and the federal troops of the Colorado Military District who promised that nothing would happen to them if they surrendered.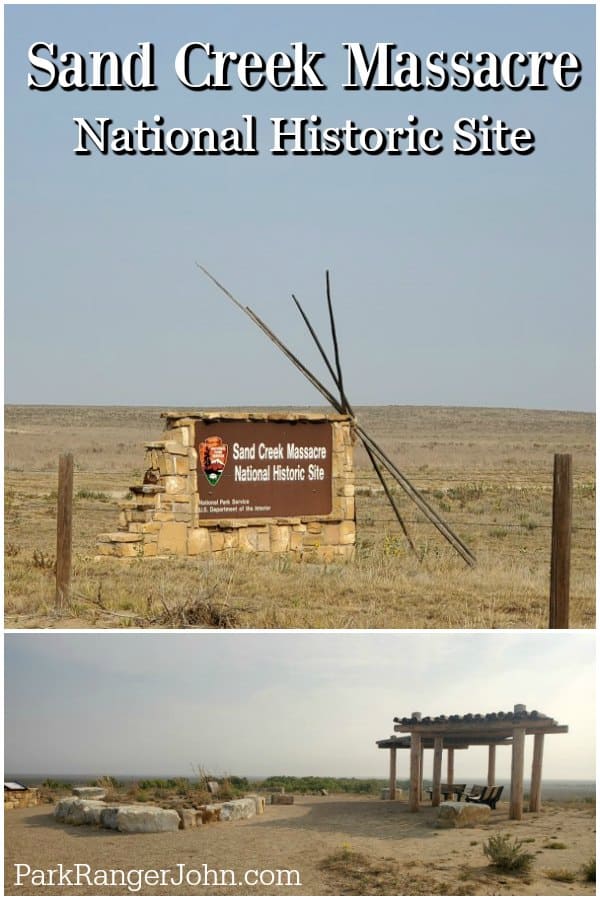 Sand Creek Massacre National Historic Site
Sand Creek Massacre National Historic Site is one of the least visited National Park sites with only 5,701 visitors in 2019. For those who have been, it's easy to see why as it is off the main road and down several dirt roads for miles without any real signage.
The only thing you see for miles is fields of crops and perhaps a tractor and a farm. I would guess that many of the parks visitors are stamp collectors and attempting to see as many of the 420 national park service sites as they can get to.
For those who come to learn, find themselves starring out on the prairie wondering why this gut-wrenching event ever took place and why.
Events leading up to the Sand Creek Massacre
1864 proved to be challenging in the United States. The Civil War had been going on since April 12, 1861. There was also the great westward movement into the Colorado territory.
White people flocked to this area and soon outnumbered Native Americans by 3 to 1. This created friction, especially as both had considerably different thoughts and lifestyles. Then there were rumors, as well as false newspaper reports of a massive Indian war that would soon take place. It was just one event away from becoming a full blown out war.
Peace Chief Lean Bear was killed in Kansas in May of 1864 which set off numerous retaliatory attacks. American Indian tribes, including the Cheyenne and Arapaho People found themselves in the Colorado 1964 Indian War.
They knew they couldn't win as they were outnumbered. They decided to meet with the Territory Governor John Evans and Colonel Chivington.
Chivington promised the Cheyenne and Arapaho that if they surrendered, nothing would happen to them. His promise was kept until the morning on November 29, 1864 when the events of the Sand Creek Massacre occurred.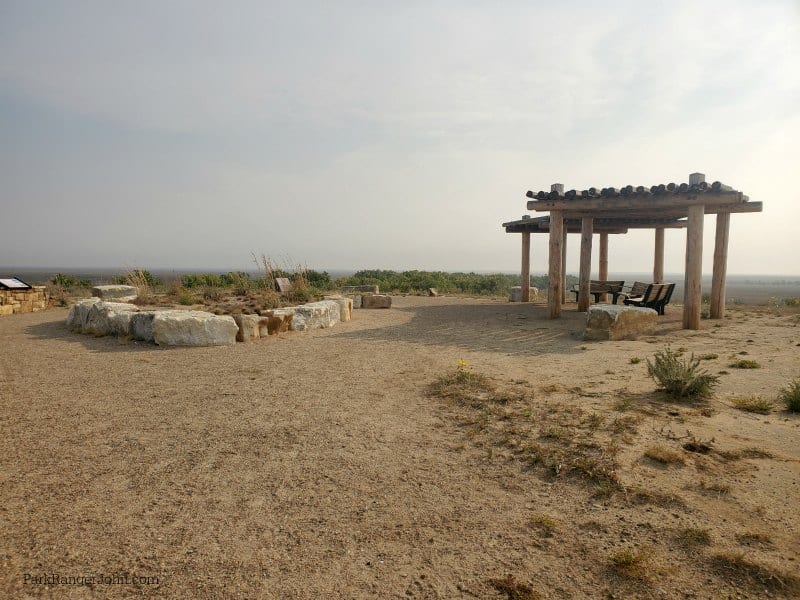 Things to do at Sand Creek Massacre National Historic Site
Attend a Ranger Program
Ranger Programs are offered at 10:00 am and 2:00 pm. Here you will have the opportunity to learn about this park from an Interpretative Ranger.
Go for a hike
You can go hike one of the parks two designated trails; Monument Hill Trail and Bluff Trail. The Monument Hill Trail starts at the picnic area next to the park's visitor center and works its way up to the Monument and Overlook. Here you can return to the picnic area r continue on the Bluff Trail. Both trails have several interpretative panels giving hikers a better understanding of what happened here on November 29, 1864.
Drive up to the Monument and overlook.
If you are in a hurry or not prepared to go for a walk, then simply turn on Monument Road off of Headquarters Road that takes you into the park.
It is a short uphill walk from the parking lot up to the top of the monument. At the top, there are multiple benches under the shade that are perfect for sitting and reflecting on what happened here.
Pay Honor & Respect, Reflect
I think that these sites are vital to preserve. They tell a story, a story that sometimes shows that American History is not all glory.
I personally had an extremely heavy feeling in this park. I want to share my feelings so you can prepare yourself for what you are coming to visit. This park is not your go have fun and go for a hike and see epic wildlife and scenery like a designated National Park would have.
I sat on the park bench (in the photo above) and just took the time to reflect upon what I had seen and learned.
I can still close my eyes and place myself on that bench. I can still feel the cool breeze coming off the great plains and crossing my face blowing my hair to one side. The air had the cold crisp bite of early fall and its reminder that winter is coming.
It was eerily quiet besides the breeze as I looked down upon the site where the Native Americans would have been amongst the trees tucked behind the bluff and next to Big Sandy Creek.
I sat on the bench and couldn't even imagine the shock and horror as they were ambushed by the same person who promised they would be safe literally a few months prior.
Just then, the breeze picked up and I had chills all up and down my spine. I cannot describe how I felt but have had that feeling before when I visited Arlington Cemetary and a few of the Civil War Battlegrounds.
It is not a feeling of peace, instead one of unsettlement. I got off the bench and walked up to my wife. We decided it was time to leave and go visit the next park that we had on our agenda, Bent's Old Fort National Historic Site.
I remember us leaving the park. We were both dead quiet, both thinking about where we just left. I left the park with even more questions than what I had originally come in with.
The silence was finally broken when we arrived in the town of Chivington, not too far from the park. I think we were both shocked as to why the name of the town was after someone who we just learned slaughtered 230 innocent Native Americans. We again sat in silence for quite so time just digesting all this information.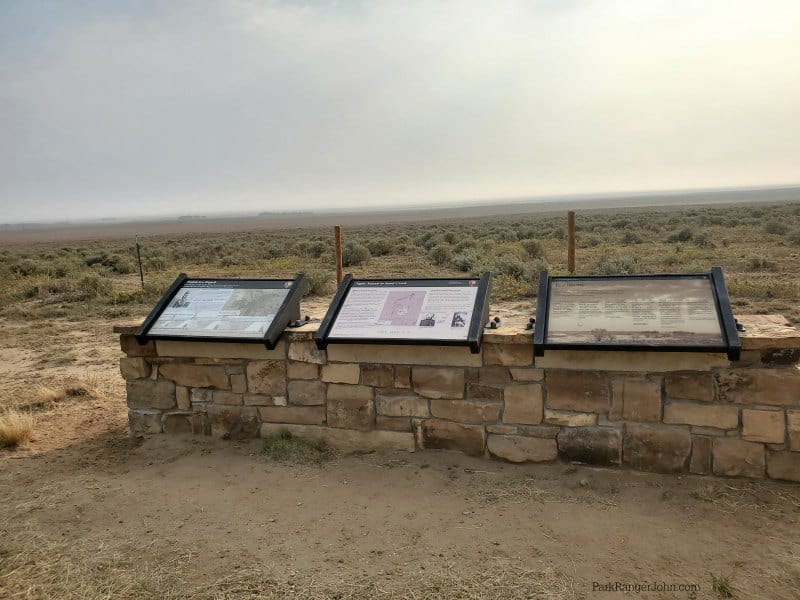 Travel Tips
The park is located in Mountain Daylight Time (MDT). Be aware that the time changes to Central Daylight Time (CDT) in Kansas.
Hours of Operation: 9:00 am-4:00 pm, closed Tuesdays and Wednesdays.
The park is also closed for Thanksgiving, Christmas, and New Years.
You will need to drive on dirt county roads to reach the park. Don't be surprised when your GPS tells you to pull onto a dirt road.
This is a somber park with a dark history. Please be respectful while visiting the park.
Make sure you have water with you. There is no real shade on the hike up to the monument. If you are visiting in the summer it will be HOT!
Be prepared the interpretive panels are a must-read but they are gut-wrenching. Be prepared especially if you have kids with you that the events of the Sand Creek Massacre were not PG.
We were told by a Park Ranger that a few of the interpretive panels near the visitor center that have letters on them are particularly hard to read.
Time needed – 30 minutes to 2 hours depending on if you take in a ranger program, hike the trail instead of driving up to the monument.
Restrooms – There are restrooms near the monument and also near the visitor center
Cell service – We had enough cell service to bring up the GPS and get directions to Bent's Old Fort NHS the next park on our tour.
Lodging – There is no lodging within the park.
Camping – There is no camping within the park.
National Park Sites near Sand Creek Massacre NHS
Bent's Old Fort National Historic Site
Florrisant Fossil Beds National Monument
Great Sand Dunes National Park
Nicodemus National Historic Site
Fort Larned National Historic Site
Check out all of the National Parks in Colorado and neighboring Utah National Parks, Wyoming National Parks, Nebraska National Parks, Arizona National Parks, Kansas National Parks, Oklahoma National Parks, and National Parks in New Mexico.