The Santa Fe Trail National Historic Trail covers over 1200 miles along a historic route that crosses five states! The trail stretches from Franklin, Missouri to Santa Fe, New Mexico traveling through New Mexico, Colorado, Oklahoma, Kansas, and Missouri.
You can check out this interactive map that pop-ups ups revealing specific site information along the Santa Fe National Historic Trail. This is a great way of checking out where you will be traveling and if there is an opportunity to explore the Sante Fe Trail. One thing to know is that a large portion of the trail is privately owned and not accessible to visitors. There is a list at the bottom of this article sharing where you can visit along the trail and learn more about the trail.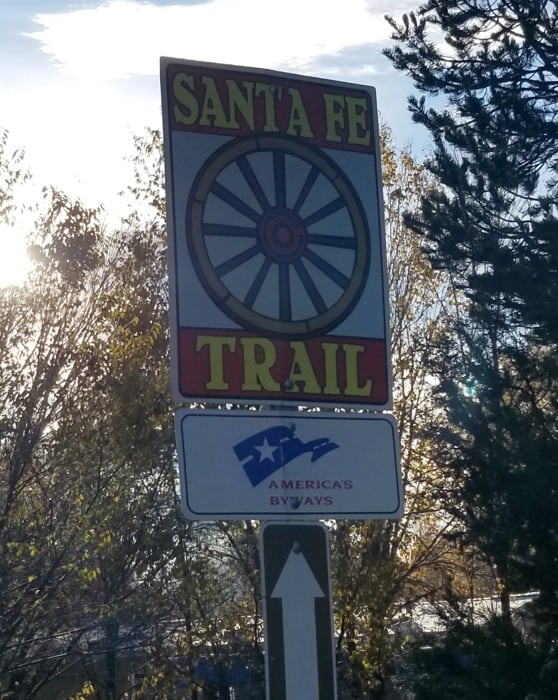 Sante Fe National Historic Trail
The Santa Fe Trail was a famous transportation route of the nineteenth century that ran through the center of North America, connecting the cities of Independence (today in Missouri ) and Santa Fe (today in New Mexico ). It is about 870 miles of arid plains, deserts, and mountains.
The French explorer, Pedro Vial discovered and explored the route in 1792 and in 1821 he established the path of Santa Fe to take advantage of the new commercial opportunities with Mexico that had just obtained its independence from Spain in the Mexican War of Independence.
In 1825 the governor of New Mexico, Bartolomé Baca, ordered Manuel Escudero de Chihuahua to negotiate with Washington the opening of the US borders to the merchants of Mexico. Starting with 1826, the most prominent families of New Mexico, such as the Armijos, Chávez, Oteros, and Pereas, entered the commerce business along the way, so that in 1843, merchants from New Mexico and Chihuahua were already a majority among those involved in the movement of goods by the Santa Fe trail.
In 1835, Mexico City sent Albino Perez to govern the department of New Mexico as Political Chief and as a military commander.
In 1841, a military and commercial expedition left from Austin, representing president Mirabeau B. Lamar of the Republic of Texas. Its objective was to convince the people of New Mexico and Santa Fe to cede control over the disputed territory with Mexico, and the associated commerce.
In 1842 Colonel William A. Christy wrote to Sam Houston, the president of Texas at that moment, to request support for a plan made by Charles Warfield to recruit forces to aid in overthrowing the New Mexico provinces and also Chihuahua and return half of the spoils and plundering to the Texas Republic.
In 1863, at the height of political disputes over railroad legislation, entrepreneurs set their sights on the southwestern United States leading the gradual east-west construction of the Atchison, Topeka and Santa Fe Railroad ( Atchison, Topeka and Santa Fe Railway, or AT & SF).
Later, the trail served as a strategically important commercial and military road until the construction of the railway line to Santa Fe in 1880. Originally it was an international trade route connecting the United States with Mexico, but in 1846 served the US Army in invading New Mexico during the American - Mexican War. After the US seized the area of the South West, the trail helped in the economic development of the region, and above all, playing a key role in expanding the ownership of the west. Nowadays, the trail is managed by the National Parks Service as the Santa Fe National Historic Trail. The modern motorway, which runs close to the former route in Colorado and northern New Mexico, has been marked as the "Santa Fe Trail National Scenic Byway".
Trading on the Santa Fe Trail dates back to the colonization of the North American West. The route began on the Missouri River, where goods were transported by ship to the westernmost parts of the United States. With the advancing colonization, the beginning of the trail moved gradually upstream to the west to new villages. Later, when the first two trade trains were fitted out in Franklin, Missouri, they could follow the course of the Missouri River upriver in Arrow Rock, then Lexington, Fort Osage, and finally Independence. Depending on the viewing period, today Franklin or Independence are regarded as the beginning of the Santa Fe Trail.
The route crossed the Comanchería, the territory of the Comanches, who demanded compensation to guarantee safe passage. Comanches usually assaulted American travelers along the trail, finding it unacceptable to have to pay a fee for the passage to Santa Fe, and soon, all Comanches fled the area, opening the area to American settlements.
Segments of this road in Missouri, Kansas, Oklahoma and New Mexico are included in the National Register of Historic Places. The longest section of clearly identifiable way, Santa Fe Trail remains near Dodge City (Kansas) and it is listed as a National Historic Landmark.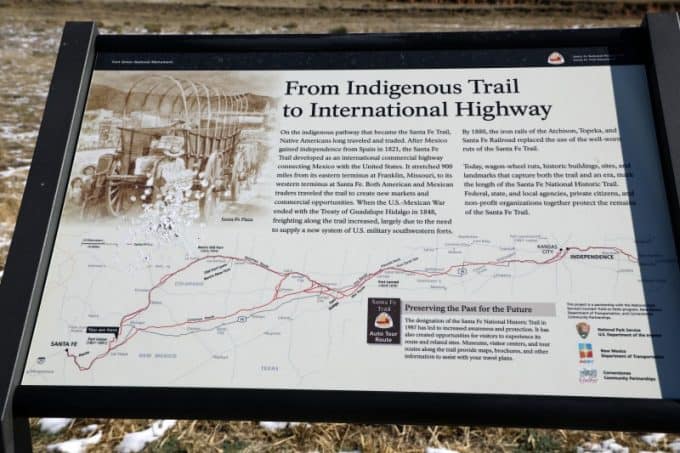 Sites you can visit along the Sante Fe National Historic Trail
Each of these locations should have cancellation stamps for the Sante Fe NHT
Missouri
Alexander Majors House NHRP
8201 State Line Road
Kansas City, MO 64114
816-333-5556
Arrow Rock State Historic Park Visitor Center
P.O. Box 1
Arrow Rock, MO 65320-0001
660-837-3330
Fort Osage National Historic Landmark
105 Osage Street
Sibley, MO 64088
816-650-3278
Harry S. Truman National Historic Site
223 North Main Street
Independence, MO 64050-2804
816-254-2720
National Frontier Trails Center
318 West Pacific
Independence, MO 64050
816-325-7575
Trailside Center
9901 Holmes Road
Kansas City, MO 64131
816.942.3581
Kansas
Barton County Historical Society
PO Box 1091
85 South Highway 281
Great Bend, KS 67530-1091
620-793-5125
Coronado/Quivira Museum
105 West Lyon
Lyons, KS 67554
620-257-3941
Cimarron National Grassland
USDA Forest Service
242 East Highway 56; P.O. Box 300
Elkhart, KS 67950
620-697-4621
Fort Larned National Historic Site
1767 KS Hwy 156
Larned, KS 67550-9321
620-285-6911
Historic Adobe Museum
300 East Oklahoma
Ulysses, KS 67880
620-356-3009
Kaw Mission State Historic Site
500 Mission
Council Grove, KS 66846
620-767-5410
Lanesfield School Historic Site
18745 South Dillie Road
Gardner, KS 66021
913-893-6645
Mahaffie Stagecoach Stop & Farm
1200 Kansas City Road
Olathe, KS 66061
913-971-5111
Morton County Historical Museum
East Highway 56
Elkhart, KS 67950
620-697-2833
Santa Fe Trail Center
Route 3 Box 137, K-156 Highway
Larned, KS 67550
620-285-2054
Shawnee Indian Mission State Historic Site
3403 West 53rd
Fairway, KS 66205-2654
913-262-0867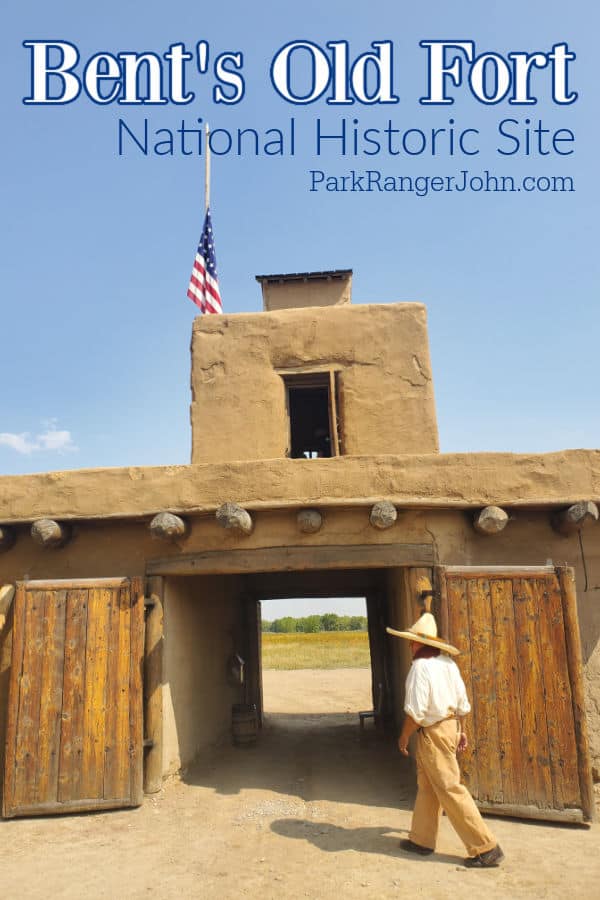 Colorado
Bent's Old Fort National Historic Site
35110 Highway 194 East
La Junta, CO 81050-9523
719-383-5010
Boggsville Historic Site
P.O. Box 68
Las Animas, CO 81054
719-384-8054
Comanche National Grassland (2 units)
Carrizo Unit
27204 Highway 287, Springfield, CO 81073
Timpas Unit
1420 East 3rd, La Junta, CO 81050
719-523-6591
719-384-2181
Trinidad History Museum
300 East Main Street
Trinidad, CO 81082
719-846-7217
Trinidad Lake State Park
32610 Highway 12
Trinidad, CO 81082
719-846-6951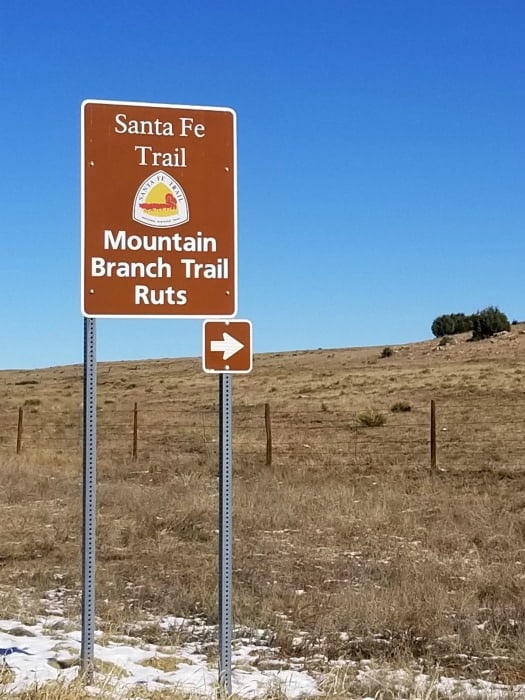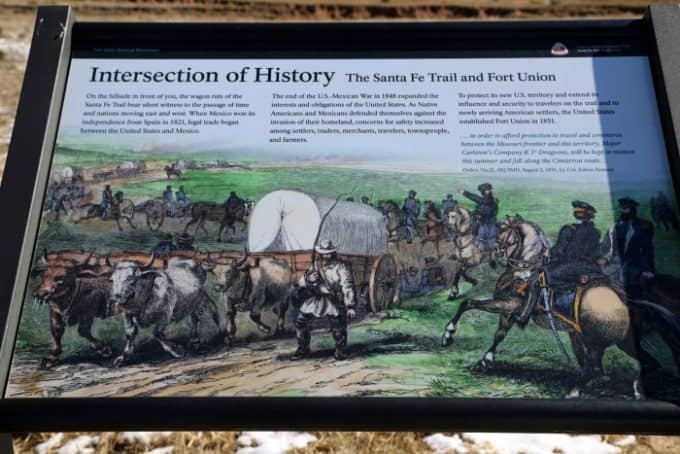 New Mexico
Fort Union National Monument
P.O. Box 127
Watrous, NM 87753
505-425-8025
Herzstein Memorial Museum
South Second and Walnut
P.O. Box 75
Clayton, NM 88415
575-374-2977
Kiowa National Grassland
714 Main Street
Clayton, NM 88415
575-374-9652
Las Vegas Citizen's Committee for Historic Preservation (CCHP)
116 Bridge Street
Las Vegas, NM 87701
505-425-87701
Palace of the Governors
105 West Palace Avenue
Santa Fe, NM 87505
505-476-5200
Pecos National Historical Park
P.O. Box 418
Pecos, NM 87552-0418
505-757-7200
Santa Fe Trail Museum
606 Maxwell Avenue
Springer, NM 87747
505-483-5554
Sante Fe National Historic Trail Junior Ranger Programs
Earn a Santa Fe National Historic Trail Junior Ranger badge to show how much you have learned about the trail. You can pick up the junior ranger program at Pecos NHS, Fort Union NM, Fort Larned NHS, Capulin Volcano NM and Bent's Old Fort National Historic Site
If you are planning to explore the entire Sante FE NHT you can dive into the official Junior Wagon Master for the Santa Fe National Historic Trail! This program is in depth and includes visits to all of the sites along the trail. You can earn up to four patches by traveling the trail.