Complete Guide to Pecos National Historical Park in New Mexico, including things to do, history, nearby lodging and camping, directions, and so much more.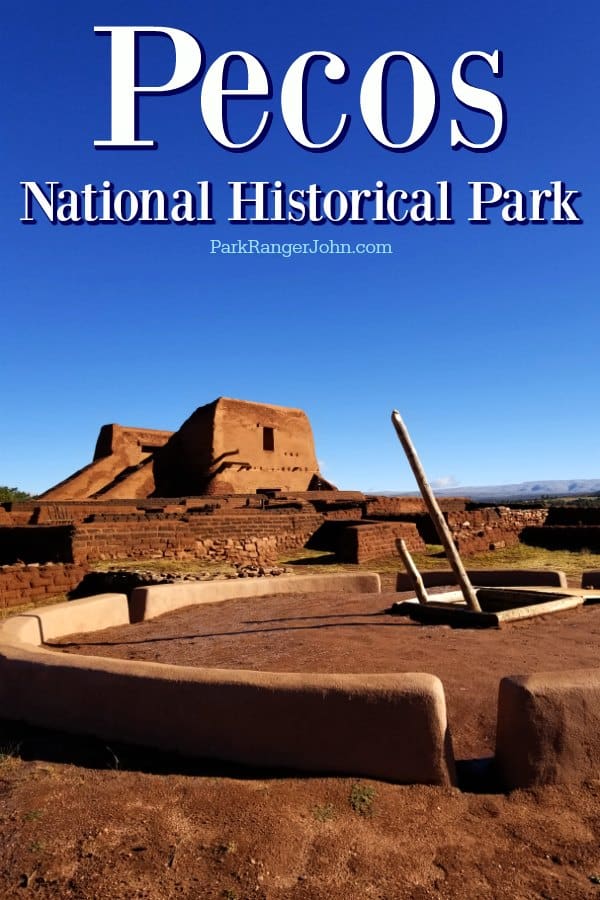 Pecos National Historical Park
Pecos National Historical Park located near Sante Fe, New Mexico encompasses history from pre-Columbian Native Americans, the era of the Spanish War, an 1862 Civil War Battle, and 20th-century tourism and ranching.
About Pecos National Historical Park
This park is pretty eclectic and has a ton to see and do. There are a couple of self-guided trails that are the perfect way to get out and explore the park.
Pecos National Historical Park is an incredible destination for history and culture buffs alike. This beautiful park features the ruins of an ancient pueblo village, a 17th-century mission church, and a visitors' center with exhibits that offer insight into the area's past.
In addition to appreciating its vast array of historical sites, you can also enjoy nature adventures such as hiking or birdwatching in its gorgeous natural setting—making it truly worth your while.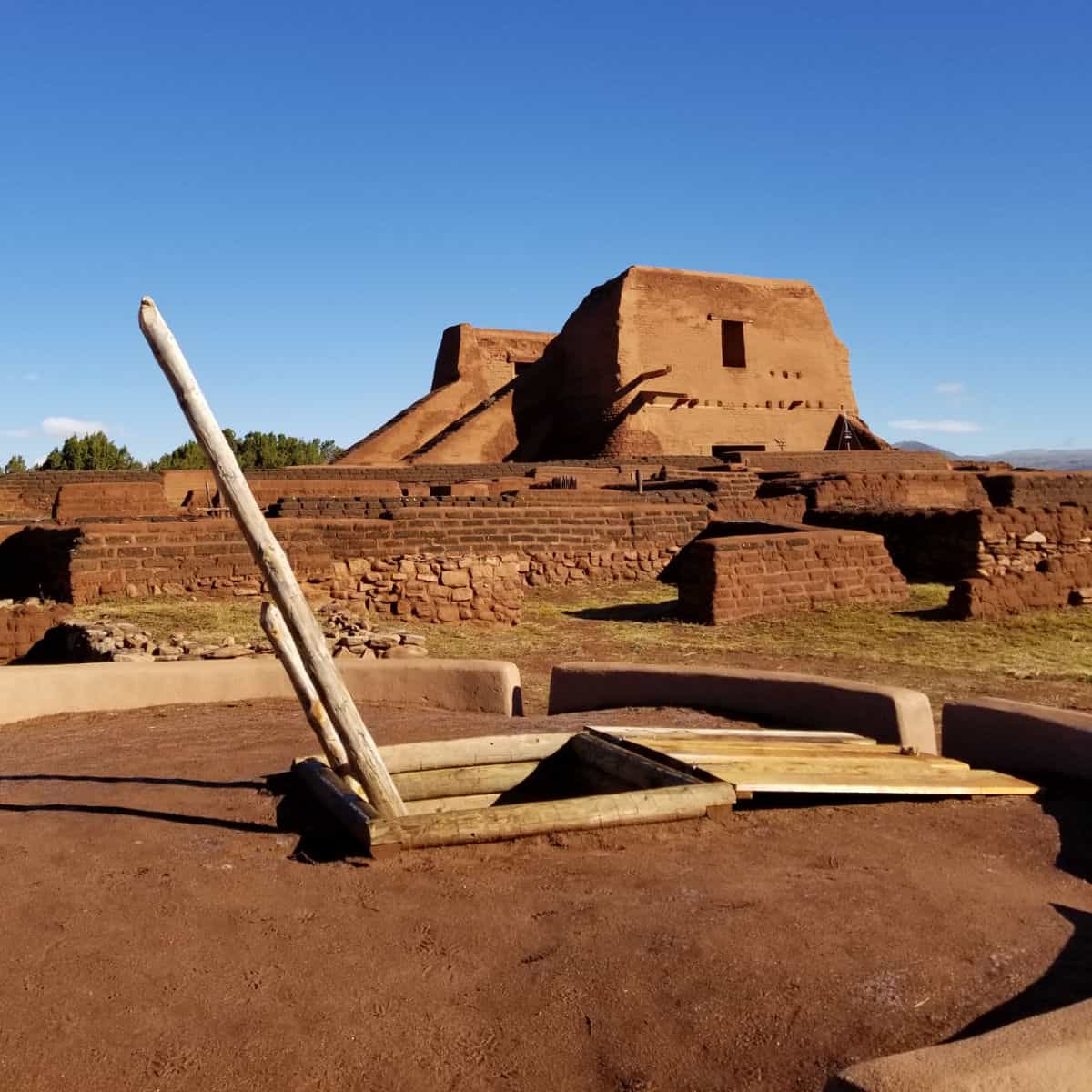 Is Pecos National Historical Park worth visiting?
Yes! We found the park really interesting and so fun to walk through. The historic buildings are amazing and well worth taking time to walk out to.
History of Pecos National Historical Park
Pecos National Historical Park is a unique blend of rich cultural and natural history. The park covers 5,000 acres and preserves the heritage of the Pecos Pueblo people while protecting and interpreting sites that relate to the Spanish colonization of America, the Westward Expansion, and the American Civil War.
The People of Pecos
The Pecos Valley has been home to humans for thousands of years. It was home to Paleoindian and Archaic hunter-gatherers. Slowly, the nomadic hunter-gatherers began to grow crops and build semi-permanent subterranean pit houses.
By 1100 AD, the region's inhabitants began living in permanent above-ground homes in multi-family villages called pueblos. The people who inhabited the permanent villages were the Pueblo people, who spoke the Towa language, grew beans, corn, and squash, and had an intricate ceremonial religious life.
These villages consisted of multistory structures that housed thousands of rooms and people. The largest pueblo in the Southwest was housed in what are now the Pecos Pueblo ruins. This regional power was originally called Cicuye (meaning 500 warriors). The Pecos Pueblo ruins found in the Pecos National Historical Park preserve an important period of Pueblo history.
The Pecos Pueblo Ruins
The Pecos pueblo became a hub of trade that brought together the Plains Indians and those who lived in the Rio Grande Valley to trade amongst themselves.
Here, the Pecos Pueblo people traded seven different types of ceramic wares, along with surplus crops. The Plains Indians came to trade slaves, buffalo furs, shells, and flint. Farming communities of the Rio Grande Valley and the Pecos Pueblo supplied them with produce, textiles, and wares.
The ruins house over 20 Kivas. These are underground, circular, pit houses used for ceremonial purposes and show just how important religious life was to the people of the village. The Kivas had a hole in the ground which represented a connection to the Underworld, where it was believed the Pueblo people came from.
At its peak, the multi-story Pecos pueblo housed over 2,000 people. The population began to decline, with only 300 people living there in the 1780s due to disease and conflict. The Pecos Pueblo occupied the pueblo until 1830, when, like many other Native groups, they were forced to relocate.
Eventually, the Pecos Ruins were a key landmark for travelers on the Santa Fe Trail. The ruins were a popular stopping point for traders and pioneers.
The Spanish
In 1540 the first Spanish conquistadors arrived in the village of Cicuye. Francisco Vasquez de Coronado journeyed to the Southwest in his search for the mythical seven cities of gold, known as Cibola. The Pecos Pueblo people welcomed the Spanish explorers into their town with music and gifts.
Coronado and his men stayed for the winter at the pueblo but moved on from Cicuye to continue their search for riches. Coronado and his men returned to Mexico empty-handed. 60 years after Coronado's failed exploration, more Spanish arrived in the region.
The new Spanish visitors to the region had a different objective to Coronado, their goal was to find silver. In their search for silver, they were to colonize the Pueblo territory and convert its inhabitants to Christianity.
In 1598 the first Franciscan friar was assigned to the Pecos Pueblo by Don Juan de Oñate. The friar began by smashing Pueblo idols which did not further the Spanish cause, it only served to ignite feelings of resentment among the villagers.
In 1621 Fray Andrés Juárez was sent to the pueblo as a healer and builder. Under the guidance of this Franciscan missionary, one of the most impressive mission churches was built. The Pecos Pueblo people built the adobe structure just south of their village.
The Pueblo Revolt
It was not long until the Pecos Pueblo people grew to resent the Spanish influence over their lives. On August 10th, 1680 the Pueblo people rose against the Franciscan friars and the rule of the Spanish government.
The revolt successfully banished the Spanish from Pueblo lands for twelve years. It wasn't until 1692 that Diego de Vargas led an expedition to the lost territory. The Pecos Pueblo community sided with the Spanish once more.
The Spanish Mission
In 1717, a new Spanish mission was constructed on the ruins of the old church called the Nuestra Señora de los Ángeles de Porciúncula de los Peco. The members of the community served the church. The ruins of this mission are still visible today at the National Historical Park.
The ruins of Pecos Pueblo can be seen while visiting the park.
The Santa Fe Trail
Established in the early 1800s, the Santa Fe Trail was a crucial trade route that connected Missouri to Santa Fe, New Mexico. The Santa Fe Trail was used by traders, settlers, and military personnel for over 50 years.
During the Westward expansion, many travelers would rest at Kozlowski's Stage Stop and Trading Post to break their arduous journey. Many of these tired travelers spent time exploring the ruins of the Spanish mission and the Pecos Pueblo village.
When war broke out in America in 1861, the Santa Fe Trail was used by both the Union and Confederates as a transport corridor. In 1862 the decisive Civil War Battle of Glorieta Pass took place on a 2-mile stretch of the Santa Fe Trail.
The Battle of Glorieta Pass
The Battle of Glorieta Pass took place between the 26th and 18th of March, 1862. This battle was a decisive victory for the Union.
In the Spring of 1862, Confederate forces under the command of General Henry H. Sibley had established control of the territory of New Mexico. The Confederates made their way up the Rio Grande River trying to take any Union strongholds and gain as much territory as they could.
Glorieta Pass was strategically important to the Union, as it was the transport route used to reach Fort Union. As Confederate forces marched towards the frigid mountain pass, a column of just over 400 Union soldiers under the command of Colonel John P. Slough were making their way there too.
On the morning of March 26th, the Confederate soldiers on the Santa Fe Trail came into contact with the Union forces. Heavy fighting ensued during which the Confederates were pushed back, with many of the soldiers being captured by the Union.
On March 28th, both sides having been reinforced during the night, the battle continued in earnest with fighting continuing until nightfall. During the battle, 500 Union soldiers destroyed the Confederate camp.
The Confederates, despite pushing the Union forces back, failed to break their lines. The description of the Confederate's camp and supplies ultimately lost them the Battle of Glorieta Pass.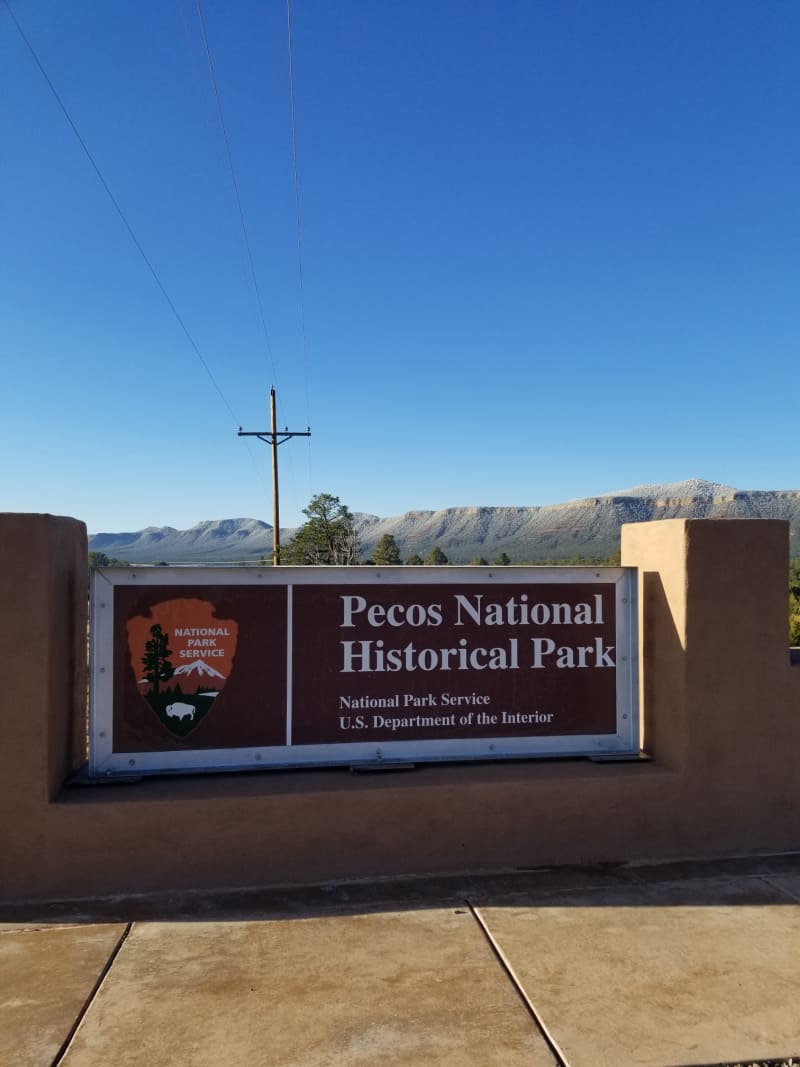 Things to know before your visit
Entrance fee
$0.00 - There is no entrance fee to visit the park.
Planning a National Park vacation? America the Beautiful/National Park Pass covers entrance fees for an entire year to all US National Park Sites and over 2,000 Federal Recreation Fee Sites.
The park pass covers everyone in the car for per vehicle sites and for up to 4 adults for per-person sites.
Buy on REI.com and REI will donate 10% of pass proceeds to the National Forest Foundation, National Park Foundation and the U.S. Endowment for Forestry & Communities.
Learn more about National Park Passes for parks that have an entrance fee.
Free Entrance Days -Mark your calendars with the five free entrance days the National Park Service offers annually.
Time Zone
Mountain Time Zone
Pets
Leashed pets are allowed on park trails. Pets are not allowed inside park buildings. Leashes cannot exceed 6 feet in length for both pets and service animals.
Dogs are allowed on the Ancestral Sites Trail and the Battlefield trail as long as they are leashed. They are NOT allowed on the South Pasture Loop Trail.
Cell Service
Cell service can be spotty at Pecos National Historical Park. It is recommended to check with your specific cell phone carrier for coverage in the area prior to visiting the park. Additionally, the park offers complimentary Wi-Fi near the Visitor Center for visitors to use.
Park Hours
Pecos National Historical Park is open year-round, but the hours may vary by season.
From Memorial Day to Labor Day (late May - early September), the park and Visitor Center are open from 8:00 am to 6:00 pm and 8:00 am to 5:00 pm respectively.
During winter months (early September - late May), visitors can come between 8:00 am and 4:30 pm for the park, with an earlier closing time of 4:00 pm at the Visitor Center.
All guests must be prepared to leave when the park closes each day; please note that Pecos NHP will be closed on Thanksgiving, Christmas, and New Year's Day.
Wi-Fi
Free Wi-Fi at the Visitor Center and other public areas of the park, with a password that can be obtained from the front desk.
Keep in mind that certain locations may have slow or disrupted signal due to network traffic and poor connectivity, as well as slower internet speed because of the remote location.
Insect Repellent
Insect repellent is always a great idea when outdoors, especially if you are around any body of water.
We use Permethrin Spray on our clothes before our park trips.
Water Bottle
Make sure to bring your own water bottle and plenty of water with you. Plastic water bottles are not sold in the park.
Parking
Pecos NHP offers a large parking lot for visitors, conveniently located near the visitor center and easily accessible from the main entrance road. Best of all, there's no charge to park!
Food/Restaurants
Pecos National Historical Park does not have any restaurants or food services within its boundaries. However, visitors are welcome to bring their own snacks and drinks or purchase supplies at nearby convenience stores and restaurants.
The closest towns with dining options are Pecos and Santa Fe, both of which offer a variety of eateries for all tastes and budgets.
Popular places near the park include El Parasol, The Shed, Santa Fe Bite, and Tia Sophia's.
Gas
There are no gas stations within the Pecos National Historical Park. The nearest gas station is located approximately 4 miles to the west in the town of Pecos, New Mexico.
Drones
Drones are not permitted within National Park Sites.
Flying drones in Pecos National Historical Park is not allowed without prior written approval from the park's superintendent. This policy was implemented to protect visitors, wildlife, and cultural resources within the park boundaries.
If you wish to fly a drone for research or educational purposes, you will need to submit an application for review and possible approval. Even if your request is granted, there may be areas of the park where drone use remains prohibited.
National Park Passport Stamps
National Park Passport stamps can be found in the visitor center.
We use the Explorer Edition Passport Book that can be expanded and updated. This is a great way to track all of the parks you have visited over time.
Make sure to bring your National Park Passport Book with you or we like to pack these circle stickers so we don't have to bring our entire book with us.
Electric Vehicle Charging
The nearest charging stations are located about 20-30 miles away from the park in Santa Fe and Las Vegas, New Mexico.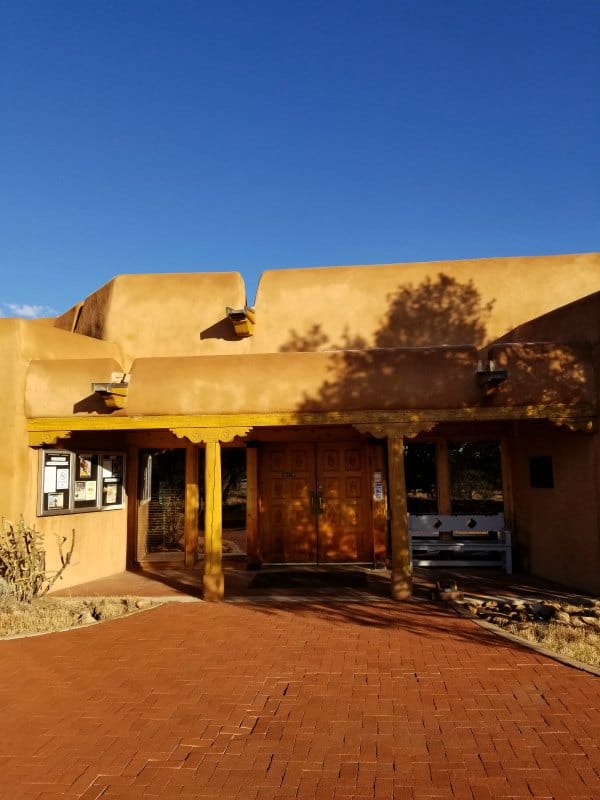 Details about Pecos National Historical Park
Size - 6,671 acres
Check out how the park compares to other National Parks by Size.
Date Established
June 28, 1965 - By President Lyndon Johnson as Pecos National Monument.
The two units of the Glorieta Pass Battlefield were formally added to the park in 1993.
Visitation
In 2022, Pecos NHP had 49,683 park visitors.
In 2021, Pecos NHP had 58,944 park visitors.
In 2020, Pecos NHP had 36,695 park visitors.
In 2019, Pecos NHP had 43,834 park visitors.
Learn more about the most visited and least visited National Parks in the US
National Park Address
1 Peach Drive
Pecos, NM 87552
United States
National Park Map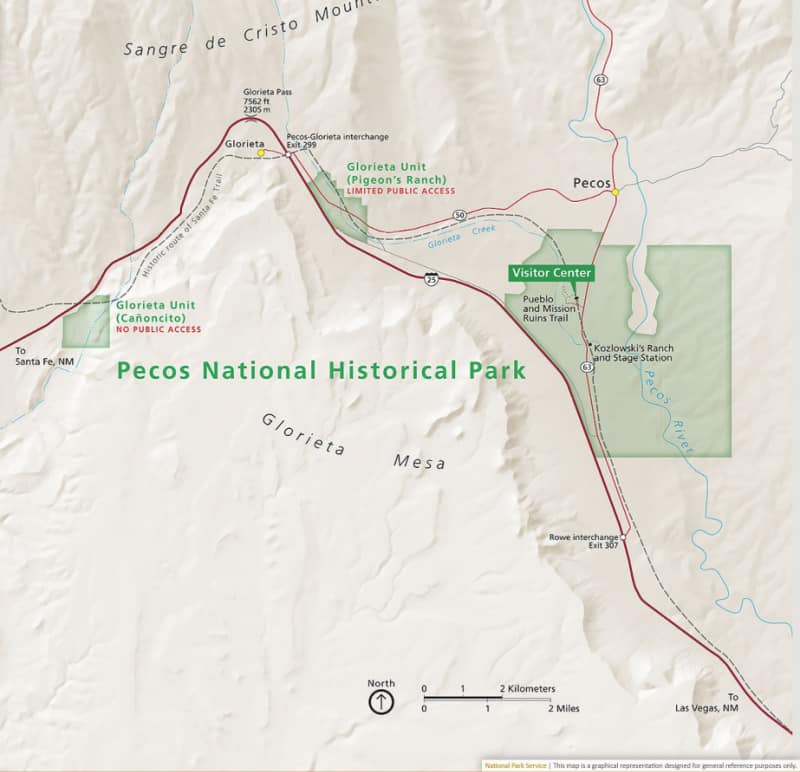 Where is Pecos National Historical Park?
Pecos National Historical Park is 25 miles east of Santa Fe, New Mexico off of Interstate 25.
Park phone number - (505)-757-7241
Estimated distance from major cities nearby
Santa Fe, NM: 30.5 miles
Las Vegas, NM: 43 miles

Albuquerque, NM: 87 miles

Taos, NM: 101 miles

Roswell, NM: 202 miles

El Paso, TX: 316 miles

Denver, CO: 368 miles

Phoenix, AZ: 503 miles

Oklahoma City, OK: 521miles

Dallas, TX: 628 miles
Estimated Distance from nearby National Park
Mesa Verde National Park - 329 miles
White Sands National Park - 182 miles
Guadalupe Mountains National Park - 214 miles
Great Sand Dunes National Park - 130 miles
Petrified Forest National Park - 328 miles
Grand Canyon National Park - 449 miles
Big Bend National Park - 363 miles
Where is the National Park Visitor Center?
The Pecos NHP Visitor Center is located at 1 Peach Drive, Pecos, NM 87552.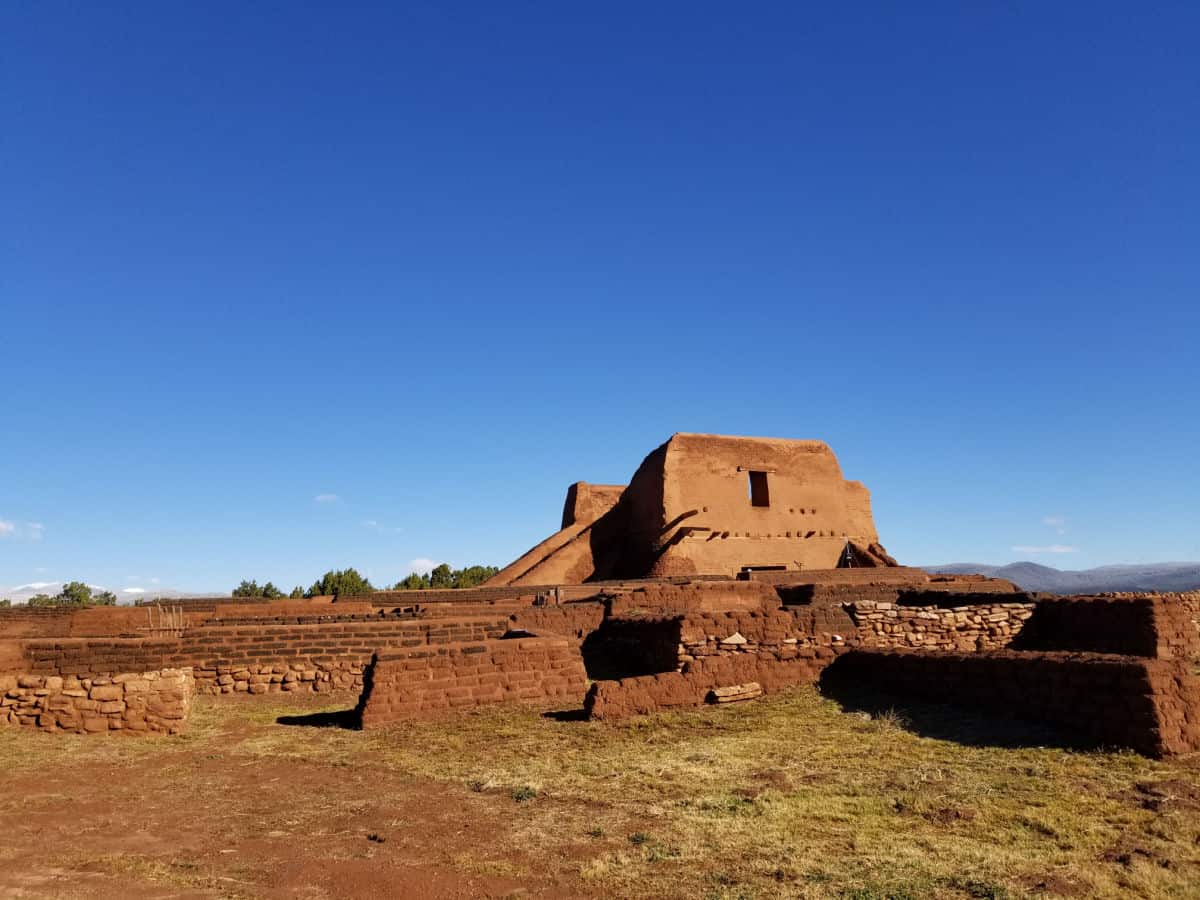 Getting to Pecos National Historical Park
Closest Airports
Santa Fe Regional Airport (SAF) - 35 miles away

International Airports
Albuquerque International Sunport (ABQ) -68 miles

Denver International Airport (DEN) - 363 miles
Regional Airports
Albuquerque International Sunport (ABQ): 90 miles away

San Luis Valley Regional Airport (ALS): 170 miles away.

Roswell International Air Center (ROW):211 miles away.

El Paso International Airport (ELP) : 310 miles away.
Driving Directions
From Santa Fe, take I-25 north for about 16 miles.
Take Exit 299 for Pecos National Historical Park and Route 50.
Turn right onto Route 50 and follow the signs for Pecos National Historical Park.
After about 5 miles, turn left onto State Road 63.
Continue for approximately 2.5 miles until you reach the park entrance on your right.
Note: If you're coming from the north, you can take Exit 307 at Pecos and follow the signs for the park.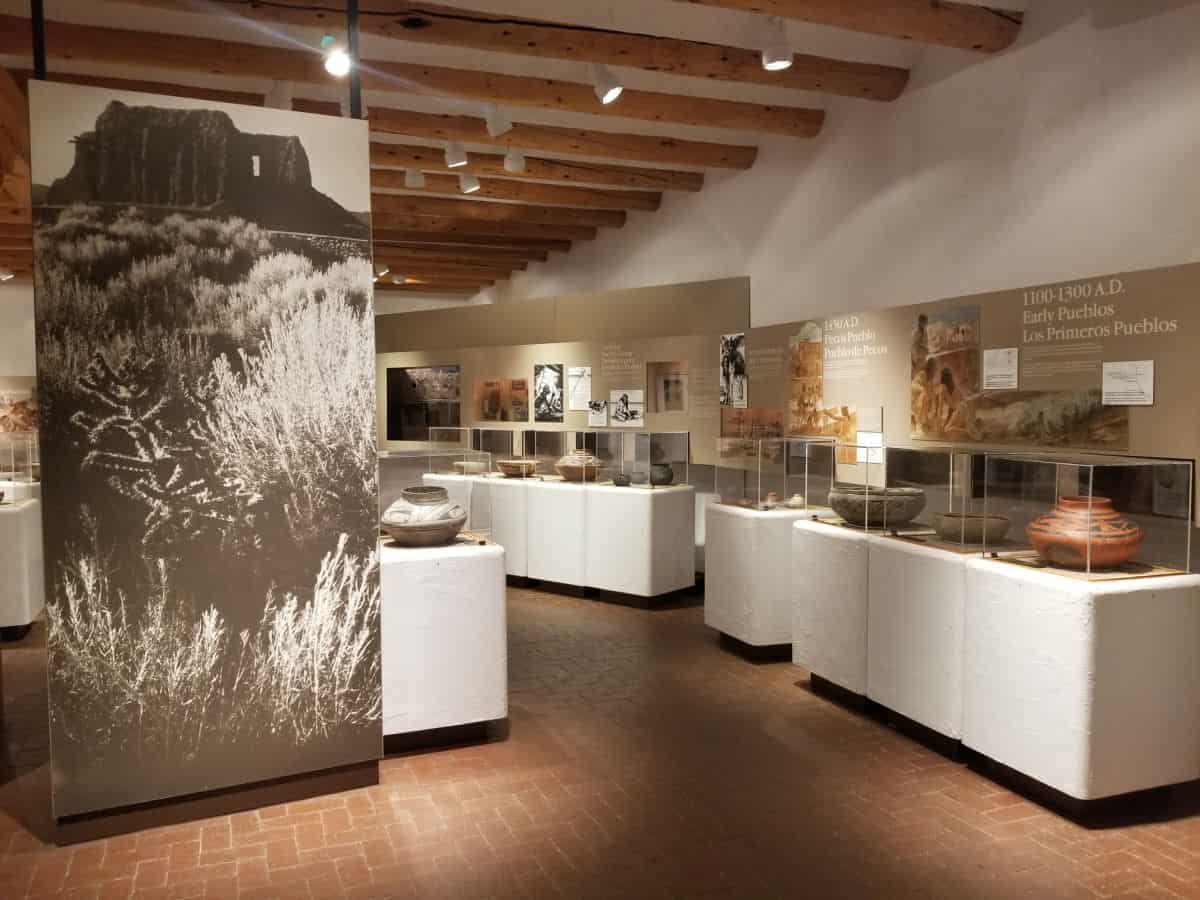 Best time to visit
For those looking to visit Pecos National Historical Park in New Mexico, the fall (September through November) and spring (March through May) provide the optimal time for outdoor activities with mild temperatures, pleasant weather, beautiful foliage, and vibrant wildflowers, respectively.
Alternatively, you can visit during the summer months (June through August), though be aware that temperatures often reach above 90 degrees.
Weather and Seasons
Summer months tend to be hot, with temperatures reaching 80 degrees, and occasional afternoon thunderstorms.
Fall brings mild weather with highs, usually around 60 degrees. Winter can be cold and bring snowfall when lows reach 20 degrees, while spring is breezier with average high temperatures above 70 degrees.
To ensure you have an enjoyable time during your visit, it's best to review the local weather forecast before coming.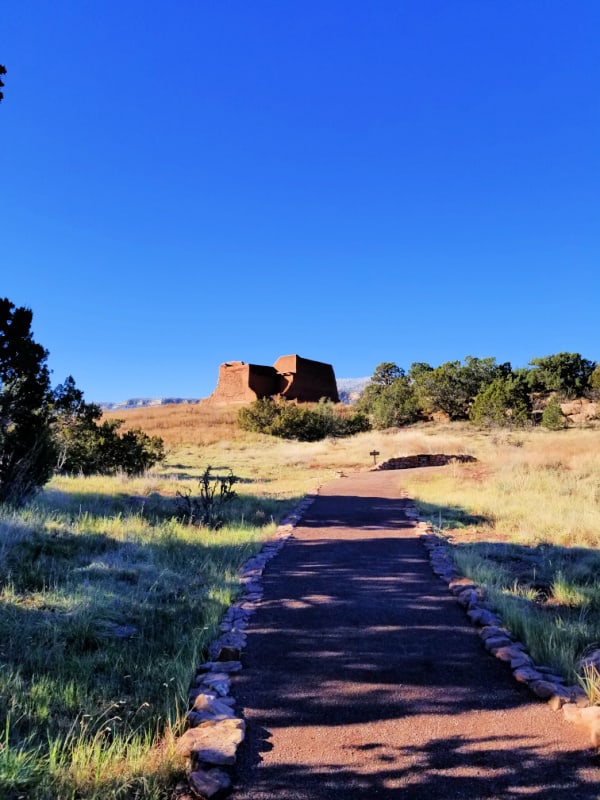 Best Things to do in Pecos National Historical Park
The Pecos National Historical Park in New Mexico offers a wide variety of amazing activities to enjoy. From visiting the ruins of an ancient pueblo, hiking scenic trails, or going fishing along the Pecos River - there is something for everyone!
If you're looking for a unique and exciting adventure, be sure to check out what Pecos has to offer.
E.E. Fogelson Visitor Center
The Pecos National Historical Park visitor center is the perfect place to start your visit to the park.
There is a nice size museum detailing the history of the park, a great bookstore, and even a seating area you can relax with your kids and read one of the park books.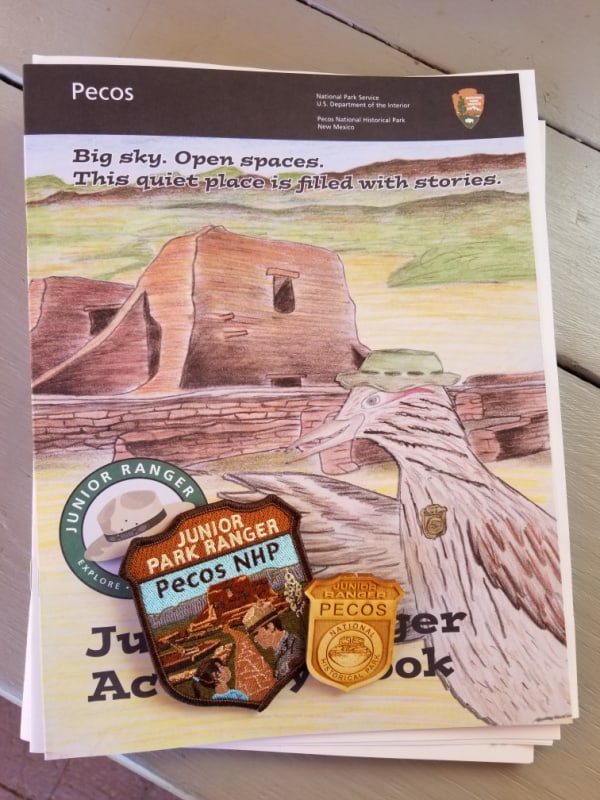 The Pecos NHP Junior Ranger program can be completed within the visitor center and by walking around the park. I would plan on at least 30 minutes depending on the age of the participant.
You can print a copy of the Junior Ranger Booklet before your visit if you would like to start learning about the park ahead of time.
Park Film
Pecos NHP has a 12-minute film detailing the history of the park. Pre-warning the movie is a bit dry and the speaker is monotone.
Make sure you are prepared! If you have not had a good nights sleep and you sit in the warm room you may end up with a 12-minute nap that is completely unplanned. 🙂
Ranger Guided Tour
All guided tours are subject to Park Rangers or Volunteer Availability. Check the parks website for current tour schedules here.
Ancestral Sites Tour (1 hour)
Civil War Walking Tour (1.5 hours)
Forked Lightning Ranch House Tour (1.5 hours)
Battlefield Hike (2 hours)
Ranger-guided tours are a great way to learn more about the history of Pecos NHP and see the Forked Lightning Ranch House!
Go Fly Fishing
Three miles of the Pecos River can be found within the park.
Reservations are required and can be made up to 30 days in advance at www.recreation.gov or by calling 1-877-444-6777 Your reservation is for a fishing time only.
It is not a permit to fish. All anglers with reservations must check-in at the visitor center to receive the fishing permit. Fishing reservations are $15 per person.
Sante Fe Trail Sites
In Pecos NHP, you can see wagon ruts and trading posts. At Pecos National Historical Park, you can step back in time at Kozlowski's Stage Stop and Trading Post.
Sante Fe Trail trade was an important part of westward expansion. The strategic location of Pecos NM made it an important area.
Civil War Encampment
Pecos National Historical Park commemorates the Battle of Glorieta Pass each year by putting together a Civil War Encampment.
Las Posadas Festivities
During December the park has Las Posadas festivities that include lining the walkway from the church to the visitor center with hundreds of lanterns.
Route 66
From 1926 to 1937, the original Route 66 followed the Old Pecos Trail from Santa Rosa through Pecos to Sante Fe.
In 1937, Route 66 re-routed Highway 66 to Albuquerque and bypassed Santa Fe (and Pecos) altogether.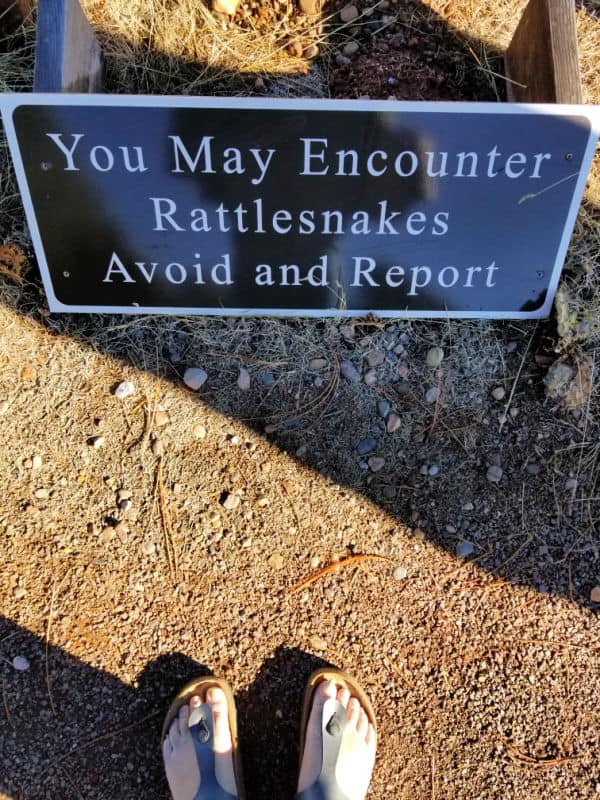 Hiking
Always carry the 10 essentials for outdoor survival when exploring. Rattlesnakes can be present along the trail, especially during the summer months.
The trail is made with small rocks. You will want to have closed-toed shoes or you will spend most of the walk trying to get rocks out of your shoes. My wife had on Birkenstocks and was not very happy as small rocks kept getting into her shoes.
There is not a lot of shade along the hiking trails. Be prepared with sunglasses, sunscreen, a hat, and water.
Make sure you do not climb on the walls or have kids that climb on the walls. Snakes love to hide and blend in with the rocks and this is not the way you want to meet the park wildlife.
Rattlesnake sightings are reported to the park two to three times a week during spring, summer and fall months.
Pecos Pueblos and Mission Church (Ancestral Sites Trail)
There is a self-guided 1.25-mile ruins trail that leads you to the Pecos pueblo and mission church sites.
1.25 mile/2 km roundtrip loop
Difficulty: Easy (mostly paved)
Elevation Change: 80 ft/23 m
Make sure you use the bathroom at the visitor center and have water with you. There are no services available along the trail.
Civil War Battlefield Trail - Glorieta Battlefield Trail
The Civil War Battlefield Trail is a 2.3-mile self-guided trail. Make sure and check-in with the visitor center to get the gate code to access the trail. The trailhead is a 7.5-mile drive from the visitor center.
2.25 mile/3.6 km round trip loop
Difficulty: Moderately Strenuous (unpaved/gravel)
Elevation Change: 500 ft/152 m
South Pasture Loop Trail
One thing to know about the South Pasture trail is pets are not allowed!
3.8 mile/6.12 km roundtrip loop
Difficulty: Easy to Moderate (gravel/dirt)
Elevation Change: 100 ft/30 m
The trail is open 7 days a week, the last entry into the trail is 1 pm and the trail closes at 3 pm every day.
This old ranching road-turned-trail starts out at Fishing Beat 3 and winds its way through pasture lands. As you hike along the trail, you'll pass through a grove of cottonwoods along the Pecos River. The trail then loops back through pasture lands before ending at Fishing Beat 3.
This trail has expansive views of the Pecos River, Sangre de Cristo Mountains, and Glorieta Mesa.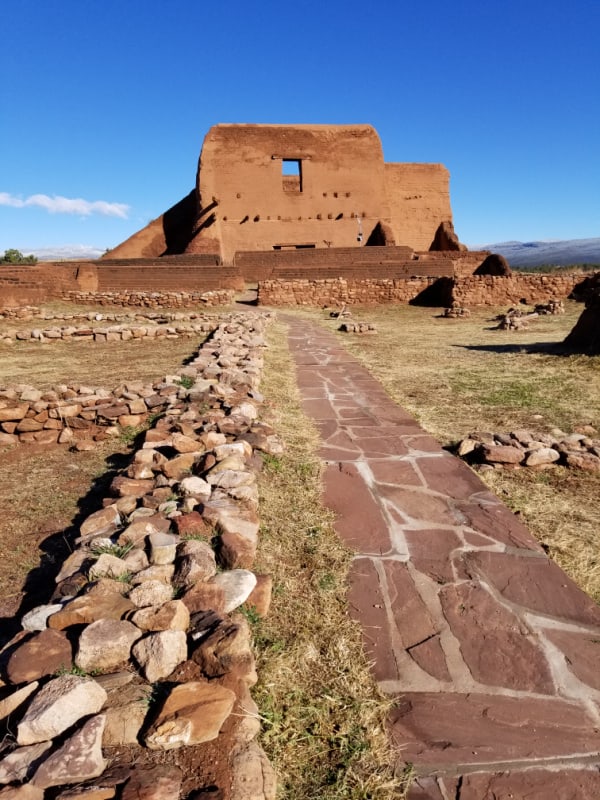 How to beat the crowds?
Visiting Pecos National Park during the off-season is a great way to beat large crowds and enjoy an optimal sightseeing experience.
Pack plenty of snacks, water, sunscreen, maps, cell phones with service (in case of emergency), and comfortable shoes for hiking on trails or exploring historic sites and monuments within the park boundaries.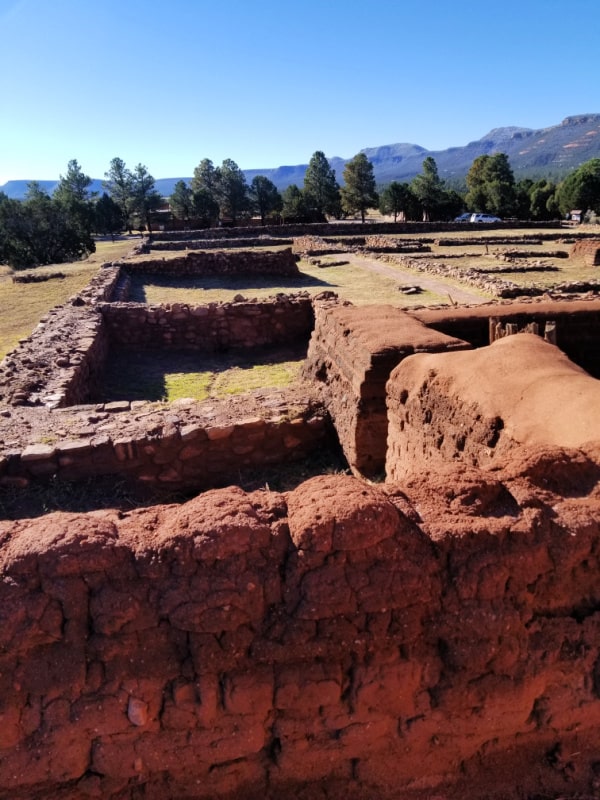 Where to stay when visiting
There are no National Park Lodges within the park.
Nearby Lodging includes:
Pecos Trail Inn - This lodge is located just 5 minutes away from Pecos National Historical Park. It offers comfortable rooms, free Wi-Fi, and a complimentary continental breakfast.
Hilton Santa Fe Historic Plaza - 4-star historic hotel located in Downtown Santa Fe. Located close to Lensic Performing Arts Center and Georgia O'Keefe Museum, Hilton Santa Fe Historic Plaza provides a coffee shop/café, dry cleaning/laundry services, and a fireplace in the lobby. Skiers and snowboarders can spend time on the slopes at this hotel featuring a ski shuttle. For some rest and relaxation, visit the hot tub. Enjoy a meal at the two onsite restaurants. In addition to a bar and a gym, guests can connect to free Wi-Fi in public areas.
Residence Inn by Marriott Santa Fe - 3-star hotel in the business district. Located close to Museum of International Folk Art and Museum of Indian Arts and Culture, Residence Inn by Marriott Santa Fe provides a free breakfast buffet, a free grocery shopping service, and a free manager's reception. For some rest and relaxation, visit the hot tub. Enjoy the gym, as well as activities like volleyball and basketball. Stay connected with free in-room Wi-Fi, and guests can find other amenities such as dry cleaning/laundry services and a snack bar/deli.
Click on the map below to see current vacation rentals and lodges near the park.


Camping
There are no National Park Campgrounds within the park. The Santa Fe National Forest just north of the park on NM Highway 63
For a fun adventure check out Escape Campervans. These campervans have built in beds, kitchen area with refrigerators, and more. You can have them fully set up with kitchen supplies, bedding, and other fun extras. They are painted with epic designs you can't miss!
Escape Campervans has offices in Vancouver, Seattle, Portland, San Francisco, Las Vegas, Los Angeles, Phoenix, Salt Lake City, Denver, Chicago, New York, and Orlando
Parks Near Pecos National Historical Park
Bandelier National Monument - 69 miles
Valles Caldera National Preserve - 78 miles
Fort Union National Memorial - 70 miles
Capulin Volcano National Memorial - 180 miles
Petroglyph National Memorial - 85 miles
Check out all of the National Parks in New Mexico and neighboring Arizona National Parks, Texas National Parks, Oklahoma National Parks, Colorado National Parks, and National Parks in Utah.