Below you'll find the ultimate guide to Petrified Forest National Park. This guide contains everything you'll need to know for planning a trip to the park, including opening hours, info about the area, best things to do, hiking trails, how to avoid the crowds, and more.

Petrified Forest National Park
Petrified Forest National Park has many natural wonders to see with the petrified wood and multi-colored badlands in the Painted Desert being just some of these.
You can also take in the Painted Desert Inn which has been named a National Historic Landmark and was a working inn for many years before being closed in 1963 due to severe structural damage to the Inn.
About Petrified Forest National Park
Petrified Forest National Park is a hidden Arizona gem that often flies under the radar in comparison to other nearby parks like the Grand Canyon and Mesa Verde.
While it may lack the same grandeur, Petrified Forest National Park is breathtaking in its own sense, and the best part is, there are hardly ever any large crowds, even during the busiest time of year.
The park is also easy to visit in a single day due to its small size. What it lacks in stature, it more than makes up for in incredible historical sites, beautiful landscapes, and impressive archeological offerings.
If all that wasn't enough, the park is also home to one of the largest petrified forests in the entire world! So, what are you waiting for? Continue reading and start planning your trip to Petrified Forest National Park.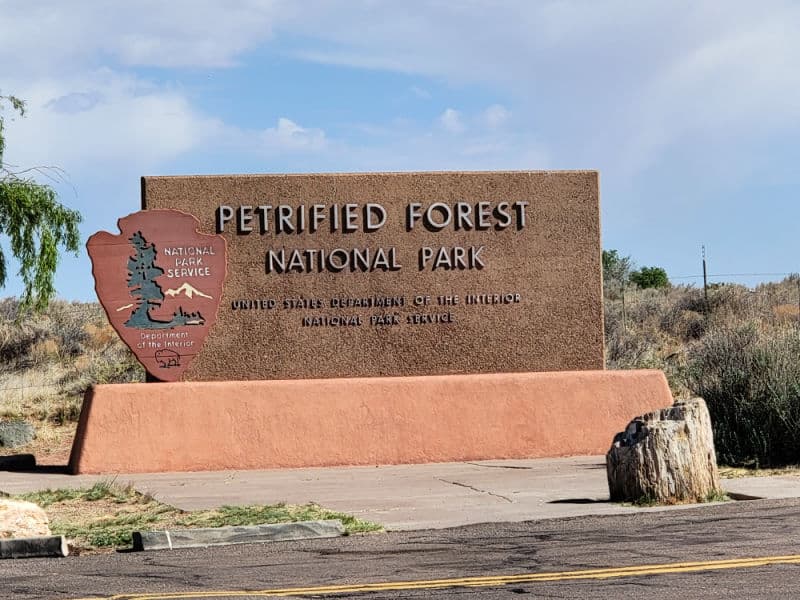 Is Petrified Forest National Park worth visiting?
Many people zoom right past Petrified Forest National Park located right off Exit #311 on Interstate 40 every single day.
These people are either in a hurry to see the major sights like the Grand Canyon or simply have other plans and miss out on a real gem, Petrified Forest National Park!
Those who take just a few hours to stop in will have enough time to be treated to many of the park's top sites.
History of Petrified Forest National Park
Eastern Arizona is home to one of the United States' most famous national parks. Petrified Forest National Park contains thousands of acres of preserved wilderness, hundreds of pre-European Amerindian artifacts, and flora and fauna fossils stretching back millions of years.
This area has been federally protected since the early 1900s and welcomes over half of a million visitors each year. Visit the park to learn about plant and animal life from the past 250 million years.
Geology of Petrified Forest National Park
Millions of years of Petrified Forest National Park's history is a mystery. If solving the mystery is possible, it will require geologists to travel around the world.
Like many natural wonders spread across the American West, much of Petrified Forest National Park's beauty lies in its exposed hillsides. The hillsides within the park reveal layer upon layer of earth's history.
Here is where the mystery comes in: erosional forces have wiped away softer upper layers from most of the park's hills. The topmost layers are the most modern layers of sediment, dating back to only the past few million years.
These nascent layers sit directly atop sediments dating back to the Triassic, more than 200 million years ago! Two hundred million years of geologic history has been windswept and washed out of the park.
However, the 200-million-year-old layers dating back to the Triassic are filled with well-preserved fossils of ancient flora and fauna. This layer is referred to as the Chinle Formation.
Western Interior Seaway and the Petrified Forest
The Chinle Formation is nearly 1000 feet thick in some places. This broad swath of geologic history was formed on the edge of what was once a great inland sea that stretched from modern Alaska to the Gulf of Mexico.
The location of Petrified Forest National Park was along this ancient sea's coastline, which meant that the area was often inundated by water flooding down to the sea from nearby mountains.
Floods, mudslides, and fracturing from tectonic uplift sent millions of rocks, trees, and animals over millions years cascading into the sea. Some of these rocks, trees, and animals were entombed in coastal mud. As time, pressure, and volcanic ash were applied to the specimens buried in the mud, they were fossilized.
Several genuses of trees, dozens of dinosaurs, vertebrates, invertebrates, and over two-hundred plant species have been discovered in the park's fossil record. An incredible glimpse into the Earth's evolutionary past is given thanks to erosional forces and ancient mudslides.
Native Americans at Petrified Forest National Park
Native Americans have roamed the canyons, hills, and arroyos of Petrified Forest National Park for more than 10,000 years. Evidence of huge strides in technology and living arrangements are all present within the park.
The Clovis and Folsom
The earliest identified Native American cultural group to be identified in North America is the Clovis. The Clovis are identified as the first group to enter into North America via the Beringia Land Bridge which connected North America and Asia during the last ice age.
The Clovis people made their into a hunter's paradise. Massive mammals roamed the North American continent. The arrival of the Clovis and the decline of the last Ice Age led to the Quaternary Extinction event in which most of the megafauna across North America went extinct.
Within Petrified Forest National Park, indication of Clovis culture has been identified through their unique arrow and spear points, as well as some camping spots. Following the Clovis, the Folsom people hunted and gathered in the area. Many examples of the Folsom people's fluted points have been found at the park.
The Ancestral Pueblo
Following the Folsom People, the Ancestral Puebloan people occupied the area that is now Petrified Forest National Park. The Ancestral Puebloans initially lived in small communities composed of pit houses.
Pit houses are structures whose floors are dug down several feet below the surface, usually in a circular shape. Short walls with angled roofs of branches, logs, and grasses complete the structure. Pit houses were the primary domicile for nearly 1,000 years before grander structures began to be built in the 1300s.
The buildings most associated with the Ancestral Puebloans are the pueblos which often were several stories high with hundreds of rooms. Petrified Forest National Park is home to Puerco Pueblo. Surprising to many, changes in diet likely made such structures possible.
Maize or corn was introduced into the Southwest U.S. through the spread of Central American culture. Maize, along with beans and squash, became the staples of the Ancestral Puebloan diet. As settled agriculture became reliable, Ancestral Puebloan population blossomed and more societal specialization occurred. Throughout the Southwest an age of pueblo megastructures occurred during the 13th and 14th centuries.
This rapid technology and population boom quickly faded, though. By around 1450, most major pueblos were abandoned as Ancestral Puebloans moved out of the desert Southwest, often merging with and forming new groups.
European Arrival to the Petrified Forest
The park contains petroglyphs dating back over 2,000 years. These pictures are tapped into the darkened, oxidized surfaces of the park's cliff walls. Although the Spanish considered themselves sovereign over the area in the 1500s, the first evidence of the Spanish within the park is not until the late-1800s.
It is presumed that the Spanish passed through the area as they traveled between their Santa Fe Colony and the Pacific Ocean, but evidence is scant. A few names have been scrawled into the rock, but those names date to the 19th century.
Following the Mexican-American War, the U.S. took over what is Petrified Forest National Park today. Excursions into the area happened within only five years. For the first time the ubiquitous presence of stone trees, or petrified trees, was made public knowledge.
The first explorer officially tasked with charting the area by the U.S. government, Amiel Whipple, called the area Lithodendron, Latin for Stone Tree. Later explorers were tasked with enhancing Whipple's road through the petrified forest. Some employed the help of camels to get their jobs done.
When the southern transcontinental line was created that ran through the park, a few small waypoints popped up along the tracks. These towns became launch pads from which to explore the stone tree ruins. Visitors began carting off literal tons of petrified wood.
In part through the influence of John Muir, Teddy Roosevelt helped to create Petrified Forest National Park. The park has been added to over the years, more than tripling in size. Today the park encompasses 340 square miles.
Petrified Forest National Park is a must visit on the list of the United States National Parks list. It contains millions of years of flora and fauna history as well as evidence of some of the earliest human occupation of the Americas. It is a geological wonder laden with fossils of ancient wonders.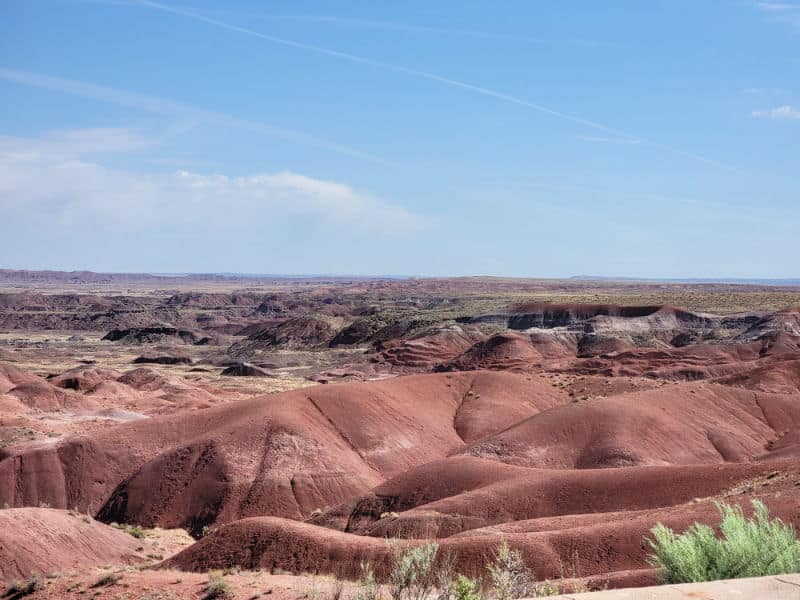 Things to know before your visit to Petrified Forest National Park
Entrance fee
7-day single-vehicle park pass - $25
7-day individual park pass - $15
7-day motorcycle park pass - $20
Annual Park Pass - $45
Valid for one year through the month of purchase. Admits one private, non-commercial vehicle or its pass holder.
Planning a National Park vacation? America the Beautiful/National Park Pass covers entrance fees for an entire year to all US National Park Sites and over 2,000 Federal Recreation Fee Sites.
The park pass covers everyone in the car for per vehicle sites and for up to 4 adults for per-person sites.
Buy on REI.com and REI will donate 10% of pass proceeds to the National Forest Foundation, National Park Foundation and the U.S. Endowment for Forestry & Communities.
Learn more about National Park Passes for parks that have an entrance fee.
Free Entrance Days -Mark your calendars with the five free entrance days the National Park Service offers annually.
Time Zone
MST - Mountain Standard Time
Arizona does not observe daylight savings time.
Pets
Pets are allowed on Petrified Forest National Park trails, paved roads, and official wilderness areas, but they must be kept on a leash at all times.
Pets are not allowed in buildings.
There is a "pet relief" area at the Painted Desert Visitor Center parking lot.
Cell Service
Cell service is available throughout most of the park, even in the backcountry. However, there are a few dead spots. Note that connection can vary and depends on your provider.
Park Hours
The park is open year-round from 8:00 am-5:00 pm with the exception of Thanksgiving and Christmas (the park is closed on these two holidays).
Wi-Fi
Free, public Wi-Fi is available around the Painted Desert Visitor Center and Complex. Wi-Fi at Rainbow Forest Museum is very spotty.
Insect Repellent
Insect repellent is always a great idea when outdoors, especially if you are around any body of water.
We use Permethrin Spray on our clothes before our park trips.
Water Bottle
Make sure to bring your own water bottle and plenty of water with you. Plastic water bottles are not sold in the park.
Parking
Parking is available at both visitor centers and at the various lookout points throughout the park.
Food/Restaurants
There is one restaurant in the park - the café at the Painted Desert Visitor Center.
Gas
Petrified Forest is one of the only national parks with a gas station within park boundaries. So if you need to fill up, head to the retro style, Route 66 inspired gas station located at the Painted Desert Visitor Center.
Drones
Drones are not permitted within National Park Sites.
National Park Passport Stamps
National Park Passport stamps can be found in the visitor center.
Make sure to bring your National Park Passport Book with you or we like to pack these circle stickers so we don't have to bring our entire book with us.
Petrified Forest is part of the 2006 Passport Stamp Set.
Electric Vehicle Charging
There are 2 EV charging stations located inside the park at the Painted Desert Visitor Center.
Other nearby EV charging stations can be found in Phoenix, Scottsdale, Tempe, Tucson, and Chandler.
Details about Petrified Forest National Park
Size - 221,390 Acres
Petrified Forest NP is currently ranked at 31 out of 63 National Parks by Size. acres
Date Established
The park was established as a National Monument by President Theodore Roosevelt in 1906.
The park was reclassified as a national park on December 9, 1962.
Visitation
In 2021, Petrified Forest NP had 590,334 park visitors.
In 2020, Petrified Forest NP had 384,483 park visitors.
In 2019, Petrified Forest NP had 643,588 park visitors.
Learn more about the most visited and least visited National Parks in the US
National Park Address
1 Park Road
Petrified Forest, AZ 86028
Petrified Forest National Park Map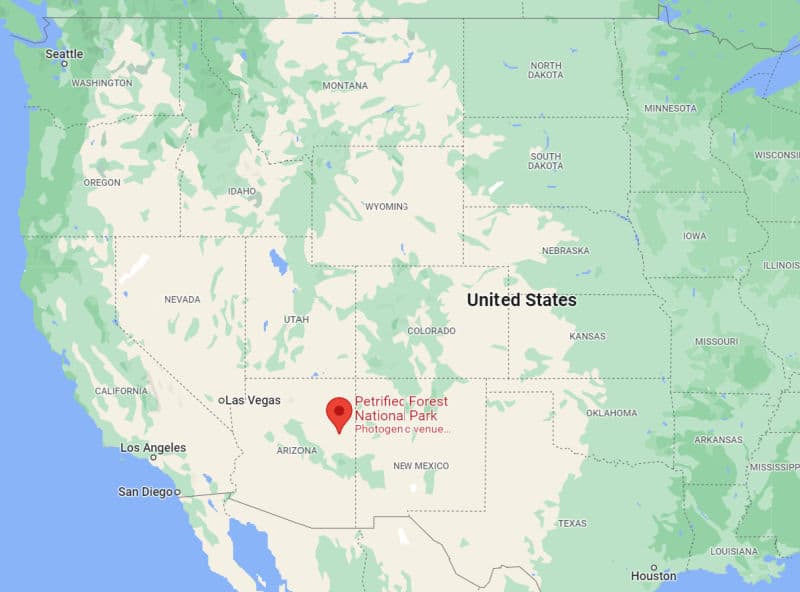 Where is Petrified Forest National Park?
Petrified Forest National Park is situated in the desert of northeastern Arizona along the scenic and historic Route 66.
The park has a few major interstates and highways along its edge, though it's far enough off the beaten path to allow visitors to truly immerse themselves in the wild surroundings.
Estimated distance from major cities nearby
Flagstaff, AZ - 113 miles
Sedona, AZ - 141 miles
Tusayan, AZ - 193 miles
Phoenix, AZ - 203 miles
Page, AZ - 229 miles
Las Vegas, NV -366 miles
Albuquerque, NM - 222 miles
Estimated Distance from nearby National Park
Grand Canyon National Park - 204 miles
Saguaro National Park - 249 miles
White Sands National Park - 367 miles
Mesa Verde National Park - 227 miles
Great Sand Dunes National Park - 451 miles
Zion National Park - 336 miles
Where is the National Park Visitor Center?
Painted Desert Visitor Center
The Painted Desert Visitor Center is located off of I-40 at exit 311 near the northern entrance.
The visitor center has a bookstore, park film, and rangers available for questions. There are a restaurant and gift store located next to the park visitor center.
GPS - 35.06573999166141, -109.7815916000765
Rainbow Forest Museum and Visitor Center
The Rainbow Forest Museum and Visitor Center is located off of Highway 180 near the southern entrance.
GPS - 34.81580058234117, -109.8632039641088
Getting to Petrified Forest National Park
Closest Airports
International Airports
Phoenix Sky Harbor International Airport (PHX)
Albuquerque International Sunport (ABQ)
Regional Airports
Phoenix Deer Valley Airport (DVT)
Flagstaff Pulliam Airport (FLG)
Gallup Municipal Airport (GUP)
Driving Directions
There are two entrances into the park - one at the north end of the park and one at the south.
You can enter via Exit 311 on I-40 for the north entrance, or travel along Highway 180 South to access the southern entrance.
The major park road does connect the two entrances, so you can enter through one entry and exit via the other if you wish.
This road is 28 miles and takes about 25 minutes to traverse, depending on how many times you stop to take in the views.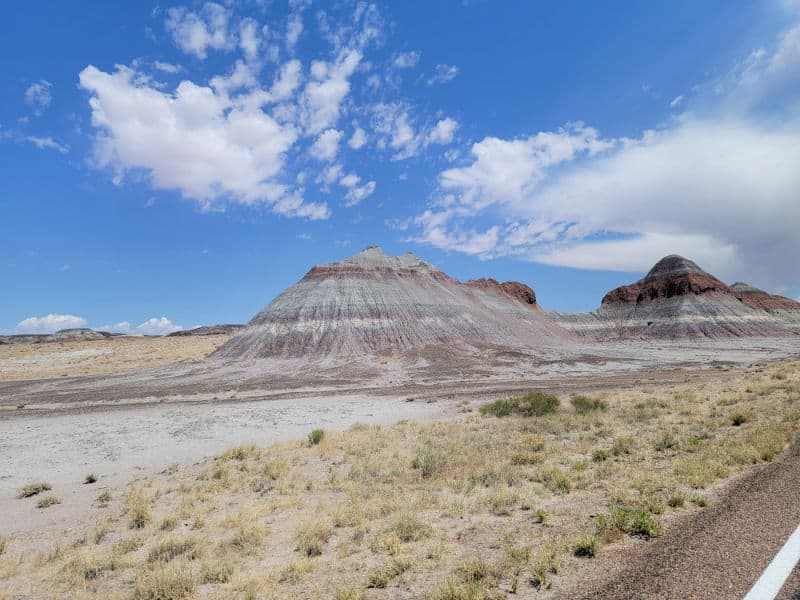 Best time to visit Petrified Forest National Park
While the park is open year-round (with the exception of a few holidays), some times are better to visit than others. Keep reading to learn more about the weather and seasons of Petrified Forest National Park.
Weather and Seasons
Spring
Spring is one of the best times to visit the park. The temperatures are pleasant, the crowds are sparse, and the colorful wildflowers are beginning to bloom.
Summer
Summer at Petrified Forest National Park brings soaring temperatures and big storm systems. But that doesn't stop the visitors from coming in droves. This is actually the busiest season at the park, though it rarely feels overcrowded.
It's entirely possible to have entire hiking trails to yourself during these months, but don't be surprised if you do see other visitors ambling around the park.
Temperatures can reach well into the 100s during the summer, so be sure to bring plenty of water and ample sun protection - especially if you plan on hitting the trails.
Hikers should also beware of summer thunderstorms, which don't last for long but are quite frequent. If you can outlast the rain, the wet rocks and hills are somehow even more vibrant after a storm!
Autumn/Fall
Fall may be the absolute best season to visit Petrified Forest National Park. The crowds thin out, and the temperatures are more bearable during these months. There's also a lot less precipitation.
Winter
If you don't mind bundling up, winter is a great time to visit the park. This is the least busy time of year, so you'll likely have hiking trails and scenic lookouts all to yourself. Expect temperatures in the 50s and maybe even the occasional snow flurry.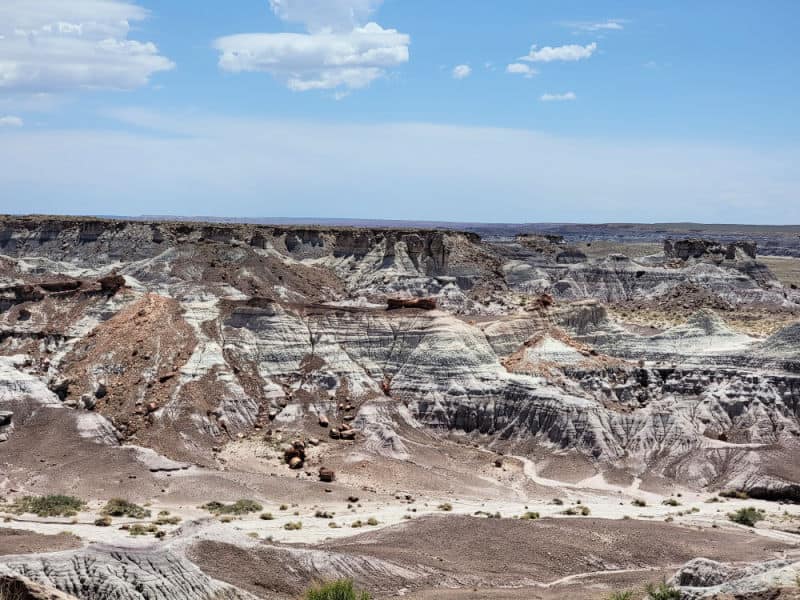 Most of the park's attractions are located off of the Petrified Forest Road, which runs through the center of the park. The best way to see everything there is to do here is simply by driving and stopping off at the various points of interest!
Wildlife viewing
While the desert may not seem like a very hospitable place to live, there is a plethora of unique wildlife that call this place home.
Some of the main species found in Petrified Forest National Park include mule deer, badgers, kangaroo rats, ringtails, jackrabbits, cottontails, coyotes, and bobcats.
However, while you may spot some of these critters during your time at the park, the only wild animals you'll catch sight of are likely the ravens!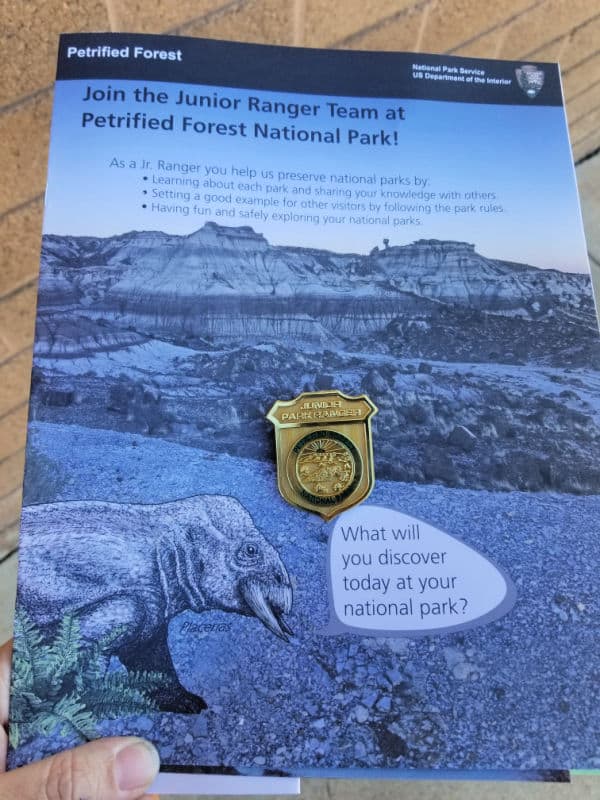 If you brought the kiddos along on your trip to Petrified Forest National Park, be sure to sign them up for the Junior Ranger Program.
Not only is this a fun and interesting way to learn more about the park, but they'll also receive a cool badge to commemorate their time here once they complete the program.
Newspaper Rock
Newspaper Rock is one of the most interesting parts of the park. These massive slabs of rock are covered in over 600 petroglyphs made by the Puebloan people who once inhabited this area.
While you can't get very close to the rocks, the binoculars from the viewing platform allow you to get a good look at the carvings.
The Tipis
Named for the triangular mountains that rise up along the middle section of the park, the Tipis are hard to miss.
These colorful striped mountains can be seen as you drive along Petrified Forest Road, and there's also a great overlook where you can snap some photos.
Agate Bridge
The Agate Bridge is a naturally occurring bridge made by a 100-foot long petrified log crossing over a gully.
A concrete slab has been installed underneath the log to keep it from collapsing, and while you cannot walk across this ancient landmark, it's a cool sight to see, and the views here are also pretty incredible.
Jasper Forest
This is one of the best scenic overlooks in the park. Jasper Forest boasts one of the largest collections of petrified wood in the entire world, and taking in the views from up high really puts into perspective just how much wood this "forest" contains.
Hiking in Petrified Forest National Park
Always carry the 10 essentials for outdoor survival when exploring.
Painted Desert Rim Trail - Easy - 1.2 miles - Out & back
This short and easy hike leads you from Tawa Point to Kachina Point (or vice-versa) and features incredible views with hardly any effort.
True hikers may not even consider this a trail, more of a path alongside the road, but the scenery is truly splendid.
Historic Blue Forest Trail - Moderate - 2.4 miles - Loop
This backcountry route is one of the lesser-known trails in the park, so much so that you may have it all to yourself! The trail winds through the hilly badlands section of the park, and the changing scenery will keep you entertained the whole way.
Only those who have experience with wayfinding should attempt to complete this route as it is not well marked.
Blue Mesa Trail - Easy - 1 mile - Loop
Blue Mesa Trail is one of the most popular hikes in the park. With a short, paved trail and incredible scenery, it's no wonder that this loop ranks so high with visitors.
This trail is similar to the Historic Blue Forest Trail, though it is shorter and more crowded.
Crystal Forest Trail - Easy - .9 miles - Loop
If you want to get up close and personal to the petrified wood for which the park is named, this is the loop for you. While it may be tempting, do not touch these beautiful logs!
Giant Logs Trail - Easy - .6 miles - Loop
As the name suggests, this loop will lead you past some of the largest petrified trees in the park. The highlight here is Old Faithful - a massive, 10-foot wide log (not to be confused with the famous geyser by the same name!)
Long Logs and Agate House Loop Trail - Easy - 2.6 miles - Loop
The trailhead starts at the Rainbow Forest Museum and leads through another large field of petrified wood. The views are fantastic, and at the end of the trail, you'll come across the Agate House - built from petrified wood over 700 years ago.
Note that this trail offers very little shade and can get extremely hot during the summer.
Puerco Pueblo - Easy - .3 miles - Loop
This is the shortest and easiest trail in the park, and the effort to reward ratio is quite satisfying. At the end of the trail sits Perco Pueblo, a small city that the Puebloan people inhabited over 600 years ago.
The site is comprised of hundreds of rooms and over 800 petroglyphs. Whatever you do, do not miss Puerco Pueblo - it is only .3 miles after all!
How to beat the crowds in Petrified Forest National Park?
The best way to beat the crowds in Petrified Forest National Park is by visiting during the off-season. Winter at the park sees the fewest visitors, though numbers are lower in the spring and fall as well.
Summer is the busiest time of year at the park, though "crowds" would be a generous term, even when visitation is at its peak.
If you're really intent on avoiding other people, try to hike the less popular trails or spend the night in the backcountry (permit required).
Where to stay when visiting Petrified Forest National Park
Although you may notice the Painted Desert Inn when you look at a map of Petrified Forest National Park, this historic building is no longer taking reservations. It once served Route 66 travelers, but it has since been converted into a museum.
The closest city to Petrified Forest National Park is Holbrook. This tiny town is about 20 minutes from the park and has quite a few options for overnight guests. There are both independently owned motels and more popular chain options. There are also plenty of quirky shops and restaurants to choose from.
If you prefer camping, the Crystal Forest Gift Shop and Campground is an RV-friendly campground located just a few feet from the park's southern entrance.
Days Inn by Wyndham Holbrook - Take advantage of free to-go breakfast, laundry facilities, and a business center at Days Inn by Wyndham Holbrook. For some rest and relaxation, visit the hot tub. Stay connected with free in-room Wi-Fi.
Greentree Inn Holbrook - Take advantage of free to-go breakfast, a roundtrip airport shuttle, and laundry facilities at Greentree Inn Holbrook. Guests can connect to free in-room Wi-Fi.
Howard Johnson by Wyndham Holbrook - You can look forward to free continental breakfast, laundry facilities, and a gym at Howard Johnson by Wyndham Holbrook. For some rest and relaxation, visit the hot tub. Guests can connect to free in-room Wi-Fi.
Best Western Arizonian Inn - Consider a stay at Best Western Arizonian Inn and take advantage of free full breakfast, a business center, and a restaurant. Stay connected with free Wi-Fi in public areas.
Quality Inn Holbrook - A business center, a restaurant, and a snack bar/deli are just a few of the amenities provided at Quality Inn Holbrook. Guests can connect to free in-room Wi-Fi.
Click on the map below to see current rates for hotels and vacation rentals near Petrified Forest.


National Park Camping
There are no campgrounds within Petrified Forest State Park. However, the true adventurers can head into the wilderness and stay at one of the designated backcountry sites. There are areas throughout the park where backcountry camping is allowed, including the Painted Desert, Zone 5, and the Rainbow Forest.
A permit is required for backcountry camping, and fires are prohibited. Check out the official park website for more info.
For a fun adventure check out Escape Campervans. These campervans have built in beds, kitchen area with refrigerators, and more. You can have them fully set up with kitchen supplies, bedding, and other fun extras. They are painted with epic designs you can't miss!
Escape Campervans has offices in Vancouver, Seattle, Portland, San Francisco, Las Vegas, Los Angeles, Phoenix, Salt Lake City, Denver, Chicago, New York, and Orlando
Here are a few campgrounds near the park.
Bear Paw RV Resort (Age restricted over 55) - Eager, AZ
This resort offers RV Sites
Woody Mountain Campground - Flagstaff, AZ
This campground offers RV and Tent Sites
Rancho Sedona RV Park - Sedona, AZ
This campground offers RV Sites.
Check out additional campgrounds in the area on Campspot
Travel Tips
Bring water with you!
When you see a bathroom use the bathroom.
The main route through the park is 28 miles. If you have time try to travel it in both directions to make sure you haven't missed anything.
Arizona does not observe daylight savings time!
Watch for lightning if you are in the park during inclement weather. Make sure and take shelter.
Be prepared for the SUN! Bring sunglasses, sunscreen, a hat, and proper clothing.
Parks Near Petrified Forest National Park
Hubbell Trading Post National Historic Site
Canyon De Chelly National Monument
Check out all of the Arizona National Parks along with neighboring National Parks in Utah, National Parks in New Mexico, California National Parks, Colorado National Parks, and Nevada National Parks