Located in the South of New Mexico is a gem of nature, White Sands National Park. It is America's 62nd National Park and guaranteed to be like no other national park you've ever been to.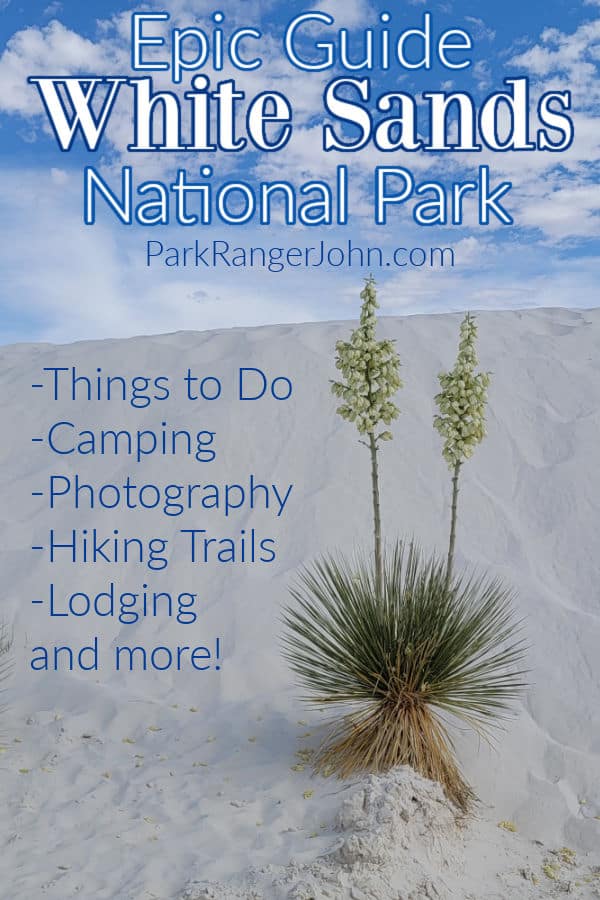 White Sands National Park
With beautiful white gypsum that goes on for miles, it holds the title for the world's largest gypsum dune field, which will take your breath away.
Even though it was established as a national park in December 2019, months before the pandemic, it has seen over 600 thousand visitors per year.
While you're at White Sands, you can go sand sledding, dune hiking, have a picnic amidst the white gypsum sands, participate in a ranger program, and so much more!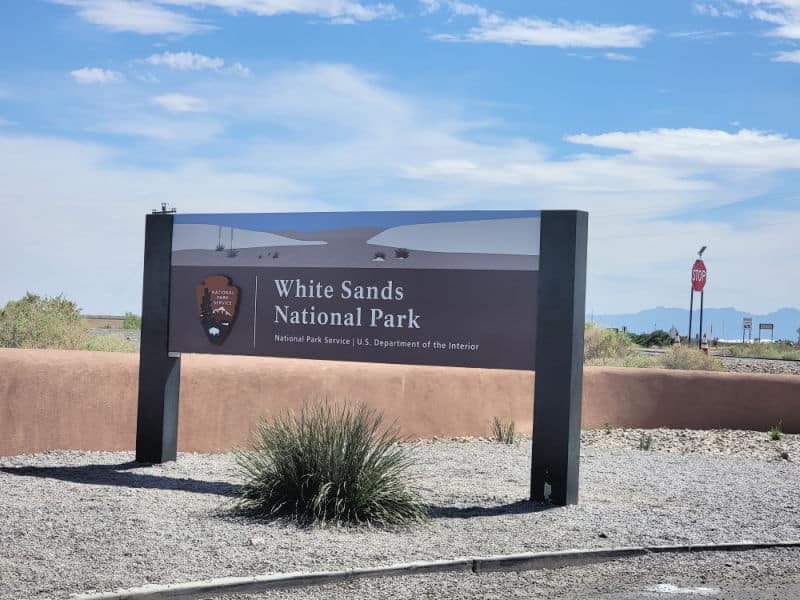 About White Sands National Park
Rising from the heart of the Tularosa Basin is one of the world's great natural wonders the glistening white sands of New Mexico.
Situated in the Tularosa Basin, between the San Andreas mountains (to the west) and the Sacramento Mountains (to the east), is the expansive White Sands National Park. There's nothing quite like the dust-covered gypsum park that's sure to leave you in awe of the beauty around you.
A wonder of the natural world, gypsum very rarely appears in dust form because it's soluble in water, so whenever it rains in the area, the gypsum readily dissolves and rolls off the mountain as fast as water.
However, since the dunes are in the Tularosa Basin, the gypsum stays within the park in a completely enclosed area. Also, gypsum is transparent, but the scratches make the sand appear as white as snow because the particles keep rubbing against each other under the sunlight.
Unlike most inland sand, gypsum doesn't absorb heat, so the sand remains cold even on the hottest day of the year.
The gypsum dune field is about 275 square miles, out of which 115 square miles are located within the White Sands National Park, and the rest is military land (the White Sands Missile Range encircles the park), often used for dune missile testing.
Of course, the park is closed when any military activity occurs, so be sure to do your research and plan!
Besides being home to the world's largest gypsum dune field, it also possesses North America's most extensive collection of fossilized footprints from the Ice Age, memorializing centuries of human existence and nearly a hundred African Oryx, a species of antelopes indigenous to East Africa.
The ever-shifting, evolving, slumping, and growing gypsum forms dunes that range from 10 to 60 feet (3 to 18 meters) tall. The southwest edge of the park is home to Lake Lucero, whose bed is full of gypsum leading to the formation of beautiful selenite crystals in the mud (If you're a fan of hikes, the Lake Lucero hike is brilliant, so be sure to book it in advance).
Like most deserts, the White Sands National Park is home to many nocturnal animals (45 of which are endemic; only found in the White Sands National Park), so they stay in their burrows during the day and come out foraging for food and water after the sun goes down.
Against the crystal white sand, any creature becomes extremely easy to spot. Some smaller animals like the Apache Pocket Mouse and the Bleached Earless Lizard, after having inhabited the gypsum dune field for centuries, have evolved with a slight white coloration in an attempt to camouflage.
The illustrious white-sand-like gypsum dunes have existed for over ten thousand years and created an ecosystem wherein plants and animals have rapidly adapted to survive. Besides being a place of scientific marvel, it truly is scenery that'll leave you speechless.
So whether you choose to camp overnight, go on a moonlit hike on the dunes, take your kids sand sledding over the glorious dunes, the White Sands National Park will charm you in more ways than you'd expect!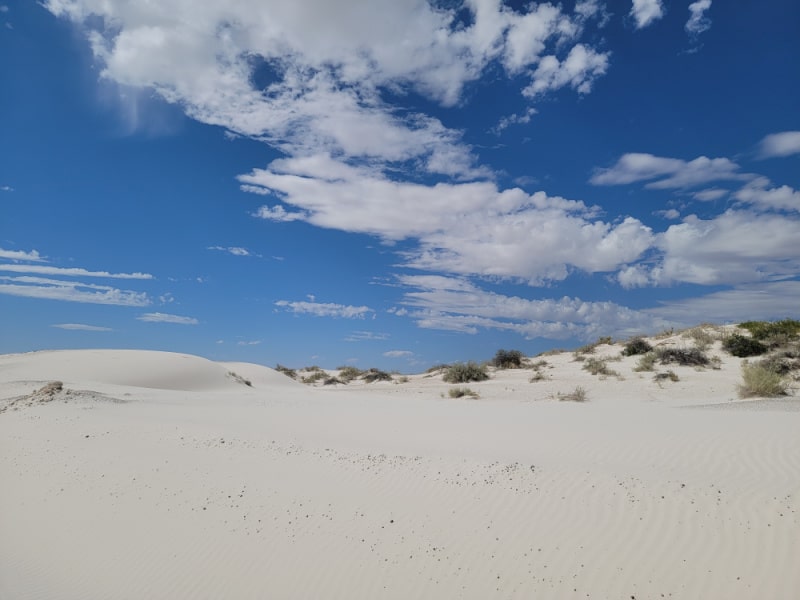 History of White Sands NP
The region has gone through many phases in history to hold the historical and national significance it does today.
It is believed that at the end of the Ice Age, approximately 20,000 years ago, Asian hunters and gatherers crossed the Bering Land Bridge into Alaska along with large herds of domesticated animals and some now extinct species (like mammoths).
The fossil footprints left by these animals can still be found on the Alkali flats along the edges of Lake Lucero (located on the southwest edge of the park).
By 10,000 years ago, people reached the margins of Lake Lucero, which at the time was a permanent salt lake. With the harsh climate, any spot of lush green gradually disappeared. It is believed the area became a low-range hunting ground.
It is claimed that a significant drought took place in the 1200s in the Tularosa Basin, leading its inhabitants to abandon it. After a couple of centuries, it was reinhabited by Mescalero Apaches, a Native-American tribe, joined by Hispanic New Mexicans in subsequent decades.
These public lands became of interest in the nineteenth century due to industrialization and the significant possession of gypsum in the area. However, none of the plans to extract the gypsum materialized, and the area just gained scenic and scientific significance.
The 275-square-mile area was formally recognized on January 18, 1933, when President Herbert Hoover declared it a National Monument under the act that followed the National Park status of Yellowstone National Park.
By the end of the 1940s, large parts of the region were set aside as defense areas that undertake system testing even today, at the ​​White Sands Missile Range. The US Government reclassified it as a National Park in 2019.
Today, even amidst a pandemic, the White Sands National Park attracts thousands of tourists from across the world, and its beauty leaves them awestruck!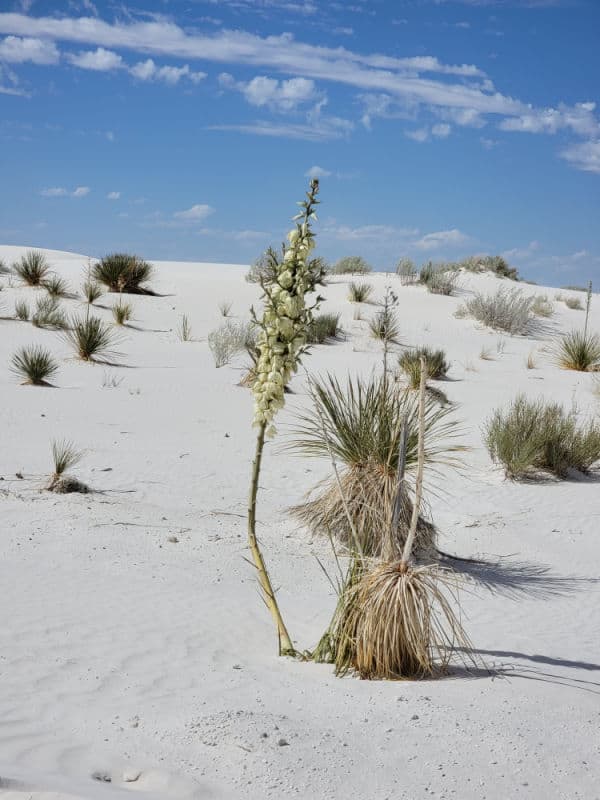 Is White Sands National Park worth visiting?
A definite Yes! Of all the national parks I have visited, no other park has left such a strong impression on me.
On both of my visits, I left the park in silence, my brain swirling trying to process what I had just witnessed. Eventually, the silence is broken as my wife and I try processing it together.
The whole landscape is nothing but white with the backdrop of deep blue skies and occasional plants to break up the scenery.
I can honestly say that it is a photographer's dream. On both of our visits, we have come away with unbelievable photos to share our experience.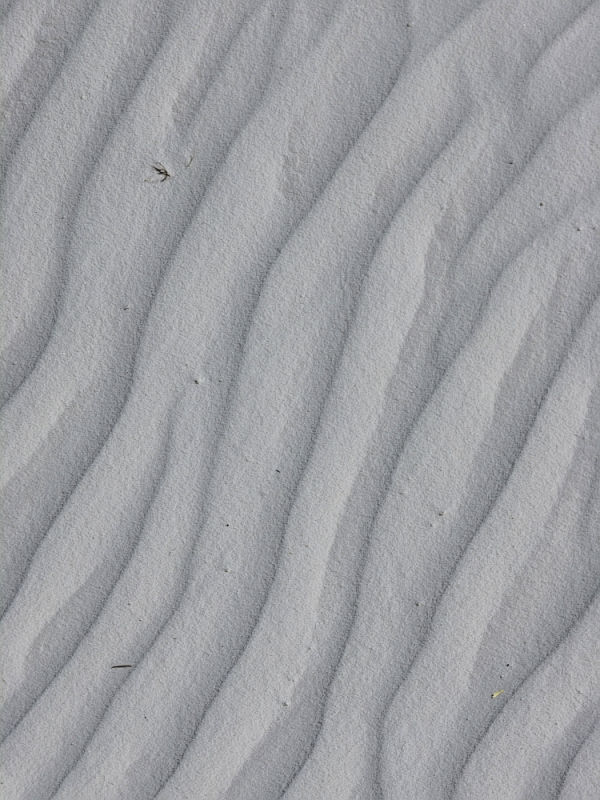 Things to know before you visit White Sands National Park
Entrance fee
$25.00 per vehicle and valid for seven consecutive days and payable at the entrance booth on Dunes Drive.
Planning a National Park vacation? America the Beautiful/National Park Pass covers entrance fees for an entire year to all US National Park Sites and over 2,000 Federal Recreation Fee Sites.
The park pass covers everyone in the car for per vehicle sites and for up to 4 adults for per-person sites.
Buy on REI.com and REI will donate 10% of pass proceeds to the National Forest Foundation, National Park Foundation and the U.S. Endowment for Forestry & Communities.
Learn more about National Park Passes for parks with an entrance fee.
Time Zone
MST - Mountain Standard Time
Pets
Pets are permitted and are sure to be amazed by the scenery at White Sands National Park.
However, they must be on a leash at all times (the leash cannot be longer than 6ft in length), and you're responsible for cleaning up after them.
The White Sands National Park has two designated pet walking stations complete with pet poop pick-up bags for convenience.
Ensure you don't take pets into the visitor center or leave them unattended in your car (as the weather can get quite hot).
Service animals are permitted on all areas and trails unless specified.
Cell Service
Cell service is intermittently available around the park entrance and inside the dunes area; data availability is minimal.
Insect Repellent
It is always a good idea to bring insect repellent with you. We use permethrin bug spray that you can apply to your clothes before leaving for your trip.
Park Hours
The park is open year-round, with the operating hours for park and visitor centers varying according to the time of the year.
Winter Park Hours (January 30 - March 12) - 7:00 am to 7:00 pm
Spring Park Hours (March 13 - April 9) - 7:00 am to 8:00 pm
Summer Park Hours (April 10 - September 10) - 7:00 am to 9:00 pm
The park does close and locks their gates overnight. Check this page for current opening and closing times for the park gates.
There is parking at the visitor center if you arrive before the park opens.
Wi-Fi
There is no Wi-Fi available at White Sands National Park.
Water Bottle
Make sure to bring your water bottle and plenty of water with you as the weather can get hot quickly, and you need to keep yourself hydrated! Plastic water bottles are not sold in the park.
Parking
There is ample space in the main parking lots of Dune Drive to park a large RV.
Food/Restaurants
There are no restaurants within the park.
Gas
There are no gas stations within the park. The nearest gas station is in Alamogordo, 15 miles (24 km) east of the park.
National Park Passport Stamps
You can find national Park Passport stamps in the visitor center.
Make sure to bring your National Park Passport Book with you or we like to pack these circle stickers so we don't have to bring our entire book with us.
White Sands National Monument was part of the 1987 Passport Stamp Set.
Electric Vehicle Charging
There are no EV charging stations within the park.
Drones
Drones are not allowed to be flown within the park.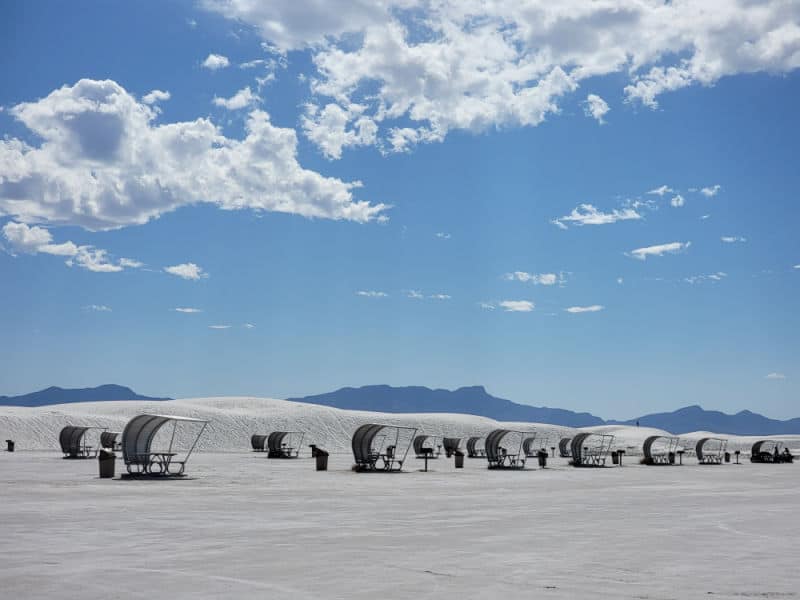 Details about White Sands National Park
Size
The White Sands National Park covers 146,344 acres and is currently ranked at 37 out of 63 National Parks by Size.
Date Established
The area was first established as a National Monument on January 18, 1933, by President Herbert Hoover.
It was reclassified as a National Park on December 20, 2019.
Visitation
In 2020, White Sands National Park had 415,383 park visitors.
In 2019, White Sands National Park had 608,785 park visitors.
Learn more about the most visited and least visited National Parks in the US
National Park Address
This address is for the park headquarters
19955 US-70, Alamogordo,
NM 88310, United States
White Sands National Park Map
Where is White Sands National Park?
The beautiful White Sands National Park spreads across 275-square-miles and is located in South-Central New Mexico. It is situated in the Tularosa Basin between Alamogordo, NM, to its Northeast and Las Cruces, NM, to its Southwest.
Geologically, it lies between the Sacramento Mountains to its east and the San Andres Mountains to its west.
It is located just off US Route 70 and can be easily reached via road from Las Cruces, NM, and El Paso, TX.
When using a GPS unit to find your way to White Sands, be sure to input "White Sands National Monument". If you only enter "white sands" you may be routed to White Sands Missile Range, which is approximately 25 miles (40 km) west of the monument.
On your way into the park, you may need to drive through a customs and border patrol check center. Be prepared to stop and talk with the agent for a few moments.
Estimated Distance from major cities nearby
Las Cruces, NM - 52 miles
El Paso, TX - 95 miles
Albuquerque, NM - 187 miles
Tucson, AZ - 262 miles
Lubbock, TX - 283 miles
Chandler, AZ - 319 miles
Mesa, AZ - 320 miles
Scottsdale, AZ - 326 miles
Roswell, New Mexico - 139 miles
Santa Fe, New Mexico - 242 miles
Estimated Distance from nearby National Parks
Carlsbad National Park - 181 miles
Guadalupe Mountains National Park - 192 miles
Saguaro National Park - 325 miles
Big Bend National Park - 420 miles
Black Canyon of the Gunnison National Park - 578 miles
Great Sand Dunes National Park - 404 miles
Check out all of the National Parks in New Mexico and neighboring Arizona National Parks.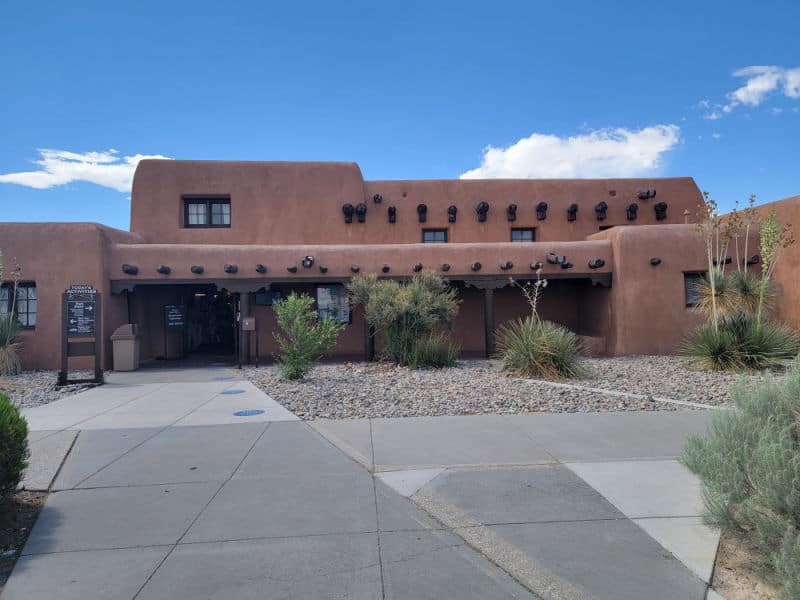 Where is the National Park Visitor Center?
The Visitor Center is located right when you enter the park. We suggest stopping to check out the park gift shop (great for purchasing souvenirs for friends & family or getting knick-knacks to remember the trip), using the restroom, and getting updated park information before driving into the park.
Visitor Center Hours - 9:00 am to 5:00 pm (9:00 am to 6:00 pm during Spring Break [March 14 - April 3] and Summer [May 20 - September 3]).
The visitor center & gift shop are open 364 days of the year and closed on Christmas. The museum in the visitor center is open from 9:00 am to 5:00 pm.
White Sands Missile Range Closures
Dunes Drive may be closed for periods of up to three hours during missile tests. All activity, including horseback riding, backcountry camping, hiking, sledding, and driving on Dunes Drive, is strictly restricted during all missile tests as Dunes Drive is closed in the interest of visitor safety.
The park visitor center and gift shop remain open during missile test closures. Check this closure page for up-to-date closure information so you can plan your activities well in advance.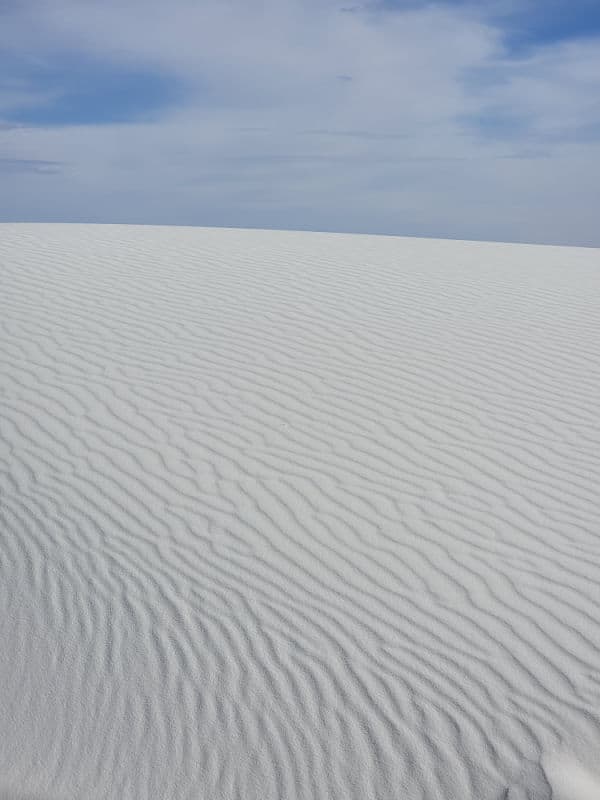 Getting to White Sands National Park
International airports
El Paso, TX - 85 miles (136.79 km) from the National Park
Albuquerque International Sunport, NM - 223 miles (358.8 km) from the National Park
Regional airports
Alamogordo-White Sands-Boles Acres Regional Airport - 13.1 miles (21 km) from the National Park
​​Doña Ana County At Santa Teresa - 93.2 miles (148.5 km) from the National Park
Driving Directions
The White Sands National park Visitor Center and Dunes Drive are located between the New Mexico cities of Alamogordo and Las Cruces, just a slight detour off of Highway US Route 70.
To make your way from Las Cruces, NM:
Distance: 52 miles
Time: 50 min - 1 hour
Head east on US Route 70 towards Alamogordo for just under 50 miles. Take a left onto Dunes Drive, and you'll be at the footsteps of nature's jewel, the White Sands National Park.
To make your way from El Paso, TX:
Distance: 95 miles
Time: 1.5 hours
From North Campbell Street & Yandell Dr, you'll get on Interstate 10 West to enter New Mexico. You'll keep right at Y junction to continue on Interstate 25 North and then proceed to take exit 6 to merge with US Route 70 East. You'll follow Us Route 70 East till Otero County, where you'll make a left onto Dunes Drive, and you'll arrive at your destination, a white-sand galore!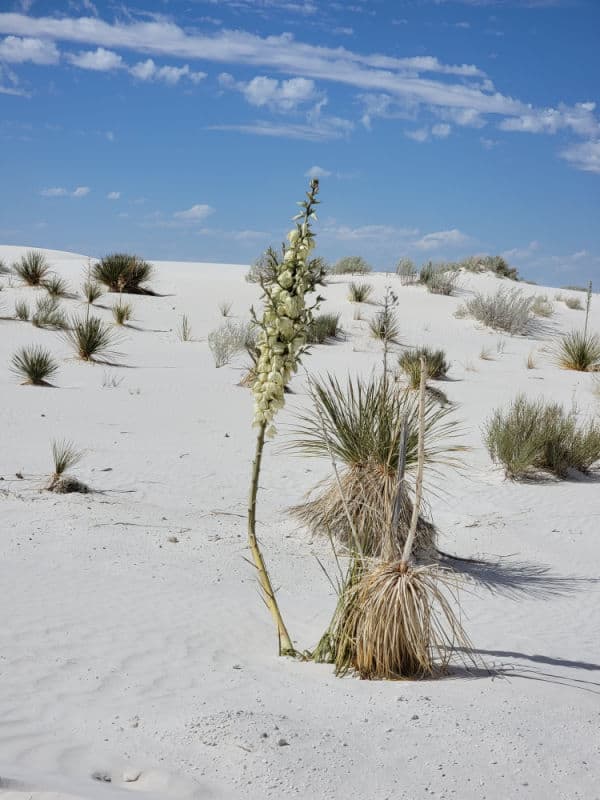 White Sands National Park Weather and Seasons
The White Sands National Park is an all-weather park; however, visiting at different times of year will lead to varied experiences, some better than others.
Spring
Though the park is lovely all year, springtime is believed to be the best time to visit. In March, you'll find that the weather is optimal, with 70 degrees Fahrenheit most days and only in the 40s at night (it's a desert after all).
In the springtime, the desert wildflowers are in full bloom, so you'll catch a glimpse of those.
You'll be able to camp (once the backcountry camping is open post-COVID closure), sand sled, hike without it being too hot, and even picnic to enjoy the magnificent vistas and weather.
Since this opinion is a fairly popular one, you'll find that the national park is super busy in the springtime. However, with the sunsets as gorgeous as they are in the spring, the crowds are totally worth it!
Summer
The summer months at White Sands are also enjoyable, with pleasant weather and incredible sunsets. However, the visitation is at its peak in the summer, so you'll likely have to hike deep into the white sand dunes to avoid footprints.
Also, the weather conditions can change dramatically, and it can rapidly become scorching, making hikes and other activities more exhausting.
Autumn
Another great time to visit the White Sands National Park to absorb the beauty of the place genuinely are the fall months.
You'll be able to hike, get involved in other activities at the park, and get to witness the cottonwoods changing color.
Especially if you live in the Southwest, the trip is worth making in the autumn months to avoid the crowds and snag a backcountry camping spot (once they reopen) to witness the magic of the park under the moonlight.
Winter
The weather in the day is just fine, with low precipitation, and the temperature at sunset time is ideal. However, during the winter, you won't be able to camp (as the temperatures at night can hit sub-zero) and truly enjoy all that the park has to offer.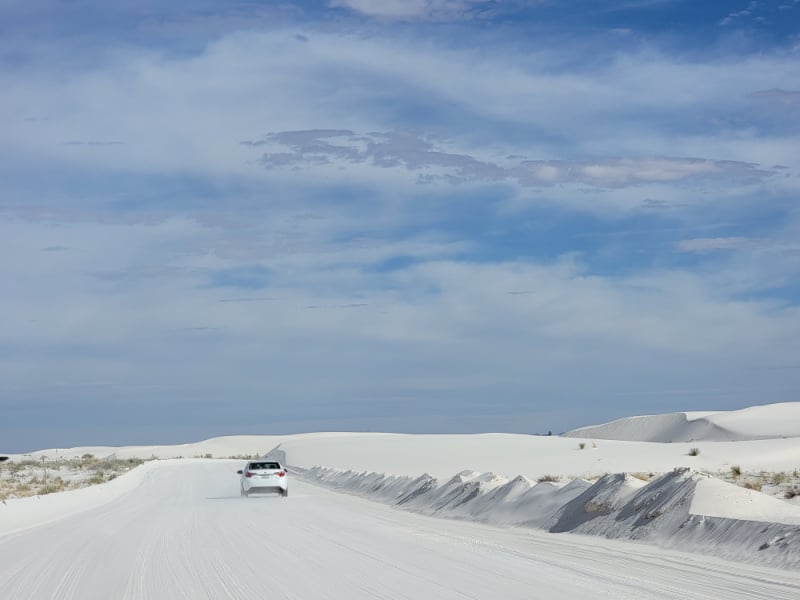 Make sure you bring sunscreen, a hat, and water. There are picnic shelters that offer some shade covering but you should expect to be out in the blazing sun. Temperatures in the summer can reach in the 90's.
Visit the Visitor Center
Learn about the park, watch a 17-minute film about the history of White Sands, or get some attractive souvenirs from the White Sands Trading Company Gift Shop at the park's visitor center.
Dune Drive
Dune Drive is the sole road through the park and takes you to the heart of the National Park's most prized possession, the world's largest gypsum dune field. The drive begins and ends at the park's visitor center and is a 16 mile (25.7 km) round trip, with only the first 5 miles being paved, but the rest of the drive is sure to be memorable!
The drive takes about 45 minutes, but you can always stop along the way to soak in the scenery, set up a picnic, or even take a short hike. You don't need all-wheel-drive and can even bike on this route.
P

articipate in the Ranger Programs

Several ranger-led programs are offered at White Sands National Park, like a guided one-hour sunset stroll, a full moon hike (a cultural legacy of New Mexico), a full moon night, a Lake Lucero tour, and more.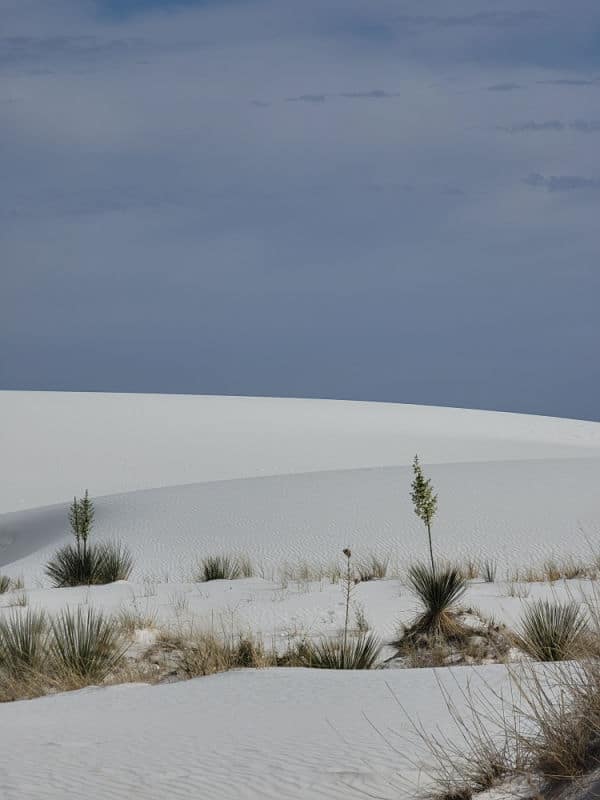 Photography at the White Sands
The expansive white-sand-clad desert is a photographer's dream! Without extremely high-tech equipment or expertise, you'll be able to capture the best photos during golden hour as the sun hits the dunes just right.
Since the entire area is like a large sand-pit, be sure to take proper care of your gear, as sand can be a nightmare with lenses and other tech accessories.
Selfies and Instagram Moments
Perhaps the newest craze for White Sands is visitors wanting the perfect personalized photo. You will see visitors on every network of social media showing off their trip.
Why not, the pure white sand makes any color just pop and the lighting is absolutely perfect for photography! I had so much fun on my last visit just watching other park visitors smiling, laughing, and playing in the sand all while taking photos.
Go Sand Sledding or Sand Boarding
The gypsum dunes make sand-sledding or boarding one of the most engaging activities at the National Park. Sleds can be rented or purchased at the onsite gift shop, White Sands Trading Company ($10 for a used one, $20 for a new one).
It's recommended that you just rent one to avoid extra luggage in your car and add to the list of things in your garage that you're extremely unlikely to need again.
Be sure to keep the safety precautions in mind, avoid hard rocky areas among the sand, and supervise your children if there's with you!
You can also go sandboarding; however, you'll need to carry your board for that.
The Junior Ranger Program can be picked up at the visitor center. This is an excellent way for visitors of all ages to learn more about the park.
They offer a preschool book for kids 5 and under and a Junior Dunes Ranger Activity Book for kids six and older.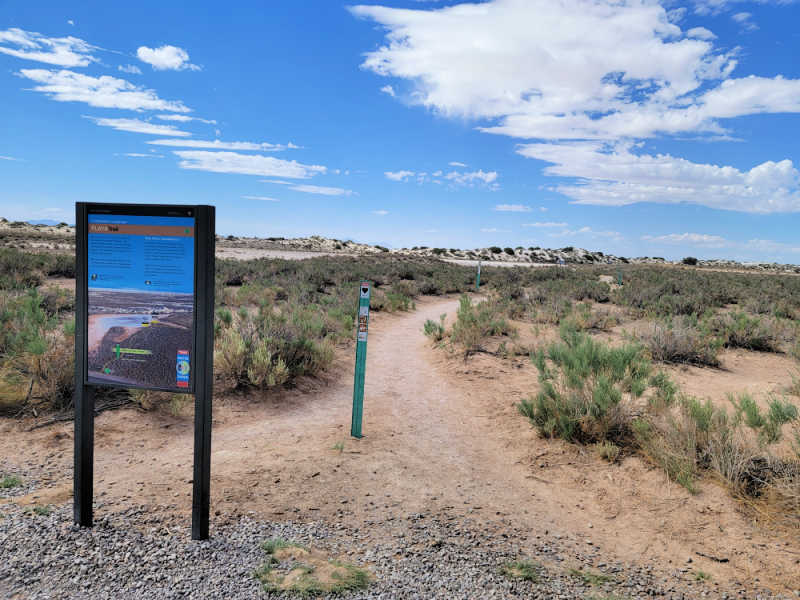 Hiking at White Sands National Park
There are five marked trails in White Sands National Park, each different in its own way. Here are some specifics about each hiking trail:
Interdune Boardwalk
Accessible to everyone (especially those on wheelchairs or with strollers), this is a 0.4 mile (650m) round trip walk through the white dunes to learn more about the geological and scientific prominence of the park and flora and fauna of the area.
The boardwalk trail takes about 20 minutes on average to complete and is a lovely place to absorb the beauty of the dunes, which are a natural wonder.
The Playa Trail
A relatively easy, 0.5 miles (800m), round trip self-guided hike. On this trail, you'll get a chance to learn how a playa undergoes change and how this creates habitats for animals and plants.
It takes an average of 30 minutes to complete, and on completion of this hike, you'll get a chance to envision this region 10,000 years ago and learn more about the large fossil footprints.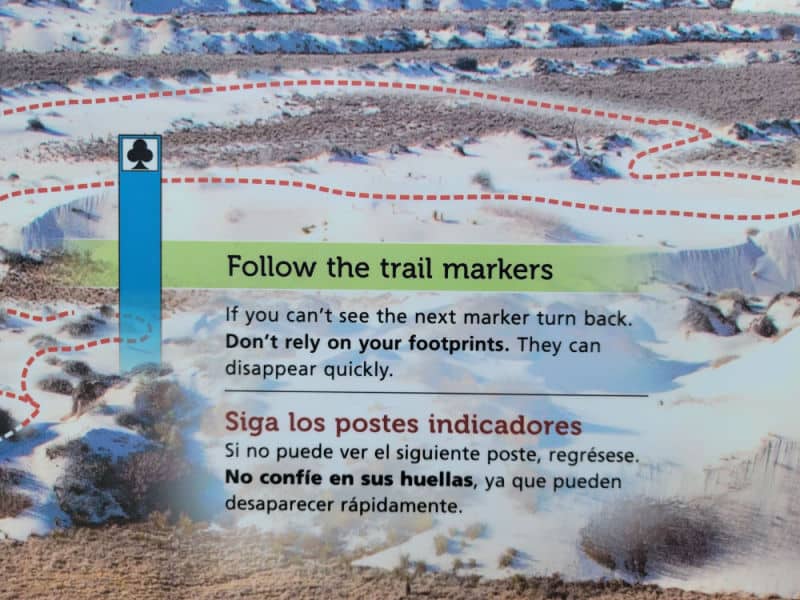 The Dune Life Nature Trail
A moderate, one-mile (1.6 km) self-guided hike where you'll get a chance to hike up and down many steep dunes, which will take about an hour.
If you get lucky (and are quiet), you might come across any of the several animals (like rodents, birds, reptiles, kit foxes) that call these dunes home; otherwise, you may spot their tracks.
The Backcountry Camping Trail
Mostly frequented by backpackers, this is a moderate 2-mile (3.5 km) hike which will take about 1.5 - 2 hours to complete. It's also open to visitors who want to hike through the dunes, and hikers will have to climb over steep dunes and walk through loose sand.
It's one of the best hikes, even if you're not camping.
The Alkali Flat Trail
The hardest of the lot, this is an arduous, 5-mile (8 km) round-trip hike, which is not flat at all! You'll constantly be hiking up and down the dunes and witness the final remnant of Lake Otero, so be prepared for an exhausting hike under the sun!
It'll take an average of 3 - 3.5 hours to complete.

How to beat the crowds in White Sands National Park
In comparison to other national parks, the park is small in size, so you'll be able to tour it and undertake most activities within a day.
While you should ideally arrive early for cooler temperatures and to beat crowds (and obtain a backcountry camping permit, once open, since they're only given in person from the visitor center on a first-come, first-serve basis), the best time to arrive at White Sands National Park is 2-3 hours prior to sunset.
After arriving, you can get a scope of the region, participate in any activities you'd like to, and capture the best views that the gorgeous sand-filled gypsum dune field has to offer!
White Sands National Park Lodging
There are no National Park Lodges within the park.
The closest lodging can be found in Alamogordo, New Mexico.
Hampton Inn Alamogordo - Take advantage of free to-go breakfast, laundry facilities, and a gym at Hampton Inn Alamogordo. Free in-room Wi-Fi and a business center are available to all guests.
Holiday Inn Express Hotel & Suites Alamogordo - Take advantage of a free breakfast buffet, dry cleaning/laundry services, and a gym at Holiday Inn Express Hotel & Suites Alamogordo Hwy 54/70, an IHG Hotel. For some rest and relaxation, visit the hot tub. Stay connected with free in-room Wi-Fi, and guests can find other amenities such as a business center.
Fairfield Inn & Suites Alamogordo - Free continental breakfast, laundry facilities, and a 24-hour gym are just a few of the amenities provided at Fairfield Inn & Suites Alamogordo. In addition to a business center and a snack bar/deli, guests can connect to free in-room Wi-Fi.
Quality Inn & Suites - Quality Inn & Suites Near White Sands provides amenities like free full breakfast and laundry facilities. Guests can connect to free in-room Wi-Fi
Days Inn by Wyndham Alamogordo - free to-go breakfast, laundry facilities, and a business center at Days Inn by Wyndham Alamogordo. Stay connected with free in-room Wi-Fi.
Click on the map below to see current rates for hotels and vacation rentals near White Sands NP.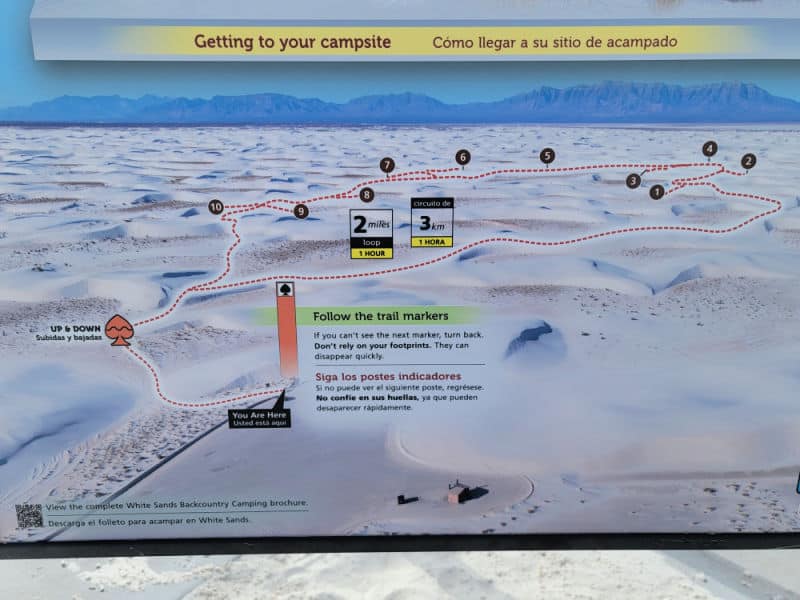 National Park Camping
Due to the current health crisis, backcountry camping is not available, and there is no date set for camping to resume.
However, once camping opportunities resume, here's what you'll need to go backcountry camping at the White Sands National Park:
The park has only ten backcountry spots (which you'll reach via the Backcountry Camping Trail, a two-mile dune hike), which you can only obtain from the visitor center in person, on a first-come, first-serve basis, so be sure to be there early!
Make sure you have all your sufficient gear, choose camping spot 5 for the best experience, and keep yourself hydrated throughout (since you'll be amidst a desert, where the temperatures can rise rapidly.
There is no RV or tent camping sites within the park.
For a fun adventure check out Escape Campervans. These campervans have built in beds, kitchen area with refrigerators, and more. You can have them fully set up with kitchen supplies, bedding, and other fun extras. They are painted with epic designs you can't miss!
Escape Campervans has offices in Vancouver, Seattle, Portland, San Francisco, Las Vegas, Los Angeles, Phoenix, Salt Lake City, Denver, Chicago, New York, and Orlando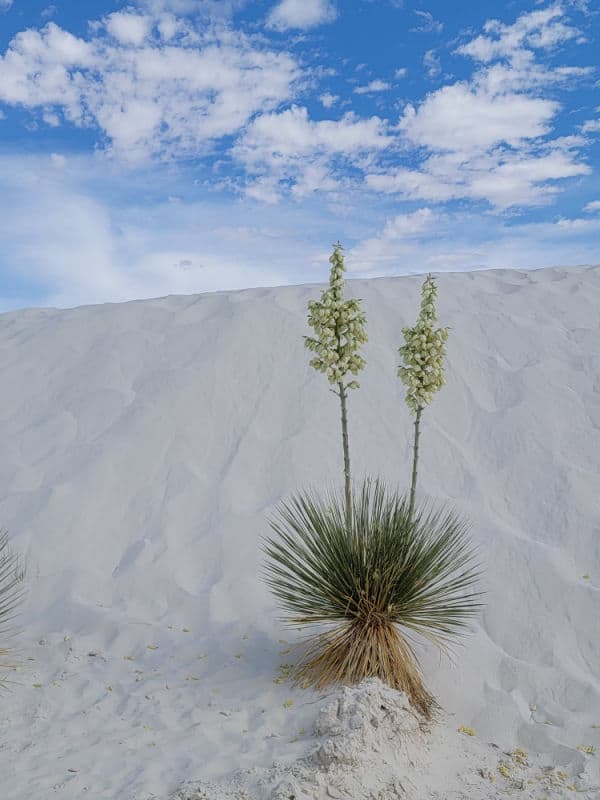 National Parks near National Park
Gila Cliff Dwellings National Monument
Salinas Pueblo National Monument
Fort Bowie National Historic Site
Check out all of the National Parks in New Mexico and neighboring Arizona National Parks, Colorado National Parks, Oklahoma National Parks, and National Parks in Texas.
National Park Service Website