Hikers, birders, artists, and photographers visit the Chiricahua Mountains in Arizona to enjoy the unique and spectacular rock formations. Tucked into Cochise County in eastern Arizona, Chiricahua National Monument is a land of hills and valleys filled with beautiful rock formations, the result of ancient lava flows and the forces of erosion over the centuries.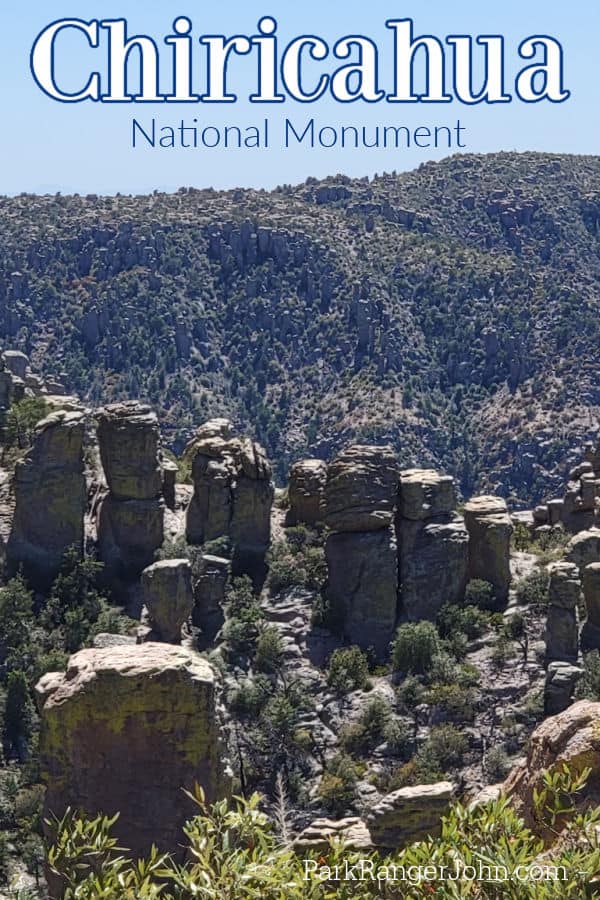 Chiricahua National Monument
The Chiricahua (pronounced cheer-i-COW-ah) Mountains form one of the "sky islands" in the region, so called because they rise up from the desert floor much as islands rise up out of the ocean.
Four environments come together and merge into each other at this location – the Rocky Mountains, Sierra Madre, Chihuahua Desert, and Sonora Desert – bringing into the area a rich diversity of plant, bird, and animal life including many Mexican species. It is visited and studied by botanists, zoologists, and, of course, geologists.
The area is an attraction principally because of its fanciful and dramatic rocks. Many are formed into pinnacles and spires similar to those found in Bryce Canyon National Park, but many are left in ungainly poses that leave us wondering why they don't just fall down! A huge boulder may be just barely balanced on a tiny little spire, and may have been in that position for centuries!
Of course, over the years these rock sculptures have been named by explorers and visitors and the names have stuck down to this day. In a section of the park named Heart of Rocks, we can easily identify Punch and Judy, Duck on a Rock, and many others.
There is currently a proposal to change Chiricahua from a National Monument to a National Park. We will keep you updated if this status changes.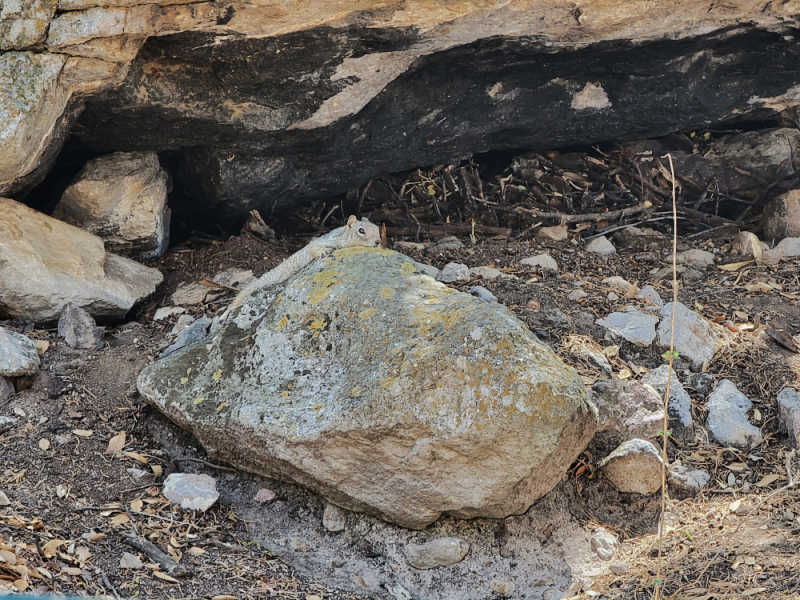 Visitor Center
The visitor center is open from 8:30 am to 4:30 pm Mountain Standard Time.
The visitor center has an amazing park store!! We brought home more than we planned after spending time in the visitor center.
You can pick up the Junior Ranger program at the visitor center and talk with a ranger about current conditions in the park.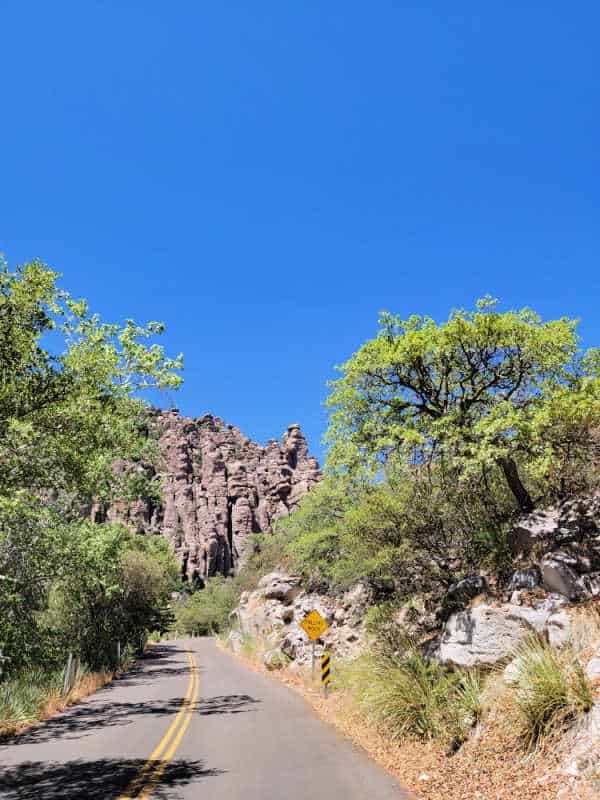 Bonita Canyon Scenic Drive
The Bonita Canyon Scenic Drive is a must-do! The 8-mile paved drive winds its way past amazing Hoodoos and geologic features. At the top of the scenic drive, you can park at Massai Point. This is a great place to stop for a picnic, you can also explore the half-mile Massai Nature Trail.
The park is truly a wonderland of rocks! Massai Point is the perfect vantage point for views of the surrounding area and crazy balancing rocks.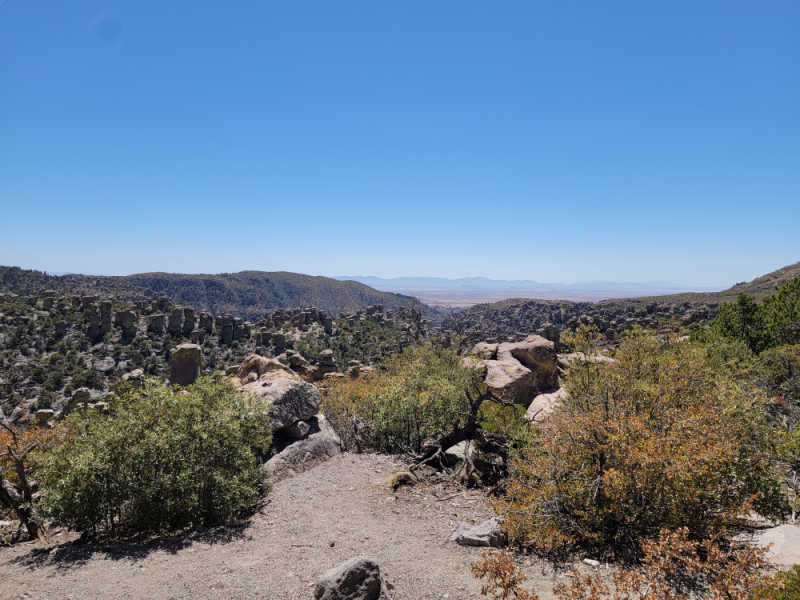 Hiking
There are 17 miles of day-use hiking trails in the park.
Construction on the extensive 17-mile trail system was begun by the Civilian Conservation Corps between 1934 and 1939. The trails were built using dry stone masonry with walls, ramps, and steps, and were designed to give access to as much of the terrain as possible, not just the easiest to reach. This means that today walkers with somewhat limited mobility can enjoy large areas of the park, while experienced and expert hikers can find plenty of challenges. There is enough interest and scenery for all levels of ability.
An example of an easy hike is the one-mile-long Echo Canyon Grottos trail which allows one to walk among the rock formations and view the grottos. Another is the Massai Point Nature Trail which is partly paved for wheelchair accessibility. Moderate hikes are described as lasting one to four hours with an elevation change of 500 feet or less. And the expert can take on the challenge of The Big Loop, an all-day hike of 9.5 miles, that covers most of the principal areas of the park.
Please be prepared for hiking in the park! This is a park that you have to be prepared for elevation, heat, and rough terrain. Bring plenty of water (about 1 quart of water per hour in the summer), salty snacks and/or electrolytes, sun protection, and appropriate hiking gear.
You can download the Hiking Guide from the park before your visit!
Faraway Ranch
Faraway Ranch can only be toured on guided National Park Service tours.
Swedish immigrants Neil and Emma Erickson raised their three children here at the ranch. The Erickson Family decided to develop a guest ranch in 1917 on the family homestead.
The guest ranch operated until the early 1970s. It was sold to the National Park Service in 1979.
It is amazing to think the first ranger-led tours occurred in 1988 which was 100 years after Emma and Neil Erickson moved to Bonita Canyon.
Bonita Canyon Campground is located near the park visitor center. This 25 site front country campground offers the amazing opportunity to enjoy the park overnight.
Where is Chiricahua
Chiricahua National Monument is located 120 miles southeast of Tucson. Take I-10 east from Tucson to the first exit for Willcox. Travel 3 miles into town to the stoplight and turn right.
You will follow Arizona State Highway 186 for 32 miles to the junction of Arizona State Highway 181. Turn left and 4 miles later you will be at the Chiricahua entrance station.
The maximum vehicle length is 29 feet to drive beyond the visitor center.
Obtain gas in Willcox; gasoline is not available at or near the monument.

Things to know when visiting Chiricahua
Location - Eastern Arizona, United States
Park Hours - The park is open 24/7. Extreme weather events or fires can lead to closures of the park road.
Entrance Fee - $0.00, There is no entrance fee to visit the park.
WiFi - Free public wifi is available at the visitor center. It is accessible 24-hours a day (even outside the building)
Cell Service - Cellular access is extremely limited and should not be expected. Some people may have limited coverage at higher elevations.
Information Line - (520) 824-3560

National Park Sites near Chiricahua National Monument
Fort Bowie National Historic Site
Tumacacori National Historical Park
Organ Pipe Cactus National Monument
Tonto National Monument
Check out all of the National Parks in Arizona along with neighboring National Parks in California, National Parks in Colorado, National Parks in Nevada, New Mexico National Parks, and Utah National Parks