Casa Grande Ruins National Monument located in Arizona preserves Hohokam Culture and ruins of the largest prehistoric structures ever built in North America.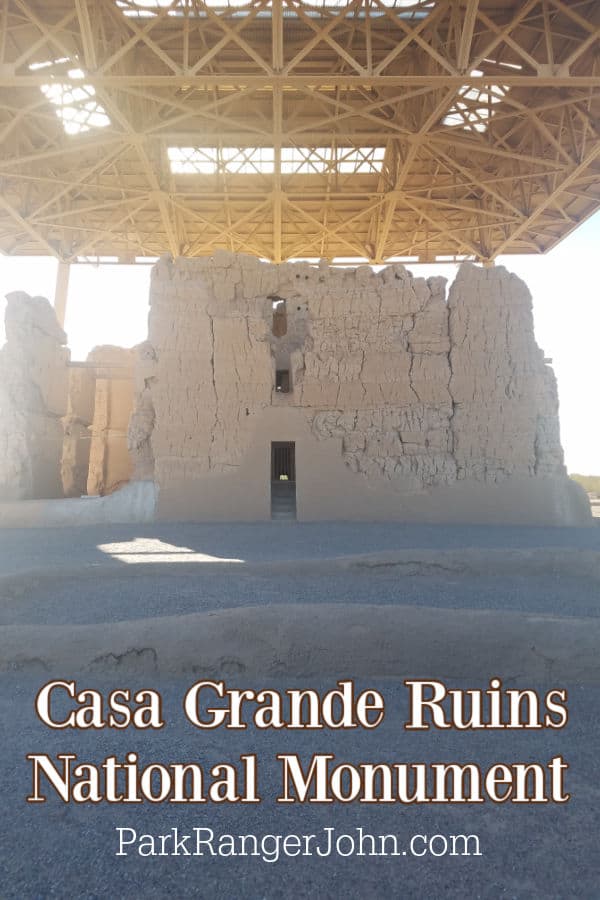 Casa Grande Ruins National Monument
It is hard to believe that the Great House has survived the heat and dryness of the desert for so long.
Be prepared for hot dry weather during your visit to Casa Grande. There is some shade from the roofs protecting the structure but it is still super hot depending on the time of year you visit.
There is a grocery store right across the street that is great for picking up water and snacks.
There is a shaded picnic area within the park that you can use to enjoy a break from the sun. The visitor center is filled with great interpretive information and museum pieces.
Make sure and check out the park movie Casa Grande: House of Many Stories for a great look at what life was like at Casa Grande.
Give yourself at least an hour to visit the park and explore the ruins. I would highly suggest going early in the morning if possible to miss the heat of the day.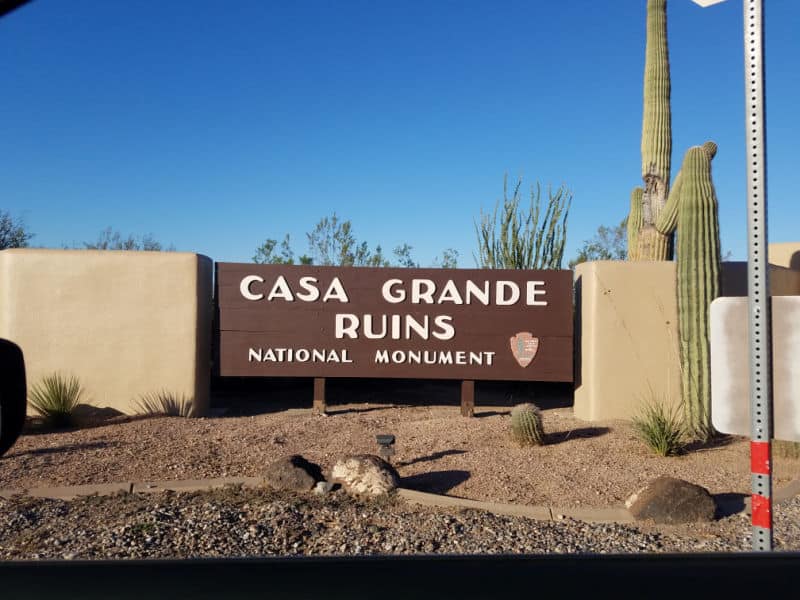 About Casa Grande Ruins National Monument
Casa Grande means Great House and that truly is what it was in years past. It is believed that the great house was completed in 1350.
Years of souvenir hunters and visitors damaged the site until in 1892 Casa Grande became the nation's first archeological reserve.
The ruins of Casa Grande have been written about by explorers as long ago as the 17th century. Built by Sonoran desert people who have come to be called the Hohokam.
At the height of the Hohokam civilization, they established trade routes, dug hundreds of miles of wide-scale irrigation farming canals for their crops, created jewelry and pottery, and used natural soil material called caliche to erect buildings like Casa Grande.
The Hohokam began to abandon their structures around 1450 C.E. It is still unclear why they started to abandon their structures but it is speculated it was due to drought, invasions by other tribes, disease, floods or intra-tribal strife.
The main part of the National Park Service visitor center building with the adjacent parking lot and entrance road and a new steel shelter roof over the Casa Grande was completed in 1932.
All of these structures remain in use today and are now listed on the National Register of Historic Places.
Is Casa Grande Ruins National Monument worth visiting?
Yes! This US National Monument provides visitors the opportunity to learn more about a community built in 1350. It is truly amazing that the buildings have lasted.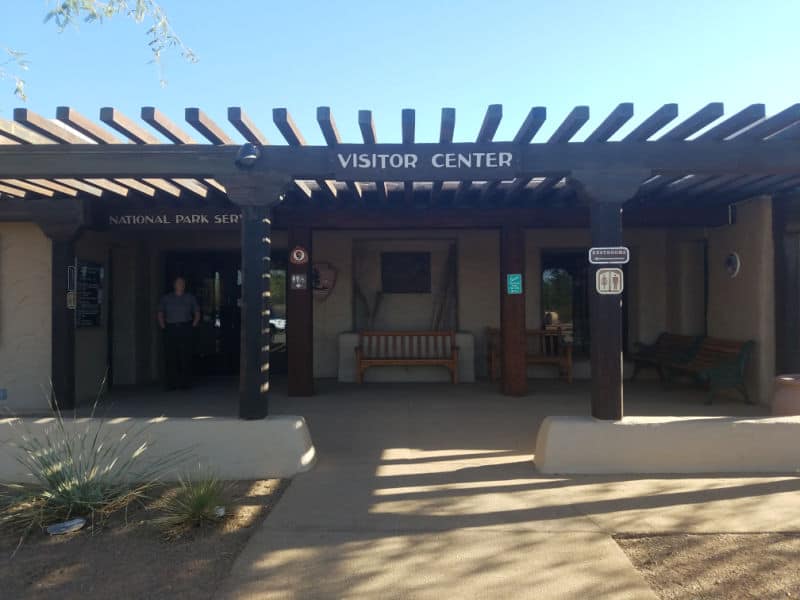 History of Casa Grande Ruins National Monument
The Casa Grande Ruins occupy a unique position within United States history.
Its clear cultural and historical value led to it being the first Native American cultural reserve in U.S. history. The main feature of the monument is the Casa Grande.
Casa Grande, Spanish for great house, was abandoned by the Ancestral Sonoran Desert People prior to the arrival of the Spanish explorers in the 1600s.
The unique methods of construction used to create this 1,000-year-old building continue to inspire tens of thousands of visitors each year.
Geologic History of Casa Grande Ruins National Monument
Casa Grande today is referred to as Sivan Vah'Ki by the O'odham people who trace their ancestry to the Casa Grande Region.
The location of Casa Grande has been a gathering point for 7,500 years. Its rivers and bedrock enabled the Ancestral Sonoran Desert People to craft their unique culture.
The Gila River
Within the wider Sonoran Desert ecosystem, Casa Grande is located amidst four rivers held sacred by Ancestral Sonoran Desert People. The Gila River is the river nearest to Casa Grande. The other three rivers are the Salt, San Pedro, and Santa Cruz.
The Gila River's headwaters flow westward from the Black Range Mountains of New Mexico before joining with the mighty Colorado River.
For countless millennia the Gila was subject to annual snowmelt, and silt-depositing floods before numerous dams were built along its course during the early 1900s.
The Gila River's 650 miles have worn a waterway through the ancient bedrock. The Gila River was the lifeline of the Ancestral Sonoran Desert People, providing hydration and irrigation.
It also allowed for the Ancestral Sonoran Desert People to work with caliche.
Caliche
In many parts of the Sonoran Desert, just below the sandy surface, is a thick layer of caliche. This layer of caliche can be more than three-feet thick in some places and is rock hard. It can take tens of thousands of years to form caliche deposits such as are present in the Sonoran Desert.
Many arid regions around the world have unique caliche deposits. Southern Arizona presents ideal conditions for forming caliche. If you are not familiar with caliche, imagine the stunning pictures of cave formations featuring stalactites and stalagmites.
Stalactites and stalagmites are formed as mineral-rich water works its way through bedrock into a cave system.
As the water slowly drips from cave ceilings, minerals like calcium are left behind. Over huge stretches of time, these deposits form massive cave features.
If we apply that idea to caliche, caliche is formed as mineral-rich water penetrates sandy soil in arid regions.
As the water evaporates below the surface, it leaves its mineral contents behind. In areas with the right soil and limited precipitation, a massive, subterranean, mineral deposit is formed. This mineral deposit is caliche.
Caliche has been mined in many places to be used as an add-in for cement or used as a foundational layer for roads.
The Ancestral Sonoran Desert People found an architectural use for caliche within their enduring architecture. Casa Grande was constructed with dozens of layers of a mixture using pulverized caliche and water.
The Ancestral Sonoran Desert People at Casa Grande
Several extant groups hold Casa Grande as a sacred place including the Hopi, O'odham, and Zuni people. These three groups all connect their identities back to the Ancestral Sonoran Desert People.
Where did the Ancestral Sonoran People come from and where did they go?
To answer the last question first, in part the Ancestral Sonoran Desert People went nowhere. There was a large out-migration that occurred in the middle of the 1400s which seems to align with similar demographic shifts among the nearby Ancestral Puebloan People.
However, the area around Casa Grande, though often sparsely populated, is thought to have been regularly occupied for much of the past 7,500 years. The earliest artifacts point to pre-Sonoran People who relied on hunting and gathering.
As technology advanced and these societies adopted new hunting, farming, and building techniques, population and trade routes increased.
A society blossomed in the Sonoran Desert around the famous three sisters: maize, beans, and squash. Evidence also points to cotton and tobacco cultivation.
Shells from the sea coasts have been found pointing to expansive trade. Many archaeologists think that the Ancestral Sonoran People traded surplus agricultural goods for exotic imported goods from coastal tribes.
Beyond the thick, caliche walls of Casa Grande, several other caliche-structures and remains of a sprawling, intricate system of canals have been found.
The collapse of society around Casa Grande has been tentatively linked to overpopulation coupled with a changing climate.
The Ancestral Sonoran Desert People largely left Casa Grande in the 1400s and over the following centuries formed new distinct groups like the Hopi, Zuni, and O'odham.
European Encounters with Casa Grande
Casa Grande's Spanish etymology indicates that the Spanish eventually dominated the region. When a Catholic priest, Father Eusebia Francisco Kino, arrived in the area in 1694, he encountered the immense caliche structure rising up four stories from the desert sands.
He dubbed it Casa Grande. Famous maps produced by Father Kino placed Casa Grande as a notable feature near the Gila River. The name of the structure lasted. Numerous Spanish and later Mexican explorers and military generals used it as a waypoint when traveling through the greater New Mexico area.
Following the Mexican-American War (1846-1848), the United States purchased the modern Southwest United States from Mexico for $15 million.
The US quickly sent out expeditions, some of which used Father Kino's maps. U.S. interest in the structure grew as caravan routes and later railroads passed near Casa Grande.
Spanish, Mexican, and American passersby had been chiseling names, dates, and initials into the walls of Casa Grande for centuries.
As the access to the ancient abode became easier and easier thanks to the railroad, vandalism increased. More names were carved into the caliche, more souvenirs wrested from the weakening walls.
In 1892 Casa Grande was protected as the first archaeological reserve in the United States. A few decades later, in 1918, Casa Grande became a National Monument recognized for its Native American social and cultural values,
Steps have been taken over the years to protect the monument. An external structure with a roof now acts as an umbrella over Casa Grande.
Entry into the interior of the structure is blocked, but visitors today can see the layered-caliche construction methods from nearby viewing platforms and visit a well-preserved ball court.
Casa Grande Ruins National Monument is one of the best-preserved structures from the Ancestral Sonoran Desert People.
Today it transports visitors to the United States' ancient roots and serves as a gathering place for numerous modern groups like the Zuni, Hopi, and O'odham who find their own histories in Casa Grande's aged walls.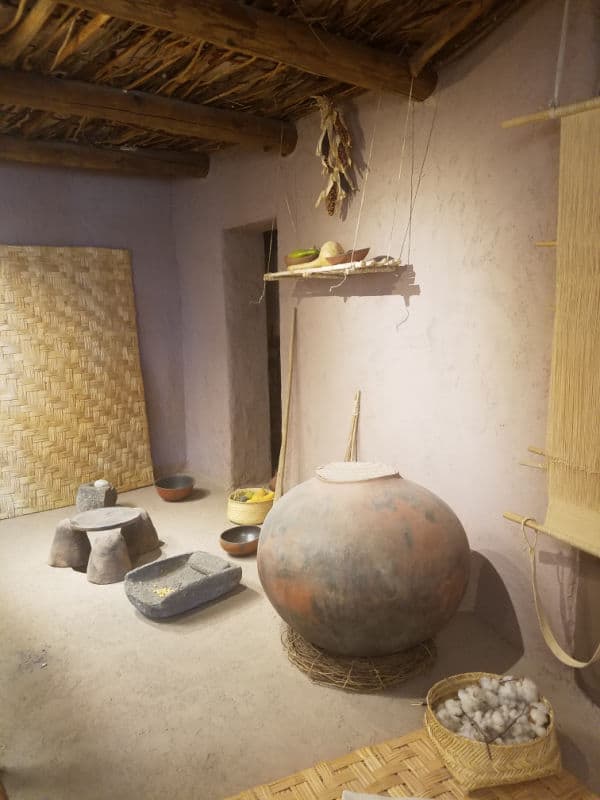 Things to know before your visit to Casa Grande Ruins National Monument
Entrance fee
$0.00 - There is no entrance fee to visit the park.
Planning a National Park vacation? America the Beautiful/National Park Pass covers entrance fees for an entire year to all US National Park Sites and over 2,000 Federal Recreation Fee Sites.
The park pass covers everyone in the car for per vehicle sites and for up to 4 adults for per-person sites.
Buy on REI.com and REI will donate 10% of pass proceeds to the National Forest Foundation, National Park Foundation and the U.S. Endowment for Forestry & Communities.
Learn more about National Park Passes for parks that have an entrance fee.
Free Entrance Days -Mark your calendars with the five free entrance days the National Park Service offers annually.
Time Zone
Arizona Time - Arizona does not participate in Daylight Savings Time.
Pets
Pets are allowed in the park but must be on a leash.
Cell Service
We had good cell service at the park.
Park Hours
The park is open from 9 am to 4 pm.
Wi-Fi
Public WiFi is available
Insect Repellent
Insect repellent is always a great idea when outdoors, especially if you are around any body of water.
We use Permethrin Spray on our clothes before our park trips.
Water Bottle
Make sure to bring your own water bottle and plenty of water with you. Plastic water bottles are not sold in the park.
Parking
There is a nice size parking lot in front of the parking lot.
Food/Restaurants
There are no restaurants within the park. There is a Safeway and Walmart grocery store right across the street.
Gas
There are no gas stations within the park but there are stations nearby.
Drones
Drones are not permitted within National Park Sites.
National Park Passport Stamps
National Park Passport stamps can be found in the visitor center.
Make sure to bring your National Park Passport Book with you or we like to pack these circle stickers so we don't have to bring our entire book with us.
Casa Grande Ruins NM is part of the 2017 Passport Stamp Set.
Electric Vehicle Charging
There are over 200 EV Charging stations within 30 miles of the park.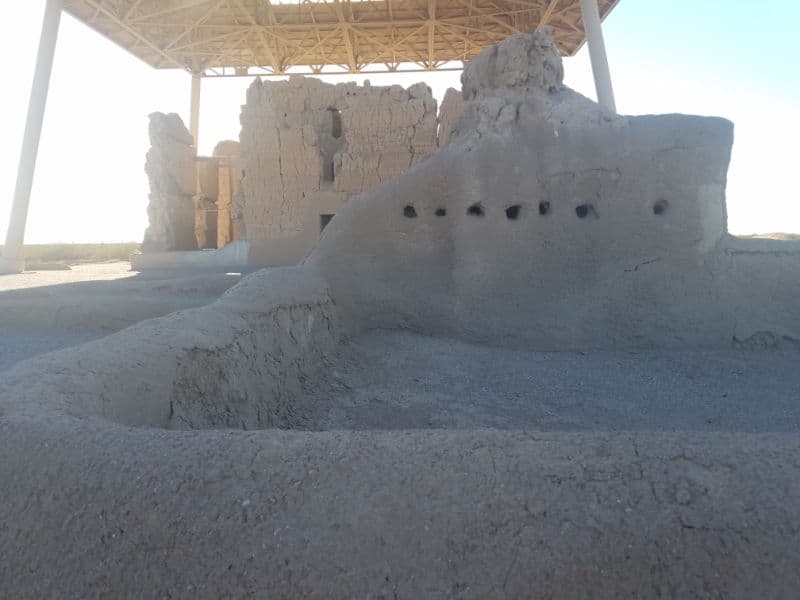 Details about Casa Grande Ruins National Monument
Size - 472.5 acres
Check out how the park compares to other National Parks by Size.
Date Established
August 3, 1918 - The park was proclaimed by President Woodrow Wilson.
Visitation
In 2021, Casa Grande NM had 49,261 park visitors.
In 2020, Casa Grande NM had 44,269 park visitors.
In 2019, Casa Grande NM had 68,379 park visitors.
Learn more about the most visited and least visited National Parks in the US
National Park Address
1100 W. Ruins Drive
Coolidge, AZ 85128
National Park Map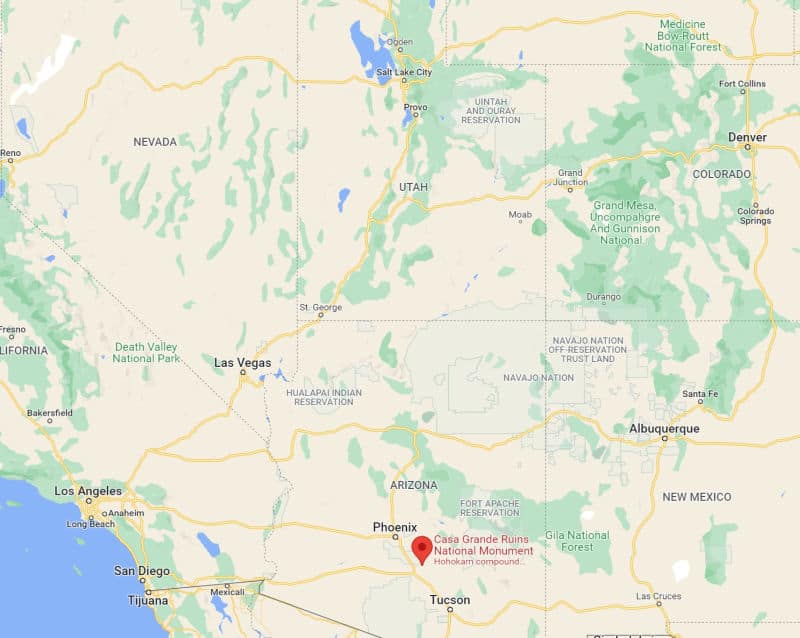 Where is Casa Grande Ruins National Monument?
Casa Grande Ruins is located south of Phoenix, Arizona.
Estimated distance from major cities nearby
Chandler, AZ - 34 miles
Mesa, AZ - 41 miles
Tempe, AZ - 49 miles (Check out the epic things to do in Tempe)
Scottsdale, AZ - 50 miles ( Check out these great things to do in Scottsdale with Kids)
Phoenix, AZ - 57.7 miles
Glendale, AZ - 67.2 miles
Tucson, AZ - 66.7 miles
San Diego, CA - 370 miles
Albuquerque, NM - 395 miles
Los Angeles, CA - 426 miles
Estimated Distance from nearby National Park
Saguaro National Park - 58 miles
Grand Canyon National Park - 287 miles
Petrified Forest National Park - 225 miles
Guadalupe Mountains National Park - 489 miles
Yosemite National Park - 698 miles
Big Bend National Park - 713 miles
Where is the National Park Visitor Center?
The park visitor center is at the entrance to the park.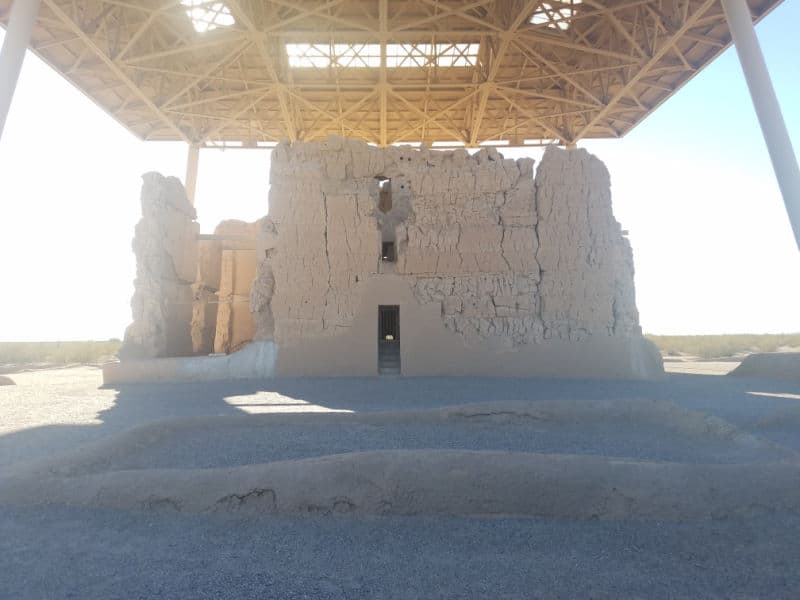 Getting to Casa Grande Ruins National Monument
Closest Airports
Phoenix-Mesa Gateway Airport (AZA)
Phoenix Sky Harbor International Airport (PHX)
International Airports
Tucson International Airport (TUS)
Driving Directions
From Interstate 10 take the Coolidge exits and follow the signs to the park entrance.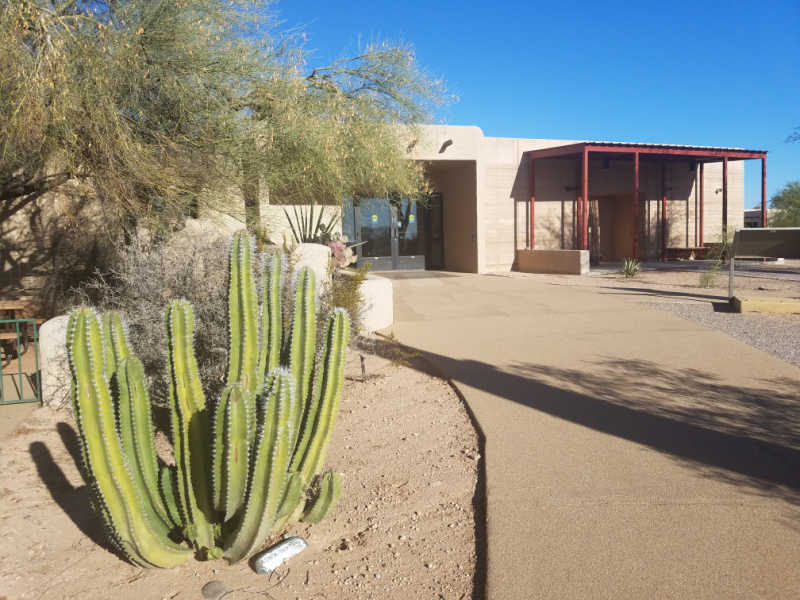 Best time to visit Casa Grande Ruins National Monument
If you are hoping to visit during the cooler weather we suggest late winter and spring for the coolest weather. That being said this park is worth visiting year-round.
Weather and Seasons
Coolidge, Arizona experiences sweltering hot summers and cool winters.
The hottest season is from May 26 to September 19th when the average daily high temperature is above 97 degrees.
The coldest season is from November 21 to February 27th with an average daily temperature below 73 degrees.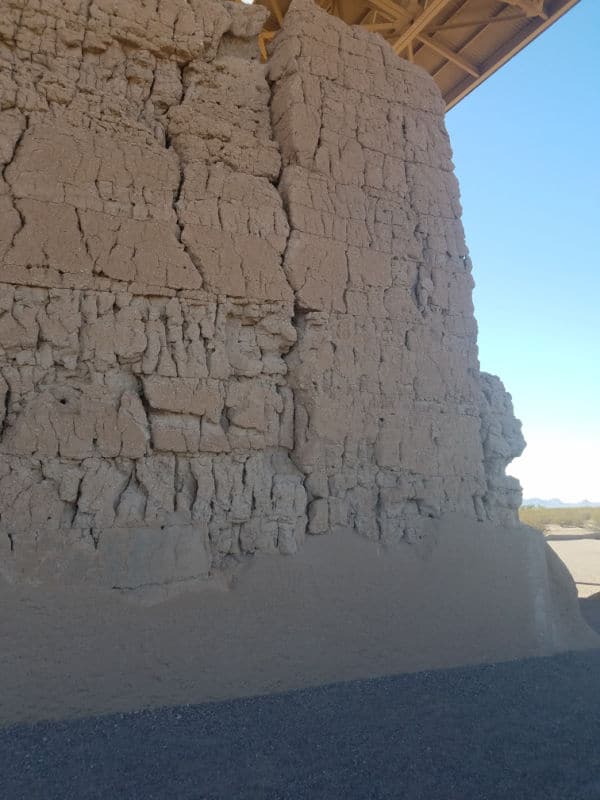 Best Things to do in Casa Grande Ruins National Monument
We suggest planning at least a couple of hours to visit the park, see the park movie, and wander the grounds.
Visitor Center
When you enter the park you enter the visitor center. Give yourself enough time to watch the 22-minute park movie Casa Grande: House of Many Stories and check out the interpretive panels.
We try and do the Junior Ranger programs at every park we visit. They are a fantastic way to dive deeper into the park and learn more about it.
You do have to visit the park to earn a Casa Grande Junior Ranger badge.
Self Guided Walk around Casa Grande Ruins
Be prepared for the heat when you take a self-guided walk around the park.
One-hour guided tours are offered from late November through early April, as staffing permits. Please call the day of your visit for tour schedules.
The big house is a four-story ancient structure 11 room main building whose original function is still unknown. You can also see an ancient court where a type of ball game was played and the remains of other building walls.
Hiking in Casa Grande Ruins National Monument
Always carry the 10 essentials for outdoor survival when exploring.
There are no real hiking trails within the park. In order to see the Great House and other outdoor sites there is a walking path through the park.
How to beat the crowds in Casa Grande Ruins National Monument?
We did not experience any crowds when we visited the park. We do suggest visiting on a weekday if you want to skip the busiest days in any park.
Where to stay when visiting Casa Grande Ruins National Monument
There are no National Park Lodges within the park.
The closest lodging is in Coolidge with a vacation rental. Hotels can be found in Casa Grande or Florence, Arizona.
Baymont by Wyndham Casa Grande - Take advantage of laundry facilities, a gym, and a 24-hour business center at Baymont by Wyndham Casa Grande. For some rest and relaxation, visit the hot tub. Guests can connect to free in-room Wi-Fi.
Holiday Inn Express Hotel & Suites Casa Grande - Consider a stay at Holiday Inn Express Hotel & Suites Casa Grande, an IHG Hotel and take advantage of free full breakfast, a terrace, and dry cleaning/laundry services. In addition to a 24-hour gym and a 24-hour business center, guests can connect to free in-room Wi-Fi.
Best Western Plus Casa Grande Inn & Suites - Consider a stay at Best Western Plus Casa Grande Inn & Suites and take advantage of a grocery/convenience store, dry cleaning/laundry services, and a gym. In addition to a 24-hour business center, guests can connect to free in-room Wi-Fi.
Radisson Hotel Casa Grande - Look forward to a terrace, dry cleaning/laundry services, and a gym. Free in-room Wi-Fi and a 24-hour business center are available to all guests.
Francisco Grande Hotel and Golf Resort - take advantage of a golf course, shopping on site, and dry cleaning/laundry services. Get out on the links at this hotel and enjoy amenities such as a driving range and golf lessons. For some rest and relaxation, visit the hot tub. Stay connected with free in-room Wi-Fi, and guests can find other amenities such as a bar and a 24-hour gym.
Click on the map below to see additional hotels and vacation rentals near the park.
Camping
The park does not have a National Park campground.
For a fun adventure check out Escape Campervans. These campervans have built in beds, kitchen area with refrigerators, and more. You can have them fully set up with kitchen supplies, bedding, and other fun extras. They are painted with epic designs you can't miss!
Escape Campervans has offices in Vancouver, Seattle, Portland, San Francisco, Las Vegas, Los Angeles, Phoenix, Salt Lake City, Denver, Chicago, New York, and Orlando
Nearby campgrounds include:
Indian Skies RV Resort (55+) - Coolidge, AZ
This campground offers RV sites, a pool, hot tub, and more.
Palm Creek RV Resort (55+) - Casa Grande, AZ
This campground offers Lodging and RV sites, a pool, restaurant, and more.
Superstition Shadows - Apache Junction, AZ
This campground offers RV sites, a pool, clubhouse and more.
Check out additional campgrounds in the area on CampSpot.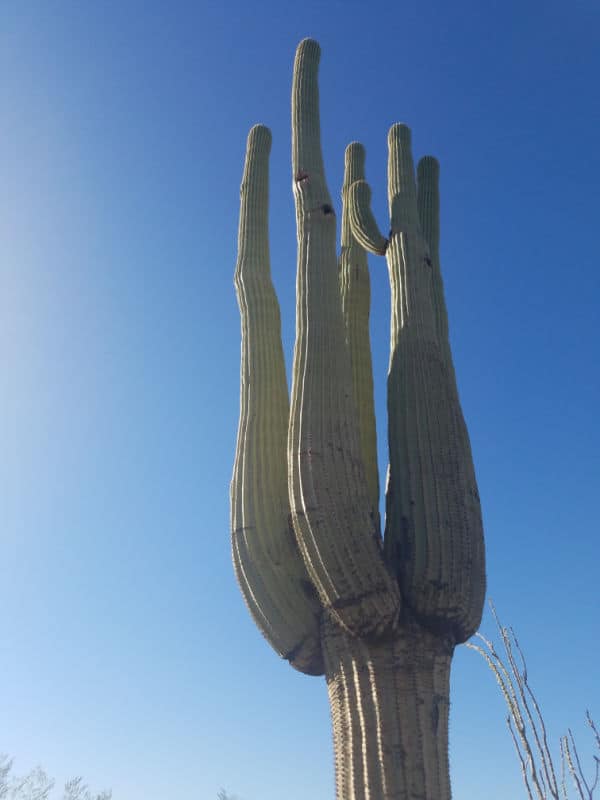 Additional Resources
The Chaco Meridian: One Thousand Years of Political and Religious Power in the Ancient Southwest
Parks Near Casa Grande Ruins National Monument
Hohokam Pima National Monument - This site is not open to the public but check the post to see how you can "visit" the park.
Tonto National Monument
Tumacacori National Historic Park
Montezuma Castle National Monument
Organ Pipe Cactus National Monument
Check out all of the National Parks in Arizona along with neighboring National Parks in California, National Parks in Colorado, National Parks in Nevada, New Mexico National Parks, and Utah National Parks
I love that visiting Casa Grande and other park sites is listed as one of the top things to do in Arizona with kids!
Check out the great things to do outdoors in Phoenix.