Wupatki National Monuments is the perfect place to walk back in time and see what life was like 900 years ago. You can walk around and inside many of the pueblos that are still standing in the park. Make sure and stick to the trails because the grounds contain fragile archeological sites.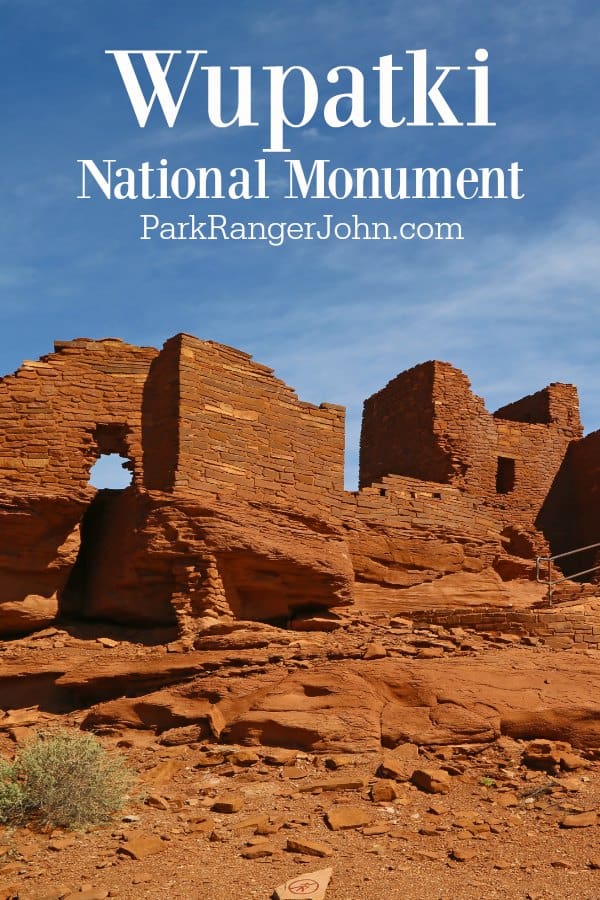 Wupatki National Monument
Make sure and plan time to explore the ancient pueblos to see how ancient peoples lived in Arizona. Wupatki is the perfect place to view the highlands of Northern Arizona and learn more about Native American life in this area.
The following are how to say the names of Puebloan structures at Wupatki National Monument.
Wupatki: Wuh-paht-kee
Wukoki: Wuh-ko-kee
Lomaki: Lo-mah-kee
Nalakihu: Nah-lah-kee-hoo
These are not the names the ancestral people gave the pueblos, but names provided by their later Hopi descendants.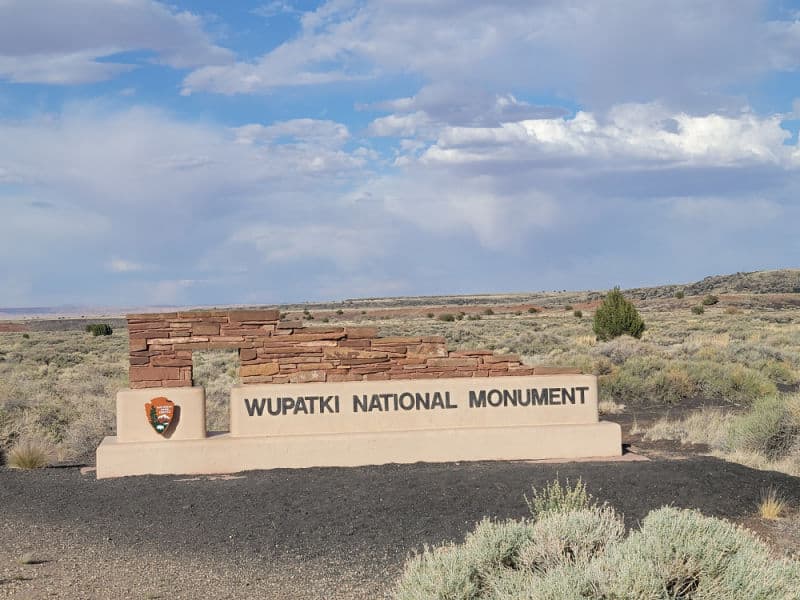 About Wupatki National Monument
The villages that you can see were built by ancient peoples known as the Hisatsinom, they are ancestors of today's Hopi tribes. Along with other tribes including the Zuni and Havasupai tribes.
They occupied the red rock stone and mortar dwellings from about A.D. 1100 to 1250. Around 1080 A.D. the eruption of nearby Sunset Crater forced some people to relocate for a while.
The volcanic ash and cinder from the eruption created new fertile soil that worked great.
The Wupatki Pueblo was the richest and most likely most influential pueblo in the area. It is believed by archeologists that 85 to 100 people lived in the pueblo. Several thousand additional people would have lived within a days walk of the pueblo.
Archeologists have found turquoise, shell jewelry, copper items, and macaw feathers which prove that Wupatki was a trade center within a network that spanned hundreds of miles.
Is Wupatki National Monument worth visiting?
Yes! The site offers visitors the opportunity to walk up to and around historic structures in a way you don't find at many other sites.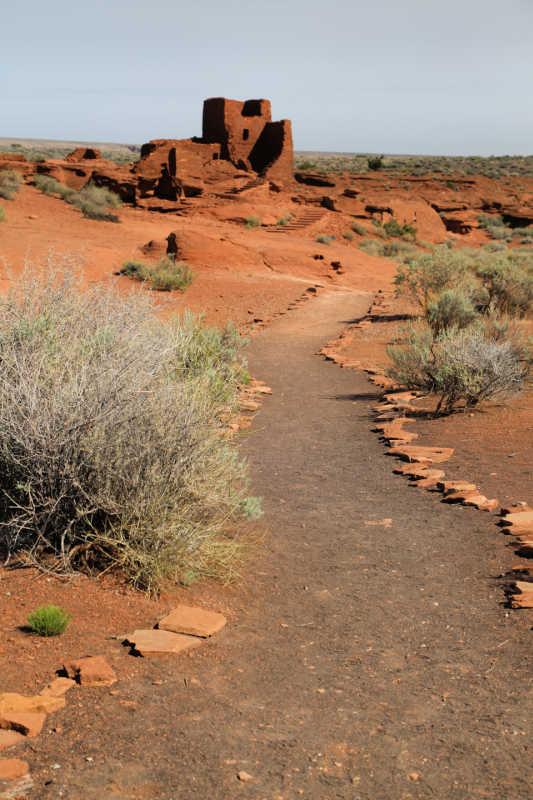 History of Wupatki National Monument
Located in northern Arizona, not far from the Grand Canyon, Wupatki National Monument seems incongruous with its desert environment. Ancient megastructures sit in the middle of a seemingly waterless desert. Nearly 1,000 years ago a thriving community of Ancestral Puebloans thrived in this harsh environment.
The Bones and the Blowhole of Wupatki National Monument
Perhaps the most incredible feature of Wupatki National Monument is its lack of water. Nearly every other major Ancestral Puebloan site across the southwest is located near a constant water source. Wupatki, however, had no known water source. The Ancestral Puebloans who made a home here were surrounded by rock and an interesting air current.
The Rocks of Wupatki
The bones of Wupatki are the rock beds and formations which dominate the monument. It is from these bones of the earth that the Ancestral Puebloans made their most impressive dwellings.
Wupatki sits on the border of two major geologic regions: Four Corners region and the Basin and Range region.
The Four Corners area includes northeast Arizona, northwest New Mexico, southwest Colorado, and southeast Utah, while the Basin and Range is bounded by the Cascades and the Wasatch Mountains, stretching from southern Oregon to central Mexico.
The ruins within Wupatki National Monument are constructed of mudstone and sandstone which are common in this area of overlapping geologic regions. Stones for the great houses were once part of ancient sea floors that were formed millions of years ago by the Western Interior Seaway.
Over hundreds of thousands of years this inland sea swelled and shrank. As coasts shifted over the millennia, the sea pressured layers of sand and minerals into distinctive and colorful layers visible throughout the monument.
The different hues of color within the formation are due to the oxidation of minerals such as iron and manganese. These two minerals give off red and bluish colors, respectively.
The Blowhole
Wupatki National Monument is built on a fault line that has experienced tectonic and volcanic activity. As the tectonic plates have moved over time, coupled with volcanic eruptions, a massive cave system has developed beneath the park.
However, known entrances to the system are too small for humans to enter. Humans can feel the effects of this cave system. When rapid temperature changes happen, which is common in the desert, strong currents of air either rush from or are sucked into the many blow holes within the park.
Ancestral Puebloans and Wupatki
While there's regional evidence of Native Americans in the region dating back 10,000 years to the Clovis people, the primary structures of Wupatki are associated with the Ancestral Puebloans.
Ancestral Puebloans developed their own unique culture in northern Arizona around 500 CE.
Characteristics of this early period include pit houses that were dugout a few feet, then covered with branches and mud for protection. Over time, technology improved and agricultural yields from squash and maize allowed for larger populations.
Ancestral Puebloans began to build larger and larger structures across the Colorado Plateau with many of the largest structures coming in the 13th century. At Wupatki National Monument, there are three prized structures: the namesake Wupatki Pueblo, Wukoki Pueblo, and the Citadel.
Wupatki Pueblo
This incredible pueblo gives the monument its name. In the mid-1000s, a nearby volcano erupted. While this event undoubtedly disrupted daily life in the area, the long term results drew people to the Wupatki region.
The porous volcanic rock was able to hold huge stores of water. By holding moisture, output from farming skyrocketed, as did population and migration to the area.
The growing population brought in the need for larger ceremonial, defensive, and social structures. Wupatki was built by 1200 CE and contained over 100 rooms. Fascinatingly, a court for the famous Mesoamerican ballgame was unearthed near Wupatki. This is the most northern location for the ballgame that has been discovered.
It's estimated that thousands lived within a day's walk of Wupatki during its heyday. It seems to also have been a hub of regional trade. Ceramics, feathers, and shells indicate that goods from as far away as southern Central America made their way to Wupatki.
Wukoki Pueblo
Although it is dwarfed by the enormous Wupatki Pueblo, Wukoki is in remarkable condition given its age. It was likely a home to only a few families.
Perhaps it served as a defensive retreat given its hilltop location. Its three-story tower once provided an incredible lookout for its occupants. A late-19th century excavation of Wukoki produced ceramics and intricate turquoise jewelry.
The Citadel
The ruins of the Citadel dominate a hilltop and look out over much of the monument. The ruins of smaller pueblos like Nalakihu, Lomaki, and Box Canyon can be seen from the Citadel.
The layout of the area has led many to believe that the Citadel served as a gathering space for social and military functions.
Its 50 rooms could have temporarily housed hundreds. Like Wupatki, the Citadel was constructed during the height of Ancestral Puebloan power in the early 1100s.
Abandoning Wupatki
By the mid-1200s the thousands of Ancestral Puebloans who built Wupatki and its neighbor pueblos had left. There are numerous reasons why the site was soon abandoned following its population boom.
The causes for departure are likely interwoven. Climate change decreased food production, while soil was likely exhausted from overproduction to feed the expanding population.
At this time the Navajo were beginning to grow in power in the region and competed for resources. The Ancestral Puebloans of this area are thought to have traveled eastward merging with other Puebloans tribes.
Becoming Wupatki National Monument
The ruins of Wupatki came under the protection of the United States Park System in 1924 thanks to Calvin Coolidge.
Over the years the park has grown to encompass more archeological finds and smaller pueblos. Early attempts to protect the park also included attempts to reconstruct several collapsed pueblos.
As the National Park Service's policies changed, so did these restoration attempts. Today the National Park Service focuses more on preserving and stabilizing ancient dwellings within the monument rather than restoring them.
Wupatki is a short drive from the nearby Grand Canyon and offers visitors a chance to stroll on maintained paths among 1000-year-old pueblos with dozens of rooms.
Visitors can marvel at the ingenuity of a society who thrived without consistent sources of running water. From blowholes to hilltop citadels, Wupatki offers a chance to conveniently connect with the ancients.
Things to know before your visit to Wupatki National Monument
Entrance fee
The park entrance fee includes Sunset Crater Volcano National Monument and Wupatki NM.
7-day single-vehicle park pass - $25
7-day individual park pass - $15
7-day motorcycle park pass - $20
Annual Park Pass - $45
The annual pass includes Sunset Crater Volcano NM, Wupatki NM, and Walnut Canyon NM.
Valid for one year through the month of purchase. Admits one private, non-commercial vehicle or its pass holder.
Planning a National Park vacation? America the Beautiful/National Park Pass covers entrance fees for an entire year to all US National Park Sites and over 2,000 Federal Recreation Fee Sites.
The park pass covers everyone in the car for per vehicle sites and for up to 4 adults for per-person sites.
Buy on REI.com and REI will donate 10% of pass proceeds to the National Forest Foundation, National Park Foundation and the U.S. Endowment for Forestry & Communities.
Learn more about National Park Passes for parks that have an entrance fee.
Free Entrance Days -Mark your calendars with the five free entrance days the National Park Service offers annually.
Time Zone
Mountain Daylight Time - Arizona does not change with Daylight Savings Time.
Pets
Pets are not permitted on any trails within the park.
Cell Service
Cell service was hard to find and not consistent while we were in the park.
Park Hours
The visitor center is open from 9:00 a.m. until 5:00 p.m. every day except December 25 and January 1.
Wi-Fi
Public Wi-Fi is available at the park.
Insect Repellent
Insect repellent is always a great idea when outdoors, especially if you are around any body of water.
We use Permethrin Spray on our clothes before our park trips.
Water Bottle
Make sure to bring your own water bottle and plenty of water with you. Plastic water bottles are not sold in the park.
Parking
There is a nice parking lot in front of the visitor center.
Food/Restaurants
The closest restaurants to the park are an hour away in Flagstaff, Arizona. The visitor center does sell some small snacks.
Gas
There is no gas within the park.
Drones
Drones are not permitted within National Park Sites.
National Park Passport Stamps
National Park Passport stamps can be found in the visitor center.
Make sure to bring your National Park Passport Book with you or we like to pack these circle stickers so we don't have to bring our entire book with us.
Electric Vehicle Charging
There are no EV Charging Stations within the park. There are 199 charging stations in Flagstaff, Arizona.
Accessibility
There are designated accessible parking spaces at the visitor center including one van space.
Braille and large text versions of the park brochure are available at the visitor center.
The bathroom has accessible stalls.
The trails are partially accessible with current work being done to make the Lomaki Pueblo trail accessible.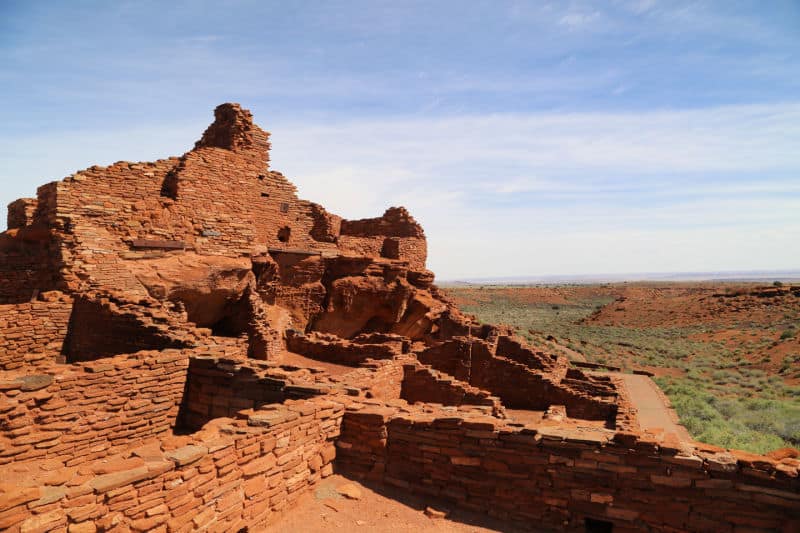 Details about Wupatki National Monument
Size - 35,422 acres
Check out how the park compares to other National Parks by Size.
Date Established
December 9, 1924 by President Calvin Coolidge.
Visitation
In 2021, Wupatki NM had 207,445 park visitors.
In 2020, Wupatki NM had 146,074 park visitors.
In 2019, Wupatki NM had 187,059 park visitors.
Learn more about the most visited and least visited National Parks in the US
National Park Address
25137 N. Sunset Crater-Wupatki Loop Rd., Flagstaff, AZ 86004
National Park Map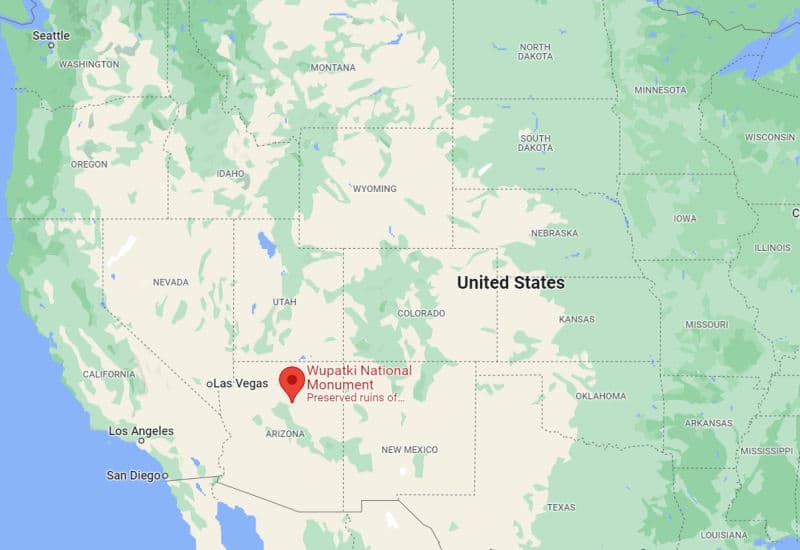 Where is Wupatki National Monument?
Wupatki NM is located in northern Arizona near Flagstaff. This is one of our favorite Arizona Mountain towns.
Estimated distance from major cities nearby
Glendale, AZ - 170 miles
Scottsdale, AZ - 184 miles
Phoenix, AZ - 174 miles
Mesa, AZ - 190 miles
Chandler, AZ - 198 miles
Henderson, NV - 270 miles
Las Vegas, NV - 285 miles
Tucson, AZ - 287 miles
Estimated Distance from nearby National Park
Grand Canyon National Park - 74 miles
Petrified Forest National Park - 133 miles
Saguaro National Park - 279 miles
Bryce Canyon National Park - 253 miles
Mesa Verde National Park - 245 miles
Zion National Park - 218 miles
Capitol Reef National Park - 354 miles
Where is the National Park Visitor Center?
The visitor center is next to the Wupatki Pueblo. There are great signs showing how to get there in the park.
Getting to Wupatki National Monument
Closest Airports
Flagstaff Pulliam Airport (FLG)
International Airports
Phoenix Sky Harbor International Airport (PHX)
Las Vegas McCarran International Airport (LAS)
Tucson International Airport (TUS)
Regional Airports
Sedona Airport (SDX)
Grand Canyon National Park Airport (GCN)
Prescott Municipal Airport, Ernest A. Love Field (PRC)
Page Municipal Airport (PGA)
Show Low Regional Airport (SOW)
Driving Directions
Wupatki and Sunset Crater Volcano National Monuments are connected by loop road FR-545. You can enter the loop road near mile markers 430 (Sunset Crater Volcano) and 444 (Wupatki) on U.S. Highway 89.
From Flagstaff - take US-89 north for 12 miles (19 km). Turn right at the sign for Sunset Crater Volcano and Wupatki National Monuments. The Wupatki Visitor Center is 21 miles (34 km) from this junction.
Sunset Crater Volcano and Wupatki are located along a 35 mile (56 km) scenic loop road that travels through Ponderosa pine forests, open meadows, pinyon-juniper forests, and grassland.
Enjoy views of the San Francisco Volcanic Field, Painted Desert, and the mesas of the Wupatki Basin. From U.S. Highway 89 use the north or south entrance.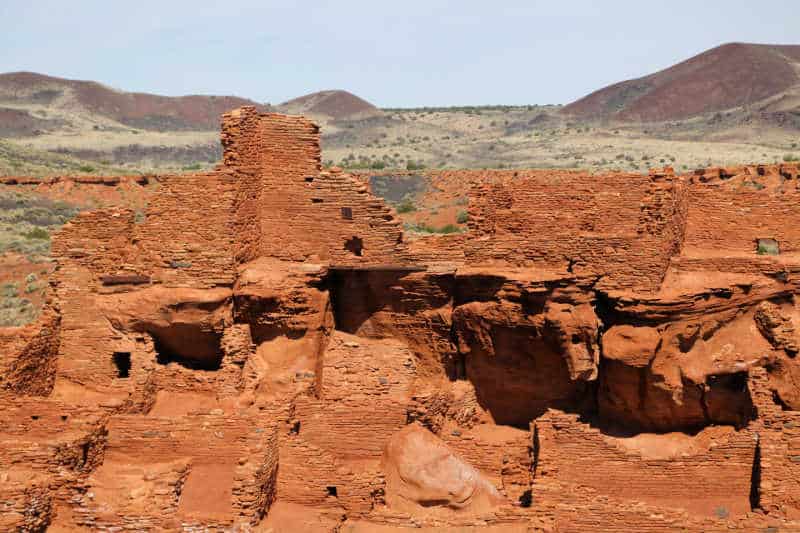 Best time to visit Wupatki National Monument
The best time to visit is spring through fall. The weather should be great and there will not be snow covering the Pueblo's.
Weather and Seasons
The park experiences warm summers and cold snowy winters.
The warmest months are from June 2 to September 13th with the daily temperature above 73 degrees Fahrenheit.
The coldest months are from November 20 to March 6th with daily temperature below 49 degrees Fahrenheit.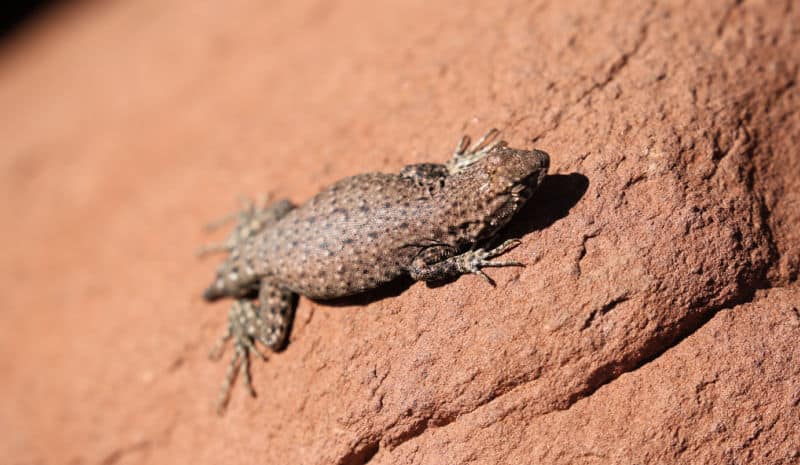 Best Things to do in Wupatki National Monument
We suggest planning at minimum a few hours to visit the park if not longer.
You want to plan time to walk out to the pueblo's and be able to look around them.
Visitor Center
The visitor center is located near milepost 21 on USFR 545 scenic loop road.
There is a small store, museum exhibits and rangers available to answer questions.
If you are visiting with kids make sure and stop at the visitor center to pick up the Wupatki National Monument Junior Ranger program.
If you want to learn about the park ahead of time you can download a copy of the Junior Ranger program here.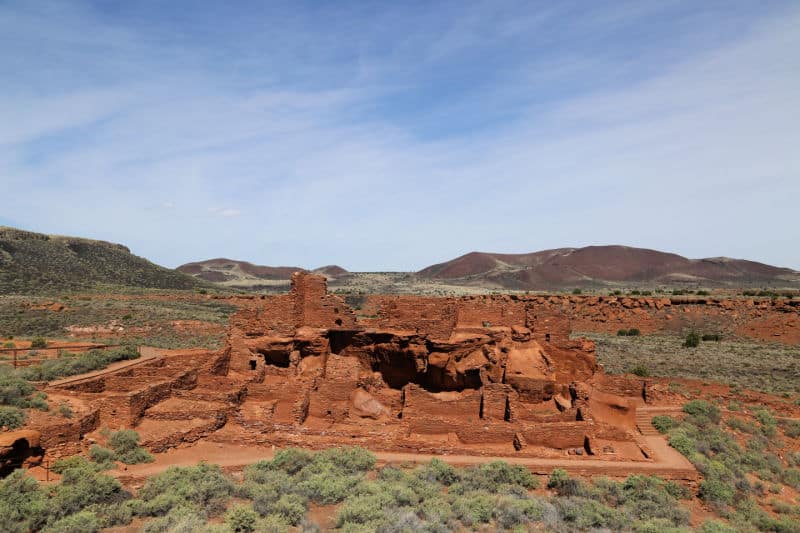 Wupatki Pueblo
The largest pueblo in Wupatki National Monument the Wupatki Pueblo is located right behind the visitor center.
This pueblo was home to over 100 people and includes a ball court and unique blowhole. Make sure and bring some water with you for your walk.
The walk around the Wupatki Pueblo is half mile easy trail. The trail was pretty even and easily maneuverable. You can choose to go down closer to the pueblo or view it from the top of the trail.
There are multiple other pueblos in Wupatki National Monument that can be explored with short hikes. Keep an eye out for signs leading to Lomaki and Box Canyon Pueblos, Citadel and Nalakihu Pueblos, and Wukoki Pueblo.
The trails can be uneven and filled with rocks so be prepared when you head out on them. There are pit toilets available at a few of the trail parking lots. All open pueblos are accessible from the scenic loop road. A short spur road leads to Wukoki Pueblo.
It is a .5 mile roundtrip walk to the Wupatki Pueblo.
Wukoki Pueblo
The Wukoki Pueblo can be reached by walking from the visitor center or by driving close to the pueblo and taking the .2 mile path.
Wukoki Pueblo is an over 900 year old Puebloan site with a three story tower. From the pueblo you can look out to the San Francisco Peaks and surrounding landscapes.
The pueblo is one of the best preserved structures within the park. It has not been reconstructed.
It has been reinforced by the National Park Service in 1941 with wood braces, props, and wedges.
Annually the park reserves the pueblo with stabilization of the walls, and they monitor the conditions.
Citadel and Nalakihu Pueblos
The Citadel and Nalakihu Pueblos are located 10 miles from the visitor center.
It is a .2 mile roundtrip walk from the parking area.
There are two 900 year old Puebloan dwellings that had over 50 rooms combined.
Lomaki and Box Canyon Pueblos
The Lomaki and Box Canyon Pueblos can be reached 10 miles from the visitor center.
There is a .5 mile round trip walk to reach the pueblos.
The 900+ year old ancestral Puebloan structures which are made mostly of limestone.
The pueblos have undergone multiple stabilization projects starting in the 1930s.
Interpretive Programs
Wupatki Pueblo Walks - Pueblo walks offer the chance to tour the 104 room Wupatki Pueblo with a Park Ranger. These walking tours introduce you to the Pueblo's incredible past, from the Ancestral Pueblo people who built it, to the early Park Rangers who lived in it.
Ranger's Choice Patio Talk - These short interpretive programs take place under the shade awning at the Wupatki Visitor Center and last around 20 minutes. The topics vary depending on what the Park Ranger want to chat about.
Interpretive Programs are offered at the Wupatki Visitor Center during the summer and peak holiday seasons. Call (928) 679-2365 to check schedules.
Guided Tours
If you are looking for even more fun while visiting Flagstaff and the surrounding area check out these great guided tours.
Grand Canyon Scenic Flight - Enjoy scenic views of the Zuni Corridor, Imperial Point, Confluence of the Colorado & Little Colorado Rivers, Kaibab National Forest & Kaibab Plateau.
Horseshoe Bend and Antelope Canyon Tour - Experience the serenity of Canyon X with a guided tour. Visit Horseshoe Bend, Lake Powell and Glen Canyon Dam and enjoy lunch along the way.
Full Day Monument Valley Tour - Explore the enchanted lands of the Navajo people on a full-day tour of Monument Valley from Sedona or Flagstaff. Travel through the red stone monoliths that are a true icon of the Southwest and see a landscape instantly recognizable from countless movies.
Flagstaff Segway Tour - See everything Flagstaff has to offer while hearing an interesting story about formation of the area. This is a great way to understand and see Flagstaff.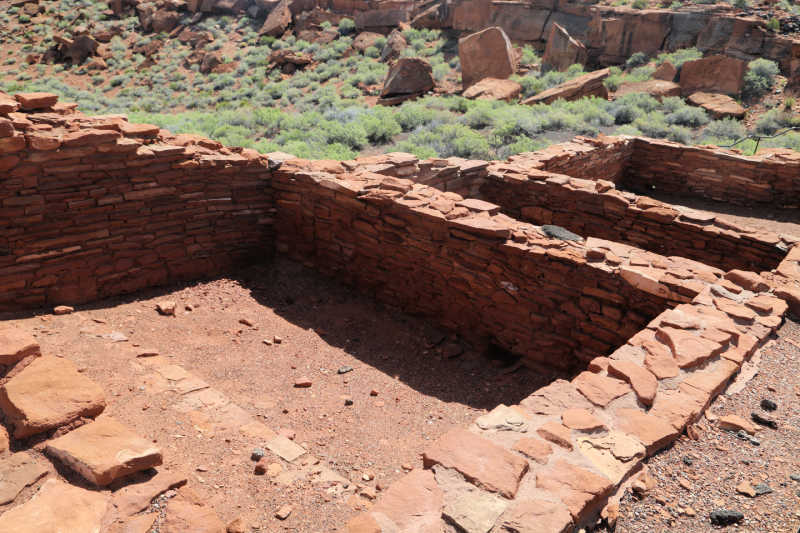 Hiking in Wupatki National Monument
Always carry the 10 essentials for outdoor survival when exploring.
Guided Ranger Hikes
Wupatki National Monument offers a variety of guided hikes from October through April. Guided hikes provide the only public access to many areas of the monument.
Guided Discovery Hikes take place on Saturdays throughout the winter. Discover the archeological sites, petroglyphs, geology, flora, and fauna that make Wupatki National Monument a beautiful place.
Hikes are 2- 3 miles on moderate terrain.
Crack in the Rock Hike
For a more in-depth and longer hike check out the Crack-in-the-Rock hike, offered on weekends in April and October.
This hike is run on a lottery system due to the limited number of guests that can participate. This is a strenuous, 18 to 20 mile round trip cross-country overnight trip, carrying a 30-40 pound pack.
Each hike is limited to 15 people; the minimum age is 10 years. The cost is $75.00 per person. For more information call 928-679-2365.
Keep an eye out on this page for updated info on the next lottery to get your name in for the Crack-In-the-Rock Hike!
April Hikes open in February for the lottery with the drawing the 1st week of March.
October hikes open in August with the drawing the 1st week of September.
Don't worry if you don't feel like heading out on a 2-25 mile hike through Wupatki National Monument you can still take a ranger-led interpretive program and learn more about the park!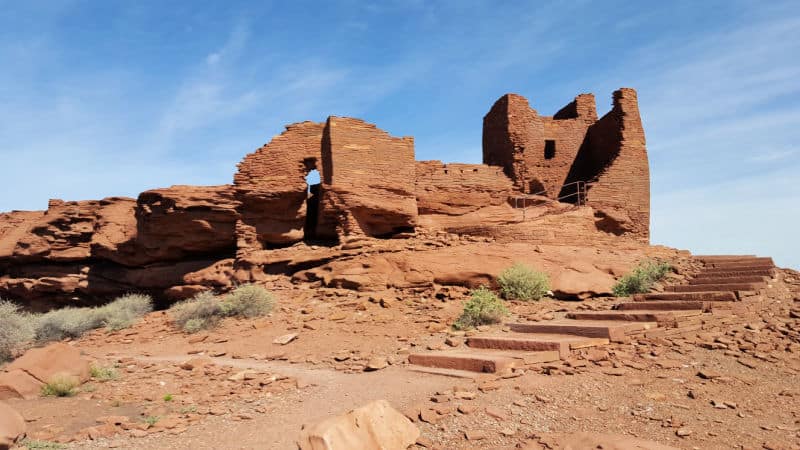 How to beat the crowds in Wupatki National Monument?
We have not experienced any crowds when we have visited the park. There is ample room to move around from people.
Where to stay when visiting Wupatki National Monument
There are no National Park Lodges within the park.
Fairfield Inn Flagstaff - We have stayed at this Fairfield Inn multiple times. It is quick and easy to get to and super comfortable.
La Quinta by Wyndham Flagstaff - Offering an outdoor pool, this Flagstaff hotel is 16 mi from Arizona Snowbowl. A continental breakfast featuring waffles and fresh fruit is served daily. Free Wi-Fi is included in all guest rooms.
Hampton Inn & Suites Flagstaff East - At Hampton Inn & Suites Flagstaff East, you can look forward to free continental breakfast, a free grocery shopping service, and dry cleaning/laundry services. In addition to a gym and a 24-hour business center, guests can connect to free in-room Wi-Fi.
Residence Inn by Marriott Flagstaff - Consider a stay at Residence Inn by Marriott Flagstaff and take advantage of free continental breakfast, dry cleaning/laundry services, and a 24-hour gym. Stay connected with free in-room Wi-Fi.
Click on the map below to see the current rates for hotels and vacation rentals near the park.
The majority of lodging is in Flagstaff, Arizona


Camping
There is no camping in Wupatki National Monument but you can camp in Coconino National Forest
For a fun adventure check out Escape Campervans. These campervans have built in beds, kitchen area with refrigerators, and more. You can have them fully set up with kitchen supplies, bedding, and other fun extras. They are painted with epic designs you can't miss!
Campground near the park include:
Woody Mountain Campground - Flagstaff, AZ
This campground offers RV and Tent Sites, dog park, restaurants, and playground.
Rancho Sedona RV Park - Sedona, AZ
This campground offers RV Sites. They have a dog park, cable tv, horseshoes, and more.
Grand Canyon Oasis RV Resort - Flagstaff, AZ
This campground offers RV Sites, a dog park, bike rental and more.
Check out all of the campgrounds in the area on CampSpot.
Parks Near Wupatki National Monument
Walnut Canyon National Monument - 33 miles
Sunset Crater Volcano National Monument - 17 miles
Tuzigoot National Monument - 97 miles
Montezuma Castle National Monument - 85 miles
Hubbell Trading Post National Historic Site -
Check out all of the Arizona National Parks along with neighboring National Parks in Utah, National Parks in New Mexico, California National Parks, Colorado National Parks, and Nevada National Parks